Ableton Live and Garageband are two of the most popular music production software. Famous producers and artists like David Guetta, Rihanna, Kendrick Lamar, and Skrillex have made monster hits with either of the DAWs.
When trying to pick a DAW to use, there are so many features to consider. In this article, I explore the features of Ableton Live vs GarageBand and help you to make a decision on which one will suit your work better.
Ableton Live vs GarageBand: In-depth comparison
Design and interface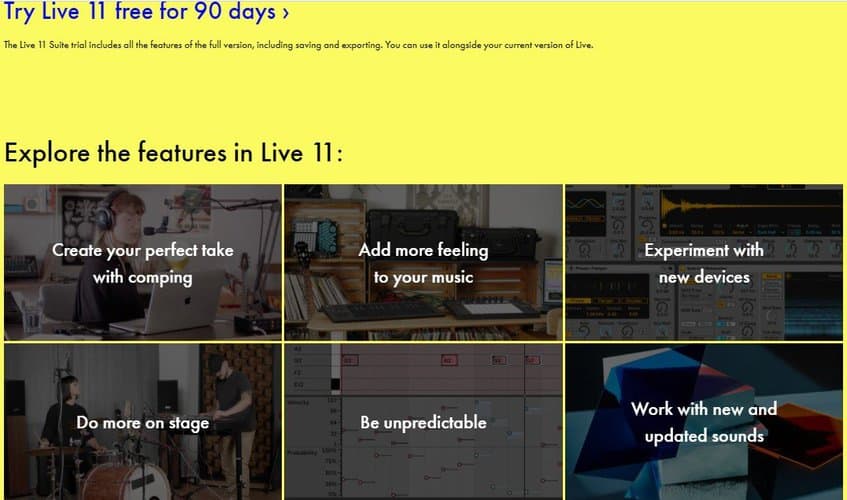 Ableton Live opens with two views; Session view and Arrangement view.
Session view allows you to record, trigger and loop clips while performing or producing music.
The arrangement view is more popular with other DAWs. It allows you to lay your MIDI tracks, record audio, and arrange the song progression from left to right.
GarageBand only has one music-making interface.
Just like Ableton's arrangement view, it is set up to record and arrange your tracks horizontally from left to right.
Both GarageBand and Ableton come with presets, but GarageBand makes them visible before you record. For example, vocal preset options are displayed before you record vocals. This can help beginners or users who don't know about the presets.
Ratings – Ableton – 8/10, GarageBand – 8/10
Compatibility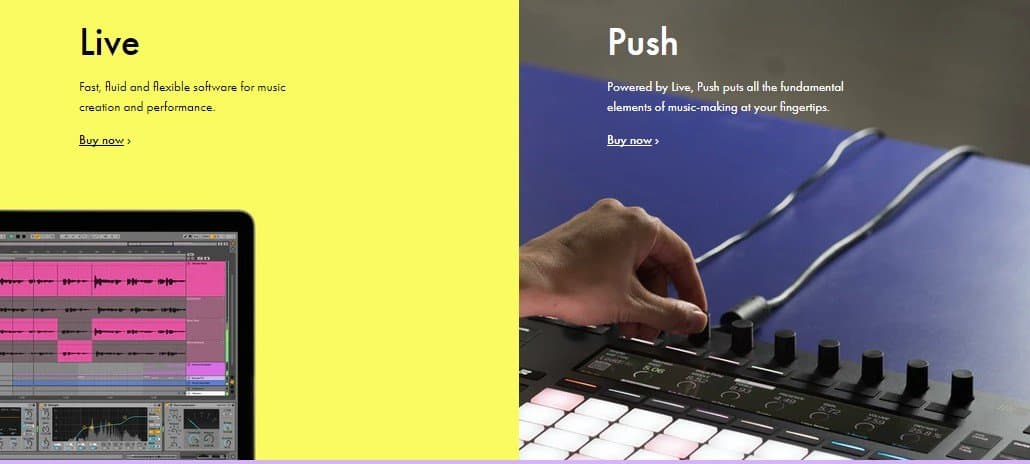 Here is where we find a lot of difference.
GarageBand is strictly an Apple software.
You can't have access to it unless you're using a MAC, iMAC, iPhone or iPad. Just like other Apple-exclusive software, your device must also be up to date to ensure compatibility.
Apple regularly stops app updates for older OS versions. So, if your iOS version is old, GarageBand updates may not work.
Ableton Live is compatible with both PC and MAC.
However, it does not have mobile versions.
Although you can control your Ableton Live on your MAC using your iPad. This means your iPad must be connected to your MAC; the iPad Ableton cannot work independently.
Ratings: Ableton – 6/10. GarageBand – 7/10
Ease of use (learning curve)
If you're a first-time user, GarageBand is one of the most simplified DAWs you will find.
With just a little help from YouTube, you can make your first song in a short time. However, there is a limit to how much you can do.
Compared to other DAWs like Cubase FL Studio and Ableton Live, GarageBand does not have some powerful tools that you may need for professional music production.
Ableton Live may be a little tricky when you start learning, but there's almost no limit to what you can achieve with it. If you're looking to do professional music production, mixing, and mastering, then you should start with Ableton Live.
But if you simply need a DAW to record your song ideas, make beats or record vocals especially as a beginner, GarageBand is a great fit.
Ratings: Ableton – 8/10, GarageBand – 9/10
Setup and installation
Installing both DAWs is just like the setup of most other software.
After downloading, run the installation as instructed.
One slight difference that you may find is in plugin installation.
For Ableton, you may need to copy the .dll file to the correct folder. Also, you must select the correct folder when scanning the DAW for new plugins.
GarageBand has a similar process, but you would only be dealing with .au files. Sometimes, you may have to restart the software before your newly installed plugin works.
Ratings: Ableton – 8/10, GarageBand – 7/10
Storage requirements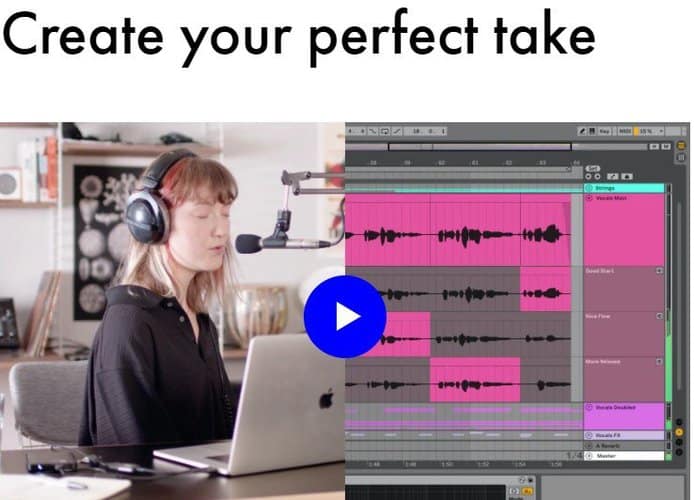 To install GarageBand on your computer, you should have at least 20GB of free storage space. Also, ensure that your computer has at least 4GB RAM.
Systems with lower performance may work, but you may not get optimal performance. For mobile versions, you need about 2GB of free storage space before installation.
For a full download and installing of the Ableton Live Suite package, you need about 80GB of free space. Ableton Intro and Standard come in smaller sizes. Also, for smooth performance, use at least 16GB
Ratings: Ableton – 8/10, GarageBand – 9/10
Features (functionality)
Since GarageBand is free and Ableton Live is not, we expect Ableton to have more features, and it does.
Without downloading extra plugins, Ableton has the tools you need for music production, mixing, and mastering.
To do these with GarageBand, it's better to add some third-party mixing and mastering plugins to the DAW.
However, speaking of beat making and recording, both DAWs give you a lot of tools to work with.
GarageBand makes the process a little simpler by showing you presets even before you record.
Once you select a drum preset, it places the drum sample clip on the track. It's a great way to start especially when you're not sure what you're doing.
Ableton is more hands-on and lets you build your music yourself. You can add the samples and presets if you need them as you create.
Ratings: Ableton – 9/10, GarageBand – 7/10
Also read:
Simple Home Studio recording Tips To Implement Now
Best Keyboards For Making Beats Super Fast
Audio editing tools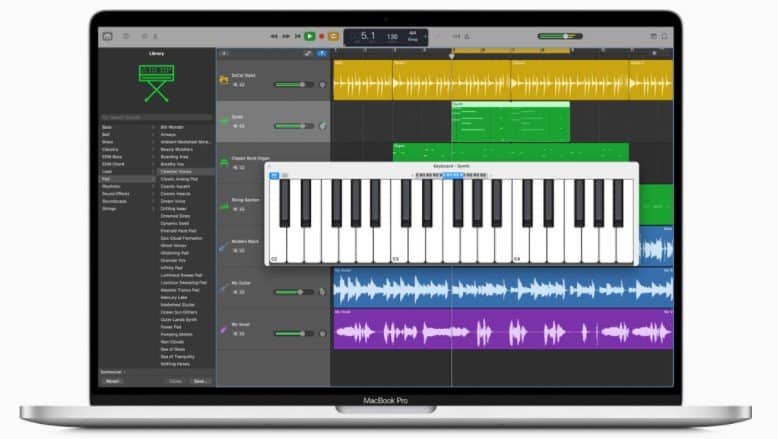 After recording your audio, you need tools like pitch correction to make your vocals sound better. GarageBand has a pitch correction tool in its audio editor. You can choose a key and limit the vocals to the scale. If the recording is not too bad, it will make flat notes sound better.
For Ableton Live, you need to install a plugin to do this – Melodyne and Autotune are good examples.
But if you need a more hands-on approach to pitch correction, you have to install a plugin for both GarageBand and Ableton. I've recorded a lot of not-so-good singers so I've had to do some in-depth tuning to make them sound good and natural.
In general, Ableton has a wider range of other audio editing tools for professional mixing and mastering work.
Ratings: Ableton – 9/10, GarageBand – 7/10
Stock instrument plugins and sounds
Ableton Live has more stock plugins, samples, and instruments.
But sometimes, having more options slows down your process. You may spend several minutes trying to get the perfect sound.
If you make acoustic music and you need natural-sounding instruments, you probably have no need for many different instruments. Producers who make electronic music may need more layers of instruments to get their best sound.
Ratings: Ableton – 9/10, GarageBand – 7/10
Automation
While both DAWs have automation, Ableton's automation feature is more powerful.
In GarageBand, you can automate volume, panning, and effects as the music progresses. Ableton's automation includes buttons, faders, and almost every other thing on the DAW.
It gives you the freedom to make any change in your music from start to finish.
Ratings: Ableton – 10/10, GarageBand – 7/10
Recording and mixing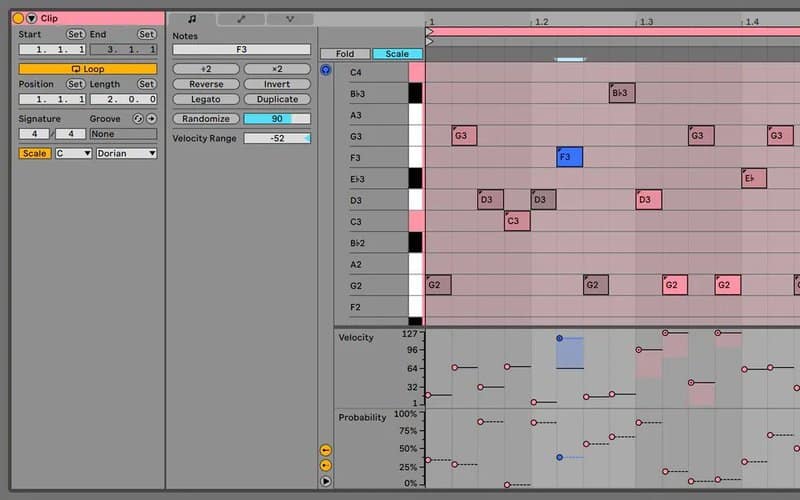 It's easy to record vocals, instruments, or MIDI on both Ableton and GarageBand.
Ableton gives you a clean slate while GarageBand shows you the presets upfront. The vocal preset can guide you if you're not sure of how to make your recording sound better.
Ableton Live is better for professional mixing than GarageBand. It has a larger rand of tools that you can use.
Ratings: Ableton – 9/10, GarageBand – 7/10
Pricing

Ableton is available in different packages; Lite, Standard, and Suite.
The prices vary accordingly.
I suggest starting with Lite to see if you like the workflow, then upgrading as needed.
GarageBand is free. So, if you're just about to get your first DAW and you have an Apple device, it's a good idea to start with GarageBand.
Similarities and differences of Ableton vs GarageBand
Similarities
Both DAWs have great built-in instruments for beat-making.
Without downloading external plugins, you can make great music with both Ableton and GarageBand.
If you don't have a MIDI controller, both Ableton and GarageBand allow you to use your computer keyboard to play musical notes.
Differences
Ableton has a Session view where you can trigger clips and scenes in real-time. This feature is absent on GarageBand.
GarageBand is exclusive to Apple devices, while Ableton is available on both PC and MAC.
Ableton can only be installed on desktop or laptop computers. GarageBand has a mobile version that works on iPhone or iPad.
Pros and cons
Ableton Live pros
Clip-based Live performance feature allows you to be creative on the spot
Powerful automation feature
Great built-in synth sounds for dance music production
Ableton Live cons
Needs an external plugin for good pitch correction
Newer versions do not support 32-bit plugins
It's a CPU-intensive DAW
GarageBand pros
It's free
It's easy to learn and start using
User-friendly interface
GarageBand cons
No dedicated mixer view
Only available on MAC
Read our other popular articles:
FAQs on Ableton Live vs GarageBand
Is Ableton better than GarageBand?
Ableton and GarageBand both have their pros and cons. Your unique needs will determine which is best for you. Ableton is more popular as a professional music production software.
Do professionals use GarageBand?
Yes. Hit songs like Kendrick Lamar's Damn and Rihanna's Umbrella were made on GarageBand. To know if GarageBand will work for you, read this article.
Can you use Ableton with GarageBand?
You cannot continue an Ableton project on GarageBand or vice versa. You would have to export the audio from one DAW before importing it into the other.
Do professionals use Ableton?
David Guetta, Marshmellow, Skrillex, DJ Snake are some famous producers who use Ableton to make their music. To find out if Ableton will work for you, read this article.
What free software is better, GarageBand or Ableton Live Lite?
Your workflow will determine which software would work better for you. GarageBand has a more intuitive interface that makes it easy for first-timers.
Is GarageBand worth learning if you play real instruments?
Yes. GarageBand helps you to quickly record your ideas. It's also great for songwriting and composition.
Should I use GarageBand or Ableton Live to produce songs?
Both GarageBand and Ableton can be great choices. There are some factors to consider, like price, workflow, and your style of music. This article tells you everything you need to know.
Read Also: 7 Best Melodyne Alternatives (Free & Paid Included)
Conclusion
Ableton is best for:
Producers who perform their music to Live audiences.
Professionals who need a high standard of mixing and mastering.
Creatives who love to control every detail in their recorded material.
GarageBand is best for:
Beginners who have never used a DAW.
Musicians and songwriters need software to record their ideas.
Producers who use Live instruments in their recordings.