Are you a music producer looking for the best DAW to use? There are many options out there. ProTools, FL Studio, Reaper, Studio One, Logic Pro, and much more. It can be hard knowing which one will suit your needs best.
Is it Reason? Is it Ableton?
In this blog post, we'll explore Reason vs Ableton to help you make that decision easier. So, without further ado, let's get started.
Reason vs Ableton: In-depth comparison
Overview of both tools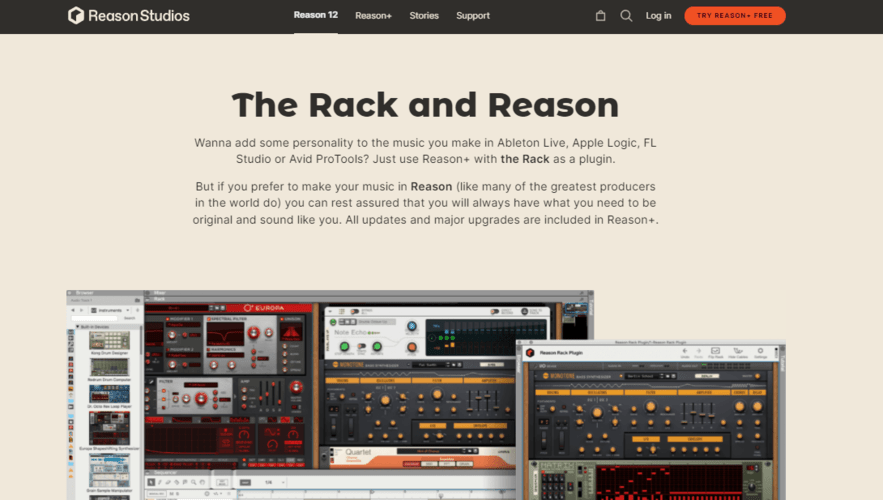 Read Also: 20+ Best Free Ableton Live Themes and Skins
Reason is a product by Reason Studios, which was initially known as Propellerhead.
You can use it for creating music, editing audio, mixing, and mastering.
You can use Reason as a plugin by loading it as an instrument or plugin in your favorite DAW.
Amazing right?
This feature makes Reason stand out from other DAWS.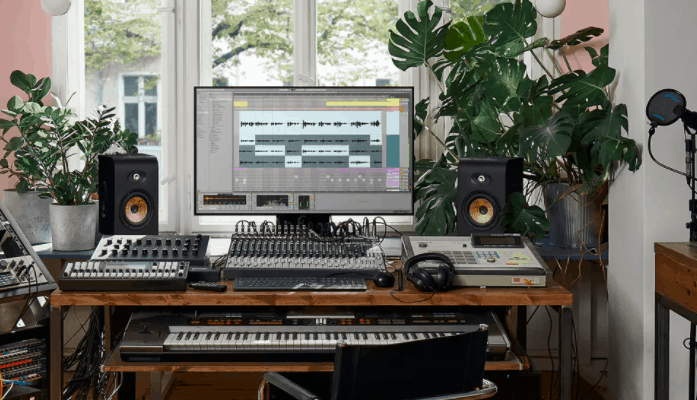 Ableton, on the other hand, is by the Berlin-based Ableton company. This outstanding DAW was mainly designed for performers to make their live stage performances simpler.
But that's not all it can do.
You can use it to create, compose, record vocals and instruments, arrange, mix, and master.
Unlike Reason, you cannot use Ableton as a plugin. But you can use Reason as a plugin on Ableton. The last version of Reason is Reason 11, and Ableton is Ableton 11, at the time of writing this post. Both these DAWs are common in professional studios.
GUI
Now let's discuss the graphical user interface of both DAWS. Both Reason and Ableton use a horizontal timeline to show the waveforms from left to right.
In Ableton, this happens in the arrangement view. But these talented Germans did not stop there, because they added another window called the session view.
You can use this fantastic Ableton feature to perform live music and DJ sets.
Also, you can audition your sounds and create loops in the session view before printing them on the arrangement view.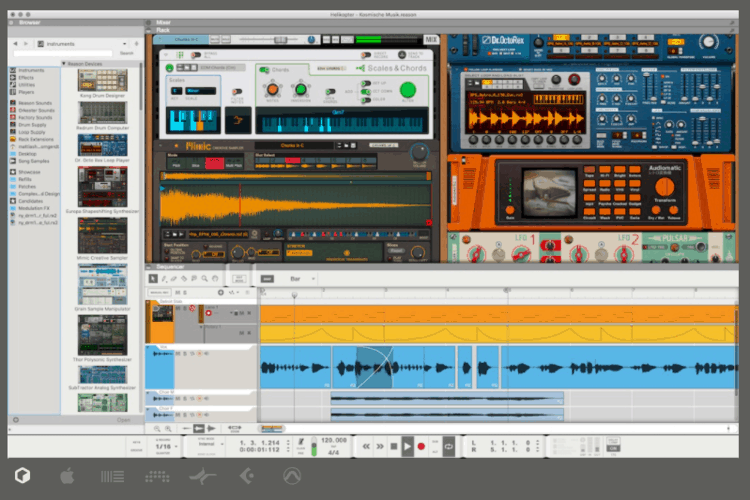 Reason comes in a primary grey color, but it's customizable. You can change the colors.
Ableton comes with various themes and skins, and you can change the color schemes of your tracks to any color of choice. Whether light grey, dark grey, black, and so forth. This helps you create contrast.
Compatibility
Device compatibility
Both Ableton and Reason are compatible with Windows and macOS. And they run smoothly in these operating systems.
Again, both programs are compatible with most hardware whether you use a USB microphone, an interface, soundcard, or a midi controller.
Live comes with PUSH, an instrument that integrates with Live, allowing you to control everything and make music in one place with nothing but your fingers.
Plugin compatibility
Both these DAWS are compatible with third-party plugins, whether VST2, VST3, or AU(Audio Units). This is the same case when you want to use Reason as a plugin in Ableton or any daw. The Reason rack plugin is compatible with other DAWS.
Setup and installation
The setup and installation in these DAWS are simple. It boils down to download the version of the DAW you want from each of the company websites.
Then locate the file on your download files and launch them. After that, ensure you authorize and register your DAW. Now your DAW is ready to use, and you can download more components.
For setting up these DAWs, the procedure is quite simple again because these daws are built to detect any hardware automatically. After that, tweak to adjust the setup to your liking.
Ease of use
These DAWS are easy to use, especially if you're a professional and have excellent DAW knowledge.
Although they might be challenging for beginners, or when you're looking at them for the first time. This doesn't mean that understanding these DAWs is rocket science.
But it takes some time to master them completely. Learning and using Reason is fairly more straightforward than Ableton Live because Live has two windows that might confuse you if you're a novice.
But once you learn Ableton Live, it becomes easier because the two windows make your work easier. Both DAWs have automatic routing.
Storage and requirements
The storage and requirements are almost the same for these DAWs. Any professional producer in music would advise you to get at least 8 GB ram and a quad-core processor if you want to run any music DAW smoothly.
On ableton.com, the requirements listed are at least 4 GB RAM, a multicore processor, a display of 1024 by 768, and at least 12 GB space if you're installing all sounds.
To run Reason, you require at least a dual-core Intel or AMD processor, a strong internet connection, a display of at least 1280 by 768, and 4 GB ram. They recommend 8GB.
Features
Here are some interesting special features about Reason.
You can use Reason as a plugin in your favorite DAW as an instrument or plugin rack and load it with many effects of your choice.
Comes with a graphical representation that resembles real hardware, thus giving you a better experience and amazing signal flow.
The virtual rack feature allows you to group your favorite effects, create rack extensions, and use them together.
This DAW also comes with an excellent sample and sound library of instruments. The VSTs and the sequencers are also on point.
This DAW has a great time stretching, and it comes with many virtual instruments.
Ableton is also not far behind when it comes to features.
The fact that you have two windows – the arrangement view and session view boosts your ability to experiment and express your creativity. This also gives you a great workflow.
Ableton has advanced wrapping and audio stretching that makes editing samples easier.
You can use this DAW for multiple recordings and to create unlimited audio mixer tracks, midi effects, and instrument tracks.
I also love the group feature in Ableton. It's helpful when you want to apply similar effects to a group of tracks in your project. This saves time and CPU. And it's great when you want to manipulate audio samples and your channel dynamics with similar effects.
Other features include track freeze, capture midi, comping editing, virtual instruments, midi effects rack drum rack, and many more.
You can connect any analog synth, audio hardware, and hardware samplers with this daw.
Audio editing tools
Audio editing is the same in both DAWs. They are at par with each other, but Ableton comes out a little on top, thanks to its advanced wrapping and real-time stretching, comping, and lined track editing, multiple automation lanes, complex wrap modes, and audio slicing features.
Both DAWs allow you to pitch, chop, slice, quantize, automate, fade, cross-fade, and snap to the grid manually as well.
Similarities and differences of Reason vs Ableton Live
Similarities
These DAWs are similar. For example, they both have a horizontal timeline waveform presentation.
They both accept third-party plugins, allow you to create, record, mix, master, and perform all audio-related activities in the box.
These DAWS come with various effects, virtual instruments, sample libraries, and work with external devices.
Reason and Live are compatible with similar operating systems, VSTS, hardware, and AU. They allow for real-time stretching and manual editing. You can use these DAWS to make any style of music.
You can export audio in any file format you like in both DAWS. When it comes to virtual instruments, both these DAWS have a vast array of stock options.
Both are great for audio editing and recording.
Differences
Reason has a horizontal timeline while Live has both arrangement and session view, thus giving it a non-linear mode.
Ableton Live allows for live performance and midi performances.
The arrangement or playlist window in Live is integrated with the mixing and mastering suite. This is not the case in Reason.
Pricing
Reason
Reason 11 is available for $399(Standalone and plugins)
Ableton Live 11
Ableton Live 11 Intro $99 (Essentials)
Ableton Live 11 Standard $449 (Full features plus extra)
Ableton Live 11 Suite $749 (Complete Integrated Studio)
Pros and cons
Reason
Pros
It comes with great instruments and effects, includes amazing presets.
Reason has an Intuitive interface.
The reason rack is a masterpiece.
You can use Reason as a Plugin on other DAWS.
It mimics real hardware and supports midi out.
It's great for complex arrangements.
Cons
Reason is quite expensive.
It's challenging to learn for beginners.
Ableton Live
Pros
Ableton has an arrangement and session view.
It has exceptional audio elasticity and real-time stretching and wrapping.
Cons
The workflow in Ableton can be quite challenging to learn if you're a newbie.
Conclusion
Here is our verdict.
If you like to perform live with hardware samplers, synthesizers, and sequencers, we recommend Ableton. It has the edge of looping and performing live.
But if you're just looking to make music, both DAWs are excellent and will get the work done. If you're a sound designer, get Ableton Live 11, you'll create original music and become a professional.
Hopefully, this post has given you enough insight into whether either program is an excellent choice for you.
Reason is best for:
Professionals who work with massive projects
Movie scores
Producers who use hardware(midi out)
Mixing and mastering as well
Songwriters
Recording artists
Ableton is best if:
You're a DJ and live performer.
Create electronic music.
You're a beginner.
You use massive projects because of the unlimited tracks and effects
You're a singer, songwriter, and recording artist because of its amazing comping and audio features