Affiliate disclosure: In full transparency – some of the links on this website are affiliate links, if you use them to make a purchase we will earn a commission at no additional cost for you (none whatsoever!). Will this be a problem? This is how we manage to create free content for you. Please know that your trust is so important for us. If we recommend anything, it is always because we believe it is worth exploring. And, buy me a coffee ☕️
Today, music producers have a wide range of DAWs to choose from. Some people might think it's impossible to find the best one that suits their needs.
If you feel the same, you are not alone.
We are here to help you.
In this quick guide, we will compare Reaper and Studio One head to head to help you determine which one is best for you.
Reaper and Studio One both are great options-it just depends on what your personal preferences are.
But how do you decide which one to use?
Whether you're a beginner or an expert, this comparison of Reaper and Studio One will help make your decision easier.
Let's get started.
Reaper vs Studio One: In-depth comparison
Overview of both tools
Reaper
This is a digital audio workstation and MIDI sequencer software created by Cockos. This DAW is 15 years old as of writing this post.
Their latest version is Reaper 6.0, as of writing this post. It's an all-in-one DAW you can use to create, record vocals, mix, and master music on the go.
Reaper also has video editing features to trim, edit and apply video effects.
Studio One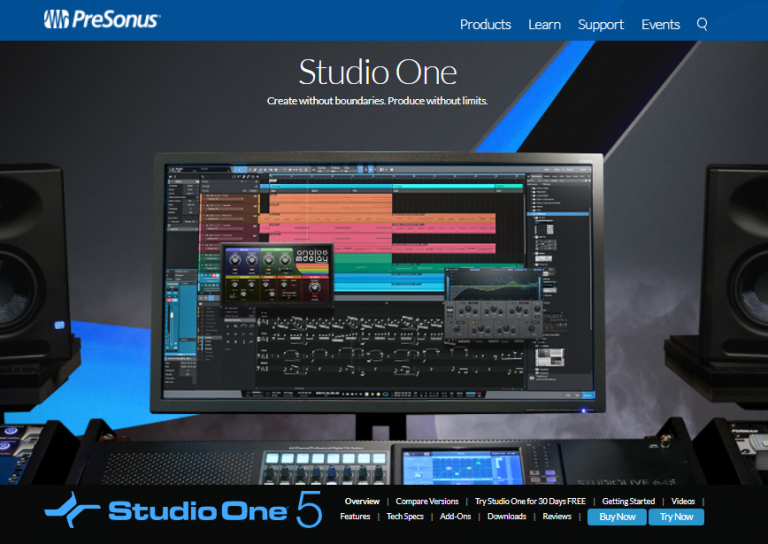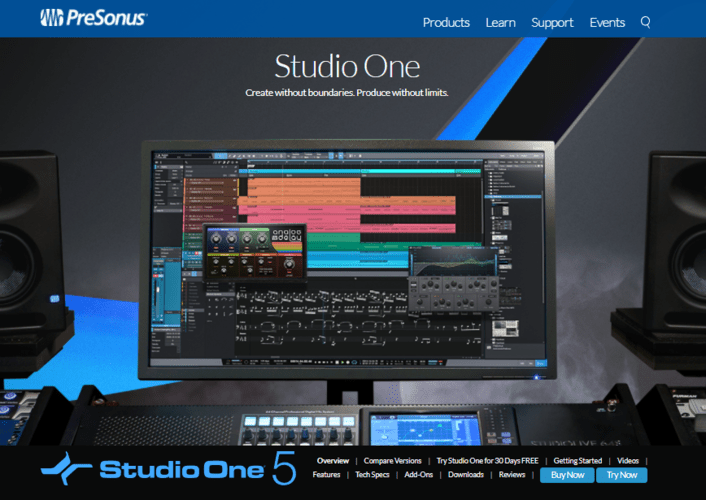 Studio One is a digital audio workstation by the Presonus company. Just like Reaper, Studio One is an excellent fit for any audio enthusiast who wants to create, record vocals, edit audio, mix, and master. It also has video editing functionality that comes in handy for making movie scores.
Setup and installation
Just like in any other DAW, the setup and installation in Reaper and Studio One are pretty simple.
You can access the installation setup of both digital audio workstations on their websites.
Once you download this installer, run it on your device. After that, you work, ensure to register and license your DAW appropriately.
Setting up equipment, hardware and routing are also simple in both digital audio workstations. It's automatic as soon as you plug your devices into your PC.
GUI
Both Reaper and Studio One apply a similar standard horizontal timeline where the audio waveforms are displayed.
They both have a mixer on different windows and display a console of mixer and inserts. Studio One also has a browser window where you can locate your instruments and effects.
If you don't like Reaper's default presentation, you can customize your own GUI with different colors just the way you like it.
You can also customize the interface with user-inbuilt themes available on the DAW. Studio One is also customizable.
Ease of use
Both DAws are easy-to-use, because, nearly they have the same creating, mixing, recording, and mastering workflow.
However, these can be quite confusing for beginners who do not have a background in audio engineering. This is because of their appearance and various menus.
But once you learn these DAWS, they are straightforward to use.
They both have a drag-and-drop feature. What's more?
There are readily available user guides, resources, and tutorials online on how to use these DAWs.
Compatibility
Device compatibility
Both Studio One and Reaper are compatible with Windows & Mac OS. Luckily Reaper is also compatible with Linux.
These DAWs run smoothly on the supported operating systems with no lag.
What's more?
Both these digital audio workstations are compatible with devices, such as hardware audio interfaces, USB microphones, and MIDI synthesizers.
Plugin compatibility
When it comes to plug-in compatibility, both digital audio workstations are compatible with VST3, VST2, and AU plugins. So you don't have to worry about using 3rd party plugins.
Reaper is also compatible with JS plug-in formats, and it works with both 32 and 64-bit windows.
Both also come with in-built stock plugins you can use if you do not have third-party plugins on the go.
Storage and requirements
These DAWs have similar storage and requirements. If you ask any professional, they'll tell you that running any DAW smoothly requires at least 8 GB of RAM and a quad-core processor.
The better the specs of your PC, the better your DAW will run.
Studio One 5 requires 64-bit Windows, an intel core i3 processor, or an AMD A10 processor with at least 4 GB RAM. But they recommend 8 GB RAM or more and an internet connection. But you can use it offline as well. And a 40GB hard drive.
Reaper is the only DAW with the least storage and spec requirements. You need only 1, you work, 20MB to install Reaper. This is amazing because you can install this on a flash drive and carry it wherever you go. You will need more space if you want to install extra plugins and instruments.
Audio editing tools
Both these DAWs come integrated with automatic audio time stretching. Reaper has amazing audio comping features and is also great if you want to build a track structure quickly.
Both DAWs are great for recording and mixing. Audio editing activities in both DAWs are very simple, whether it's stretching, quantizing, splitting looping, fading, cross-fading, trimming pitching, and snapping to the grid.
They are also great for chopping and manipulating samples.
Features
Reaper
This piece of software offers many recording and exporting formats
You can side-chain any plugin
A tone of stock effects, plugins, and virtual instruments
Reaper support many formats of third-party plugins
You can use custom skin and themes in Reaper
Easy modulation, grouping, and automation
Studio One
It comes with many inbuilt sound effects and stock instruments without having to download any third-party plugins
It has an amazing harmonic engine.
You can back up and archive your projects.
Use Studio One to arrange live and create chords live.
Has a fully customized mixer console.
Similarities and differences of Reaper vs Studio One
Similarities
Both DAWs are great for creating, recording, audio, editing, mixing, and mastering.
They both come with automatic audio time stretching.
Learning both DAWs can be pretty confusing for beginners, but they don't have a steep learning curve. One can quickly learn and understand them.
Both DAWS have an intuitive interface, custom actions and ensure CPU efficiency.
They both connect automatically with external instruments, external hardware like synths, midi controllers, and audio interface hence, an easy hardware integration.
These powerful DAWs have great stock instruments, audio effects, and work as voiceover software.
Differences
These DAWs are not that different.
The big difference between them is mostly seen when you compare their prices. And also when you look at their interfaces.
Although both are compatible with Windows, Reaper is also compatible with Linux. You can run Reaper both as a portable install and as a network install.
Unlike Studio One, Reaper is less CPU intensive and requires less to run in terms of storage and system requirements.
Pricing
Reaper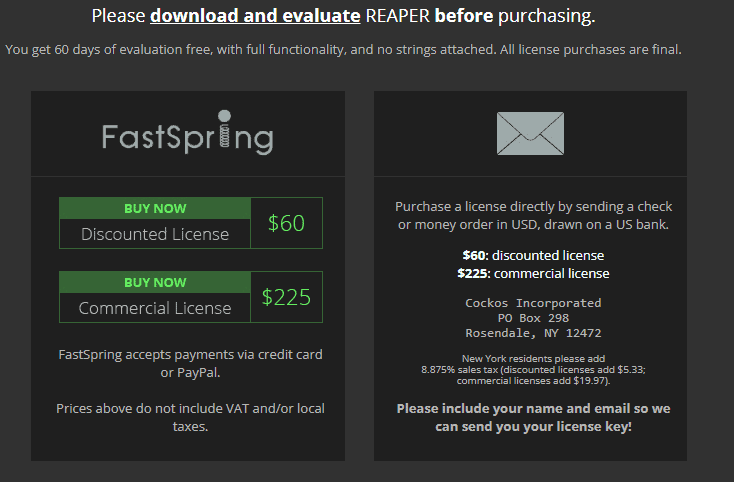 Reaper comes in two versions, and the best part is that once you buy the Reaper 6 license, it covers the upgrades up to Reaper 7.
Reaper discounted license costs $60 and commercial license costs $225.
Studio One 5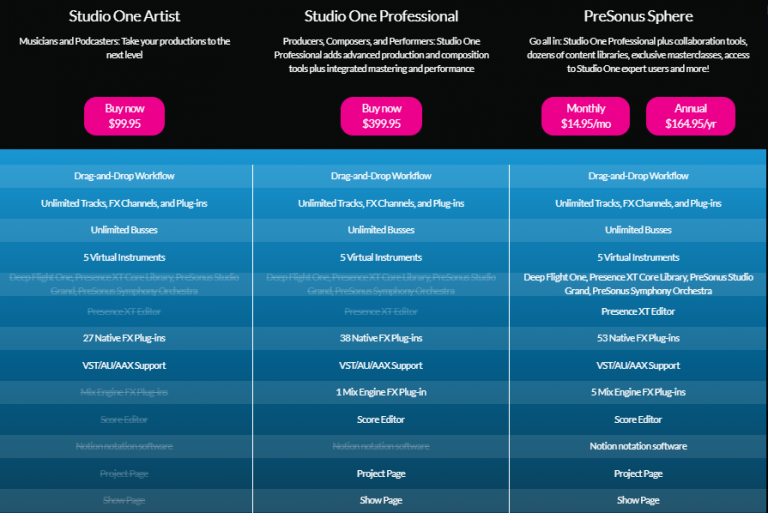 Studio One 5 lowest pricing starts at $99.95 and is best for musicians and podcasters.
If you are a producer or a composer you can go with Studio One professional plan that costs $399.95.
Pros and cons
Reaper
Pros
Affordable. Costs less.
Minimum storage and system requirements
Works whether its a portable and network inst/all
Compatible with any third-party plugins
Cons
Reaper is short when it comes to stock plugins.
This GUI might be difficult to learn for beginners.
Studio One
Pros
This DAW comes with many plugins and instruments to mix in the box.
Studio One has an amazing mastering suite and an amazing workflow.
There are many fantastic learning resources available online about this DAW.
Cons
It can be pretty challenging to learn for beginners.
It's hard to save track templates in this DAW
Studio One has a cluttered GUI.
Conclusion
There you have it. This is all you need to know about Reaper and Studio One. You can see that both are amazing Daws and will get your creativity going as you have read.
There is no horrible option between these two because they are on the same level and offer value for money. If you have a space shortage and a low spec system, get Reaper because it will still load faster.
However, if you have a good system, you can get Studio One. It will give you creative freedom, especially if you're a professional who works with large files like movie scores.
Reaper best for:
Singer-songwriters
Recording artists
Mixing and mastering experts
Studio One best for:
Professionals who know audio and music production
Recording artists who want to make quality music
Songwriters
Producers with large projects like movie scores
Hi, I'm Jennifer I'm a passionate singer and an audiophile from Detroit, MI. 
I'm on a mission to help music creators to create fine music that help them position uniquely in the saturated music space.
Follow my blog for regular content :-)