Today in this post, I will review Reaper vs Cubase and help you decide which is best for you.
Let's be brutally honest, these times are boring… But, you found something that makes
your days "easier", what is that?
| | | |
| --- | --- | --- |
| | | |
| | Mac, Windows, 64-bit Linux (beta) | |
| | | |
| | | |
| | | |
| | | Unlimited MIDI and Audio Tracks (Pro) |
Making music, of course!
So you got to the point in which you wrote some songs, practice with your brand in the garage, and you feel it is time to record perhaps a first EP?
You are looking for a Digital Audio Workstation, or as some people call it a "DAW", right?
But where do you start? Forums mention names such as Reaper, Cubase, Pro Tools, Studio One, Ableton, but you are simply lost.
Don't worry, I have been there too.
Maybe you are trying to find the best DAW for Windows? Perhaps for Mac OS? Or you just want to know which is the best DAW for beginners? Or just the best free DAW?
If you are going nuts about finding the best music production software, wait a minute!
Read this honest review on Reaper vs Cubase, and then you can get it, ok?
Reaper vs Cubase: Brutally honest review
Overview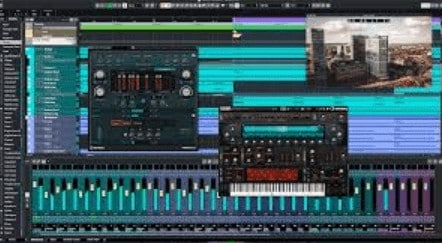 Read Also: 20+ Best Free Ableton Live Themes and Skins
Both Cubase and Reaper are digital audio workstation software that are coded in 64-bits, available on Windows and Mac OS. However, Reaper is also available on Linux as an experimental native support option.
These DAWs offer the standard timeline window in which waveforms show horizontally and the mix window where a console with faders and inserts is displayed.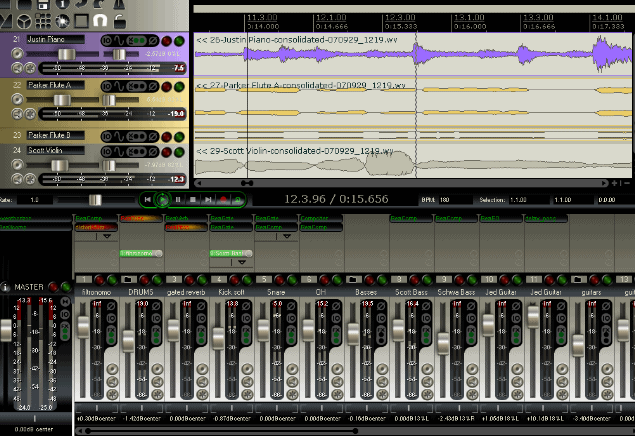 Reaper is developed by the company Cockos, and it is fully compatible with third-party interfaces and other MIDI devices.
Conversely, Cubase is developed by the company Steinberg, also giving its users full compatibility with their interfaces, fader controllers, and added software.
GUI
These two programs have a very distinct GUI characteristic, and that is the color. Both come in a standard grey/dark default theme, ideal to work for extended periods of time.
With Reaper, this program gives its users the ability to change its appearance by changing its colours, icons, toolbars, and layouts.
Also, Reaper's windows can be shown, hidden, docked, or displayed on a separate monitor if needed.
For users coming from a Pro Tools and Studio One background, Reaper will look very familiar.
On the other hand, users looking for a GUI that is optimized for MIDI recording and editing for scoring, Cubase will be the right choice.
Compatibility
Device compatibility
The company Cockos that develops Reaper does not design any proprietary hardware.
However, they have created Reaper to be fully compatible with all interfaces and hardware in the market using CoreAudio, ASIO and Wasapi formats, and all MIDI controllers and surfaces.
With Cubase, this program is compatible with other Steinberg interfaces and software, and third-party hardware.
Plugin compatibility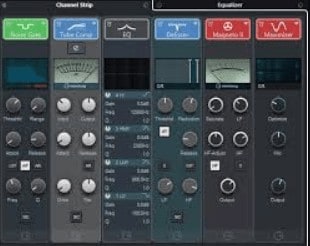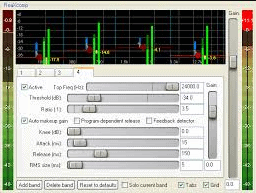 Cubase and Reaper are music production softwares capable of running plugins in VST format (the industry standard).
However, Reaper can also run AU and JS plugin formats.
These DAWs come with a variety of stock plugins that let the user work as soon as the program is installed. Some of these plugins include dynamics processing, time-based effects, and synthesizers.
Setup and installation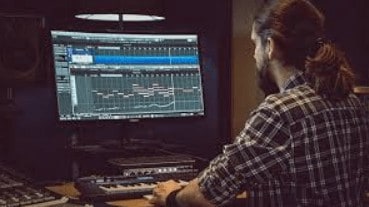 The installation process of these DAWs is very simple.
The user can download the installer from their websites and follow the instructions once it is run.
In the case of Cubase, specifically, you can also install it from its proprietary download software centre called "Steinberg Download Assistant", which can actually be simpler.
After Cubase is installed, you will need an elicenser dongle to run it.
These dongles basically look like a flash drive, so you will need to have one USB port available to connect it.
Reaper does not need any of that to be run. Just install it and enjoy it.
Ease of use
Most DAWs in the market follow the same concepts as far as recording, editing, and mixing.
So in theory, all the functions should be applied following the same methods.
However, because of Reaper's appearance and menus, the way functions are selected and operations are applied, might feel a bit more confusing to inexperienced users because of its "old school" dropdown menu look.
Cubase, on the other hand, can be as easy or as complicated as the user makes it, due to the massive amount of possible operations.
This is totally user-dependent most DAWs can do it all, and it really depends on your personal taste and the expected goals for each project.
Storage and requirements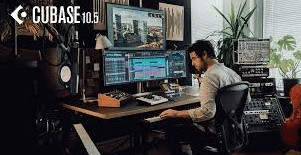 Reaper is extremely efficient with storage requirements.
If you only install Reaper's minimum required files, you only need to have around 120 MB's available.
Actually, you could even install it as a portable install in a flash drive to take it everywhere you go!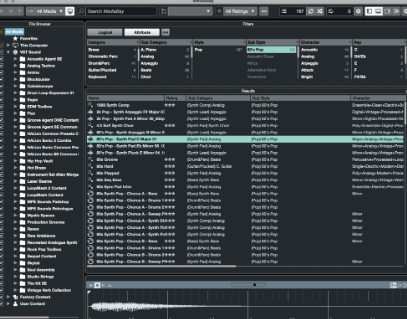 The rest of the installation files such as the plugin libraries and virtual instruments are optional, and depending on the amount of these you install, the storage will be higher or lower.
On the other hand, Cubase requires you to have at least 30 GB of free space in order to install because of its vast amount of stock plugins, virtual instruments, and libraries.
Features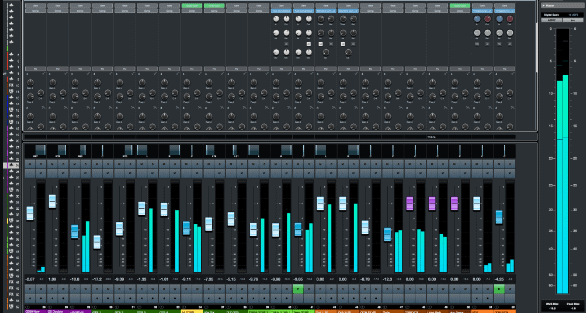 Reaper
Drag and drop functionalities for importing, arranging, and rendering, making it easy and fast.
Recording can be done in multiple formats and sample rates at the same time, no need to care about sample discrepancies any more.
Any track can record and output audio or MIDI, completely universal I/O.
Sidechain available on any plugin, even if the plugin does not have that feature originally, ideal for the creative mixers.
Can be run locally, portable, or even from the network for easy access on any host computer.
Macro creation is available from Python, ideal to simplify the most complicated tasks in a single keystroke.
Cubase
Massive amount of stock plugins, loops, and virtual instruments, ideal for the user trying to produce as soon as the installation finishes.
The score editor functions simply include every single symbol and articulation you can imagine, even comments and notes can be added to the score in order to produce in a more "traditional" fashion.
Mix console is optimized for full keyboard use, no need to use the mouse! Drag and drop plugin and routing assignments make the console extremely powerful and versatile.
Media Bay lets users organize their samples, sounds, and loops so that content can be accessed quickly, never stopping the production flow.
Vast video integration capabilities, specially designed for engineers working in the sound for film and postproduction realm.
Audio editing tools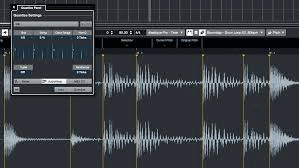 Reaper
Auto-Stretch Timebase lets the user automatically stretch and re-confirm audio around complex tempo changes following the tempo-mapped grid.
Users can quickly separate audio or MIDI events into freely arrangeable takes and lanes for easy comping, ideal for producers trying to get their song structures up and running.
Without the need of switching tools, you can move, split, glue, resize, trim, loop, time stretch, pitch shift, fade, crossfade, slip, snap to grid an event.
Regions can be copied or moved in order to quickly try out alternate arrangements, so you can test different structures as many times as you want.
Cubase
The embedded "VariAudio3" function lets you tune your vocals (and also melodic instruments) in Cubase without the need of any other third-party software.
Audio Warping can be applied in order to quantize performances following the pre-defined and the associated warp markers, especially useful for producers trying to get their timing as close to the grid as possible.
The Sample Editor lets you edit your samples within its own editing environment using a comprehensive set of tools so that you can add it to the production after.
Pricing
Cubase
This software is only offered as a perpetual license, and there are 3 versions:
Cubase Pro: $580
Cubase Artist: $330
Cubase Elements: $100
Reaper
This program is offered as a discounted license for an individual or as a commercial license:
Discounted license: $60
Commercial license: $225
Similarities
Both support VST plugin formats.
These DAWs give their users video-related features for audio for film operations.
A good amount of stock plugins for mixing purposes are included in both of these programs.
Folder tracks and group editing is available on both digital audio workstations.
Delay compensation is available on both systems.
Differences
Besides running on Windows and macOS, Reaper can also run in Linux.
Reaper can be run as a portable install as well as a network install, Cubase can only be run locally.
Reaper is a lighter, less CPU-intensive program overall, while Cubase is more CPU-consuming.
Cubase only runs VST plugins, while Reaper can also run AU plugins.
Pros and cons
Cubase:
Pros
Score view is well optimized for virtual instruments and traditional music production and arranging.
Video-related functions and operations are vast, great for post-production.
Cons
Storage requirements are considerably large compared to other programs
VST is the only accepted plugin format.
Elincenser dongle needed to run the program.
Reaper:
Pros
VST and AU plugin format capabilities.
It can be run from a portable device.
Lightweight program operation in general.
Cons
GUI is not as easy to work with as other programs.
Very limited amount of stock virtual instruments.
Conclusion
If you are a user looking for a digital audio workstation that starts and loads in seconds, capable of capturing any audio material from any source within virtually any scenario or host system, Reaper is your best bet. Its versatility around audio recording is just impossible to beat.
If you are more into post-production and sound for film, and you are perhaps trying to work more with virtual instruments, scoring and complex arrangements in a powerful and optimized software environment, Cubase is your anwer.