Affiliate disclosure: In full transparency – some of the links on this website are affiliate links, if you use them to make a purchase we will earn a commission at no additional cost for you (none whatsoever!). Will this be a problem? This is how we manage to create free content for you. Please know that your trust is so important for us. If we recommend anything, it is always because we believe it is worth exploring. And, buy me a coffee ☕️
In this post, we have covered the statistics of the different type of music genres based on their popularity.
Do you know how many music genres are there in total?
Glenn McDonald, an engineer and a data alchemist created an Every Noise.com where you can listen to 1,264 different music genres and their subgenres.
The most common question to answer in the music industry is – which is the most famous music genre in the world?
The leading music genres in the music industry are Heavy Metal, Pop, Hip-Hop, Classical, Jazz, Rap, Blues, and Alternative.
Let us see how popular are these music genres.
Music genre popularity statistics
Stats on the world's favourite music genres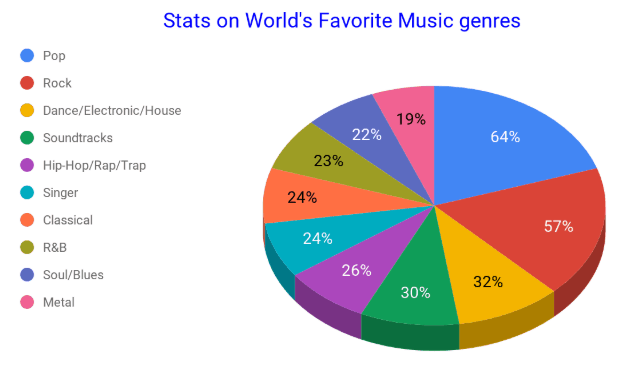 Feel free to use the chart with credits
The U.S. is the leading country in the music industry and it has generated a good $9.8 billion in 2018.
Research conducted by Edison revealed on average Americans spend 4 hrs a day listening to music. Now, that's a lot!
IFPI conducted global research in April-May 2018, with 19,000 respondents from 18 countries.
In that survey, it was found that 64% of the U.S. people would love listening to pop.
Next is the Rock with 57% audience base and 32% of the people in the U.S. love listening to Dance/Electronic/House.
Soundtracks acquired the fourth position with 30%. Hip-Hop/Rap is in sixth place with 26%.
Songwriter/Singer, Classical, R&B, Soul/Blues are not so popular genres and they have 24%, 24%, 23%, and 22% listening rate respectively.
Also, as per the survey, the Metal genre is at the last position with only 19% listening rate.
Music genre song consumption stats in U.S. 2018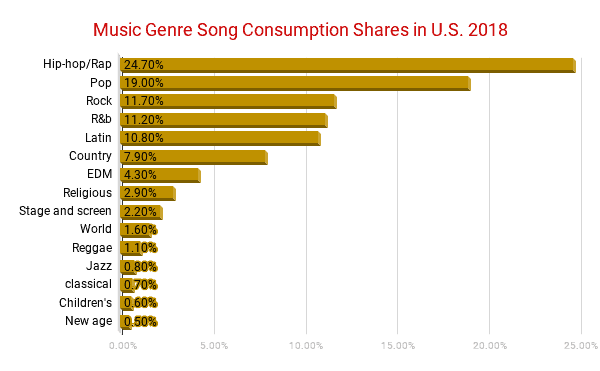 Feel free to use the chart with credits
This graph represents the distribution of music genre song consumption in the United States in 2018 as per the year-end report made by BuzzAngleMusic.
Hip Hop is the most consumed genre in the U.S. with 24.7 %. African Americans were the first to introduce Hip Hop to the world and more than 40% of them would love listening to Hip Hop.
Also, globally ⅔ rd of all the Hip Hop music lovers are in the age groups of 18 to 34. Hip Hop has the highest number of youngest fans in the world today. People in the age group of above 65 are not much interested in listening to Hip Hop.
In America, it is not only famous as a genre but the U.S. people adopted it as a culture. Hip Hop helped many MCs and provided them with a good platform to expose themselves.
Pop ranked as second with 19% and Rock music song consumption accounted for 11.7 % of total music consumption.
R&B music had the sharing of 11.2% while Latin accounts for 10.8%. The remaining genres are not consumed much.
Data on U.S. album consumption by Music genre – 2018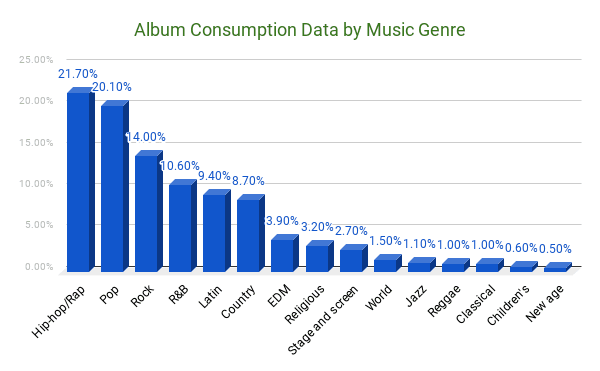 Feel free to use the chart with credits
The above graph presents the distribution of music album consumption in the United States in 2018, by genre.
Hip Hop has now the full integration with American culture and hip-hop accounted for 21.7% of music album consumption in the U.S.
Pop consumption rate is of 20.1%.
In 2018, pop music consumption accounted for 20.1 percent of total music consumption, followed by R&B with 10.6% consumption rate.
U.S. music consumers' favourite genres age wise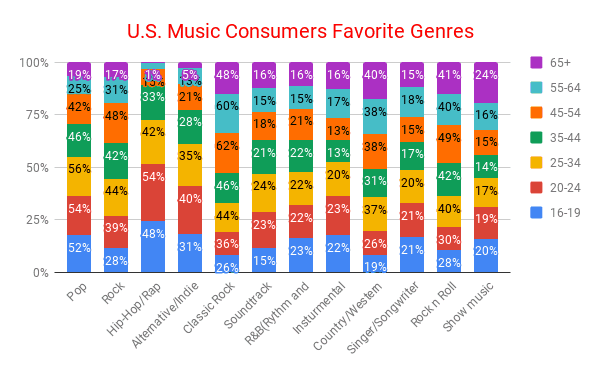 Feel free to use the chart with credits
As per the survey conducted by Audio Mentor U.S., the age group of 16-19 would love listening Pop and Hip Hop/Rap. These genres are so popular among those age groups. These age group people won't listen to the Soundtrack much.
The age group of 20 to 24 were more interested in listening to Pop and Hip Hop genre and are less interested in Soundtrack and R&B genre.
Those aged between 25 to 34 will have an interest in listening to many genres like Pop and Rock, Hip Hop with first preference. People aged between 55 to 64 and 65+ would love listening to Classical music. But 65+ people won't listen to Rap/Hip Hop music.
Interest in classical music is more among those aged between 45 to 54.
U.S. 2018 stats on leading music genres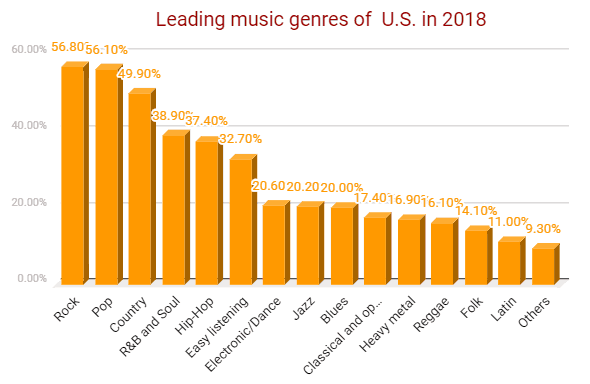 Feel free to use the chart with credits
In a survey conducted by Deezer, it was found that 56.8% of US people would love listening to Rock music. They said that it was their favourite genre. While 56.1% would love listening to Pop.
Country and R&B acquired third and the fourth positions with 49.9% and 38.9% interest respectively. Hip Hop deserved fifth place and it accounted for 37.4%.
20.2% of them agreed that they prefer Jazz.
Highly-shared music genres on YouTube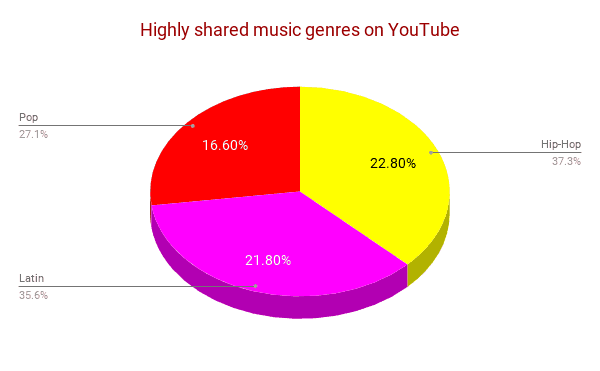 Feel free to use the chart with credits
YouTube, the world's most famous video sharing channel has become a home for rappers, musicians, and artists.
On YouTube, Hip-Hop was the highly shared music genre and acquired the first position by gaining 22.8% of video streaming among all the music genres while Pop gained 18.5% popularity in YouTube video streaming.
This may be explained partly due to the fact that most of the YouTube audience are millennials.
Latin has the share of 21.8% of all video streaming on YouTube.
Other stats on music genre popularity
According to Nielsen Music, Hip-Hop and R&B accounted for more than ⅓ rd of music streaming in America, 2018. Hip-Hop and R&B accounted for 12.2% of physical album sales and 31.2% of music sales.
BuzzAngle reported that the top-selling genre of 2018 is the Rock which accounted for 26.5% of all album sales in 2018 while Pop stood in the second position with 26.3% of album sales.
On-demand audio streaming for R&B and Hip-Hop was boosted by 72% in 2018 as per the records of Nielsen. In 2017, it saw a boost of 59% compared to 2016 which was 12.5%.
Hip-Hop accounted for 27% downloads on Apple and Spotify and gained the first position among all the genres. It also dominated 22.8% of all the streams in YouTube video consumption.
Hip-Hop and R&B are the leading genres in the market of the music industry with 31% contribution.
As per the survey conducted by Spotify by analyzing 20 billion tracks, it announced that Hip-Hop is the most listened music genre.
In China, around 37.1% of the people in the age group 15 to 25 years prefer love listening to Hip-Hop.
Also read:
1. Most Awful Recording Studio Statistics That Fears Audio Producers
2. 60+ Mind Blowing Facts and Research on Music and Brain
3. 15 Horrifying Music Piracy Statistics and Facts You Need to Know
Wrapping up
This is all about the popularity statistics of the world's famous music genres.
With the increasing diversity, the birth of new genres and subgenres will continue to grow day by day.
I hope you found these statistics helpful.
Hi, I'm Jennifer I'm a passionate singer and an audiophile from Detroit, MI. 
I'm on a mission to help music creators to create fine music that help them position uniquely in the saturated music space.
Follow my blog for regular content :-)