The debate of which DAW to use in the studio has been going on for decades. And it will not end soon.
The two most popular contenders are Ableton Live and Pro Tools, but two new kids have their own set of unique features.
With both products being so similar in terms of features and price point, it can be challenging to decide which is best for you.
In this quick guide, we will compare these two software programs toe to toe by looking at their strengths and weaknesses before concluding with a no-brainer choice between them.
Let's dive in and compare Studio One vs FL Studio.
Studio One vs FL Studio: In-depth comparison
Overview of both tools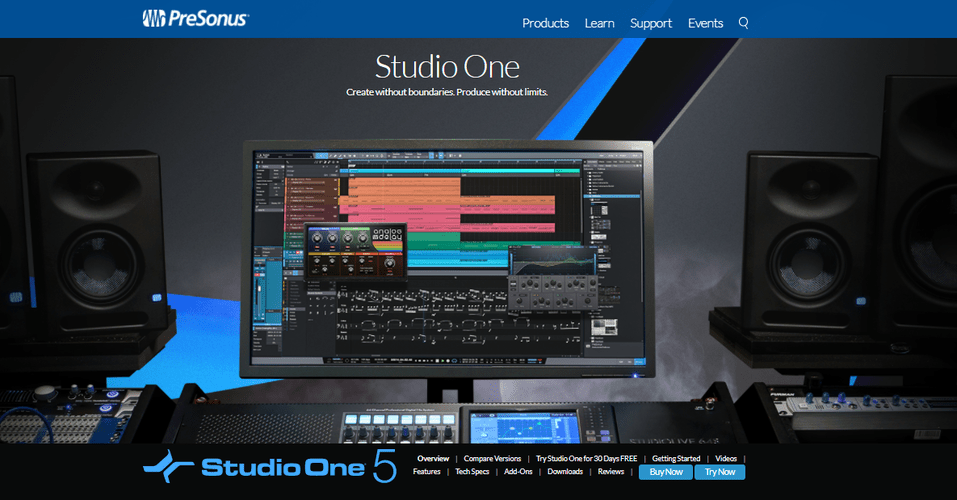 Read Also: 20+ Best Free Ableton Live Themes and Skins
Studio One is an excellent digital audio workstation developed by the famous PreSonus company. You can use it for creating, recording, mixing, mastering music and audio, and video functionality.
Studio One is compatible with macOS and Windows. It has midi and audio harmonic editing features. This DAW is approximately 11 years old. Their latest version is Studio One 5.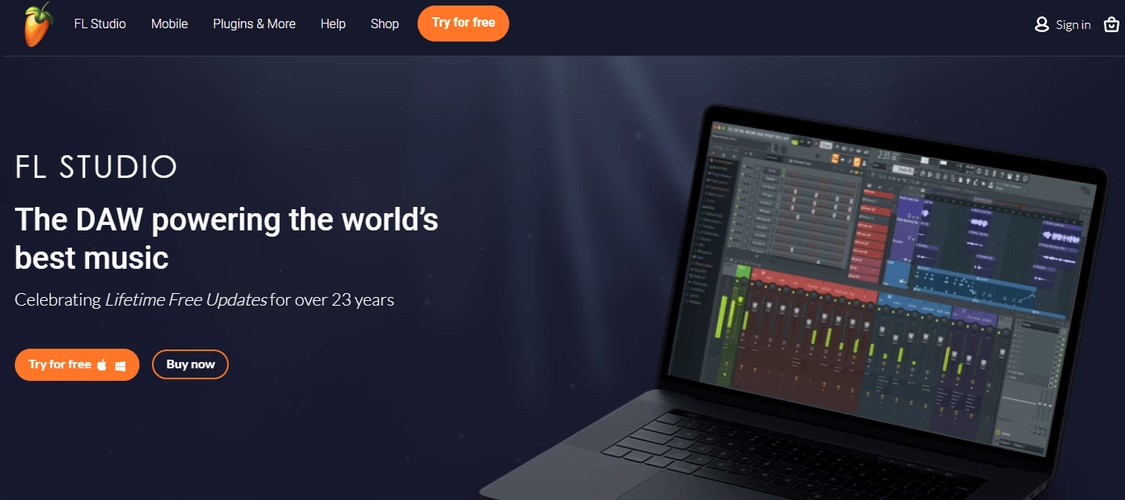 FL Studio DAW was developed by Image Line, and it's very popular. It is an all-in-one digital audio workstation. Just like Studio One, producers use it to create, mix, master audio, and create videos.
FL Studio has been in the game longer than Studio One 5. It's 22 years old. It has evolved over the years, and it's better today. The latest version of this DAW is FLStudio 20.8.3
GUI
These DAWS have an almost similar GUI. They both feature a horizontal timeline. You can create your theme, background image, and even skins in FL and upload them to the DAW.
Studio One also has GUI customization options. So if you don't like the fonts or channel strip colours, you can change the appearance to your liking.
Both the GUI of this softwares is intuitive. But the Studio One 5 GUI is quite challenging to learn for beginners when compared to Fl Studio.
Compatibility
Device compatibility
Both FL Studio and Studio One are compatible with windows 7,8,10, and 11, and macOS, and they are stable in these operating systems.
Plugin compatibility
When it comes to plugins, you'll be amazed by how well these DAWS are compatible with third-party plugins.
Both FL Studio and Studio One 5 are compatible with third-party plugins. They load and run smoothly.
Since FL Studio comes in 32 and 64-bit format, ensure to load 32 and 64-bit plugins, respectively.
But this doesn't mean that a 64-bit plugin will not work in the 32-bit version FLStudio. It works like a charm by using a bit bridge. Studio One is available in 64 bit only.
Both DAWSsupport VST 2, VST3, Audio Units, and ReWire, and they come with numerous virtual instruments.
Setup and installation
These DAWS are both easy to install. The softwares are available on their websites for download and installation. Ensure to get the product key of each DAW to complete your activation and installation.
Setting up the hardware is a walk in the park in both DAWS. Once you connect your interface, your DAW should automatically detect the interface, microphone, and MIDI.
There are many guides online to help you finish your setup if you encounter any challenges while installing these DAWS.
Ease of use

As much as both of these softwares are easy to use, I believe FL Studio is much easier to use than Studio One 5. But not by a significant margin. One feature that makes it easier to use is drum sequencing.
Both DAWS have the drag and drop feature, which comes in handy when adding files and samples to your project.
In FL Studio, you drag and drop your files on the playlist, while in Studio One, you drop them on the tracklist.
Editing, comping, automation, recording, mixing, and mastering workflow are similar and straightforward in both DAWS.
Storage and requirements
The storage and requirements required to run these DAWS are similar because they are similar and have standard requirements.
If you want to run any DAW smoothly, I suggest you get at least 8GB of RAM and a Quad-core processor.
According to their website, the minimum requirements to run Fl studio are 4 GB RAM 2 GHz AMD and Intel Pentium 3 CPU.
To run Studio One 5, you need 64-bit windows, an Intel core i3 processor or an AMD A10 processor, at least 4 GB RAM, an internet connection and a 40GB hard drive.
Notable features
PreSonus Studio One
This DAW has a perfect harmonic engine and harmonic editing.
It comes with Inspiring plugins and virtual instruments.
Studio One has a backup and archive feature.
This DAW comes with a Drum notation and a splitter.
HGreat for live arranging and live chord information.
Studio One comes with a fantastic mix console.
This DAW shows musical symbols and comes with a tablature.
It's excellent for dynamics processing
You can use this DAW to group your instruments.
Studio One comes with excellent Instruments and synthesizers.
FL Studio
Fl Studio comes with a frequency splitter(exciting feature), instrument tuner, sampler, visualizer, copy control, wrapper, and Diagnostic.
The best thing about FL Studio is that you can access it on mobile.
It comes with excellent Instruments and synthesizers like Flex engine.
It has a ghost notes feature(fantastic feature)
Audio editing tools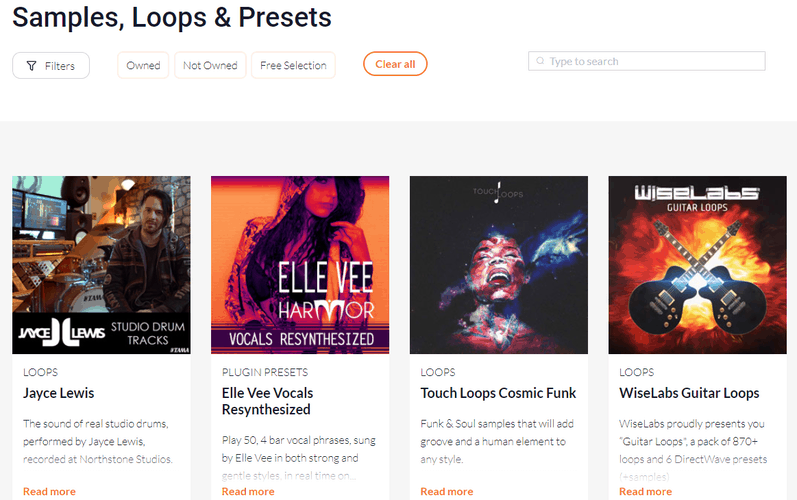 Both these daws have excellent audio editing tools and ensure quicker clip editing. They allow for audio time stretching, pitch scaling, beat slicing, chopping, pitch flex functions, and audio and drum loops editing.
FL Studio even has specific plugins like fruity slicer and slices. You can chop samples manually on the playlist view if that's your style.
Studio One 5 is also great for chopping, manipulating length, speed, volume, and loop.
Both DAWS let you chop audio like a boss. They both offer elastic time stretching. This editing feature syncs your samples immediately when you drag and drop them on your digital audio workstations.
Pricing
These DAWS are affordable, and they offer value for money.
Studio One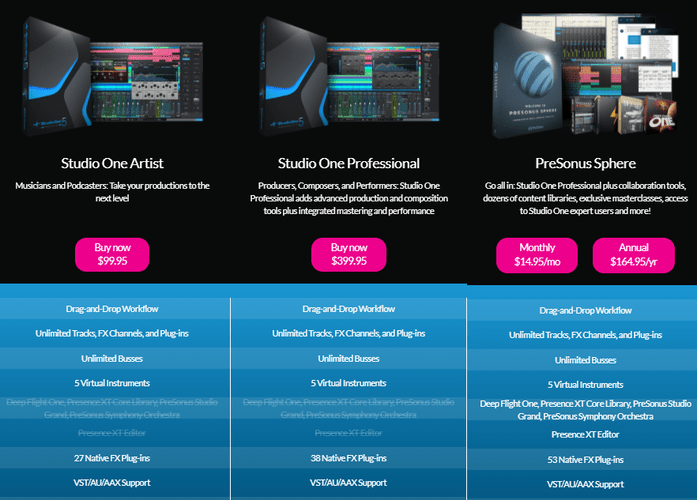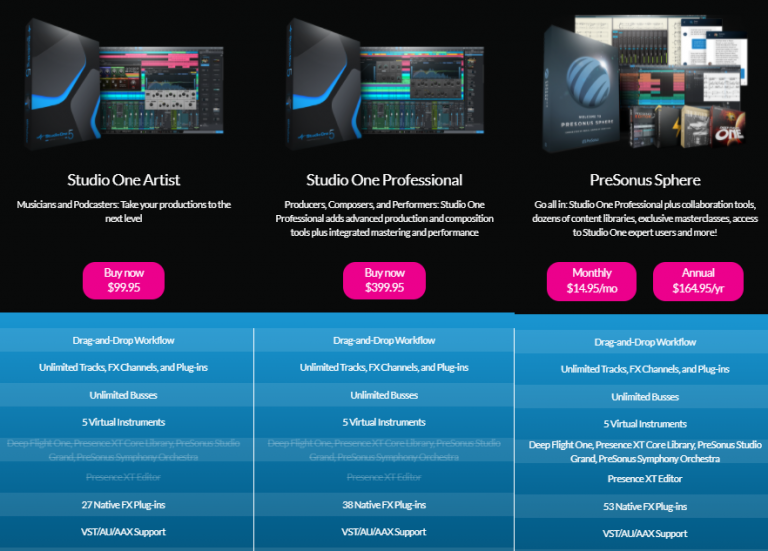 PreSonus Studio One 5 has various options, including upgrade options. These are the most common options.
Studio One Sphere $164.95
Studio One Professional $399.95
Studio One Artist $99.95
Studio One 5 Prime (One of the best free DAWS)
FL Studio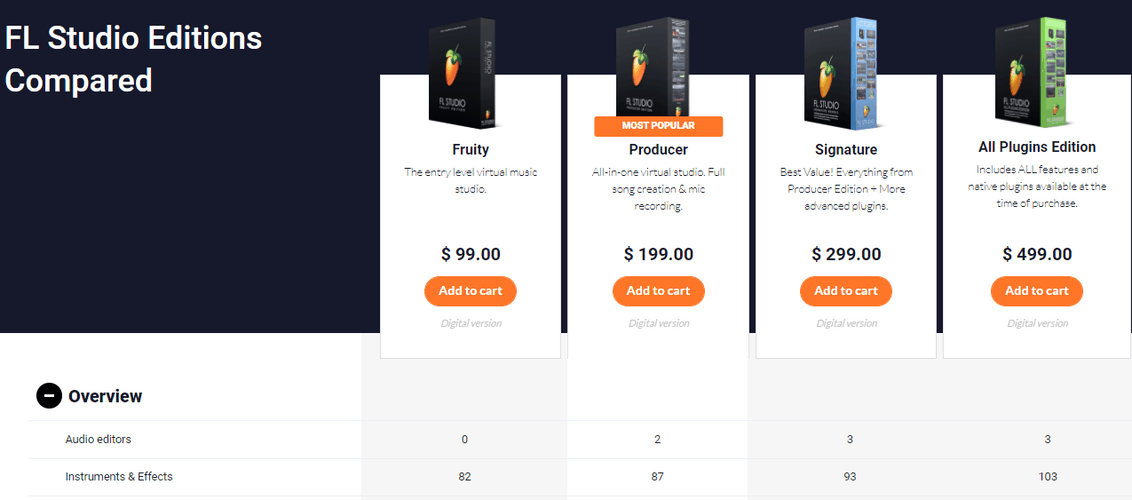 FL studio comes with three different versions.
Fl studio Fruity $99.00
Fl studio Producer (Most popular) $199.00
Fl studio Signature (Best value) $299.00
FL Studio All Plugins Edition $4.99
Similarities and differences of Studio One and FL Studio
Similarities
Both DAWS are compatible with Windows, macOS and VST 2, VST3, and Audio Units(AU)
They have similar audio editing capabilities, including manual editing and time-stretching, and you can use samples in both DAWS.
Both have the drag and drop feature, mixer and playlist on different windows. These DAWs have horizontal timeline mode, and are compatible with macOS, Windows, iPhone, iPad, and Android.
Both DAWS don't have a one-window interface.
There are great user forums online where you get more resources about these DAWS, like video tutorials. Lastly, both DAWs come with unique stock instruments.
These Daws come with different instruments and effects. Studio One 5 has an extensive set of plugins than FL Studio, while FL Studio has superior instruments.
These DAWS come with different color themes.
Pros and cons
Studio One 5
Pros
Studio One comes with numerous stock instruments, plugins, and effects for mixing&mastering on the box and on the go.
Studio One has an excellent workflow and audio process.
This DAW has a robust workflow, an excellent mastering suite, and a fantastic score view and score editor.
Studio One has numerous resources and learning materials available online.
Cons
Studio One 5 has a steep learning curve hence might seem complicated for beginners who lack understanding and don't have extensive experience and superior knowledge of music production.
Also, it lacks an instrument rack.
FL Studio
Pros
FL Studio is easy to learn, and it has the most straightforward workflow. It's great for beginners and electronic music production.
It comes with numerous stock instruments to make music on the go with the native plugins and effects.
Once you buy any version of FL Studio, you enjoy lifetime updates.
There are numerous information and tutorials are available online on how to use this DAW.
This DAW has a faster workflow, unlike other DAWs with a slower workflow.
Cons
FL Studio has poor audio recording capabilities and not great for professional mixing.
It doesn't have an instrument rack.
FL Studio automation features are not so good compared to other music editing software.
Conclusion
Both these software are great. They give an excellent digital audio workspace and offer value for money. Although these DAWS have their differences, they are not that far apart when it comes to performances.
For this reason, whatever DAW you decide to get it will get the work done. I hope you found this guide helpful.
Let us know which of these DAWS you use or which one you're going to try first. If you lack information about them, join their respective public forums and scrape the internet. You'll find tons of tutorials.
Studio One best for:
Professionals who know audio and music production
Recording artists who want to make quality music
Great for songwriters
FL Studio best for:
Great for beginners
Great for trap, hip hop, rap, afro beats, and EDM beat makers producers
Great for songwriters
Great for electronic music producers
Related articles: 12 Best 8-Bit and 16-Bit Music Makers (Chiptune Music)