For many beatmakers, songwriters, and music producers, the best tools are the ones that make the music-making process easier. And because most music is made with computers, you need a system that will communicate your ideas smoothly and easily.
MIDI keyboards help you to communicate your ideas to your DAW without using too many instruments. With your keyboard and DAW, you can create as many soundtracks and instrumentals as you want.
But because there are many MIDI controllers on the market, there are some questions that you must answer before buying.
Questions like:
What are the best MIDI keyboards today? Which portable keyboards are available?
Which keyboards can you use to make beats on your phone?
In this article, I answer all of these questions while reviewing the best beat-making and music production MIDI keyboards.
Top 7 beat making keyboards reviewed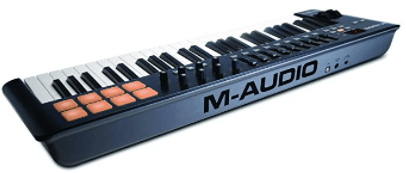 The M Audio Oxygen 49 IV is a 4-octave MIDI keyboard. All its keys are full size and velocity-sensitive. You can add emotion and feel to your beats by just adding the right amount of pressure.
The MIDI keyboard also has 8 velocity-sensitive trigger pads. These are great for making your drums with ease. And because they are velocity-sensitive, it's easier to make your programmed drums sound more organic.
That's not all.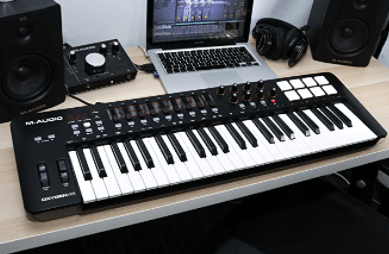 You also have 9 faders that you can assign to any settings on your DAW. Even when you don't assign them, they automatically map to popular settings on the most well-known DAWs.
Also, the M Audio Oxygen 49 IV is a plug-and-play keyboard. This means that once you connect it to your computer via USB it syncs with your DAW.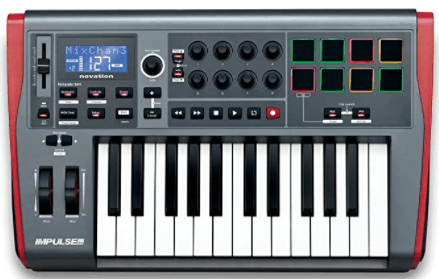 Here's another USB plug-and-play keyboard. The Novation Impulse has 25 full-sized keys, which is impressive because many 25-key controllers have smaller keys.
It also comes with 8 knobs and 8 drum pads. This wide selection enables you to make your beats anywhere, even outdoors with your laptop.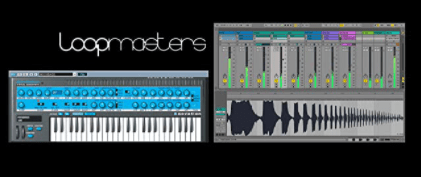 for the Novation Impulse, the makers did not dial back on functionality just because it has 25 keys. It has the pitch bend and modulation wheels, sustains pedal port, and midi out port. What's more?
Even if you didn't have a DAW before buying this MIDI keyboard, Novation added a starter pack to get you going.
The package comes with Ableton Live Lite, Novation Bass Station, Addictive Keys, and Loopmasters Sample Pack. It's a great selection to start with – you can always expand to other music production softwares later.

61 full-size keys, pitch, and modulation, USB, sustain pedal port, midi out,
The MIDI 61-key controller is great for producers, beatmakers, and performers that prefer a larger surface to play with. Especially if you're making music with piano parts, you may need a wide range.

This controller does not have drum pads or assignable knobs. So, you may have to go back and forth from your computer to do simple controls.
However, it has the essential features to express yourself musically. The 61 keys are velocity-sensitive, and it has both the pitch and modulation wheels.
Also, you can connect your sustain pedal to give more room for expression. You can connect the keyboard to your computer via its USB port or midi port.
Even without drum pads and knobs, this MIDI keyboard works great for producers and composers who need 5 octaves at once.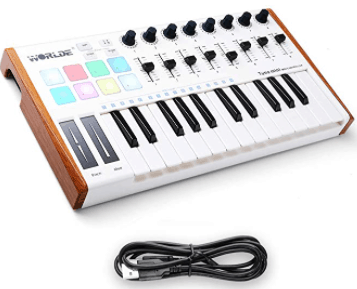 Worlde MIDI Keyboard is another 25-key controller. It's lightweight, compact, and portable. You can prop it into your backpack alongside your laptop and headphones. The keyboard makes electronic drums easier by adding 8 drum pads.
These drum pads are great both for private and stage use. They have RGB backlights of different colors that would literally light up our performance. Even if you're not going on stage, these could be great for posting your stuff on social media.
Additionally, there are 8 assignable knobs that you can use to control your DAW and plugin parameters easily. Also it's a USB plug-and-play keyboard, so you don't need any extra drivers.
Interestingly, the pitch bend and modulation controls are not wheels. They are touch-sensitive controls. They do the job, but it takes away the thrill of moving the pitch bend wheel during a synth solo.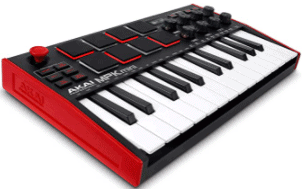 Akai Professional MPK Mini is a 25-Key MIDI keyboard that has been quite popular for some time now. It is a compact and portable option that makes it easy to make music when you're on the move. Also, it's ideal if you make beats on your phone or tablet.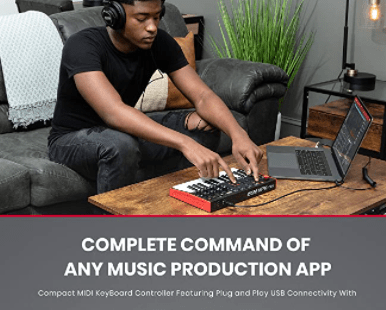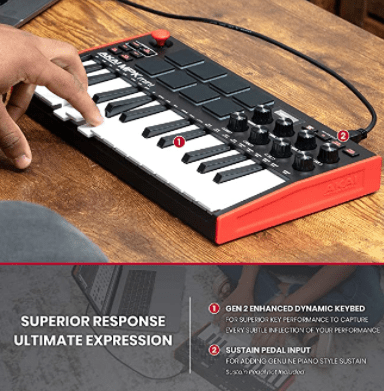 This MIDI controller has 8 backlit eum pads, and 8 control knobs. The drum pads are not as colorful as what you have in Worlde keyboards, but it still makes the Akai look good at night.
The pitch bend and modulation controls are combined in one thumbstick. It saves space and in a way, adds a layer of creativity to your sound.
The Akai Professional MPK does not come with a DAW, but it has 6 vsts in the package and about 2GB of the sound bank that you can explore. It's a good place to start if you already have a DAW.

The Alesis Qmini MIDI Keyboard has 32 keys. That's 2 and a half octaves. It gives you a little more room for keyboard expression than the Akai Professional and Worlde 25-key controllers.
But this means that it probably won't fit in your backpack. However, since it's lightweight, you can still carry it in your hands with some ease.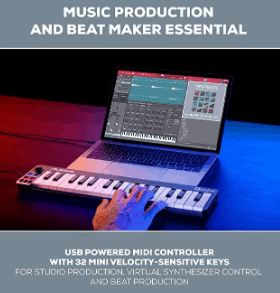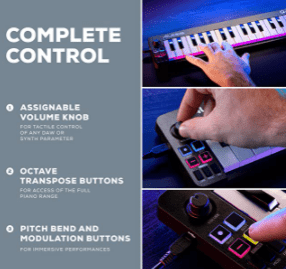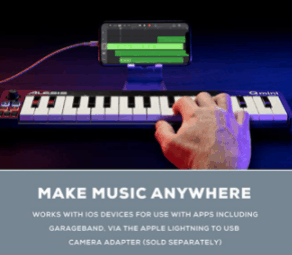 Even though it has more keys than the 25'key keyboards, it has less controls. There are no assignable knobs or drum pads. It only has a few buttons. The pitch bend and modulation controls are buttons, which may make it tricky in a live performance.
Lastly, the Qmini is a plug-and-play USB keyboard, no extra drivers are needed.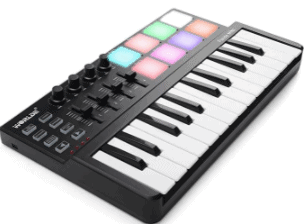 Worlde Panda is another 25-key MIDI controller. Like the other Worlde keyboard, it comes with drum pads and assignable knobs. It has 8 drum pads, 4 assignable control knobs and 4 assignable control sliders. You can also store your settings if you already assigned certain values for the controls.

There is no pitch or modulation slider or touch-sensitive control. Also, the drum pads are backlit and add a little color to your workspace.
Conclusion
In this article, I have reviewed 7 beat making and music production keyboards.
My top 3 picks are the M Audio Oxygen 49 IV, Worlde 25 Key USB MIDI Keyboard, and Akai Professional MPK Mini.
The M Audio Oxygen is a professional-grade keyboard that has the whole package, including drum pads and assignable knobs.
Worlde USB MIDI Keyboard is portable and its design and lights are great for making beat-making videos.
The AKAI MPK Mini is super lightweight and portable enough to sit in my backpack.