FL Studio and GarageBand have been around for a long time, and we have seen some hit songs made with both DAWs.
Even though this software serves the same purpose—to bring music ideas to life—they have so many differences that set them apart.
So, if you're just starting out as a producer or looking to switch DAWs, you have to consider some factors before investing your time in learning.
In this article, I will show you how FL Studio and GarageBand are different from each other and give you the information you need to choose a DAW.
I will also answer some of your burning questions like:
Which DAW is better for beat making; FL Studio or Garageband?
If I want to record a rock song, which DAW will make my job easier; Garageband or FL Studio?
Let's get started.
FL Studio vs GarageBand: Features compared
First, let's consider the design and interface of both DAWs.
Design / interface

FL Studio looks more appealing than GarageBand. Sure, you don't just want to choose the prettier DAW, but it helps too.
When posting snippets of some new recording or composition to your social media, a good-looking DAW can be useful. When using FL Studio, I simply add colors to the mixer channels and record the mixer animations with my phone. It can look so good when you do it right.
For GarageBand, it's not so easy to make the interface look good for a Tiktok or Instagram post.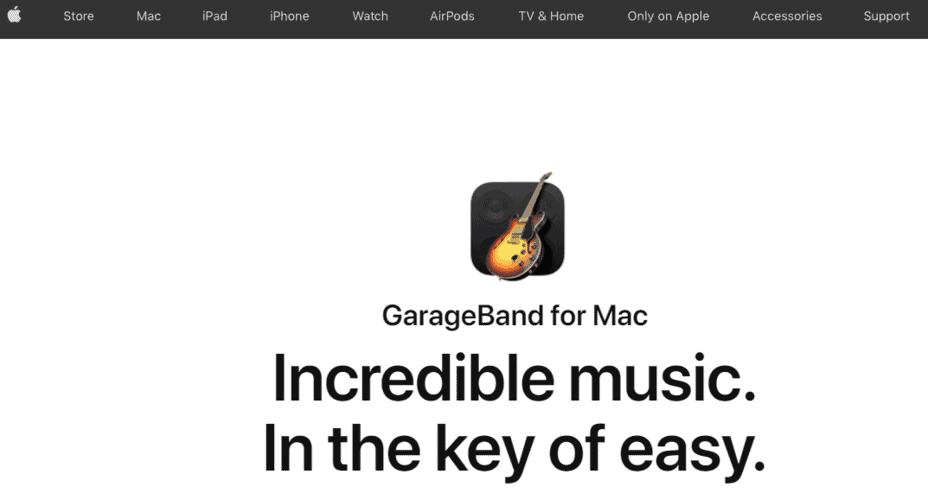 However, the DAW has a better user experience. If you are new to audio production, GarageBand interface will be easier to learn.
The features are labeled in beginner-friendly terms. Some examples are "software instrument" instead of VST and "I want to hear audio from" instead of audio output.
FL Studio ratings – 8/10, GarageBand ratings – 6/10
Compatibility
Device compatibility
GarageBand only works on Apple devices. And since Apple owns the DAW, there's almost no chance of getting a Windows or Android version in the future.
On the other hand, FL Studio works with most devices on different operating systems. You can download and use FL Studio on your PC, MAC, iPhone, Android, and others.
Also, if you have an older Apple device, GarageBand may not be compatible with it. If it is compatible now, there's no guarantee for future updates. Apple regularly stops support for older devices on some of their software.
Plugin compatibility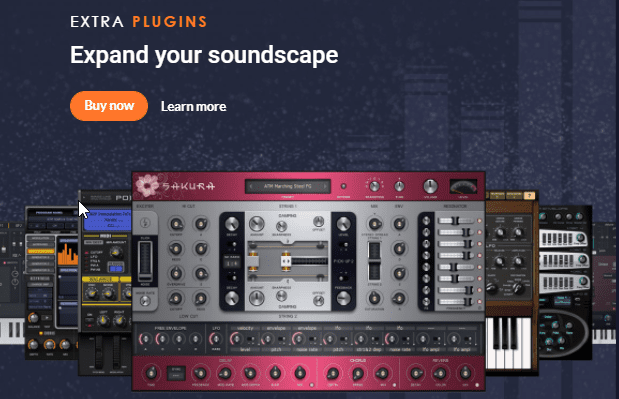 Both FL Studio and GarageBand can work with external plugins. Any plugin you install must be compatible with the device and operating system.
FL Studio ratings – 10/10, GarageBand ratings – 6/10
Ease of use (learning curve)
If you knew nothing about music production and you opened FL Studio, you will spend several minutes trying to figure things out.
GarageBand is simpler for beginners.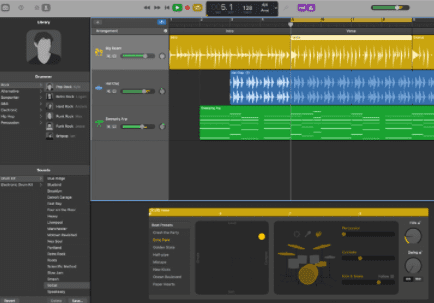 If you're not yet sure if music production is your thing, you should probably start with GarageBand. Once you open the DAW, you can get your music going in less than 30 minutes.
However, if you plan to learn music production all the way, you're better off spending more time with FL Studio.
With FL, you may not create any meaningful music for the first several minutes. But when you understand the DAW, it opens up more opportunities to explore your creativity.
Just by learning from YouTube, you will always find one new thing about FL Studio, even after 5 years of using the DAW. It could take up to a decade of using FL Studio for a producer to be certain that they have mastered everything.
GarageBand is easier to learn and simpler to use.
FL Studio ratings – 4/10, GarageBand ratings – 8/10
Setup and installation
Setup is straightforward for both FL Studio and GarageBand. For most devices, you would install GarageBand and FL Studio just like you install other software. Installing an external VST is also quite straightforward in both DAWs.
FL Studio ratings – 9/10, GarageBand ratings – 9/10
Storage requirements
You need about 2GB of space for FL Studio. This is quite reasonable for most devices.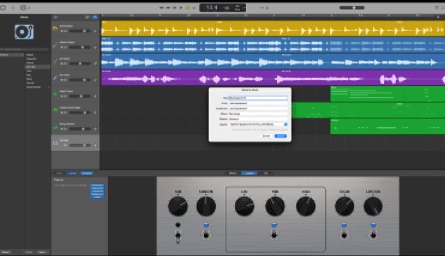 GarageBand installation also takes up to 1.2GB to 1.5GB, after getting its libraries.
However, after comparing the content of each DAW, FL Studio gives you more content and features for the 2GB of storage that it takes. It has more stock plugins, sounds, and functions.
Performance requirements depend on each device's specs so I advise you to use a device with at least 4GB RAM.
FL Studio ratings 8/10, GarageBand ratings – 7/10
Features
FL Studio gives you more room to explore creatively. However, this also makes your music-making process longer.
If you don't already have a clear picture of the sound you're trying to make, you will find yourself tweaking and trying different features just out of curiosity.
This can be a benefit because you're learning more about the DAW, but it's not the best when you're just trying to recreate the music in your head quickly.
After several weeks, you eventually develop a pattern for starting your FL Studio projects and work faster.
Since GarageBand has fewer features, you can go in, put down your musical idea and try to make it sound good.
But you will have fewer tools to work with.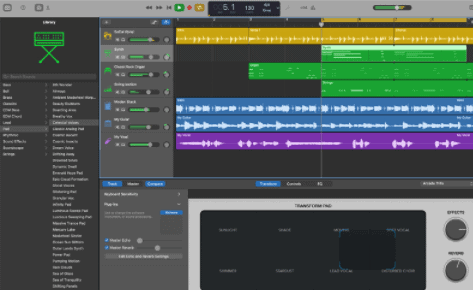 GarageBand does not have a dedicated mixer view that lines up your tracks like the FL Studio mixer. It's great for recording vocals and arranging live instruments, but electronic beat-making is easier on FL Studio.
FL Studio ratings – 8/10, GarageBand ratings – 6/10
Audio editing tools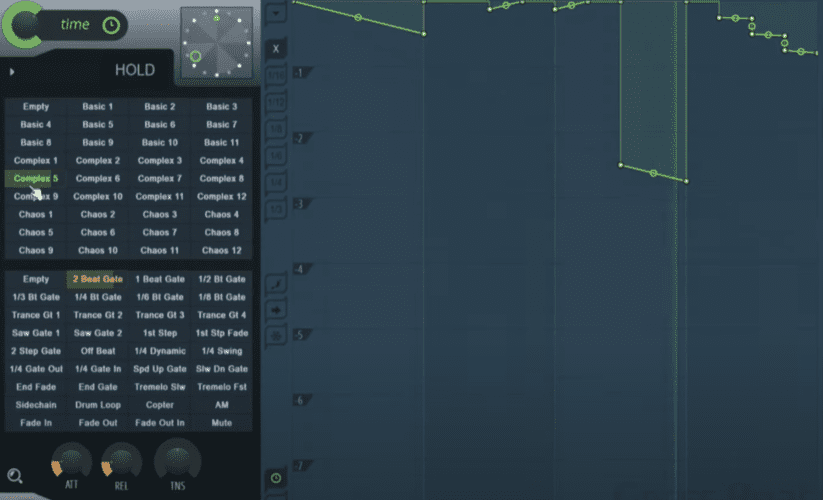 Recommended read: 6 Best Music Genre Finder Websites to Check Genres of any Song
With all the improvements in FL Studio, they have not managed to create an intuitive vocal recording interface.
It's like the makers are telling us that the DAW is not primarily built for that.
If you're not a beatmaker, FL Studio may seem clunky to you.
Some producers use lots of vocals from the beginning of the recording process. GarageBand makes it easier for them to simply record the voice and continue.
With FL Studio, you need to adjust, arrange and rename stuff with almost every take.
Even though FL Studio has a clunky vocal recording process, it serves you better if you're making electronic music.
Stock plugins like Gross Beat and synths like Sytrus make your work easier.
However, if you're recording more live instruments and voices, GarageBand is quicker.
Also, if you're recording and editing audio for other uses like podcasts, voiceovers, and others, FL Studio has more editing tools for you, but the interface is not built for one-click easy recording.
FL Studio ratings – 8/10, GarageBand ratings – 5/10
Pricing
GarageBand is free software, while FL Studio isn't.
As expected, you will get more from FL Studio. However, if you're using GarageBand and wish to transition to a more robust DAW, Logic Pro X is a great option.
It's not free, but it gives you more features and you can continue working on the songs you started in GarageBand.
GarageBand: Free
FL Studio: Paid (starts from $99)
Similarities and differences of GarageBand and FL Studio
Similarities
Both DAWs can work on Apple devices.
You can record, arrange and mix your music on both FL Studio and GarageBand
GarageBand and FL Studio don't need too much space in your device for the initial installation.
Both DAWs have several users, learning resources are available online.
Differences
GarageBand is free while FL Studio will cost you a few hundred dollars.
GarageBand only works on Apple devices, but FL Studio works on PC and Android, as well as Apple devices.
GarageBand is more beginner-friendly; you'll need more time to use FL Studio comfortably.
FL Studio comes with more plugins and features to give you more creative freedom than GarageBand.
Pros and cons:
FL Studio: The good
FL Studio has several features that give you unlimited creative freedom while making music.
It is compatible with Windows MAC, iOS, and Android.
Famous producers like David Guetta, Alan Walker, and Avicii have used FL Studio.
When you buy FL Studio, you get any new updates for free for up to 17 years.
Since it's one of the most famous DAWs, it's easier to collaborate if you use FL Studio.
FL Studio: The bad
Recording multiple vocals and live instruments can be tricky in FL Studio: you will spend some time setting it up so you don't mix things up.
There are so many hidden features that could be useful, but it may take years of using Fl Studio to uncover them.
Not designed for non-musical audio uses like podcasts and voiceovers.
GarageBand: The good
It's free. So you can simply download and work with it to see if you like it, without spending any money.
The interface is easy to learn and use. Newbie music producers can get their song ideas onto the DAW in less than 1 hour of use.
It's great for recording vocals and live instruments. You can focus more on being creative with your performance, rather than tweaking knobs and faders.
GarageBand: The bad
It only works on Apple devices.
There's no guarantee that it will be compatible with older Apple devices.
It does not have full support for creating a complete professional song or album.
FAQs on GarageBand and FL Studio
Which DAW is the best for orchestra music composing?
Any DAW that can record your performance is good for orchestra composing. Your work process will determine the best DAW for you. Do you have a live orchestra playing or are you using VST plugins? This and other factors will determine the best DAW for you.
Do professionals use GarageBand?
Yes. Some Grammy-winning songs were made with GarageBand. But that's true for almost all DAWs. To make a good choice you need to know more about GarageBand. All you need to know is in this article.
Do professionals use FL Studio?
David Guetta, Avicii, and Alan Walker are some famous producers who use FL Studio. However, you need more information to know if FL Studio will work for you. Read this article to find out whether it's the best fit.
Do any big artists use GarageBand?
Like most other DAWs, there's at least one famous artist's song made on GarageBand. The important thing is your creativity and choosing a DAW that helps you to bring your ideas to life. To know if GarageBand is a great fit, read the rest of the article.
Is there anything better than GarageBand?
It's tricky to describe a DAW as better or worse. What's important is to know the features of each DAW and choose one that works best for you. GarageBand is a good audio production software that many people use in making great music.
Is FL Studio more professional than GarageBand?
FL Studio is more popular among professional producers. However, some chart-topping songs have been made with GarageBand. So, it can also be considered "professional".
How does FL Studio compare to GarageBand on iPad OS?
FL Studio has an interface and content that supports electronic music more, while GarageBand is more suited to recording live instruments. However, to know which one to choose, you need more information. You'll find all you need to know in this article.
Read Also: 20+ Best Free Ableton Live Themes and Skins
Conclusion
Now that we have seen the many differences, I would wrap up this article by summarizing who will benefit the most from each DAW.
GarageBand is:
Great for songwriters, composers, artists, and producers who haven't used any DAW.
If you have an iPhone, iPad, or MacBook, GarageBand eases you into the world of music production without the distraction of technical stuff. You can start recording almost as soon as you open the application.
For producers and musicians who prefer live instrument recording over sequencing.
If you're recording live guitars, bass, and drums, GarageBand's interface helps you to record faster.
FL Studio is:
Better for electronic music production.
If you lean more towards sequencing and arranging the whole beat on your computer, FL is great for you.
FL Studio interface favors laying down patterns overlaying audio tracks. You can lay audio recording tracks in FL Studio, but it's not a straightforward process like sequencing patterns.
If you do EDM, hip-hop, trap, chill, lo-fi and other forms of electronic music, FL Studio is the better choice.