Garageband is a popular DAW among producers – newbies, hobbyists, and experienced professionals. However, it's only compatible with macOS.
So what alternatives are available for Windows PC users?
In this article, I will review 8 Garageband alternatives that you can use on your Windows PC. Even if you're using MAC, you will find the information useful.
First, let's see what Garageband is, and why you may need alternatives.
What is Garageband? And why do you need alternatives to Garageband?
Garageband is a music production software for recording, arranging, performing, mixing music. The popular name for such software is Digital Audio Workstation (DAW). Like most other DAWs, Garageband has received updates since it was first released in 2004.
Garageband's biggest attraction is that it is a free DAW. This makes it great for people who are just starting out or learning music production. However, Garageband will not work for every music maker.
The first reason is that Garageband is only available on Apple devices. It is compatible with iPhones, iPad, and Apple computers running on macOS.
Windows PCs and Android devices cannot run Garageband. So if you have such devices, you will need a Garageband alternative. Also, if you record several vocal stems, Garageband may not be enough for all you need.
Also, Garageband does not have a dedicated mixer screen or section, unlike FL Studio and others.
If you have multiple channels, a full mixer section helps you to easily balance things out in terms of volume and panning. You can see all the faders at once and make the changes needed.
Lastly, Garageband does not have a built-in metering system. So, if you want to clearly see the decibel levels, you need an external plugin. If you need a DAW with a built-in meter, you need a Garageband alternative.
Top 8 Garageband Alternatives for Windows PC reviewed
Cakewalk by Bandlab – Great free alternative to Garageband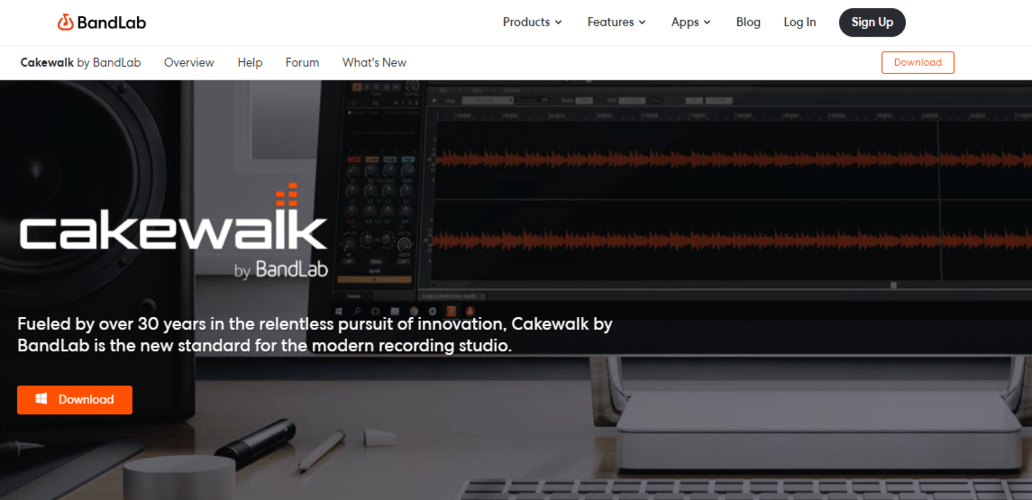 Cakewalk by Bandlab is a free DAW. Unlike others like Soundation, Cakewalk does not have any paid packages or upgrades. Everything feature and function comes free.
Also, this DAW only works on windows and android. Though windows and android have some differences, you can use both to create music. MAC and iOS users need to go for alternatives like LMMS and others.
Cakewalk comes with the basic instruments and effects that you need to make music. This includes drums, bass, guitars, and synths. If you need something more, you can load your external VSTs and samples into the DAW.
That's not all, Cakewalk has a mixer area on the screen where you can easily access all the faders at a glance. Also, you can fix your sends and inserts on a single mixer screen.
Pros
The DAW is free, so you can try it without spending a dime.
It accepts external samples and VSTs.
Cakewalk is also available on mobile.
Cons
It is only available on Windows and Android, it doesn't work on macOS and iOS.
It only has a few built-in instruments.
Bottomline: If you're looking to test a DAW, cakewalk is free with all its built-in features, so it's a good place to start.
LMMS – Great For Beginners (Best for Beat Making)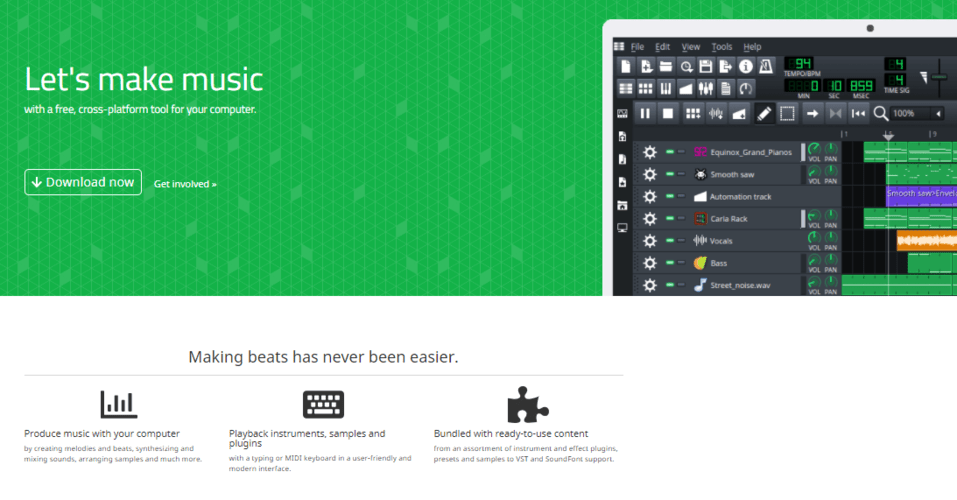 LMMS is a free DAW that is available on PC, MAC, and Linux. However, PC users will get more functionality than MAC users. If you're using a Macbook for example, you're better off with other options like Ableton of FL Studio.
For PC users, LMMS comes with the essential features you need to create music. There's a piano roll that you can use to Play your MIDI notes. Aside from the piano roll, there are track channels and other sections on the screen. At first glance, it may look somewhat cumbersome, but it gets easier when you're familiar with it.
Even though it has a mixer section, you can add effects directly to plugins and samples. This enables you to separate your recording from mixing aspects.
When you add effects during beat making or recording, you're not yet in the mixing phase, you're simply creating the sound you want in the recording phase.
Speaking of recording, LMMS is not a recording DAW. If you need to record vocals, you have to use another software like FL Studio or Ableton Live.
LMMS also supports external VSTs, but you need to add them to the appropriate folders correctly.
The best part of LMMS is that it's a free DAW, and with enough practice, you can get a lot out of it. Also, you can use it with low-performance computers, even less than 1 GB.
Pros
It works on PC, MAC and Linux.
It allows you to add effects to the plugins directly.
It can be used with low performance computers
Cons
You can't use external VSTs on macOS
It has limited mixer functions.
It can't record voices.
Bottomline: If you're not recording vocals, LMMS is a great alternative to Garageband.
Reaper is a DAW that comes in a range of prices. Even though it is not free, it is quite affordable especially when you're not using it for major commercial music. Like LMMS, this DAW is fully customizable, as there's almost nothing you can't change to your taste.
The different sections available include the MIDI sequencer or piano roll, mixer, and tracks. You can record and mix conveniently in this DAW.
Speaking of recording, Reaper allows you to record multiple channels at once. If you have enough mics and other hardware, you can capture a whole band at once into individual channels. It's a straightforward process here, unlike what you have in FL Studio.
However, for beatmakers who like to have so many sound VST options before making a beat, you may have to add some to the Reaper. Though it's a little lacking in built-in instruments, it comes with some great effects, like compression EQs, reverbs, and others.
Reaper is available for both Windows and macOS. But it does not have Android or iOS versions. This means that it won't work on your mobile devices. If mobile compatibility is important for you, FL Studio and Music Maker Jam are good choices.
Pros
It has affordable pricing for non-commercial use.
It has a fully customizable appearance.
It is quite CPU friendly.
Cons
It doesn't have enough built-in instruments.
There are no mobile versions of the DAW.
Bottomline: If you need a DAW that works well across all the music production functions, consider going for Reaper.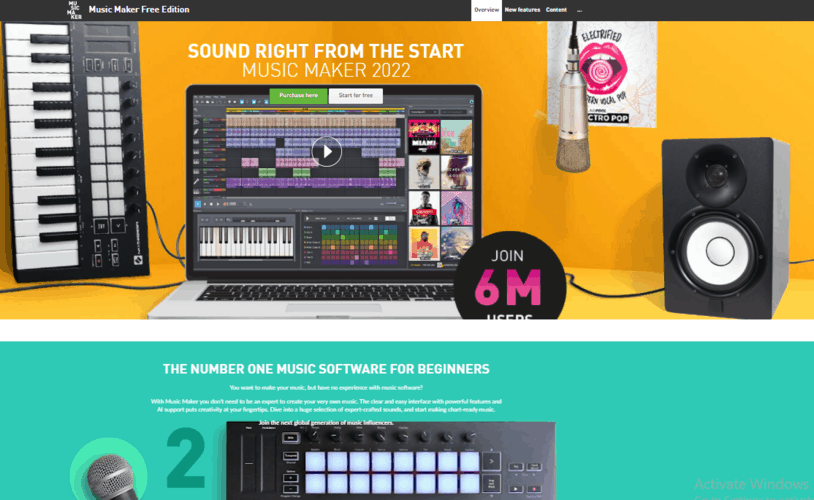 Magix Musicmaker is a DAW that gives beginners the opportunity to make good music. It cuts the corners of learning a lot of technical stuff. With Magix Musicmaker, a total rookie can make good-sounding music.
This DAW is only available on Windows, so if Garageband is out of reach because it's an Apple software, you can make Magix your Windows option. There are three editions of this DAW: the free plus and premium editions.
The higher you go, the more functionality you get. However, the free version allows you to test the software enough before paying for an upgrade. With the free versions, you can only get plugins from Magix Musicmaker in-app store.
To be able to get external VSTs, you need the premium package. But you can make good music with the built-in samples because there are a lot of them. And the loops have been created such that you can easily make your music on the go.
Pros
It helps non-professionals make great-sounding beats.
It comes with lots of sounds and loops.
MAgix Musicmaker is an affordable option for making music.
Cons
Only premium users can use eternal VSTs.
It is only available on windows – you can't use it on MAC or mobile devices.
You cannot do in-depth audio editing with this software.
Bottomline: If you need to make good music fast, and you don't have any previous knowledge, Magix Musicmaker is the way to go.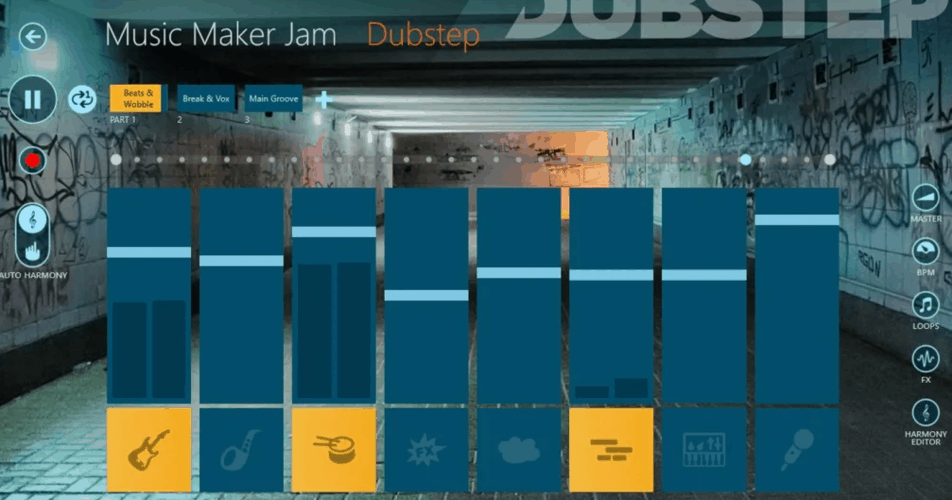 Music Maker Jam is a music-making software that is available on Android, iOS, and Windows. So, you can use it on your PC, iPhone, iPad, and Android devices.
Like Magix Musicmaker, this DAW is great for nonprofessionals and people with no experience in music production. Music Maker Jam is free, but you can unlock more features by buying the full version.
This DAW is super easy to use because it's totally different from traditional DAWs. It has an intuitive interface that even the most inexperienced users can learn in minutes.
So, if Garageband feels a little bit complicated, you can check this one out, especially if you're in a hurry to start making good stuff.
That said, because the DAW does a lot of the work, you may not have full creative freedom. You need to rely on the loops many times. Also, you can't add your own sounds to the library. You're limited to what you have on the app.
Pros
It is great for inexperienced users who want to make music fast.
The interface is intuitive and easy to learn.
It is CPU-friendly.
Cons
You are limited to the sounds in the software only – external VSTs are not allowed.
You cannot do in-depth editing of sounds and the music.
Bottomline: Are you simply looking to have fun creating interesting music? Music Maker Jam gives you that experience without stressing you out.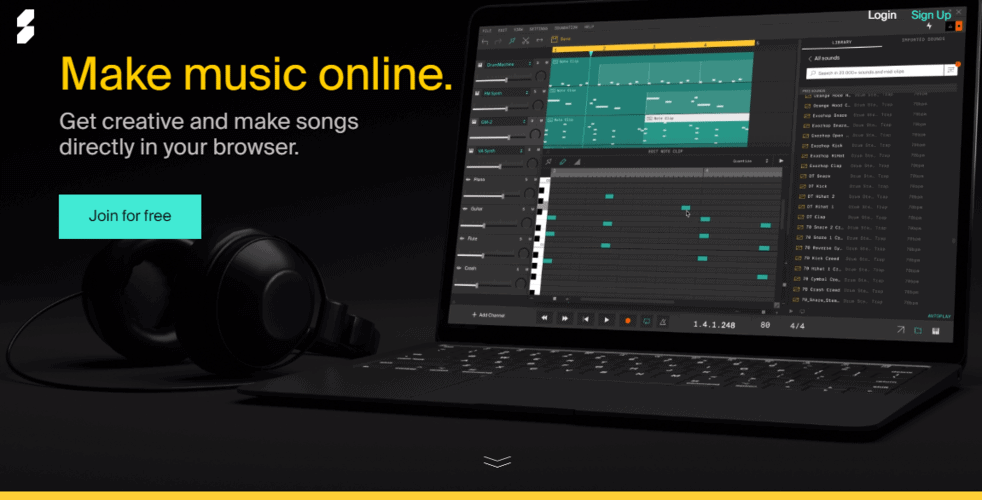 Soundation Studio is another DAW that has both free and paid options. It is quite different from other audio production software on this list.
This is because it gives creators the opportunity to collaborate. So, you can co-produce a song with different people around the world by using Soundation.
You can experience this unique music-making feature on both PC and MAC. However, it is not yet optimized for mobile devices. If you need DAWs that work on mobile, FL Studio is worth looking at.
Soundation has a host of samples and instruments that you can use to create your sounds together with your collaborators. However, you can't import other VSTs into the DAW. although that's a feature that's being planned for later upgrades.
Soundation is easy to learn if you have basic knowledge of any traditional DAW. The keyboard shortcuts and other features follow similar operation patterns. It has a piano roll and track channels, but there's no dedicated mixer session. All your effects must be added on the track itself.
As of now, Soundation is more popular among newbie producers who are still learning the ropes. As you progress in music creation, you may need a more robust DAW.
Soundation Studio pricing
Pros
Because Soundation is web-based, collaboration is possible.
It is easy to learn for new producers.
It is a free DAW, and is available on both Windows and MAC.
Cons
Soundation does not support third-party plugins.
There's only a small pool of VST options to choose from.
Bottomline: If you are learning music production without your own personal computer, soundation is a good DAw to use since it's web-based and free.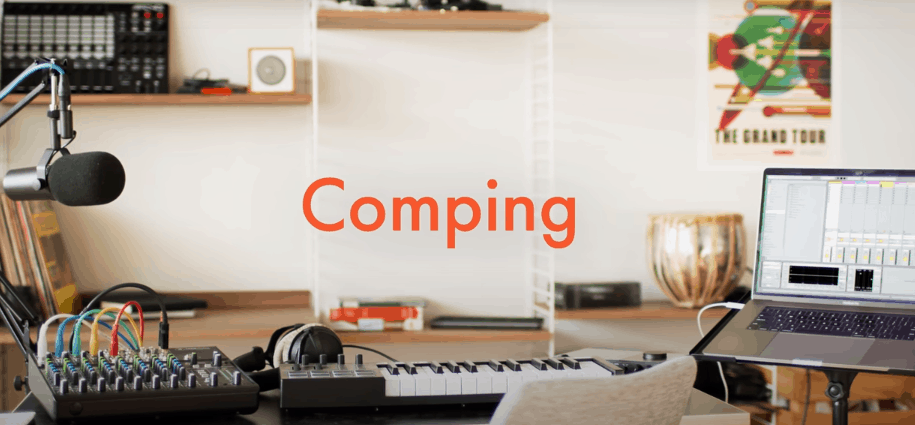 Ableton Live is one of the most powerful DAWs. It's also one of the most popular. So, as expected, it has more functions and features than Garageband.
It includes recording, mixing, mastering, arrangement, and full production features. Of course, these come at a price.
Even though there are numerous VSTs and samples built into Ableton Live, you can use your third-party plugins as you wish. Ableton Live gives you so much control over the performance of each note. You can change the pitch within a note to achieve any effect you want.
This DAW is available on Windows and MAC. For now, there's no mobile version. It only has some mobile apps that you can use as a remote to control some features.
You can easily convert recorded bits from waveform to midi. To run a DAW of this size, you need a computer with very good processing power.
For windows, it's best to go for Core i5 upwards. If your computer can't run Ableton, you can go for Reaper or LMMS -they don't need as much processing.
Ableton Live pricing
Pros
Ableton has the full features for industry standard music production.
It has in-depth sound editing that gives you full creative control over your sound.
Its capture function can recall what you sang or played even if you forgot to press record.
Cons
Ableton requires more processing than most other DAWs.
It is not available on mobile.
There is no built-in pitch correction tool.
Bottomline: If you're looking for commercial-level music production, Ableton is a great choice. It's perfect if you love to create your own sounds.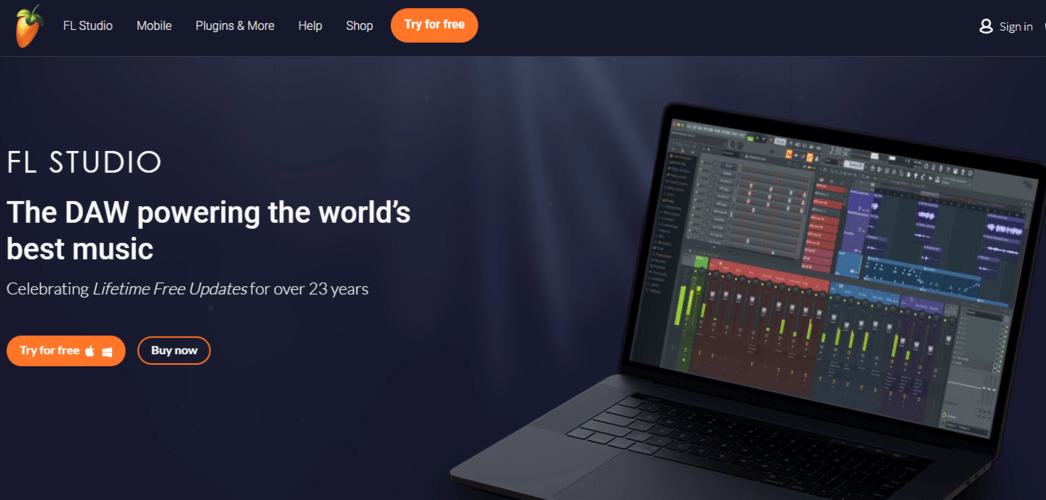 FL Studio is another one of the most popular DAWs in music production. Like Ableton, it gives you a lot of room to adjust your sound to your taste. FL Studio is not free, but it's surely worth the price.
In terms of compatibility, FL works with both PC and MAC computers. It is also available on Android. Hopefully, it will start working on iPhones and iPad as well. For now, it's just Windows, macOS, and Android.
FL Studio's biggest strength is in sampling. It has different tools just for that purpose. That's why popular producers like Avicii, David Guetta, and Skrillex have used it for creating some of their hits.
The producer version comes with lots of samples, loops, and plugins. In the demo section, you will find FL Studio projects that were created solely with stock plugins. That should give you a clue as to what this DAW can achieve.
But if you need third-party plugins, FL Studio is equipped to work with them. Lastly, it has a built-in pitch correction tool – Pitcher. If you're trying to pick between Ableton and this DAW, it is worth knowing.
FL Studio pricing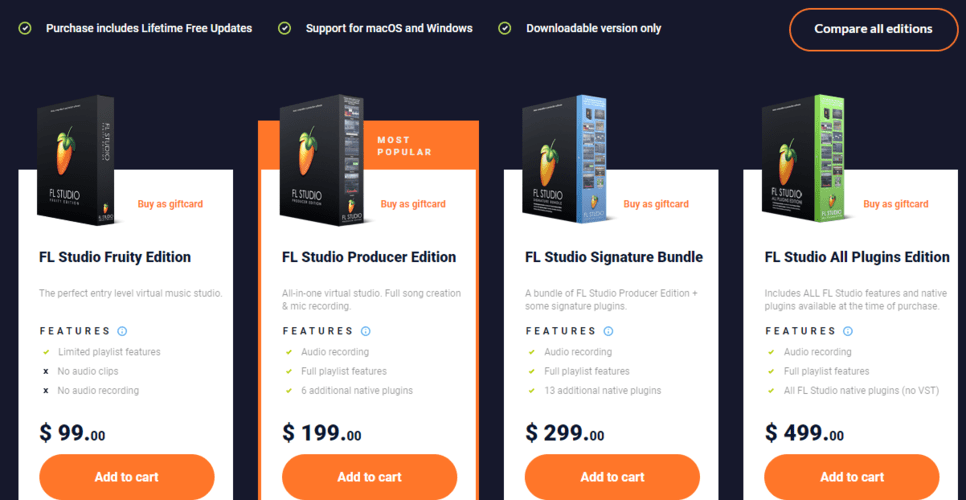 Pros
Great for professional and commercial music production.
The built-in samples and plugins alone can make professional standard music.
It is available on mobile.
Cons
It needs a computer with good processing power.
The voice recording process can be cumbersome when starting.
Bottomline: Fl Studio is most popular among hip-hop producers because of its simplicity. Because of this, you'll find more learning resources online in that direction. However, it's great at producing any form of music.
Read Also:
Conclusion
I have reviewed 8 different DAWs here.
My top 3 picks are Cakewalk, Ableton Live, and FL Studio. Cakewalk seems to give the most features for a free DAW. FL Studio is great for beat-making, among other things. Plus that's what I started with, so for me, it's the best.
Ableton Live is also in my top 3 because its features make it easier to make electronic music. It's great with automation, which is a big part of electronic music.
Other honorable mentions that are not reviewed here include Presonus Studio One, Cubase, and Logic.