There is no doubt Celemony Melodyne is one of the best vocal tuning plugins for production. This pitch correction software has been around for decades and has gone through several upgrades for better use. Nonetheless, there are a few flaws.
The Celemony Melodyne is a manual pitch correction software. Meaning, every adjustment, and effect are in the hands of the producer- no preset assistance from the software.
It is a paid software with a 30-day free trial. Another downside to this vocal plug-in is its non-compatibility with all DAWs. Therefore, we will be considering alternative vocal tuning software to Celemony Melodyne.
7 Best Melodyne alternatives reviewed
GSnap – Best pitch correction tool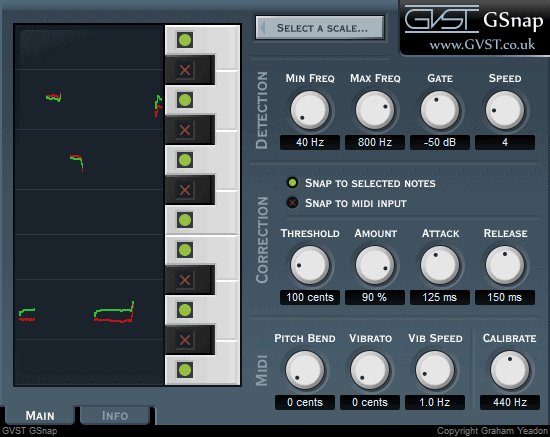 Gsnap is a professional pitch-correction tool. In contrast to Celemony Melodyne, Gsnap does not give you a complete manual tuning to your track.
But if it is pitch correction you are looking for, Gsnap is the right tool.
It is effective in correcting the pitch of a vocal, and with extreme settings, it creates a robot-voice effect.
Gsnap has a speed parameter that sets the number of wave repetitions required for positive pitch detection.
When a pitch is detected, the plug-in applies pitch correction either through a fixed set of snap-notes or MIDI data.
The preset tuning makes the post-recording effect easier. You won't spend too much time tuning your vocals.
Autotalent – Real-time pitch correction (Free tool)

Autotalent is a real-time pitch correction software. This means you can use it for live performances and pre-production editing.
Its user can specify the notes the singer is allowed to hit and be sure Autotalent will make the hit possible.
It has an unmatched pitch-shifting feature and can perform faux vocal doubling.
AutoTalent is designed for editing on a mono track; if used on a stereo track, the left channel will be copied to the right.
With the Autotalent plug-in, you can get a natural vocal quality and not a robotic sound like the Gsnap. Autotalent is free to download and use.
Flex Pitch – Only compatible with macOS (for Logic Pro users)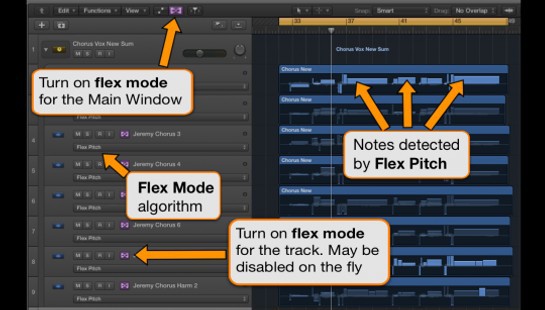 Logic Pro users are familiar with Flex Pitch because it is the native vocal auto-tune in Logic Pro, great for editing monophonic instruments.
It is only compatible with macOS, but if you use Logic Pro, then you need not bother about other vocal tuners like Melodyne.
With the new Flex Pitch, you can edit all pitch-related parameters and timing of an audio recording with great detail and depth.
A feature that spices flex up as one of the best autotune software is its quantize feature. This feature beats down Celemony Melodyne. With Flex Pitch, you can quantize the timing of audio, whether single note, chord, or polyphonic instruments.
KeroVee – Free auto-tune plug-in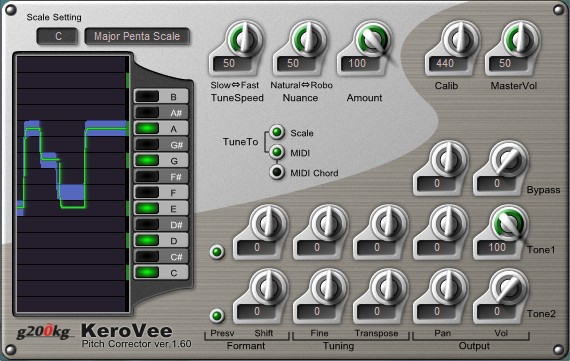 Kerovee is a free auto-tune plug-in.
Some users believe that KeroVee corrects pitch better than the premium Autotune software itself.
You will love how easy it is to get new, wide, and unique voices with the knobs.
With KeroVee, newbies still at the early stage of learning can start tuning vocals. Transposing and panning are also swift to do with the knobs.
If you want a background vocal that sounds different from the lead voice, you can get the effect done with KeroVee. It is a perfect tool for vocal and guitar tuning.
Voloco – Best tuning tool for rappers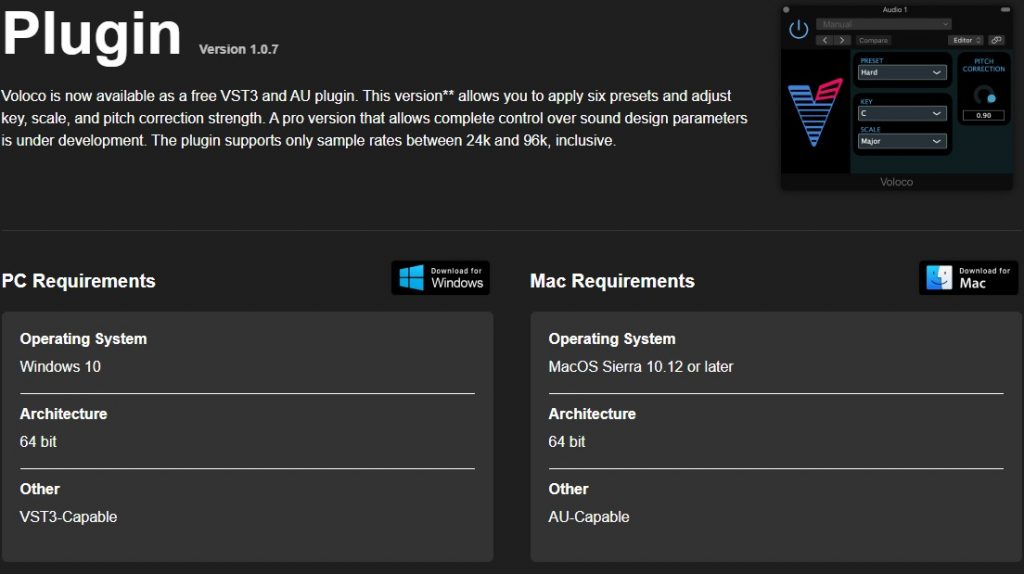 Voloco is a free simple pitch vocal tuning software built for producers who use auto-tuning for vocals.
Just like Gsnap, it can deliver a robot-like voice. It doesn't even attempt to sound natural while correcting notes that are out of tune.
Instead, its "T-Pain" effect makes vocals sound almost robotic. It is a perfect tuning tool for rappers.
The latest Voloco software has six different pitch correction presets. These presets are set to be applied to a vocal track and can't be edited.

For singers who want to play around with pitch correction, Voloco is a more fun piece of software than Melodyne.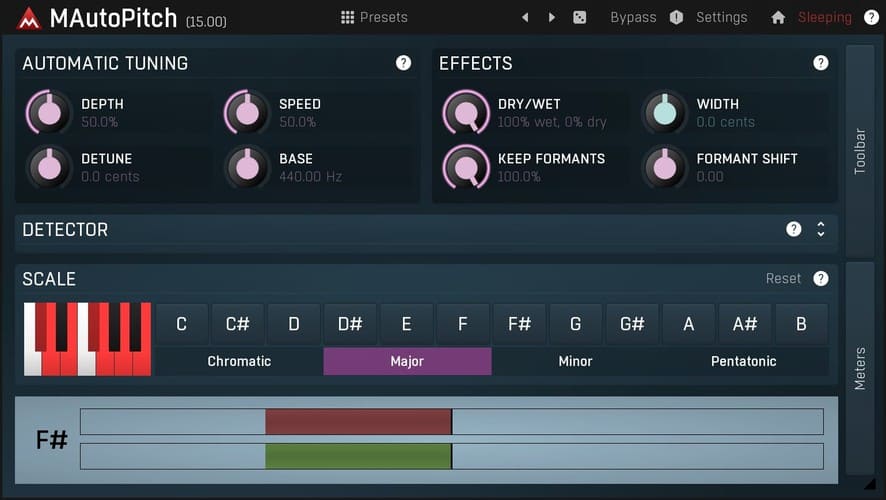 MautoPitch is a free vocal software usable with DAWs like Pro tool, Cubase, FL Studio, Ableton, and many others.
It is a great sounding automatic pitch correction plug-in built for vocals and monophonic instruments. In addition to tuning vocals, Mautopitch provides features such as formant shift and stereo-expansion that adjust harmonic frequencies in a human voice.
Mautopitch is a free all-in-one vocal plug-in that competes directly with Celemony Melodyne.
It comes with MIDI controllers with MIDI learn tech, allowing the plug-in to learn from MIDI notes.
Mautopitch pitch corrector comes in VST, VST3, AU, and AAX formats on windows. If you cannot use Flex Pitch for OS specification, MautoPitch is compatible with many DAWs.
Wave Tune – Budget-friendly voice editor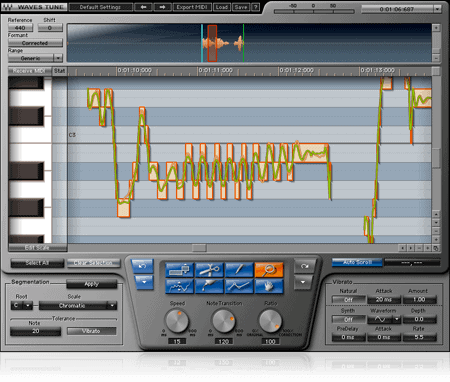 If you want a budget-friendly voice editor, the Wave tune voice editing software is up for grabs.
It is an automatic editor that fixes possible errors in vocal recording easily. You will get a natural, error-free, and highly harmonized voice after fixing all the issues.
The wave Tune software is a real-time voice editor built for live performances and production editing.
With Wave Tune, users can make adjustments to the scale notes, correct errors in vocals, and make the edited pitch similar to the singer's natural voice.
The editor has a graphical interface that makes the audio wave visible for easy correction. You do not have to worry about system compatibility while installing and getting it ready for use.
FAQs on Melodyne alternatives
What is the best free Auto-Tune?
Gsnap vocal tuner is the best free Auto-tune on the list.
Is Newtone as good as Melodyne?
Yes. There is no significant difference between this two software. If you are a producer with FL Studio, you need not worry about getting the Celemony Melodyne. But if your DAW doesn't have a native voice editor, Melodyne should be your next purchase.
Can you export with Melodyne free trial?
Yes. There are no limitations to the features accessible in the 30-days trial version. You can use the Celemony Melodyne trial version fully as though it is paid.
Wrap up
You will agree that no producer will use all vocal tuning software. You have to make a choice.
Here are our top three alternatives to Celemony Melodyne.
The third is the Flex Pitch. Every possible edit you want to a vocal track is possible with Flex Pitch. The drawback is it is Mac OS software.
The second to the top is the Autotalent vocal tuner. It is exceptional for its real-time pitch correction feature. It is a versatile tool for live performance.
Gsnap sets the pace as the first on the list. For vocal pitch correction, Gsnap is the best on this list.