For cyclists like you, good headphones that accompany them in your long rides are very important. The cycling headphones, enable you to remain motivated during the long cycling periods.
Our Best Pick
AfterShokz Air Open Ear Wireless Bone Conduction Headphones, Slate Grey, AS650SG
Best Value for Money
Bose SoundSport Wireless Headphones - Citron
Best Bluetooth Headphone for Cycling
AfterShokz Titanium Open-Ear Wireless Bone Conduction Headphones with Brilliant Reflective Strips, Slate Grey, AS600SG-BR
Last update on 2019-11-09 / Affiliate links / Updated prices and images from Amazon Product Advertising API
A good pair of cycling headphones are a necessary item in every cyclist's travel kit. Aftershokz AS600SG, AS650SG and are the top headphones that cyclists prefer.
The fact is that the majority of audio equipment and generic headphones you find in the market won't serve you well while cycling.
And, you know this fact well. That's why you are here!
You need headphones that won't fall out and as well effectively isolate the playback from the buzzing noise of the wind.
It should also be water and sweat proof, though.
The headphones should also let you be aware of other vehicles on the road so that you won't be crashed.
Things to look while buying cycling headphones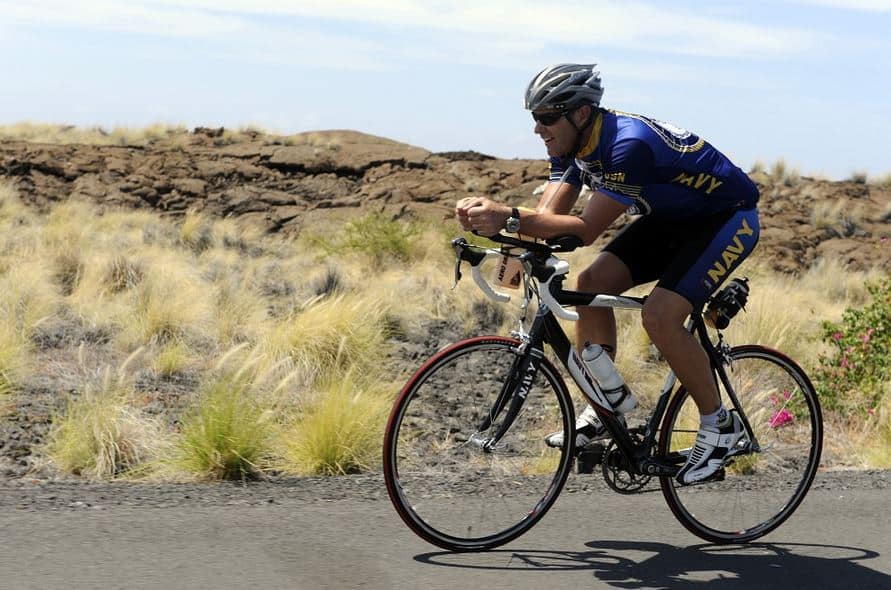 Fit
Resistance
Safety
Comfort
The headphones should stay in place as you cycle uphills and downhills vigorously. The headphones should stay in place, no matter how hard you are cycling.
Some headphones come with ear hooks and others with secure behind-the-neck fit. I'll address this aspect as the post advances.
You do not need headphones that stop working when exposed to moisture. While riding, you will be sweating. Keeping this in mind, you need to go for a headphone that is at least IPX5 rated and sustains sweat well, to serve you longer.
The headphones should not completely isolate you from the surrounding noise. Hence on ear headphones or open back headphones are preferred in this case, as you need to be aware of the entire surroundings.
You need to listen to music as well as the sounds of the vehicles coming behind you. Nobody likes to hear music at the cost of their lives.
As you'll be wearing these headphones for hours while cycling, you need to make sure that they are comfortable. They should also be comfortable when you wear the headphones alongside with your cycling helmet.
While cycling, the buzzing wind noise should not interfere with the playback. No one desires to hear the buzzing wind-noise louder than the playback.
Don't worry, after good research, I've put forward some of the best cycling headphones that you can put your hands on.
7 Handpicked Headphones for Cyclists
Features:
Frequency response – 20Hz to20KHz
Sensitivity – 100 ± 3dB
Impedance –
11.4 Ω
Maximum SPL – 100 dB
Self noise – NA
These intriguing headphones utilize bone conduction technology to transmit sound into the eardrums. You might be wondering: what's the importance of this technology?

Although bone conduction technology provides a less immersive listening experience to users, it boosts awareness of ambient noises in the immediate environment.

This way, you can hear passing cars and other distractions that cyclists and runners normally encounter while on the road.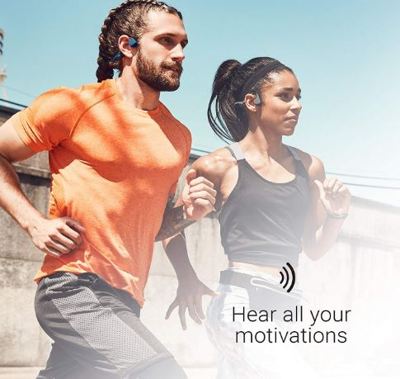 These Bluetooth cycling headphones have a distinct wraparound design that provides a secure fit among users.

In addition, this ergonomic design makes the AfterShokz AS650SG wireless headphones 20% lighter than other similar models. You can wear these headphones for extended periods without tiring – they are the perfect embodiment of stability and comfort.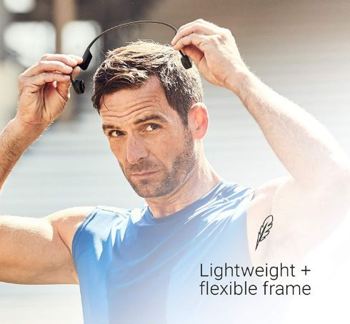 Another impressive feature of the AfterShokz Trekz AS650SG headphones is their exquisite sound. It delivers a premium audio experience, thanks to its Premium pitch plus technology that supports deeper bass quality and dynamic range.

With this headphone, you can receive crystal-clear calls, thanks to the built-in noise-cancelling mic located within the AfterShokz Trekz headphones. This provides you with more freedom and convenience when running, cycling or lifting weights.

Weighing a mere 1.27 ounces, these headphones are extremely lightweight and comfortable around the ears – you'll barely notice wearing them. This comfort is further enhanced by the headphone's bud-free design. They're perfect for all types of environments.

AfterShokz ensured that you don't have to worry about water damage by providing moisture-resistant headphones that can comfortably withstand a myriad of extreme weather conditions. Running in rainy weather doesn't need to be stressful. These impressive Bluetooth cycling headphones work effectively in extreme conditions.

Speaking of extremities, heavy perspiration is a rather common phenomenon that people experience when they work out. If you sweat profusely when exercising, it's important to get a pair of headphones that don't slip off or damage easily. In this respect, the AfterShokz Trekz AS650SG take the crown.

Enjoy uninterrupted music using these open-ear headphones that are great for outdoor and indoor cycling. Considering their affordability and impressive features, the AfterShokz Trekz AS650SG provide the perfect addition to your workout gear.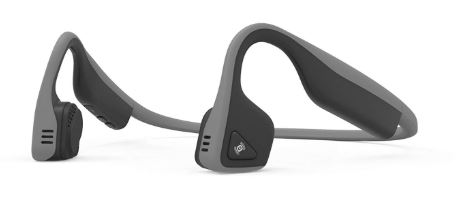 The Aftershokz AS600SG Trekz uses an innovative way to send sound vibrations through your cheek bones rather than through your ear canals. This uses bone conduction technology to deliver the sound.
This technology is most loved my cycling and sports enthusiasts!
The headphones like this are very helpful while traveling, riding, and in some of the scenarios where you want to listen to the music and as well be aware of the things that are going outside.
These headphones enable you to listen to music clearly as well as be aware of the fast car overtaking your Cycle from behind.
Due to the technology used, these are very tough and the durability of these headphones is also great. The Aftershokz Trekz have 3 buttons – the volume buttons and the multifunction button.
These buttons let you control the playback without having to pull up your smartphone while riding.
The headphones are also wireless, so you need not mess up with wires tangling while riding. You just need to connect these headphones to your smartphone with Bluetooth, wear it, and forget it.
The Bluetooth range is about 30 ft so that you can have your smartphone in the backpack and wear these on without any loss in quality.
As you'll not be putting these headphones in your ear canal, they are indeed very comfortable for a longer time.
These headphones also feature a behind-the-neck fit so that it won't cause you any discomfort due to your Cycling helmet. For some people with extra large heads, these headphones seem a little tight.
The Premium Pitch+ feature of these headphones deliver great sound quality and good bass, that too being a bone conduction headphone.
These headphones also come with a mic, the sound quality of the mic is ok while riding, nothing exceptional.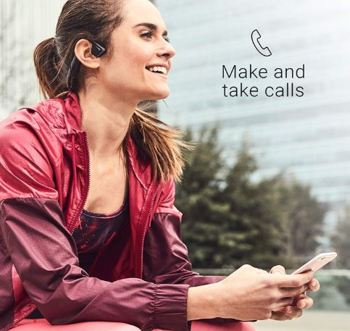 These are bone conduction headphones. The sound quality will be decent but nothing audiophiliac. This is our top-pick as the bone conduction headphones do not completely isolate noise and are safe for cycling outdoors.
They are also water and sweat proof. These are also Bluetooth headphones, BTW.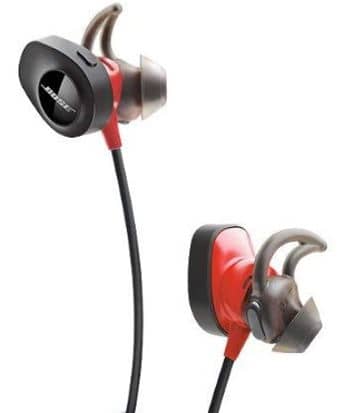 These remarkable Bluetooth cycling headphones are equipped with an inbuilt heart rate sensor that effectively tracks your heart rhythm, allowing you to tweak your workouts and optimize your performance.

If you're a fitness enthusiast, you'll certainly love how the Bose SoundSport will enhance your workouts. These wireless cycling headphones come with a single Lithium ion battery that takes around two hours to charge. You will get to enjoy six full hours of uninterrupted service when the battery is fully charged.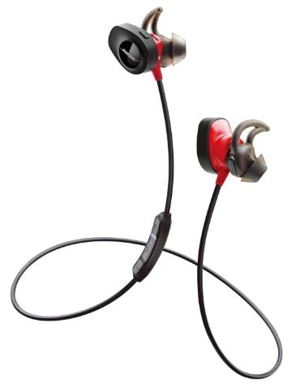 These headphones are perfect for both outdoor and indoor cycling. They're equipped with both Near-field communication (NFC) and Bluetooth technologies that permit wireless connectivity.

Since the Bose SoundSport is wireless, you won't have to deal with the inconvenience of tangled-up headphones. In addition, they have effective noise-cancellation properties that eliminate wind noise.

Whether you're on running or cycling, these wireless headphones will fit securely over your ears. They provide a stable fit, thanks to the StayHear+ Pulse tips that fits safely around the ears to avoid falling off during your workout sessions.

These Bluetooth cycling headphones are compatible with a wide variety of fitness apps such as RunKeeper, Runtastic, MapMyRun, and Endomondo. This allows you to track your health quite easily, allowing you to make health-conscious choices.

The headphone's sensor window must touch your skin to guarantee an accurate reading of your heart rate. This sensor is fitted within the left earbud.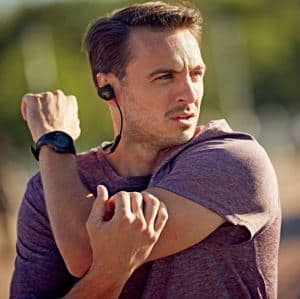 However, if your sensor suddenly stops measuring your heart activity, check whether the Bluetooth feature is turned on and adjust your left earbud. You can also use a wet cloth to wipe the sensor window.

The Bose SoundSport headphones are specially engineered to optimize performance. Most fitness buffs desire to get headphones that can provide ample motivation to help them push through tough workouts.
These exquisite headphones provide exactly that. Their long battery life is perfect for athletes who train for hours.

The sound quality of Bose wireless headphones is simply outstanding. If you're looking for wireless cycling headphones that fit perfectly over the ears and sound heavenly, this pair of headphones will not disappoint you.

In conclusion, the Boss SoundSport Bluetooth headphones provide great value for your money.

These Plantronics BackBeat Fit headphones are most loved by fitness and cycling enthusiasts for a reason. Because they are the best wireless headphones for your active lifestyle. Along with cycling, if you are a good PC gamer, go with surround sound headphones.
The design of the headphone is rugged and waterproof. Similar to the previous BackBeat Go 2, the BackBeat Fit comes with P2i coating that offers good resistance against the moisture to the headphones.
I am in love with this headphone, because of it's color. Female cyclists would like to have pink headphones.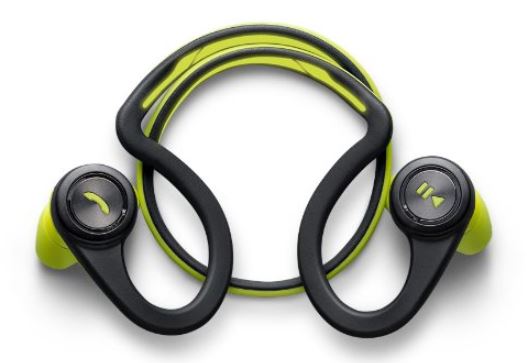 They let you hear the things that are going on the road to ensure safety. They won't cause any discomfort as they just sit over your ear canal and won't dig deeper.
The bike helmet strap won't interfere with the headphones behind the neck.
As like that of AS600SG I've reviewed above, these headphones also come with three buttons for volume up, down, and a multifunctional button. These are also wireless headphones and desired by most of the cyclists for comfort.
The headphones also come with a mic, but the quality is not up to the mark. The quality is quite great in silent environments but not during cycling.
The sound quality is great without any noticeable downsides. It's great for casual listening.
These are also Bluetooth headphones, that come with rugged moisture-resistant design. If you won't prefer Bone Conduction headphones for any reason, this headphone might be your bet.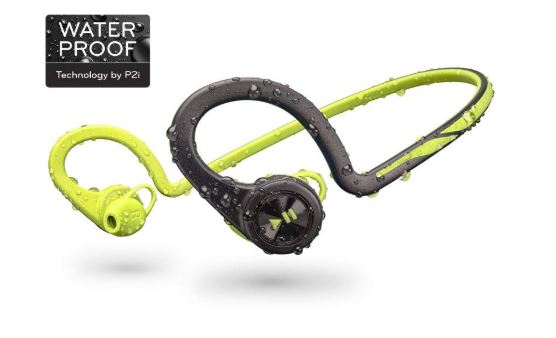 TaoTronics is one of the most overlooked unhyped brands for headphones. It is the best-selling earbuds on Amazon for a reason.
It offers great value for the money you've spent.
These earbuds boast IPX5 splash proof resistance. You need not worry about the sweat and rain to decrease the longevity of these earbuds.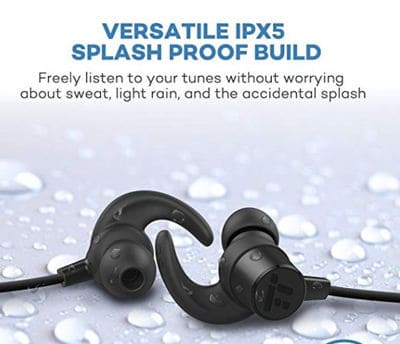 These are Bluetooth wireless headphones, that come with AptX support. That means the sound quality is comparable to that of wired earbuds although these are wireless earbuds.
The sound is encoded and transmitted via wireless medium losslessly due to the AptX technology used.
When it comes to sound quality, these earbuds are tuned to perform great in bass and mids frequency range.
The earbuds struggle a bit to perform to its fullest in the treble range and has some muddiness in the higher end.
These won't block out much noise. Although they do isolate some sounds, the isolation is not complete even at high volumes. This is good for safety purposes while cycling.
The comfort is good and won't cause soreness like the previous version of TaoTronics earbuds. You can wear these on without any discomfort.
The battery life in these earbuds is quite low, the battery runs out every 3-4 hours of good playback.
The mic is also not that great. You need to hold the mic closer to get a good sound quality.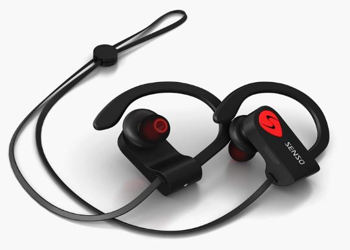 These SENSO headphones are IPX7 rated waterproof headphones designed especially for an active lifestyle like working out, running, and cycling.
The headphones do a great job of keeping out low-frequency wind noise while cycling. The sounds like vehicle horns can be easily heard at low volumes.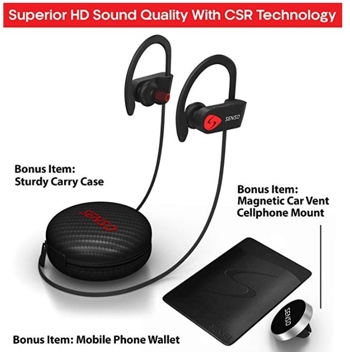 These are not the safest headphones for cycling, as you cannot hear the ambient noise while playing loud music.
These are wireless and noise-cancelling headphones.
The ActivBuds offer good comfort for you to wear these on while riding. They are ergonomically designed to stay in place no matter what shape your ears are. The ear tips come with three sizes S, M, and L. So secure fit won't be a problem.
The earbuds offer a good battery life of 8 hours and feature a quick charge feature to get the juice back up within 1.5 hours which is quite great.
The sound quality is good without any distortions for the price. The bass is pretty decent, as these do offer good sound isolation.
These are not the safest headphones for cycling as they do cancel the ambient noise.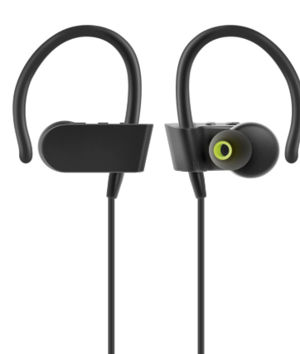 These are wireless headphones that are designed for good comfort while working out, cycling, and running.
There's nothing to complain regarding the comfort of these headphones. But headphones do not seem to be ideal for small ears.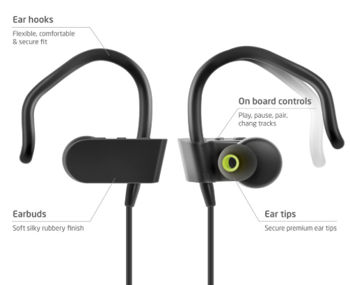 The headphones are designed so that they stay inside your ears no matter what activity you are doing.
Along with this, the headphones are also sweat-proof which enable you to use this without worrying about the durability.
The bass of these headphones is great and the mids are very clear. If you are an audiophile, you may feel that treble part has some room for improvement.
The treble part distorts a bit at high volumes. The bass part also appears muddy at high volumes.
The battery life of these wireless headphones is 6 hours. That's decent.
These Photive PH-BTE70 headphones have a good amount of noise isolation. But the wind noise will be an issue with these while cycling.
You can clearly hear the sounds around you at lower volumes but not at louder volumes. If you listen to loud music while cycling, the safety would be an issue.
Also look at:
1. 7 Best Planar Magnetic Headphones for Serious Audiophiles (2019 Edition)
2. 5 Best Headphones for Hip-Hop And Rap Music
3. Top 10 Best Headphones for Drumming (Beat it Like a Pro!)
4. 10 Best Studio Headphones in 2019 from $50 – $1000
Wrapping up
These are some of the best cycling headphones for the price.
As you may have noticed, the ability to hear the background noise is crucial while cycling for safety purposes.
So, buying a noise isolating earbuds for cycling would be a bad idea although they may cancel out wind noise.
I will definitely opt for bone conduction headphones like Aftershokz Trekz or the ones like Plantronics BackBeat, that ensure maximum comfort, safety, and durability when compared to other conventional headphones.
Cycling is a good practice to stay healthy. I also advice you to meditate early in the morning for your personal development. Go with best binaural beats headphones in this case.
Hope you found the post helpful. Please do share this with other cyclists!
Hi, I'm Jennifer I'm a passionate singer and an audiophile from Detroit, MI. 
I'm on a mission to help music creators to create fine music that help them position uniquely in the saturated music space.
Follow my blog for regular content :-)