If you are looking for some of the best pink headphones and earbuds, you are at the right place.
The majority of girls and ladies prefer pink over any other colors when it comes to headphones, earbuds(wired or wireless), or any other apparels.
The pink color has become one of the go-to colors for women around the world. As like that of other headphones, the pink headphones also do come with a wide variety of types of headphones like over-ear, on-ear, and the in-ear.
You also do get features like mic, and others like that of other headphones.
There is a wide variety of pink headphones. You need to consider only those pink headphones that serve you well for your purpose.
Here are some of the things you need to keep in mind while choosing these headphones.
Choosing Pink Headphones
Design: Not all the pink headphones are one. They do come with a wide variety of pink color shades like magenta, flamingo, coral, rose and other shades.
The pink headphones also come with a combination of other colors like white and black. As I've described earlier, the design can be over-ear or on-ear.
The over-ear headphones engulf your ears and are superior at getting rid of outside noise. Whereas, the on-ear headphones rest on your ears and are poor at sound isolation. The sound tends to leak to and fro.
Comfort: The headphones need to be easy on your ears and head. The headband should not cause any pressure on your head and rest comfortably.
The earpad foam should also be breathing so that your ears won't sweat and cause irritation after wearing these headphones for hours.
The headphones should also be lightweight and can be easily carriable with swiveling earcups.
Sound quality: Before buying the headphones, if you are too particular about the sound quality, you need to be sure what music genres you listen to most of the times.
Depending upon the frequency range, some headphones emphasis on the lower range of the frequency graph, whereas other headphones perform well in higher frequencies like treble.
So, if you listen to rock and hip-hop, the headphones with good bass that perform well in lower frequency ranges works great.
7 Best Pink Headphones Reviewed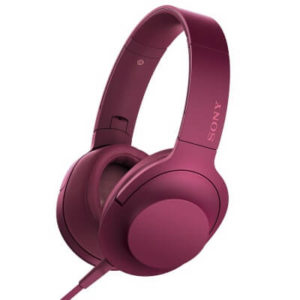 These headphones are available in 5 colors like Lime Yellow, Viridian Blue, Charcoal Black, Bordeaux Pink and Cinnabar Red.
The headphones feature a hinge shaped design and stand out of other headphones and provide a comfortable fit. The headphone appears very classy, and the premium finish it comes with is great.
The comfortability of these headphones can be compared to Bose QuietComfort 35 and Audio Technica M50x that are known for comfort.
The headphones are solidly built and very lightweight so that they can be worn comfortably over your head without feeling any weight.
Glass-wearing users have also reported that these headphones can also be worn over the glass frames without any discomfort.
The headphones come with dynamic 40mm HD drivers, that does the job well of pronouncing sounds of various frequencies very well.
The bass is tight and controlled on these headphones, but the bass is not overwhelming like that of other bass head headphones.
The vocals turn out to be crystal clear and vibrant. As the bass is controlled, you should not be worried about the bass bleeding to the mids and vocals.
The treble also sounds very pleasant without being harsh and muddy.
I loved the design of the headphones. I must say. Best pink headphones you can ever get for the price.

The design of the headphones is excellent for the price. The mixture of light pink and the gray color is great and not tends to be too shiny.
The Monster headphones are a good competitor to Beats headphones, but they make cheaper headphones of the similar design as that of Beats.
These are great when it comes to bass. The bass is thunderous and satisfies every bass head's dream.
The mids and treble are loud and detailed without being muddy and harsh. The bass does not tend to leak to the mids most of times, and this makes the sound quality of the headphones great.
The comfort on these headphones is better than that of Beats that I've reviewed above. The earpads are breathing and won't cause any discomfort after wearing these for an extended time.
If you are hoping that these headphones to have a fold-up feature like that of other high-end Monster headphones, these do not have that feature which may be a downside for some users.
They do not cause any pressure on your head, they are gentle and offers a good deal of comfort.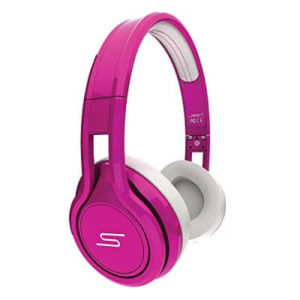 I absolutely loved the pink color of the headphones; the shade is something that is perfect for women.
The headphones are foldable so that you need not worry about carrying these while transporting. The headphones are sleek and lightweight.
The headphones have a great bass, but not too much to be called a bass headphone. I find the bass to be perfect, not overwhelming.
The mids and vocals are clear, and the details are amazing. The treble is crisp-clear without any muddiness. This is one of the kinds of headphones, which performs great in all the frequency ranges.
The headphones are very lightweight and easily rest on your ears without causing any pressure or discomfort. The earpads are padded with soft material and are easy on your ears.
The headphones are super-comfortable for people with small heads but little less comfortable for large heads until they become accustomed to it.
When compared to other on-ear headphones in this range, these tend to block out an ample of external noise.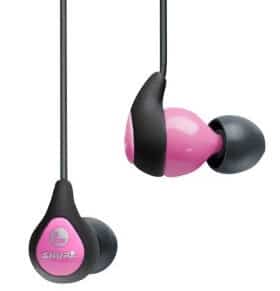 If you are looking for the best pink in-ear headphones or earbuds, these are the best bet.
The design is appealing with the combo of light pink and black color and with "Shure" brand name in the middle.
The earbuds are very durable with reinforced cable, modular design, and are built to last.
The bass is controlled and not boomy. If you are willing to get a great bass with your earbuds, these earbuds are not for you. The sound on these earbuds sounds clear and natural with little enhancements.
The mids and highs sound warm and natural. The vocals turn out to be crystal clear. The sound quality will be improved once the earbuds cross the burn-in period of around 80 hours or so.
The noise isolation with these earbuds are great, at even low volumes you won't even have a clue what's going on outside.
Contrary to most of the other earbuds, these feature a behind the ear design, which is darn comfortable. There's nothing to complain about the comfort whatsoever.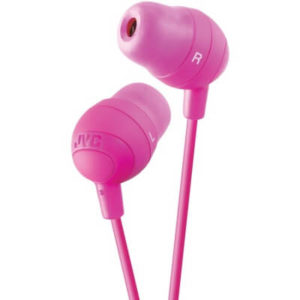 The design of these earbuds is great for pink lovers. The looks are funky.
The bass is decent and not too strong. For many of the bass lovers, this may be quite disappointing. The bass is present although not dominating.
These earbuds are quite harsh on your ears in high volumes. The treble and the mids seem to be a little muddy at high volumes. But I'm sure that this won't be a problem unless you're an audiophile.
The earbuds are super comfortable. Due to the comfort fit the earbuds provide, the noise isolation is almost comparable to that of earplugs. You can also consider sleeping with these on, as they are soft on your ears due to rubber body.
They are well suitable if you plan to use it in the Gym. They are meant for rough use and survive a good amount of abuse.
You also need to remember that these do not have start/stop button, so be aware of this.

The headphones come with light pink and a dozen of other colors. The light pink is perfect for girls and women of all the ages.
The earcups rotate so that you can rotate then outwards if you want to listen to the sounds around you.
This is a great option that mostly you see only in new Beats headphones and makes wearing of these very convenient.
The comfort is not up to the mark. They are quite comfortable for short sessions but not for long term listening for hours or so.
If your head is quite large, you may notice that the headband puts pressure on the earcups and cause then to clamp down causing pressure on your ears after some hours of use.
However, people who have smaller heads found it comfortable to wear.
The bass is quite decent without being too strong like that of Beats Solo series. If you are a bass head, you aren't going to enjoy these headphones.
If you are a bass lover, these headphones sound actually flat to you, but the bass is actually present. It is tight and controlled. Beats headphones are known for bass, but not this one.
The treble and mids are where these headphones excel. The vocals are crystal clear and are balanced.
These headphones are great to listen to all sorts of genres with expecting less bass.
If you want best pink beats headphones, Solo 2 (rose gold) is the way to go. Although, it's not pure pink to be reviewed here!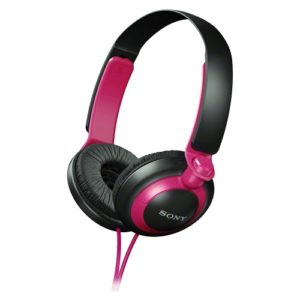 The headphones flaunt a unique with a perfect blend of pink and black colors. It costs you below $50, and this is great for the price.
The bass is great in these headphones. The bass is great than any of the pink headphones that I've mentioned in this post. The bass is insane.
The mids and vocals sound are great for the price. They sound natural and rich.
The treble seems to be clear and sounds little muddy especially at higher volumes. As long as you are a casual listener, and won't care about the precise details, this is not a deal-breaker.
The headphones adjust your head size without being too tight. The headphones are light and rest on your head comfortably. After few minutes of wearing it, you will be unaware of the fact you are wearing them. There's no complaint regarding comfort whatsoever.

Wrapping up
Hope you found the reviews of some of the best pink headphones useful. If you have any suggestions of pink headphones to be included in this list, please do comment.
Spread a word about this article.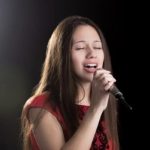 Hi, I'm Jennifer I'm a passionate singer and an audiophile from Detroit, MI. 
I'm on a mission to help music creators to create fine music that help them position uniquely in the saturated music space.
Follow my blog for regular content :-)