When you are searching for on-ear headphones, chances are you have to search the web from head to toe. However, that's not the best scenario, and we realize that it's not bad to expect more out of fewer bucks.
The relief here is there are on-ear headphones that you can get at lower prices without compromising on the quality and comfort.
Treat your eardrums to excellent sound with one of these headphones that come under just $100.
Today we are going to discuss the attributes you need to check before buying an on-ear headphone, plus seven on-ear headphones that will suffice all your needs while staying under the budget. Let's start without much ado.
Things to look for in an on-ear headphone
On-ear headphones are more in demand because they are a portable alternative to the bulky over-ear models.
With their small on-ear coverage, they allow more of the environments, hence letting you stay aware of the entire surroundings. When you are picking one for yourself, look for these attributes:
Portability and comfort: For those who are on the hunt of portability, yet do not admire the in-ear headphones, the on-ear models are one great alternative.
This headphone tends to sit on the ears comfortably, without completely blocking the ears.
While the sizes of these headphones will be almost same in all the models, it is recommended to check for parts that can be adjusted and fitted. For e.g.
Adjustable Ear Pieces: Headphones with adjustable earpieces can be moved away from the head or towards it. Unwanted squeezing can be put on the bay, with just this feature.
Adjustable Sides: Look for headphones that are adjustable on both sides. One adjustable side is not at all recommended because it is likely to change the overall shape of the headband.
Given that you have comparatively larger or smaller sized head, you can adjust these headphones to fit better.
Flexible Band: Even though the headphone is not adjustable in size, if you can get one with the flexible band, you can adjust it according to the size of your head.
Sound quality: Human ears can hear from 20 hertz to 20,000 hertz, and you should look for a headphone with the highest range possible.
Consider looking for good bass when buying the headphones, else the music will sound completely different. You can search for headphones with surround sound as they always come with good reviews.
Noise Cancellation: Buy headphones with noise cancellation features as they are likely to block out any outside noise.
Noise rejection is related to portability and travel and is good when you are traveling by airplanes.
However, these cost a little more and to overcome the hefty price; companies offer noise rejection via a closed back design.
Given below is a list of on-ear headphone that beats the price without giving up on quality:
Top On-Ear Headphones for Under $100 Listed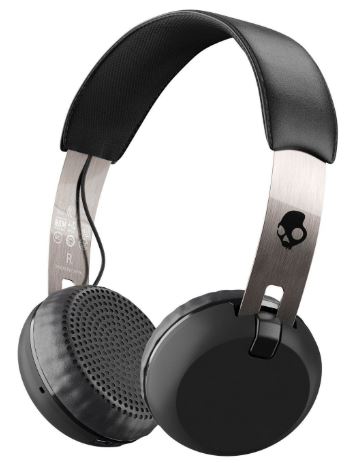 Build & design:
The Grind wireless looks quite similar to their wired counterpart and comes in a variety of color options. Black/tan, white, blue, blue/brown, and gray/plaid is some of the options that you can avail for this headphone.
Unlike the huge padding that annoys users, it has a small soft padding covered in a mesh that makes it comfortable for the user to put it on.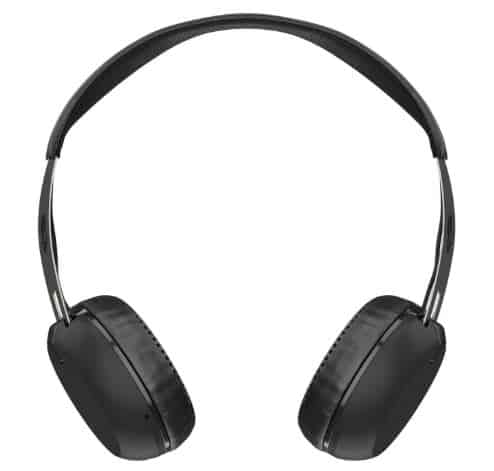 Although good on the head, it bothers some users over the ear due to the soft padding.
Fitted with a microphone in the left ear cup, this one is a rather comfortable choice of on-ear headphone.
Considering the headband is made up of metal, one would expect it to be heavy, but on the contrary, it is one of the lightest weighted choices you can have.
What we best liked about this headphone is you cannot find the word "Skullcandy" written anywhere around it.
The logo is placed on the headband in a very subtle way, keeping the branding minimal. Given the modest price, Skullcandy Grind sounds extremely well.
Buying this, you are going to get a wireless freedom of almost 33 feet of wireless range. Even the battery backup is good enough to enjoy at least 12 hours of smooth functioning.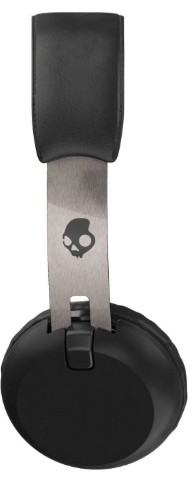 Sound Quality:
As far as music is concerned, it has a well-balanced sound with pretty high bass and excellent clarity. If you like bass, this headphone is everything that you need to have.
The mids in this headphone are slightly warm, and you will get to hear clear vocals. There is a slight issue with the background instruments, as they were not as clean as expected.
The ear cups tend to seal most of the noise, but on the downside, you are going to get a little treble and bass push.
However, this is going to happen only when you turn the volume to the maximum. Make the song sound better with a little volume adjustment.
You can easily connect it with most of the Android, Windows, and Apple devices. Plus, it will release a "low battery message" 10-15 minutes before the battery drains out.
All over, Skullcandy Grind Wireless is an excellent choice that comes with quality sound and affordability. For anyone looking for a solid pair of Bluetooth on-ears, the Grind Wireless will not disappoint.
Pros
Lightweight
Tight bass
Good battery backup
Affordable
Cons
Doesn't fold
No carrying case

Design and build:
The beats are specially made to suit the daily life of music lovers. Despite the fact that the headband is made up of plastic, it is considered one of the sturdiest headphones available in the market.
The padding on this headband is a bit rubbery. Hence it is springier than others on the list.
Pick the product, and you will realize that it's absurdly durable. The ear cups are made of stainless steel, and the padding on it comforts your ears like none other.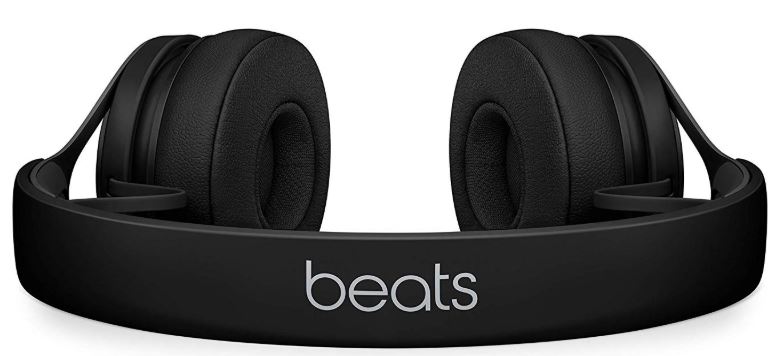 Given all these qualities, it still is one of the most manageable and small headphones you can avail.
You will get it with a soft bag that won't protect your headphone but looks pretty good as a covering. Slip it into your backpack very quickly, without worrying about anything.
Guided by Apple, cords display three-button Apple remote. It's hard to believe that this feature is available at such a low price, but yes, it is there.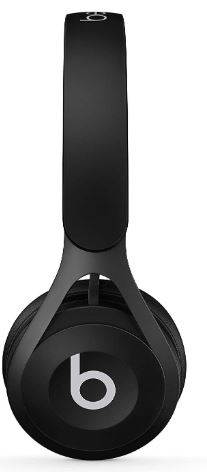 Sound Quality:
For such a low price, the Beat EP can please even the critical listeners. The sound is bass-forward and retains precision even in the higher range.
The highs of the Beat EP are way strong, and it won't even cause distress. Mids of the headphones is slightly thicker yet softer, giving your music a dark and fun sound signature.
Provided a good isolation, we consider this one as a good pick for a noisy environment. Those who like to groove with modern pop music, just get this headphone. Even female vocals have a pleasant experience via this headphone.
Considering how good it works, even music producers can get this headphone to understand how their music sounds and for the normal listeners, it's always a win-win.
Pros
Comfortable for prolonged listening
Minimalist design
Cons
Can't collapse for storage
No wireless options

Build

:

For anyone looking for a headphone with decent audio reproduction and minimal leakage under $100, Sony MDR-ZX110NC is one excellent choice.

The MDR-ZX110NC is a nice-looking headphone with stylish ear cups.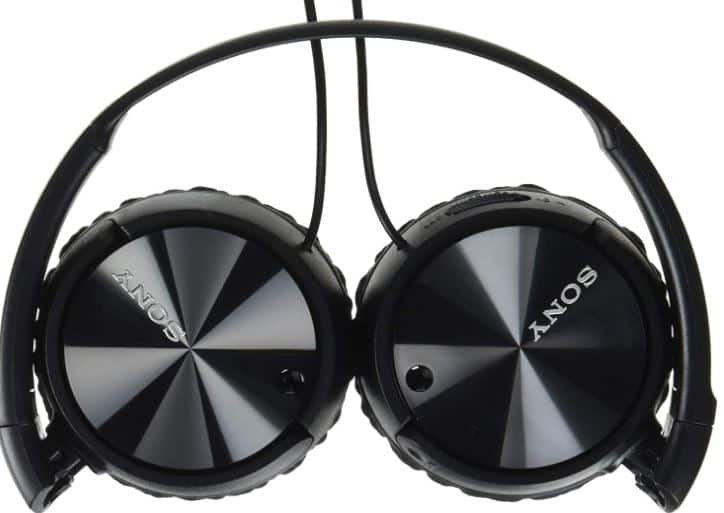 As far as comfort and portability are concerned, these headphones are rated higher on the scale. The headbands are not likely to put any pressure on your head; it's the stiff ear cups that trouble the users a bit.
Don't twist and turn it too much as it might snap, put it on your head swiftly and then you can enjoy a long life of this affordable headphone.
Sound Quality:
The headphone is counted for average performance; however, the high bass is considerably good. Hear some prominent bass music, and you will realize how well it works.
It works well for even for the bass heads as the frequency falls up to 10Hz. The human ear can hear up to 20Hz, but you will still feel the sub-bass working.
The treble is great too, but there is a slight inconsistency which will affect the overall clarity.
Integrated with noise canceling technology, this headphone is likely to reduce the interference around you. As per its specifications, it is liable to lessen the noise by at most 95%.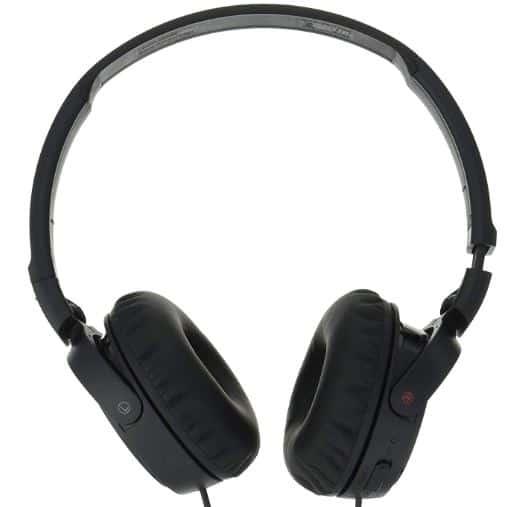 The headphone has 30 mm drivers and pressure-relieving ear cup cushion that blocks the outside noise.
With these two features, you can enjoy your music without any outer interference, and the ear cups sit comfortably on the ears.
With a battery life of 80hours, users get to enjoy unlimited music on the long run. If you are fine with a little harmonic distortion and the missing low-end rumble, this headphone is worth the price tag it comes on.
Pros
Decent audio reproduction
Noise cancellation technology
Cons
Unstable fit and can fall off more often

Grado didn't completely change its new series, but it has undoubtedly refined the Grado SR80e, and of course, the performance has improved a lot than its " i " series.
Build

:

Coming with a retro touch, these headphones have rather chunky features. Rather than this, they are counted as the coolest picks available in the market, no surprise, different is always better.

Even the operation of these headphones does not coordinate match with the modern headphones.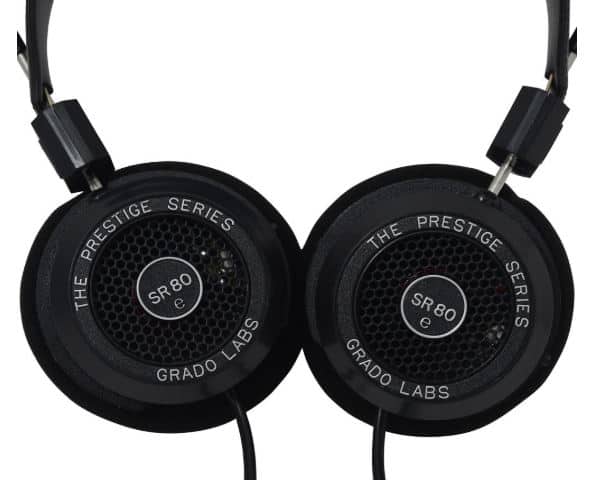 Most of its parts are manufactured with plastic, leaving just some of the important parts for the metal build. Given that it's such an affordable choice, you should not doubt its life as it's sturdy as well as reliable.
The padding on the ear cups is a little firm, but there won't be any discomfort when you are wearing them for few hours. Even when they have leather pads, they are not likely to warm up your ears.
We find the metal rods an interesting addition to this headband as they make the earcups sit comfortably on the ears.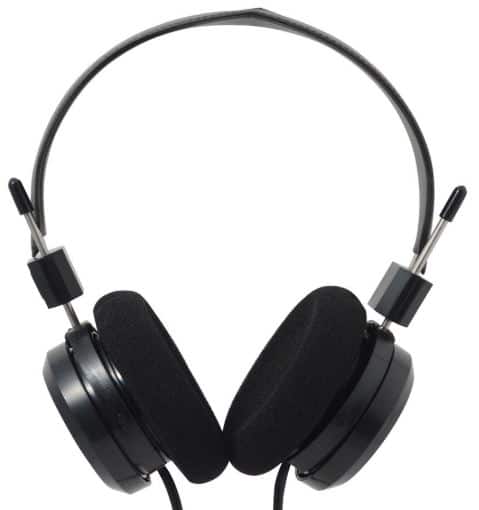 Sound Quality:
Excellent dynamics, details, and clarity contradict the price they are available at. With open-packaged design, these headphones sound quite nimble.
Bass is immaculate and punchy, and you are unlikely to experience any band bleeding in between.
Unlike its previous versions, the bass is fuller, deeper, and detailed sweeter sound. You can listen to the music at a comparatively lower level without even losing the detail.
Some people might find it a little tiring at higher sound for a long hour, but it surely works well when it comes to treble. It has excellent treble and midrange details, which most headphones of this range don't have.
Grado SR80e works well in most of the cases, except while on bus and train. This one quite impressed us, and you are hardly going to get such a retro yet cool design without elevating your budget.
Pros
Cons

The Plantronics BACKBEAT 500 SERIES is an excellent sounding pair of wireless headphone. This new series is the perfect blend of features, performance, and structure.
Boasting an impressive 18 hours of battery life, it offers multipoint Bluetooth pairing with the compact on-ear design.
Build

:

Plantronics BACKBEAT 500 SERIES has a plastic body except for the ear cup forks that are made up of metal. Targeted at a younger audience, it is available in a white shade with accents of orange, dark gray with silver, light gray with yellow-green accents.

The left ear cups hold volume, playback controls, microUSB charging port, as well as 3.5mm headphone jack.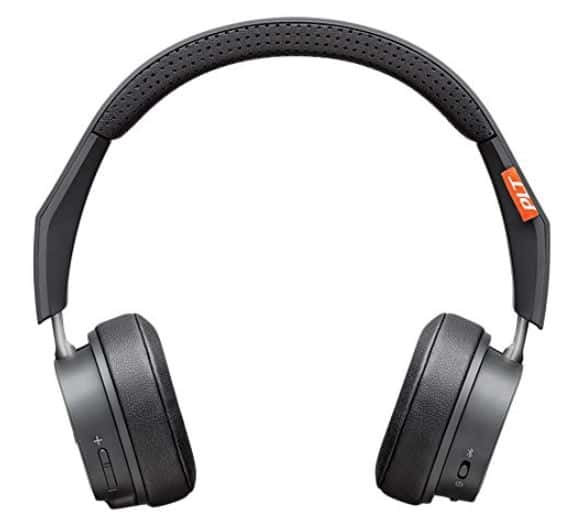 We like the portability it offers as you can simply fold the ear cups to adjust them inside your bag. The headphones are a bit twistable also, so you don't have to worry about durability.
After a long listening session, your ears might face discomfort, so, we recommend Backbeat 500 Series for fewer hours.
Sound quality:
Plantronics BACKBEAT 500 Series is known for its excellent sound quality. The headphone offers a pleasing sound that works well with rock, pop, and rap.
Along with the excellent bass, you get a well-controlled sound that even keeps the muddy sound at bay.
In the mids it masks some of the energy, which ultimately makes the vocal music suffer a bit. The U-shaped tonal curve ensures that the listeners have pleasing time.
The headphone gives you an unlimited 18-hour battery that can stay on standby for more than six months. Adding to the perks, it allows the users multipoint Bluetooth pairing.
Recognizing that it's a wireless headphone, this feature was a must have and we are glad to get it in there.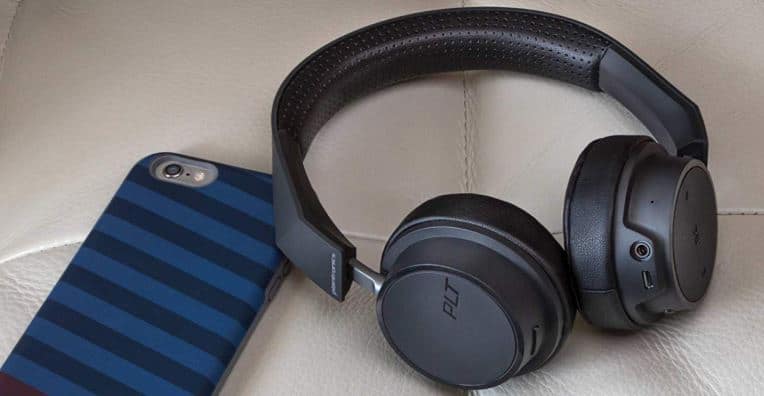 Pros
Excellent sound quality
Multipoint pairing
Cons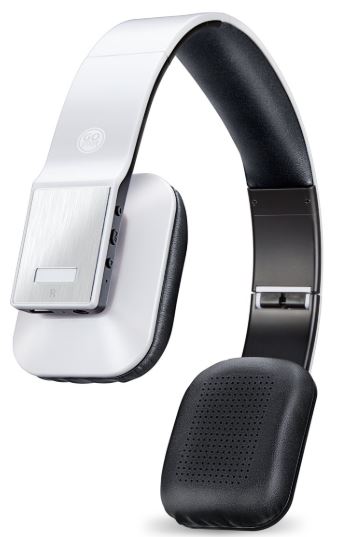 Build

:

The Gogroove BlueVIBE DLX TV Edition is proved to be an on-ear design that works much more than being just a TV headphone.

The sound itself is enough to bring a smile on your face, plus it is one of the most lightweight and utterly comfortable headphones you will get under $100.

Don't underestimate its sturdiness just because its lightweight as this headphone is made to withstand the wear and tear of daily use. Considering the ear pads are also made for heavy duty task, you can use them during the daily workout regime.

The right ear cup holds three buttons, one for each, volume, track adjustment, and pairing process.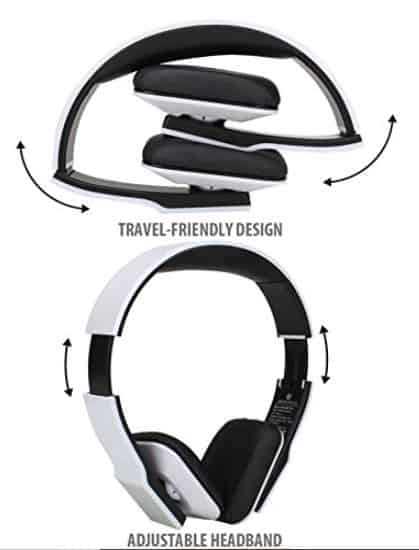 As the name suggests, it works independently with your TV so that you can listen to two different levels of volumes.
This is good when two persons are watching a movie and want different sounds. With 14 hours of battery, you can enjoy your travel without much to worry.
Sound Quality:
Before we tell you about this headphone, we would like you to know that these headphones are designed after keeping movies in mind.
For anyone who doesn't wish to lose the thunderous noise of a fight, this headphone is everything you need to have.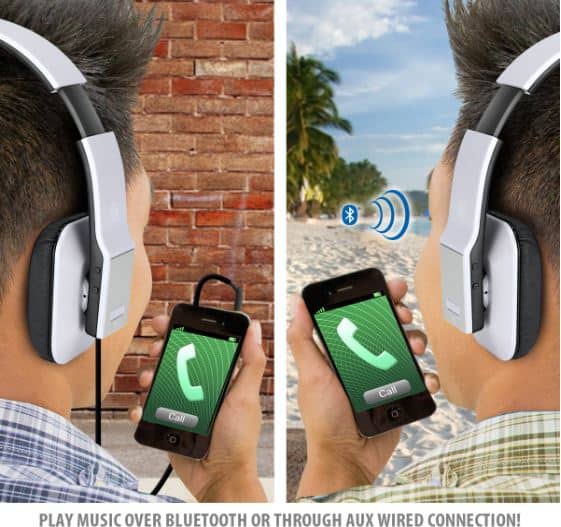 The bass is wide ranged and has ample power to perform. The headphone has a very clear mid range that performs well in most of the conditions. Catch some subtleties of instrumentation, and you will realize how detailed is mid range is.
It does have a decent treble, but we can't say it's the best one. Sound can get a bit thin and scratchy due to the booming bass. Keep the volume moderate and you can enjoy your song.
We can't give it a five out of five for its music, but it works well for everyone, who is looking for an affordable headset with a hint of style in it.
Pros
Clear midrange
Excellent wireless performance
Comfortable, stylish design
Affordable
Cons
Sound can get thin and scratchy
Booming bass
Poorly defined treble
Little passive noise isolation

Build

:

Shure SRH145 is designed with aesthetic in mind so that you can count it as one of the deserving candidates on the list. The black color of this wireless headset gives it a professional look. Wearing this headphone, you can expect a barebone headphone experience.

Even though it offers a metallic look, the headphone is made up of the complete plastic body. You will find it surprisingly thin and lightweight in comparison to the others on the list.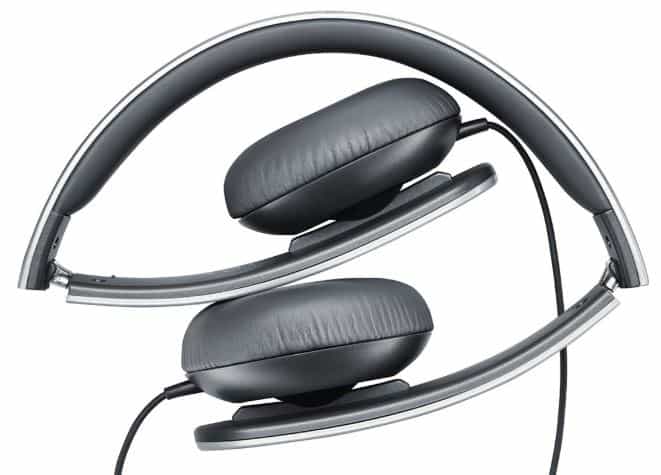 The only pop of color that you will get in this headphone is on the ear pads, showcasing the little orange fabric.
To maintain comfort, this headset has been accumulated with sculpted ear cups and padded headband.
As far as its usage is concerned Shure SRH145 works fine for brisk walks, but not for running and not for intense workouts.
Sound quality:
Given that the price is so low, this headphone offers quite a decent sound performance.
As compared to others in the series, the bass is punchy and full, giving a strong sound to the hip-hop and electronic tracks. For lighter acoustic tracks, it acts judiciously.
We like the rich and powerful down low that smooth up your listening session. You can't expect it to perform the best, but it does have the right combination of balance, power, and affordability.
Shure SRH145 is a true shot display of poise and power and suits well to anyone who is looking for an affordable buy with a little change of design.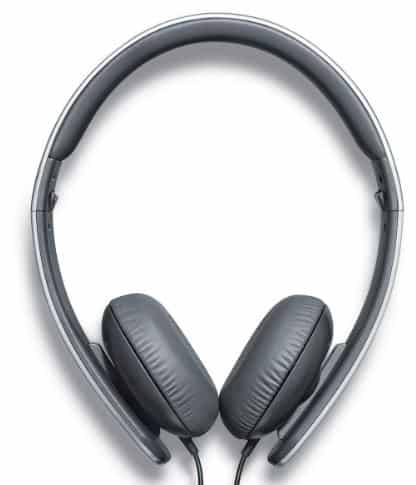 Pros
Rich, powerful bass
Light and comfortable design
A good passive noise isolation
Smooth and balanced upper register
Cons
Low midrange performance
Exterior design looks a bit chintzy

Bottomline
I hope you find this list of best on-ear headphones within the range of $100 helpful.
Before you buy one of the headphones, double check your list of requirements as everyone has different sets of need. If you too have some of the good ones on your list, do share it with us.