In this post, I'll present you with some of the best noise-canceling Bluetooth headsets for truckers, which eases their journey.
Best Wireless Bluetooth Headset
Plantronics - Voyager Legend (Poly) - Bluetooth Single-Ear (Monaural) Headset - Connect to your PC, Mac, Tablet and/or Cell Phone - Noise Canceling,Black
Last update on 2023-09-21 / Affiliate links / Images from Amazon Product Advertising API
If you are a truck driver then you will be searching for the trucker headsets, right?
We have researched the important aspects of the truck drivers' viewpoint and reviewed the best products in the industry.
The problem with truckers is that they need to keep their focus on the road. Answering the calls manually while driving truck is dangerous, and perhaps illegal in many countries.
Bluetooth headset with a noise-canceling mic is a great option for truck riders.
Best hand-picked headsets for truckers
I've considered all these aspects and I've put together some of the best headsets.
The trucker headsets I mentioned here provide good comfort, sound quality, durability, and also offer you unmatched comfort for long hours.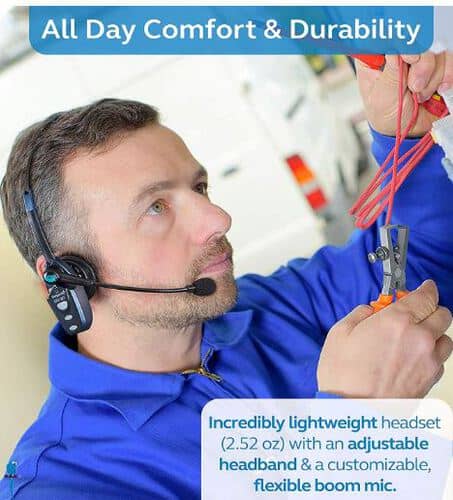 This is one of the best headsets for truckers. With a mic that cancels up to 96% of the background noise, it's one of the best bet for truckers.
Design and comfort

:

These headsets are extensively used in the call centers for a reason. They are designed to offer exceptional comfort for long-wearing hours.

These are extremely light and can be worn for long hours without any feeling of heaviness in the head. As these have only one-ear cup, these are lightweight.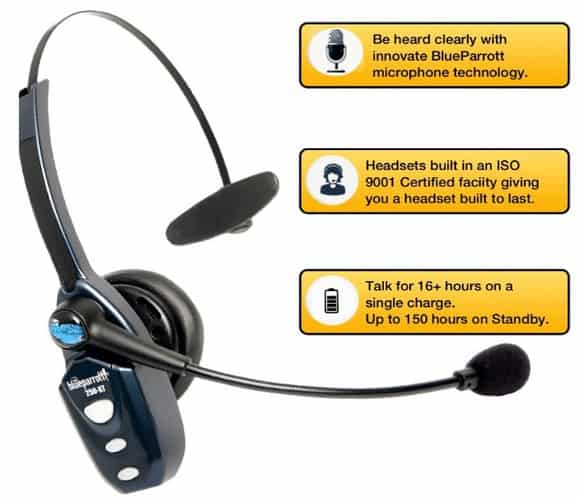 Your other ear will be free so that you can also pay attention to the things that are happening around you.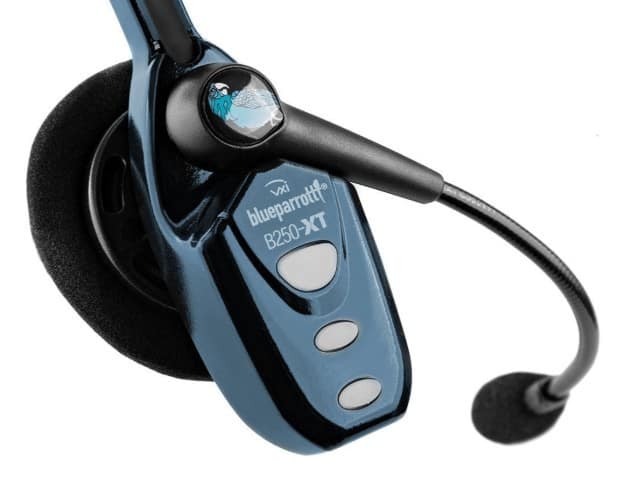 The headset includes a control module that has volume controls, power controls, and also device pairing function buttons.
Sound quality

:

This headset is mainly designed for answering calls conveniently. So, you can't expect that great immersive audio effect you get on high-end headsets.
The sound turns out to be crystal clear, considering it to be used for communication.
Mic

:

Mic is the major component of any headset. This headset is favorite in call centers and even for truckers for a reason.

The mic is excellent in effectively canceling out background noise like the harsh sound of the truck motors. It is quite astonishing to see how great these headsets are at canceling background noise.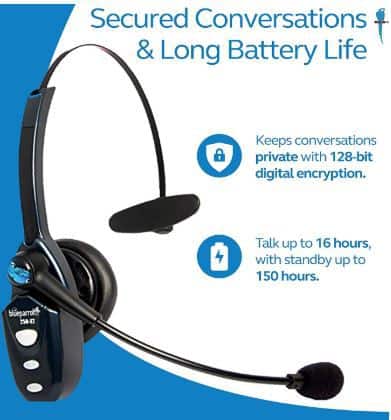 Battery life
The battery for the noise-cancellation is quite excellent. It offers 24-hours of talk time and a whopping 500 hours of standby. This is great considering that truckers may have to travel for days.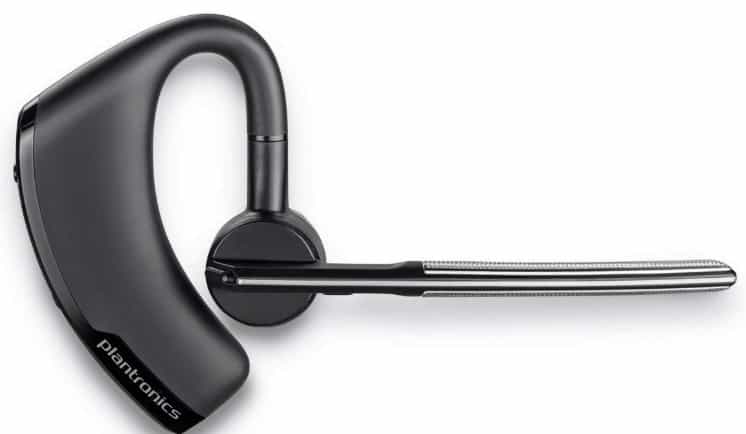 Design and comfort

:

The headset is designed to be water-resistant with P2i nano-coating technology. The headset will be resistant to rain or any spills that may occur. So this headset is a good choice to use it at the gym, office, or at outdoors.

The comfort is greater than other previous versions of Voyager headsets.

The superior comfort that this headset offers is a big advantage. You can easily wear these on for 7+ hours without getting fed up.
Sound quality

:

The voice quality is excellent. You can hear the voice of whom you are talking to in spite of the sound and the loud background noise.
Mic

:

The sound quality of the mic is excellent. This headset comes with tri-mic technology.

This is to ensure that the background noise of varying frequencies like wind noise is effectively canceled out.

The primary mic ensures that the transmitted voice is crystal clear. The mic also comes equipped with voice recognition technology that enables you to answer or ignore the calls just by your voice commands.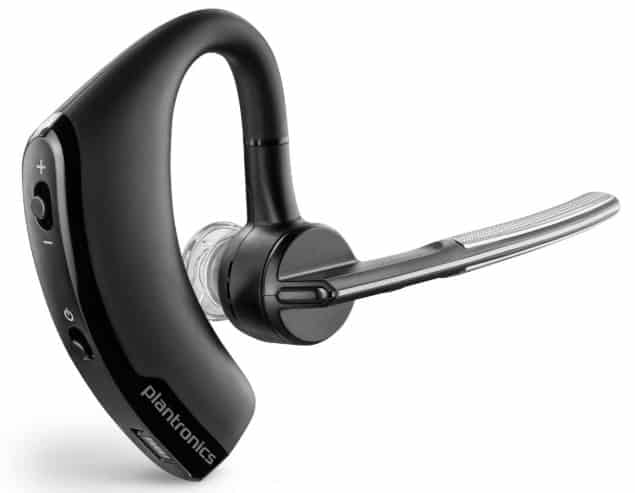 It does announce the name of the person who's calling you automatically.
Battery life
The battery life is great and gives you around 7 hours of talk time. It certainly outlasts the battery of your phone itself. The charging is also very fast with magnetic and snap-fit connection charging.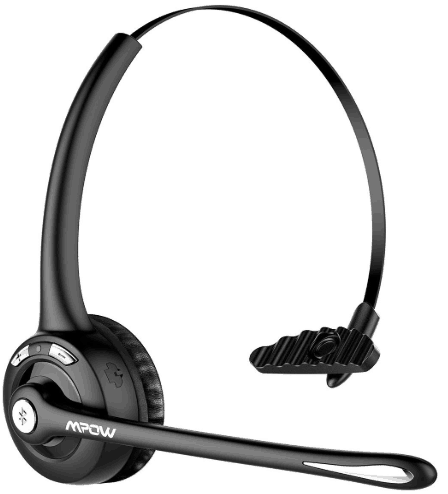 Design and comfort
Mpow Pro headset gives you about 30 feet of movement freedom before it starts breaking up.
While this distance may seem small, you shouldn't be bothered if you're a trucker, since you can't possibly move up to 30 feet in the cabin. You can also pair two devices with the headset at once.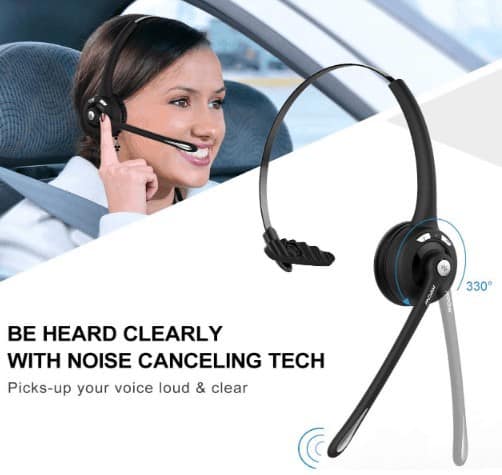 Also, it's best to keep the wireless headset away from water and try to wipe the sweat off it before it gets too much.
The headband and earpads are super comfortable and can be adjusted to fit your head well. The earpads, in particular, are made of memory foam, which makes them perfect for your long trips.
The headset is also quite light, you won't even feel the weight after so many hours of use.
Sound quality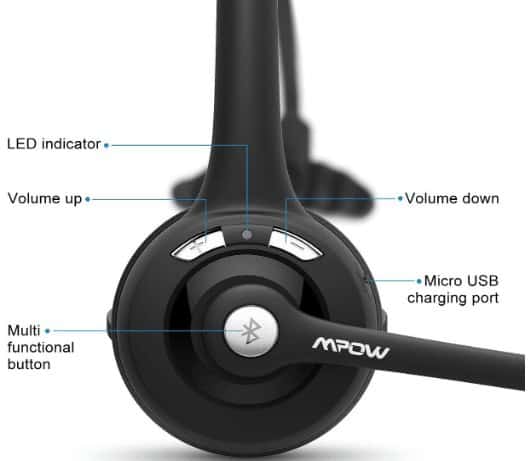 Mpow is made for clear speech. The Superior 4X noise-canceling microphone technology suppresses engine and wind noise while you're making calls.
This headset is made for calls only, but it does its job quite well, with good noise isolation.
While the mic has good noise cancellation, the headset also rejects most background noise so that you can hear your conversations clearly.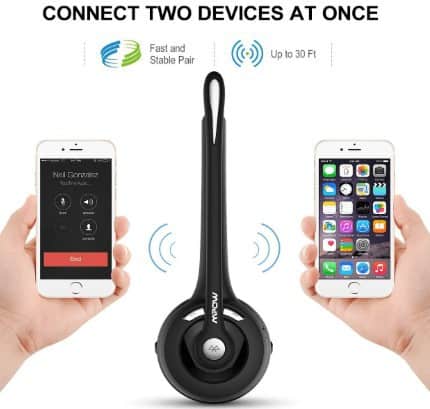 Battery life
The Mpow wireless headset takes just 2 hours from empty to full charge, and it takes 20 hours of talk time to get back to empty. If it's on standby, it can stay up for up t0 200 hours.
Design and comfort
The BlueParrott B450-XT has a wide, enhanced headband and large padded ear cushions for optimum comfort. You can wear this headset all day long without tiring.
Power and volume control buttons are conveniently situated on the headset's ear cup. This headset weighs 148g (5.22oz) and can simultaneously connect to 2 devices max.
Sound quality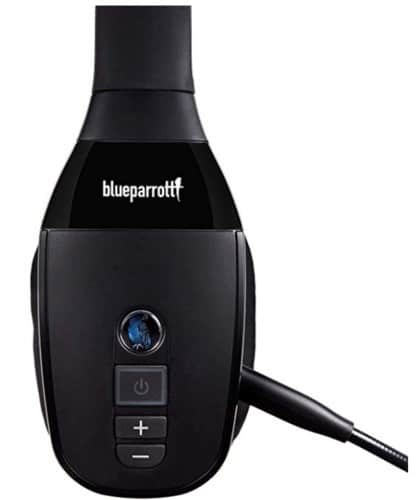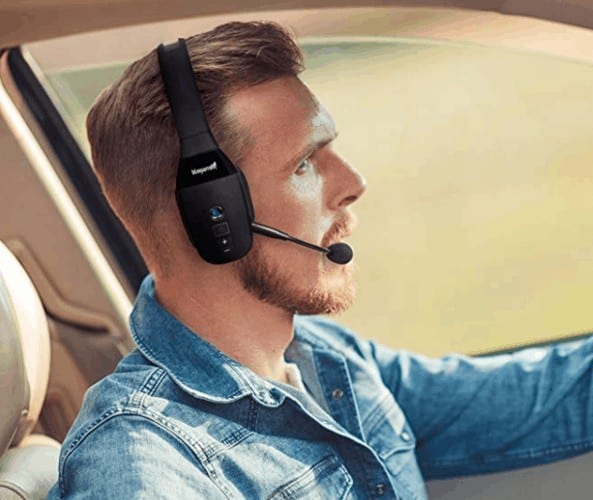 The BlueParrott B450-XT is designed to handle superior calls in the noisiest of environments. This headset is considered the best noise-canceling Bluetooth headset, thanks to its ability to block out 96% of all background noise.
The B450-XT delivers world-class sound. It's also one of the best Bluetooth headphones for truck drivers, allowing users to roam 300ft from their paired Bluetooth gadgets.
You can also stream a wide range of multimedia (including music and GPS directions) using this handset. The B450-XT could well be the best Bluetooth headset on this list.
Mic
All truck drivers headsets ought to have a quality microphone to facilitate communication. This headset's mic has a frequency range ranging between 150 Hz and 6800 Hz. Its sensitivity is 47 dBV/Pa. This is a noise-canceling microphone that eliminates up to 96% of ambient noise.

Battery life
Its lithium metal batteries have a capacity of 300mA. Users can operate this headset for more than 24 hours on a single charge. Charging time takes an average of 3 hours.
Design and comfort
The Elite Premium Headset by Blue Tiger has a chic yet practical design. Its wide, flexible headband can be adjusted as desired. It is covered by a well-stitched leatherette to enhance comfort.
The ear cups are cushioned to provide all-day comfort. In addition, this headset is equipped with cutting-edge noise-canceling technology that allows truck drivers to enjoy crisp-clear phone conversations while on the road.
Aside from being the best headset for driving, the Blue Tiger Elite Premium boasts of having Bluetooth 4.0 technology. It pairs easily with other Bluetooth devices, making it the most revered wireless headset for truck drivers.
Sound quality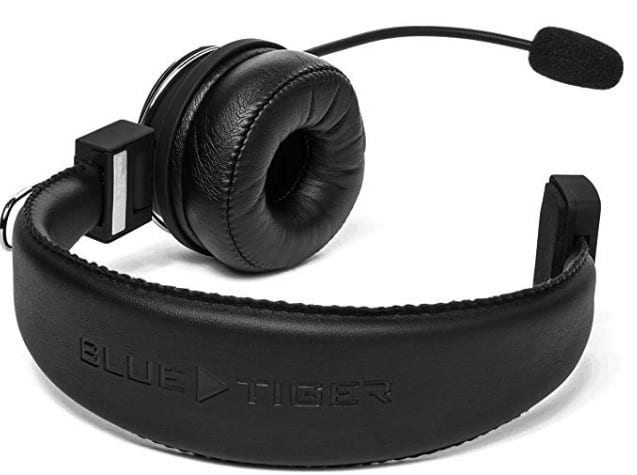 This headset is equipped with a Hi-Fi performance speaker that produces exquisite, crystal-clear audio.
The Elite Premium's smart engineering blends well with its top-range technologies to deliver outstanding performance.
Mic
The microphone is engineered using a powerful noise-canceling technology that effectively attenuates ambient noises. This allows truck drivers to hear clear audio with minimum disruptions.
Battery life
This headset also has a long battery life. Users can enjoy up to 34 hours of uninterrupted talk time and about 600 hours on standby.
Design and comfort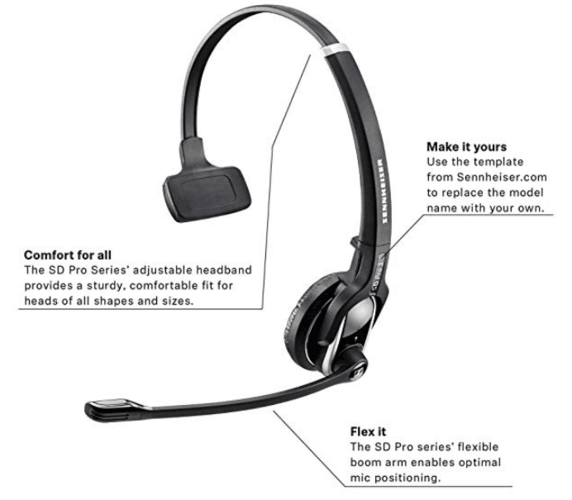 The Sennheiser SD Pro 1 ML has a slim, adjustable headband that offers a comfortable, sturdy head fit for a variety of head shapes and sizes.
This headset is Skype for Business optimized. You can connect it directly to your PC or Desk Phone for exquisite sound quality.
It is equipped with ActiveGuard technology that protects your ears from acoustic shock. You can answer calls or cancel them by pressing the backlit button located on the ear cup.
This headset also comes with a base station that allows you to fast-charge your battery. This base station supports dual connectivity, allowing users to switch between Skype and desk phone with a simple touch.
Sound quality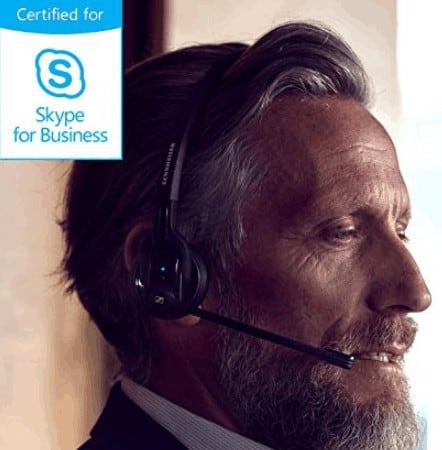 Although the Sennheiser SD Pro 1 ML doesn't win the best prize, it delivers high-quality sound and remarkable performance.
This headset also has ultra noise-canceling features. You can adjust the volume, mute the mic and pick calls by clicking directly onto the headset. This enables intuitive call control.
Mic
The Sennheiser SD Pro 1 ML is fitted with a noise-canceling mic that eliminates undesired background clutter, enabling crystal-clear conversations.
Battery life
Sennheiser SD Pro 1 ML comes with good battery life and fast charging. It just takes 20 minutes to charge 50% and within an hour the headsets get 100% charge.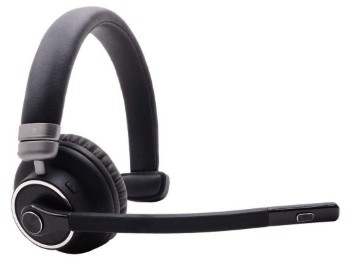 Design and comfort
Here's another 30 feet range Bluetooth headset. Again, it's not much but works well for truckers. Just make sure you don't wander too far away from your phone while making calls.
The pairing is quite straightforward, and barring any technical problems with your device, Willful M91 will easily pair with two devices at a time.
Also, avoid exposure to water with this Bluetooth headset; it's not exactly equipped to deal with such.
Willful M91 phone headset can pair with any Bluetooth-enabled device and can connect with 2 devices at one time.
You can play music and take your calls with this Bluetooth headset. The voice control feature makes all of these much easier. You can receive your calls without using your hands at all.
For truckers who go on very long trips, the M91 earpad and headband are super comfortable. Even after several hours, your ears won't start to feel warm or damp.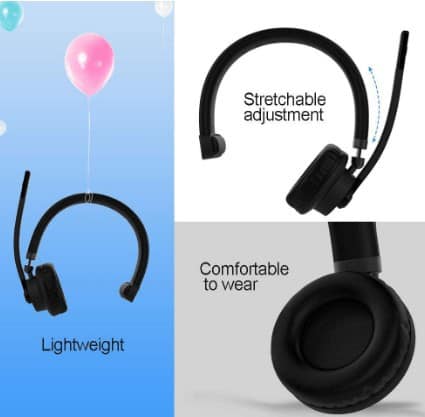 Sound quality
Although the M91 is quite decent for playing music, it's primarily optimized for calls. This is noticeable in the mic's noise-canceling feature.
It ensures that you have clear, crisp speech quality at the other end of the call. Also, it is effective at blocking traffic and wind noise from getting into the mic or disturbing your hearing.
Since you can hear through just the one earcup, noise isolation is super important.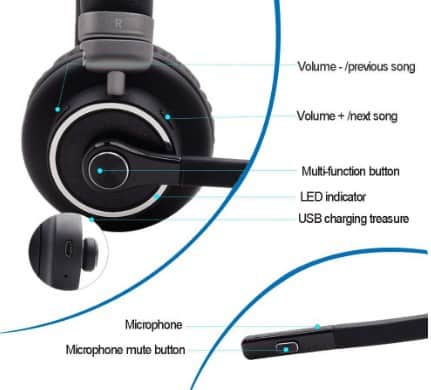 M91 headset does a pretty good job in this regard. While you monitor traffic and other background noise with the free ear, the headset prevents the same noises from getting in the ear you're listening to the headset with.
Battery life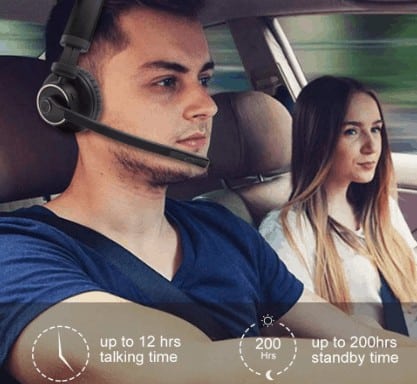 With 17 hours of talk time and 200 hours of standby time, you can be sure to have enough charge till you stop for rest or reach your destination. It also takes just 2 hours to charge.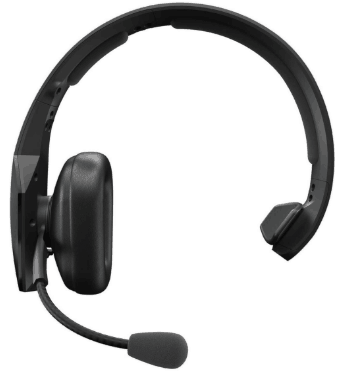 Design and comfort
The Bluetooth connection is quite strong; it allows you to leave your phone in the truck and walk around the rear without disconnecting.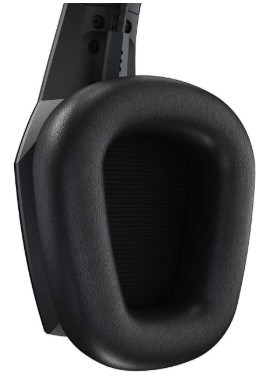 Another strong point here is that even when the connection breaks for a bit, the pairing and connection still stays intact, so you can keep listening as soon as you get back in range.
The headband and earcups fit quite well since the headband is adjustable. However, you may have to switch the headset from one ear to the other after a few hours. It may start to get a little warm after some time.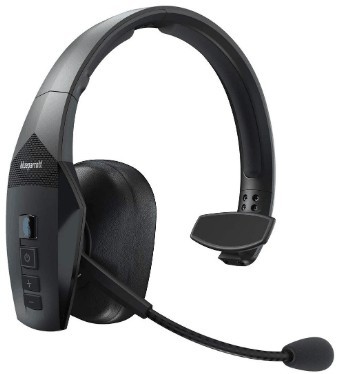 The 550-XT comes with the Blueparrot voice command that you can engage by saying "hello Blueparrott".
However, you can also use Siri or Google assistant with the Blueparrott button. Siri gives more voice command functions than the Blueparrot assistant.
Sound quality
For a trucking headset, the sound quality of the 550-XT is really good. Most headphones in this class are simply made for making and receiving calls. The 550-XT sounds pretty good with music too.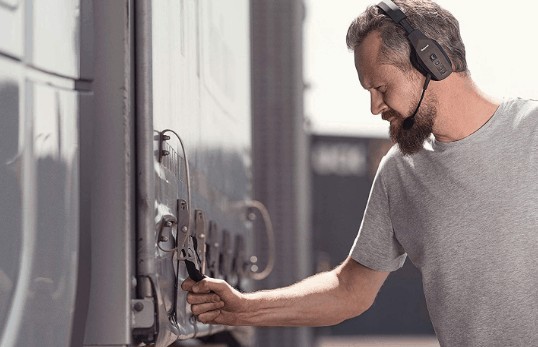 The mic gives near-perfect noise cancellation. Even with revving engine noise and loud honking, the call stays clear. Also, you get to hear your calls and music clearly too, with the good noise isolation offered by this Bluetooth headset.
Battery life
B550-XT has a battery life of 24 hours. This includes the time spent both talking and playing music. This makes the headset perfect for a whole day's trip.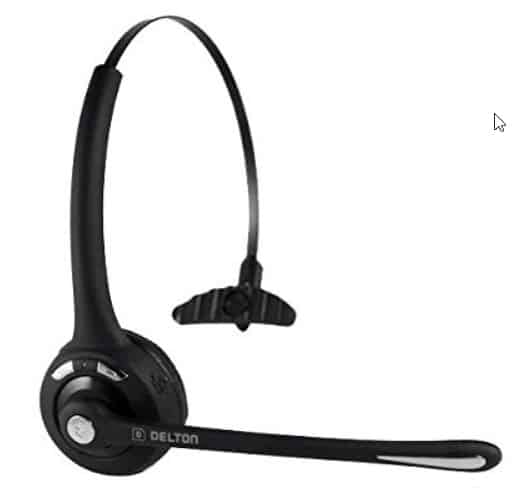 This is one of the cheapest headsets you can ever get. It is one of the best headsets for truckers under $20.
Design and comfort

:

The headset as a whole is very balanced and lightweight. You can't feel the presence of the headset on your head after sometimes.

It's so comfortable. It also comes with several buttons allowing you to answer the calls, volume control, redialing and voice calling.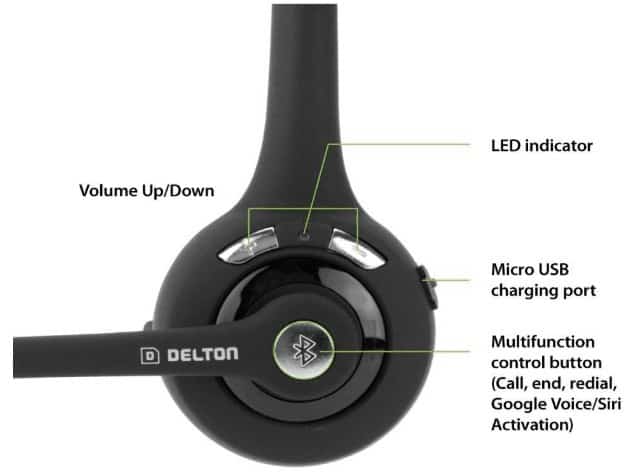 If you do not like on-ear headsets and looking for comfortable yet affordable full headsets, this won't disappoint you.
The headset can be adjusted at any angle. There's nothing to complain about this headset.
Sound

:

The headset fits in tight on your ears, making the sound to be very clearly heard. The voice is clearly heard both by the caller and receiver. Along with this, the headset can be paired with two devices at once.
Mic

:

The noise-cancellation feature of the mic is excellent. The mic is unidirectional. It gets rid of the background noise greatly.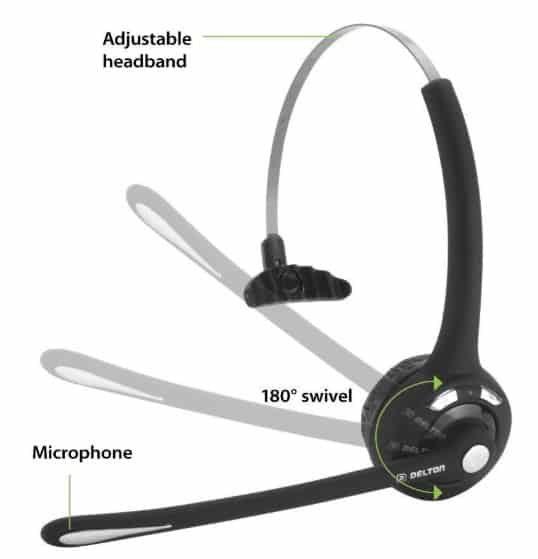 Battery life
The headset offers a great talk time of 13 hours on one charge. The headset itself gets charged in less than 5 hours, which is quite long when compared to BlueParrot one I mentioned in this post above.
This is one of the best on-ear trucker headsets today.
Design and comfort

:

Due to the on-ear design of the headset, the headset is very comfortable. You may even forget that you are wearing the headset due to the lightweight design.

It may be quite big for your ears, but you gradually get used to it.

The headset comes with a secure plug so as to make sure it won't fall out. The fit is so secure that the headset won't fall out even with the secure plug open.
Sound quality

:

The incoming voice is fantastic. The headset is less sensitive; you may end up pushing up the volume level for getting a good audible sound. The headset may not be suitable for use in a very loud environment.
Mic

: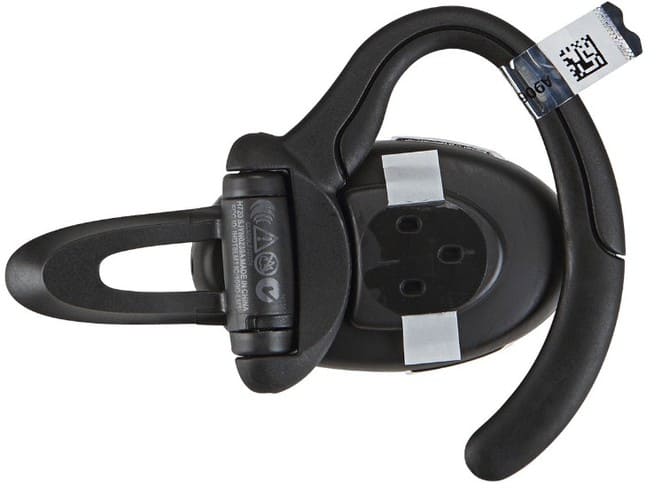 The mic of this headset comes with noise-canceling and echo-canceling technologies. It does a great job of canceling the background noise.
The best thing about the mic of this headset is that the headset mic can be turned on or off by simply folding it open or close.
This comes very handily to save some power out of its very long battery backup of 12 hours. The mic's noise reduction and the controls make using the headset a delight.
This mic also comes with voice commands like other headsets I mentioned.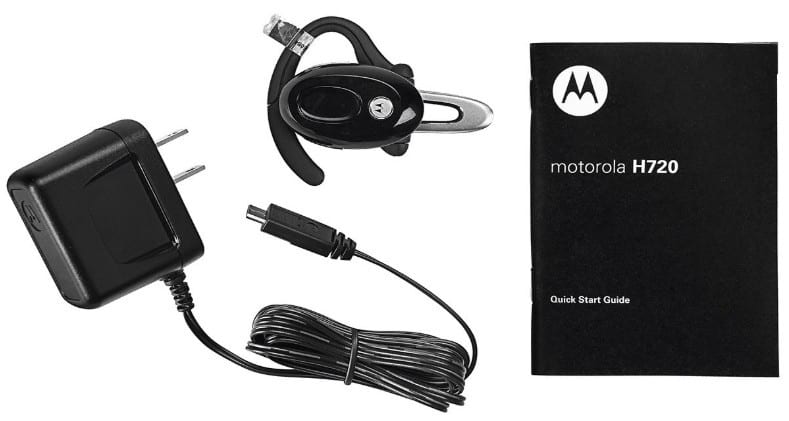 Design and comfort:
The mic comes close to your mouth. With this proximity, it can effectively detect and cancel out background noise. However, some of the times mic may be too close.
Once you get used to it, it may not be a major problem. Unlike the Jabra Pro headphones that are quite popular, these won't hurt your ears for longer wear.
You can easily wear these on for hours altogether. After putting this on, you need to adjust the headset a little to secure a comfortable fit.
Sound quality:
The sound quality of the headset is excellent. In fact, the receiver of the call will have no clue that you are using a wireless headset.
You can't expect the sound playback quality to be excellent as this is a wireless and noise-canceling headset.
The sound quality is pretty excellent considering that you only make phone calls with them. The sound turns out crystal clear.
The headset can be paired with two devices at the same time, in case if you are using two mobiles. It's a nice addition.
While using this headset, I highly recommend you download the Jabra app on your smartphone for unlocking more customization options as per your needs.
Mic

:

This headset comes with active noise canceling technology that clears out background noise effectively. The Noise Blackout 3.0 dual microphone technology does a great job.

In the dual mic configuration, the additional mic will be used for canceling out background noise by picking up noise and producing a negative frequency of it.

Along with this, as like that of Plantronics Voyager Legend, this headset also comes with voice recognition technology, which lets you pick up and reject the phone calls by just speaking some commands, without pulling the phone from your pocket.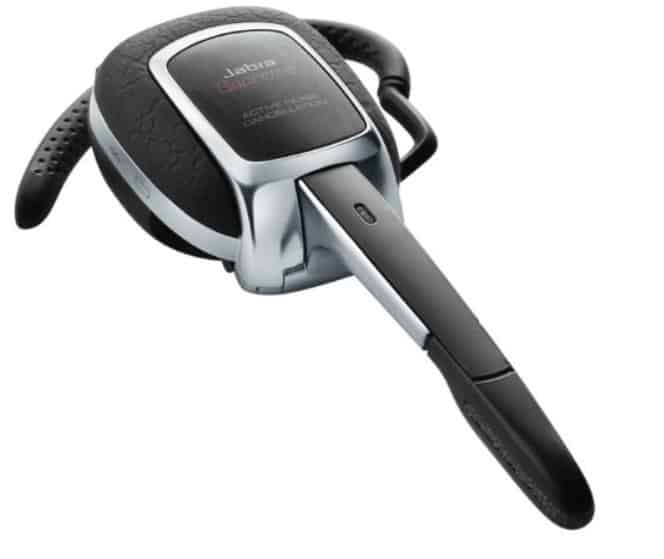 Comfort and design

:

The comfort offered by the headband and cushioned earcups is excellent. The headset is light like other headsets for truckers. That adds up to the overall comfort offered by the headset.

You can easily wear these on for a long period. At first, when you unbox it, the design seems to be a bit weird, but you'll love it once you get used to it.
Sound quality

:

The sound quality is great considering it to be a Bluetooth and noise-canceling headset.

You may notice that the quality of the sound declines when you crank up the volume, it may be a downside. It offers great sound quality when in low volumes.
Mic

:

This is where trucker headsets excel. The mic is great at canceling out background noise. In spite of this noise cancellation, the person you're calling to would be surprised to see the quality of the sound offered that too by your wireless headset.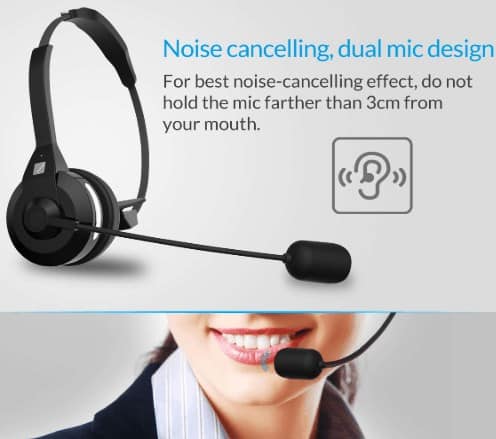 The sound quality of the mic is just amazing without any noise. The mic is fully adjustable so that you can position it in front of your mouth greatly. When you position the mic half-an-inch from your mouth, the quality of the sound will be excellent.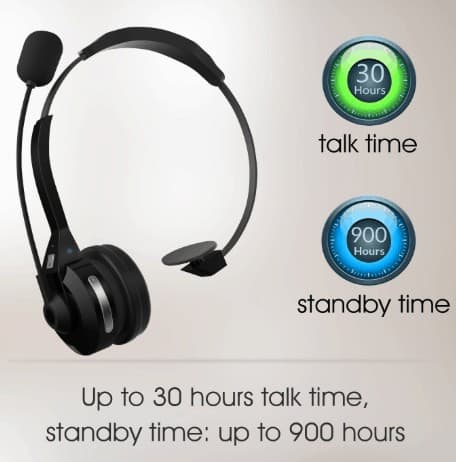 Design and comfort

:

As I've said the sound quality of these is excellent. But the headband and boom seemed to be a bit lost.

Noisehush N700m isn't water-resistant, although it can withstand some sweat.

The Bluetooth is version 3.0 and it has the NFC feature that enables you to connect your device by simply touching it with the headset. The Bluetooth connection works for up to 10 meters of open space without breaking.

Nevertheless, they are lightweight and comfortable to wear it on for hours. But, yes sometimes the headband becomes uncomfortable for long hours.

Overall it is a great headset for truckers at a good price. Almost no other headset can beat this in terms of price but it comes with some downsides.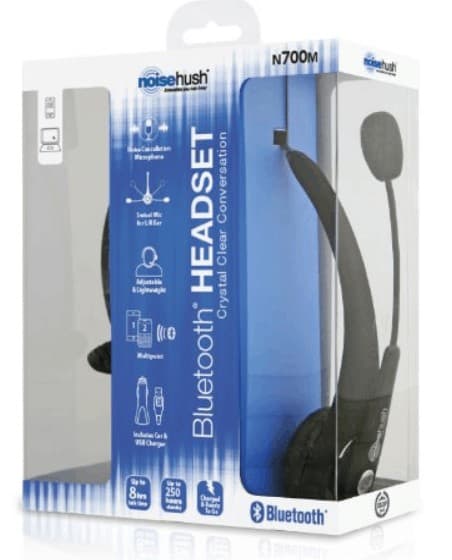 Sound quality

:

If you've used any of the headsets that are too noisy and the volume is too low for you to talk, these headsets are for you. They are quite loud.

The sound quality is excellent, as the sound of the person on the other end seems to be like talking in the landline with a good connection.

The N700m was made to give clarity to voice and it does that well. The noise isolation is also pretty good. Wind noise and traffic noise are well reduced to make your calls clearer.
Mic

:

The quality of the boom mic is excellent considering the price. When you find the right place near your mouth to position the boom mic, the voice quality turns out to be excellent.

Battery life is excellent, and the mic tends to cancel out the road noise pretty effectively. As the boom arm is not long enough, you may find yourself talking loud to get your sound heard good to the other person.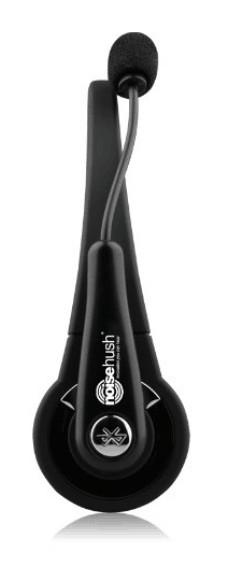 The boom mic is adjustable and seems a bit flimsy. That won't be an issue if you use the headset with proper care.
Battery life
While on standby, this headset can stay on for up to 250 hours. Also, a full charge gives you up to 8 hours of talk time.
Things to consider while buying a Bluetooth trucker headsets
Sound quality:
The sound quality and the volume that the headset can produce matter a lot. While driving trucks, the sound should be clear enough to get heard.
The headsets that have less sensitivity require less power supplied to them and offer relatively more loud and clear sound. You need to consider this aspect or you may end up buying headsets that sound poor.
Noise-canceling mic
This is a no-brainer. All good trucker headsets come with a noise-canceling mic.
This aspect is very important. When you are commuting, there will be more noise.
The sound of the truck and also the wind noise will interfere with the mic during the call. In those times, having a mic with your headset that cancels out the background noise comes to your rescue.
The mic should have the ability to cancel out the wind noise, engine noise, and also the vehicle noise so that you can attend the calls with crystal clear audio.
If for any reason, you prefer not to use noise-canceling technology, consider buying a trucker headset that comes with a unidirectional mic. It effectively gets you rid of unwanted background noises.
Durability:
Truck riders are tough. So the headsets should be. The headset should be built solid to withstand a good amount of abuse.
The trucker's equipment like headsets should be built solidly to smoothly serve you down the rough lanes.
Comfortable:
No wonder that you wear these headsets on for hours together. If the headset is not comforted enough, you may feel like throwing it out to the trash.
Before buying a good trucker headset, make sure that the headset offers superior comfort and stability when driving down the rocky road.
The headset should comfortably rest on your head without vibrating too much when on a bumpy road or maybe while unloading the goods. It should not make an effort to make it stay in place; a good fit is essential.
Wrapping up
These are some of the best trucker headsets that you can get for the price. As I've said earlier, the comfort and noise-cancelling effectiveness of the headsets matter the most for truckers.
Hope you loved the post.