Today in this post, we are going to review the best headphones for drumming.
If you are a drummer, you are likely to face more challenges as compared to other band members. That's because you are highly responsible for tempo and are expected to keep up with the band for a steady beat.
Our Best Pick
Sony MDR7506 Professional Large Diaphragm Headphone
Best Value for Money
Sennheiser Professional HD 280 PRO Over-Ear Monitoring Headphones,Black
Best Drumming Practice Headphone
Shure SRH440 Professional Studio Headphones, Enhanced Frequency Response and Extended Range for Home and Studio Recording, with Detachable Coiled Cable, Carrying Bag and 1/4" Adapter (SRH440)
Last update on 2023-12-08 / Affiliate links / Images from Amazon Product Advertising API
Check the specifications of the best drumming headphones in the below table.
That is when good quality headphones for drummers come into play.
Even without the amplifier, drums are pretty loud in nature. But of course, drummers are constantly exposed to high sound levels which may lead to hearing disorders, fatigues or even worse permanent hearing loss.
So, it is highly recommended to use headphones that are specially designed for drummers to aid these hearing issues. There are plenty of headphones are available for drumming, but out of them, Shure SE215-CL and Sony MDR7506 are the best options.
With all these things in mind, we have comprehensively reviewed the top 10 best headphones for drumming.
Let's have a look.
Top 10 best headphones for drumming
Specifications:
Sensitivity: 107dB SPL/mW
Impedance: 17Ω
Type of speaker: Dynamic MicroDriver
Noise cancellation: Up to 37dB
Type of input connector: Gold-plated 3.5 mm
Cable: 64" long/Detachable
Available colors: Black, Clear, and Special Edition White
Overview
Be it for professional monitoring or personal use, Shure SE215 provides the best-detailed sound. Extremely comfortable in design, the sound isolating sleeves offered in the Fit Kit can block about 37dB of outside noise.
Noise isolation
One size does not fit all, so there are 3 sizes of flex and black foam sleeves provided in the Fit Kit viz, small, medium and large. Make sure the earphones fit tightly in your ears for high-quality sound and bass response.
When Drummers are on stage, the Sound Isolation Technology will prevent ambient noise from hindering their on-stage listening experience.
Moreover, Shure 215 has been ergonomically designed with low-profile shape and precise nozzle angle so that the earphones fit snugly into your ears.
The most annoying thing that drummers experience is the cables getting in the way or snatched out from the ears. That won't be the case here as Shure 215 has over-the-configuration.
Featuring Single Dynamic MicroDriver, SE215 delivers a detailed sound with heightened bass response, even in such small size.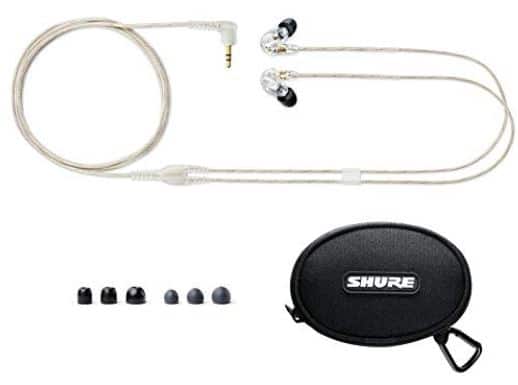 Detachable cables along with formable wire make the job of replacement much easier and provide a secure fit as well.
Pros
Sweat-resistant construction
Precise sound and booming bass
The gold-plated connector allows flexible 360° rotation
The cable can be detached from IEMs
Foam and flex sleeves block ambient noise
Heavy-duty cord
Includes a handy pouch for storage and a cleaning tool
Cons
Treble is not very rich, it is acceptable
Cables are not very easy to detach
The cord is unnecessarily very long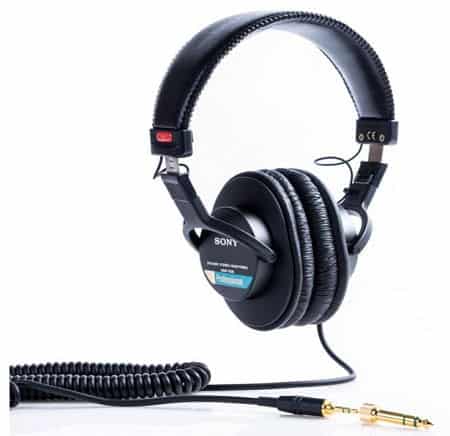 Specifications:
Sensitivity: 106 dB
Impedance: 63 ohms
Frequency range: 10Hz – 20kHz
Type of speaker: Dynamic
Type of input connector: Gold plated stereo Unimatch plug ¼" and 1/8"
Cable: 9.8 ft
If you like your headsets a tad aesthetically pleasing, I guess you're in luck with this one. There are a number of features aimed towards increasing beauty and comfort on the MDR7506.
At 8 ounces, we can call it lightweight, but the cable is quite bulky. This is understandable because the cable is non-detachable, so SONY made an effort to ensure its durability. It would be a shame to lose a whole headset just because the cable stopped working.
Sound quality
The SONY MDR7506 has a pretty good representation of the frequency range. However, I feel the bass could be better.
If you listen to music that is big on the low-frequency side—lots of 808s, synth bass, and others, you may find the low frequency a bit underwhelming.
The other frequencies are quite good—the mids and highs are crisp and clear without any harshness.
Fit and comfortable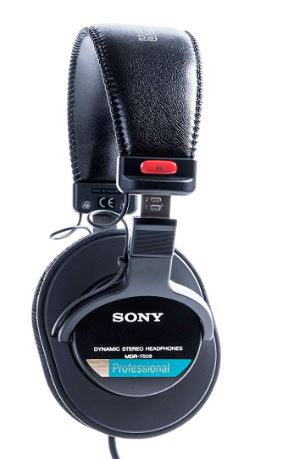 It also comes with sliders that click into place with the size of your head. If you're a drummer, you don't have to worry about your headset falling off in the middle of a performance.
Pros
Aesthetically pleasing
Good grip
Cons
Bulky cable
Low frequency deficient.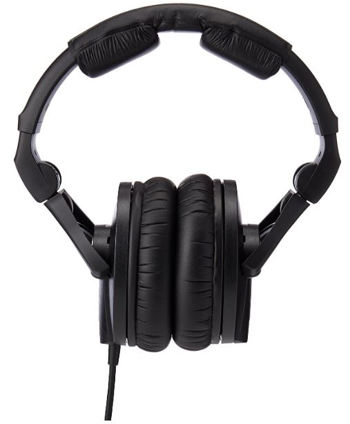 Specifications:
Sensitivity: 113 dB
Impedance: 64 ohms
Frequency range: 8Hz – 25kHz
Type of speaker: Dynamic
Noise cancellation: 32 dB
Type of input connector: 3.5 mm stereo mini-jack
Cable: Single-sided, coiled
I would describe the Sennheiser HD280PRO design as efficient or effective. There's not much going on in terms of aesthetics.

Don't get me wrong – it's not ugly or anything; it's just that the manufacturers focused a lot more on what they designed the headphone for—a good listening experience. In that regard, I would say they have not done badly at all.

The headbands and earcups are made of plastic, with some padding for increased comfort and hence it is best suited for drummers.
The Sennheiser HD280PRO can be powered by low energy sources; it's 16 ohms. Even though the cable is not detachable, you have little worry regards the cable. It's quite bulky and made to stand some unfavorable conditions.

When it comes to sound, the first thing you want to know is: How's the bass?

The low frequencies are crucial. For most energetic music, the bass or kick is the life of the party; most especially these days with 808s being almost a signature sound in popular music.

The bass is well represented; no unnecessary distortions, both with electronic and acoustic bass.

About the middle and high frequencies or treble as some people know it, the Sennheiser HD 280 produces these frequencies without any audible spikes or drops across the frequency spectrum.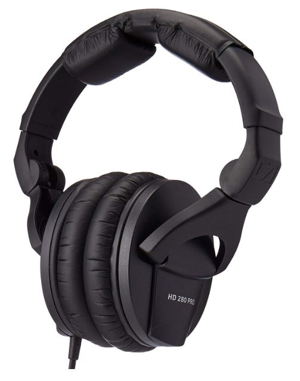 I should probably note that the Sennheiser HD280PRO does not necessarily add any character or "color" to the music you're listening to. It's what you can call a flat response. This means if the material that you are listening to is not of top quality in recording or mixing, then you can be sure that's what you're getting.

Also worthy of note is the fact that the Sennheiser HD280PRO is a noise canceling headphone, good for drummers.
Speaking of drummers, it is not impossible that you have seen drummers at performances, rehearsals or concerts using headphones while drumming.
At times, it may seem that the drummer is just being extra or doing too much. Well for your information, there a few reasons that drummers prefer to use headphones while playing:
To hear clear tracks or metronomes.
For hearing protection (Noise-canceling headphones).
Cons
Can cause discomfort if used for long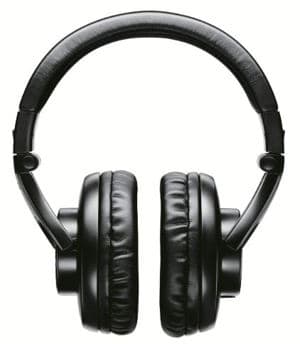 Specifications:
Sensitivity: 105dB
Impedance: 44 ohms
Frequency Range: 10Hz – 22kHz
Type of Speaker: Dynamic
Type of Input Connector: Gold-plated 1/8" (3.5 mm) stereo mini-jack
Cable: Detachable coiled oxygen-free copper
Shure is a household name in the music and audio industry. If you are familiar with audio equipment, then you're probably familiar with the name. The Shure SRH440, in particular, is selected as a good fit for drummers because of its lightness.
Fit and comfort
The Shure SRH440 features a simple design, with not much elaborate stuff going on. If you love headsets but do not want people casting glances at your head all day, this can be a good choice for you.
Most drummers would argue that Bluetooth headphones and wireless headphones are the best to use while playing. As also there is no problem with tangling. They have a point, but then, Shure has made sure that you have ample advantage with the SRH440.
The 40mm drivers used in the manufacture ensure that the headset is lightweight; lighter than most wireless headphones and Bluetooth headphones.
What's more?
Despite the lightness, it has a sturdy build that ensures its durability.
Sound quality
Featuring a frequency distribution of 10Hz to 22kHz, the Shure SRH440 does justice to the ratings claimed by the makers. If you're a drummer and you plan to use this headset as in-ear monitors, you can be sure of adequate representation of the frequency range.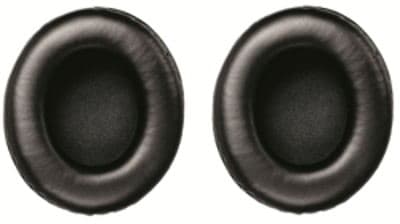 Your kick drum will sound solid, without unnecessary distortions or boomy sounds. You can also expect a crisp sound; robust tom sounds and hi-hats and cymbals retain their sizzle and sheen.
All of these will be the case provided the sound from the source is good and well mixed. The SRH440 does not add any artifacts to your sound; so stay on your mix engineer's neck if you're not getting what you want.
If you are listening from your own device, you will need to drive the headset a bit to attain high volumes. Its impedance of 44 ohms makes this necessary.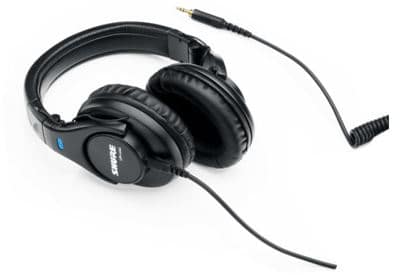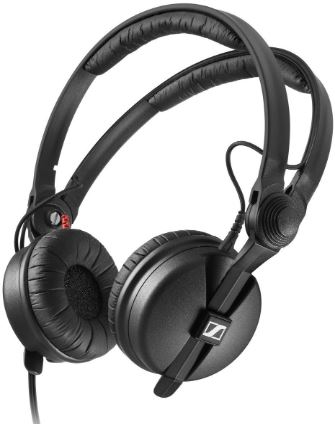 Specifications:
Nominal impedance: 70 Ohms
Magnet: Neodymium ferrous magnet system
Sound pressure level (SPL): 120 dB
Type of transducer: Dynamic and Closed
Total Harmonic Distortion (THD) : <0.3%
Cord: 5 feet long, Detachable and steel-jacketed
Contact pressure: 2.5 N
Frequency response: 16 Hz- 22000 Hz
Compatibility: iPod, DVD, mp3 players, CD players, phones with 3.5mm jack
Sennheiser- a German company popular for launching high-fidelity Audio products has introduced HD25-1 II closed-back headphones deliberately for professional monitoring.
Whether you are a DJ, Cameraman or a Drummer, you will hands-down love the noise attenuation provided by these superior quality headphones.
Made to handle extremely high sound pressure levels, Sennheiser HD25-1 II features closed-back design to efficiently block out background noise.
The robust construction of these headphones enables you to use it at audio equipment testing, home studio recording, studio monitoring, sound reinforcement, and other such high-noise environments.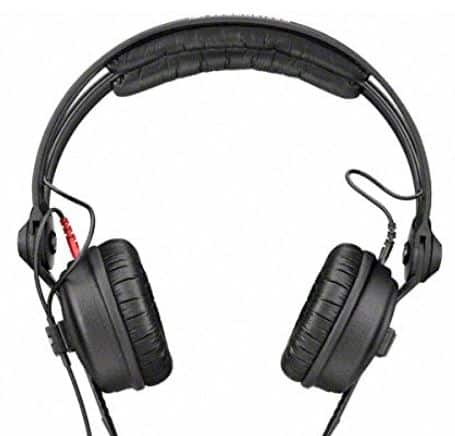 Professionals are well-aware of the fact that the rotating design of the capsule is much rooted-for. This is why Sennheiser has crafted a rotatable capsule for listening with one ear.
Apart from this, with a weight of just 5 ounces, these headphones will not feel too clumsy or heavy, even when worn for a long period of time.
Sound quality
Speaking of sound quality, bass response is not very overwhelming but is satisfying, whereas mids and treble are well-balanced.
Considering its aesthetic looks, these are plain black headphones- nothing really fancy here.
If you seek durable build quality and decent sound quality for monitoring, then these are the ones for you.
Pros
Great noise isolation capabilities
Lightweight design; Perfect for traveling
Heavy-duty construction
Bass is average; Not too high, not too weak
Clear sound quality
Fits tightly
Cons
Might feel painful after 1-2 hours of wearing
For the best sound experience, you need to pair it with an amplifier
Specifications:
Drivers: 40 mm, closed back
Impedance: 32 Ohms
Sensitivity: 114 dB at 1 KHz 1 mW
Cord: 9 ft (2,750 mm) premium twin-lead cable
Plug: Straight stereo 1/8″ (3.5 mm) gold-plated with screw-on 1/4″ (6.3 mm) gold-plated adapter
Rated Input Power: 500 mW
Maximum Input Power: 1,000 mW
Weight: 11.5 oz (includes cable and plug)
Yet another Dynamic Closed-back design is featured in these Direct Sound EX-29 Headphones with passive noise isolation capabilities.
IncrediFlex padding and fully adjustable design of headband allow for comfortable fit to the users.
It has been designed to provide up to 29 dB of passive noise isolation; impeccable purchase for drumming purposes.
Most annoying thing about typical large headphones would be their storage problem. That is not the case with these foldable headphones, you can handily store them in any backpack during travels.
In terms of looks, EX-29 has an extremely appealing appearance and is offered in two different colors- Black and White, both with a pizazz of Red accents.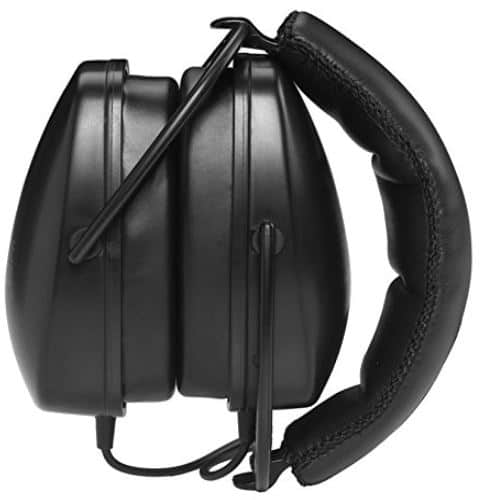 For those of you who have budget constraints, EX-29 might be ideal headphones for you. Here, the Frequency response is flat, which is much desirable for studio recordings.
Pros
Precise sound and booming bass
Impressive Noise isolation
Foldable design makes them great for portability
Reasonably priced
No batteries required
Comfortable to wear
Cons
Build quality seems to be poor; Headband is made from plastic
Short warranty period
One size does not fit all; Might cause sound leakage
Specifications:
Driver size: 40 mm, mylarcon construction
SPL: 110 dB ±3 dB (1 mW at 1 kHz)
Impedance: 32 Ohms ±15%
Isolation: Passive, reduces external noise by 26 dB
Frequency response: 20 Hz to 20 kHz
Mount/wear style; Over-ear
Connections: 1/" stereo headphone jack
Adapter: 1/8" to 1/4" stereo adapter
Cord length: 6' / 183 cm
Weight: 10.8 oz / 307 g
Meticulously designed for drummers, KAT Percussion KTUI26 Ultra Isolation Headphones feature wide dynamic range along with passive noise cancellation aspects.
It can reduce the external noise down to 26 dB. These are one of the best headphones in terms of low pricing that do not compromise with its quality.
KAT Ultra isolation headphones might work exceptionally well for practicing acoustic drums. Without creating much bleed, these headphones won't cause ear fatigue even during long listening sessions.
Moreover, you can also use it for tracking and recording.
Flaunting a rough design, KAT Percussion Headphones are crafted to withstand abusive use- yet are quite low-priced. Bass response is not too overemphasized but is good with crisp clean sound quality.
Pros
Low-priced
Durable construction
Good Bass response and clean sound
Large foam cushions provide comfort
The adjustable headband has padding
The cable can be detached from IEMs
Lightweight and portable
Cons
Fits too tightly; Might feel painful after 2-3 hours
Sound quality might not be very impressive
Specifications:
Cord: 9.8 feet long with in-line volume control
Frequency response: 5Hz-20kHz
Impedance: 80 Ohms
Sound pressure level: 105 dB
Weight: 66 lbs.
Cable length: 9.8'
Warranty: 2 years
Beyerdynamic's DT 770M Closed-back headphones are intentionally designed for drummers and studio sessions.
With excellent Isolation features, DT 770M can reduce the ambient noise down to 35 dBA.
The single-sided connecting cord has been incorporated with in-line volume control for your suitability, which is a huge pro.
Additionally, these come fitted with mini stereo plug having ¼" adapter which is compatible with most of the headphone amplifiers.
Beyerdynamic has given a very strong look to these headphones along with padded headband, so you won't feel irritated during long hours of wearing.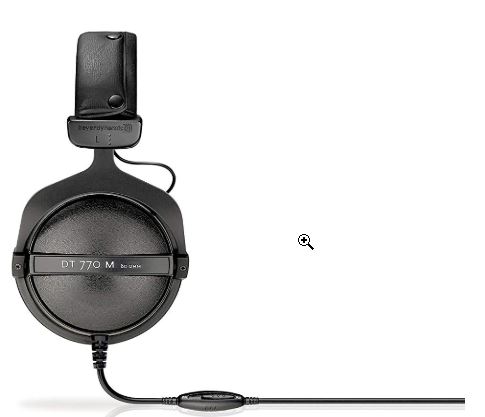 Integrated ear pads are extremely soft, adjustable and easy to clean. Talking about its sound quality, DT 770M gives out a well-balanced, natural sound along with clear mids and treble.
However, the bass response might feel flat with lows being too unclear.
Pros
Isolation is ideal for drummers
Build quality is good
In-line volume control comes very handy
Includes a carrying case
The cord is pretty long
Mids and treble are clear; Sound is well-balanced
Cons
Lows are not clear
Noise isolation does not feel like 35 dB
Bass is extremely weak
Specifications:
Frequency response: 20 Hz- 15 kHz
Response accuracy: 85%
Output sensitivity (at 1 kHz) SPL at 0.1v: 105 dB
Maximum output (SPL): 120 dB
Transducers used: Balanced-armature
Noise isolation: 35 dB – 42 dB
Cable: 4 feet/ 3.5 mm plug
Impedance: 16 Ohms
Etymotic's HF5 noise isolating earphones use balanced-armature receivers to deliver high-definition sound quality.
These In-ear earphones have the highest response accuracy and best noise attenuation so as to reduce the risk of listening to dangerous levels.
It creates true high-fidelity sound to closely imitate the sound quality as that of a live performance.
So, if you are looking for high-quality earphones that deliver precise sound reproduction, then these are the ones for you.
Reinforced cable has a rugged design to enhance its longevity. User-replaceable filters are provided to protect the balanced-armature drivers from undesirable debris or earwax.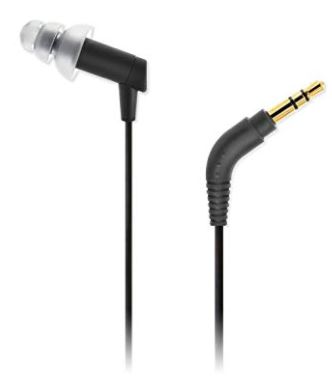 Without using an amplifier, these might not be as good as some high-end earphones. But, they certainly provide best noise isolation and clean crisp sound.
Speaking of bass, these earphones won't produce overemphasized bass but give more like a balanced flat response.
Aesthetically speaking, Etymotic HF5 features smooth soft-touch black finishing and exclusive design of 3-flange ear tips will provide a great seal.
Pros
High-performance balanced-armature drivers deliver high fidelity sound
Ideal for everyday use
Includes Assorted ear tips, Replacement filters, Tool for removing filters and a carrying pouch
Lightweight design
4 feet long cable
3-flange ear tips seal outside noise
Custom-fit option is available
Cons
Might feel uncomfortable due to tight fit
Bass is weak; Not recommended for Bassheads
Expensively priced
Specifications:
Type of speaker: 50.m/m Dynamic Speaker Mylarcon
Cord length: 72" (Includes ¼" and ⅛")
Frequency response: 20 Hz- 20 kHz
Impedance: 250 Ohms +/- 15%
Magnet: NFB 15 x 1.5 Four-hole style
Sound pressure level: 110 dB +/- 3 dB
Rated Input power: 30m MW
Maximum input power: 100 MW
Drummers exposed to high sound levels must invest in premium quality noise isolation headphones that are comfortable to wear for long hours of on-stage performance.
With a very simple design approach, Vic Firth Stereo Isolation Headphones work excellent in terms of Noise attenuation.
It has been reinforced with broad foam cushions, so your ears won't get fatigued too soon. And, these cushions also drastically block out the external sound by up to 24 dB.
Which is why drummers don't have to increase the volume to its highest for listening. Self-aligning design of the earpieces will automatically adapt itself to give you a perfect fit.
If you are looking for headphones with booming bass, then you might not be a huge fan of Vic Firth Stereo Headphones, as the bass response here is flat.
However, given its durable design, these stereo headphones are certainly made to last longer and endure rugged use.
Pros
Good treble​
Large-sized foam cushions are comfortable to wear
Self-aligning design can fit most of the users
High speaker volume
Reduces outside noise by up to 24 dB
Affordable price
Cons
The band that rests on your head might start to hurt after some time
Bass is weak
Things to consider before buying best headphones for drumming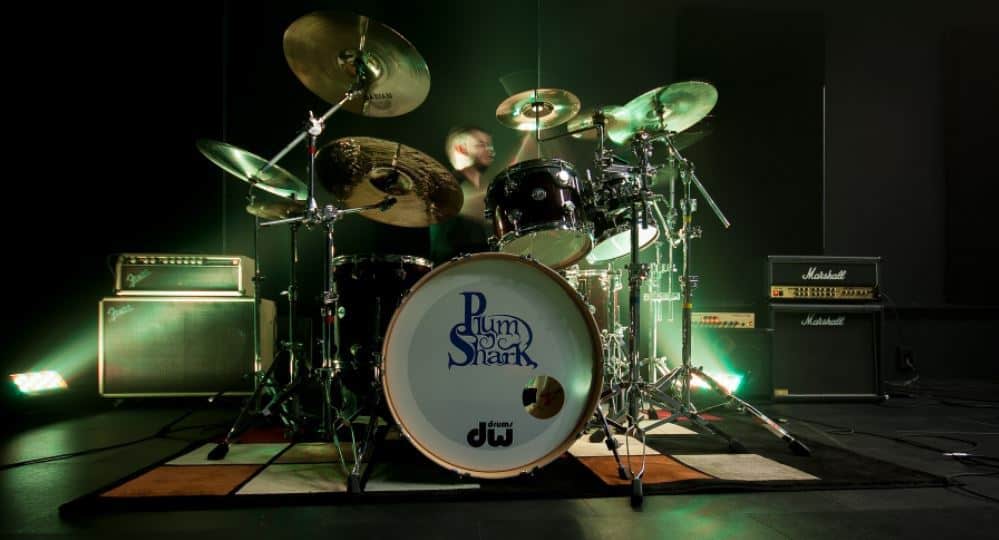 Quality of sound:
Be it In-ear or Over-the-ear configuration, the sound that headphones provide must be clear, crisp and precise.
Drummers must be able to listen to all mixes of instruments and vocals, along with his own playing. So drummers should choose the best headphones for mixing.
You need to specifically make sure that the sound signature has precise bass and treble with a well-balanced flat sound.
Length of the cord also greatly affects the quality of sound. Take note, too much bass does not mean that headphones are of high-quality.
Noise isolation:
Now, this factor depends on several ambient conditions like the number of audiences, type of venue and purpose of playing (on-stage or studio).
In-ear headphones are known to provide better noise isolation and enhanced sound quality as compared to over-the-ear headphones because they fit snugly deep into the ear.
Active Noise cancellation does not really work in favor of drummers as they just reduce constant ambient noise and not sudden noises like drums.
Comfortable fit:
Any headphones that don't fit well are certainly going to hurt even when worn for just a few hours.
In this case, Over-the-ear configuration is known to be more beneficial as it can fit almost all of the users and generally has padding.
Plus, there is no messy entangling of wires as well. If you choose IEMs, check whether extra ear tips are provided for customized fit.
On the contrary, Over-the-ear headphones mostly have adjustable headbands, but some of them also apply clamping force on your head which gets painful later.
So, make sure to take all these factors into consideration.
Impedance:
If you don't want too much sound leakage and prefer well-balanced sound quality for efficient drumming experience, look for Lower Ohm headphones with closed drivers.
Headphones with high impedance might require a separate amplifier to deliver its best sound.
FAQs on the best headphones for drumming
Do noise-canceling headphones work for drums?
Yes, they do, although if you use active noise-canceling headphones and block out all the noise, how would you hear your drums?
What headphones would work best with an electric drum set?
It's better to go with the quality full range over the ear headphones here because you can't rely on the drums natural sound. All your audio comes from your monitors.
Where to plug in headphones in an electronic drum set?
Electronic drum sets come with a headphone jack; either 1/4" or 3.5mm. You can use an adapter to connect if your headphone jack doesn't match the port.
What type of headphones is best for drumming? (Whether over-ear or in-ear)
When drumming you need your headphones to be tightly fitted, this makes on-ear and in-ear headphones the best options. Although some over-ear designs are also very firm.
How much should be the impedance of drumming headphones?
You should stick to low impedance headphones for drumming. I would suggest 100 ohms or less. This way, you can achieve high volume listening without a preamp.
Final verdict:
Eventually, which headphones to choose completely depends on your personal choice and type of application.
As regards to IEMs, I would say that Shure SE215 delivers excellent noise attenuation and amazing sound quality.
If you just have to have an over-the-ear style of headphones then Sennheiser HD25-1 II Closed-Back Headphones might prove to be Best headphones for professional use, given its impressive lightweight design and well-balanced sound.
Related articles: