Affiliate disclosure: In full transparency – some of the links on this website are affiliate links, if you use them to make a purchase we will earn a commission at no additional cost for you (none whatsoever!). Will this be a problem? This is how we manage to create free content for you. Please know that your trust is so important for us. If we recommend anything, it is always because we believe it is worth exploring. And, buy me a coffee ☕️
If you listen to binaural beats every day for sleeping and relaxation, it's worth it for you to consider investing in a good pair of headphones.
[amazon table="14549″]
We've researched some of the best headphones and earbuds in the market like Bose QuietComfort 35, ATH-M50x, and many more, that are well suited for the stereo sound and also for maximizing the effects you get out of binaural beats.
Check out the specifications of our hand-picked binaural headphones in the below table:
You may still be finding an answer about whether you need a pair of headphones or not. Yes, it's required. Let me explain to you why.
As you may already know that binaural beats work by producing two tones which give rise to the third tone.
Among the two tones, the one should be heard by the right ear and another from the left ear.
For the third tone to be produced in your brain, the tones should be heard properly by your ears. Without headphones, this won't simply work.
Yes, it's required.
Let me explain to you why. As you may already know that binaural beats work by producing two tones which give rise to the third tone.
Now, you know why headphones are necessary for binaural beats.
There are some of the aspects you need to consider while buying a good pair of headphones for binaural beats.
10 top binaural headphones reviewed
You'll be using these headphones for hours together on a daily basis. So, you need to ensure that you treat yourself with a good headphone that's durable and comfortable. It's worth it.
Specifications:
Driver Size – 1.6″ / 40 mm
Driver Type – Dynamic
Magnet Type – Neodymium
Design – Over-Ear (Circumaural)
Earcup Style – Closed-Back
Frequency Response – 5 Hz to 25 kHz
Sensitivity – 99 dB at 1 kHz
Impedance – 46 Ohms
Maximum Power Handling – 1000 mW
Build and design
The Shure SRH1540 headphones have a closed-back, over-ear design. The materials used in building these cans are not very common for most headphones.
The use of Aluminum alloy, Carbon fiber, and Alcantara ensures that these binaural headphones are lightweight and durable.
It's easy to see that the focus is not just on giving you a great ambient music experience. Shure made sure that you won't be replacing these headphones for a long time.
In the box, there's an extra cable and extra ear pads. Also, the transport case keeps the headset safe from accidental drops.
Sound quality
Have you heard of the Beats wired headphones?
If you have, then you should know what to expect in terms of sound quality from the Shure SRH1540. I won't describe the frequency response as flat, but it's quite close.
It has a very slight dip starting from the low mids up to the very high mids. I think the makers did this on purpose; they're probably trying to appeal to the pop, trap, and general hip hop audience.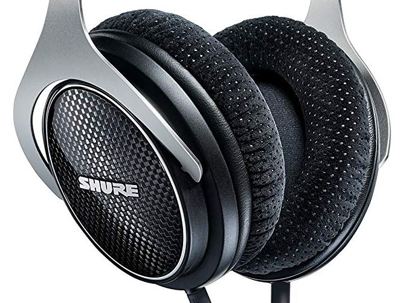 If you are one, you know a little sizzle and airy feel always sound good. The only possible downside to this frequency response is if you are listening to high volumes. That slight bump at the bass and high treble may become a little boomy and harsh.
That being said, it reproduces frequencies accurately, so if you're into binaural beats, the SRH1540 will serve you well. I cannot say the same for binaural recording, however; the U-shaped frequency response may prove a little problem while recording.
If you're a binaural audio head, you may have issues using these for meditation, especially if your immediate environment is not very quiet.
With an impedance of 46 ohms, you can get high volume when listening to your binaural beats from your phone. A headphone amp is only necessary if you want a different sound signature.
Perhaps you have that roommate that insists on watching TV when you want to do yoga and you just want to block them out? Yeah, SRH1540 will take sides with your roommate on this one.

Fit and comfort
When you first look at the Shure SRH1540, you would expect some considerable weight on your head. Surprisingly, it is quite light for its size.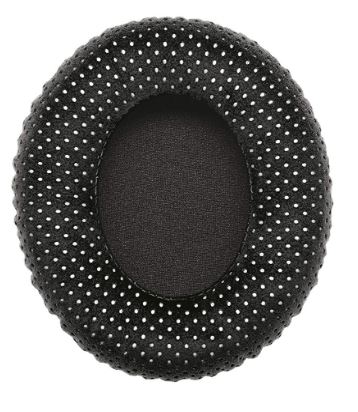 You can use the headphones over your ears for hours without feeling discomfort. It's one of the most ideal headphones for sleeping. Seriously, you could wear them all day and not feel a thing. Oh and the ear pads? – Gorgeous; both in look and feel.
Specifications:
Active Noise Canceling – Yes
Bluetooth Version – Bluetooth 4.1
Transmission Range – 33 ft
Connector Type – Mini-phone 3.5 mm 4-pole
Run Time – Up To 20 hours
Battery type – Rechargeable
Battery Technology – Lithium-ion
Recharge Time – 2.25 hours
Build and design
The Bose QuietComfort 35 comes with the iconic oval-shaped earcups. The oval shape ensures that the earcups surround your ears while resting on your head comfortably. In case you wish to use a wired connection, there's a 2.5mm jack for that.
The controls are on the right earcup. They enable you to adjust the volume, navigate through songs and switch the headphones on/off. Also, the charging port is on this side. These binaural headphones charge via the microUSB port.
Sound quality
These Bose QuietComfort 35 headphones are known to provide the greatest noise cancellation and comfort. These headphones are even loved by most air travelers, for the superior comfort and noise cancellation these headphones provide.
Undoubtedly, these headphones also serve you well while listening to binaural beats.
Bose headphones are generally good at the reproduction of bass. Whereas, this version of their headphones is almost flat/accurate without any coloring in terms of frequency response, which is desirable in the case of binaural beats.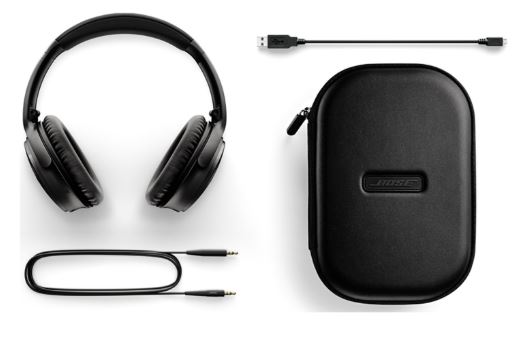 These headphones can also be used for listening to music. If you want some coloring, you can play with EQ levels to make headphones sound good for the songs you are listening.
These Bose QuietComfort 35 headphones are top-notch when it comes to noise cancellation. The built-in noise-canceling mic that these headphones come with is great.
As I've said earlier, in most of the noise-canceling headphones, the crucial details and frequencies of the playback get canceled if you pay enough attention. But in the case of Bose QuietComfort 35, it's not the case.
Just plug it in and activate noise cancellation, you'll dive into a place of peace and serenity. This is even in crowded places or offices.
Fit and comfort
These are wireless Bluetooth headphones. It means that once you pair these headphones with the iPhone, you are free without any hassles and wires.
These headphones offer good comfort as the name suggests. The pads are very soft and rest over your ears very comfortably without causing any heat.
The headband also rests without any pressure on your head and is padded pretty well. The right earcup contains all the control buttons like on/off and pair buttons.
When it comes to comfort, these​ Bose QuietComfort 35 headphones beat other headphones in the market out of the water. There's no complaint whatsoever.
Specifications:
Headphone design – Closed back
Driver size – 45 mm
Magnet type – Neodymium
Voice coil – CCAW (Copper-clad aluminum wire)
Frequency response – 15 – 28,000 Hz
Maximum input power – 1,600 mW at 1 kHz
Sensitivity – 99 dB
Impedance – 38 ohms
Build and design
These headphones are available in two colors, but none of them are flamboyant. The two color options are dark blue with tan, and black. Even though the colors are not so glamorous, these headphones make quite the statement in looks.
It's not all aesthetics for the ATH-M50Xs. The earcups can collapse into a flat shape when you're wearing the headphones on your neck, make it easy to use them outdoors. To top it off, they're quite light, so you can easily wear them walking around.
That's not all. The cable is detachable. So, in case it gets damaged, it's not the end of the headphones. You can easily replace them.
Sound quality
These Audio-Technica ATH-M50x headphones are actually most loved by studio junkies, audio mixers, and audiophiles for a reason. They are great at reproducing sound as it is without any coloring. The sound seems crystal clear without any enhancements.
This means, with these headphones, you'll hear the binaural beats as it is without any coloring or alternations to sound good. Nevertheless, these also sound good for other music genres too.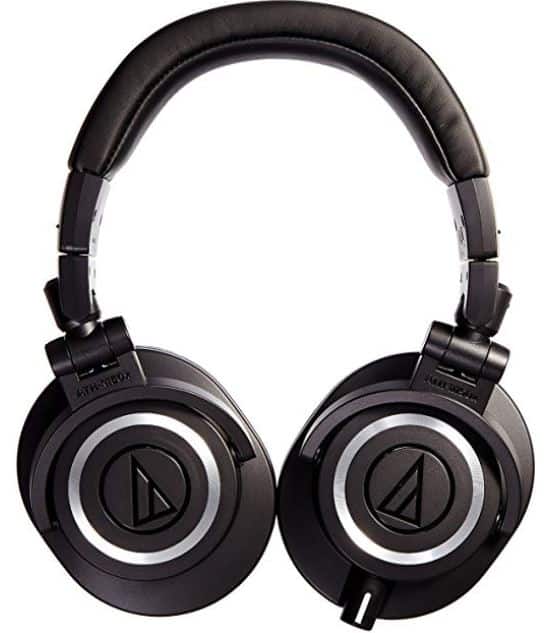 If you wish, you can make use of EQ on your music player to make them sound as you desire. The details of the sound leave you speechless.
These are bass-centric headphones. The bass is balanced and not overpowering and do not leak to the mids.
Also, with the headphones' impedance rating, getting a high gain from your phone is not a problem. low impedance headsets like this can produce enough power even from the smallest devices.
These are not noise-canceling headphones. But they do block external noise extremely well. The seal of the headphones is really great, and no sound leaks out whatsoever.
Although the noise isolation is not as good as Bose QuietComfort 35, these are quite suitable for home or relatively silent environments.
Fit and comfort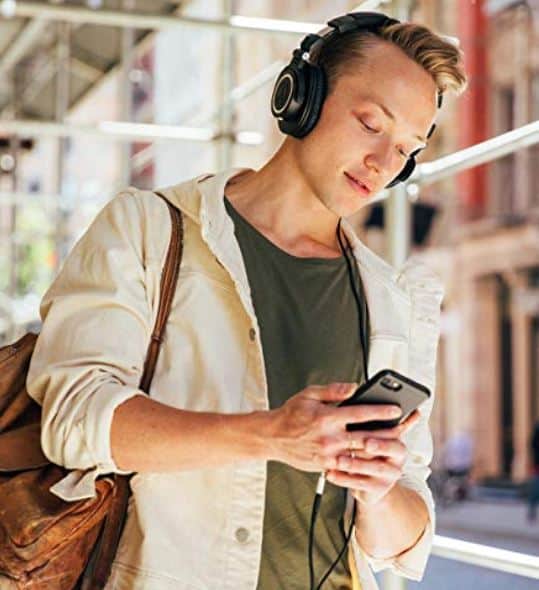 The headphones are very light, in fact, you tend to forget about the presence of headphones on your head after a certain time of use. The soft padding on the earpads engulfs your ears making it very comfortable to wear on for extended periods of time.
The headband puts perfect pressure on your head without clamping it down. You can swivel the ear cups in any direction, 90 degrees, so as to suit the shape of your head.
Due to this swiveling feature, these Audio-Technica ATH-M50x headphones are easily folded and portable to be your travel companion.
If you wear glasses, these ATH-M50x headphones may cause some stress on your frame and cause a little discomfort.
Specifications:
Open/Closed: Closed.
Fit Style: Circumaural (Around the Ear)
Driver Size: 45mm.
Frequency Response: 5Hz-35kHz.
Impedance: 250 ohms.
Noise Attenuation: 18dB
Cable Type: Coiled
Cable Length: 9.8′
Build and design
These headphones are definitely built to last. The Beyerdynamic DT 770 Pro is made of a plastic frame with metal reinforcement in some important parts. The headband has some metal to help it stay solid.
The DT 770 Pros have an over-ear design. They cover your whole earcups rest on your head while covering your outer ears totally. also, these cans have a closed-back design.
This means there's no space for sound leakage through the earcups. It also helps sound isolation to an extent.
That's not all. The DT770's cable is not detachable. In a way, it's a slight dink in the headphone's durability armor. It's not a deal-breaker though – it only means you need to be more careful to not tug at the cable too hard.
Sound quality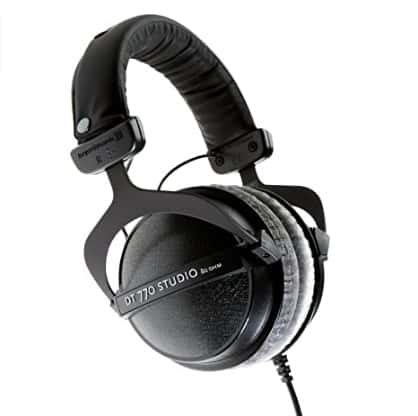 The sound profile of the Beyerdynamic DT 770 Pro swings towards a more balanced response. There is no obvious bass boost to speak of.

I know that this might be a slight concern for bassheads and lovers of hip-hop or EDM music. Well, it's also a reason why these cans are perfect for binaural beats.
To enjoy ambient music how the producer intended, you need a balanced bass response that these headphones give. this doesn't mean the DT770 lacks bass – far from it. It just has a more neutral representation.
The mids are slightly recessed, but still present enough to produce vocals and other midrange elements. The necessary 5 kHz dip naturally comes with the recessed mid. The treble is also present with enough air and shimmer while avoiding any harshness.
Also, the sound isolation is good. Although these headphones rely on the earcups and closed-back design, they do a pretty good job. Ambient music works best when it's free from background noise.
That's not all. The DT 770 Pro comes in different impedance ratings; 32 ohms, 80 ohms, and 250 ohms. The most practical option for binaural beats is the 32 ohms version. It allows you to get enough power even with small devices.
The 250 ohm version will only give you high gain when you use it with a headphone amp.
Fit and comfort
The DT 770 Pro has some of the best paddings you will find on any headphones. The earpads are covered with soft velour material that feels comfy even after hours of wearing them. Even better, the earpads are filled with a plush material that keeps you super comfortable the whole time.
What's more? Heat buildup is not a concern, except during the hot summer in some regions.
Specifications:
Open/Closed: Closed
Fit Style: Circumaural (Around the Ear)
Driver Size: 40mm
Frequency Response: 5Hz-25kHz
Impedance: 44 ohms
Cable Type: Coiled
Cable Length: 9.8′
Replaceable Cable: Yes
Build and design
Like many other headphones on this list, the SRH840 is a closed-back, over-ear headset that suits binaural listening. Most of the parts are made of plastic, but that's not to say it's fragile. The plastic frame will withstand the occasional drop without cracking.
These Shure headphones are best used indoors. Wearing them outside might seem awkward because of their size. The cable also adds to this – it's quite bulky and can be a real drag if you're taking a walk. The good thing about the cable is that it's detachable.
This means that the headphones are likely to last longer. In case of any cable issues, you can easily get replacements.
Sound quality
Unlike the Beyerdynamic DT 770 Pro, I can't call this Shure headset is neutral. There's surely some enhancement in the bass. However, the bass is not so boomy or punchy that it overshadows other aspects. It's just a slight enhancement, nothing more.
This makes the Shure SRH 840 a good choice for binaural audio. The soundstage is also wide, although it doesn't have the openness of the open-back headphones. The stereo soundstage is wide enough to produce audio recorded with binaural microphones in a natural way.
For me, the real juice of these headphones is in the midrange. It's not recessed, rather, it shows a lot of detail and warmth. A lot of binaural beat effects are felt in the midrange, which makes this a crucial aspect.
Finally, the treble is open, bright, and bold, especially after the initial burn-in period. It avoids sibilance while retaining the sparkle, air, and presence in the binaural recording.
Another factor that makes these headphones perfect for everyday use is their impedance. At 44 ohms, they can be powered by any modern device – phones, tablets, computers, name it.
Fit and comfort
The fit and comfort of these headphones depend on the wearer. Users with smaller heads or medium-sized heads will wear these cans for long hours and be super comfortable. However, if your head has some width to it, you may wear these headphones for fewer hours before feeling uncomfortable.
Likewise, you will have a similar experience if you're wearing headgear or a hairstyle that makes you expand the headband.
Specifications:
Driver Type – Dynamic
Design – Over-Ear (Circumaural)
Earcup Style – Closed-Back
Frequency Response – 8 Hz to 25 kHz
Impedance – 64 Ohms
Maximum Sound Pressure Level (SPL) – 102 dB
Build and design
The HD280 Pros are quite bulky. In terms of size, they're the exact opposite of the Sennheiser HD 202 IIs. Even though the headset is large, it's not too heavy. Its weight distribution makes it right at home on your head.
The cable is non-detachable, so replacing it will be a tricky venture. However, it's strong and robust, so it will take a lot of time and carelessness to damage the cable.
Sound quality
This headset is popular among producers and other music creatives because of its neutral approach to sound. The bass is not overly boomy as you would find in some bass headphones.
However, if the music has a lot of bass originally, the HD2880s will do a transparent reproduction. That's not all. these headphones show a lot of detail in the midrange.
There is enough soundstage width for every element. that's why the headset is perfect for binaural beats. The frequencies are represented accurately, and you are more likely to get better results.
At 64 ohms, your phone may not drive these headphones to crazy high levels, but it gives you healthy listening volumes. You can't concentrate fully if your binaural beats are too loud anyway.
Fit and comfort
Even with the sheer size of these headphones, they are super comfortable. You can wear them for many hours without any issues.
The earcups are large and roomy, so your ears do not touch any part of the headphones throughout. Even If your ears are large, there is a soft cushion inside the earcups that make you feel comfortable.
#7. Sony MDR7506 – Best choice for transparent sound
Specifications:
Driver size – 40mm
Design type – Closed-Ear
Magnet Type – Neodymium
Frequency Response – 10-20kHz
Impedance – 63 Ohms
Sensitivity – 106 dB/W/m
Power Handling – 1,000mW
Cord Length – 9.8 ft
Build and design
The Sony MDR7506 is a simple looking over-ear headset, quite portable with a collapsible design. It is a closed-back style headset with a leather headband padded for maximum comfort. It comes with a coiled cable that is non-detachable.
Sure, headphones last longer when you can easily replace the cable. However, it will take a lot of abuse and misuse to damage the MDR7506 cable.
It's what you can call a "one size fits all".
If you use headphones for different activities; say you record, listen to music, edit podcasts and watch movies, the MDR7506 can prove very efficient – except you prefer to buy a different headphone for each use.
Sound quality
Unlike beats bass-boosted headphones, the Sony MDR7506 is actually the opposite. You will notice a slight emphasis on the high frequencies. This introduces some brightness into your music, and it seems to add a little more life to your listening experience.
If you listen to high levels, you may not find this very nice because there may be some harshness resulting from the high-frequency bump. The MDR 7506 is definitely not for bassheads.
It's not a noise-canceling headset, so you should expect a bit of the outside world in your listening experience. Also, if you intend to use it in your office environment, be prepared to listen to moderate levels to reduce the high-frequency bleeds.
Like the Sennheiser HD 280 Pro, these headphones have an impedance rating of over 60 ohms. This means that your phone won't give you extremely high listening levels. I don't think you should need that unless you're using your headphones as speakers. I wouldn't recommend that though.
Fit and comfort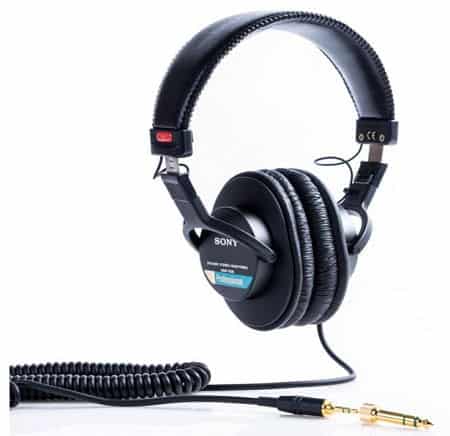 These headphones are lightweight, so if that's the only reason you choose in-ear earphones, you may want to have a rethink here.
Of course, they do not offer as much freedom as wifi headphones, but the cable is long enough; you can always put it out of the way. The earcups may cause some irritation after long hours of use.
Specifications:
Frequency Response: 18-18,000 Hz
Sensitivity: 115dB
Nominal Impedance: 32 Ohm
Cord Length: 9.8 ft. (3 m)
Cable Type: Straight
Plug Size: 1/8″ (3.5mm) and 1/4″ (6.3mm) adapter
Weight (without cable): 4.6 oz (130g)
Total harmonic distortion (THD): <0.5%
Build and design
The HD 202 IIs have a smaller form factor than most headphones on this list. The frame is made of plastic, and the headband has some padding to make them feel more comfortable.
The earpads are made of leatherette. This material is not as plush or comfortable as velvet, but it does the job.
Also, it gets more comfortable the more you wear headphones. These earcups don't cover your ears totally like larger headphones.
Instead, they sit on your outer ears. Also, the earcups do not swivel or fold, and the cable is non-detachable.
Sound quality
These are absolutely great sounding headphones for the price. For some people, bass tends to be slightly more on these. The headphones tend to add coloring and less neutral-sounding when compared to studio headphones that have a flat response.
The overall sound is well balanced, and the treble is warm without any piercing effect.
If you are a bass lover, you'll certainly love it. With a little EQ tweaking, these Sennheiser HD 202 II would be decent for hearing binaural beats.
Interestingly, these headphones give you a lot of gain for their size. the low impedance of 32 ohms makes it possible for your phone to drive the headphones well enough.
They are not noise canceling. But they do block most of the ambient noise quite effectively. But the sound leakage does exist.
In a quiet environment, the person behind you can easily hear the music. But, he may have hard time judging that you're hearing binaural beats.
These Sennheiser HD 202 II are not the best noise isolating headphones in the market. There are better high-end alternatives.
Fit and comfort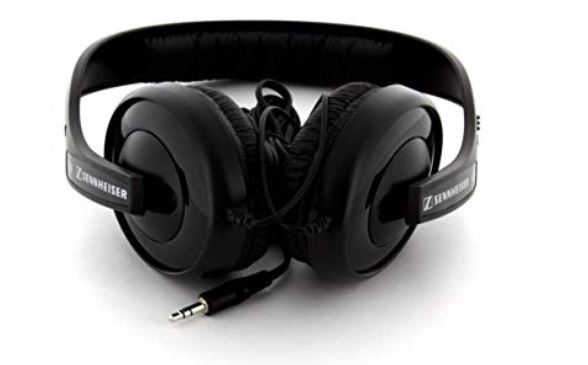 The Sennheiser HD 202 II headphones cover your ears entirely keeping it cool throughout your listening session. The headband is light on your head without causing any pressure on your head like that of high-end Beyerdynamic models.
The headphone cable is surprisingly long. At times, you need to wind it up (using a wrap that comes with it), especially when going for a walk with your mp3 player or so.
Nevertheless, this long cord allows you to move around freely.
Specifications:
Brand CozyPhones
Color VIOLET
Connections Wired
Headphones Form Factor Over-Ear
Durable 52-inch cable.
Build and design
It goes without saying, this is the most unique of all binaural headphone designs on this list. The CozyPhones headphones consist of a thick bandana-shaped headband. It's made of wool and comes in violet, gray, or black. This headset is almost like a beanie, but not quite since it's not a hat.
The drivers are inside the headband, and they are removable. this means that the headband is washable. The CozyPhones headset design is perfect if you use binaural beats, ambient music, or meditation music for sleeping. For me, these are the best binaural beats sleeping headphones.
Sound quality
The sound quality can't be compared to that of headphones that I've mentioned earlier. These headphones offer mediocre sound quality. But the sound quality is great for binaural beats meditation, sleeping, and relaxation.
These almost sound like stock earbuds your smartphones come with. There's nothing to boast about the sound quality and details. But it does the job well for listening to binaural beats.
To complete the headset's user friendly uniqueness, it's low impedance makes it possible to get high volume even with low end phones. All you need is a 3.5mm input and you're set.
Fit and comfort
These CozyPhones are comfortable than any of the headphones I mentioned in this post. When you sleep and turn to the side, the buds won't press and hurt your ears.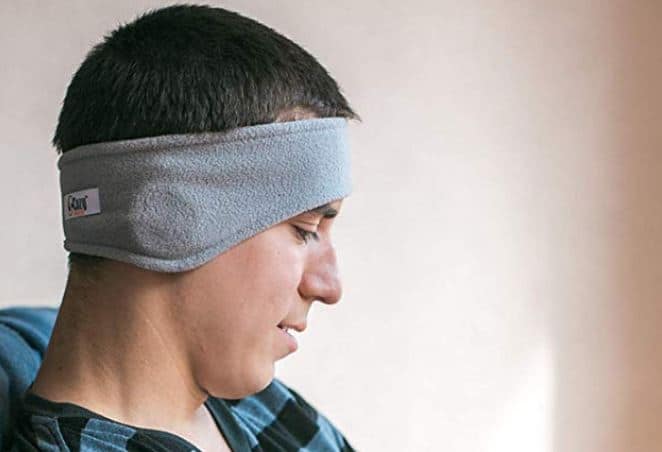 These headphones are meant to be worn while relaxing and sleeping. The fabric is very soft and keeps the area cool throughout the night.
The wireless version of these​ CozyPhones headphones is also available. Although the wireless version offers more comfort, I would not recommend you to expose to Bluetooth radiations all night long. It itself may cause insomnia.
Once you position these CozyPhones headphones in the right place, you won't be feeling the presence of headphones at all. However, the cord should not be pulled, as the position in which you are wearing the buds will change.
Specifications:
Sound signature: Detailed sound + enhanced bass
Sensitivity: 107 dB SPL/mW
Impedance: 17 Ω
Frequency Range: 22 Hz – 17 kHz
Cable length: 162 cm
Sound Isolation (up to): 37 dB
MicroDriver: Single Dynamic
Cable type: Detachable
Special Features: Inline Mic
Build and design
The Shure SE215s are not only sound-isolating, they have a very secure fit that stays in your ears even with a lot of head movement. If you can't use larger headphones for listening to binaural beats, consider these in-ear headphones.
The cable is reinforced with Kevlar to make it last much longer, and prevent tangling. You can enjoy hands free calling with the in-line microphone.
Sound quality
The Shure SE215-CL earbuds are better if you are looking for earbuds for listening to binaural beats. One of the reasons is the accurate reproduction of the sound.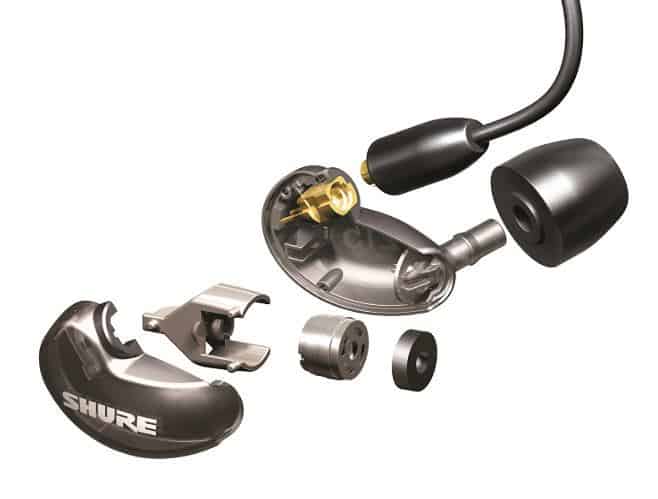 The sound is heard as it is, no coloring at all. This helps you to get the most out of the binaural or brainwave entrainment you listen to.
The silicone flange ear tips cause your ears to pick a little more bass but the other ear tips offer a neutral sound. These earbuds are great at vocals and treble range. The sound is crystal clear.
In any case, the bass does not overpower the music. These are definitely neutral sounding.
The tight seal offered by the ear tips ensures that the earbuds offer great sound isolation. The level to which these ear tips provide passive isolation can be compared to active noise-canceling earbuds.
These absolutely block an ample of ambient noise.
While on the move, when the earbud cables rub against your shirt fabrics, there tends to be some cable noise. However, this should not bother you unless you are an audiophile or wear these on while running.
Fit and comfort
These earbuds come with 3 different sizes of foam sleeves that ensure a perfect fit. The cable is flexible and ensures perfect mold around your ears. These Shure SE215-CL earbuds are great for long listening sessions.
They won't easily fall out while running or walking due to the secure fit that they offer, in and around your ears.
What are binaural headphones?
Simply put, binaural headphones reproduce audio in a way that imitates natural hearing. So, with a perfect pair of binaural headphones, you would listen to music just as it was recorded. A good pair of binaural headphones will maintain the originality of the audio.
Ordinarily, we can say any stereo headphones are binaural to an extent – at least, they have the left and right channels. However, a proper pair of binaural headphones are capable of producing 3D sound when required.
Why do you need headphones for binaural beats?
Without headphones, you'll defeat the purpose of binaural beats. A binaural beat is carefully produced such that you must hear some elements with a particular ear, either right or left. If you listen without headphones, you will not feel the effect of binaural beats.
While some binaural beats are for aiding sleep, others help you to concentrate or induce lucid dreams. Without headphones, these effects may not be obvious.
What are the benefits of binaural beats?
The primary purpose of binaural beats is to aid brain function.
It can aid sleep, help you concentrate on work or study, assist in meditation, and even induce lucid dreaming. During certain activities, you need your brain in a specific state.
Binaural beats contain sounds that put your brain in the needed state. They achieve this by inducing some waves. For example, alpha waves increase your concentration and help you to assimilate faster when you study.
Factors to be considered while buying binaural headphones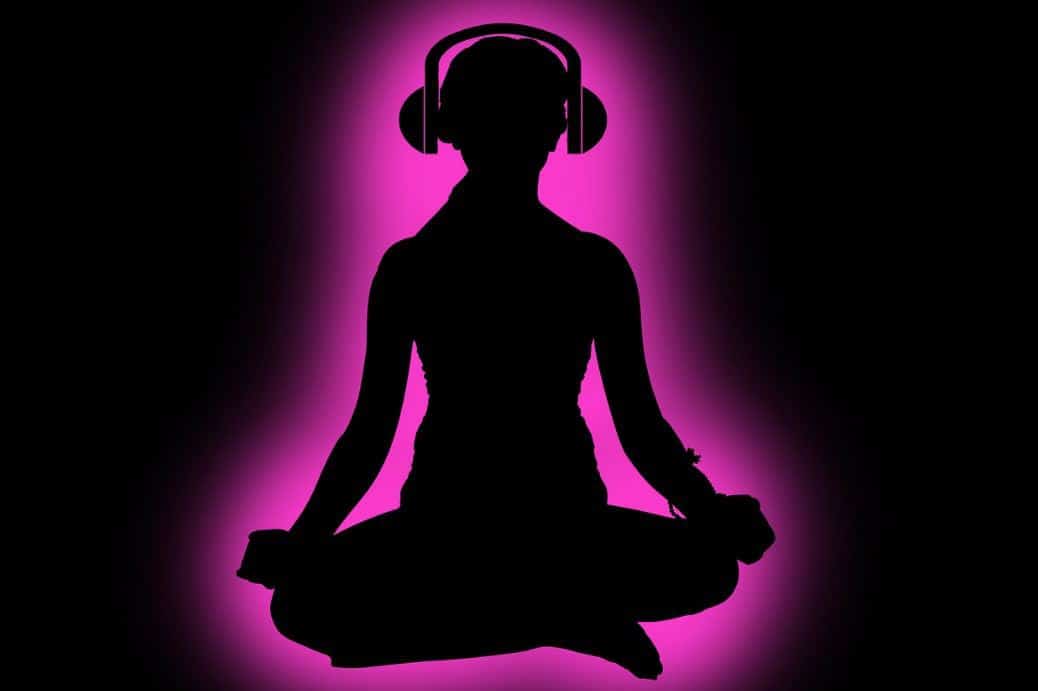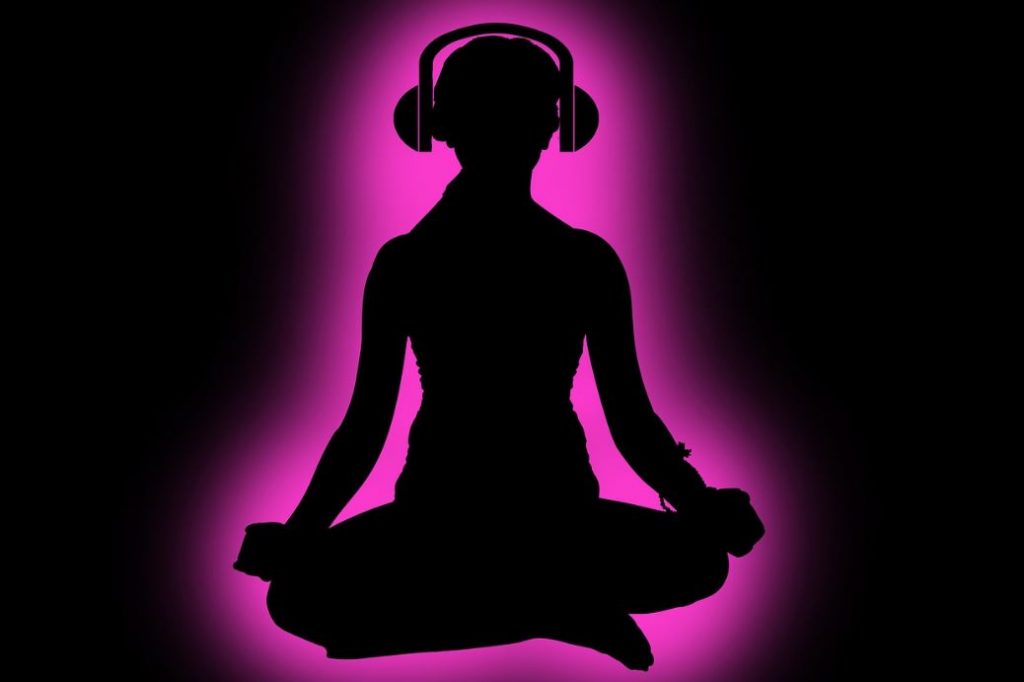 Relatively flat response:
Binaural beats are carefully developed by taking frequencies into account accurately.
In order for the headphones to accurately reproduce the frequency, the headphones should not add coloring or enhancements to the original audio track.
Most of the mass-market headphones like Beats Solo, Skullcandy, adds coloring to the soundtrack making the headphones suitable for listening to specific genres.
For example, these headphones are more suitable for bass-centric genres like rock and hip-hop. But you don't need any of these for listening to binaural beats.
Some of the good studio headphones come with flat frequency response, which may be good for listening to binaural beats.
Comfort:
This is one of the most important things you need to consider while buying headphones for binaural beats.
The headphones should be comfortable without causing any pressure on your head or cause any heat after wearing them for a long time.
As you may be listening to binaural beats prior to sleep, the headphones should be comfortable to even wear on your couch.
As you may be listening to binaural beats prior to sleep, the headphones should be comfortable to even wear on your couch.
It should be thickly padded with comfortable foam so that it won't cause any discomfort during your long meditation hours.
The headphones I'll mention below are comfortable according to our research. So, don't worry.
So, don't worry.
Noise cancellation:
The headphones should also isolate the outside noise effectively so that it won't interfere with your listening experience.
The headphones should also isolate the outside noise effectively so that it won't interfere with your listening experience.
Noise cancellation headphones that come at a cheap price may perform well in noise cancellation, but they cancel plenty of details in the prime track as well in the process.
This won't be desirable in the case of binaural music.
The closed-back headphones that tightly seal your ears and prevent the external noise from entering the playback does the job well.
FAQs on binaural headphones
1. How binaural headphones are designed?
Binaural headphones have two earcups; left and right, giving stereo sound. The other type of headphones in this context is monaural, which has just one side that goes in the ear.
2. What happens if you listen to binaural beats without headphones?
If you listen to binaural beats without, headphones, the beat won't have its intended effect. The idea behind binaural beats is that each ear should hear different frequencies at the same time. Without headphones, both ears will hear all the frequencies, which defeats the whole idea of binaural beats.
3. What kind of headphones is suitable for binaural beats?
Binaural beats contain notes and sounds that have been carefully tuned and selected for certain frequencies, you need headphones that present the frequencies as original and natural as possible with no coloration. So, this means no bass boost, mid cuts or noticeable presence boosts.
4. What's the technology behind binaural headphones?
The idea behind binaural headphones is to allow the listener to experience the sound or music in a stereo field. The sound that goes in the headphone is split into left and right which goes into each ear.
5. How to listen to binaural beats with headphones?
If your headphones do not completely isolate external noise, you should listen to binaural beats in private. External sound will tamper with the frequencies you're hearing on both sides and nullify whatever the intended effect is.
6. Can you use earbuds for binaural beats?
You can use stereo earbuds for binaural beats. For the best listening experience, use earbuds with a wider stereo soundstage.
7. Do binaural beats work without headphones?
Without headphones, the only other option is a good stereo system at least. without these, you will not enjoy the results of binaural listening.
8. Do you need special headphones for binaural beats?
You need stereo headphones for binaural listening. Of course, headphones with surround sound will do a great job as well.
9. Do binaural beats work with earbuds
If the earbuds have stereo left and right channels, then binaural beats will work with them.
10. Can you listen to binaural beats without headphones
You can, but you are unlikely to experience the full effect. Headphones are best for binaural beats.
11. Is it Safe to Listen to Binaural Beats?
There are no known health hazards linked to binaural beats. They are just as safe to listen to like any other music.
Final words
These are some of the best headphones you can consider if you listen to binaural beats for relaxation, meditation, and sleeping. Make sure that the headphones you opt for, produces the sound accurately, and offers comfort for long sessions and therapeutic benefit.
Tend to stay away from Bluetooth headphones as Bluetooth exposure can harm your health.
As you'll be listening to the Binaural beats for hours together, investing in a good pair of headphones saves you a lot of money in the long run.
Hope you found this blog post helpful.
Hi, I'm Jennifer I'm a passionate singer and an audiophile from Detroit, MI. 
I'm on a mission to help music creators to create fine music that help them position uniquely in the saturated music space.
Follow my blog for regular content :-)