If you are a frequent airplane traveler and are looking for some of the best headphones for airplane travel, you are in the right place. The headphones I'm going to mention here serve you well on your airplane journey and as well in the airports.
Our Best Pick
Bose QuietComfort 35 II Wireless Bluetooth Headphones, Noise-Cancelling, with Alexa Voice Control - Black
Best Value for Money
Poly (Plantronics + Polycom) Plantronics BackBeat PRO 2 Headphones - Wireless Noise Cancelling - Black Tan, Black and Tan
Excellent Noise Cancellation
Sony Noise Cancelling Headphones WH1000XM2: Over Ear Wireless Bluetooth Headphones with Microphone - Hi Res Audio and Active Sound Cancellation - Black (2017 model)
Our Best Pick
Bose QuietComfort 35 II Wireless Bluetooth Headphones, Noise-Cancelling, with Alexa Voice Control - Black
Best Value for Money
Poly (Plantronics + Polycom) Plantronics BackBeat PRO 2 Headphones - Wireless Noise Cancelling - Black Tan, Black and Tan
Last update on 2023-12-10 / Affiliate links / Images from Amazon Product Advertising API
When traveling in airplanes, the sound of the engine will be loud making you irritated. Isn't it? If that's the case, one of these travel headphones would be a good companion for your flight.
These will help you keep relaxed throughout your air journey.
Let's dive.
What makes headphones suitable for airplane travel?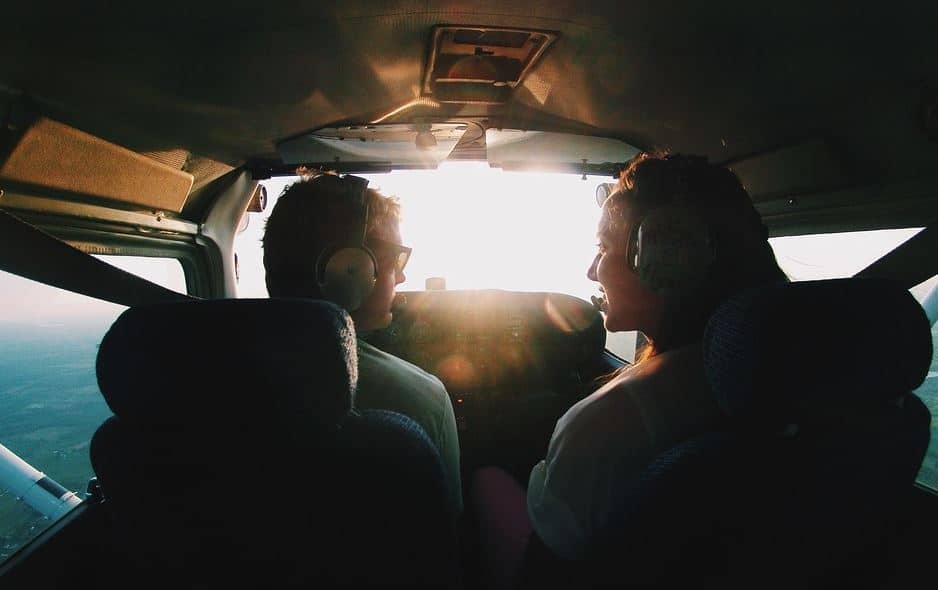 Noise cancellation:
This noise cancellation technology is what sets the airplane headphones apart from other headphones. This type of headphones comes with a noise-canceling mic.
This mic does the job of canceling out background noise by producing a negative frequency of the noise. However, noise cancellation works great in canceling noise that is of low frequency and monotonous.
Thus, noise-canceling headphones perform well in canceling out airplane engine sound and possibly some chatter.
Portability:
Traveling involves a lot of movement. The headphones should be compact and sturdy enough to withstand the abuse while traveling.
Many headphones come with a compact design. The headband and the earcups can be folded in a way that the headphones take the least possible space to keep it in your bag.
You may also find Bluetooth headphones handy if you would not like to mess up with the wires that tangle a lot and wish to store it in a compact manner.
Comfort:
You'll be wearing these headphones during long commuting hours. So, they should be comfortable enough so that you won't end up trashing it.
If you are a comfy seeker, don't go for in-ear headphones, instead, you need to go for over-ear headphones that engulf your ears providing you good comfort.
Sound quality:
Some of the noise-canceling headphones, sacrifice the sound quality and details. Only a handful of headphones offers good sound quality along with noise-canceling capabilities.
You need to make the right choice while picking up a pair of headphones, and perhaps test it whether it serves your needs for the music genre you listen to.
Some best headphones for airplane travel [Wireless included]
There are many differences between regular headphones and airplane headphones. The headphones meant for airplane travel are made to cancel out the external noise effectively, as they are noise canceling.
They're also made to be extremely comfortable to accompany you in long air journeys.
Here are some of the good headphones for flying and air travel.
Design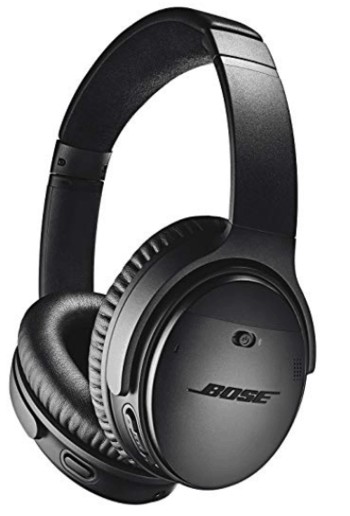 The Bose QuietComfort 35 II has an adjustable headband with a comfy foam cushion at its crest. It has a simple yet practical design, suitable for everyday use.
In addition, its clamping force isn't overbearing – this makes it one of the best over-ear noise-canceling headphones in the market.
These headphones are Alexa enabled, allowing users to play music and access a wide range of information using voice access.

Users can also adjust noise cancellation levels and manage Bluetooth wireless connections via the Bose Connect app. This application is compatible with android, iPhone and iPad devices.
Sound quality
The Bose QuietComfort 35 II has exquisite noise-canceling properties, making them one of the best headphones for flying. These headphones provide users with an immersive listening experience. Noise cancellation levels can be adjusted as desired using Bose AR.
It also possesses a dual-mic system that effectively rejects noise to deliver remarkable voice pick-up and clear sound. These headphones can be used in any type of environment. Users can simply relax and plunge into their music.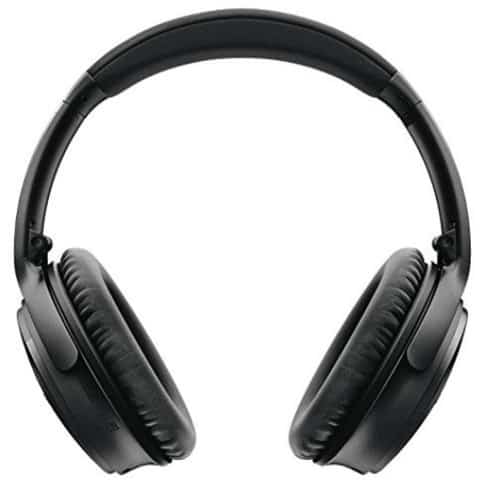 These headphones support Bluetooth wireless connectivity. They deliver a balanced audio performance and an outstanding AR experience.
Pros and cons
Pros:
Remarkable sound quality and noise cancellation features
Long battery life (up to 20 hours)
Extremely comfortable and stylish
Cons:
Phone quality isn't the best. External noises are picked up during calls
Initial clamping pressure might be uncomfortable for certain users
Relatively expensive
Bottomline
The Bose QuietComfort 35 II ranks highest when it comes to noise cancellation. It has excellent sound quality and remarkable comfort.
These features, coupled with its intuitive controls and decent phone performance, make QuietComfort the ideal pair of headphones – but you'll have to overlook its rather costly price tag.
Design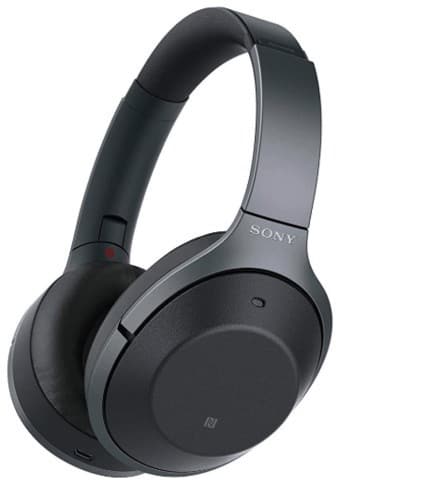 For years, Sony has manufactured one of the best-wired noise-canceling headphones in the market. Sony's new WH1000XM2 utilizes a smart listening technology that conveniently adjusts the level of ambient sounds reaching your ears by sensing the activity you're engaged in.
Its design is chic but practical. You can adjust the volume of your music by pressing the top or bottom surface of your left earcup. The hard plastic used to create these headphones is designed to last.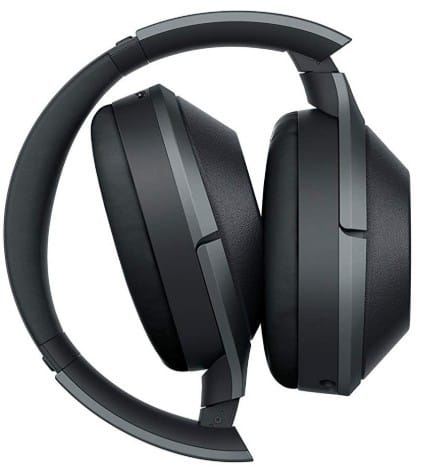 The earcups can be collapsed and folded to fit into small compartments. This ergonomic design makes the Sony WH1000XM2 one of the best travel headphones.
Sound quality
These headphones use the Hi-Res Audio rendition to deliver the best quality sounds. Music quality is similar to that of the original recording. Distortion is also reduced, allowing users to revel in a wealth of musical subtleties.
Sony uses Digital Sound Enhancement Engine (DSEE) technology to help users restore the original high-range sound quality lost after compression. This technology delivers digital music in an impeccably rich and clear manner.
This pair of Sony headphones are also equipped with LDAC, a wireless data transfer service similar to Bluetooth. LDAC can transfer three times more data compared to Bluetooth, delivering exquisite sound quality that's sure to delight your ears.
Pros and cons
Pros
It has an exceptionally long battery life (30 hours)
Delivers Hi-Res sound that adjusts itself according to your environment
Noise cancellation is top-notch
Cons
The cheap plastic construction cracks easily
Warranty doesn't cover cracked headband repairs/replacements
Ears heat up after extended use
Bottomline
The Sony WH1000XM2 delivers exceptional audio quality and impressive noise cancellation. It also has lots of cool features but is relatively more expensive compared to other headphones in this list. Its cheap plastic headband breaks easily – a huge let-down.
Design
Plantronics Backbeat Headphones are hands-down the best budget noise-canceling headphones on this list. They have a sturdy plastic and wood grain construction that is built to last. The earcups can swivel as desired. You can even flatten them and insert them into their nylon travel sleeve.
These wireless over-ear headphones are equipped with Bluetooth connectivity to provide users with ample wireless freedom. They're also extremely comfortable, allowing users to listen to their favorite playlists for hours.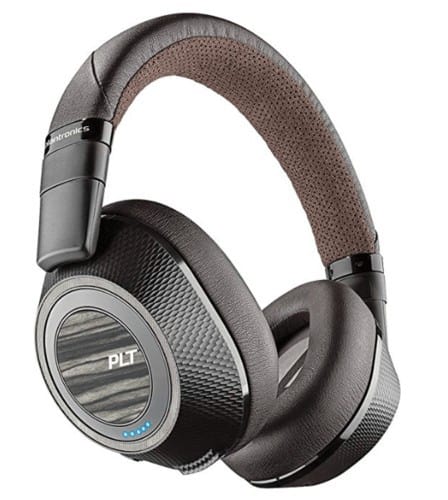 This Backbeat has a perforated mesh that makes them breathable and comfy. They can be used for 24 hours straight on a single charge.
Sound quality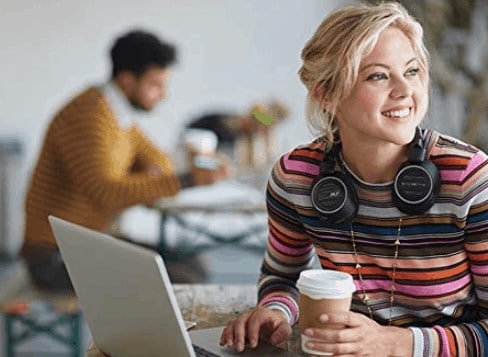 Plantronics headphones are renowned for their signature top-range audio quality. This particular pair of over-ear headphones deliver rich, deep bass and crisp high notes.
These headphones have active noise canceling feature that can be activated by the click of a button. This feature attenuates all ambient noises, providing users with a delightfully immersive experience.
Another striking feature possessed by these Backbeats is smart sensors. These sensors automatically pause your music whenever you slide off your headphones, then resume playing when you slide them back on.
Pros and cons
Pros
They deliver an amazing sound quality for everyday use
The sturdy construction is ergonomic and comfortable
Active noise cancellation make these Backbeats one of the best travel headphones
Cons
Bass quality not as deep as Sony Headphones
The headband is not foldable
Doesn't come with a hard carrying case
Bottomline
The Plantronics Backbeat provides exceptional sound quality and noise-canceling features for a budget-friendly price. They are certainly worth investing in.
Design
As the name says it all, the headphones are crafted taking noise cancellation and comfort mainly into considerations. During travel, comfort is more important than sound quality. At least, for me!
These headphones are very lightweight, and the earcups are relatively large. They surround your ears giving you comfort like wearing pillows on your ears. The swiveling earcups also help you to adjust the headphones so that it fits perfectly on your ears.
The foam-filled headband rests comfortably on your head, without causing any pressure at all.
Noise cancellation:
Undoubtedly, noise-cancellation is one of the important features any airplane headphones require. These Bose headphones have been one of the most popular noise-canceling headphones among the commuters.
Once you wear these on your head, the loud airplane engine will be hardly heard as a whisper in your ears even when the music is not playing.
At low volumes, the headphones manage almost to fade away the ambient noise. At mid and higher volumes, you feel like you are listening to the music in a quiet outer space. You can hear nothing, but music.
The noise-cancellation feature's battery life is around 7-8 hours a day, which is quite significant. Nevertheless, in the remaining time, you can listen to music with no noise cancellation. You can switch on or off this feature with just a flip of a button.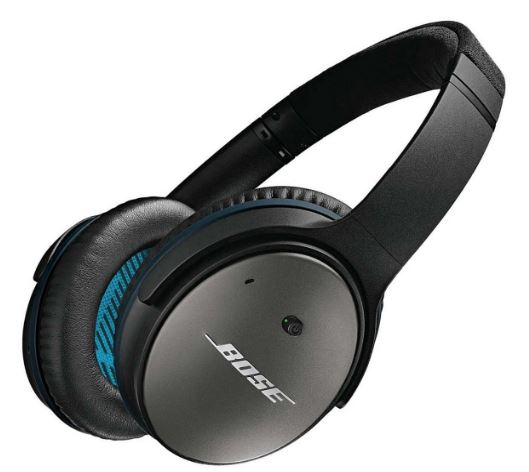 Sound quality:
The sound quality is excellent. The headphones sound great right out of the box. But the headphones perform well after the burn-in period of 80 hours.
Most of the noise-canceling headphones, sacrifice the sound quality to the noise-canceling feature. But the Bose QuietComfort 25 headphones are different.
These headphones produce great bass with the large drivers these headphones have. The bass certainly doesn't overpower the mids and highs. The mids and highs are crisp clear and balanced.

Design
You can easily wear these all the time while commuting. It will not clamp down on your head like in the case of Beats Solo Wireless Headphones.
These headphones are super-comfortable, and you barely will be aware of the fact that you are wearing these on. Some of them prefer more cushioning for the earpads, but I think the cushioning it comes with is decent and offers good comfort for comfy-lovers.
The great feature of these headphones is that on the left earcup there's a touchpad. You can tap this pad to pause/play the music or swipe to change the songs. This is very handy.
Noise cancellation:
The best part of these Sony Premium headphones is that they have a noise-canceling button, which you can hold to let the headphones calibrate the noise-canceling feature for the environment.
In noise cancellation, the mic will adjust the noise cancellation according to the ambient noise in the environment. The headphones do the job of getting you rid of low-frequency sounds really well.
If you wish to hear what's going on outside you, you can just place the hand on your right earcup for activating "voice pass-through" which is a nice addition.
The dynamic noise cancellation is a nice addition. These headphones adjust the noise-canceling strength according to the varying frequency and loudness of ambient noise.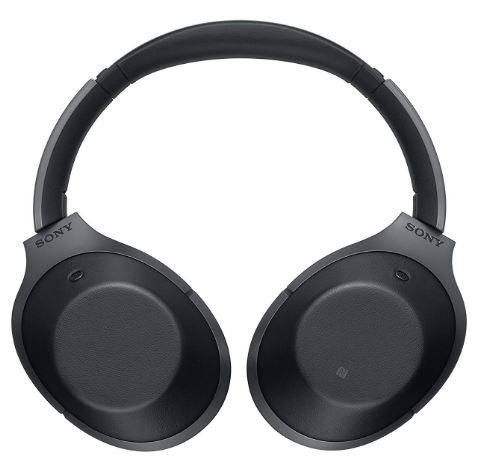 Sound quality:
These headphones sound more fuller and accurate in terms of sound quality than Sennheiser Momentum.
You may have noticed that in the case of noise-canceling headphones, it's pretty rare to see the headphones that are flat in frequency response as these.
You can clearly hear the vocals and even the minute details of the song like a singer's breath with these headphones on. The sound quality is good than to that of Bose QuietComfort 25 that I've mentioned earlier, but in the case of noise cancellation, this still falls short to Bose.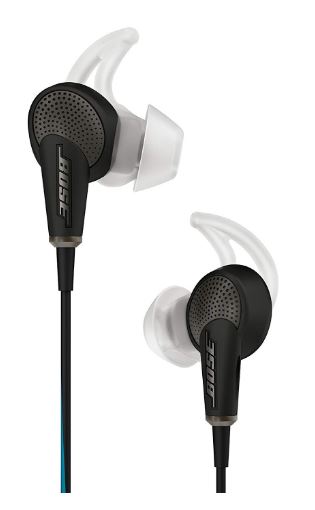 Design
If you are looking for the best in-ear headphones for the price, Bose QuietComfort 20 won't disappoint you. These are not wireless earbuds.
These offer great comfort. These are quite large considering them to be earbuds, but they do the job of plugging in comfortably to your ears. You can even sleep with these with ANC on.
Due to their big design, the earbuds won't dig into your ears and hurt you. They just rest on your ear canal which is quite great when compared to the dangers associated with other bi-flange or tri-flange earbuds that dig deeper. These earbuds are highly durable.
Once you find the right size of included ear tips, you find these extremely comfortable.
Noise cancellation:
Bose is one of the popular brands that is known for noise cancellation. In fact, Bose has the best noise cancellation circuitry in the market when compared to other headphones out there.
In these earbuds, the inbuilt noise isolation is combined with the revolutionary noise cancellation mechanism of Bose will get you rid of the ambient noise entirely.
The noise cancellation is great and once you turn up the volume, you will not even hear the high pitch voice of a woman screaming! Forget about the roars of the jet engine while flying.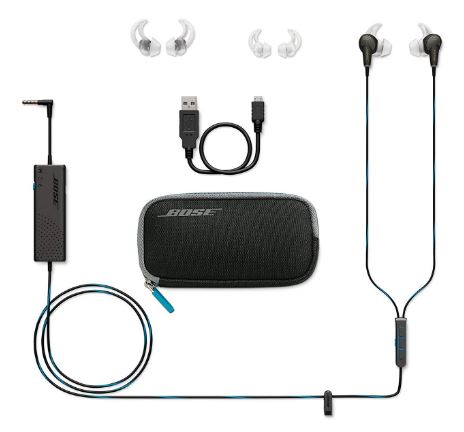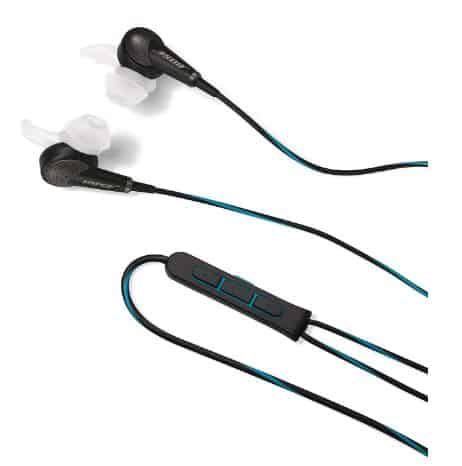 Sound quality:
Like that of all the Bose headphones, you get a little bit of extra bass even in the case of noise-canceling ones like these. The fact is that in the case of ANC headphones, the lower bass is canceled out to some extent.
But in these earbuds, the bass is quite great and balanced. But they definitely would not satisfy the bass-heads needs. The mids are detailed. The highs or treble is not harsh and is pleasant to hear.
The sound quality is great when the noise cancellation is turned on, but when it's off sound quality suffers a bit and sometimes becomes quite muddy.
The sound quality is greater than other noise-canceling in-ear headphones in this range.

Design
These offer excellent comfort for long flights. When you compare the comfort of these headphones with Bose QC25, they are almost the same. But for extreme Comfy lovers, be ready to shell double the amount to buy Bose QC25.
The earpads on these headphones are thickly cushioned with soft material. Although the headphones clamp tightly to your ears for additional noise isolation, it will not cause any discomfort due to the soft padding.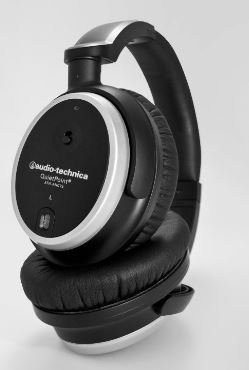 These offer great comfort like any other headphones for travel.
Noise-Cancellation:
For activating noise cancellation feature on these headphones, you just need to flip the switch located on the left earpad. The ANC feature does an excellent job of canceling out external noise.
The noise cancellation can be compared to that of QC25. You can just wear these on without listening to music so that it helps you in getting rid of unwanted background noise and lets you concentrate on your work.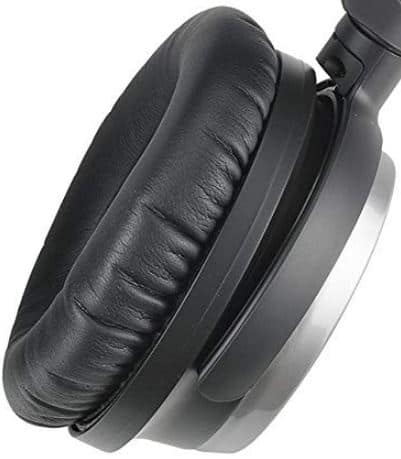 This feature is good in getting you rid of the low-frequency noise.
The only downside of this noise canceling feature is that the noise leakage will be more when the ANC is activated. If you disable the noise-cancelation, the sound leakage will be less.
Sound quality:
The sound quality on these headphones is good. But when compared to the SONY MDR-1000X that I've mentioned above, these headphones fall short.
With large 40 mm drivers with neodymium magnet systems, these offer great bass, accurate mids, and highs. The bass is quite good when you listen to rock and hip hop music more often without ANC activated.
When the noise cancellation is activated, the bass is somewhat lessened. The treble part of the music will be highlighted.
Like most of the ANC headphones, these are not that bass-heavy, but the treble or highs part of the music is pronounced really well with no harshness.
These are not bass-heavy headphones, but they perform really well in the mids and treble part of the music. These are great if you listen to classical music or podcasts while flying on the airplane.

Design
Although the earpads are large, you'll not feel that heaviness when wearing these headphones on. The earpads are made of a very soft material, that ensures you excellent comfort and prevents your ears from heating up and sweating.
The comfort is same as that of QC35, but the main advantage is that as these headphones are large, they grip comfortably on your head than other headphones. There's nothing to complain about comfort. I'm sure that you won't feel these headphones at all after some minutes.
Noise cancellation:
These headphones come with NoiseGard technology that lets the headphones. It blocks up to 90% of ambient noise when noise cancellation is activated.
The TalkThrough feature enables you to talk to your co-passengers without taking off your headphones. When this TalkThrough feature is enabled, the ambient noise like airplane engine's roar is still filtered out, but the voice of the other passengers is heard clearly.
As these are meant for noise-canceling, it does it's job pretty well. The effectiveness of blocking out ambient noise can be compared to that of SONY MDR-1000X which I've reviewed earlier in this post. But surely I can say that at this price range Bose QC25 has a slight edge over these. The difference is little.
Sound quality:
These headphones are not too boomy or like they won't add any sort of noticeable enhancements to the songs by themselves. They sound flat. They lack in the bass. The bass is the aspect where these headphones fall short to that of Bose headphones that I've reviewed earlier in this post.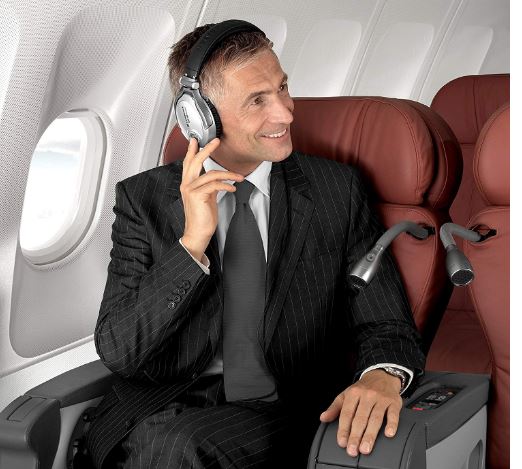 The mids and highs are excellent and not too harsh. Overall, the headphones do a great job of performing well in the entire frequency range.
Except for bass-heads, there's nothing to complain about sound quality.

If you are a pink lover then you need to definitely have a look at these pink headphones.

Also check:
1. 10 Best Studio Headphones in 2019 from $50 – $1000
2. Best Cycling Headphones in 2019 That Ensure Road Safety!

Wrapping up
These are some of the best noise-canceling headphones for airplanes and traveling. Make sure you find the right headphones that are a perfect balance between the price and the quality.
Please do also note that if you are an audiophile, noise-canceling headphones that I've mentioned above may not be for you. In that case, you may go for wired audiophilic headphones that are good at noise isolation.