Affiliate disclosure: In full transparency – some of the links on this website are affiliate links, if you use them to make a purchase we will earn a commission at no additional cost for you (none whatsoever!). Will this be a problem? This is how we manage to create free content for you. Please know that your trust is so important for us. If we recommend anything, it is always because we believe it is worth exploring. And, buy me a coffee ☕️
​​​​​​Music is an indisputable part of our life. That too hip/hop and rap music are gaining great popularity.
[amazon table="523200″]
A good hip hop headphone may be essential if you are a avid music lover.
Friedrich Nietzsche said – "Without music, life would be a waste". Well, we all agree with it. Whether you are struggling with your late night work schedule, taking a boring flight, or want to party hard, music can be your savior.
However, to enjoy real music, especially the heavy beats ones like hip hop or rap, you need to be equipped with the right accessories like the best headphones you can avail. There are also best headphones for metal and rock.
The basic instruments used in the production of hip-hop music are the drum machines, sequencer, and synthesizers. And, of course, there are rhythmical lyrics that have to come clear through your headphones.
Buying the perfect headphones for hip-hop and rap music is an overwhelming task and all the blame can be put on the huge availability of hip-hop headphones in the market.
When you buy a headphone, you need to check the sound of each these instruments, plus the lyrical sound.
To be true, all it needs to get a good pair of headphones is a good research and understanding of your requirements and budget.
Isn't it?
We won't ask you to do all the surfing task on your own, instead, we have gathered all the necessary information right here for you.
So, when you are buying headphones for hip hop, here are a few considerations to take into account.
Lets get started.
Below are the headphones that are suitable for Hip-Hop and Rap.
5 Headphones that work best for Hip-hop
Skullcandy sure knows the perfect ingredients of a striking pair of headphones. Shape or sounds, all the features of this Skullcandy headphone is a marvel.
Build and design – how well it's built?
Skullcandy ROC NATION Aviator Black features a tortoise shell pattern and plastic ear plates that give it a classy look.
It comes in a lovely shade of golden brown, with a little transparency into its plastic body. The top, bottom, and sides of the plates are covered in silvery chrome, highlighting the aesthetic value of the headphone.
The headband is made up of synthetic leather with soft touches inside and the ear pads have foams wrapped in black leather.
The headband and the ear cups are joined by a silver chrome square with a black-and-chrome skull. You can select between white, black, red, and green.
Not only do they look good, but these Skullcandy ROC NATION Aviator over-ear headphones are also comfortable on your ears. We could actually wear it on for almost two years without any sense of discomfort.
Astonishing isn't it?
You can fold them up while traveling and they come comfortable and extremely light-weighted. So, if you are in need of over-the-ear headphones, then this certainly is the right choice.
Sound and music – How it sounds?
The Skullcandy ROC NATION Aviator offer full, warm sound with an impressive level of accuracy. When we focus on the specification, it seems that the company has valued bass over all the other specifications.
The sound signature is great towards the mid-range, and it gives rise to a balanced treble also.
The low end gives a good kick, but the highs lack a little clarity. Due to the large metal construction and huge ear cups mounts, it gets easier to use these phones while traveling.
However, we want to warn you that even with a closed ear cup, the headphone offers very little noise isolation. Still, if you are looking for an exquisite headphone with style and fashion, then here you have your bait.
Pros
Cool design, especially based on aviator sunglasses
Quality bass response
Integrated Apple iPhone/iPod mic and controls
Cons
The price is based more on the design than the audio

If you are looking for a headphone with excellent noise-cancellation and banging bass, then Beyerdynamic DT 770 is one great choice to look for.
Design and build – how sturdy it's built?
These comfortable over-ear cans are designed to sit comfortably on your head. We won't say that these are the headphones with the best accessories and features you can imagine, but these are certainly worth trying.
The closed-back design is hard to get nowadays, and that's what makes these headphones unique.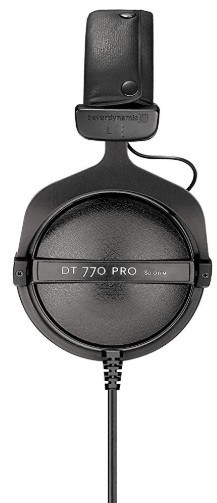 The sound doesn't escape the headphone and won't even cut you off the surrounding. You can stay well aware of your surroundings while enjoying the music by Eminem.
The built-up is quite big, but they are always manageable to be carried outside. However, don't expect these headphones to fold, simply carry them in the pouch that comes in the box.
Sadly.
After a long time of use, the white paint on the ear cups might fade, revealing the plastic beneath, so handle them gently.
The company claims that every part of this headphone is replaceable, which is good for long run usage. However, the cable at the headphone end is not removable, but the model allows it to swap it from one side to another.
Sound quality – how they compare in this segment?
DT 770 works extremely well even in the noisiest surroundings, and it can also be considered one of the best headphones for bass.The kick of drums and basslines hum is nicely heard through these headphones.
This is the also the drummer's choice headphone for recording drums.
The highs and mids are subtle, and you are likely to receive a very natural sound of the song. With its powerful bass, you are not likely to miss any noise, seat-creak, and page-turn.
The vocals are extremely clear, but when we compare them with ATHM 50, it feels a little recessed.
To sum up.
We recommend this Beyerdynamic DT 770 headphone to everyone who is looking to cut down the noise from the surrounding while entertaining a decent music.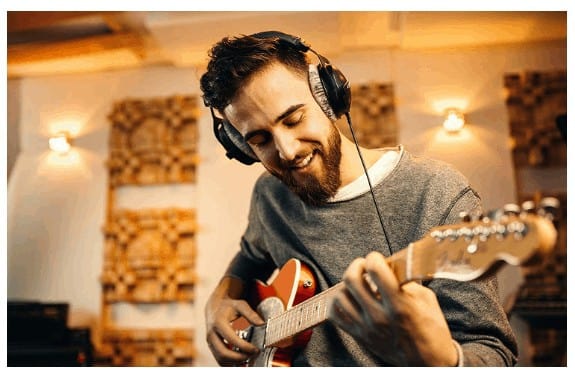 Comfort score for this one is high, and even the cables are adjustable. All over, it's a piece worth trying for ultimate comfort and great hip hop music.
Pros
Closed-back design
Powerful sound
Very comfortable
Cons

The SMS Audio Street by 50 Cent offers on-ear features of headphones that are sturdy, comfortable, and gives a good quality of voice.
Design and build – how good it's built?
Those who get to hit the gym every day should be happy with this product. The main focus of the entire manufacturing was making it comfortable and sturdy for outdoor usage.
If music inspires you in working out, then SMS Audio Street by 50 Cent should be in your bag.
There is a contrast of bright colors with black in this headphone, plus you get too many options together.
The IPX4 rating gives maximum resistance to water and sweat, which makes it perfect for jogging and gym.
The heads are coated with rubber to minimize scratches and chipping. Hence, you can go wherever you want. Foam cushions on the head are meant to give you a perfect oval fit. We have tried it on for approximately two hours without any sign of discomfort.
Sound quality – how well it sounds?
SMS Audio features 40mm audio driver with passive noise control. The headset gives relatively powerful and clear sound. Mids and highs, both are above expectation, and for us, there was nothing concrete to complain about.
The high-end of the frequency range is tweaked a bit to maintain the sense of definition, resulting in a sculpted sound signature. Vocals in the tracks lack a bit of treble, but there is a serious bass-heavy mix.
In all
We don't recommend these headphones for DJs, but it certainly works well for bass lovers. If you are craving for boosted deep lows with exciting sound, then here you have the right option in the right packaging.
Pros
Powerful audio
Deep bass response
Comfortable fit
Passively reduces ambient noise.
Cons
Overpriced
Highly sculpted frequency
Ear cups don't flip away from ears

The Audio-Technica ATH-M50 is considered perfect for all sorts of music and when it comes to hip-hop, it's just the perfect pick we can think of. They are going to offer the bass fans a decent bump without actually overpowering the rest of the music.
Build and design
The ATM-M50 is an over-ear headphone that offers comfort with its relatively rugged exterior. When we talk about the design, it is overall sleek and beautiful. You will find the ear cups to be highly adjustable as it can be turned at a total 180 degrees.
The left ear cup leads to a wire that is durable and provides complete insulation. Some may find the headphones to be a little heavy, but if you don't mind it, then get ready for a good fit that won't degrade over the years.
The thick and padded ear cups can be folded flat for storage purpose, and it won't even occupy much space. It comes with simple and soft cases, which don't do much except for keeping the dirt away.
udio quality – how good it sounds?
When it comes to sound quality, we have to agree that these are the best audio quality that you could ask for below $200. These headphones have a little distortion level, which prevents any crackling or fuzz added to your music.
With a closed-back design, it reacts well to the bass, keeping all the music inside. The bass is punchy and clean and supports all levels of the frequency with equal attention. Even the mid range here is maintained nicely.
As the headphones bear closed cups, it blocks most of the surrounding noise with its noise cancellation features. You will enjoy clear sound bass for long hours without actually hurting your ears.
Sounds good?
No fatigue will be encountered, and hence we recommend it for serious music listeners.
However, these Audio-Technica ATH-M50 headphones are best suited for stationary listening and are recommended to use indoor. For such a price, this headphone offers a far better value when compared to others.
Pros
Higher-end headphones
Good bass
Sturdy built-up
Comfortable on head
Cons
Not suitable for indoor usage

In a clear and compact package of Ultrasone HFI-580 Closed-Back Stereo Headphones, you receive crystal clear audio and crisp bass. Below $200 you get one of the best hip-hop headphones.
Build and design
It's an ultra light deign that comes with padded ear cups to create a seal around the ear. As far the look is concerned, it comes in a chunky piece with thick cables around.
The user doesn't like it much for outdoor use because of its old school design, but it certainly has a good build up. However, the good thing we observed about HFI-580 is that it can be folded easily to be put in your traveling bag.
Sound quality
The powerful bass coming through the Ultrasone HFI-580 Closed-Back Stereo Headphones offers audio clarity and excellent dynamics.
This closed headphone design is one of the most sought after headphone among drummers, guitarists, and bass players. Designed for high performance, the 50mm Mylar creates excellent sound pressure, which also comes with a high input level.
HFI-580 provides reduced electromagnetic emissions along with the safer volume levels.
We appreciate the closed design of the headphones that leads to a reduction of outside noise. Given that it is a closed design, you won't have to worry about any noise disturbance.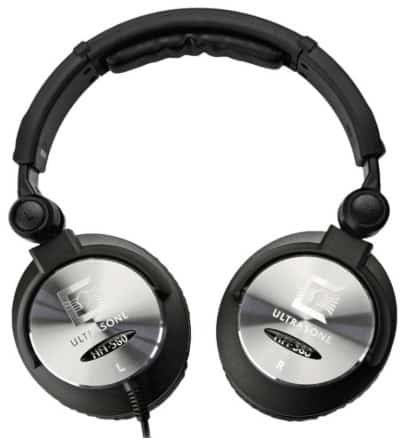 The headphone also comes with 3.5mm stereo plug that allows better compatibility with most of the devices. For us, this was quite a decent pick with sturdy build up and good music.
Pros
Suits all sorts of music
Good bass
Sturdy built-up
Cons

Things to look for in Hip-Hop headphones
Usage
There are different headphones for indoor, outdoor, and travel purpose. So, the type of headphone you chose will entirely depend on what sort of application you have for it.
For example, A headphone with the best noise cancellation feature works for traveling. However, when you are jogging or running with your headphones on, it will need to have an ultimate grip on the head, plus it should be waterproof and water resistant.
For those with a great sense of music, nothing less than high-performing headphones will work.
Sound
Headphones for hip hop or rap should provide crisp highs, and enhanced lows, as the music here are lead by loud and heavy beat.
Focus on vocals, guitars, and synthesizers while buying your headphones.
The equalization must be skewed towards the minimum bass end to emphasize on the drum beats. Ideally, the frequency range should extend to 20 Hz, allowing the fullest possible response.
Durability
Again the selection will depend on the purpose of the headphones. When you are looking for a headphone for outdoor uses; you need to look for extreme durability.
What I mean to say is..
Only a sturdy headphone can serve the outdoor purpose as you have to turn and twist it again and again.
And..
For indoor use, most of the headphones work, unless you are very careless about it. Check for the strength of joints/hinges and, the material used in the headphones.
Design
It's the bigger headphones that give a better response to hip hop or rap music. Hip-hop is all about the bass, and bigger headphones offer a complete bass response to it.
There are smaller headphones too, that react well on hip-hop, but this is an exception.
Comfort
Whether you are buying over-ear or on-ear headphones, you need to be comfortable in it; after all, music is not a punishment.
Right?
Maintain the fun, by focusing on the cups and head fit of the headphone.Headphones with detachable cords are preferred as it helps you move without any obstacle.
Portability
No one would like to buy a headphone that occupies one-fourth of the space in their travel bag.
We always recommend our reader to look for foldable headphones. If you don't get foldable headphones, there are chances it will break down while traveling. However, if you are not much of a nomad, one that doesn't fold will work.
Wrap up
Go on hip hop lover, now it's your turn to enjoy your favorite track with one of the above-mentioned headphones.
For us, all the five worked well, but we would also say, you should try and test the headphones before purchasing one (requirements vary from person to person).
Also, let us know if you got across a worthy hip-hop headphone.
Hi, I'm Jennifer I'm a passionate singer and an audiophile from Detroit, MI. 
I'm on a mission to help music creators to create fine music that help them position uniquely in the saturated music space.
Follow my blog for regular content :-)