Ever heard of bone conduction headphones?
Bone conduction headphones are devices with which you can hear audio conveyed through the vibrations of your skull (cheekbones and jawbones).
Table could not be displayed.
Meaning, the sound waves are transmitted directly into your inner ear via bones, completely bypassing your eardrums.
Bone conduction technology was originally invented to aid people with hearing impairment so they could listen to music.
You may need some time to get used to the idea of bone conduction technology, but after a while, they seem to be the most comfortable pair of headphones you'll ever come across.
That's because there are no ear-buds that often fall off or any messy wires to get caught. However, the sound quality is a compromising factor when it comes to bone conduction headphones.
Let's get started.
Top 5 best bone conduction headphones – Editor's favorites
Below are some of the top bone conduction headphones, that comes at an affordable price.
Design
These bone conduction headphones have a semi-flexible frame and rubber body. The headband and ear loops can be widened with your hands to make the headset fit your head. It snaps back into place the moment you release it.
Behind the right ear is the module which carries the volume control buttons. These buttons double as the equalization changing control – you only need to hold both down for three seconds. On the opposite side, you have the play/pause, call answering and voice assistant controls.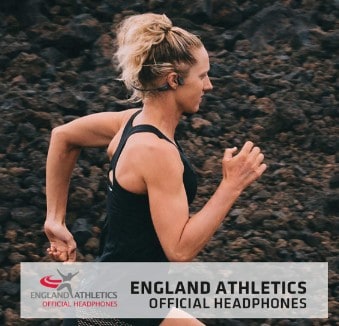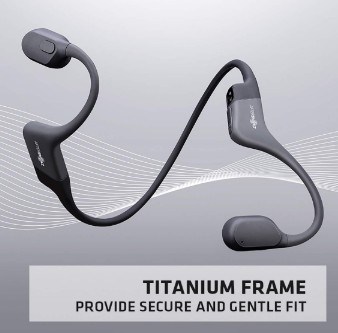 When you connect to your device, the pairing is smooth for both Apple and Android devices. There's no lag when playing videos or games. The audio syncs well with visuals on your device.
The voice prompts are delivered by the built-in assistant Audrey with the British accent. If you wish, you can use your phone's voice assistant. Press and hold the multifunction key to access this feature.
Sound quality
The mic quality is pretty decent, the person at the other end of your call will hear you clearly, except in windy conditions. Wind noise still disturbs call quality.
Although the Aeropex has a wide frequency range of 20Hz to 20000Hz, it does not produce all these frequencies like a regular pair of earbuds would do.
The bass is not as rounded and deep as some audiophiles might want. You can still enjoy your music though, while also being aware of everything going on around you.
Comfort and fit
The tips of the headphones sit right in front of your ears while the headband goes around the back without touching your head. It has an efficient fit that hugs your head just enough to stay even when you're running.
Waterproof/sweatproof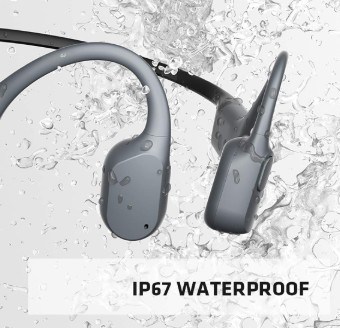 Aftershokz Aeropex is sweatproof; another reason why they're good for running or cycling. They can also survive a fall in water or a few splashes.
Any more exposure than this make them get damaged. Also, they're not to be used for swimming.
Battery life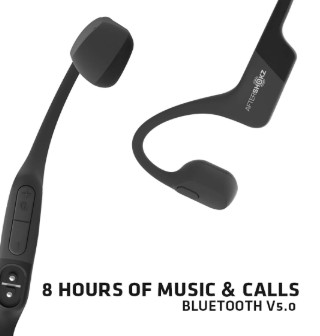 These bone conduction headphones can keep working for up to 8 hours when they're fully charged.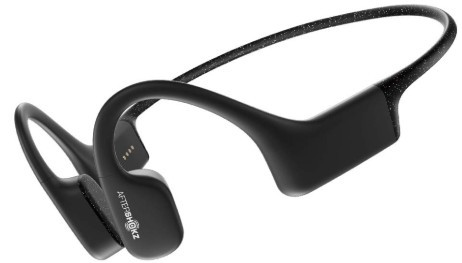 Design
The Xtrainerz weighs just 30 grams, and this does not mean that they're fragile. They are quite solid even though the headband is a bit flexible.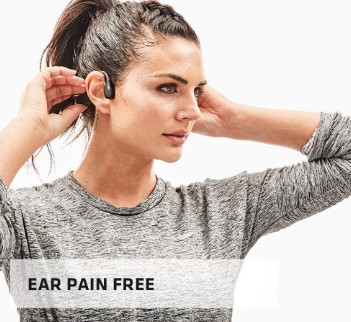 When you have them on, it only takes a little while before you stop being aware of them. Even though others still notice them on your head, you don't feel their weight.
The control buttons on the Xtrainerz are useful for adjusting the EQ setting, navigating music, and checking the remaining battery life.
Sound quality

Since the Xtrainerzs are made for swimming, let's evaluate its performance underwater. Since water serves as a form of sound isolation, these headphones sound much better than most of their counterparts.
The bass sounds a little punchier. Even when you're walking or running with them, they sound better than your average bone conduction or wireless earbuds.
Comfort and fit
The Xtrainerz fit onto your head firmly and stays put. It's also super lightweight which means during long hours use, you won't feel any discomfort.
Its adjustable headband insists you to use the headphones regardless of your head size.
Waterproof/sweatproof

The Xtrainerz was made for swimming, and it does its job pretty well. Either in freshwater or saltwater, you can have your swim, dive underwater and still enjoy your favorite music or podcast.
Thus this is one of the best bone conduction headphones that allows you to enjoy your music underwater.
Battery life

Like Aeropex, the battery lasts for 8 hours when fully charged. This is enough for swimming, running, cycling, or if you're exercising.
Design
Another pair of bone conduction headphones from Aftershokz. A standout feature of the Sportz Titanium design is the reflective frame.
You may want to start your morning runs a little early, before there's enough light on your running path. The reflective frame makes it easy for any other road user to spot you from a distance. This is quite a thoughtful addition from Aftershokz.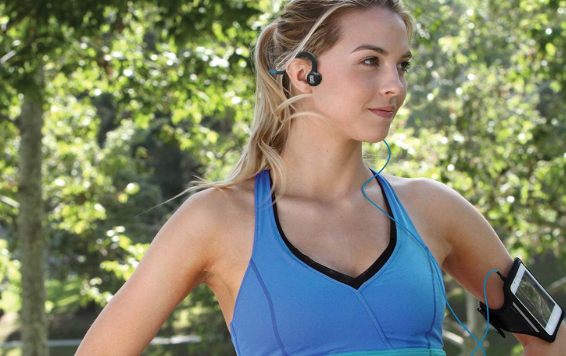 Sportz Titanium's controls can only be found on the cable. The controls only offer limited functions of adjusting the volume.
Any other features will be provided via the connected device. The cable is 4 feet long. This length is quite practical for runners. If you're of average height you can connect to your phone without having extra cable length disturbing your movement.
Sound quality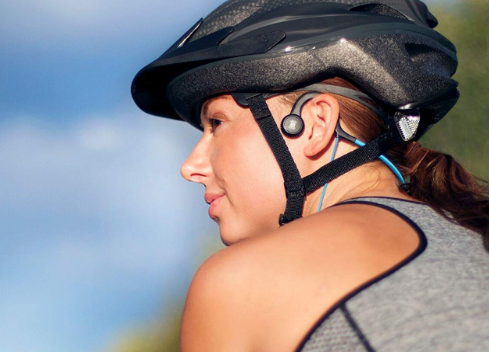 The mic is located along the cable, and it gives clear call quality even if you're running while answering the call.
The PremiumPitch+ technology used ensures that you get good quality audio from these headphones.
It's a bit better than what you get from other bone conduction headphones.
Comfort and fit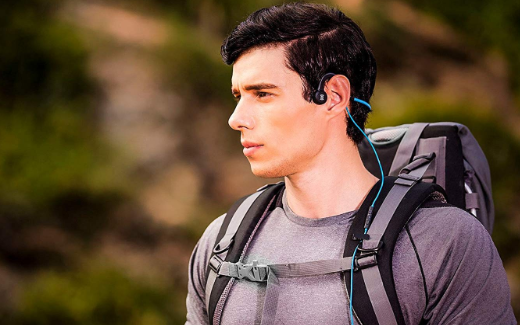 Sportz Titanium stays solid on your head when you put them on regardless of what you're doing. Also, using them for longer hours does not cause any discomfort. Even if you're running or biking in rough terrains, the headphones don't move an inch.
Waterproof/sweatproof
Sportz Titanium is sweat resistant. This also adds to the list of reasons why the headset is good for running and exercising.
In case it starts raining while you're running, no need to worry; Sportz Titanium keeps working well even under the rain.
Battery life
The Sportz Titanium can play your music for up to 12 hours when it's fully charged. This is far more than what any wireless bone conduction can give you.

Design
The Pyle bone conduction headphones are quite light and made with materials that will last forever.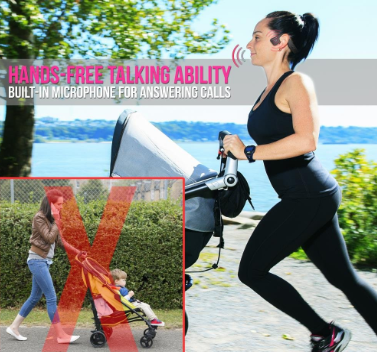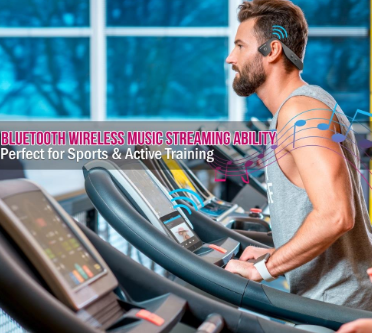 One standout observation is that the headband is not adjustable. This may affect you if you have a lot of hair or if you're wearing a hat.
There are some buttons on the side panel which control EQ options, adjust volume and mic options. It uses the Bluetooth 4.1 version, allowing you a range of 35 feet between your device and the headphones.
Sound quality
There's a built-in mic for answering calls. This mic has noise-canceling abilities that make your calls clear on the other end.
Generally, bone conduction headphones are not known for their high-grade sound quality.
Even at that, some still give very decent sound. These Pyle headphones have a frequency range of 100Hz to 15kHz. It doesn't cover the full hearing range, so you may not have the best music listening with this headphone, especially for hip hop and EDM lovers.
Comfort and fit
The headphones wrap around your head with ease and stay put. They don't slip even when you start sweating. You can run, and do all sorts of movements and these cans won't move an inch. That's how fitting is with these headphones.
Waterproof/sweatproof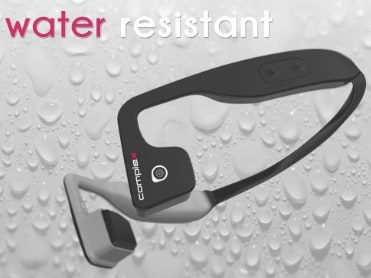 Pyle PSWBT550 is both sweatproof and waterproof. It has an IPX6 rating which means that sweat is not a problem, and it can withstand rain and water splashes once in a while.
Battery life
It takes six hours for the battery in these headphones to run down, which is pretty decent for this kind of headset.
However, to charge the batteries fully, you need four hours, which is a lot of time.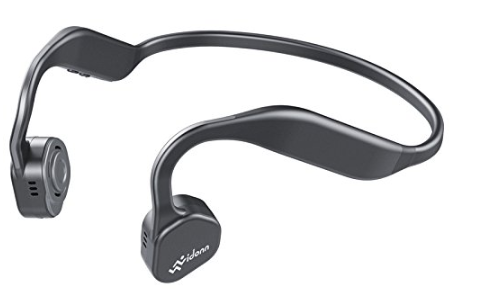 Design
Vidonn F1's frame is quite flexible, and it snaps back into shape every time you bend it. The frame is made of plastic and titanium alloy. It's a combination that promises the durability of the headphones.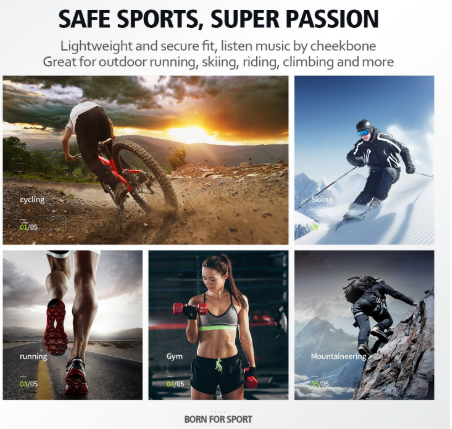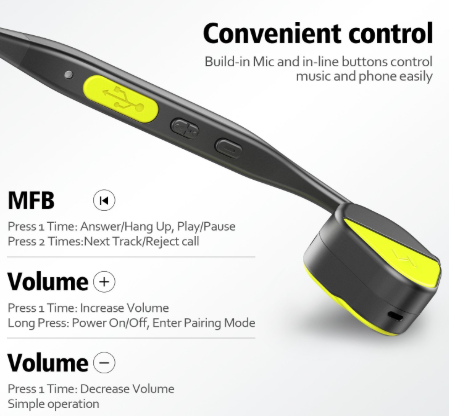 Vidonn F1 only gives you three controls; the play/pause button and the volume adjustment buttons.
The play/pause button also does the job of answering your phone calls. The Bluetooth 4.1 version used in the connection only allows you a distance of 10m between the connected device and the headphones.
If you're running or cycling, the short distance shouldn't be an issue since your phone will be with you.
Sound quality
Vidonn F1 uses the Clear Voice Capture noise-canceling technology. This technology keeps out noise from your environment when you're making or receiving a call so that whoever is on the other end will hear you clearly.
The sound quality when playing music is okay for a bone conduction headset. It is quite lacking in bass, but you can make this a bit better by wearing the earplugs supplied.
If you're running or walking in heavy traffic, you shouldn't use these earbuds; it's important that you hear everything around you.
Comfort and fit
When you put these headphones on, they don't come off even with a lot of movement. However, they may shift just a little bit and this may affect their placement.
You can also wear them comfortably for many hours. If you're wearing glasses, you need to be more careful about placement.
Waterproof/sweatproof
Vidonn F1 is a pair of sweatproof headphones that also prevent dust particles from getting in. It can also survive if you wear it in the rain.
Battery life
If the batteries are fully charged, you can keep listening to music for up to 6 hours before you'll need another charge.

Specifications
Frequency response: 20Hz~20KHz
Microphone: -40dB ± 3dB
Bluetooth version: v 4.1
Wireless range: 33 ft (10m)
Battery: rechargeable lithium-ion
Continuous play: 6 hours
Standby time: 10 days
Charge in: 1.5 hours
Weight: 1.27 oz (36g)
Design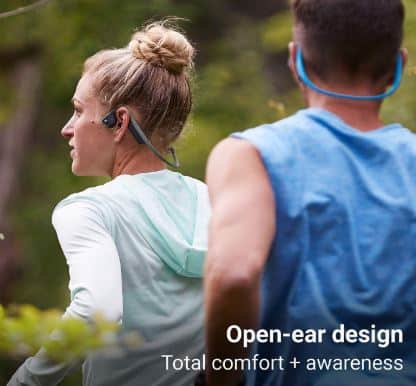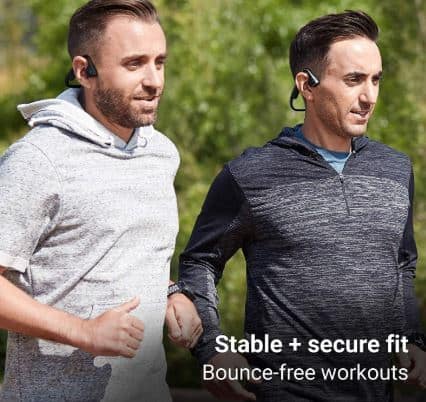 An exceptional amalgamation of style and technology is what defines these Aftershokz Trekz Titanium Open-Ear headphones.
Given its wireless bone conduction technology, mini sound vibrations are directly sent into your internal ear (cochlea) passing via cheekbones. In a nutshell, it completely bypasses your eardrums.
The lightweight body of the Trekz titanium does not feel like you've put something heavy on. Experience a painless and bud-free comfort with its highly flexible and durable titanium rear bar, which effortlessly adapts with your neckline.
This headset gets its name from the material that's used in making the headband; titanium alloy. The band connects the two transducers on both sides.
This build is efficient for keeping out moisture due to the polymer material used to cover the frame.
There is a single control button; the multifunction button that controls all the parameters including track navigation and call answering. One surprising thing is that you can only skip to the next track, you can't go to the previous one using the buttons.
It's very easy to pair the Trekz Titanium to your phone; simply press and hold the power button.
It enters pairing mode in under six seconds. The Bluetooth 4.1 connection does not give you all the distance between phone and the headset.
These headphones are made primarily for sports, so you'll likely have your phone strapped up to your waist or arm the whole time.
Audrey, the voice assistant that comes with Aftershokz headphones is ever available to take your voice commands.
Sound quality
It features dual noise-canceling microphones with in-line controls, so you can now receive calls with crystal clear voice, without using your hands.
Adding to it, the exclusive PremiumPitch+ gives that dynamic sound quality and an emphasized bass.
These headphones feature a wide dynamic sound range and also prevent excessive sound leakage. Even though these are not audiophile-grade headphones, they are still much better than other models available in the market today.
These are also the best cycling headphones that most of the cyclists prefer.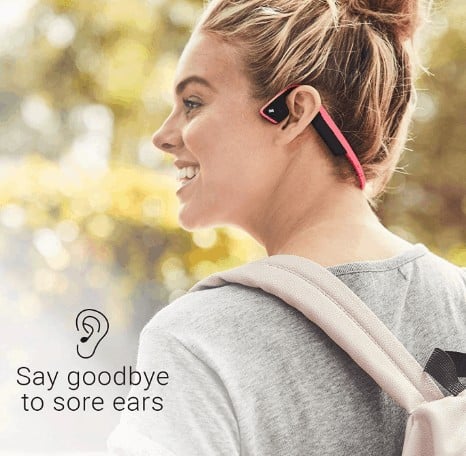 The Trekz Titanium's mic picks your voice well during calls and transmits it to be heard clearly at the other end.
If you're cycling fast on a windy day, you may need to slow down to answer your calls because wind noise can get in the way.
The attempt to add some bass to these headphones happened to work out, even though they are bone conduction headphones. However, bass-heavy music can cause vibrations on your cheekbones.
Comfort and fit
Ordinarily, these headphones have a good fit. They clasp your head without giving any discomfort.
The only issue is if you have to wear glasses or a helmet. Getting the headphones to sit well in these situations can be tricky.
Waterproof/sweatproof
Designed with athletes in mind, these water-resistant headphones with IP55 certification. They can be used during any vigorous activities like sports or workouts, without having to worry about sweat and dust.
These are the best bone conduction headphones you can use for running, workouts and at the gym.
Aftershokz even provides a free carrying case along with the headphones for quick and easy portability.
Trekz Titanium is an upgraded version of its previous models, so naturally the design and sound quality are much superior here.
Battery life
It has a quite decent battery life of 6 hours. You are free to listen to music for up to 6 hours with a single charge. It takes 1.5 hours to charge fully and comes with a standby time of 10 days.
Pros:
Durable construction-Titanium band coated with Soft silicone Rubber
Lightweight design and comfortable to wear
Offered in 4 different jazzy colors
IPX5-rated headphones- Repel moisture or sweat
Multipoint pairing
No messy entangling of Cords
2 years of warranty
Extremely comfortable
Breathing foam
Cons:
Do not expect high fidelity sound
Might hurt after long hours of wearing
Connecting multiple devices simultaneously doesn't work sometimes.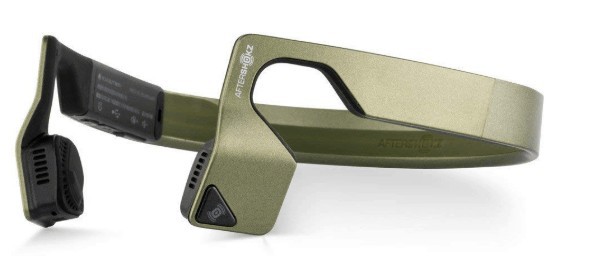 Design
Coming from a brand Aftershokz- that specializes in launching fine-quality bone conduction headphones, Bluez 2 Open-ear Stereo headphones is certainly one of their topnotch models. It is way different from other models in terms of its rugged look and build quality.
Aftershokz Bluez 2 feels more rigid and is something that can take abuse. Made from titanium, it is certain to expect improved longevity from this unit.
If sweat due to workouts or running is your major concern, then its water-proof design comes to the rescue.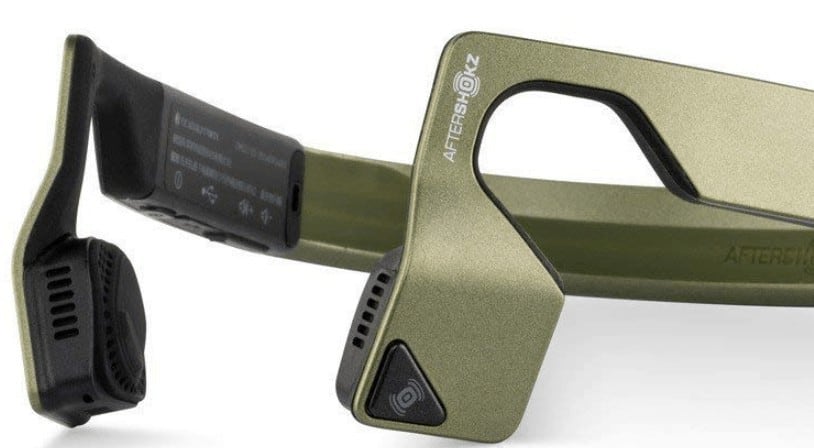 Sound quality
Just like Trekz Titanium, Bluez 2 also uses PremiumPitch+ technology to deliver true fidelity sound and amazing bass response.
And, you can still have some amount of ambient sound awareness, thanks to its open-back design.
With Bluez 2, the sound might not be extremely clear but the bass is very heavy. It has also been incorporated with dual microphones for crystal clear calling experience.
Along with the product, you will receive a breathable carrying pouch, an adjustable tension band, reflective stickers, and a micro-USB charging cable.
Fit and comfort
Since they are deliberately made for fitness purposes, the fit might feel a little tight, secure enough to stay put on your ears during any exercises.
Waterproof/sweatproof
It has IP55 certification and is both water and sweat resistant. You can wear it in bad weather and moisture regions without worrying it gets damaged.
Battery life
It comes with a rechargeable lithium-ion battery that last for up to 6 hours. You can fully charge these headphones with 2 hours.
It has a stand by time of 10 days.
Pros:
In-line controls come handy
Open-ear design; Good for running
Secure fit; Ideal for workouts
Impressive battery life
Good sound quality; Heavy bass
PremiumPitch+ and OpenFit design is perfect for users with hearing disabilities
Extremely comfortable
Breathing foam
Cons:
Sound quality is not that impressive
Sound leakage
Does not fit well with the glasses
Design
Damson "Headbones"- its funky name itself suggests that they are Bluetooth bone conduction headphones that deliver sound frequencies through your cheekbones into the ear canal.
One of the master strokes played by Damson is that it offers a 3.5 mm jack on the side, so you can plug-in your traditional ear-buds whenever you want to isolate the ambient noise. Astonishing, isn't it?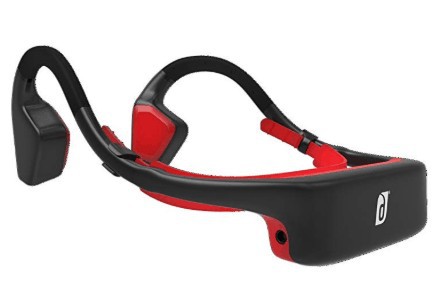 The Damson Audio headphones are made of plastic. However, this does not mean they're not strong or solid.
The plastic is strong and can survive a few drops. The headband is a bit bulkier than the rest of the headset even though the weight distribution is quite balanced.
The regular built-in controls are present here: volume adjustment, play/pause, call answering – the usual suspects. The pairing is also straightforward, and the Bluetooth connection is decent. Even if you experience some disconnection, it's only for less than a second.
Sound quality
On the downside, we would say that with such a high price Damson Headbones do not deliver satisfactory sound quality.
Treble is quite good but the mids aren't very clear and the bass lacks depth. But when you actually plugin the traditional ear-buds, the sound quality greatly improves. Bottom line is, bone conduction technology is kind of poor.
Being bone conduction earphones, they allow everything into your ears. If you need some isolation, you can connect the supplied earbuds to the bone conduction headphones.
A pair of wired earbuds come with the headphones, which you can connect via the 3.5mm audio port on the bone conduction headphones. 
Fit and comfort
For a completely secure fit, Damson Headbones come with a rubber securing headband that has adjustable design and stays on your neck snugly.
Waterproof/sweatproof
Headbones are fairly resistant to sweat, moisture, and dust, so all the athletes out there might fancy this design.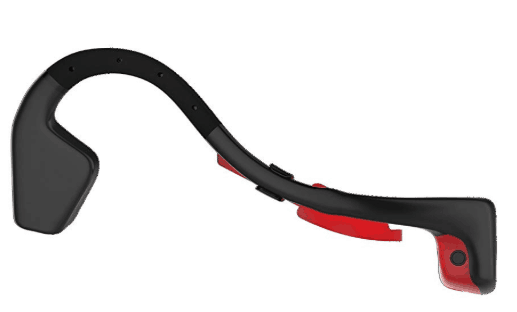 In-line controls are very handy to use and allow you to even receive calls or use voice calling features like Siri, Google voice and so on.
Battery life
Damson Headbones deliver 8 hours of battery performance just from a single charge, optimum for any enduring workouts or long-running hours.
Pros:
IPX5-rated Sweat-proof design
3.5 mm jack provided
Foldable arms
Comes in a Carrying pouch
In-line controls and microphone allows hands-free use
Impressive battery life- 8 hours for Headbones/20 hours for ear-buds
1 year of warranty period
Cons:
Sound quality not so great; Bass lacks depth
Headband is slightly heavy and hangs low; might rub on your shirt often
For those of you with short budget spreads, Aftershokz AS450 Sportz M3 is a real steal for you. With its bone conduction technology, the sound is directly transmitted to your internal ear without passing through your eardrums.
Design
The headband snugly wraps itself around your neck, while the transducers will rest on the bones right in front of your ears.
Comfortable and lightweight in design, Sportz M3 has an open-fit design so you will be still aware of your ambient sound.
The controls are on the in-line remote. There is a multifunction button that answers calls and does a number of other tasks. There's also the volume adjustment buttons to control the ail level of your music.
They are wired headphones. The cables are quite thin and don't usually get in the way of your running or other fitness activities.
Sound quality
Nanotechnology coating and rubber gaskets with watertight fit blocks out moisture or sweat completely. Yet again, Aftershokz's PremiumPitch Patented Dual Suspension Transducers deliver great bone conduction sound.
You can stream these headphones with any device having a 3.5 mm jack and even receive calls with the help of a noise-canceling microphone included.
Noise-canceling microphone and in-line controls allow you to receive calls effortlessly with crystal clear voice.
Comfort and fit
The headphones stay on your head pretty well, but this may not be the case if you're wearing a hat. This can mess with the fit.
Waterproof/sweatproof
These Aftershokz headphones are not waterproof, but they're sweat-resistant. This means while running or exercising, your drops of sweat won't do any damage to the headphones.
Battery life
It claims to have 12 hours of battery life, which is enough to get you going through most of the workouts before the next charge. The package comes all-included with a storage case and a micro-USB charging cable for ease-of-use.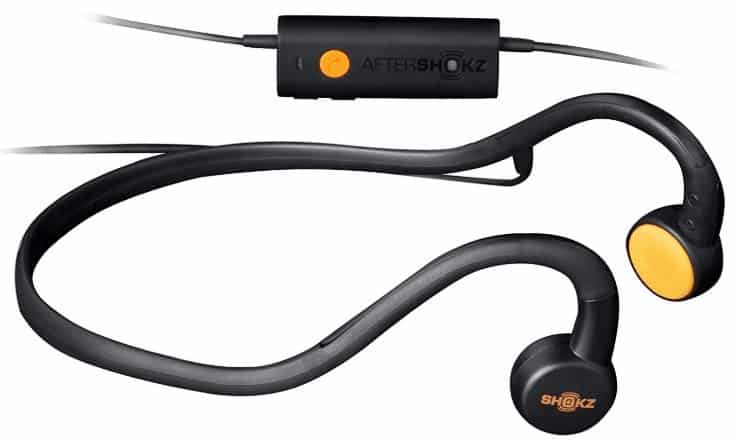 Pros:
Sound is clear, well-balanced and loud enough
Comfortable to wear
Bass is good
Inexpensively priced
Headband is not too heavy
Sweat-resistant design
2 years of warranty period
Cons:
Battery life is not as good as claimed
Cord provided is too thin
Design
Even though KSCAT is not an oh-so-popular or recognized brand name, their Open-Ear bone conduction headphones are of premium quality and worth investing in.
The KSCAT headset is made of memory titanium and ABS. This combination gives strength and lightness at the same time.
Intended to be used by runners, hikers, cyclists, etc. these headphones have an open-ear design for extreme safety and convenience of use.
Bone conduction technology will send the sound directly into the cochlea after passing through your cheekbones. The headband is constructed from the Titanium frame which is expected to deliver enhanced durability.
The controls are located on the headband and earbuds. The controls available include the on/off switch, volume buttons, and multifunction button. It should be noted here that some buttons are on the headband, which may prove difficult to access while exercising.
The Bluetooth connectivity range is about 10 m/33 ft, wide enough to connect with any of your Bluetooth devices in the vicinity.
Also, you can connect two devices to these headphones. You can connect your phone and computer at the same time for greater ease.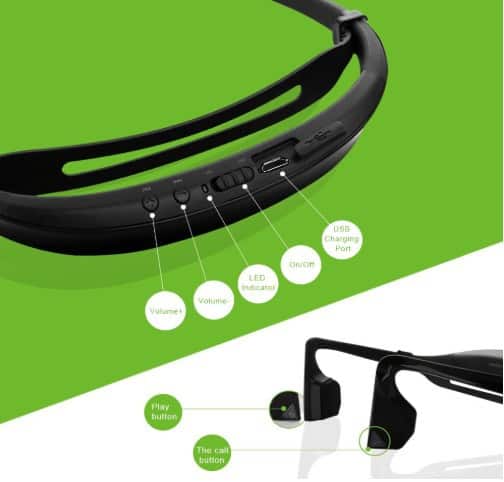 This particular model viz. KSCAT NICE 5 is an updated version of its previous launch KSCAT NICE 2. The latest version uses Bluetooth v4.1 connectivity and features IPX6 waterproofing design.
Sound quality
The call quality is also good; you can only notice some disturbances on very windy days. There's not much bass to speak of here since the frequency range is 100Hz to 15kHz. However, you can still enjoy your music even with this range.
The noise-canceling microphone enables you to use a calling feature with a clear sound experience.
Comfort and fit
The headphones have a really good fit, but only if your head falls within the recommended size – 48cm to 60cm circumference. This mostly covers most average sized heads.
Waterproof/sweatproof
KSCAT is sweat resistant. You can keep running for hours without having to stop to clean the sweat off the headphones.
Battery life
All-day playtime is claimed to be about 6 hours and the in-line controls lets you operate the device handily. If you want to listen to brainwave then you should go with these headphones that are meant for meditation freaks.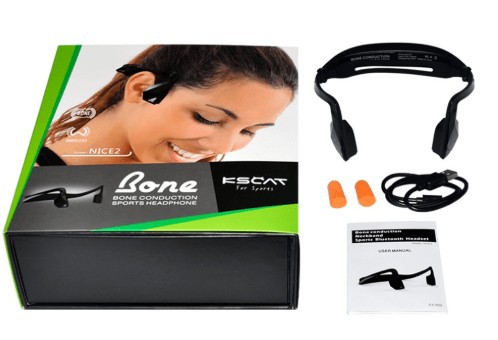 Pros:
Includes mute earplug
Sound is clear and crisp
Good playtime- up to 6 hours
IPX6 waterproof rating
Comfortable to wear for extended periods of time
Calling is pretty clear and loud
Great value for money
Cons:
Bass is not deep
Sound leakage
What to consider while buying the best bone conduction headphones?
Wired/wireless
Bone conduction headphones can connect to your device via a cable or by Bluetooth connection. While the wired connection is effective for most bone conduction headphone uses, wireless gives more freedom of movement.
You don't have any cables to worry about while running or exercising. However, wireless headphones use batteries, so there's a limit to how long you can listen to music at a stretch.
Sound leakage
How much sound gets out of the headphones while you're listening to music? If there's a lot of leakages, it may distract others if you're in an office for instance.
If the leakage is excessive, it can leak in through your outer ear canal, thereby defeating the purpose of bone conduction in the first place.
Comfort and fit
This becomes even more important if you move your head around a lot while wearing the headphones. A firm fit is important while running and exercising.
You don't want the headphones falling off while you're on the treadmill or lifting a few weights.
Also read:
1. 20 Best Bass Headphones That Vibrate Your Ears
2. 7 Best On-Ear Headphones Under $100 (Bang For Your Buck)
FAQs on bone conduction headphones:
Do bone conduction headphones really work for hearing loss?
Mostly, yes. As long as you have at least one functional inner ear (cochlea), bone conduction headphones will work for you. People with conductive hearing loss or a one-sided hearing issue can benefit from it.
What is the difference between regular headphones and bone conduction headphones?
Bone conduction headphones do not transmit sound directly into your ears, so they might create poor sound quality as compared to regular headphones.

But, if ambient sound awareness is what you're looking for, then bone conduction headphones are ideal for you. That's because your ears are not covered with these headphones whatsoever.
Are there any dangers of bone conduction audio?
Even though it's not truly direct transmission of sound, it is still dangerous to listen to music at very high volumes with bone conduction headphones.

People with a hearing impairment must avoid overusing them.
Can you use bone conduction headphones along with hearing aids?
There might be a slight problem if you are using a behind-the-ear type of hearing aids. Apart from that, it is completely suitable for any sort of hearing aids.
Difference between Wired and Wireless bone conduction headphones?
Both use the same bone conduction technology for sound transmission, only the connectivity to the streaming device is what differs.

Wired headphones, as the name suggests, require a cable to form a connection with streaming devices, whereas wireless headphones utilize Bluetooth connectivity for the same. Both styles are to be worn around cheekbones.
Can you use bone conduction headphones with Smartphones?
There might be a slight problem if you are using a behind-the-ear type of hearing aids. Apart from that, it is completely suitable for any sort of hearing aids.
Are bone conduction headphones waterproof?
For water-resistant features, you need to check the IP rating given on the product. Higher the number, greater will be the protection against water or sweat.
Final thoughts
Lately, Bone conduction technology has bagged a lot of popularity and has gone through impressive amendments over the past few years.
In a nutshell, bone conduction headphones are hands-down one of the best solutions for users who want to enjoy the music without isolating outside noise.
Better yet, these are a great option for people with conductive hearing loss or hearing issues on just one side of the ear.
If we had to choose one, Aftershokz Trekz Titanium is, without a doubt, one of the Best premium-quality of bone conduction headphones available today in the market with durable construction and flexible design.
These headphones are not good at bass. You may want to look at some of the headphones like JVC that are specially meant for bass if you are a bass-head.