Have you ever asked yourself why your track doesn't sound like the professional one? Well, have you ever used saturation plugins?
Do you know what is saturation, when, and where to use it? This article might give you some answers and help you to improve your sound.
Saturation is a subtle distortion that gives that pleasant, almost retro, analog sound to your track.
It has always been used in studios to give the track more warmth, first by using analog gear and now by using plugins.
You can use transistor, tube, tape, or circuit saturation plugins to add, so-called, soft-clipping that sounds vintage and warm. This way you will emulate the sound of analog gear.
Saturation could be your secret weapon for getting the sound we're all listening to on the radio.
Sounds interesting? Then let's jump to the 7 best saturation plugins.
Top 7 saturation plugins reviewed
This plugin is an absolute monster and one of the most used saturation plugins in professional studios. The ability of this plugin to emulate analog gear is amazing!
It has five different analog saturation models. Use these models to add subtle saturation but also if you need an extra push of the gain to add more color and distortion to your sound.
These models are:
"A" – emulates the Ampex 350 tape drive amp. This model will give you 1950s sound similar to Motown sound.
"E" – the sound of Chandler/EMI TG channel. This channel gives a beefy low end with smooth and airy highs. Think of Abbey Road studio sound.
"N" – model is an emulation of Neve 1057 input channel. This is an early Neve sound that will give you the sound of transistors with very focused mids
"T" – model is emulating Culture Vulture's first ever triode distortion (for studio usage, not only guitar). This tube-driven harmonic distortion will give a beautiful warmth to your vocals, drums, keyboards, and almost everything.
"P" – another Culture Vulture distortion but this one is pentode. This type of distortion is usually used in guitar amplifiers ' outputs.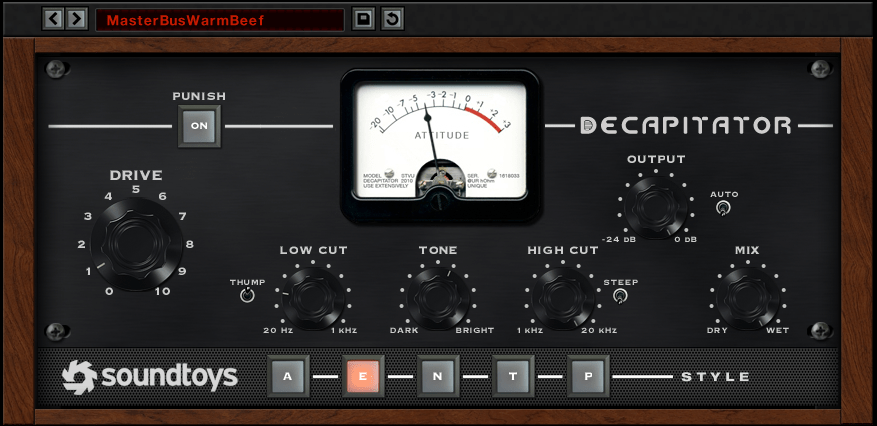 Key features:
The real analog sound
5 models give you more options to create the desired sound
Give an extra push of distortion and gain to your track with the "punish" button
You can achieve great results on almost every instrument and vocals. Decapitator gives natural, warm harmonics to the vocals.
Add an EQ and compression and you're done with the vocal chain! It also works great on bass, synths, and drums. And last, but not least, give your mix a final analog vibe with this great plugin.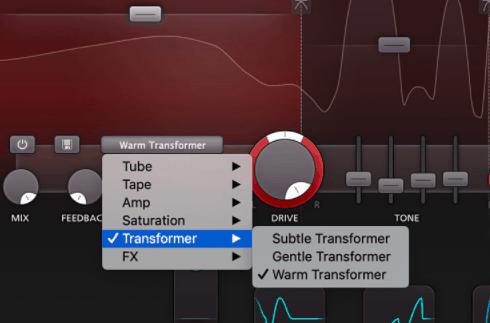 Another great saturation plugin, and personally one of my favorites. The whole FabFilter bundle contains all the plugins you need for mixing and mastering such as EQs, reverbs, delays, saturation, multiband compressors etc.
Saturn 2 will give you a huge variety of saturation modelers, from tapes and tubes to transformers and amps. It is a very musical plugin and very easy to use.
Default setting allows you to choose between different types of saturation. Let me name some of them:
All-around (clean tape, faster master, hip hop puncher, magic mastering, the tube, tube transients, warm tube base)
Best of (basic saturator, old tape crunch, tape smash, boutique)
Drums (808 designer, kick shaper, little spice add, liven up acoustic drums, lo-fi maker, scooper)
FX (asymmetric destruction, bit crush, broken tube, LoFi, taped mids)
Guitar amps (crunchy, lead, rack, smooth, stomp)
Mastering (clean tape base, faster master, VariSaturator, warm tube)
Midi triggered (synth, the rizer)
Saturation (basic, de-impact, gentle, lightly driven, buzzer, vintage narrow, vinyl)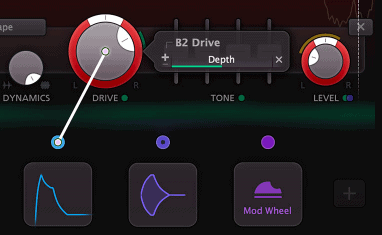 All of these saturations are already made and can be a good starting point for the sound you're looking for. The plugin allows you to extra tweek all the presets to find the best saturation for your track.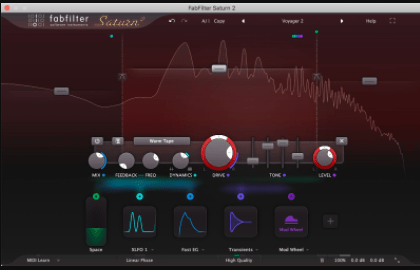 Key features:
Huge variety of different saturation emulators
Tweek all the presets to get the desired sound
Clever and very intuitive
If you want to invest your money in just one plugin that will cover all your saturation needs, this one is a winner! It will do a great job on vocals, bass, drums, guitar, synth but also as a final touch of your mastering.
Black Box is an absolute king of master bus' saturation plugins. Warmth and richness of this plugin has been recognized by all the professional mixing engineers in the music industry.
The sound of it's tube emulation will give a beautiful character to your track by adding subtle harmonics and very musical distortion.
Choose between triode or pentode tubes or combination of both to color the sound of your master track.
There's a switch to choose between coloring lows, high or the full frequency range of the track. Add a beautiful silky high at the top end of your vocals, strings or master track by turning on the Air knob.
You need some overdriven distortion for your guitar tracks?
No problem, Black box can do that too! Boost the pentode gain and dial some AX7 tube saturation and you will be surprised by the sound this plugin will deliver.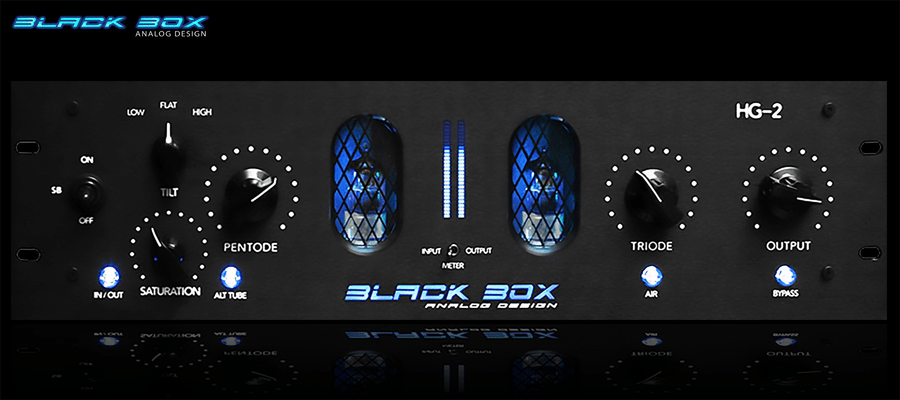 Key features:
True analog, tube saturation sound
Input and output transformers
Great design
Extremely musical plugin
Air control for harmonics over 10kHz
Black box is definitely a must-have plugin for your master bus or mix tracks. The sound of this plugin is recognized by so many professional sound engineers.
But being probably the best master bus plugin is not the only advantage Black box has. Use it on your bass guitar, drums, guitar, strings or vocals tracks as well, you'll get fantastic results.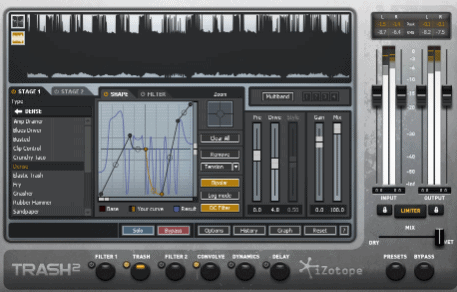 Generally speaking, iZotope products are among the most used plugins in music production. iZotope Trash 2 is a very versatile plugin that will give you many options for distorting your sound.
It has over 60 different distortion algorithms, but the plugin also allows you to make your own algorithm. These algorithms range from soft, very natural sounding harmonics to fully distorted transistor sound (think Nine Inch Nails).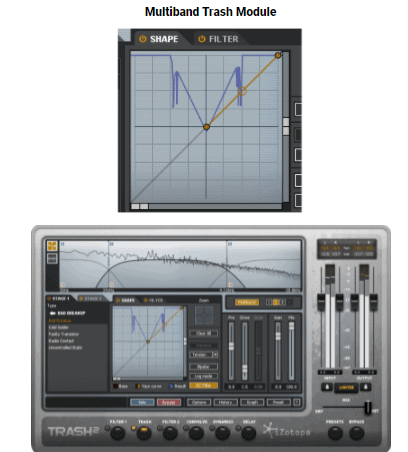 With 4 frequency bands and more than 20 filter types, this plugin will fulfill all your needs for your track saturation. After you choose the proper distortion algorithm and filter for your track, put some compression (multiband) and/or some effect like slap delay to distort the sound. The Trash has it all!
Key features:
Dual distortion module
Multiband compression
Delay effects
Distortion equalization (pre and post)
Use iZotope Trash 2 to saturate the sound of your guitar, bass guitar, drums but also vocals. The huge variety of its algorithms gives you so many options, just take your time and experiment with all of them.

This sweet, little plugin works in two saturation modules, two band and broad-band mode.
If you want the sound of tube/valve amplifier saturation, go with the two band saturation.
It will boost the loudness of your track (will not increase the peak levels) and add some subtle harmonics. If you push it a little more, it will give you a fuzzy valve sound.
Need a smooth saturation to amplify your track? Go with the second module which is digital waveshaping saturator.
Both of the modules will enhance the harmonics of the single track you're saturating or a mix bus of your track. Used as a mix bus saturator, Varisaturator will make a perfect glue to your mix.
Key features:
Two modes of processing (two bands and broad-band)
Valve and digital saturation
Multi-channel processing
Compared to its competitors, Varisatorator is pretty affordable. This is its main advantage. Use this plugin to saturate the sound of your drums track (excellent for processing hiphop style beats), bass track or your final master bus.
Audified U78 is a beautiful, vintage-looking saturation plugin. It's a valve-based plugin that emulates the sound of the vintage U73b compressor.
The manufacturer claims they found the perfect match between the analog gear and modern design and usage.
The plugin is pretty much easy to use. There are three main knobs:
Gain knob to adjust the amount of input saturation gain
Output knob
Mix knob controls the dry/wet signal ratio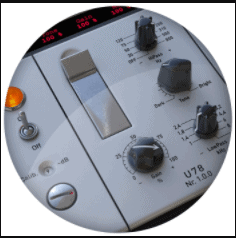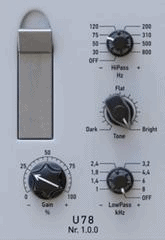 Next to these knobs there are highpass and lowpass knobs to control the frequency range you want to compress/saturate. Additional knob is the tone knob (choose between dark, flat or bright) which controls the tone filter.
And that's it basically! Very simple to use but very musical and vintage sounding plugin.
Key features:
Easy to use
Beautiful, vintage design
Sound of the U73b compressor
Over 60 saturation presets
This saturation plugin is so easy to use and has more than 60 saturation presets. That makes the plugin the perfect match for the production beginners, but also for the very experienced professionals.
Use this plugin to saturate your drums, bass, synths, vocals or muster bus, but experiment with all the other instruments to get the desired sound.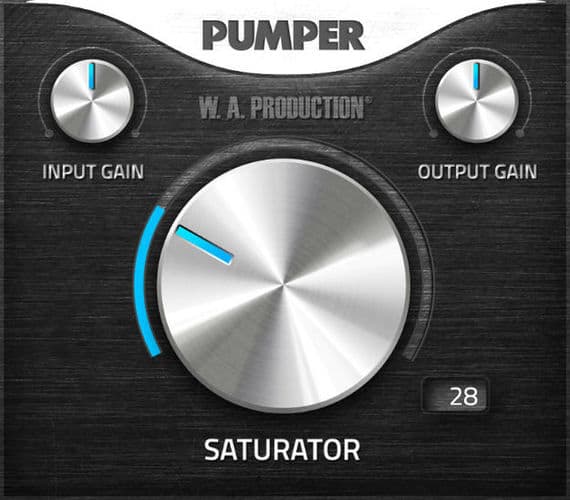 W.A. pumper is a small, extremely easy to use saturation plugin. With only three knobs, this plugin is perfect for beginners.
Beside the input and output gain controls, there's only one more knob simply called Saturator. Dial the amount of the saturator knob to get the light saturation or fully distorted sound.
This plugin will give warmth and depth to your track and will sound great on almost everything, from vocals, drums bus and bass to master bus.
Newer versions of this plugin will also give you the option to compress the track. The compressor comes in 4 different modes:
Punchy – great for drum kick, gives more punch
Clean – great for vocals and acoustic instruments, gives subtle saturation
Fat – brings bottom end
Soft – will glue your master bus
This version of the plugin also has a stereo image knob which will make your track sound wider and bigger.
Key features:
Simple design
Very easy to use
All features in one or two knobs
Use this plugin to saturate the sound of your drum kick, drums bus, bass, vocals, synths, guitars or master bus.
Also read:
Conclusion
Saturation has always been a great tool to achieve the richness, warmth and vintage vibe of your track.
These best saturation plugins will help you with the muddy tracks, making them sound more upfront and pleasant for listening.
They will compress your sound making a perfect glue for your master bus tracks but will also distort the sound the way you want.
Use saturation plugins carefully, don't dial a huge amount of the saturation if you want to get warm, vintage sounding vocals.
On the contrary, turn the saturation up to get distorted, heavy processed sound of your guitars, bass, synths or master bus.
Experiment with these plugins until you get the result you want. And don't forget, saturation can be your secret weapon to achieve that vintage, but also a modern, heavy distorted vibe we're all looking for!