Okay, I get it, you are looking for that perfect "groovy mojo sound" from your keyboards…
Right?
You perfectly know you gotta find a Rhodes piano to record. But as always, they are bulky, heavy, and hard to find.
What do you do then?
Very simple, you find a Rhodes VST that sounds great, you perform the parts and record them!
Are there good Rhodes VST out there that can actually give professional results?
Absolutely!
And we will show you five of the best Rhodes VST plugins from the market so you can pick your favorite.
Cool fact, we will give you both paid and FREE options, therefore you don't need to break your bank!
Also, keep in mind if you need to find anything else related to audio plugins, you can always check my website: https://www.soundmaximum.com/plugins/
| # | Products | Compatibility | Plugin formats | Product link |
| --- | --- | --- | --- | --- |
| 1 | Lounge Lizard EP-4 | Windows and macOS | VST, AU, AAX | Link |
| 2 | Mark One | Windows and macOS | VST, AU, AAX | Link |
| 3 | Electric 88 | Windows and macOS | VST, AU, AAX | Link |
| 4 | Sweetcase | Windows and macOS | VST, AU, AAX | Link |
| 5 | 4Front R-Piano | Windows and macOS | VST, RTAS | Link |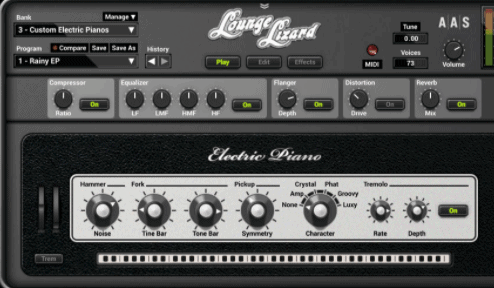 Lounge Lizard EP-4 is the Rhodes electric piano emulation designed by the company Applied Acoustics.
It is available on both macOS and Windows systems under the VST, AU, and AAX plugin formats.
This plugin will open in your DAW as its own interface, no need to wire it as a Kontakt or Native Instrument device, making its installation very easy.
The graphic interface resembles the same controls you would find on a real Rhodes piano, making it very simple to operate if you have used the real version in the past.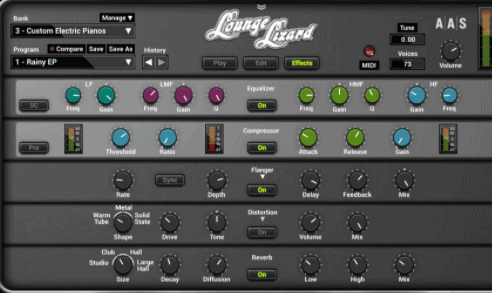 There are several panels that let you tweak the most common aspects of the sound, such as the Play Panel. But you can also go into the "Edit" panel and tweak it more in-depth if needed.
The VST includes more than 240 presets that are designed for recording or playing live, so realistically you don't even need to know how to configure the parameters, you can just simply scroll through the presets until you find the right sound!
Some of the electric pianos included are tine-based, reed-based, pianorgans, classic electric pianos, etc. The way the presets are labeled makes it extremely easy to locate the desired sound.
Pros
The 240 included presets are perfectly designed to work right out of the box, saving you hours of tweaking
The effects panel included lets you add post-instrument effects in order to make it "mix-ready" for your song, all in the same VST.
Cons
We have not found one yet!
Bottomline: Lounge Lizard EP-4 is one of the most complete Rhodes electric piano solutions on the market if you are looking for a VST that is ready to be operated and yields great sounds.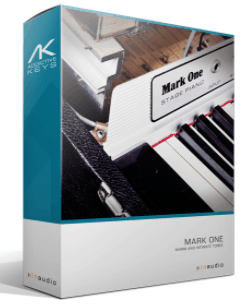 Mark One is a VST instrument developed by the company XLN Audio that emulates the sound of the Fender Rhodes Mark 1 piano.
It is available on macOS and Windows platforms as a VST, AAX, or AU plugin format, therefore any DAW will be able to open it.
[It is crucial to understand, this VST only emulated the Rhodes Mark 1 piano from Fender, so if you are looking for another flavor of electric piano this might not be your best choice.]
The instrument was recorded and sampled using 7 different recording techniques, with several mic positions as well as a "direct" option, letting you obtain different types of sound from the same instrument.
The basic controls included resembling the same knobs of the original Mark 1 such as tone, drive, reverb, and tremolo.
However, there is also an "Edit" page that will let you tweak other parameters like the microphone position, line contribution, tube drive, equalizer, phaser, filter, and even a pitch envelope.
These controls let you modify the overall tone of the instrument by simple amounts or completely "destroying" it if needed.
It comes with several presets that you can scroll and find the desired tone, but you are always encouraged to dig deeper into the "FX" page and obtain more creative tones.
Another cool feature, you can run it standalone, perfect for your live shows!
Pros
Amazing emulation and sampling of a Rhodes Mark 1 electric piano due to its seven different recording techniques used to capture it.
Works on any DAW as well as standalone for live performance purposes.
Cons
No other sounds besides the Rhodes Mark 1, unfortunately.
Bottomline: If you want a perfectly sampled Rhodes Mark 1, and nothing else, this is your best bet, totally.
Electric 88 is the virtual emulation of the electric piano designed by the company Waves.
This plugin is available on macOS and Windows systems and it can run in any plugin format as well as a standalone application for live performances.
The graphic interface resembles a typical electric piano from the 70s with knobs and sliders in the same position! You will feel at home as soon as you open this plugin.
It was sampled very carefully in order to capture the original nuances and non-linearities of a road-worn electric piano. So yes, it has that funky sound that you are all looking to obtain!
The VST comes with a section that lets you mix the number of tines, mech, key up, and main, in order to tweak the overall tone of the instrument, just like if you had the real thing in front of you.
There is a 3-band EQ built-in, a drive control, as well as a microphone selector that lets you switch between a dynamic and a condenser microphone.
All of these options let you tweak the original sound of the keyboard before it is even played!
In parallel to these controls, the people at Waves added emulation of a rack unit that does all kinds of time-based effects such as reverb, delay, tremolo, and phaser, adding really cool effects to your output signal.
Pros
A good amount of time-based effects included shaping the final sound of your instrument
Extremely easy to use the plugin, ideal for first-timers or people used to the old-school instrument.
Cons
Not a lot of dynamic controls are included, so you might want to consider adding a compressor after.
Bottomline: Waves designs incredible plugins of all kinds, and Electric 88 is not the exception. If you want that funky-soul road-worn tone of the electric piano, choose Electric 88, you won't be disappointed.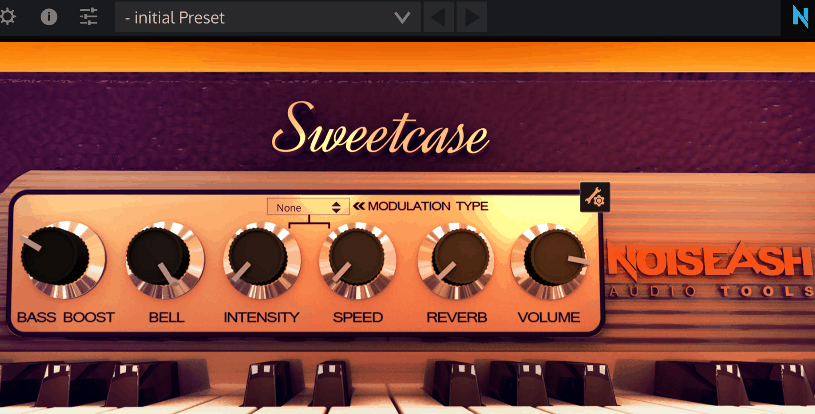 Sweetcase is a FREE virtual instrument developed by the company Noiseash.
This plugin emulates the sound of a classic electric piano with a very simple to use interface and a streamlined operation.
It is available on both macOS and Windows systems under the VST, AAX, and AU formats.
And yes! It is totally free, so if you are on a budget, this could be a good option to explore.
The piano was recorded using vintage analog gear in order to obtain that vintage vibe sound that characterized these keys.
It comes with a 3D graphical user interface that is extremely easy to operate with every knob and control properly labeled for any user.
This GUI is actually resizable to fit on virtually any screen size, great for laptops or desktops.
Some of the controls included on the knobs are bass boost, bell, intensity, speed, modulation, reverb, and volume, very close to the original actually.
You also have a dedicated processing window that has additional tone-shaping options such as envelope, phaser, EQ and reverb, for even more control over the overall sound.
The plugin is designed and optimized so that you don't need a strong CPU to run it, making it super friendly on older systems.
Pros
Very intuitive operation, ideal for beginners and pro users.
A resizable GUI makes it good for laptops.
Optimization for older CPUs lets you use it on your old computer!
Cons
No standalone operation, so you will always need to have some kind of DAW in order to use this plugin.
Bottomline: This is an amazing free option for a Rhodes VST. It sounds good, it is easy to operate and friendly to all users. A must-have in your toolbox!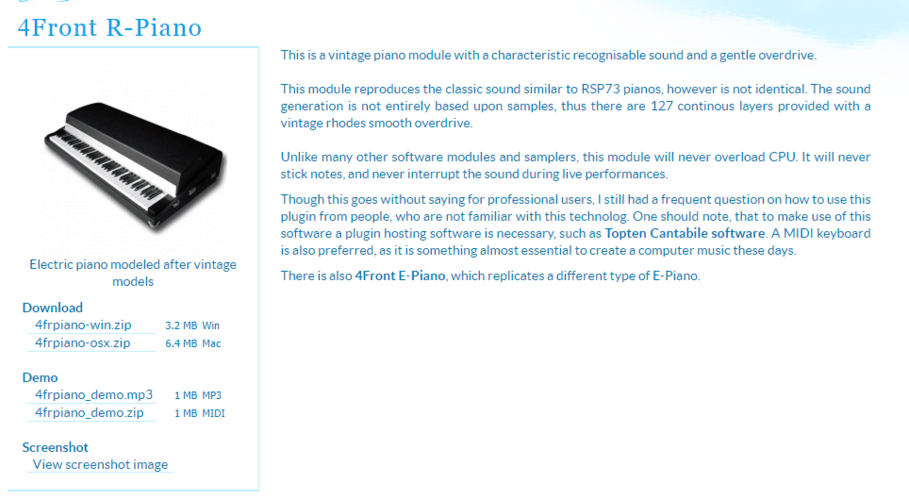 4Front R-Piano is the electric piano emulation developed by the company Yohng and available on both macOS and Windows systems.
This plugin is completely free and available in VST and RTAS format.
The VST emulates the sound of a vintage electric piano with its inherent overdriven sounds that made them famous during the 70's era.
The design is extremely lightweight so that it will never crash the computer or host system, especially for users who need this for a live performance instrument.
The graphic user interface is very poor and simple, with no controls that resemble the "real instrument" but a simple digital interface.
Some of the controls include dynamics, overdrive, reverb, ADSR envelope, and volume. Extremely simple, yet not friendly-looking.
R-Piano does not have any other effects or important features, unfortunately.
Only one set of samples is included, and basically is played back every single time, with different velocities.
Pros
Super lightweight, will never crash your system
Totally free!
Cons
Horrible GUI
Only one set of samples included
Poor selection of controls
Bottomline: If you download and install 4Front R-Piano you get what you paid for, nothing. Very simple, very poor, not recommended.
Conclusion
Are you looking for the ultimate radio-ready sound for an electric piano virtual instrument? If you answered "yes", then go buy Lounge Lizard EP-4.
There is simply no way to beat that 240+ mix-ready presets included!
Now, let's suppose you want to be even more specific, you want the perfect Rhodes Mark 1 emulation. You want the exact same sound of that particular flavor of Rhodes… The answer is simple, Addictive Keys Mark One.
The way the people from XLN Audio sampled that Mark 1 keyboard is simply flawless.
Oh, wait for a second… Are you on a budget but still need something that sounds decent?
Go downloadSweetcase by Noises
Read Also: 7 Best Melodyne Alternatives (Free & Paid Included)