Today in this post we are going to review the best Appreggiator VST plugins. There are plenty of free and paid VST plugins available on the market.
But choosing the best Arpeggiator VST Plugin is highly important. We have researched a lot and narrowed down it to the top 7.
Are you an electronic music producer or MIDI enthusiast? Then this article is for you, my friend!
Are you a Mac or Windows user? No worries, we will be showing VST plugins that are compatible with both O.S.
By the way, are you willing to pay for them? No problems, we will present both paid and freeware options.
We have made a list of the top 7 Arpeggiator VST Plugins for Mac and Windows.
The list contains these plugins: Kirnu Cream, Cthulu, BlueARP, Thesys, Consequence, Podolski, Hypercyclic.
Do you recognize any of these names? Trust me, you will after reading this.
Even if you are currently using the Logic, Ableton, Reaper or FL Studio Arpeggiator, this article will be useful for you.
Which ones do you think are the best Arpeggiator VST plugins?
Let's find out!
What is an Arpeggiator VST plugin and why should I use it?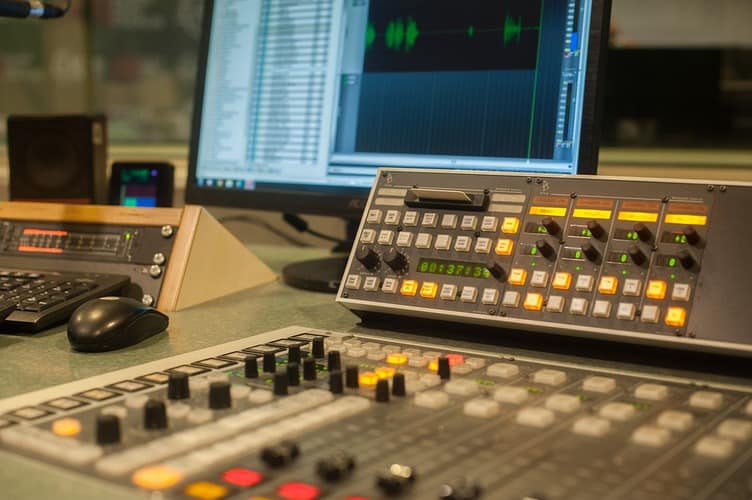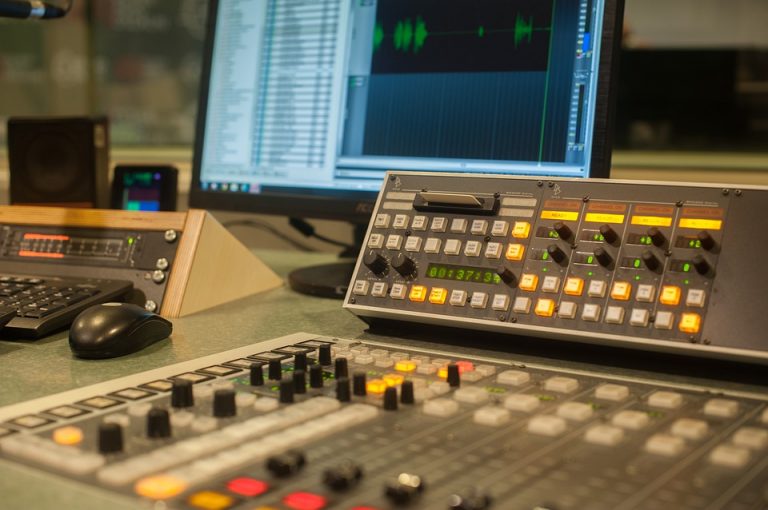 An Arpeggio is a chord that has been separated into its individual notes and played in a certain order.
When working with the DAW you can manually create an arpeggio by recording the notes during your performance.
This approach requires you to have some kind of piano performance skills.
If you don't have piano skills, the procedure above could be tedious. Here is where software-based Arpeggiator plugins come handy!
Arpeggiator plugins are MIDI insert effects added to any MIDI or instrument track in your DAW.

They contain presets that are triggered by the chords or notes you perform on your MIDI keyboard.
All modern DAWs such as Ableton, Logic, FL Studio and Reaper come with built-in Arpeggiator plugins. However, they might not come with all the functions that you are expecting.
If you are not happy with the features included in the built-in Arpeggiator, you may consider installing a third-party Plugin.
Here are the top 7 Arpeggiator VST Plugins:
Overview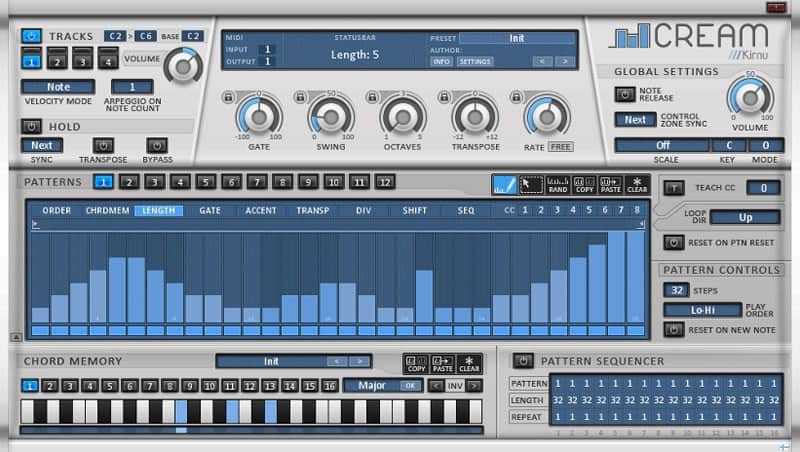 Read Also: River Flows In You (Yiruma) – Easy Piano Notes With Letters
Kirnu Cream is a VST and AU Arpeggiator plugin. It can work on MAC and Windows and it is compatible with 32 and 64-bit systems.
The plugin was designed to be used in both live and offline DAW situations.
It comes with a simple and intuitive graphic interface that makes it easy to learn and operate.
Features
This plugin is really food for users who perhaps have no chord-building experience (like me!).
Because it comes with Chord memory options that let you compose a full chord by simply pressing a single key.
If you have liked any chord then you can store it on 16 different memory slots.
You can re-use them in future productions, making the composition process faster every time.
Great for producers who need the desired sound quickly.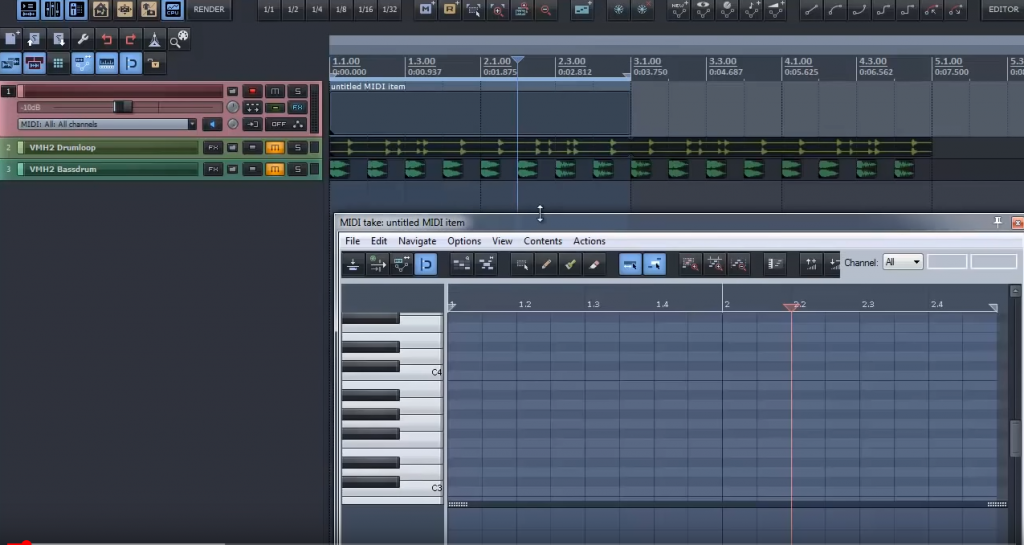 You can also invert chords with a single click so no need to know the cumbersome theory behind this process.
Cream comes with a rock-solid MIDI engine that generates MIDI notes with no sample errors. If you are a user looking for precision, here it is!
Bottomline:
The plugin comes with so many memory slots, MIDI engines, and Arpeggiator patterns. Thus making this ideal for the producer trying to use the plugin as an aesthetic tool.
The sonic results obtained from this software are endless, making it more than a simple Arpeggiator.
Cthulu – By Xfer Records
Overview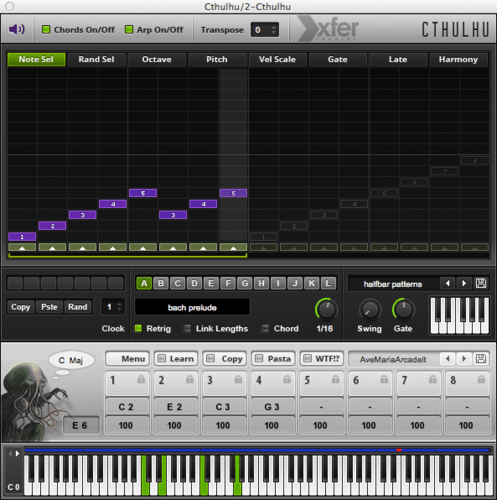 Cthulu is a versatile MIDI plugin that can work on MAC or PC. It is available in VST, AU and AAX format (yes! AAX format! It works in Pro Tools!)
This piece of software is actually a combination of two MIDI modules: a chord creator tool and an Arpeggiator.
Therefore, this can create a simultaneous group of notes from a single or a progressive group of notes from a chord input.
Features
It includes a Chords Module that lets the user define several chord progressions by pressing individual keys.
Thus great for the creative individual trying to define a sonic bed fitting a pre-recorded vocal melody for example.
Hundreds of chord progressions make the production process even faster by simply scrolling through the available options.
There are Chord-sorting options available such as Circle of Fifth or Chromatic. This is ideal for formally trained musicians who know exactly what they need.
The Arpeggiator Module includes a step-sequencer with 8 tabs for users to modify MIDI notes in a more complex manner.
This module is designed to cover all users types; from the beginner enthusiast who only needs the basic functions to the most experienced producers covering advanced operations.
Bottomline:
This plugin includes two modules in a single piece of software, which is ideal for producers on a budget.
The Chords Module is ideal for the producer trying to speed up the production stage of auditioning different chords.
The Arpeggiator Module has vast complex functions ideal for the pro-user, but also comes with many presets designed for beginners.
BlueARP– Best free VST plugin
Overview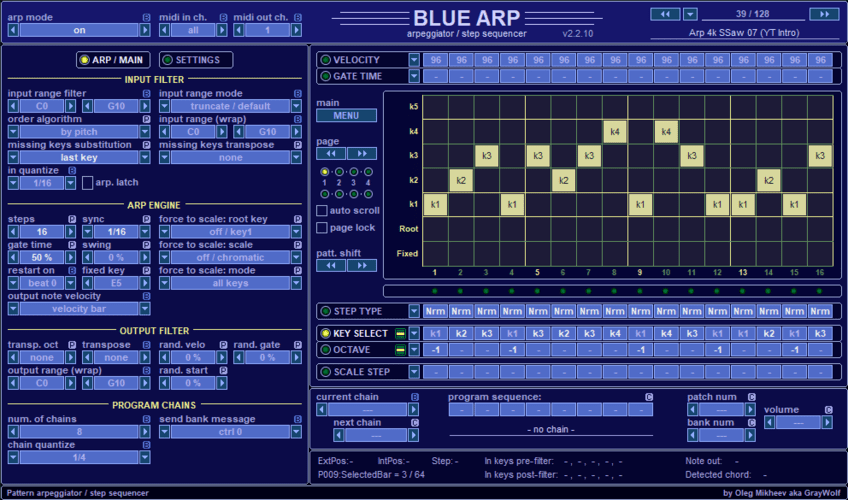 BlueARP VST is a MIDI Arpeggiator plugin developed by an independent programmer called Oleg Mikheev a.k.a GrayWolf.
It is based on a programmable pattern Arpeggiator and step sequencer. BlueARP comes in VST format compatible with Windows and MAC in 32-bit and 64-bit versions.
Oh, and it is totally FREE!
Features
BlueARP comes with a matrix editor that lets the user program the arpeggiator in a more graphic manner, thus making it easier to work overall.
Each pattern can hold 64 steps, giving the users a really good resolution on the Arpeggiator, enough for the vast majority of Arpeggiator needs.
It can process 5 keys being pressed at the same time, so if you are creating chords with your whole hand, every single note will be taken into consideration.
Great for producers who have piano skills and can simply play the exact chords that need to be "Arpeggiated".
The output can be routed to virtual instruments as well as hardware synths, ideal for the hybrid-studio approach.
Input quantization in real-time is available. If you are a player having issues with timing during the performance, this is going to be helpful for you!
Bottomline:
For being an independently-developed software, BlueARP is extremely useful for producers and musicians trying to replicate the functions of the old-school analog pieces of gear but with the added functionalities of modern software design.
It is quite versatile since it was developed for electronic music genres but it can also have some uncommon or unexpected applications like triggering drums with its swing feature.
Also, the price is right.
Overview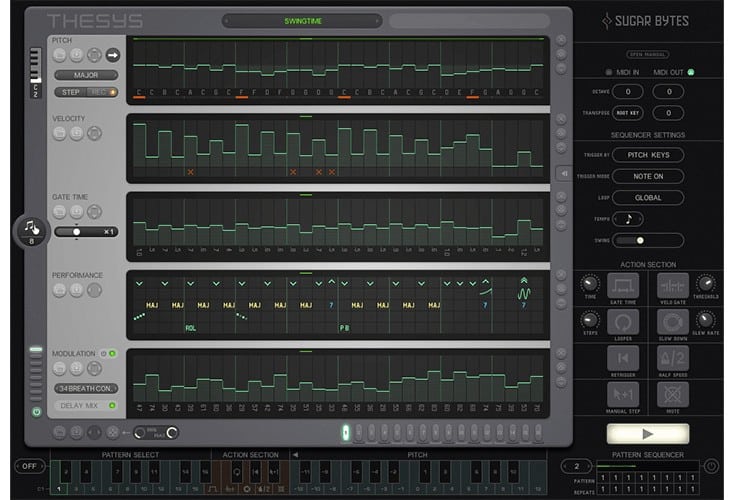 Thesys is basically a step sequencer that contains five MIDI engines, each covering a different type of MIDI data. It is available on MAC and PC as VST, AU, RTAS and AAX formats.
The step sequencer approach lets the user program riffs and arpeggios triggered by incoming notes.
This software also has an embedded internal synthesizer and it can be used live and in the studio.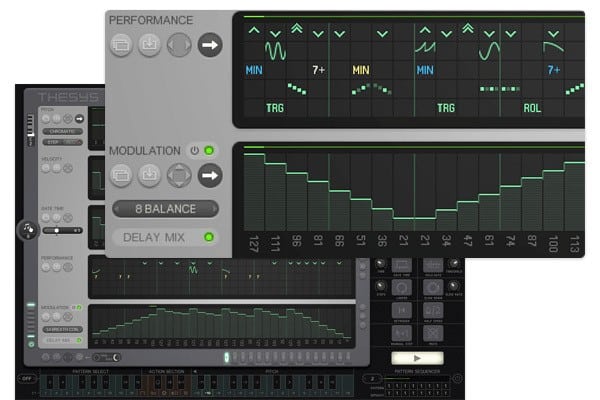 Features
It comes with a very intuitive and easy to operate 32-step sequencer for programming the Arpeggiator patterns that most users can operate with simple clicks.
It includes its own synthesizer. This is ideal for users trying to sketch the basic ideas that can later be replaced by the actual virtual synthesizer triggering the arpeggio, ultimately speeding up the pre-production.
The randomizer included is seen as the "secret sauce" from Thesys, because it lets the user obtain very creative and different results on-the-fly.
If you are looking to utilize the MIDI information from Thesys in your favorite DAW to trigger a certain instrument, you can now do it by simply dragging and dropping the MIDI output as a common MIDI file. As simple as that!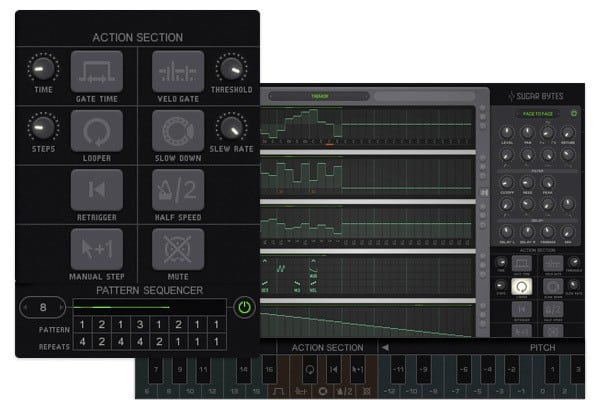 Bottomline:
Thesys is a great MIDI step-sequencer Arpeggiator software. It lets the user operate pretty much all options that could be imagined on a simple "all-in-front" graphic interface that is easy to understand.
The added value of its embedded synth makes it even more attractive to producers and musicians trying to create music and complex ideas out of a few notes with its deep Step Sequencer and Arpeggiator functions.
Overview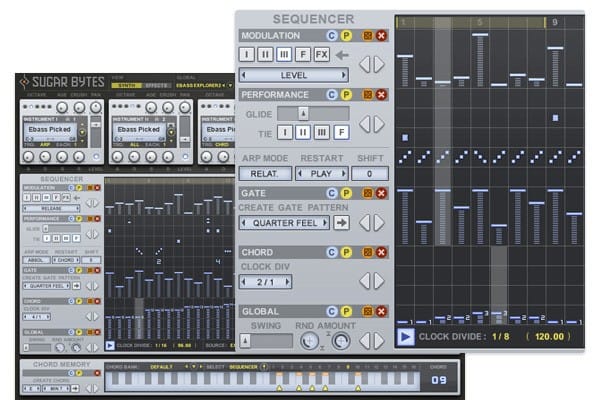 The Consequence is an Arpeggiator and Chorder developed by Sugar Bytes. It is available for MAC and PC in VST2, AAX, AU and standalone formats. It works for both 32 and 64-bit versions.
The standalone capability lets the user operate this software without the need for a specific DAW making it ideal for hardware manipulation on live situations.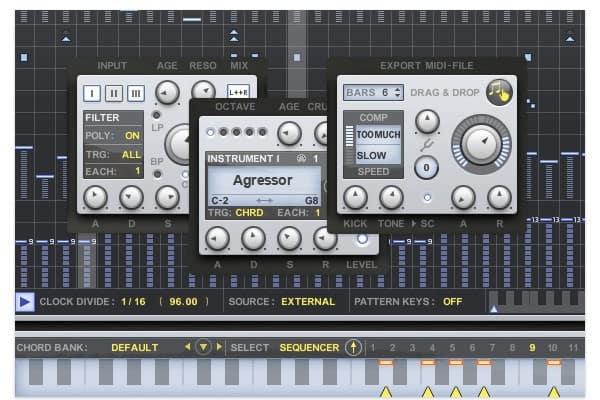 Features
Consequence operates three instruments that work in tandem with the Arpeggiator.
These instruments can be combined in many ways in order to obtain a more complex sound output.
Thus ideal for producers working on sound design, sound FX and sound for video games.
The library of sounds is very large; therefore users should be able to easily find the correct instrument needed for the desired purpose.
Users have vast control over the arpeggiator patterns, making it possible to yield very original rhythmic results by tweaking them.
A module dedicated to multi-effects was included so that the producer can shape the sound coming out of the device to obtain "mix-ready" results.
The MIDI Output can be used to trigger other virtual instruments, DAWs, and hardware units. Ideal for the user trying to link every single piece of equipment into a global MIDI system.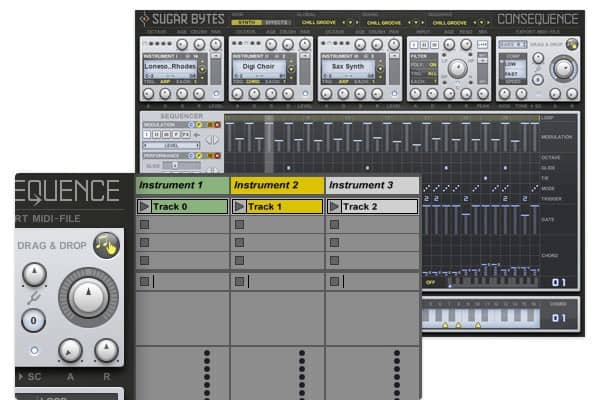 Bottomline:
Consequence is a versatile and easy to use MIDI sequencer that includes plenty of functions from different types of software in a single enclosure.
This program not only provides step sequencing features such as the arpeggiator and chord creator, but also a long library of sounds such as acoustic instruments, synthesizers, and other vintage machines.
It also has a module for effects in order to sculpt the sound, which makes it a one-stop-plugin for producers to obtain the perfect sound out of the instrument.
Overview
Podolski is a simple, CPU-efficient, virtual synthesizer based on subtractive synthesis.
It has all the elements that a standard subtractive synthesizer would have, such as an oscillator, VCF, LFO, VCA, time-based effects and an arpeggiator.
This instrument is available on VST, AU and AAX formats for Windows, MAC and Linux operating systems, on both 32 and 64-bit versions.
And once again, it is completely free of cost.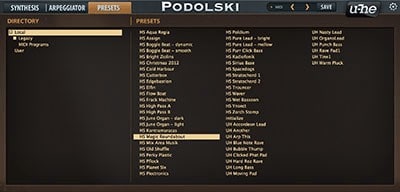 Features
It has all the controls from a subtractive synthesizer, therefore if you are a user with experience with Mini Moog's, it should be very easy to understand.
Podolski also has an Arpeggiator embedded with a 16-step sequencer, giving the user the standard arpeggiator functions such as Steps, Length, Gate Voices, all found on pretty much any arpeggiator from the market.
This plugin can recognize up to 16 keys pressed at the same time, making it polyphonic. Great in case you have 16 fingers!
It comes with more than 500 presets, so that inexperienced users could technically just scroll through them trying to look for the desired sound.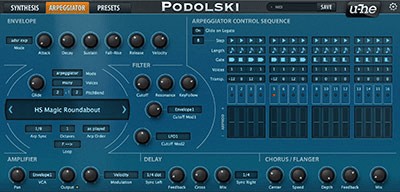 Bottomline:
Considering this is a free product, its functions are very powerful.
Having a subtractive synthesizer with embedded arpeggiator, step sequencer and over 500 factories presets makes this software ideal for sound design and electronic music producers.
In case users do not want to use the hundreds of presets included, pretty much all the parameters are configurable in order to obtain the exact desired sound.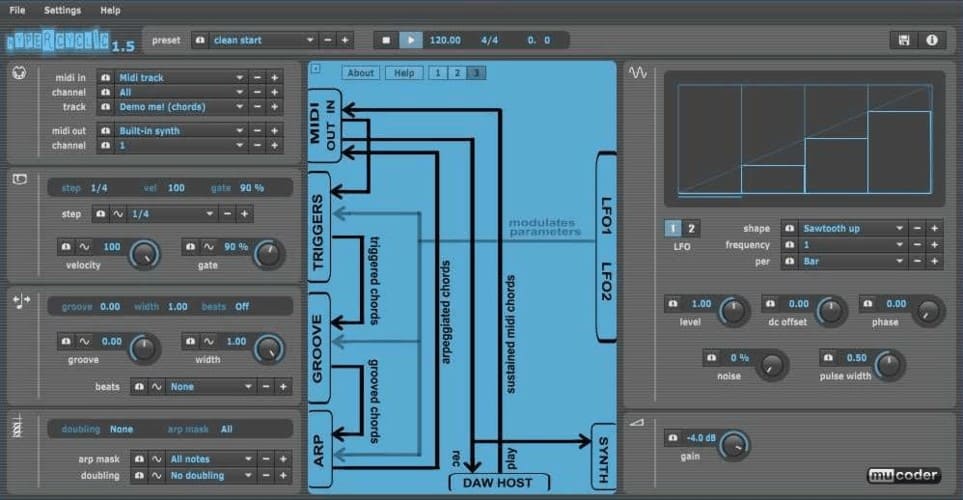 Overview
Hypercyclic is a MIDI arpeggiator controlled by a Low-Frequency Oscillators available on Windows, MAC, and Linux. It can be installed as VST, AU or standalone in 32 or 64-bit versions.
It is completely free, which is great, isn't it?
This arpeggiator's output can be used to trigger other MIDI instruments.
Features
Besides acting as an arpeggiator, it also provides gate effects and a step sequencer that can yield interesting "chopped" sound qualities.
The low-frequency oscillators can modulate several parameters of the arpeggio in a cyclic manner, ideal for producers working with electronic music, beat-based and tempo-synced productions.
Can be run in standalone mode, so that it is useful for live performers.
The step sequencer size can be modulated by one of the LFO's, obtaining "glitchy" sonic results, ideal for producers working with sound design and special FX.
It is great for live musicians looking to create arpeggiated patterns that can "push or pull the feel" of the performance because of its "groove function".
Bottomline:
This product can modulate plenty of parameters that regular arpeggiators can't. These functions make the product ideal for creative users, trying to experiment with different sounds and rhythmic feels both in the studio and during a live performance.
If you are trying to achieve sounds that yield anarchic, randomly syncopated patterns, this is for you.
Conclusion
And the winners of this review are: Consequence by Sugar Bytes, BlueARP by
GrayWolf and Podolski by u-he.
But why? Let's go one by one.
Consequence:
It can pretty much do-it-all. Arpeggiator, chord creator, sequencer and synth, all in a single piece of software.
It comes with a good amount of effects to mold the sound.
MIDI Out can trigger both software and analog synthesizers. So yeah, it is bilingual.
BlueARP:
Digital emulation of vintage analog arpeggiator devices
Input quantization available
Almost all parameters are programmable, great for MIDI geeks.
It is free!
Podolski:
Fully operating subtractive synthesizer with arpeggiator
More than 500 presets. You do not even need to know how to use it, just scroll through presets and you will find the one you like!
Another freebie!
Read Also: 7 Best Melodyne Alternatives (Free & Paid Included)