So you are getting into electronic music, kinda like your DJ friends, right?
And they all say the same thing…
You need to use synthesizers, multiple synthesizers to create that classic EDM sound.
They are all different, they all have different parameters, pots, switches, and even synthesis procedures.
But, which is the proper synth for you?
Some people talk about FM synthesis, others talk about subtractive, but the cast majority mention "GRANULAR".
So the question is, which are the best granular synth VSTs out there?
Should you look for the best synth vst? Do you need an arpeggiator VST?
Anyways, read this blog and you will know for sure, which are the best granular synthesis VSTs out there.
Top 6 Granular Synthesis VSTs reviewed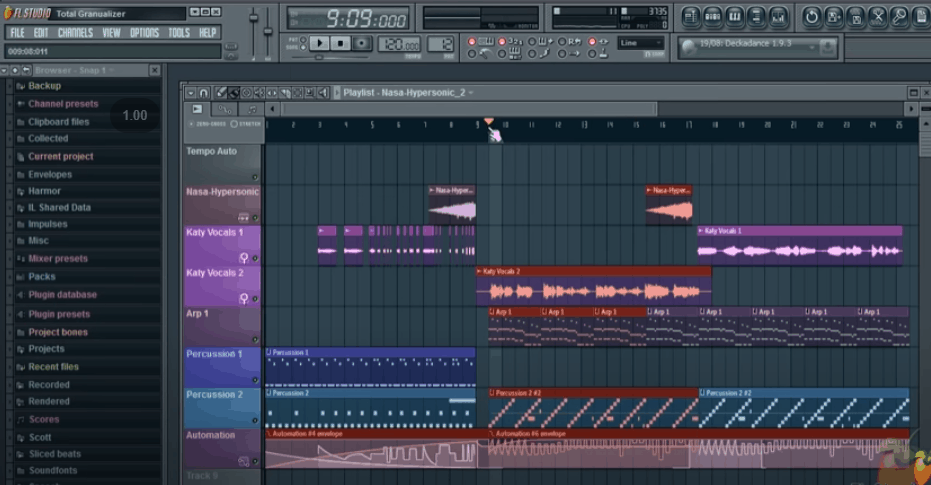 Fruity Granulizer comes with the FL Studio software embedded, no need to buy it as a third-party program.
The source material for the Granulizer is a wave sample loaded by the user, and the length can be controlled with its associated knob.
The effects include pan for odd and even grains, amplitude depth of the LFO, speed of the LFO, and randomization of the grain playback.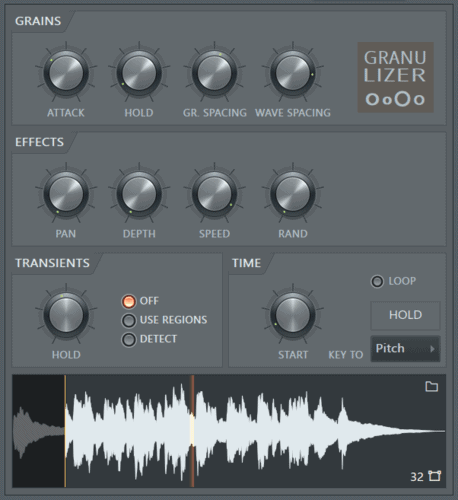 You can "hold" the transients using regions or auto-detecting them, giving you more creative sound effects and a modified "feel".
The included LFO that you can modulate, yields pitch changes and filter effects that can take your granular synthesis to a level of creativeness that is especially useful when creating cloud effects for foley.
Pros
Perfect integration with FL Studio since it runs natively in it
Easy to operate GUI with knobs and simple switches
Cons
The amount of special effects is too small, therefore not a lot of modifications can be applied to the original signal.
Bottomline: If you are looking for the most comprehensive, easy-to-use, and logical solution to granular synthesis while you are starting to learn FL Studio, you should get Granulizer. There is simply no way to beat the seamless integration it has with FL Studio.
The Mangle is the granular synth developed by Sound Guru, available as a VST instrument.
This software really has all the "bells and whistles" you can ever imagine.
It features a large XY area with a real-time grain display for you to check the behavior of the samples being processed.
You also have the Pitch and Tempo locking functions that can make your samples adapt to the music's pace, ideal for EDM and other beat-driven genres.
The program presents true stereo grains and multi-timbral layering, ideal to create the deepest sound design tones as well as cloud effects.
The modulation feature is very easy to operate, just drag the modulator to its target, then set the amount with in-place markers showing changes and run it! The results are very creative and aesthetic.
Pros
The plugin has 8 full 'slots' each with its own audio & parameters. It's like having 8 plugins at the same time.
Easy to operate under a streamlined GUI that has it all in our face.
Cons
The vast amount of controls and automatable parameters can be a bit cumbersome for beginner users.
Bottomline: This is the granular synth that really has-it-all. If you are an EDM music producer or you are trying to create the most complex ambient sounds, cloud effects and rich textures, The Mangle is for you.

Granulizer is a revolutionary audio plugin because it is not just an instrument, but an audio processing software.
Granulizer is capable of taking incoming signals, converting them into small grains, transforming them, and remixing them up with a delay. This yields unique results that you can't get by any other method.
The tone of the resulting signal can be dark and disturbing, or also strange high-pitched textures.
One of the most important features is the dry/wet knob that controls how much of the effected signal you will hear compared to the original.
You can also set the density of the grains, to control their duration. The higher the duration, the more overlapping that occurs and the overall sound gets even more complex and richer.
Another great feature is the grain lowpass, which controls the cutoff frequency of the filter inserted at the feedback, simulating spectral loss to create cloud effects and overall tonal effects.
Pros
Works as a frequency shaping plugin for audio tracks instead of virtual instruments.
Grains can be modified as much as needed, controlling rate, intensity, feedback, and tuning.
Cons
Cannot operate if there isn't an audio signal already recorded to be processed.
Bottomline: This is a really helpful tool if you are trying to modify your audio signals from pads, vocals, and sustain instruments in a more creative way in order to obtain strange, rich, other-worldly results in seconds.
Granulizer is the granular synth plugin developed by Inertia Sound Systems and designed especially for sound design and special effects.
Its high-powered sound engine is capable of time stretching samples (grains), pitch shifting, granular re-synthesis, and even spectrum manipulation of the grains.
You get a waveform view in which you can select the area of the grain you want to use and loop, giving you complete control over the desired part of your sample.
There is also warping available for your grains, letting the user modify the length of the grains as well as the overall playback speed and pitch of these.
The frequency shifter function will let you modify certain frequencies and areas of the spectrum in order to shape the perceived tonal characteristics of the cloud effects.
You can also make use of the "magic" knob that simply adds subtle randomization of certain internal parameters, yielding the most complex and creative sonic results.
Pros
Easy to use preset system designed for beginner users.
Complex sound engine that lets you apply as much gran manipulation as needed.
Simple and minimal graphical user interface.
Cons
Only available on newer versions of macOS and Windows.
Bottomline: Granulizer is a great plugin that will suffice beginner, advanced, and pro users because of its comprehensive sound engine as well as its great selection of mix-ready presets. If you are trying to create great sounding cloud effects and evolving noises, this is for you.
GGrain is the free VST plugin developed by GVST and available on Windows platforms only.
This software works as a third-party plugin installed in your main DAW that works as a granular resynthesis processor taking audio input, not MIDI. This is not a virtual instrument.
This plugin will take small snippets (grains) from the original signal, modify them and reassemble them again, preserving as much as possible from the original character.
The process is not done in real-time because of the high amount of CPU resources it will need to work.
Some of the processing options include changing the size of the grain, capturing more or less of the original sample.
You can also modify the pitch of the grains/samples in order to make the overall output lower or higher pitch compared to the original, ideal for the most complex cloud and involving sound spaces.
It also features a grain knob that will determine how many grains you will capture from the original signal, giving you more grainy/sparse tonal characteristics (small amount) or a denser and fuller result (high amount).
Pros
Effect can be applied as a "parallel" processor using the mix knob.
"High quality" option yields better interpolation and less aliasing, resulting in almost zero noise or negative artifacts.
Cons
Only available as a VST on Windows.
Not done in real-time, must be used as an offline processor and rendered.
Bottomline: If you are looking for a free entry-level VST plugin that can easily apply granular resynthesis to your sound, GGrain is a great choice.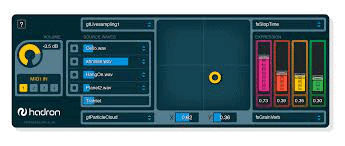 The Hadron Particle Synthesizer is a free VST and AU plugin developed by Partikkel Audio that works as a granular synthesis tool that can be used as a virtual instrument or audio processor.
The plugin features a state morphing system that lets you gradually switch from synth to audio processing in a seamless way.
Live sampling can be assigned as a sound source for manipulation, just as audio files and live audio input from your interface!
Hadron features different states that can be switched and morphs using the XY control that interpolates the values for the internal parameters and mapping the expression controllers. This makes Hadron extremely versatile.
The features preset have expression controls that will let you operate with creativity and flexibility every time you select them, no need to tweak!
Hadron features the possibility of using live sampling as a way to record sounds into it. When doing this, samples are analyzed in real-time, while being played live!
Pros
Full versatility as a virtual instrument or audio processor.
The vast amount of pre-made presets for easier operation.
Live sampling possibilities make it great for live performers and DJs.
Cons
Source waveforms must be analyzed before using them in Hadron, taking one more step prior to operating it.
Bottomline: This is perhaps the best free granular synthesis plugin you can find because it gives you the full possibility of operating it as a virtual instrument or sound processor. This is for sure a must-have!
Conclusion
If you are looking to dive deep into granular synthesis and you want a plugin that does it absolutely all, you must get The Mangle by Sound Guru. There is simply no way to beat the vast amount of parameters and even sequencers included in this piece of software.
Now, if you are let's say "married" to FL Studio because you are into urban and EDM-oriented genres, there should be no further questions, go get Fruity Granulizer. The native integration with this DAW is just perfect.
Last, but never least, if you are on a budget, and you need a Granulizer plugin that works pretty well, available on both macOS and Windows systems, you should go download Hadron right away. Your mind will be blown as soon as you start using it with audio sampling and live performance!
Read Also: 7 Best Melodyne Alternatives (Free & Paid Included)