I know exactly where you are right now…
You just bought an interface and a microphone, you are recording vocals, guitars, and basses at home, but you have no space for a drum kit.
Songs without drums? Who likes that? Absolutely no one.
But, you need drums, I am obviously, right?
If you don't have space for a drum kit, and you are not a drummer, and also you have no budget to hire someone, what are you gonna do?
Remember these words: "DRUM VST".
As simple as that!
Get great drum VST's, install them, and program your drums in your favorite DAW.
You will be able to get great-sounding drums and perfect interpretation!
Which one should you pick? Read this article and you will know.
#
Products
Compatibility
Supported plugin
formats
Product page

1

Mac and Windows

VST, AU, AAX.

2

Mac and Windows

VST, AU

3

Mac and Windows

VST, AU

4

Mac and Windows

VST, AU

5

Mac and Windows

VST, AU, AAX
Top 5 drum VST plugins
Overview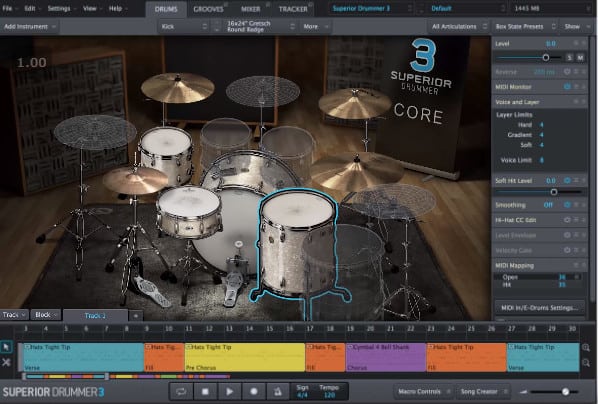 Superior Drummer 3 is one of the most important drum VST plugins developed by the company Toontrack and it is compatible both on macOS and Windows.
One of the cool aspects about this VST is how easy it is to navigate its interface because it has different tabs for showing the actual drum kit, drum patterns, and even its own audio mixer.
The VST lets you control not only the MIDI information it outputs and receives, but also the sounds of each drum, volume, pan, and even select from a batch of almost unlimited drum patterns.
If you are an independent producer trying to get massive drum sounds from radio-ready drum patterns, this VST was designed for you.
Features
The plugin can be used within a DAW or as standalone software for live performances. This is great supposing that your drummer wasn't feeling too well from yesterday's party to play that night, so here comes Superior Drummer 3 to the rescue.
It comes with seven different kits with more than 200 gigabytes of drum samples, so you will be able to have a massive pallet of sounds to choose from. Anywhere from pop, to rock, jazz and reggae are right in front of you.
The acoustic drums were recorded with 11 different mics, so you will be able to mix them so they can sound anywhere from close and intimate, to huge stadium-like tones. Complete control, all the time.
The MIDI Grid Editor lets you sequence your whole song within the plugin, so you can then simply drag and drop it on your DAW and your drums will be ready to rock. Easy and quick.
Overview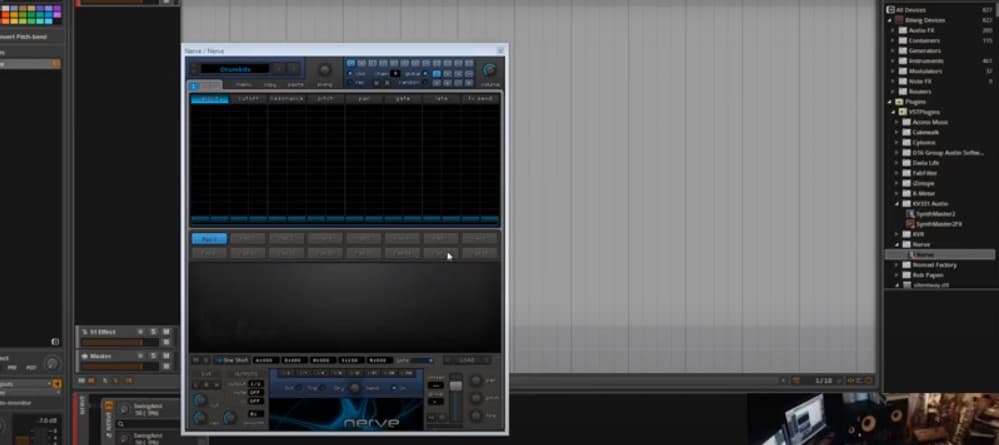 Nerve is a very cool and impressive-sounding VST drum machine developed by Xfer Records that can run on both Windows and macOS systems as VST or AU format.
It was designed to be used as a drum machine for electronic-oriented music styles and it has become one of the most famous tools in this realm.
The GUI has a very "90's" vibe with buttons and sliders under a black theme that makes you feel like you are working at Deadmau5's personal studio or spaceship!
The controls not only let you modify basic ADSR envelopes and sample selection, but also more complicated parameters such as ring modulation, soft clipping, re-pitching, and even bit modifiers.
If your goal is to make underground EDM, sound textures, and FX, this VST might be a great asset to have.
Features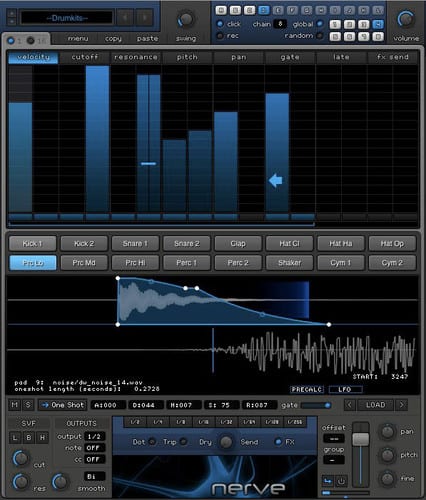 Besides the 2 GB of pre-loaded libraries, you also have the possibility of using your own audio samples within this tool. This lets you modify in any shape or form the sounds you already own, therefore the possibilities are virtually endless.
You can also load loops that you can later slice, rearrange, and modify in order to obtain the most complicated results, you can go deep very quickly.
If you are using this live, you can also benefit from the performance-oriented features such as the repeater tool.

This tool repeats any sample you play following a certain note value, ideal for fills between parts and transitions when performing on stage.
Nerve gives you the possibility to assign different stereo outputs from it so you can process them independently using analog gear.
This lets you obtain the perfect combination of analog and digital on all of your productions. Awesome, right?
If you like hybrid setups, you will love this.
Overview
This plugin is perhaps the best emulation of the 808 drum machine that we used to have in the golden days of the '80s.
It is developed with modern software technology by the company D16 Group on the VST and AU formats, capable of running in Windows and macOS.
The interface might be tricky for some users. Why? Because it literally looks just like an 808 drum machine. If you have used them in the past you will feel great, otherwise, if you are a millennial, you will be lost for a while, I promise.
The controls included are exactly the same as the original 808 plus some added features. However, some of the most important are the level, tone, and decay of each sound of the drum kit.
If you are making rap or hip-hop, this plugin is for you, I mean let's face it, it is the legendary 808!
Features
It contains 17 completely synthesized sound modules, just like the original 808, but with the added controls of tone and envelope modification capabilities, making it a more "modern" version of the 808.
Every module's audio signal can be routed to any of the 12 available outputs so you can actually process them with your favorite plugin or hardware unit separately
This will give you way more control than you would get on a regular drum machine plugin.
The hybrid sequencing capabilities let you program the parts using the 16-step sequencer like in the "old days" or simply program in your DAW's piano roll as any virtual instrument.
It is up to you to pick which one you feel more comfortable with.
The randomizer function lets you randomize some notes and parameters in order to make your repetitive (and sometimes boring) drum patterns sound way more interesting and give it a more human vibe.
Overview
Microtonic is a fully-synthesized drum machine and pattern programmer developed by Sonic Charge. It can run on Windows and macOS as VST or AU formats. Sorry for the Pro Tools guys, you won't be able to use it.
The graphic interface is extremely simple. Literally, what you see is what you have. No hidden menus, no hidden buttons. Simple, yet a bit boring.
This plugin comes with the controls that you will find on any typical synthesizer such as the waveform selection and the ADSR parameters, but it adds the 16-step sequencer of traditional drum machines.
Considering the "vibe" and drum tones that Microtonic is capable of delivering, you will find it very useful when working on underground techno productions. Have you ever listened to Kraftwerk? Kinda like that!
Features
The sound coming from this unit is completely synthesized, absolutely no samples are involved, therefore it simply won't crash! If you want to use this live, you can be sure your set will go smooth as butter.
The algorithm behind this plugin is designed for extremely low CPU usage, making it a rock-solid solution for live gigging or even as an option on lower-end computers. Microtonic will always work perfectly.
It comes with a good amount of creative editing options such as morphing, smart alteration, and randomization, making it ideal for the darkest, glitched, and bombastic sounds and textures.
You will get eight channels available to reproduce different sounds simultaneously and create the ultimate drum-machine vibe that all the 80's euro-techno hits had!
Hats – Best free drum vst
Overview
Just as its name says, "Hats" is a virtual instrument capable of reproducing hi-hat and cymbals sounds only. Developed by the company AudioThing and available as VST, AU, and AAX formats both for macOS and Windows platforms.
The graphic interface is very simple to use actually. All the controls are divided into sections that are colored differently (very smart, right?).
All the parameters can be tweaked with rotary knobs and a couple of buttons, just as if you had an actual hardware unit in front of you.
The controls include aspects such as the ADSR envelopes and LFO's but also some other really cool aspects such as a bit crusher, a reverb unit, ring modulation, and a filter.
Why would you use this? Easy. TRAP MUSIC. If you are making a trap, you gotta know the most important aspect is the hi-hat, because it is driving the song all the time. So you if you wanna sound professional, this is for you.
Features
It has 2 sound sources that you can use. The first one is the synthesized noise-sounding hi-hat that you can find on most drum synths, and the second is the custom sample that you can apply.
The plugin also comes with 55 pre-loaded samples that you can use, modify, and even "destroy" in case you have no hi-hat samples to load.
There is also a "randomizer" that you can apply and obtain really weird yet cool sounds to your hi-hats to add emotion and more vibe to the pattern.
The included effects such as the ring modulator, reverb, and bit crusher let you "shape" the overall character of your hi-hat without the need of adding additional third-party plugins, ultimately reducing your CPU consumption.
Read Also:
Conclusion
If you look for a plugin that sounds like a real acoustic drum kit, perhaps because you work with rock, pop, reggae, or country music, you must get Superior Drummer III. There is no way to beat those larger-than-life drum sounds!
Now, let's say you are an EDM producer, making underground electronic music and bass-oriented beats. Nerve is definitely your best bet, especially due to the fact you can load your own samples, slice, and destroy them to your taste.
Last, but not least, if you focus on hip-hop or rap, please don't keep wasting time, just get Nepheton. That 808 they emulated is perhaps one of the most iconic tools and instruments from the 80's era, there is no way to replace it.