Are you looking to buy the best valve amplifiers? Then you will be faced with many options. Even though they became popular decades ago, valve amps are back in style. More manufacturers now make them for consumer audio use.
In this article, we'll be looking at the top 5 valve amplifiers today. This will certainly show you all you need to know when making your decision.
So, here are the 5 best valve amplifiers reviewed.
Top 5 valve amplifiers reviewed
Specifications:
Headphones Output: 16-64Ohm
Terminating Impedance: 2 Ohm – 8 Ohm
MAX Power Output: 50W x 2
Frequency Range: 20Hz – 20kHz (±1 dB)
Input Mode: Bluetooth and RCA
Features and performance
The Rockville BluTube amp has an all-metal build with the slots for the tubes at the top. It's the classic amplifier design.
It has three control knobs for controlling the volume, bass, and treble. So, if your speakers have a flat response and you need more bass, you can simply turn the knobs on this amp.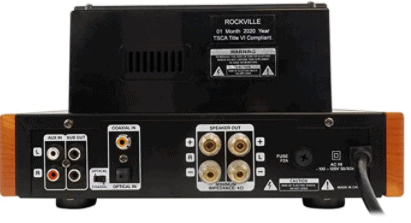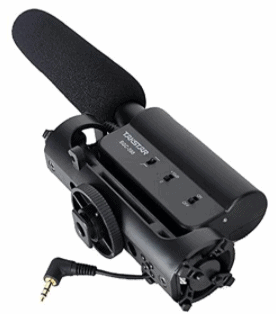 Also, this tube amplifier has USB, Aux, optical and coaxial inputs. The USB input enables you to plug in your flash drive to the amp. It automatically plays your audio tracks from the folders in your flash drive.
The aux inputs are stereo RCA ports. If you are playing from a device that uses a 3.5mm port, an RCA to 3.5mm cable is included for your convenience. This will come in handy when playing audio from your phone or computer.
The optical and coaxial inputs enable you to connect your TV or game console to this amp. Lastly, the Bluetooth input gives you the convenience of a wireless connection from your device to the amp. You can either play music from your phone or laptop once you have them paired.
The Bluetooth connection has a range of up to 33 feet.
Pros
Multiple input connection options make the amp compatible with different devices.
Plays different audio file types including FLAC, WMA and mp3.
Cons
The Bluetooth pairing light keeps blinking when no device is connected.
Only has one type of speaker output port, which limits the kind of speaker you can use with it.
Bottomline: If you are using your headphones with this amp or you have compatible speakers, then it's an excellent choice.
Features and performance
This tube preamp has a top-quality steel build. Like Rockville BluTube, it has three control knobs for volume treble and bass. However, the difference here is that the controls in the T20 have notches. You feel each knob calibration as you turn it up or down.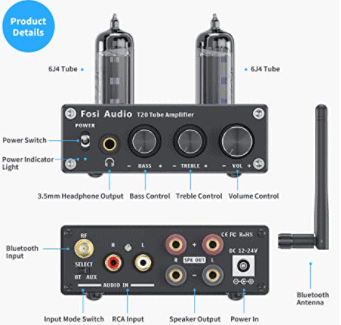 The ports are at the rear of the amp, both input, and output. The only exception is the headphones' output in the front.
Speaking of headphones, this Bluetooth amp will conveniently drive headphones with an impedance of 16 ohms to 64 ohms.
These are low impedance headphones. For headsets with higher impedance, you'll need a more powerful amp.
There are no USB inputs on this amp. You can only rely on the RCA. The only other option for a wired connection is to use a 3.5mm to RCA cable. Power comes via the added adapter.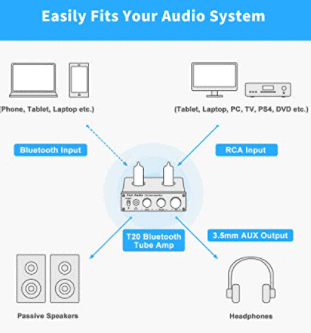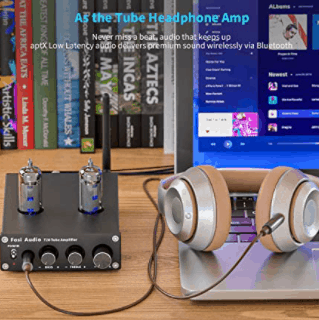 The Fosi Audio T20 Bluetooth amp can connect wirelessly to your device. The Bluetooth supports AptX low latency. This means that you can enjoy a wireless connection without any lag or delay in movie or game audios.
Also, it has a speaker out ports at the rear to connect to your bookshelf speakers or floorstanding speaker units.
Pros
The controls have notches, making it easier to control volume and other features.
Has a multipoint feature that lets you connect two devices at once.
Bluetooth connection has no audio lag or delay.
Cons
The multipoint feature sometime causes a drop-off in connection.
It only allows RCA for wired input – no USB or optical options.
Bottomline: If you don't plan to play music from your flash drive or via an optical audio connection, this amp will work for you. Also, it's perfect if you need zero latency audio for gaming.
Specifications:
Bluetooth VER: 5.0
Headphone matching impedance: 32-300Ω
Headphone Max power output: 160mW 32Ω load
Bass & Treble Range: ±6dB
RCA output level: 2.3V
Frequency Range: 20Hz-20kHz(±3dB)
Features and performance
The Douk audio P1 Bluetooth amp has an all-metal build like the others on the list. Also, it has volume, treble, and bass boost knobs.
So, if you hook the amp up to your phone and you feel you need more bass, simply turn up the bass knob until you're satisfied.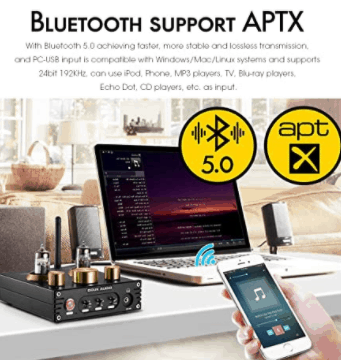 That's not all. There is a bypass switch that makes the amp produce a neutral sound only. When you switch on the bypass, the bass and treble knobs do not affect the sound. This can come in handy if you wish to quickly compare the sound differences.
[Also, if you have your headphones connected and you need to receive a call, you may want to quickly remove any sound boost for proper clarity. The bypass switch will help you to do this quicker than turning the knob.]
The design looks bold and sleek. It will not blend into your room's background, but since it looks so good, that's not a problem.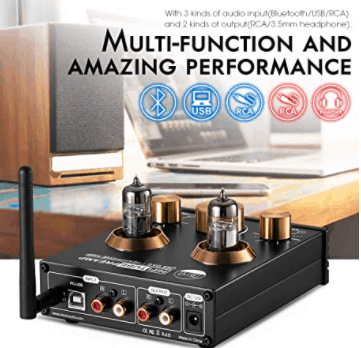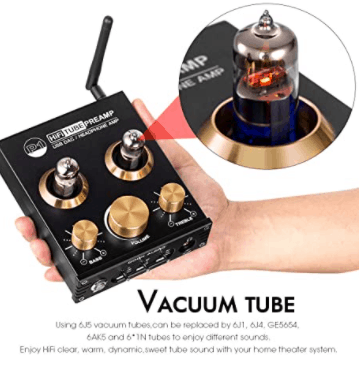 The inputs are USB, RCA, and Bluetooth. The Bluetooth connection supports AptX low latency codec, so your game and movie audios won't lag or delay while watching. Also, the power port is on the rear.
Lastly, it works with headphones with up to 300 ohms impedance. It covers more headset options but still does not work for high-impedance headphones.
Pros
It has a bypass switch for easier control.
Has a characteristic warm sound
Sleek black and gold design
Cons
It does not blend into room décor
This Douk audio amp does not work with high impedance headphones.
Bottomline: If low latency audio is important to you, then you should consider this option.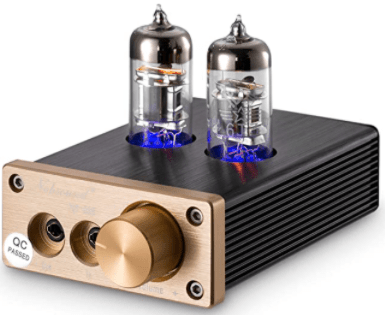 Specifications:
Output power: ≥1100 mW (32 ohm)
Headphone Adapter Impedance: 18-600 ohm
Total harmonic distortion: <0.005%
SNR: ≥110 dB
Frequency Response: 20 Hz – 30 kHz
Net Weight: 185 g / 0.41 lb
Features and performance
The Nobsound NS-08E headphone amp packs some pleasant surprises in its small frame. When you consider its price and size, its performance suddenly feels quite impressive.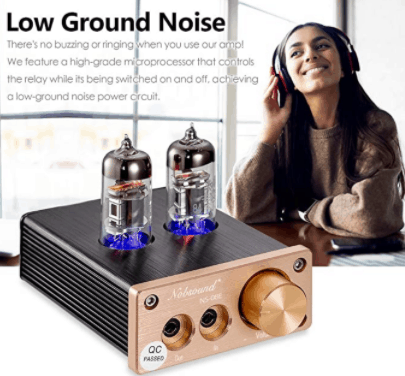 For most budget tube amps, you hear some noise when you touch the tube or surface of the amp. The Nobsound NS-08E does not have this issue. Touching the amp does not introduce any noise to your headphones.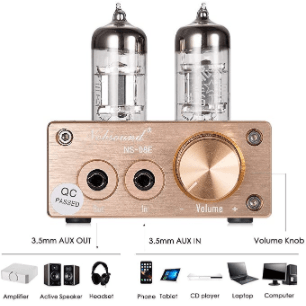 It only has a volume knob. There are no bass or treble boost controls. Also, since this Nobsound amp is only for headphones, there are no speaker output ports. In the front, you have two 3.5mm ports. One is for input while the other is the output. The only other port is the power output.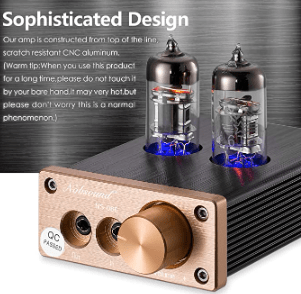 The amp can conveniently drive headphones with impedance up to 600 ohms. This makes it suitable for all types of headsets including, planar magnetic, bass headphones, mixing headphones, and others.
Pros
Compact form factor
Transparent sound quality
Low noise level
Cons
Only works with headphones
It has a single output port only.
Bottomline: If you only need to drive your headphones, this amp is suitable. Since it works with all headphones, you can always keep it for your future headset purchases.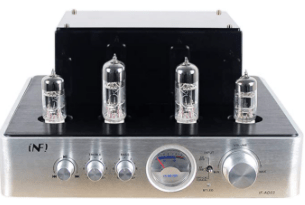 Specifications:
Output Power (Rated) : 2X30w
Output Power (Max.) : 2X50w
Total Harmonic Distortion : ≤0.05%
Signal-to-Noise Ratio : ≥86dB
Audio Input : AUX,Bluetooth,USB,Optical,Coxial
Features and performance
This great-sounding amplifier shares a lot of similarities with other amps on this list. It's an all-metal unit with a solid build. In front, you have the bass, treble and volume knobs. These controls give you more freedom to choose what kind of sound you want.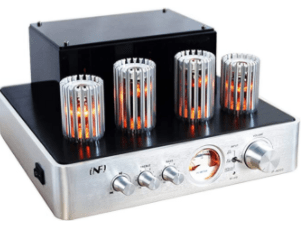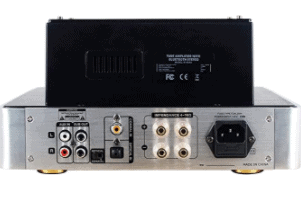 The tubes come with a protective covering. This makes the amp a child-friendly choice. Of course, even with the protection, it should be kept away from kids. However, if they get to it accidentally, they won't get injured by the heated tubes.
The input options for playing music through this amp are USB, optical, RCA, and Bluetooth. The only available outputs are the regular speaker output ports and headphones outlet.
You cannot use headphones and speakers at the same time. Plugging in your headphones will automatically mute the speakers.
Pros
Tube protection makes the amp a child-friendly option.
Multiple input options
Cons
Speakers and headphones can't work at the same time.
Bottomline: If you need to protect your tubes or cover them for any reason, this tube amp gives you enough tools for that.
Read Also: How to Fix Bluetooth Lag in Car? – 8 Super Quick Solutions
Conclusion
Of all these 5 impressive valve amplifiers, my top 3 picks are the Fosi Audio Bluetooth amp, Douk Audio amp, and Nobsound NS-08E headphone amp.
The Fosi Audio Bluetooth amp caught my attention mainly because of its multipoint feature. I can connect both my phone and laptop to the amp via Bluetooth at the same time.
The Douk audio amp is also a great choice because of its bypass feature. It's essential for me because I'm an audio producer, so I'll use it a lot.
The Nobsound NS-08E is only a headphone amp, but I like it because it has a transparent sound. Also, it works for all wired headphones regardless of their impedance.