Yes, I get it! You want to get the perfect choir sound, kinda like what Eric Whitaker does, right?
You have been looking for professional choirs to record, but they are extremely expensive and out of budget.
What do you do then?
You look for the best vocal and choir VST plugin from the market and use it!
Now, keep in mind you must make sure they come with the best choir samples and also the best orchestra VST in some cases.
Are there free vocal VST plugins? Yes, there are!
So, read this review and I promise you, by the end, you will have an idea of which is the best paid and free chord and vocal VST out there so you can make your decision!
| | | | | |
| --- | --- | --- | --- | --- |
| # | Products | Compatibility | Plugin Formats | Product Lnk |
| 1 | | Windows and macOS | VST – AU- AAX | |
| 2 | | Windows and macOS | VST – AU- AAX | Explore |
| 3 | | Windows and macOS | VST – AU- AAX | |
| 4 | | Windows and macOS | VST – AU- AAX | |
| 5 | | Windows and macOS | VST – AU- AAX | Explore |
| 6 | | Windows and macOS | VST – AU- AAX | Explore |
Top 6 Choir VSTs reviewed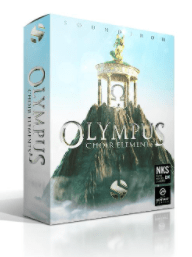 Olympus Choir Elements is the choral VST instrument developed by the company Soundiron.
This VST can be opened as a Kontakt library on both Windows and macOS systems under the VST, AAX, and AU plugin formats.
The library includes 64 simultaneous voices that can be configured to create the most complex combinations of the eight vowel articulations with staccatos and marcattos.
This lets you obtain sounds that are very natural, but also completely out of the world if you want!
The VST lets you blend between male and female choirs in order to obtain the perfect combination between them.
Each "gender" of the plugin can be processed with the embedded ADSR envelopes to make them sound more present or duller, depending on the case.
Besides the typical ADSR and legato controls, you can also determine the syllables to play, giving you complete control over the interpretation of the choir.
At the same time, this plugin comes with a massive library of reverb impulses that can make your choir go from the small studio/garage sound to the biggest church hall ever designed!
Pros
Kontakt compatibility makes this plugin universal on all systems
Vast reverb capabilities let you place the choir virtually anywhere.
Cons
The graphic interface looks boring and outdated for modern users.
Bottomline: This plugin can pretty much do it all as far as choirs, ideal for producers working on the most epic and cinematic projects.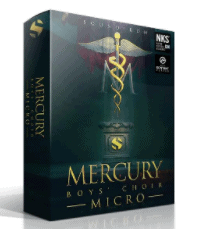 Mercury Boys' Choir Elements is a VST plugin developed by the company Soundiron.
It runs as a Kontakt library on both Windows and macOS systems under the VST, AAX, and AU plugin formats.
The library only includes samples from boys, kids! No adult samples, no female samples.
Therefore this plugin is very specific, perhaps ideal for commercials and movies for kids.
The choir contains 25 boys singing from the Pacific Boychoir.
This was recorded in a large hall, making sure articulations such as sustains, staccatos, and marcattos were captured with pristine clarity.
There are four vowels included, and the plugin lets you combine two of them as you wish using a simple fader.
The user interface was designed so that virtually any control can be automated on it. This gives you the possibility to explore deeper into choir mixing in your projects.
Another incredible feature is that the presets are actually tempo synchronized and time-stretched.
This makes the choir automatically adapt to the pace of your song without the need to print and edit the performances.
Pros
All controls are automatable, giving you absolute control over the behavior of the VST.
Tempo synced presets make the mixing process extremely easy, especially when tempo changes happen within the song.
Cons
The range of sounds is very narrow because it only has samples for boys.
Bottomline: If you want complete control over a choir of boys and only boys, this is the best option for you.
Requiem Light Symphonic Choir is a VST plugin developed by the company Soundiron.
It runs as a Kontakt library on both Windows and macOS systems under the VST, AAX, and AU plugin formats.
This choir was recorded at the sanctuary hall of historic Saint Paul's Church in San Francisco, California.
The samples were captured with twelve microphones, strategically placed within the space, and mixed for a balanced stereo feel.
The library contains both men and women samples with three vowels that are polyphonic with true sustain legato articulations. It also has six vowels for simple sustains.
The syllables are 24 and you can combine any two of them within the plugin's interface.
In order to make it even more interesting and versatile, the plugin comes with additional dramatic choral effects such as clusters, demonic chants, glisses, swells, sweeps, consonants, and shouts.
Moreover, the plugin gives you the ability to add rack effects that can modify your tone drastically as if you were in the actual recording studio.
Delays, reverbs, distortions, saturators, all included!
Pros
The embedded choral effects make this plugin sound "beautiful" to "scary" and "tasty" in seconds. Ideal for virtually any mood.
Being able to apply the rack effects, lets you "mix" the plugin within itself, with no need for third-party processors.
Cons
Only three fully articulated vowels are included, reducing the spectrum of raw sound possibilities.
Bottomline: If you are looking for a choir VST that serves as male and female samples, with the ultimate embedded mixing capabilities, this is the one.

Syntorus 2 is the chorus effect VST developed by the company D16 group, available for both Windows and macOS systems.
This is not a virtual instrument, but a plugin that emulates the effect of a chorus.
You can route mono or dry sources into this plugin and it will emulate a chorus stereo effect.
Syntorus 2 lets you shape how obvious your chorus effect feels by using their independent delay lines that can be configured differently in order to obtain the desired results.
The included LFO's can be routed to virtually modulate any section, creating very interesting topologies that yield incredible sounding chorus effects.
Each topology contains its own tremolo and multimode filter embedded, this lets you configure the effect to give it a "doppler" tone to your choir or perhaps a more aggressive rotating speaker sound.
Being able to configure each path with different parameters, let you place your choir vocals virtually anywhere, from a regular simple chorus to a more spacey and digitally synthesized chorus feel.
Pros
Incredible versatile configuration due to its three topologies, ideal for the most creative producers.
The graphic interface is really easy to use because the modules resemble analog pieces of gear, perfect for the more "old-school" producers.
Cons
The plugin itself is not an instrument but an effect, therefore you will need a sound source to operate this plugin.
Bottomline: If you want the ultimate chorus effect that you can apply to all your vocal tracks and make them sound natural or completely out-of-this-world, get Syntorus 2!
LABS Choir is the choir VST instrument developed by the company Spitfire Audio, which is available on macOS and Windows systems.
The key ingredient of this plugin… It is totally free! You paid absolutely nothing to own it!
The samples were taken from Eric Withacre Singers at Air Studios in London, making it sound extremely professional and simply flawless.
The group of singers sampled was only adult males. No kids or female vowels were recorded.
The only articulation included in the long sustained note.
The choral samples change automatically while playing the instrument depending on the velocity, notes, and durations, giving the user a sense of naturality that not all VST's can actually recreate.
The plugin is capable of combining the samples with subtle fades so that sustained notes evolve naturally without you actually listening to anything "Repeating".
The controls are very simple to use and include sliders to add more or fewer singers into the choir, as well as controlling the stereo spread.
This is all possible because of the multi-mic setup that was used to record the choir ensemble.
Pros
Lightweight and easy-to-use VST plugin that runs on all systems.
Beautiful sounding sustained male choir, ideal for sound design and worship.
Cons
No staccato articulations or female vowels, reducing the versatility of this piece of software.
Bottomline: If you look for a VST that gives you the typical male vocal choir from heaven, this is the one. Plus, it's free!
Haunted Choir is the choir VST instrument developed by FluffyAudio and available on both Windows and macOS systems.
This is another freebie by FluffyAudio!
It can be run as a Kontakt Instrument on virtually any digital audio workstation software.
The samples are the only female, and they have been taken in a warm concert hall.
Some of the articulations include the classic sustain, but also the polyphonic legato that so many producers want in today's sound for picture.
Four different microphone positions were used to sample the female choir, giving you control over the stereo width and depth by using the close, far, spot, and mid mics.
The VST comes with its own custom reverbs that you can switch and adjust the actual decay time, letting you move things around in the field of depth.
It is capable of handling up to 2 octaves of range like a normal vocalist would do.
The overall sound and tone of these samples, give the user the sense of "fear" and "anxiety" which is perfect for situations in which you are working in sound for a horror movie.
Pros
Totally free!
Kontakt-based, making it super versatile and easy to open on all systems.
The selected samples really sound "spooky". Perfect for that thriller movie.
Cons
No controls to switch articulations.
No male samples, making it very specific, unfortunately.
Bottomline: If you are working on adding music and effects for a thriller movie, you should definitely get Haunted Choir.
Conclusion
Looking for a great all-around choir VST? Olympus Choir Elements is the perfect candidate.
There is no way to beat those 64 simultaneous voices that you can program in it!
Now, suppose you have a sound source, a recorded singer, but you want the chorus effect to be added. Don't look further, Syntorus 2 is the perfect tool for this job.
You will be able to configure it to be as discreet or as aggressive as needed.
Last, but not least… If you are on a budget and look for the ultimate "heaven" choir sound from the skies, almost like if you were next to Jesus Christ, go get LABS Choir. Hey, it is free too!
Read Also: 7 Best Melodyne Alternatives (Free & Paid Included)