Affiliate disclosure: In full transparency – some of the links on this website are affiliate links, if you use them to make a purchase we will earn a commission at no additional cost for you (none whatsoever!). Will this be a problem? This is how we manage to create free content for you. Please know that your trust is so important for us. If we recommend anything, it is always because we believe it is worth exploring. And, buy me a coffee ☕️
Pitch Shifters, we all love them right?
You and I both know, without these devices and plugins, we would never be able to obtain the standard radio-ready vocal sound.
It just makes it impossible to mix without these bad boys!
Modern music simply screams for the need of having a pitch shifter.
Those pop vocals that have the mid real vocal line, layered with a super low octave version and a high pitched octave above can only be possible with these Pitch Shifters.
But, which are the Top Pitch Shifter VSTs?
Where should you even start looking at these plugins?
Read this review and you can thank me later!
Top 7 Pitch Shifter VSTs reviewed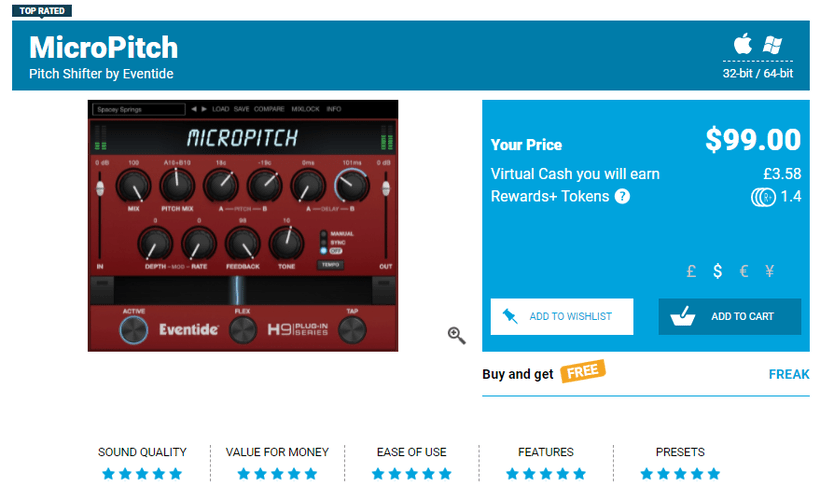 One of the most famous pitch shifters that can easily create pristine chorusing effects by shifting the original signal with two different versions.
It lets the user pitch-shift each "side" by different amounts of cents, making the pitch image "tilt" as needed.


The shifted versions can also be delayed in order to create more interesting textures and depths.
The delay module is fully configurable and lets you tweak the depth and rate parameters in order to make it more "aggressive" or smoother sounding.
For the more experienced users, there is a feedback control that will let you reinsert the delayed signal into the delay engine to make it sound denser and increase the chorus effect.
As an emulation of the original pedal, there is a tap button at the bottom, so you can tap the tempo on the fly, easy and quick.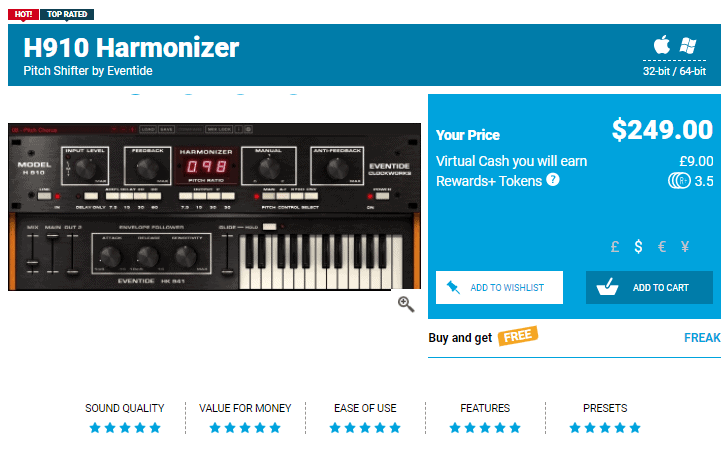 The H910 Eventide plugin is the closest emulation you can find to the real analog vintage processor of the era.
It features the same 7-segment LED screen that will remind you of the memorabilia of those days, packed with the same internal engine.
The H910 lets you create two different delayed versions of the signal at fixed delayed times, just like the original device.
Input level and Feedback knobs will add the famous Eventide analog vibe, especially when run with hot signals, creating a subtle distorted tone.
The Pitch Control can be set to be governed by the manual knob, A-F, keyboard (MIDI) or an envelope.
This will let you obtain pitch modulation from very creative methods, and always get different results!
Quadravox is the perfect tool to create on-point harmonies in parallel to your main vocal lines.
The most important aspect of this plugin is the ability to create 4 parallel pitch-shifted signals, creating the ultimate chorus effect, that can go from something very subtle to the deepest detuning possibilities.
Quadravox will give you the ability to control the level of each individual pitch-shifted, in order to make each of them more or less noticeable, ideal for producers that also work as mix engineers and must make sure levels are a priority.
Panning is another amazing feature, so you can select where on your stereo field you want your pitch-shifted vocals to be located, all the way from left to right.
Individual feedback percentage and time delay are available for each of the four signals, giving you complete control of the detuning.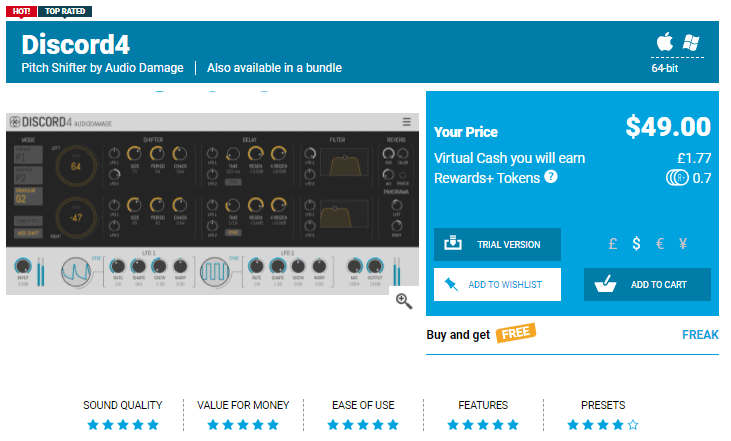 Discord4 is a two-channel pitch shifter that will let you have two independent pitch-shifted signals panned anywhere in the stereo field.
It features different pitch modes that range from vintage to modern and granular, adding their own intrinsic characteristics to your final sound quality.
Besides the individual pitch shifting options per channel, you can also modulate each channel with their own embedded Low-Frequency Oscillator in order to give the pitch shifting sort of a repetitive behavior because of its sync option.
Filters are also a crucial part of the signal flow because you can "clean" the signals in order to create space in your mix.
Finally, the reverb unit is a great added-value feature because it lets you "place" your signals in the depth field, perfect for mixed engineers.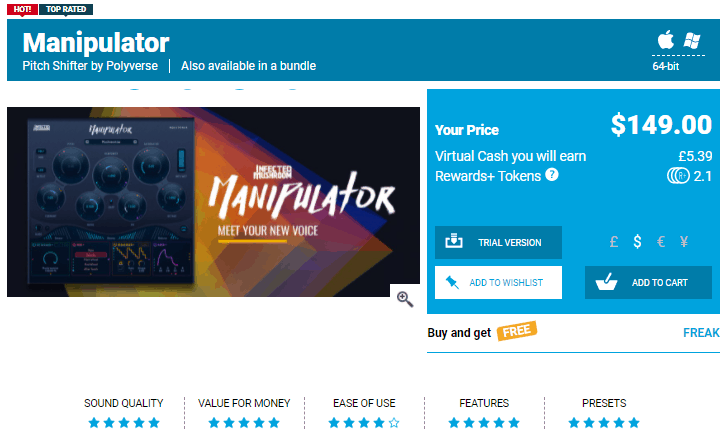 Manipulator is one of the most modern-sounding pitch-shifters and vocal processors in the industry.
The most important aspect of this plugin is the fact that it does not only modify your pitch, but it will also change the format of the signal, the ratio, and FM synthesis, and even the harmonics.
The included granular algorithms will let you shape the pitch but also the timbre of your vocal, making you sound like another creature, instead of a human being!
You can create up to four different harmonies from the main signal, and each of these is completely configurable with different parameters and modes, giving your total control of the output result.
The shifting algorithm can be modulated with an ADSR envelope or its own signature sequencer, giving you the most out-of-the-world textures.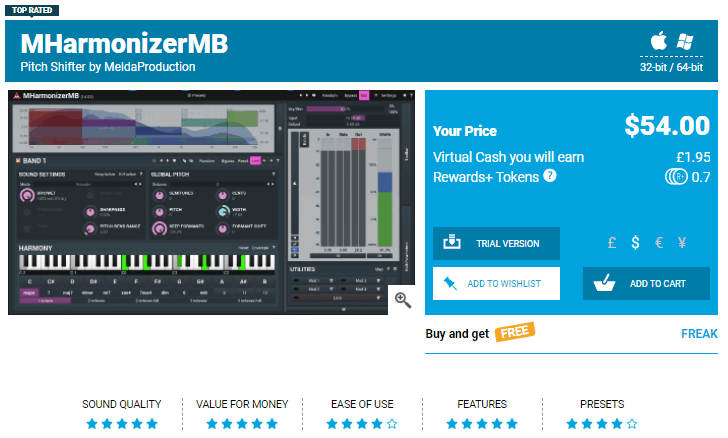 MHarmonizerMB is the ultimate pitch shifter plugin from MeldaProductions.
The key aspect of this plugin is the ability to create pitch shifting in harmony with the main vocal line. This will let you create perfect harmonies that will always fall in your song's key, tuned to perfection.
You can also pitch shift by a certain amount of semitones or cents if needed, as a free-floating shifter.
The plugin is capable of creating up to 6 bands of pitch-shifted signals in parallel with the main vocal line, ideal for the most demanding producers looking to get super thick vocal textures.
Formants can be modified and shifted to change the tonal characteristics of the voice, or preserved for a more natural approach.
You have the option to add modulation to the shifting to make the plugin react in a more interesting and random way.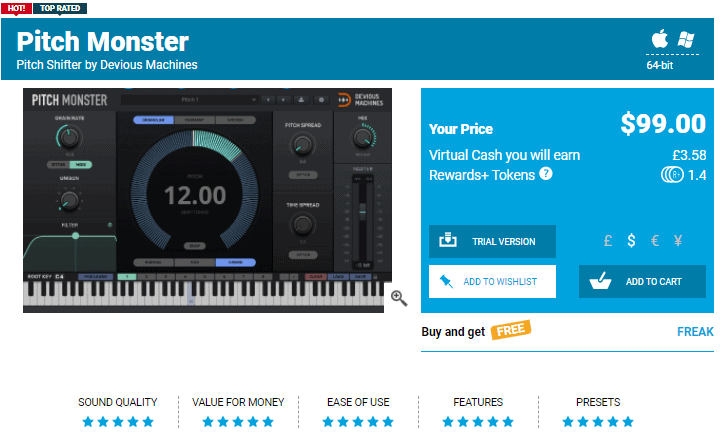 Pitch Monster can definitively change your voice to make you sound like a monster if needed!
It features three shifting modes that go from granular, formant, to Vocode.
The Vocode mode emulates the classic vocoder effects that became famous in the 80s that made vocals sound "robotic" and hard tuned.
The pitch shifting procedure can be done by following a certain chord played on the MIDI keyboard so you make sure your harmonies are always correct.
The plugin includes controls for formant modification, pitch spread, and filter, that will let you "shape" the final tone of your sound before it goes out of the plugin.
Conclusion
If you are looking for the industry standard of pitch shifting plugins, that will always work and it is easy to operate, don't look further and get the Micropitch by Eventide. It will never fail!
Now, if you need even more options, and you want to take your pitch-shifting skills to the next level of complexity, you should get the H910 by Eventide. This plugin will give you the classic analog sound, packed with all the modern features that top producers love.
Last, but not least, if you are looking for a pitch shifter plugin that will give you more creative effects that fall into the artificial sound characteristics, get the Pitch Monster by Devious Machine.
Hi, I'm Jennifer I'm a passionate singer and an audiophile from Detroit, MI. 
I'm on a mission to help music creators to create fine music that help them position uniquely in the saturated music space.
Follow my blog for regular content :-)