Yes! I know exactly how it feels…
I am a keyboard player too, yet I do not own a Hammond Organ, nor a Farfisa.
I mean, I don't even have Rhodes… The closest thing I have access to is the Church Organ from the local ministry.
You want to record these instruments at home but you do not have space, right?
The answer is quite simple, you need to find the Best Organ VST, install it and run it on your computer.
But, which one should you choose?
People talk about the Pipe Organ VST, the Hammond VST, the Farfisa VST, or the well-known Rhodes VST…
Should you get all of them? Or maybe just one that can emulate them all?
This article will give you answers to all of these questions!
And the best part, I will give you some paid and also FREE options for this.
Stay tuned and keep reading.
By the way, whenever you decide which one to choose, you can add plugins to shape the sound of the VST…
Here you have some cool ones: https://www.soundmaximum.com/plugins/
| | | | | |
| --- | --- | --- | --- | --- |
| # | Products | Compatibility | Plugin Formats | Product Link |
| 1 | | Mac and Windows | VST, AU, AAX | Get now |
| 2 | | Mac and Windows | VST, AU, AAX | Get now |
| 3 | | Mac and Windows | VST, AU, AAX | Get now |
| 4 | | Mac and Windows | VST, AU, AAX | Get now |
| 5 | | Mac and Windows | VST, AU | Get now |
| 6 | | Windows | VST | Get now |
| 7 | | Windows | VST | Get now |
4 Best Organ VSTs reviewed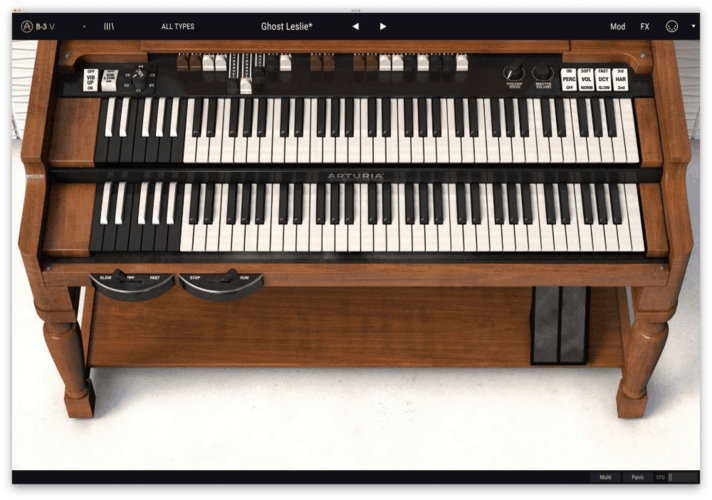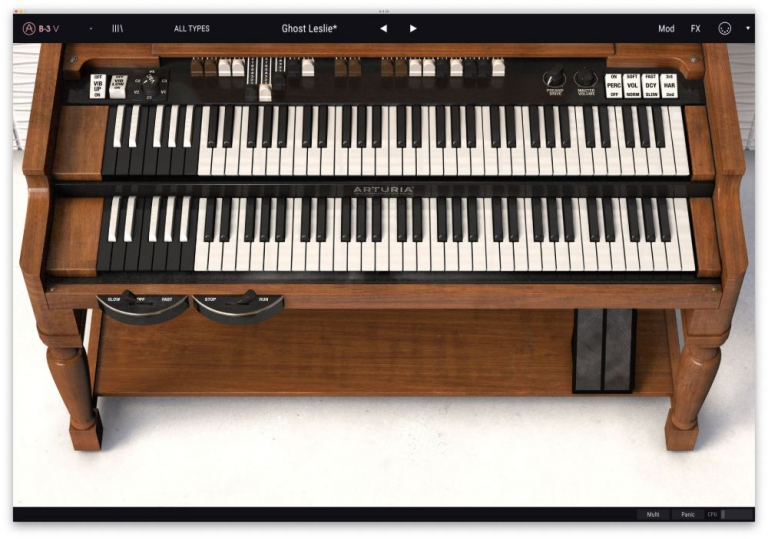 Overview
The B-3V is the heavyweight tonewheel organ developed by the company Arturia. It is available on both Mac and Windows systems.
This VST is the emulation of the famous B3 organ used on most jazz, gospel, rock, reggae, and R&B from the world, designed following the most complex algorithms by Arturia.
The interface resembles the original B3 and all of its controls such as the drawbars, tonewheels, switches, pedals, and pots right in front of you.
If you have ever used the real B3, you will feel at home when you open this VST.
Considering this VST is just a B3 Organ, and nothing else, it would be suitable to any producer or musician looking for the classic organ sound of the R&B and Gospel genres.
Features
Read Also: River Flows In You (Yiruma) – Easy Piano Notes With Letters
The GUI presents the same physical controls that you would get on the real B3, giving you a very easy to operate virtual instrument.
The interface comes with two manual areas, each with its own dedicated drawbars for tweaking its tones independently, giving you complete control of each.
It comes with three modeled chorus and vibrato settings, as well as a preamp drive knob that resembles the analog tone of the original, adding that extra "vibe".
Besides the organ itself, this VST also emulates the iconic Rotary Leslie Speaker, so you can have the famous "spinning stereo" effect from the records you love.
The plugin also lets you add pedal effects such as wah-wah, flanger, chorus, and delay to the signal chain in order to shape the original organ sound that feeds the speaker.
Bottomline: If you want the real B3 sound but you don't have one, this VST will be your friend, trust me.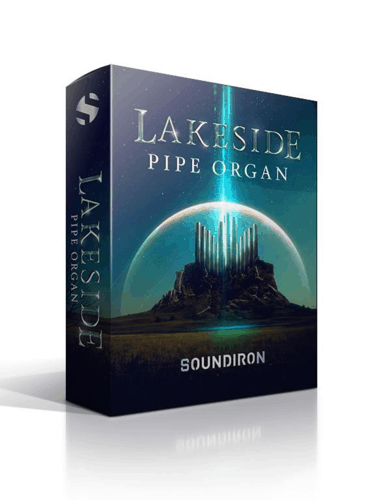 Overview
The Lakeside Pipe Organ is the pipe organ virtual instrument presented by the company Soundiron, available on Mac and Windows.
It is very important for you to know, this is not a virtual instrument, but a library that you can load into your Kontakt Player. So yes you will need Kontakt in order to run it.
This plugin emulates the sound of the famous Rodgers steel and wooden pipe-electric hybrid organ recorded at the Lakeside Temple Of Practical Christianity in Oakland.
The interface resembles the original pipe organ with a "digital twist" that includes the typical ADSR envelopes, LFO's and filters that you would find on most synthesizers.
The controls are mostly knob-based so that you can tweak the parameters by simply rotating them with the mouse or your MIDI controller. Pretty cool, right?
As a church pipe organ, this instrument is in general not very versatile, so perhaps only suitable for worship music.
Features
The organ emulates not only the pipe stops but also the wooden stops and the bass foot pedal board, so basically, every single element of the church organ is contained.
Alternatively, you can solo each stop if needed, or even play with the level using their dedicated mixer, giving you total control of the volume.
The organ was recorded on a close-stage and wide-hall position that you can blend to taste in order to obtain the desired amount of presence and ambiance. Super-versatile!
This Kontak library also lets you add effects post-instrument, such as reverb, flanger, tape saturation, and cabinet emulator, this will let you completely "destroy" the sound of the organ if that is what you need.
Bottomline: If you are making solemn music that is oriented to church and God, you can't miss this Kontakt library.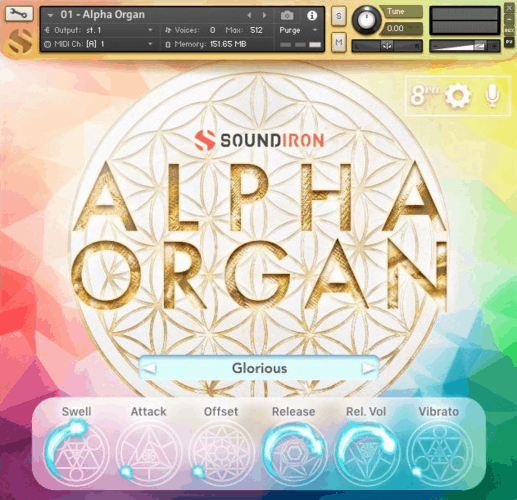 Overview
Alpha Organ is another pipe organ developed by the company Soundiron, available as a Kontakt library for Mac and Windows systems.
This library was recorded at St. Paul's Church in San Francisco, in a space that presents incredible long reverb tails and overall mystical ambiance.
The graphic interface is very simple, with only a handful of knobs that control the ADSR envelope and patch selector.
Some of the controls include swell, attack, release, and vibrato parameters, which are standard on most organs of this type.
The big aspect of this organ is the actual sound it can produce. The samples were recorded by some of the best engineers yielding a glorious and solemn sound of the space.
The long reverb tails captured on this instrument make it suitable for producers and musicians working in sound for picture, FX, and cinematic-oriented music.
Features
The different patches have been named after the "moods" they convey for easier selection. Some of these are Glorious, Gentle, Smooth, Resonant, Solemn, Earth, Triumph, Dawn. How cool is that?
The library comes with 9 GB of 24-bit 48 KHz lossless samples that give you the most realistic feel out of the instrument.
There are also three master presets that you can toggle that go for Main, Layered, and Ambiences, making it super versatile for your productions.
The library lets the user program up to 20 custom-made presets that you can save and use in the future if needed. Pretty handy!
Bottomline: Looking for something deep, long, very, and cinematic? This is the one.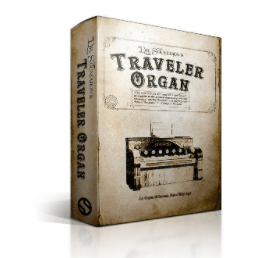 Overview
The Traveler Organ is the flat top reed organ emulation developed by the company Soundiron, available as a Kontakt library for Mac and Windows systems.
The user interface resembles the original organ rendered in 3D, making you feel as if you were right in front of the organ at the church!
Most of the controls are based on potentiometers but some others can be accessed via small sub-menus and selector tools.
Some of the most important controls include the ADSR envelope, vibrato, and octave selectors, all controlled with pots.
Considering the type of organ this instrument represents, it would be suitable for the producers and musicians looking for the typical honky-tonk church organ sound.
Features
The keys are multi-sampled to be played in full range, giving you the full lows as well as the piercing high notes!
It comes with 26 pre-defined patches with different articulations that already sound amazing and will help you work fast!
Some of the articulations let you play sustained notes, staccatos, and even diminuendos… So yes, it has an extremely realistic feel.
There is even an arpeggiator embedded with a step sequencer that gives you more complex and cinematic tones out of the instrument.
It has a convolution reverb that you can add with up to 70 different cathedrals, churches, chambers, and halls, letting you basically place the organ in any space of the world with a couple of clicks!
As most Kontakt Libraries, you can always add multi-rack effects in order to process the sound of the organ even more.
Bottomline: Versatile and easy to use the flat top organ that you should always have as part of your arsenal.
Top 3 Free organ VSTs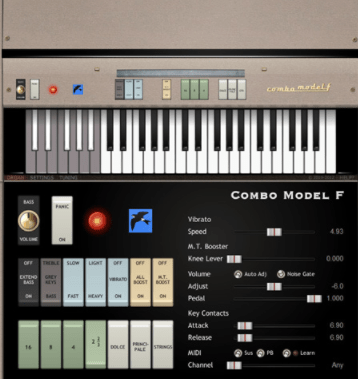 Overview
The Combo Model F is the Farfisa organ emulation developed by the company Martinic which is available for Mac and Windows.
This emulation of the classic Farfisa organ is extremely impressive, considering it is completely free!
One of the best aspects of this plugin is the GUI that it presents.
All the original buttons, switches, and sliders from the original device are shown as if you had it right in front of you.
If you have used a real Farfisa in the past, you will feel very confident about this plugin.
Some of the most important controls include switches for slow/fast response, light/heavy play, vibrato, and the classic ADSR envelopes.
As a free alternative to a Farfisa plugin, it is suitable for any independent producer and music maker trying to get the amazing Farfisa sound from the 60's!
Features
This Farfisa emulation comes with 4 octaves from C to C, just like the exact original hardware model.
It contains three treble voice tabs labeled as Dolce, Principale, and Strings. These are ideal for your high pitch melodies and lead parts.
The grey keys are assigned for the bass voice, which you can use to play all your low-frequency information lines such as bass and double bass.
The vibrato lets you control the speed and depth, that way you can make it as subtle or as aggressive as you want!
This emulation even includes oscillators, dividers, crosstalk, noise, filters, key contacts, and key click, making it feel and sound just like the hardware unit.
Each key can be tuned individually, this makes the sonic and harmonic possibilities basically infinite for this Farfisa.
Bottomline: Looking for the sound of the 60's pop bands? Combo Model F has it, for free!
Overview
Chord Organ is a freeware software developed by the company TN AUDIO.
It is only available on Windows as a VST instrument.
This free virtual instrument emulates the sound of the electric reed organ.
Unfortunately, the graphic user interface looks very poor and even low quality.
The only controls included are the key selectors, trying to look like the Magnus 300 organ.
The limited amount of control and single patch operation makes this ideal for the beginner musician and keyboardist trying to write their first demos at home.
Features
Chord Organ is an electric reed organ in the style of a Magnus chord organ.
It lets the user select the minor or major keys for correct chord playback.
The user can configure the Chord Organ as a MIDI OUT device that simply spits the MIDI notes of the chords into another virtual instrument or hardware synth.
Extremely lightweight, ideal for older computers or systems with less CPU resources.
Bottomline: If you want a virtual instrument that is lightweight for demos, this is an "ok" option.
Overview
Supertone is the reed organ emulation developed by Les Productions Zvon and available for free on Windows systems.
The interface looks like a Rhodes Electric Piano, with the classic black, grey, and red color theme from these pianos.
It has some pots in the front that let you control plenty of parameters such as the LFO rate and depth, attack and release, reverb, volume, and pan.
Considering it is a free plugin, it has plenty of controls for a single patch virtual instrument.
This would be ideal for musicians on a budget trying to emulate the sound of the reed organ, with a small amount of possible tweaking.
Features
The samples of this instrument were recorded with two different microphones, creating a mixture of the direct and ambient sound that makes it sound like if you were in the same room!
It contains 477 samples of different lengths and velocities, in order to give you a more natural response when playing.
All the notes were de-noised before adding them to the VST for better sound quality. However, you can add the noise with a switch if needed. This will give you the ultimate "vintage" sound.
Bottomline: If you are looking for a free, simple, and effective reed organ emulation, this could be a good choice for demos and overdub parts.
Conclusion
If you are a professional music producer or keyboard player looking to obtain the ultimate
Hammond B3 organ sound that works on any type of music and has made hits for decades, you can't miss B3-V by Arturia. The way the guys from Arturia modeled this instrument is simply impossible to beat.
Now, let's say you are more into church music and solemn gospel tunes, and you actually want that lush, deep, very, and wide-open sound from the Pipe Organ, you should definitely go for the Lakeside Pipe Organ from Soundiron. It truly sounds like God!
Are you on a budget but you need to record a Farfisa?
Looking for that "wall of sound" vibe that the '60s and '70s were famous for? Don't look more, go download the Combo Model F and enjoy it for free!
Read Also: 7 Best Melodyne Alternatives (Free & Paid Included)