Today in this post, we are going to review the best mics for untreated rooms.
My Best Mic for Untreated Room
Shure SM7B Dynamic Vocal Microphone
Best for Recording Vocals in a Bad Room
Shure SM58-LC Cardioid Dynamic Vocal Microphone with Pneumatic Shock Mount, Spherical Mesh Grille with Built-in Pop Filter, A25D Mic Clip, Storage Bag, 3-pin XLR Connector
Best Dynamic Mic
Sennheiser Professional MD 421-II Cardioid Dynamic Instrument Microphone
Best for Recording Vocals in a Bad Room
Shure SM58-LC Cardioid Dynamic Vocal Microphone with Pneumatic Shock Mount, Spherical Mesh Grille with Built-in Pop Filter, A25D Mic Clip, Storage Bag, 3-pin XLR Connector
Last update on 2023-12-08 / Affiliate links / Images from Amazon Product Advertising API
Does your room have bad acoustics?
Do you have trouble recording because of room reflections?
Is there anything you can do to have better recordings in an untreated room?
Yes. There are things you can do to prevent your room's bad acoustics from ruining your recordings.
One of such things is to get a mic that will hide your room's inadequacies. This is why I have written this article; to give you some microphones that you can use when in a situation involving untreated spaces.
Let's look at the specs of our handpicked mics for untreated rooms.
Buying guide for choosing the best mics for untreated rooms
Here are the features that you must look for:
Dynamic mics
Dynamic mics are good because they capture sound over a smaller area. This means they will capture fewer reflections than a condenser microphone. Reflections are bad news in an untreated room.
Supercardioid/hypercardioid mics
Super cardioid mics only capture sound from sources that's right in front of them. They reject sounds from all other angles. Cardioid mics are also good at rejecting off-axis sound, but super/hypercardioids are the best at it.
Low sensitivity
If a mic is highly sensitive, it will pick quieter sounds, which will include room reflections. To prevent this, go for mics with lower sensitivity, such that it will be unable to capture room reflections and other sounds.
Here are the top 5 mics for untreated rooms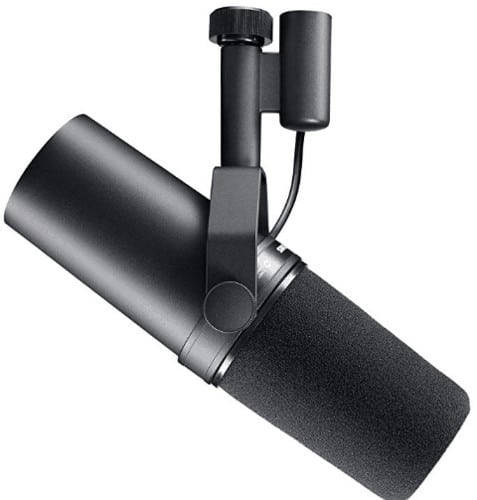 Specifications
Microphone Type: Dynamic
Polar Pattern: Cardioid
Frequency Response: 50Hz-20kHz
Output Impedance: 150 ohms
Weight:1.69 lbs.
Maximum SPL: 180 dB
Switches: Bass roll-off and mid-range emphasis
Cartridge Shock Mount: Internal air-suspension shock and vibration isolator.
Overview
Though not as popular as other Shure mics like SM57 and SM58, SM7B has a special place in many vocal applications.
It's an end-address microphone with a cylindrical shape. It has a solid build and needs a yoke mount for its set up. The yoke mount is needed because SM7B's shape is not very common among mics, so, the common mic mounts will not work for it.
The SM7B is an end address cardioid dynamic microphone. Being a dynamic mic, it naturally comes with a very low self-noise.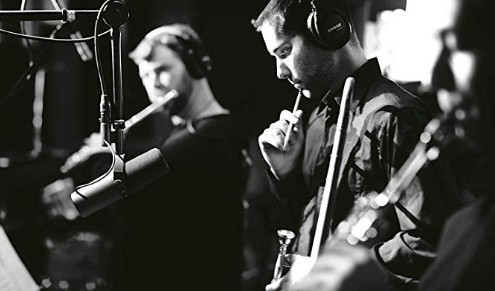 This means that even when recording quiet instruments and voices, you don't need to worry about the mic's self-noise; it will never be a problem.
Also, it has relatively low sensitivity, so if you're not recording a loud source, it's better to use a preamp to have good gain in your sound.
Sound quality
Being a cardioid mic, we expect the SM7B to pick mostly whatever source is placed right in front of it.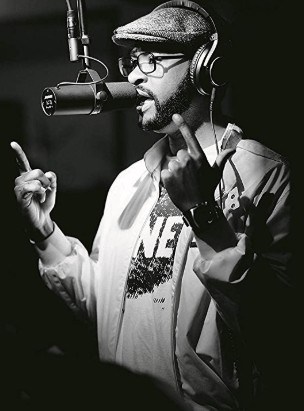 It does this job quite well, although not as good as a super-cardioid or hypercardioid mic, especially for untreated rooms. It rejects off-axis sound quite well too, any sound that's not coming from right in front of the mic is mostly rejected.
SM7B has a wide range of use, most of them being centered around voice work; studio vocals, radio broadcasting, podcasting, voice-overs and many more.
Bottomline
Low sensitivity, cardioid pattern, and a dynamic system all combine to make SM7B a good choice for untreated spaces.

Specifications
Microphone Type: Dynamic.
Polar Pattern: Cardioid.
Frequency Response: 40Hz-15kHz.
Output Impedance: 150 ohms.
Connector: Three-pin professional audio (XLR), male
Net Weight: 284 grams (10 oz)
Sensitivity: -56.0 dBV/Pa
Overview
SM57 has a longstanding reputation in the audio world, mainly for its use as an instrument mic. It is a dynamic mic with a cardioid polar pattern best suited for drum kit recordings and flute recording.
Like SM7B, SM57 has low sensitivity. The good thing about low sensitivity mics is that they do not pick up sound that's not very close to them.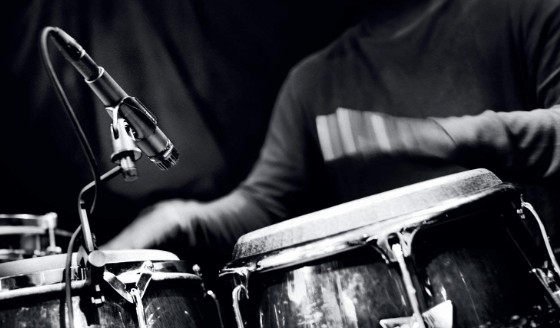 This means that the room reflections of a room with bad acoustics will not be captured or recorded. Even if you use a preamp, you have control over how much gain you wish to add, so you can add just as much as you need.
Also, SM57 has a rugged build that will surely last for many years.
Sound quality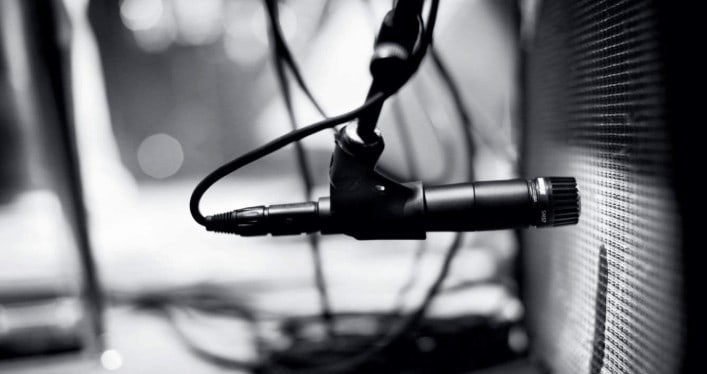 For the SM57, the only tricky part is getting its placement right. Once you have that, everything else falls into place.
Because of its shape and size, you need to direct the receiving end of the mic to the sound source precisely. However, once you get this right, you'll have clean, full sound and very good off-axis rejection.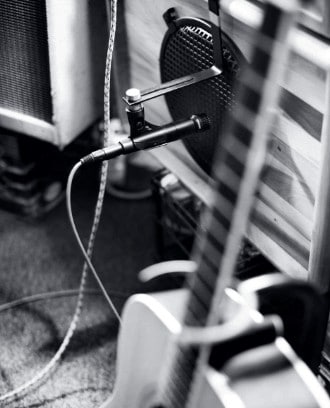 It's best used on instruments, especially loud ones. You can also use it on live vocals.
Shure SM57 is one of the best mics you can use to capture female vocals in untreated rooms and also you can use this as the best piano mic.
Bottomline
With SM57, once you get your placement right, the rest is bliss.

Specifications
Microphone Type: Dynamic.
Polar Pattern: Cardioid.
Frequency Response: 50Hz-15kHz.
Max SPL: 94dB SPL.
Output Impedance: 150 ohms.
Sensitivity: -54.5 dBV / Pa (1.88 mV)
Connector: XLR.
Weight: 0.66 lbs.
SM58 is the best beatboxing mic that looks very different than SM57, but they have a lot in common in terms of other technical features.
SM58 has a metalhead with a strong steel grille. It's definitely built for the long haul. Like SM57, it's a cardioid dynamic microphone with low sensitivity. Here's one interesting thing about dynamic mics: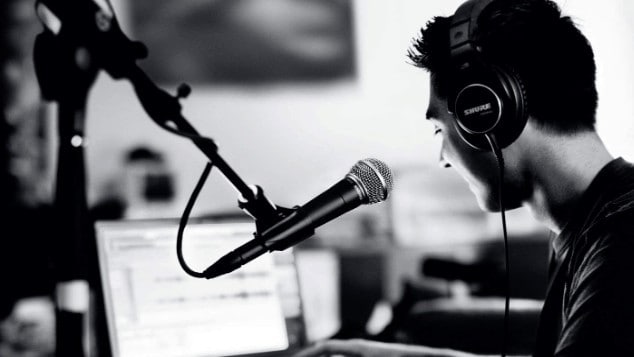 They all have very high SPL. Most times, the figure is not even stated in the specs because there's no max SPL. This means that you can record very loud sources without worrying about distortion at all.
The only issue some users may have is while doing studio recordings, the frequency response is not as wide as some producers would like (50Hz to 15000Hz)
Sound quality
Again, SM58 is quite similar to SM57 in this regard. However, because of its shape, SM58 is more suited to on-stage vocalists. On a small stage, you're more likely to have feedback, because the mics are closer to the stage monitors.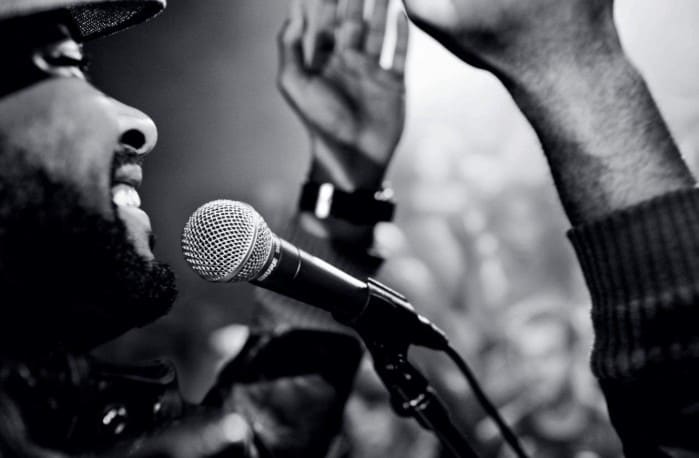 With a mic like SM58, you can minimize or even eliminate feedback. All you have to do is make sure the vocalist knows how to handle a mic. SM58 will only capture sound coming from the artist if it's properly handled.
SM58 is mostly used for live performances by vocalists. Although it can be used for other purposes, SM58 is naturally suited to vocal use.
Bottomline
SM58 is the best choice for a live performance on smaller stages.

Specifications
Polar Pattern: Cardioid
Dimensions: 215 x 46 x 49 mm
Connector: XLR-3
Frequency Response: 30 – 17000 Hz
Nominal Impedance: 200 Ω
Min. Terminating impedance: 200 Ω
Sensitivity: 2 mV/Pa +- 3 dB
Included accessories: Mic clip
Weight: 13.6 Ounces
Overview
Sennheiser MD421 has an unusual design. It's quite large compared to most mics. You'll probably not use it as a handheld for stage performance, but it can do its job on a stand. Also, its large frame makes positioning easier.

It's a cardioid dynamic microphone that has a high maximum SPL. This makes it a good choice for loud instruments in an untreated room.

You have a lot of control over your sound, with the 5-way low cut switch. With this switch, you can select one of five different high pass filter settings.
This mic has very low self-noise, which is expected from any dynamic mic. In fact, you won't find self-noise specifications for most dynamic mics.
This is because their self-noise is too low to be estimated. Self-noise is caused by electronic parts in the mic, and the parts that cause such noise in condenser mics are not present in the dynamic types. This is another reason why we love them for untreated rooms.
Also, MD421 is not too sensitive; it has just enough to capture your sound without adding the room's reflection to it.
Sound quality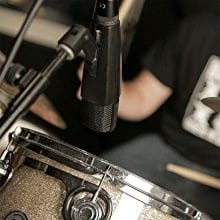 You can take full advantage of this mic's features by doing close-miking, especially for your vocals. Engage the low cut filter to eliminate any potential bass buildup due to proximity effect.
MD 421 rejects off-axis sound pretty well, although it does better with higher frequency sounds the very low ones. It rejects off-axis mids and highs better than it rejects the very low frequencies. Sounds below 125Hz can sneak in through other sides of the mic.
This mic has several uses, mostly because of its filters. You can use it for vocals, drums, and other instruments.
Bottomline
Sennheiser MD421 is well suited to studio recordings. It can be a good replacement for most studio condenser mics.

Specifications
Microphone Type: Dynamic.
Polar Pattern: Cardioid.
Frequency Response: 30Hz-18kHz.
Output Impedance: 150 ohms.
Color: Black.
Connector: XLR.
Power Requirements: Passive
Case Material: Metal
Overview
RE320 has its mesh grille all over its body. It's obviously for aesthetics, since its a cardioid mic, so it definitely does not capture sound through the whole grille. The rest of the chassis is made of steel, with a sturdy feel.
Like the other mics on this list, RE320 is a cardioid, dynamic microphone, with a sensitivity of about -52dbv. With this sensitivity, you can be sure the mic will not pick your room reflections.
Sound quality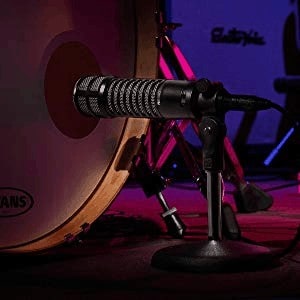 This mic has two distinct sound profiles. You can switch between them by flipping a switch. One profile is for kick drums while the other is for vocals.
This is a really brilliant move because the vocals option can also be used to mic other instruments, but can't be used to mic the kick perfectly.
These two sound profiles have different frequency ranges; 30-18000Hz for the kick and 45 to 18000Hz for the vocals.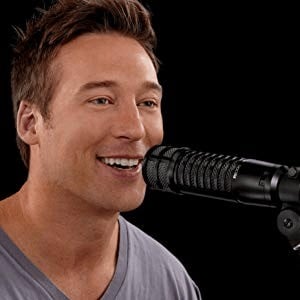 Off-axis rejection is quite good, but it's better at rejecting off-axis mid frequencies than the very high and very low ones.
This is a versatile mic that can be used for both vocals and instruments.
Bottomline
It's a one-size-fits-all mic for untreated rooms.
See our other popular posts
Conclusion
Hope this post has helped you in finding the best mics for untreated rooms.
This list is not supposed to make you ignore your room's acoustics totally. It's only a way to help till you work on your room, or an alternative if you're not in a position to carry out the room treatment.
In summary, everyone deserves quality recordings, rooms treated or untreated. If your room is untreated, I bet you've found a mic that will work for you from the list.