Affiliate disclosure: In full transparency – some of the links on this website are affiliate links, if you use them to make a purchase we will earn a commission at no additional cost for you (none whatsoever!). Will this be a problem? This is how we manage to create free content for you. Please know that your trust is so important for us. If we recommend anything, it is always because we believe it is worth exploring. And, buy me a coffee ☕️
Are you a great fan of Audio Technica mics?
Last update on 2023-03-24 / Affiliate links / Updated prices and images from Amazon Product Advertising API
Well. In this post, we are going to review the best Audio Technica mics along with their applications.
Audio Technica is one of the most popular microphone brands today. They have numerous products that meet the needs of audio users around the world.
As there are a lot of mics, you may have a hard time choosing one for yourself. Whether you're a singer, composer, songwriter, producer, podcaster, YouTuber or voice over artist, Audio Technica has a mic for you.
To make your search easy we've made this roundup of best Audio Technica mics.
#
Product
Frequency response
Mic type
Noise level
Amazon product page
1
AT2020 –

My Best Pick

20 – 20,000 Hz
Condenser
20 dB SPL

Check price

2
AT2035 –

Best Mic for Studio Applications

20Hz-20kHz
Condenser
12 dB SPL

Check price

3
ATR2500 –

Best Podcasting Mic

30 Hz to 15 kHz
Condenser
NA

Check price

4
AT4040 –

Best for Voice-overs

20-20,000 Hz
Condenser
12 dB SPL

Check price

5
ATR2100 –

Favourite Mic for YouTubers

50 – 15,000 Hz
Dynamic
NA

Check price
Here are our 5 best Audio Technica mics:
AT2020 –
My Best Pick
Design and build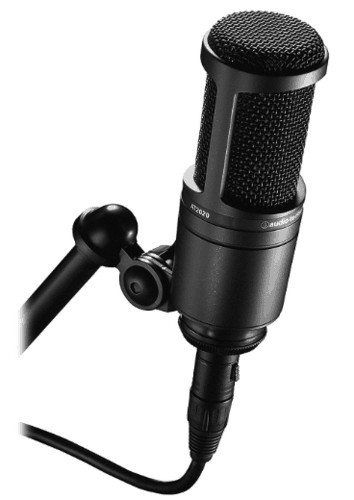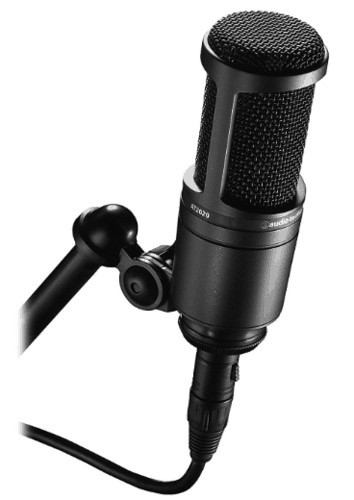 Specifications:
Polar Pattern: Cardioid
Frequency Response: 20 – 20,000 Hz
Open Circuit Sensitivity: -37 dB (14.1 mV) re 1V at 1 Pa
Impedance: 100 Ohms
Maximum Input Sound Level: 144 dB SPL, 1 kHz at 1% T.H.D.
Signal to Noise Ratio: 74 dB, 1 kHz at 1 Pa
Dynamic Range (Typical): 124 dB, 1 kHz at Max. SPL
Phantom Power Requirements: 48V, 2 mA typical
Noise: 20 dB SPL
AT2020 has an all-metal cast build. Both the chassis and mesh grille is made of solid metal.
The capsule is well protected by the grille, which also has a layer of the filter under it. This filter helps to reduce plosive sounds when you're recording, although you still need the conventional external pop filter.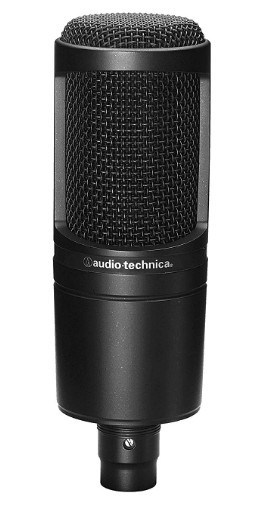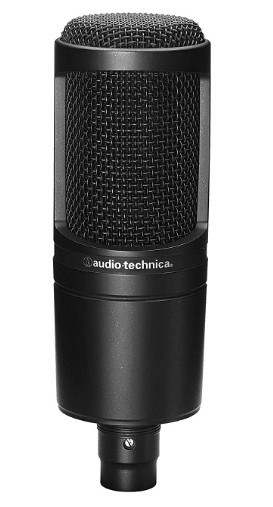 AT2020 comes in black only, like most other Audio Technica mics seems they don't really care much for aesthetics.
Sound quality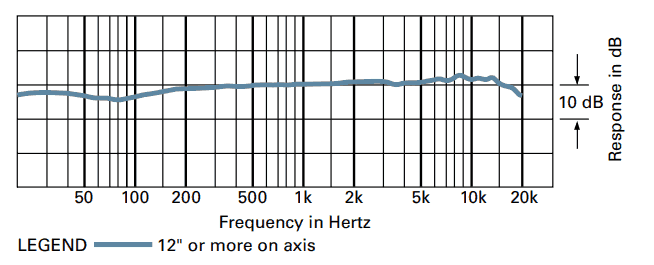 Most AT condenser mics sound quite warm, and AT2020 is no different. Combined with the little presence lift, they make this mic suitable for studio vocal recordings. If you are looking for best condenser mics under $50, read my post here.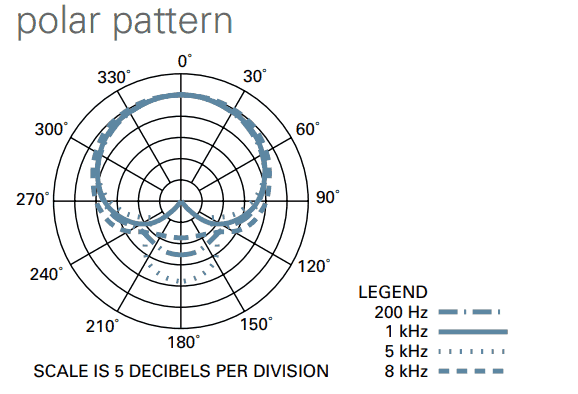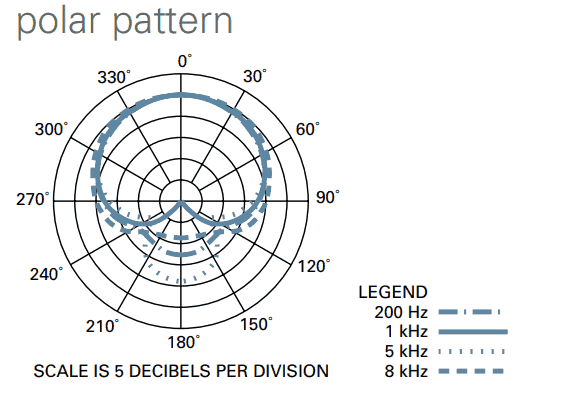 This presence lift also makes the mic good for podcasts and voice-overs. This mic has considerable self-noise, so it's not really advisable to use it to record quieter sources or sources that are generally not very close to the mic while recording.
AT2020 is useful for: studio vocal recordings, podcasts, and voice-overs.
Pros:
An internal pop filter helps to reduce plosive pops.
The warm sound that makes vocals sound better.
No high-frequency harshness.
Cons:
Self-noise makes it unsuitable for low gain recordings.
No pad or roll-off switches.
AT2035 –
Best Mic for Studio Applications
Design and build
Specifications:
Polar pattern: Cardioid
Frequency response: 20Hz-20kHz
Low-frequency roll-off: 80Hz, 12dB/octave
Impedance: 120 ohms
Maximum input sound level: 148dB SPL, 1kHz at 1% T.H.D.; 158dB SPL, with 10dB pad (nominal)
Switches: Flat, roll-off; 10dB pad
Requires +48V phantom power
The AT2035 is a very solid cardioid condenser mic. It comes across as low key in terms of looks. It has a matte black finish from top to bottom.
There are a few switches on the mic that gives you some hands-on control. The pad switch and high pass filter switch help you to better recording results and use this mic in different situations.
Sound quality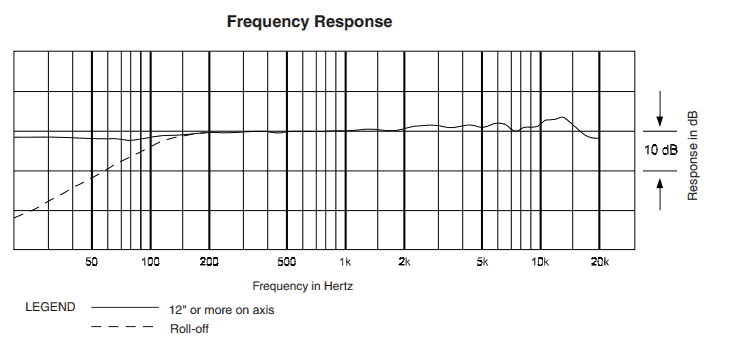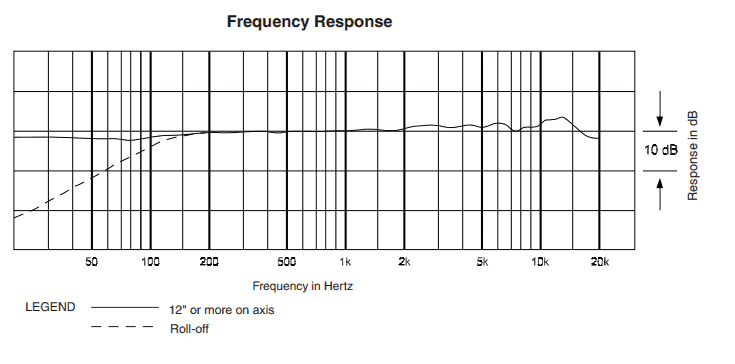 As expected, there's some warmth in the low mid of this mic. However, in this case, the warmth is quite audible, and voices that are naturally rich in warmth may begin to sound boxy if not well monitored.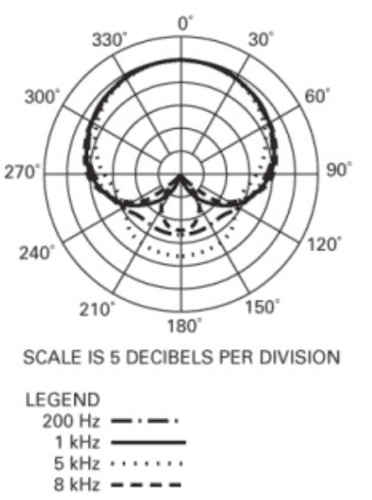 However, if the singer naturally has a bright voice, this mic will give more warmth to it. If you're looking for specialized mics for female vocals, this one could tick the box.
This mic is useful for: Studio vocals recording, especially female vocalists and high pitched singing in general. Also good for podcasts and voice-overs.
If you are in a dilemma with which one to choose between AT2020 and AT2035, then read my review here.
Pros
Excellent with female vocals
Good with loud sources because it has high SPL.
More hands-on control with switches and filters.
Cons:
Makes deeper voices sound boomy at high gain
ATR2500 –
Best Podcasting Mic
Design and build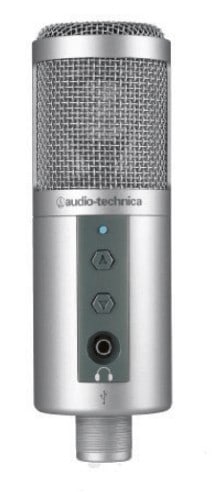 Specifications:
Frequency Range – 30 Hz to 15 kHz
A/D Conversion – 16-Bit
Sample Rate – 44.1 kHz, 48 kHz
Operating System Support – Windows, macOS/OS X
RAM Requirement – 64 MB Minimum
Available Port – USB (Interface Unspecified)
Frequency Range – 30 Hz to 15 kHz
Output Impedance – 16 Ohm
This is a large-diaphragm condenser mic that connects using its USB port. This kind of mic is usually called plug-and-play.
This is because you don't need any external audio interface, all you need to do is connect it straight to your computer and you're good to go. It's good for beginner podcasters and users that generally don't know much about audio records.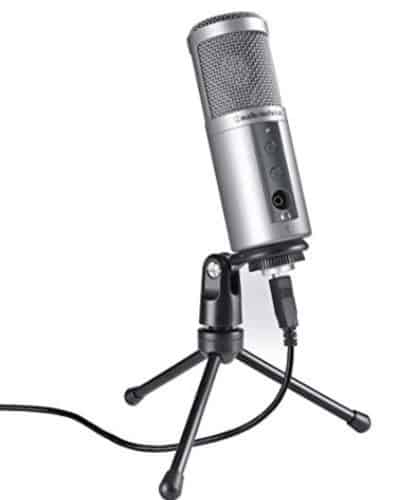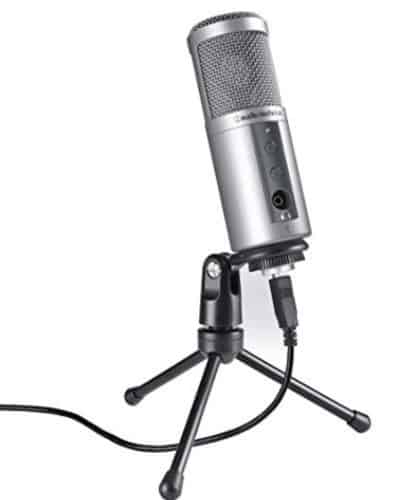 It has a satin silver finish on an all-metal body. You can also monitor your recording with zero latency, via the headphone monitor port on the mic. There's a volume button that enables you to change the gain of the monitoring.
Sound quality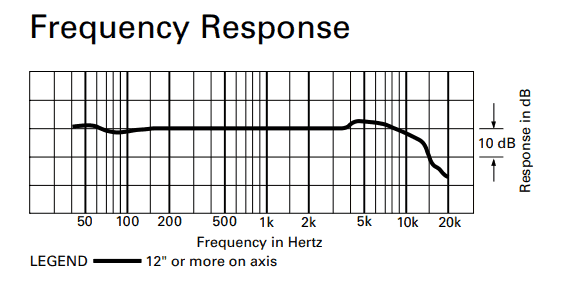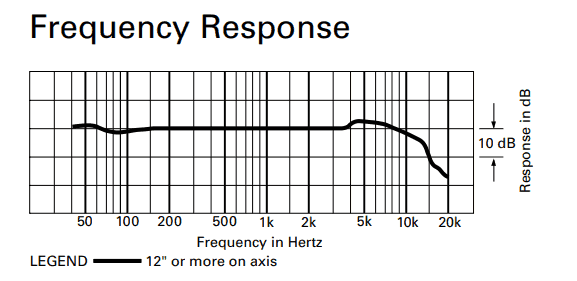 It has a frequency response of 30Hz to 15000kHz. This range may not be wide enough for some users, but the response is quite close to a flat one, although there's a very slight presence lift in the high mids.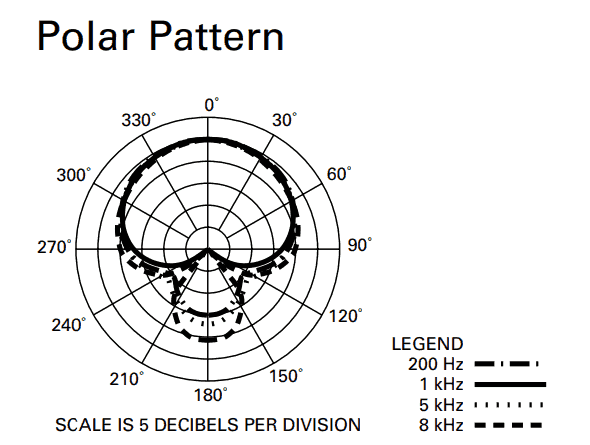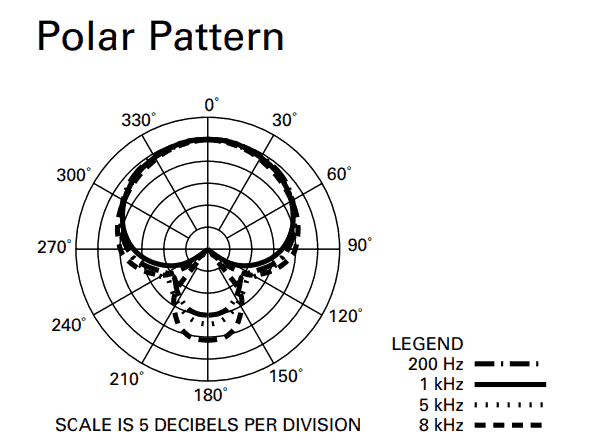 Also, this mic lacks the warmth that Audio Technica mics are famous for. I also expected that a USB mic will have more presence and clarity since most people using it may not know much about audio.
ATR2500 is useful for podcasts, voice-overs, recording song ideas by songwriters. Also, this is the best mic people use with Smule app.
Pros:
It needs no additional interface or preamp to work.
It doesn't give too much sibilance or harshness.
Cons:
It has high self-noise.
It cannot be used to record loud sources.
AT4040 –
Best for Voice-overs
Design and build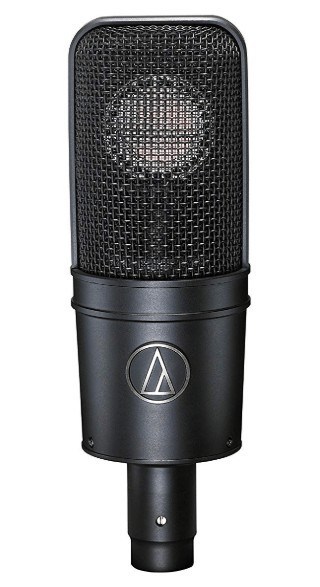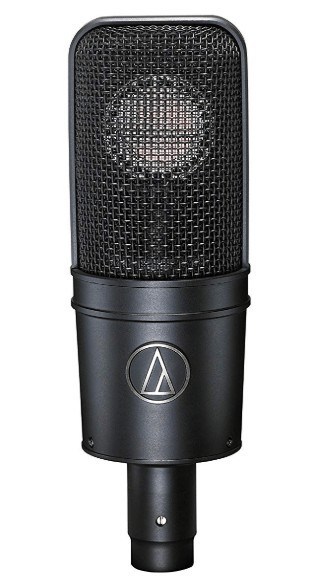 Specifications:
Microphone Type: Condenser
Polar Pattern: Cardioid
Diaphragm Size: 0.8″ (20.4mm)
Frequency Response: 20Hz-20kHz
Max SPL: 145dB (155dB w/10dB Pad)
Output Impedance: 100 ohms
Signal to Noise Ratio: 82dB
Self Noise: 12dB
Low Cut Filter: 80Hz
Pads: -10dB
This Audio Technica mic is made of brass and covered in nickel plating. It has the signature solid build of Audio Technica microphones.
They even went an extra step here by adding an extra layer of mesh grille. The AT4040 has a dual mesh grille that serves as a protection for the capsule, as well as filters for your sound.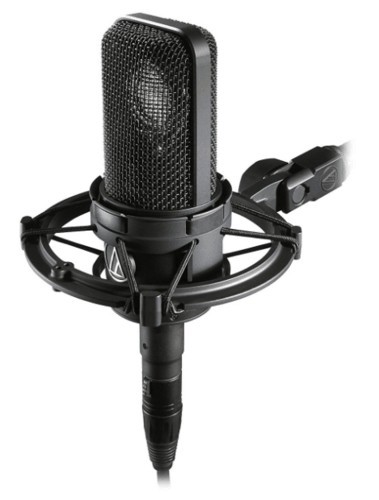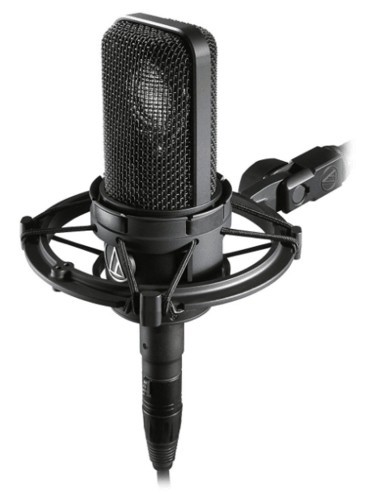 This mic gives you some level of control with the high pass filter and pad switches. Also, it's connected to your interface or mixer via the XLR port.
Sound quality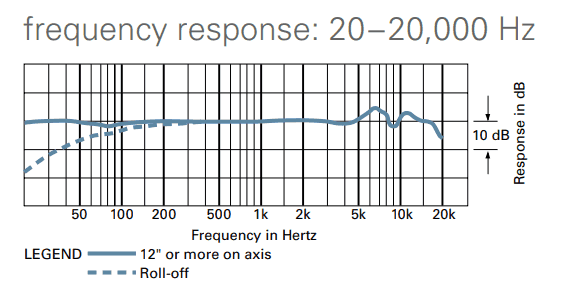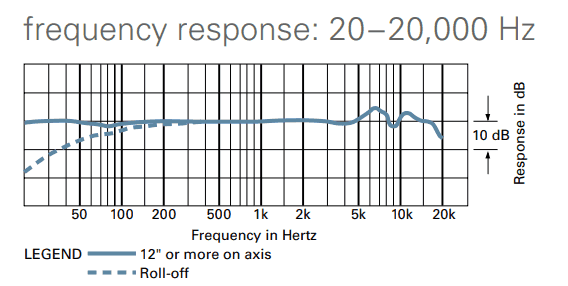 AT4040 has a frequency range of 20Hz to 20000Hz. This range pretty much covers everything important, but there's more to the response.
AT4040 has some warmth that it gives vocals without making them sound boxed in. It also has a presence bump that begins gradually at 4kHz.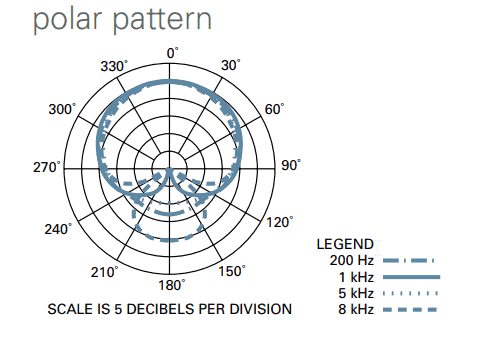 The presence and clarity that the AT4040 gives are quite natural and it doesn't "force" it. If the source lacks a lot of clarity, you can't have so much of it in your recording.
Even though the high frequencies end at 20kHz, the roll-off starts at 16kHz. This ensures that harshness or too much brightness is not a problem.
AT4040 is useful for recording studio vocals and instruments, voice-over, podcasts.
Pros:
Handles transients very well.
Has natural sound
Cons:
Low-frequency background sound gets in.
High-frequency roll-off makes the mic to give less sparkle in sound.
ATR2100 –
Favourite Mic for YouTubers
Design and build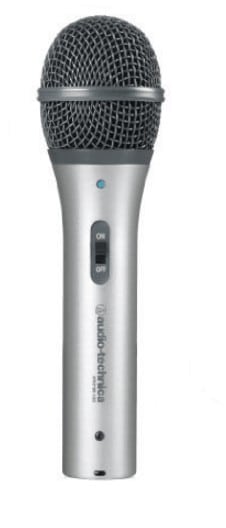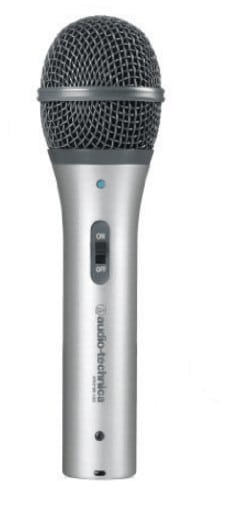 Specifications:
Element: Dynamic
Polar Pattern: Cardioid
Frequency Response: 50 – 15,000 Hz
Power Requirements: USB Power (5V DC)
Bit Depth: 16 bit
Sample Rate: 44.1 kHz/48 kHz
Controls: On/off switch; headphone volume control
Output Connector: USB-type/XLR-type
The ATR 2100 is a dynamic mic with a handheld design. It's one of the few attractive Audio Technica mics you will find. The contrast between the brushed aluminum finish and the dark gray mesh grille gives the mic a pretty look.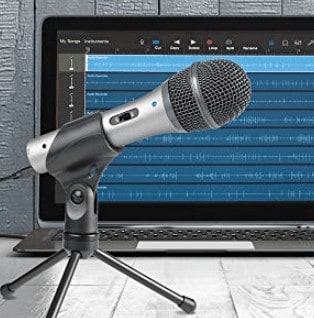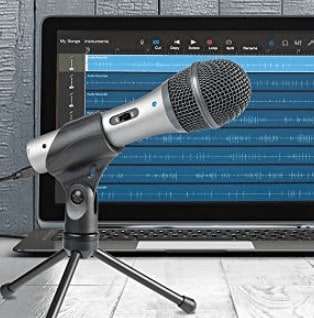 As far as controls go, you can only switch the mic on and off; there are no other switches beyond that. There's also a 3.5mm headphone jack that you can use to monitor your recordings without any latency.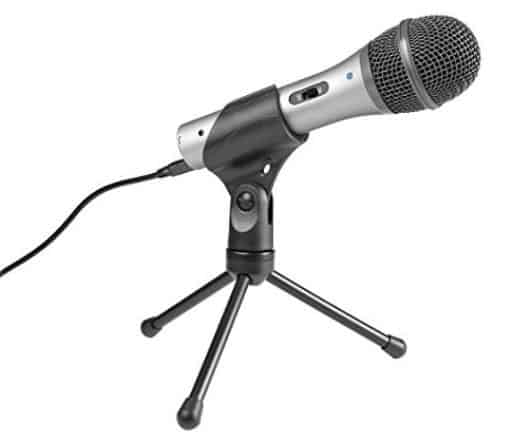 The most noteworthy feature of this mic is its connectivity. It has both the XLR and USB ports. So, you can either use it with a mixer or audio interface or plug it to the computer directly. This makes the ATR 2100 a versatile mic.
Sound quality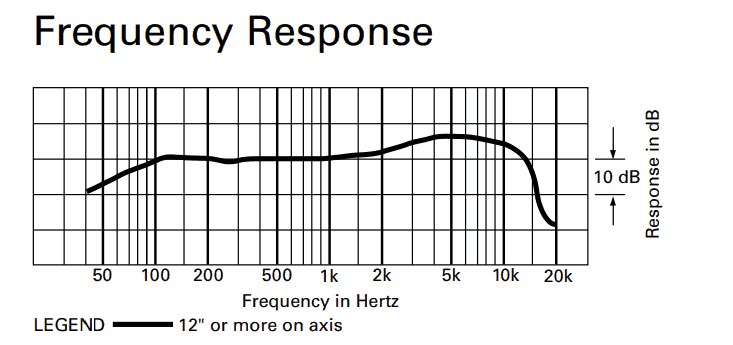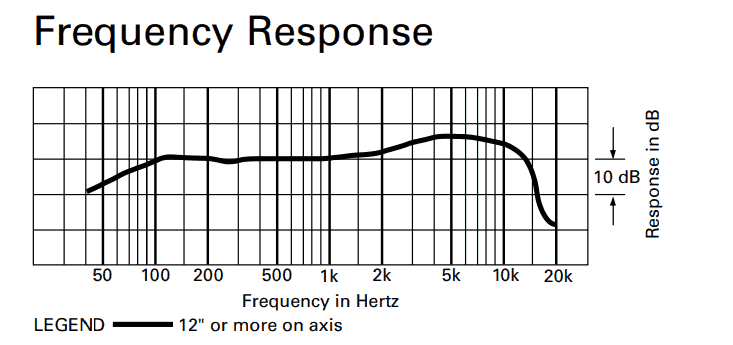 The ATR 2100 has a frequency range of 50Hz to 15000Hz. The response features a lift from around 2kHz to around 10kHz. This presence lift is what we're always looking out for if we need the mic for speech purposes; podcasts and voice-overs.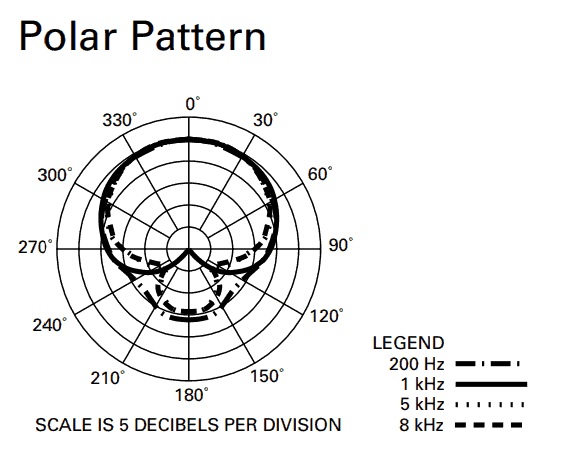 From 10kHz, there's a roll-off till the final 15kHz. This means that sounds in that region are not really emphasized. This is why you're not advised to use this mic for serious musical purposes, except maybe karaoke.
ATR2100 is useful for: podcasts, YouTubers and voice-overs
Pros:
It can record very loud sources.
You can hold it while recording because of its design.
USB and XLR ports provide multiple connection options
Cons:
Not suitable for studio vocal or instrument recording.
The frequency range is quite narrow.
Recommended read:
Conclusion
Audio Technica sure has a mic for every user. Regardless of what your specific needs are, you will definitely find a mic that will fit perfectly.
I'm sure you can make an informed choice from our list of best Audio Technica mics, either you're looking for specialized mics or a one-size-fits-all.
Hi, I'm Jennifer I'm a passionate singer and an audiophile from Detroit, MI. 
I'm on a mission to help music creators to create fine music that help them position uniquely in the saturated music space.
Follow my blog for regular content :-)