Affiliate disclosure: In full transparency – some of the links on this website are affiliate links, if you use them to make a purchase we will earn a commission at no additional cost for you (none whatsoever!). Will this be a problem? This is how we manage to create free content for you. Please know that your trust is so important for us. If we recommend anything, it is always because we believe it is worth exploring. And, buy me a coffee ☕️
In this post we are reviewing the top 7 best microphones that works great for female vocals.
[amazon table="523197″]
Have you watched a four-part choir perform?
You would notice that even though the singers are divided into parts, some parts have more men while others have more women.
This is because there are certain vocal properties that are common to men, and there are others that are common to women.
Once in a while, you have male singers that have some characteristics of female voices and vice versa, but generally speaking, there are noticeable differences.
This is why, for example, a live sound engineer would have different presents for a male lead vocal and a female lead vocal.
Even when recording and mixing, we tend to use different settings for male and female singers.
These differences make some mics better for female vocalists than others. This article brings to you the top microphones that you can use for live female vocals.
Here are the top 7 mics for female vocals:
Sennheiser e935 is a solid microphone with all the good stuff that a vocal performer would want; good grip, strong build and less feedback.
As you will find out shortly, the microphone will be well suited to female vocalists because of its response to the high mid frequencies.
Build and design

Like I said, the e935 has a solid body, built to last. So, if you're dealing with highly energetic singers whose passion may boil over, you should consider this mic. Also, it takes a lot of dropping and dragging for this mic to have scratches.
It's a really good fit for touring artists and bands' especially those that do lots of jumping around on stage.
Sound quality
The cardioid polar pattern and hum-compensating coil combine to reduce feedback to the barest minimum. This mic has a frequency range of 40Hz to 18000 Hz. For a live performance mic, this is a really good range.
Now, here's the part that makes it so good for female vocals: The sound produced by the e935 is mostly well tempered, with no audible spikes or dips along the frequency curve.
If you want to improve your vocals I advise you to practice singing daily with iPhones or Android by installing good singing apps such as Smule and the quality external mics to get a superior sound.
However, it brings a whole lot of clarity and brightness to vocals without sounding harsh. As you know, this is an important factor for most sound engineer and female singers.
The sound guy is usually caught between giving the singer some high mid to high frequency push, (since that's where her voice's uniqueness probably lies) and dropping these same frequencies anytime the singer decides to belt or increase her intensity, to prevent harshness.
At the end of the day, the sound guy may only succeed in giving the audience a roller coaster listening experience, and not in a good way.
The e935 takes care of this by giving subtle brightness that's just enough to bring out the sheen in the vocals.
Additionally the Sennheiser e935 is quite sensitive, a bit more than most regular performance mics. Because of this, you may have some unwanted sounds due to handling.
With this mic, you'll need professional handling, or something close, so you don't mess up your performance.
The good side of the sensitivity is that for female singers who are soft spoken, you don't need too much work to make them audible enough for the audience.
Pros:
Built to last; very durable
Handles feedback well
Cons:
Super sensitive, therefore may capture unintended sound
Bottomline
The Sennheiser e935 has what it takes to produce excellent female vocals, but must be well handled to attain good results. It is advisable that you make sure that it is used for rehearsals first if you decide to use them at your gigs.
#2. Shure BETA 87A –
Budget friendly choice
The Shure BETA 87A is a direct answer to most of your live performance questions. It is a super cardioid electret condenser microphone that is designed for stage comfort.
If you're on stage with the Shure BETA 87A, you cannot be worried about dropping your mic mid performance. The redesigned shank and swivel adapter work well to ensure you have an incident-free performance.
Build and design

The Shure BETA 87A has a simplistic exterior design, with a slim shaft for the handle, which allows for easier control. The head is covered in a steel drille, with a sky blue band around the circumference.
Though a simple design, Shure managed to make this mic look sleek; especially the head part. However, do not be deceived by the slim figure, it's rock solid, and built to last.
Sound quality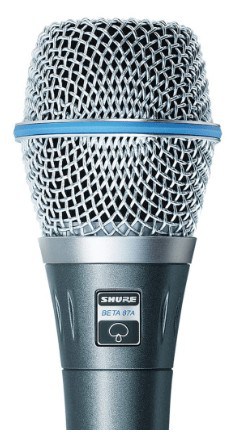 During a live performance, one recurring issue that always bugs sound engineers is the proximity effect. At times, the singer brings the mic very close to their mouth when singing. This may cause a very unpleasant low frequency swell.
To address this, Shure BETA 87A has three pop filters, which prevent high volume plosive sounds from causing this unwanted boom. Additionally, there is a slight low-frequency roll-off to help tame these bass frequencies.
In terms of frequency response, it gives a slight lift around 10000 Hz. This adds a little bit of brightness to the sound, which is usually a great addition for female singers.
It's a supercardioid, so you may half expect it to be vulnerable to the proximity effect. Well, it's not. The in-built active electric circuit makes sure of this.

Pros:
Deals impressively with proximity effect
Has lots of clarity
Cons:
High frequencies may get slightly harsh with high volume and close placement.
Bottomline
The Shure BETA 87A holds its own quite well in the live performance area, and adds a unique touch with the proximity effect reduction.
Either you choose to use it for your lead vocalist or your backup vocalists, the AKG D5 will surely deliver.
Generally speaking, this microphone was made for vocal use. AKG's innovative diaphragm design was put on full display with the D5.
The varimotion diaphragm has no fixed thickness.The thickness is automatically fine tuned as needed.
Build and design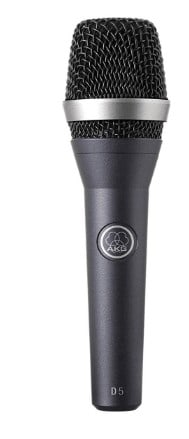 Do you know what a matte grayish blue color looks like? That's the finish chosen by AKG for this mic.
The AKG D5 dynamic microphone is comfortable to hold, with additional grip added with a thumb rest very close to the grille.
This seemingly little addition can be very helpful, especially during lengthy performances. Another brilliant addition to this mic's design is the dual shock mount.
This ensures that any fumbling of the mic produces minimal noise . Non-professional vocalists can take advantage of this.
The mic head is covered with spring steel wire mesh, for protection in case of drops. It's worth noting that the AKG D5 has no on/off switch, so if you forget your lines mid performance, you can't switch off and blame the engineer.
Sound quality
The AKG D5 holds its own among the most popular live performance microphones around. The supercardioid polar pattern make it possible for the singer to reach high volumes without feedback from the monitors.
This means that a female singer can decide to scream during her performance without the stage monitors screaming back at her.
The frequency response range is 70Hz to 20kHz; fully capturing the average female singer's range. Also, the frequency response is well optimised for vocal use.
This mic features a high SPL of 147db. It would take a person with a voice louder than a truck honk to have distortions with that.
I should also mention, that the AKG D5 would be more suited to vocalists who are in the alto range. It may not have that tingling sparkle at the high end of the frequency range, but it sure has the clarity required in the mid high to the not-so-high highs.
Pros:
Less noise from handling
Variable diaphragm means more flexibility
Bottomline
The AKG D5 is quite good for female vocal performances, geared at delivering that modern pop sound that gets the audience going.
The Audix OM6 is a hypercardioid dynamic mic that was manufactured mainly for use in live performances and voice-overs. This is one mic that really holds its own even when compared with classics that are more expensive.
I didn't really know much about Audix before reviewing this mic, but right now,I have a ton of respect for them.
This quality makes it evident that they will surely give these big boys something to think about.
Build and design
The Audix OM6 features an all-black design from the grille down to the shank.It has a relatively slim body. Energetic performers must be careful when using the OM6.
The material used in the finish may make the mic a bit slippery, especially if held with sweaty palms.
Additionally, this mic has a solid build, it feels like it was built to last. The body is made of zinc alloy.
I think that with the popular design that most mic makers now use, it may be safer to use more recently manufactured mic stands when working with these mics.
I have not personally tested it, but it is possible that some of these mics may fall of older mic stands, because the space in the mic stands are too wide for them.
Sound quality
The Audix OM6 has a frequency range of 40Hz to 19kHz, wide enough to have a comprehensive representation for most female voices.
Also, the supercardioid polar pattern helps to make sure that feedback only starts occurring after the singer has achieved high gain levels.
The Audix OM6 easily stands out in a live performance with clarity and presence. Even when it's a full performance with a large band, expect the Audix OM6 to cut through the mix naturally.
However, if you're the sound guy, have a low cut preset handy, because of proximity effect. When the singer takes the mic very close to their mouth, you may have some low frequency rumble.
That being said, this mic has low self noise, and it manages to keep handling noise to a comfortable minimum.
Handling noise may not be an issue in a "heavy" performance, where there are so many things happening at the same time' but for a simple performance, say just a piano and the vocalist, handling noise can be a real menace.
The Audix OM6 handles this noise just as if it was built for studio use.
Pros:
Good clarity
Feedback resistant
Cons:
Bass build up due to proximity effect.
Bottomline
The Audix OM6 is up to standard, and is with the more popular names in this category. If you have sweaty palms, just make sure you have a handkerchief to hold the mic with.
Neumann decided to grace the stage performance world, even though we are more familiar with their studio microphones. The KMS 105 is a condenser microphone that gives studio quality sound on stage.
Some recording engineers insist on using it for their studio recordings. With the KMS 105, Neumann has demonstrated that you can have it all; studio condenser microphone's sound quality and stage mic ruggedness all in one.
Build and design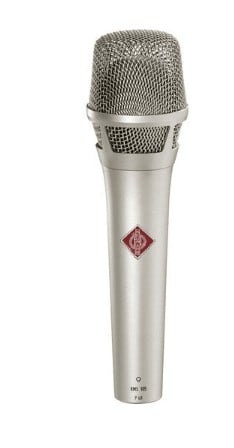 The KMS 105 is built to withstand the pressures of on-stage use. The cap is covered with hardened steel grille, which can take a few falls before you start having issues with it.
The body is not as slim as most modern day mics, which for me, is like a breath of fresh air (I believe you don't have to be slim to look beautiful).This solid frame makes the KMS a wise choice for vocalists on tour or those who perform week in, week out.
Sound quality
The first thing I noticed when mixing a live gig with the KMS 105 as the female lead vocalists mic is the pop filter effectiveness.
If you've ever mixed a live performing rapper, you would appreciate the need for good pop filtering.
Rappers have a way of holding mics that can jeopardize whatever mixing plans you already had.
There's a way they wrap their hand around that cap, leaving little or no space for air movement, and holding the mic so close to their mouths that their lips touch the grille.
Without a good pop filter, the sound would be all over the place. Neumann has so designed the KMS 105 that such performers can do their thing without causing problems for the sound team.
Additionally, the 105 is a supercardioid mic, so it has a high level of feedback control.Handling noise is also greatly reduced.
Another impressive characteristic of the KMS 105 is its handling of proximity effect. Either the performer brings the mic very close to their mouth or not, the sound is largely unaffected.
For the frequency response, there is an in-built highpass filter that helps to handle bass buildup and off-axis low frequency that may want to creep in.
There's a slight lift from 12kHz upwards that's just enough to add the sparkle needed.
Although some engineers may argue that the lift should have started earlier in the frequency spectrum, at the high mid area, I think this kind of response is what has made the KMS 105 very good for female vocalists.
They can achieve clarity and intelligibility without doing too much.
Pros:
Effective pop filtering
Great build
Bottomline
Neumann has stamped their print once again in the stage performance world with this bold statement calle KMS 105. You cannot possibly go wrong with this.
The Sennheiser E835 is a wide cardioid dynamic microphone. It can be very useful if you're on a budget and you need something to work with, especially in not-so-major gigs and smaller stages.
You may be wondering why we have it on this list if it's not special. Well, it is, when you compare it to other microphones in that price range.
Build and design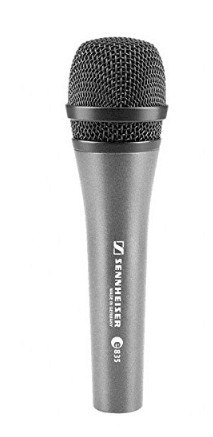 The build is relatively strong, and the mic can be used for quite long if used with care. Though, the E835 looks a lot like other sennheiser mics, it is quite lighter.
The mesh grilles are also a bit different, and may not withstand as many drops as would other Sennheiser mics.
That being said, you shouldn't have any problems if you take good care of it.
Sound quality

The E835 is a wide cardioid polar pattern mic. This makes it effective with off axis sound. In a high energy performance where the vocalist does lots of jumping around, this attribute will be of help.
Additionally, this Sennheiser gives vocals strong presence, making them easily audible with minimal work from the engineer. Also, words and lyrics in the performance will be more intelligible.
It does well in handling proximity effect too, with little or no boominess when brought close to the mouth.
The E835 handles feedback pretty decently; you should be fine as long as the stage is not a very loud one.This mic may be more suited to female vocalists who are not in the high soprano voice range; these ones may find it a bit harsh.
Pros:
Good off-axis performance
Cons:
Feedback may be an issue on louder stages
The Telefunken M80 is a condenser microphone that offers you the advantages of a dynamic mic, without the accompanying issues.
The manufacturers claim that it is well suited to both live and studio recording use, but when I tried it out, I found out that it's more of a live stage product.
That being said, it may be helpful for some artists that like to approach studio recordings like stage performances.
Build and design
Telefunken M80 has such a befitting name; it really looks like something named "telefunken". It has a steel grille on the cap. The rest of the body can be black, silver or chrome, with the logo on the side in a silver finish.
I must say, it looks glamorous; that's a plus for many female vocalists. For maximum slay, go for the silver or chrome finish, though they are limited edition colors.
Telefunken M80 is available in wireless versions too, it you like to move around a lot with less clumsiness.
Also, I think the rubber grip is a brilliant idea. It will prevent any slips during a performance. Besides the telefunken mic looks like something a show man or woman would love.
Sound quality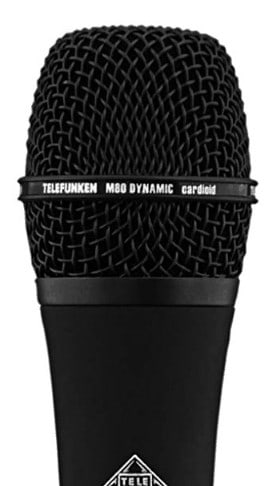 The M80 can handle high sound pressure levels, and can also prevent feedback. Its sound gives vocals some presence and clarity, but not as much sparkle as you may need.
However, it should work well for high-pitched soprano singers who already have enough sheen in their voice; it can add some clarity and help make sure that their articulations don't sound nasal; rather, it helps them sound open with more presence.
Pros:
Good grip
Aesthetically pleasing
Bottomline
The Telefunken M80 will surely add to the glam on your stage. Some people might complain about the price, almost double the price of legends like the SM58. But really, think about it: Do these other mics look this fly?
Read our other popular posts:
Conclusion
While this is not a binding list of any sort, these mics I have listed are products of experience trying out many options. For female live vocalists, this list can be a starting point.
You don't really need to try out as many options as I did before you get it right. Also I have tried to touch every category possible; condenser, dynamic, low budget, aesthetic and others.
Have you met some singers who seem to sound better when they're not using a mic? I personally believe that female vocalists need more attention from the sound guys.
At times, engineers may erroneously categorise some women vocalists vocal texture as "weal" or " soft". I would rather categorise them as delicate, and approach their material as such.
Hi, I'm Jennifer I'm a passionate singer and an audiophile from Detroit, MI. 
I'm on a mission to help music creators to create fine music that help them position uniquely in the saturated music space.
Follow my blog for regular content :-)