Among Shure MV7 vs SM7B, which mic comes out on top in this battle of dynamic microphones? You have a tough choice with the MV7's slick digital features versus the SM7B's purist analog approach.
To make the choosing process easier, I invite you to read this in-depth comparative guide. Let's get started!
Quick Comparison
The Shure MV7 and SM7B share some similar traits as dynamic broadcast microphones. They both have a cardioid polar pattern and XLR outputs. However, they also have some distinct features that set them apart.
The MV7 offers more built-in controls and digital connectivity:
It has an LCD touchscreen interface and onboard processing;
The mic can connect via XLR and USB outputs, providing flexibility.
On the other hand, The SM7B takes a stripped-down, purist approach:
It has an entirely manual analog design;
The SM7B requires external processing like a FetHead or Cloudlifter.
These are some of the basic differences between the mics. Continue reading to learn about the upsides and downsides of both mics. Also, get insights into the comparison of the MV7 vs SM7B by 10 parameters such as hardware, mic gain, frequency response, tone, and so on. Let's dive deeper into the details!
Comparison Chart: Shure MV7 vs SM7B
Here is a quick table that differentiates both dynamic microphones:
| | | |
| --- | --- | --- |
| | | |
| | | |
| | | |
| | | |
| | | |
| | | |
| | | |
| | | |
| | | |
| | | |
| | | |
| | | |
| | | |
| Accessories included in the box: | 2 USB cables, 2 windscreens | Switch cover plate, windscreen, thread mount |
| | | |
Shure SM7B The Good and Not-So-Good Stuff
The SM7B certainly has its strong suits but also comes with some limitations.
Shure SM7B
Pros
Offers high-quality audio due to its excellent gain control.
It has a strong build, thanks to its metal construction.
Cancells the background noise because of its cardioid polar pattern.
Cons
Need additional equipment like Cloudlifter or Fethead to make it louder.
Last update on 2023-12-08 / Affiliate links / Images from Amazon Product Advertising API
Shure MV7 The Good and The Bad
The following are the advantages and disadvantages of the mic:
Shure MV7
Pros
Built-in gain control to minimize the noise.
Compatible with the ShurePlus MOTIV app.
A versatile mic that offers bass roll-off and mid-range boost.
Cons
Requires power over USB output.
Last update on 2023-12-08 / Affiliate links / Images from Amazon Product Advertising API
Shure MV7 vs SM7B: 10 Parameter Detailed Comparison of Dynamic Microphones
Now that we've covered the basics, let's dive deeper into the details and explore how the Shure MV7 and SM7B compare across 10 key factors.
1. Hardware and Features
When it comes to hardware and features, the Shure MV7 has more built-in controls and digital connectivity options compared to the simpler, more analog SM7B.
MV7 Mic
The MV7 provides the following benefits:
A touch-sensitive LED panel that allows for easy monitoring and can adjust headphone volume, mic gain, and monitor mix levels;
It also includes a headphone output for real-time monitoring;
The MV7 has a USB output that enables use with Shure's MOTIV software for expanded control.
SM7B Mic
In contrast, the SM7B takes a stripped-back approach. You get:
One windshield option;
Two small vertical switches on the rear to toggle between flat, boosted, or rolled-off response.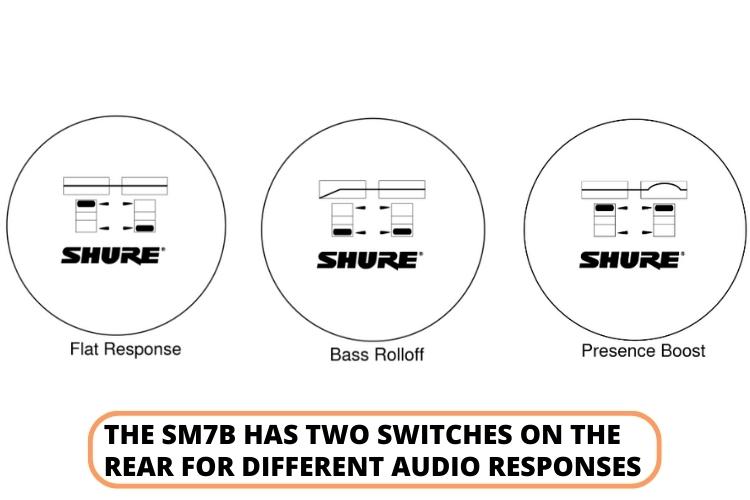 There's no USB connectivity or software integration on 7B, unlike its contender. Both mics provide integrated pop filters and shock isolation, but the MV7 includes more modern digital recording and monitoring features.
Winner: The MV7 pulls ahead for hardware and features thanks to its onboard digital controls and headphone monitoring.
2. Connectivity
Shure SM7B only offers an XLR connection for connectivity in the form of an analog output. Therefore, digital recording may require a separate analog-to-digital conversion (ADC).
On the other hand, the MV7 has more options. It has:
An XLR output;
A USB port;
A headphone monitor jack.
With the help of its USB connectivity, you can directly plug and play your mic into a digital system. Moreover, you don't need a separate analog-to-digital conversion, thanks to its built-in 24-bit/48kHz conversion. This provides a better dynamic range than some other popular USB mics.
Important! The MV7's USB enables control via the ShurePlus MOTIV app, while the headphone output allows zero-latency monitoring. There's no such facility in SM7B.
Winner: The MV7 wins for its flexible USB, XLR, and headphone connectivity.
3. Build Quality
When we look at the build quality of both mics, it can be compared in terms of construction and dimensions:
Construction: The SM7B is built like a tank with its all-metal body structure and can withstand heavy use. Likewise, the MV7 also boosts metal construction and can bear wear and tear. Hence, there is not much difference in terms of bodywork.
Dimensions: Dimensionally, Shure SM7B, being 7.8 x 4.6 x 3.8 inches, is larger and heavier with an overall weight of 1.70 pounds. On the other hand, MV7 is more portable with 1.2 pounds and 6.5 x 6.0 x 3.5 inches dimensions.
Winner: Both mics are the same when it comes to construction but the portability of MV7 makes it a better choice.
4. Frequency Response and Tone
When you look at the SM7B, it has a more comprehensive 50Hz-20kHz frequency range, which is suitable for instruments like guitars. Moreover, its tone is more warm because of its flat frequency response.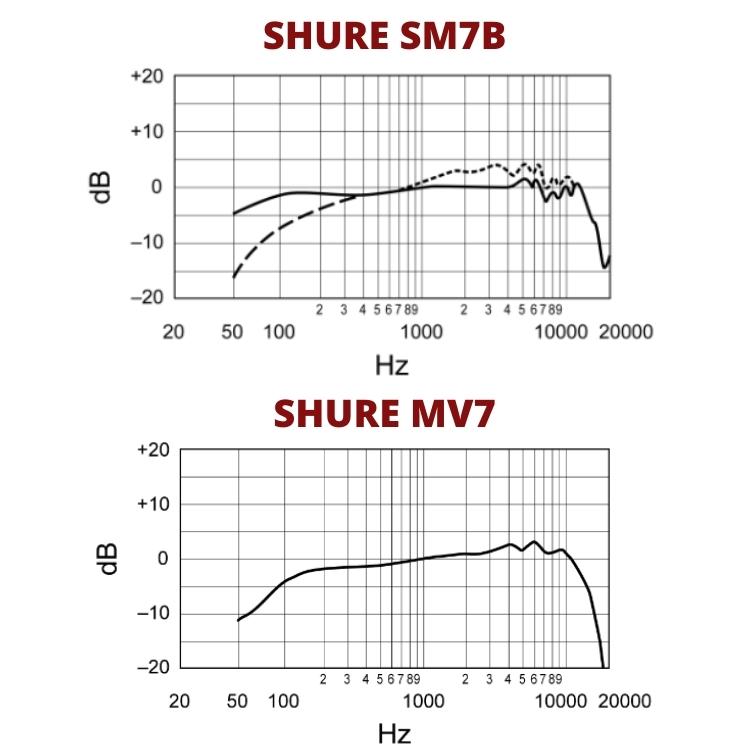 The MV7, on the other hand, focuses on vocal clarity in the 50Hz – 16kHz range, which is less than its competitor. Additionally, you may also observe minor plosives and noise in the sound, which requires an additional pop filter and a mic stand for adjustments.
Winner: The SM7B takes the lead for a more natural and balanced frequency response, along with a wide response.
5. Mic Gain
The MV7 provides:
Auto-level mode and manual gain control options via its app and audio interface.
Moreover, it is also more sensitive (-55 dBV/Pa).
On top of that, there is also a built-in gain control feature that can control gain up to +36 dB, preventing you from needing an inline preamp.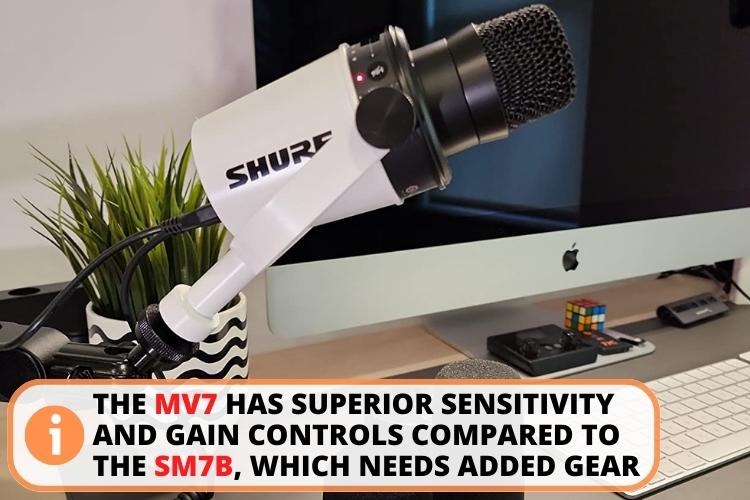 In relation to this, SM7B is less sensitive (-59 dBV/Pa). Therefore, it requires additional downstream gear like a Cloudlifter for proper gain staging (around +60 dB).
Note: Cloudfilter is a preamp that increases the sensitivity threshold and offers ultra-clean gain.
With all these features, MV7 also has a mute button, which is handy during live recording. But SM7B misses this feature and requires an external mute button.
Winner: The MV7 stands tall in this category for its built-in gain control, mute button, and better sensitivity.
6. Output Resistance
Output resistance matters when connecting a mic with an external device like a speaker. If the resistance is higher, the dynamic microphone requires more voltage and will produce more noisy sounds.
Moreover, if you are using XLR cables for connection, the wires' resistance adds to the microphone's impedance. Therefore, it even worsens the situation. Having said that: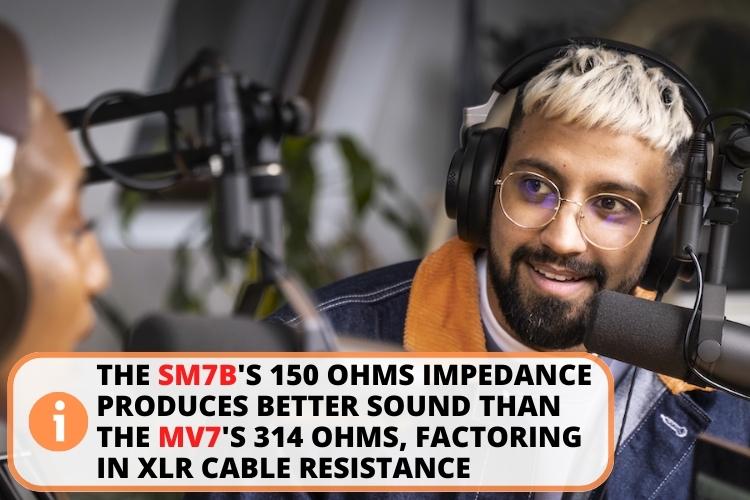 The MV7 has 314 ohms;
The SM7B has 150 ohms for a warmer tone.
This concludes that SM7B has a lower impedance and will produce a better sound compared to MV7.
Winner: SM7B is the clear winner due to its marginally less resistance of 150 ohms and better signal transfer properties.
7. Performance of High-Quality Audio
A microphone's performance is usually judged by its precision and how little it has gain or noise. All these features are directly impressed by:
The frequency response;
Gain control;
Ohm impedance.
Owing to the above features:
SM7B: It is the one that takes the lead. Because, it has a broader frequency response, a reasonable gain adjustment, and less resistance. On top of that, it makes your sound feel more natural.
MV7: On the other hand, Shure MV7 lags in all these departments. Moreover, it also applies a bit of processing, which makes you sound less professional.
Winner: The SM7B is a victor here for its pure, uncolored sound and better sound-producing capabilities.
8. Convenience
Let's take a look at what these 2 microphones offer in terms of convenience:
Ease of use: The MV7 provides easy plug-and-play use via USB and integrated controls/monitoring. At the same time, the SM7B requires extra downstream gear for proper functionality. This means that you also need to buy a converter since the mic produces analog sound, which needs to be converted to digital so that it can be played on most devices.
App compatibility: The MV7 is also coupled with the support of the ShurePlus MOTIV app – which can help record high-quality sound and compression. In contrast, the SM7B doesn't work with the app. Therefore, you have to edit your sound manually post-production.
Winner: The MV7 is far more convenient, especially for beginners, due to its easy connectivity, app support, and elimination of the need for an ADC converter.
9. Cost
Straightforward, the SM7B is more expensive upfront with a price tag of $390+*. Plus, it also needs an external preamp or a monitor mix to control the gain. This adds to the base price, making it an even more expensive choice.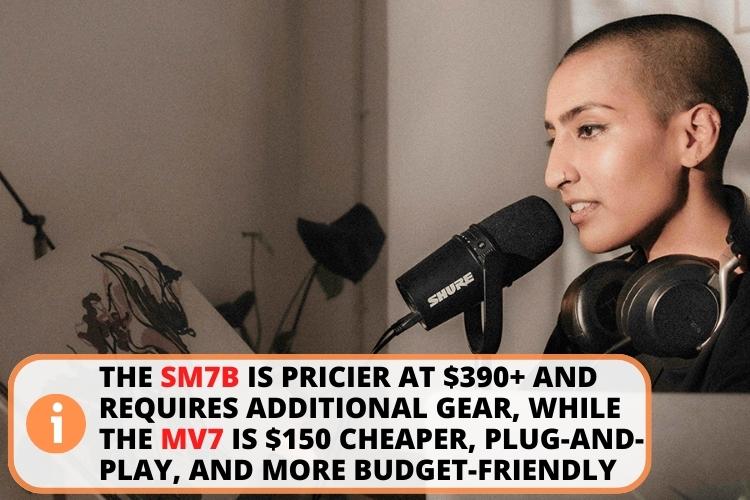 On the other hand, the MV7 is a much cheaper option, compared to the other option. It sells almost $150* less than SM7B, making it a more budget-friendly choice. On top of that, it can work right out of the box. You just plug in a device and start recording – no need for an external audio interface.
*The price is taken at the time of writing. Original values can vary, depending upon the location.
Winner: In this category, MV7 takes the lead because it is lower in price and doesn't need any external device.
10. Accessories
The SM7B includes essential mounting accessories, such as:
A cover plate;
A windscreen;
An adapter;
Important! Despite being an expensive option, it also doesn't offer options like a built-in gain controller.
On the other hand, the MV7 unlocks the powerful ShurePlus MOTIV software for control and monitoring. Plus, it has more accessories, like:
2 USB cables;
2 windscreens;
1 lightning cable (optional).
Moreover, a gain controller is built by the company.
Winner: MV7 wins this round with extra ad-ons, support for official software, and a built-in gain controller.
How Does The Sound Quality Of Each Microphone Compare?
Regarding pure sound quality, the edge goes to the SM7B for its more natural, transparent reproduction:
Its more comprehensive 50Hz-20kHz frequency response allows it to capture audio with greater balance without disturbing particular frequencies.
This makes the SM7B well-suited to faithfully capturing instruments, vocals, and other sources.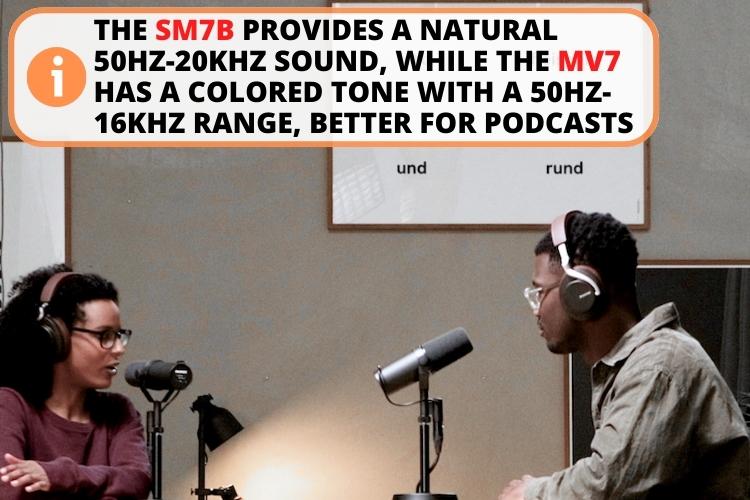 In contrast, the MV7 has:
A narrower frequency boost in the 50Hz-16kHz vocal clarity range.
This gives the MV7 a more "hyped" sound, emphasizing the upper mid-range.
While this can cut through a mix well for podcasts and streaming, it colors the core tone more than the SM7B.
Summary: Lastly, the SM7B's lower 150-ohm output impedance produces a warmer, smoother sound than the MV7's slightly more clinical tone. This further contributes to the SM7B's lifelike audio reproduction.
Shure MV7 vs SM7B: Which One To Choose?
The MV7 is more beginner-friendly, with easy connectivity, controls, and built-in processing. Moreover, it offers the following perks:
Pricing: It is more affordable compared to the premium-priced SM7B. Adding accessories makes the MV7 an even better value.
Usage: The MV7 offers flexibility to grow from USB to XLR. It can integrate into basic or pro setups. However, for experienced users prioritizing audio quality, the SM7B may be better.
Performance: The SM7B captures an incredibly natural, uncolored tone right away. It earns its reputation as the signature broadcast sound microphone.
In contrast, SM7B is a great option, if you are looking for the following things:
Warm sound: It offers a warmer and smoother audio which sounds more natural and neutral.
Prevent from plosives: Despite having only 1 windscreen, SM7B controls plosives quite effectively.
Output impedance: SM7B has low output resistance. This means the mic will consume less electricity and its results are less prone to get noise.
In short, the MV7 wins for simplicity, affordability, and flexibility. But the SM7B takes it for pure audio reproduction without processing.
FAQs
Is the MV7 the same as SM7B?
No, the MV7 and SM7B are different microphones. MV7 has a narrow response, a built-in gain controller, and a high resistance. While SM7B has a wider response, a lower resistance, and is more sensitive. 
Is the SM7B worth it over the MV7?
Yes, for experienced users prioritizing audio quality, the SM7B may be worth the higher cost because of its excellent sound production and enhanced performance. 
Can you use the Shure MV7 and SM7B for broadcasting and voiceover work?
Yes, you can use the MV7 and SM7B for broadcasting and voiceovers because they are designed to produce clear sound with isolation.
What is the difference between the Shure MV7 and SM7B frequency response?
The SM7B has a broader and flatter frequency response ( 50Hz-20kHz), while the MV7 boosts the 50Hz-16kHz vocal range.
What is the difference between the Shure MV7 and SM7B price?
The Shure MV7 is expensive and costs around $100+ more than the more affordable MV7.
Is The MV7 good for vocals?
Yes, the MV7 is very good for capturing clear yet polished vocal recordings. Its midrange-focused response is excellent at enhancing speech intelligibility. 
Conclusion
The Shure MV7 and SM7B are excellent studio-quality broadcast microphones for vocalists and content creators. They take your experience of podcasting and broadcasting to the next level.
The MV7 makes recording easy with its built-in controls, digital connectivity, and affordable price. Moreover, it has a strong build quality.
Shure MV7
Enhance your recording experience with the MV7 Dynamic Microphone. It is a great option for broadcasting and podcasting. Plus, it has a built-in gain controller to minimize the noise in your sound.
Last update on 2023-12-08 / Affiliate links / Images from Amazon Product Advertising API
On the other hand, for experienced users who demand benchmark sound, the SM7B captures audio with outstanding transparency and warmth. It earns its reputation as the industry standard microphone for natural tone. 
Shure SM7B
Capture broadcast-quality audio with the SM7B. Its neutral response, integrated pop filter, and minimal self-noise allow it to produce smooth, controlled audio for podcasting, music recording, and more.
Last update on 2023-12-08 / Affiliate links / Images from Amazon Product Advertising API
Read also:
6 Best Wireless Mics for Computer Reviewed in 2023
5 Best Shure Microphones for Crisp-Clear Vocals
7 Best Shure SM7B Alternatives That are Affordable