Today in this post let us review the best beatboxing mics for live performances.
If you are searching for beatboxing microphones then you are already familiar with what beatboxing is?
Our Best Pick
Shure SM58 Cardioid Dynamic Vocal Microphone with Pneumatic Shock Mount, Spherical Mesh Grille with Built-in Pop Filter, A25D Mic Clip, Storage Bag, 3-pin XLR Connector, No Cable Included (SM58-LC)
Best Value for Money
AKG D5 Vocal Dynamic Microphone
Best Live Vocal Mic
Audix Fireball V Harmonica Beatbox Microphone Fire Ball V w Free 20ft Cable
Our Best Pick
Shure SM58 Cardioid Dynamic Vocal Microphone with Pneumatic Shock Mount, Spherical Mesh Grille with Built-in Pop Filter, A25D Mic Clip, Storage Bag, 3-pin XLR Connector, No Cable Included (SM58-LC)
Last update on 2023-09-21 / Affiliate links / Images from Amazon Product Advertising API
If not let me answer this for you.
What is beatboxing?
Beatboxing is a popular urban practice that is closely associated with hip-hop culture.

It involves mimicking drum machines (popularly known as beatboxes) and other instruments using the tongue, lips, voice, and mouth.
The art of beatboxing isn't as complex as most people think. It simply requires lots of rhythm and practice.
To learn, you should train your mouth to accentuate the pronunciation of specific vowels and sounds.
Now that we've answered the burning question.
| | | | |
| --- | --- | --- | --- |
| Features | Shure SM58 | AKG D5 | Audix Fireball V |
| Mic type | Dynamic | Dynamic | Dynamic |
| Frequency response | 50 to 15,000 Hz | 70Hz to 20kHz | 50Hz-16kHz |
| Sensitivity | -54.5 dBV / Pa (1.88 mV) | 2.6 mV/Pa (-52 dBV) | 1.9mV/Pascal @ 1k |
| Maximum SPL | 94dB SPL | 147/156dB SPL (for 1% / 3% THD) | >140 dB |
| Polar pattern | Cardioid | Supercardioid | Cardioid |
| Amazon product page | Check price | Check price | Check price |
Let's focus on the most important tool required to beatbox effectively: a microphone.
Beatboxing requires proper mic technique.
Apart from capturing your performance impeccably, the microphone also doubles up as a performance tool.
All beatboxers have a special connection to their mics. A good mic will improve your interaction with the crowd and boost your beatboxing technique.
Different microphones vary in their operation, so it's crucial to choose the best live vocal mic for beatboxing.
Here are the top 3 beatboxing mics for live performance:
The SM58 is widely respected among most beat-boxers for its reliability. Here is why?
Build and design

The Shure SM58 is designed using a narrow handle frame and a built-in spherical filter that is housed by a rugged, shock-absorbing steel mesh grille.
This grille can withstand rough handling, making it one of the best beatboxing mic in the world.
Changes in internal temperature and moisture are prevented by a special adhesive compound. This compound also secures the transformer and forms an airtight chamber for good shock mounting.
Sound quality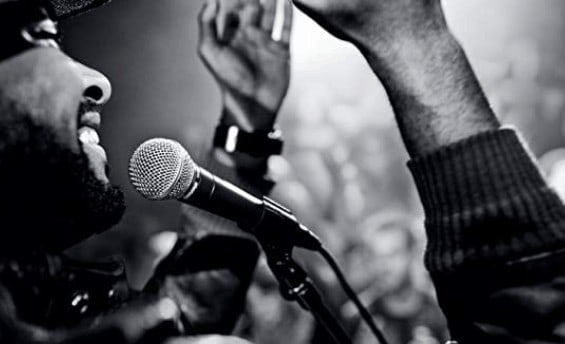 The Shure SM58 dynamic mic delivers a cardioid/unidirectional polar pattern that effectively rejects unwanted audio clutter. This vocal mic boosts low bass frequencies to deliver a warm, crystal-clear sound.
Its low-cut roll-off helps to reduce plosives, wind noise, and handling noise. In addition, it produces a smooth brightened mid-range that enhances the depth and warmth of your vocal range.
As this mic has low sensitivity it can be used in the untreated rooms for recording purposes.

This particular mic uses proximity effect, a feature that boosts bass frequencies by 6-10 dB (at 100 Hz) when you're standing less than 0.25 inches from the mic. It also uses a presence peak to enhance speech intelligibility.
Pros:
Exceptional voice clarity that's perfect for live performances
Sturdy, long-lasting build
Exquisite dynamic range with no feedback
Cons:
The switched version picks up electrical noise
It comes with a thin XLR cable
Not ideal for studio applications
AKG D5 –
Best value for money

The AKG D5 vocal dynamic mic is perfect for competitive beatboxers who needs a clear, responsive sound with a persuasively tubby bass response.

It's high fidelity makes this mic great for beatbox recording and is popularly used by rappers who perform in swissbeatbox.
Build and design
The AKG D5 boasts of sleek, rugged metal construction with a dark stage-blue finish. This handheld dynamic mic can be described as one of the best live vocal mics.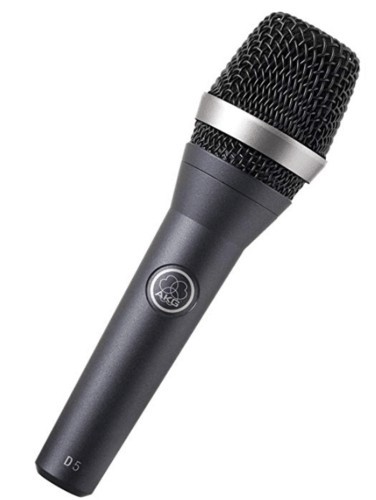 It has a rough die-cast build and a spring-steel wire mesh grille that withstands all kinds of live performances.
It's equipped with a laminated AKG variation diaphragm. This patented technology delivers a crisp sound that cuts through all instrument mixes.
The AKG D5's dual shock mount eliminates handling noise whereas its integrated pop filter attenuates wind and pop noises.
Some of its accessories bought separately include an H30 shock mount and a W23 windscreen. In the box, you'll find one D5 mic, one SA61 stand adapter, and one carrying bag.
Sound quality
The AKG D5 has a unidirectional supercardioid polar pattern with a sensitivity of 2.6 mV/Pa. This pattern provides optimum gain before feedback, helping to boost low frequencies.
It produces a powerful vocal sound regardless of how noisy the stage is. It's widely used for live vocal performances and it's also one of the best mics for recording pianos, horns, strings, flutes, and other instruments.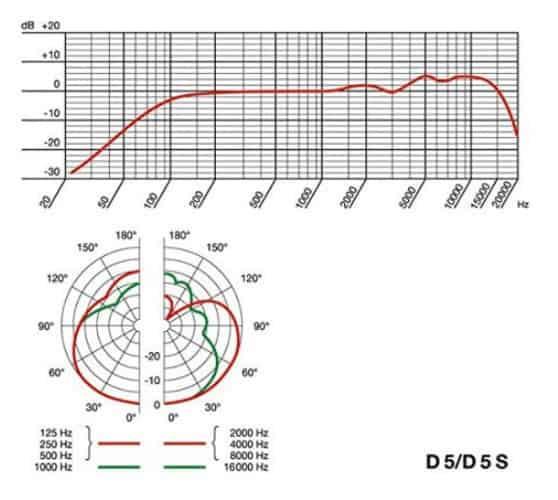 The D5 captures low frequencies perfectly, thanks to its excellent Sound Pressure Level (SPL).
Beatboxers can place this mic close to their mouths without having to worry about sound distortion, even when implementing different plosive techniques.
Pros:
Delivers a powerful vocal performance, perfect for beatbox
Solid construction
Affordably priced
Cons:
Low-ends occasionally sound muddy
More sensitive than Shure SM58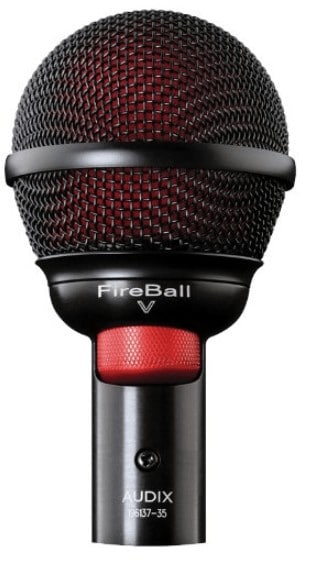 If you're searching for the best beatboxer in the world, the Fireball V Harmonica by Audix might just bring your search to a halt. Here's a breakdown.
Build and design
The Fireball V is an ultra-small dynamic mic that has a zinc die-cast body and black finish. It has a red volume control knob that's conveniently located on its neck.
This dynamic low impedance mic is compact, lightweight and fits comfortably when gripped. It is equipped with a rugged steel mesh grille that withstands rough handling.
Labeled as one of the best mics for rap and beatboxing, the Fireball V comes with a laser-etched serial and model number. It also has a gold plated XLR connector that looks chic and durable.
Sound quality
The Fireball V has a cardioid polar pattern and a sensitivity of 1.5mV/Pa. It's mainly intended for beatbox, harmonica, percussion, and live stage performances. However, this dynamic microphone is also ideal for recording applications.
Its proximity effect is superb. You can comfortably beatbox using this mic without having to worry about sound distortions or reverberations.
This mic is fitted with a Very Low Mass (VLM) diaphragm that accurately reproduces your natural sound with outstanding transient response. In addition, it has a wide frequency response ranging from 50 Hz to 16,000 Hz with plenty of basses.
The Fireball V can handle high sound pressure levels up to 140 dB with zero distortion. This helps it to withstand varying breath and plosive techniques. In addition, it effectively captures low-end frequencies with remarkable clarity.
Pros:
Remarkable vocal clarity with no distortion
Nice, comfortable design
The volume control knob is a huge plus
Cons:
Comparatively pricier than other beatbox mics
Relatively new and untested
Volume knob could move during use
Features to look when buying a live beatboxing mic: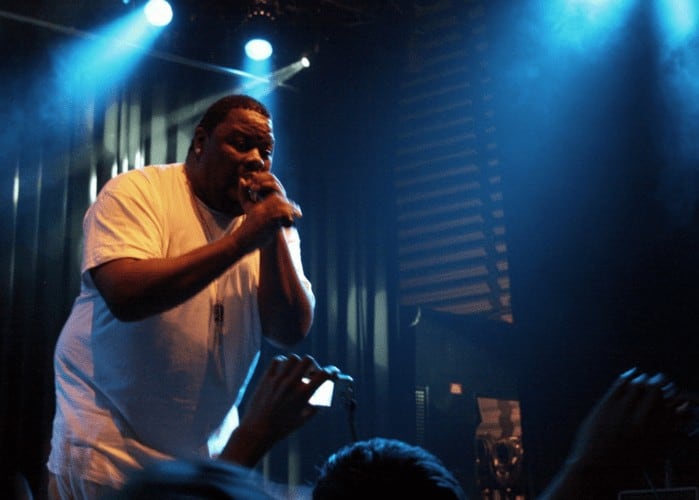 Dynamic vs condenser microphones
Although you've probably heard these two mic varieties being mentioned before, you might still be wondering: what's the real difference between a dynamic mic and a condenser mic?
Dynamic mics are best for live sessions, whether in a concert or an open-mic performance. These mics bring out big booming sounds exquisitely.
Condenser mics, on the other hand, are perfect for capturing vocals with high levels of detail and accuracy. They are popularly utilized in studios to record vocals, acoustics and instrumentals.
Dynamic mics are preferred by most beatboxers because they handle plosives perfectly and without distortion.
Proximity effect
The proximity effect refers to the manner in which a microphone enhances the low frequencies around it. For beatboxers, the closer you hold a mic to your mouth, the better your performance will be.
Most dynamic mics are designed to boost low frequency sounds to around 16 dB (below 100 Hz).
This means the closer you get to the mic, the higher the proximity effect. Beatboxers should hold their mics using a closed cup and place it very close to their mouths for the best results.
Frequency response
Beatboxing mics should have a frequency range of around 20 Hz to 15 KHz.
Normally, flat frequency responses that are generated by condenser mics reproduce the original sound very accurately. Dynamic microphones generate a ranging frequency response which is great for beatboxing.
If you're interested in getting the best mics for rap and beatbox, choose an appropriate dynamic mic that effectively picks up low frequencies.
Read our other popular posts:
Conclusion
Hope this article helps you in buying the best beatboxing mics.
The battle of beatboxers is very evenly contested. Each mic has a vast array of useful beatboxing features, making it extremely hard to make a single pick.
The Shure SM58 has a sturdy build and delivers remarkable voice clarity, perfect for beatboxers. However, the switched version picks up lots of electrical noise.
The AKG D5 provides a superior low-frequency boost and is favorably priced – the cheapest in this list. However, the low-ends sound muddy.
Finally, the Audix Fireball V is a new entrant with lots of promise. It has a wide frequency response with plenty of basses. In addition, it is extremely versatile since it can be used for both live sound and studio applications.
However, this mic is the most expensive in this list, although not by much.
The verdict is clear: the Audix Fireball V takes first place, followed by Shure SM58 and finally the AKG D5.