Affiliate disclosure: In full transparency – some of the links on this website are affiliate links, if you use them to make a purchase we will earn a commission at no additional cost for you (none whatsoever!). Will this be a problem? This is how we manage to create free content for you. Please know that your trust is so important for us. If we recommend anything, it is always because we believe it is worth exploring. And, buy me a coffee ☕️
In this post let us review the best microphones that are good for piano recording.
[amazon table="535396″]
These days, you're unlikely to easily come across a recording session where a piano is being recorded. Most producers would rather use a VST or record an electric grand piano.
| | | | | |
| --- | --- | --- | --- | --- |
| | | | | |
| | | | | |
| | | | | |
| Superb for acoustic piano  | | | | |
| | | | | |
| | | | | |
| | | | | |
| | | | | |
However, regardless of what technology has to offer in replacement, there are times when you must record a real acoustic piano.
One such time is when recording a piano performance. Another scenario where you wouldn't want to compromise is if you have to record a live orchestra.
Recording a piano is special in many ways. The piano is one of the instruments with the widest frequency range. The low frequency of a piano is as low as 26Hz, while the highest frequencies extend beyond normal human hearing–above 20kHz.
Any microphone that can capture such range must be special. This article gives you a list of the 7 best mics for piano recording.
Here are our top 7 handpicked mics for piano recording:
#1. MXL 770 –
Editor's best pick
Specifications:
Diaphragm: 6-micron gold-sputtered
Capsule Size: 22mm/.87 in.
Frequency Range: 30Hz-20kHz
Polar Pattern: Cardioid
Sensitivity: 15mV/Pa
Output Impedance: 150 ohms
Pre-Attenuation Switch 0 dB, -10 dB
High Pass Filter: 6 dB/octave @ 150Hz
Equivalent Noise: 20dB (A weighted IEC 268-4)
S/N Ratio: 74dB (Ref. 1Pa A-weighted)
The MXL 770 is a sturdy cardioid condenser microphone with an impressive performance. I think the best thing about this mic is the FET preamp that enables it to give a wide response range.
Build and design
The MXL 770 looks and feels solid, which is good for long term use. It sports a black grille with a black body and a gold band in the form of a thin circle around it. It also has the cardioid polar pattern and the MXL 770 written in gold. Overall, it manages to look simple, solid and sleek at the same time.
Sound quality
The MXL 770 is a cardioid condenser with a FET preamp. This preamp gives the mic a wide dynamic range to capture the piano sound effectively. It's one of the reasons why we have selected this MXL.
The small-diaphragm also makes sure that there is no distortion with high volume recording.
You can rest assured of clean recordings even in close piano miking conditions. It features a 10 db pad switch.

I really do not think will be necessary when recording a piano, because it may have adverse effect on the off-axis sound, which is equally important.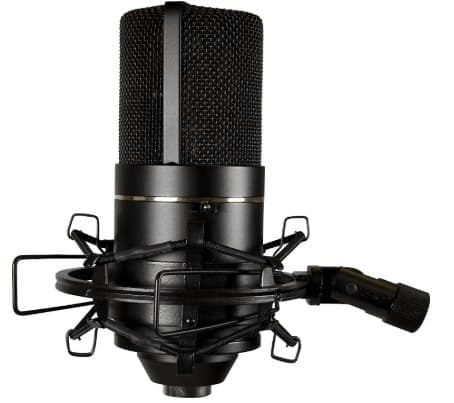 Additionally, the 150Hz bass roll-off switch will not be so useful in piano recordings, since you may need to capture frequencies as low as 26Hz.
It's a pressure gradient condenser microphone, which makes it effective at capturing off-axis sound. Additionally, an SPL of 137db means the MXL 770 can handle high volumes at close proximity.
This is important because piano volumes can get really high, for instance, when the lower octave keys are hit with some force for effect.
Pros:
The mic is solidly and easily lasts longer
Cardioid polar pattern ideal for pianos
Wide dynamic range
Good off-axis performance for pianos
Cons:
30Hz lower frequency boundary not low enough; pianos can get as low as 26Hz.
Bottomline: The MXL 770 represents a good choice when you want to record a piano. The FET preamp compensates adequately for any issues you might have due to the small diaphragm.
#2. Shure SM57 –
Budget-friendly piano mic
Specifications:
Microphone Type: Dynamic
Polar Pattern: Cardioid
Frequency Response:40Hz-15kHz
Output Impedance:150 ohms
Color: Black
Connector: XLR
Weight: 0.63 lbs.
Connectivity: Wired
Yes, the SM57 is on this list. This mic is what I call the legend that has succeeded where even condensers have failed.
Sure it's a directional mic, but with careful placement, you can get better piano recordings with this than with some condenser microphones. This is one of the good mics that can be used for voice-overs.
Build and design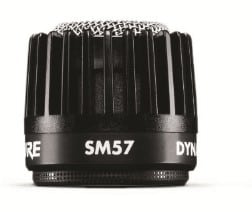 The SM57 has a narrow design, made with durable material that can withstand a few drops. Also, most of the external parts are replaceable. So, with your SM57, you're good to go for years. The design really stands out; it's uncommon to see a mic like this.
The head has the grille covered at the sides by the top cover, sitting comfortably on the slim body build, which gets even slimmer as it approaches the base.
Sound quality
The SM57 can handle extremely high volumes at close range, that's why it is a preferred choice for drums and brass instrument recordings.

This feature is equally important while recording a piano, because the close miking will need some accurate high volume representation, without distortion.
Additionally, close-miking will be much easier with the SM57 because the flat top design allows you to place the mic as close to the piano as possible.
The frequency range is 40Hz to 15000 Hz, which on paper looks like it does not reach the required figures; both the low and high frequencies.
Shure mics are also famous for female vocals.
Pros:
Very durable mic with almost all the parts replaceable
Adequate for close miking situations because of the flat top design
High SPL means it can handle very high volumes without distortion
Cons:
The higher frequency range of 15000 Hz may be an issue when recording higher notes.
Bottomline: Shure SM57 is a great directional mic excellent for piano recording as close miking is very easy.
#3. Rode NT5 –
Superb for acoustic piano
Specifications:
Operating Principle: Pressure Gradient
Capsule: Condenser
Diaphragm: 0.5″ / 12.70 mm
Polar Pattern: Cardioid
Frequency Range: 20 Hz to 20 kHz
Maximum SPL: 143 dB SPL
Impedance: 100 Ohms
Sensitivity: -38 dB
Dynamic Range: 128 dB
Signal-to-Noise Ratio: 78 dB
Equivalent Noise Level: 16 dB A-Weighted
At first glance, you get the impression that the Rode NT5 is a technologically advanced mic. Well, it is–and it looks the part too.
Build and design
The all-metal finish with the flat grille head of the same color really gives you the feeling that Rode means business with this one. It is specially designed to capture stereo field sound.

The slim body build makes the mounting easier; and for miking a piano, you can bring the nt5 as close as you want; just include a shock mount to reduce vibrations.
The NT5 uses phantom power up to 18v and can be connected through XLR cables. It features no pad or roll-off switches, which are not really needed in a piano recording anyway.
Sound quality
The Rode NT5 has a very impressive frequency range. The official figures are 20Hz to 20000Hz, but the low frequencies extend well below that. This Mic can capture frequencies as low as 10Hz.
This alone makes it an excellent choice for recording piano. If you want the best production, record it in stereo while using two Rode NT5s.
With an SPL of 143db, you have no worries about distortion due to close miking. Although the low-frequency response extends to 10Hz, you need not worry about bass build-up due to proximity effect.

The high sensitivity also helps to make sure that off-axis piano sounds are well recorded. With such sensitivity and SPL, you get a good combination of delicate sound capturing and high volume possibilities, without sacrificing one for the other.
The overall frequency response is quite flat, with a well-tempered high frequency that reproduces all the air and transient movements in the piano accurately.
Pros:
Wide frequency range ensures accurate recording of the very high and low frequencies
The proximity effect is well dealt with.
Close miking is easier because of the NT5's design.
Cons:
Prone to scratches
Does have pad or polarity switch
Bottomline: The Rode NT5 is undoubtedly one of the best choices for piano recording. The wide frequency range, flat response and slim, easy to mount design makes everything easier.

Any pianist who has their performance recorded with one of these must be smiling when he gets to listen to the playback. It sounds so natural, and bar any adjustments by the engineer, it sounds more like a very loud piano, rather than a miked one.
Specifications:
Audio Frequency bandwidth: 20 to 20000 Hz
Sensitivity: 23 mV/Pa
Equivalent Noise Leve:l 6 dB-A
Signal to Noise: 88 dB-A
Preattunation Pad: -6; -12; -18 dB
Bass Cut Filter: 160; 80; 40 Hz
Electrical Impedance: 200 Ohms
Recommended Load Impedance: 2200 Ohms
The AKG C414 is becoming fast stuff of legends. It has been around for as long as anyone can remember, and the makers keep reinventing the product with new technology.
This microphone comes out tops in every single generation since it has been introduced. What's most interesting about the AKG C414 is that it's very versatile; adaptable for different purposes, but still beats specialized microphone brands on their own turf.
Build and design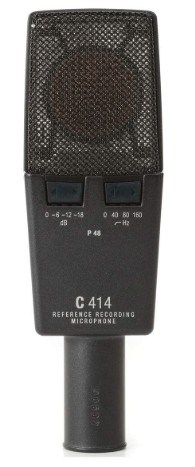 Facing the mic from the front, it looks like a hexagon. The XLS variation has a silver grille, with a silver engraved lending.
One of the most popular features of this mic is the freedom it gives you to switch between up to five different polar patterns. This can be especially useful when recording a piano.
You can pick a polar pattern that works best with your current setup; how many mice you have and how you place them.
For maximum effect and of axis monitoring, the omnidirectional polar pattern should be your best bet. The only issue you may have is setting it up for close miking, which is often needed when recording a piano. If you can get that sorted, you're good to go.
Sound quality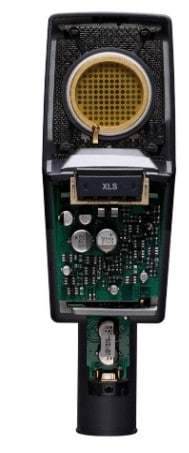 The frequency response range is the widest you'll find on most mics these days; 20Hz -20000Hz. This range is good enough to have a comprehensive piano recording since the lowest you'll ever go is around 26Hz.
Of course, the piano higher frequencies can extend beyond the 20kHz boundary, but that's inaudible to humans so it's alright.
The best thing about the AKG C414 XLS in terms of sound quality is the way it combines warmth with clarity. Most microphones sacrifice one for the other.
During a piano recording, you can enjoy the richness that comes from that octave just before the middle C and the crisp and tingle of the higher octaves too. With an SPL of 134db, you shouldn't have to worry about capturing distortion-free sound, even with close miking.
It also has switches for low frequency roll off and different levels of padding, but if you're recording a piano, these switches may do your recording more harm than good.
A bass roll-off may deprive your recorded material of the richness it should have in the lower octaves. A pad also may affect the off-axis sound adversely. The only switch you may need is the polar pattern switch, which you must use carefully.
Pros:
Freedom of choice from 5 different polar patterns.
Gives warmth and clarity.
Cons:
Close miking may be tricky to achieve.
Bottomline: The AKG sure holds its own even among mics that have been designed for recordings like this, which is a testament to it's versatility.

If you ever need to go record a piano, and you're not too sure of what you'll meet there (in terms of room ambience and pianist preferences), or even if you want to get creative with the sound, the AKG C414 XLS can be a handy choice.
Specifications:
Sound Field: Mono
Operating Principle: Pressure Gradient
Capsule: Condenser
Diaphragm: 0.5″ / 12.70 mm
Frequency Range: 20 Hz to 20 kHz
Maximum SPL: 140 dB SPL Peak
Impedance: 200 Ohms
Sensitivity: -34 dB at 1 kHz
Equivalent Noise Level: 19 dB A-Weighted
This is one of the nose recent additions to the Rode family of small-diaphragm microphones. It's popularly believed that Rode made the M5 as a less expensive version of the NT5. We have reviewed both of them in our previous posts.
Truth be told, it's similar to the NT5 in a number of ways, but I assure you, it does not sound cheap. For now, it's sold in matched pairs, which is perfect if you intend to record pianos with them.
Build and design
The Rode M5 is a capsule-shaped black beauty that rocks that custom Rode narrow design so well. The uniqueness of its design is in its size. With a length of just 10cm, it's shorter than most mics of similar design. It's also 2cm wide.
These dimensions make it a lot easier to set the M5 up for piano recording. It's easier to have very close miking of important parts of the piano.
The body of the Rode M5 has no switches to roll off anything or any pad switches, which is good because piano recording does not have much use for those anyway.
Plus, when you purchase a matched pair, you can be sure that the difference in sensitivity cannot be more than 1db.
Sound quality
Speaking of close-miking, it's possible. You are having concerns about some distortion when the pianist hits hard on a note and the sound produced is very loud.
This particular concern makes some engineers have a rider on the input to keep the sound from distorting. With the Rode M5, you need not worry about that.
This Mic has enough SPL to cater to whatever volume the pianist has in store. With an SPL of 140db, you have nothing to worry about.
Additionally, the frequency range of 20Hz to 20kHz is wide enough to cater for all the frequencies you need from your piano.
Although the slight lift around 7kHz can introduce a little presence about two octaves above middle C, the response is mostly flat.
Also, there is a perceived slight drop in dB at the two extremes of the frequency range, which shouldn't be an issue for 99% of piano performances.
The remaining 1% is for pianists that like to end their piece or performance with a hit on the lowest or highest octave notes ( I think they'll be fine).
Pros:
Easy to set up very close to the piano.
Available in matched pairs (good for stereo recording)
Cons:
Slight bump around 5th octave may be unwelcome in some situations.
Bottom line: It's a really good deputy to the Rode M5. The ease of use alone is a huge plus. Also, an advantage of the slight dip in at the 20Hz is that you don't have to worry about bass build-up due to proximity effect.
Specifications:
Operating Principle: Pressure Gradient
Capsule: Condenser
Pattern Selection: Switched
Pad: -10 dB
Frequency Range: 20 Hz to 20 kHz
Maximum SPL: 117 dB SPL
Impedance: 200 Ohms
Load Impedance: 1000 Ohms
Sensitivity: 28 mV/Pa at 1 kHz into 1 Kilohm
Operating Current Consumption: 0.8 µA
If I got an email today that says "recording gig in Australia. Fly down with your preferred microphone. (Here's the invoice for your advance)." Without knowing what exactly I'm going to record, the mic that first comes to mind is the Neumann U87 Ai.
This mic is so versatile that regardless of what you're recording, you can't possibly get a bad result. The worst you can get from the U87 Ai is a good recording. The best you can get is mind blowing.
This is why the Neumann is on this list. With the long history of changes in design and engineering, even while the core elements largely remain the same, the U87 is one Mic I think every producer should use at least once.
It's no surprise that most high-class mics are regularly compared to the U87. "Oh there's a new mic out, and it's awesome!" "Well, okay but is it as good as the U87?" That's how most conversations go when you're talking about a new microphone on the market.
Build and design
The U87Ai is a 500g microphone, with 200mm length and 56mm in diameter. It weighs about half a kilo. It's easily recognizable as their nickel/silver-colored grille and shaft. This mic gives you an added option of 10db pad and a low-frequency roll-off.
However, you must be sure that you won't need those lowest octaves if you'll be rolling off any low frequencies. It's connected via an XLR cable located at the bottom off the mic.
Sound quality
The U87 Ai's frequency range is 20Hz to 20kHz, but in reality, it feels like it's more. The sensitivity has a lot to do with this. If you record a grand piano with this Neumann, you can practically hear the whiff of air as the hammers hit the strings in the piano.
Listening to this was a gentle reminder that the piano is a string instrument. Also, the transients are well represented here.

The frequency response shows some slight dip in the boundary frequencies, but what that mostly does is that it curbs the potential excess boom or brightness that comes with these boundary frequencies.
The well-rounded bass response and clearly defined midrange make this mic an awesome choice for piano recording.
Pros:
Highly sensitive mic that captures everything needed.
Well defined low frequencies make it good for full range piano recording
Cons:
Setting it up maybe a little tricky due to weight and size.
Bottomline: I know it sounds like I have a soft spot for the Neumann U87 Ai. Well, I do, and for good reason. The U87 not only captures the piano recording, it captures the acoustic environment in that piano.

This can sometimes be the difference between a good recording and a great one, especially for classical music performances.
Specifications:
Frequency Range: 10 Hz to 60 kHz
Maximum SPL: 138 dB SPL
Polar pattern: Omnidirectional
Impedance: 25 Ohms
Load Impedance: 1000 Ohms
Equivalent Noise Level: 10 dB A-Weighted, 21 dB CCIR
Operating Current Consumption: 3.3 mA
When I first saw the specs of this mic, I said: "there's no way this was made for just music". Upon further research, it turned out that sound designers use them to record nature and other real-life sounds.
Build and design
The Sennheiser MKH 8020 has a modular design. This means that the external parts are more like different parts fused into one (in a good way). The exterior is coated in non-reflective next material.
This kind of finish gives the mic that matte look and feel, and a gentle, soft suede touch to top it off.
Beyond aesthetics, this finish makes the mic resistant to scratches and rub marks. It has a narrow cylindrical shape that can be easily mounted in an unobtrusive manner.
Sound quality: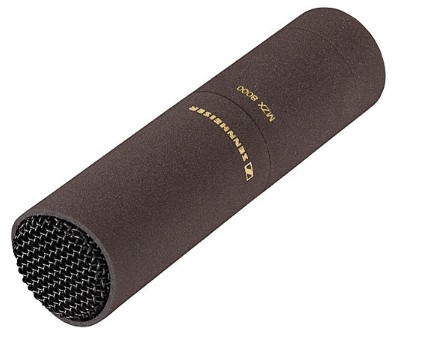 First of all, check out this frequency range: 10 Hz to 60,000 Hz! Massive right?
Now, how do you think this would be when used to record a piano? You may be wondering why we need so wide a frequency range when we can't hear it anyway. You may be right.
However, there is a way that mics like this capture the ambiance and acoustics in and around the instrument. At times, it could feel like you were seeing the hammers move inside the piano. It could be that dramatic.
This is the kind of mic that shows you very audible difference between uncompressed and compressed audio files. The low frequencies are firm, high frequencies crisp, and there is zero proximity effect. Also, the off-axis performance is amazing.
Pros:
Very wide frequency range captures ambiance effectively
Little to no proximity effect
Cons:
The mic may record unwanted rumble from low frequency.
Bottomline: For the MKH 8020, you have an amazing option of having everything recorded. It's awesome in a completely controlled environment or in a completely uncontrolled environment (landscape/nature recording).

For live recordings, you should only go for this if the room is well treated because every single flaw in your room will be captured by this mic.
Buying guide: What to look when buying a piano mic?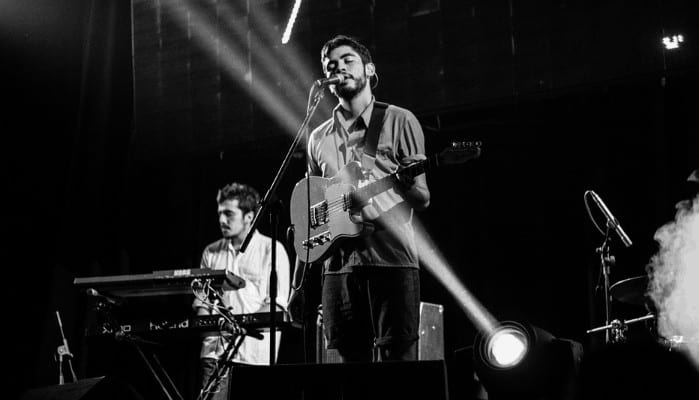 What are the things to consider when choosing a piano mic?
Here, I won't tell you what to buy or otherwise, but I will let you know what you stand to gain (or lose) by choosing certain types of microphones.
Condenser or dynamic mic
A dynamic mic may find it a little difficult to capture the very high frequencies of the piano. The reason is that most dynamic mics cannot capture the transients accurately. The piano sounds rely a lot on air movements, especially in those higher frequencies.
The relationship between the actual note sound and the percussive clicks may be misrepresented.
However, you should also know that this is not binding on all dynamic mics. As a matter of fact, world-renowned recording engineers have recorded pianos with dynamic mics with success.
But condenser mics are best to go for piano recording as they have a high sensitivity and offers a good frequency coverage over the entire spectrum.
Off-axis response
When recording the piano, most of the sound you want to capture is off-axis. This means that any microphone that does not do well with off-axis sound may not be the best choice for piano recording.
You need a mic that will represent the off-axis sound while making up for any perceived volume difference.
Proximity effect
Some mics become really boomy when the sound source is very close. For a piano recording, it is important that you use close miking. This makes proximity effect an important issue.
You don't want your piano sound to be all over the place with low frequencies.
Omnidirectional mics are usually the go-to mics because of this. However, there are other kinds of mics that handle close proximity pretty well.
Also, look at:

1. 5 Best Mics For Smule Singing App (Android and iPhone)
2. 7 Best Mics for Female Vocals for Live Stage Performance
3. The Only 7 Best Microphones for iPhone/iPad Devices (Crisp Clear!)
4. 7 Best Astatic Mics: Do These Noise Canceling Mics Sound Superior?
Piano mics FAQs
How to Mic a Grand Piano?
To mic a grand piano, there's no "one size fits all". The miking technique you should use will be determined by the role of the piano in that music.
Here's what I mean: For a classical music recording, you'll need a fuller range of sound, probably a little mellow on the lowest octaves and mild on the highest ones.

On the other hand, if you're recording piano for pop or rock music, you may need some low-frequency roll-off, because those lowest frequencies may not be needed as much.

However, there are some general rules of thumb that you can apply as a starting point, thereby making the whole process easier.
As the saying goes, two heads are better than one. In piano recording parlance, we can say "two microphone heads are better than one." When you record the piano with two mics, you get a wider soundscape with good stereo effect; even better if the mics are angled slightly away from each other.
How to mic a piano with 2 mics?
When recording a grand piano with two mics, place both mics about six vertical inches from the hammers.

Make sure they are both inclined at an angle so that they don't just pick sounds from hammers directly facing them.
For the horizontal measurements, divide the total length of the piano into three equal parts, then place each mic between the first and second parts, and between the second and third parts.
Conclusion
Recording a piano is not an easy task, but it is an interesting and challenging one. If I had space, I wouldn't miss an opportunity to have a grand piano recorded for my music. When you decide to record a piano, be sure to use any of these mics I have listed. Thank me later.
Hi, I'm Jennifer I'm a passionate singer and an audiophile from Detroit, MI. 
I'm on a mission to help music creators to create fine music that help them position uniquely in the saturated music space.
Follow my blog for regular content :-)