Are you unable to choose between RE20 vs SM7B? Don't worry! You are not alone. Both are the most popular dynamic microphones podcasters, streamers, and vocalists use.
But how do these two heavyweights stack up against each other? To find the answer, I invite you to read this comparative guide. Let's begin!
Quick Comparison
Undoubtedly, both SM7B and RE20 have cemented their place as industry-standard excellent microphones, but these come with quite a few differences:
The RE20 has a more neutral response and offers natural vocals that are best for people who want audio without any modifications. On the other hand, the SM7B is more suitable for warmer vocals.
The RE20 has a maximum frequency that can go up to 18 kHz. SM 7B offers a frequency range that goes up to around 20 kHz, thus covering more tones than a competitor.
Contrary to RE20, SM7B offers a smooth and flatter mid-section response, not lagging at any tone.
Moreover, both of these mics require less power, compared to condenser mics. However, all the above differences are just the tip of the iceberg. Continue reading to learn how these two mics compare with each other in 10 different parameters. Let's get into it!
RE20 vs SM7B Comparison Chart
The table below highlights the significant differences between Shure SM7B and RE20:
| | | |
| --- | --- | --- |
| | | |
| | | |
| | | |
| | | |
| | | |
| | | |
| | | |
| | | |
| | | |
| | | |
| | Two foam windscreens, pop filter, yoke mount, switch cover plate | An internal windscreen, filter, standard mount, |
| | | |
After looking at the specifications of both microphones, let's compare them in detail.
Electro-Voice RE20: Positives and Downsides
The following are the pros and cons of the product:
Electro-Voice RE20
Pros
Extended bass response captures rich lows.
A neutral and natural tone that sounds clear in most sources.
Handles loud volumes without distortion.
A great option for instrument recording.
Cons
Less inherently warm than SM7B.
Last update on 2023-09-21 / Affiliate links / Images from Amazon Product Advertising API
SM7B: Positives and Downsides
Let's explore the good and bad about this microphone:
Shure SM7B
Pros
Rich, warm, perfect for heavy vocals.
Integrated pop filter naturally suppresses plosives.
Less expensive than its contender.
Easily adjustable, thanks to its yoke mount.
A robust capsule that can take loud sounds.
Cons
Needs lots of gain from your interface.
Last update on 2023-09-21 / Affiliate links / Images from Amazon Product Advertising API
Electro-Voice RE20 Overview
The Electro-Voice RE20 is a dynamic mic renowned for its extended bass frequency response:
It has a signature effect that lowers the proximity sounds and can handle loud sound pressure levels without distortion.
Moreover, its neutral tone makes it a versatile mic for various sources.
Lastly, the microphone comes with a built-in shock mount that lowers the vibrations and outdoor noise.
For more insights, check out this helpful video.
Shure SM7B Overview
A brand known to be used by Michael Jackson, Shure SM7B impresses with its audio quality capability:
Its boosted mid-lows and mid-range presence make this mic ideal for richer vocal tones.
Moreover, its built-in filter shield blocks plosives without dulling high frequencies.
Also, SM7B has a superior frequency response that covers the range of 50 Hz to 20 kHz.
To learn more about the SM7B, check out this interesting video.
A Detailed 10-Parameter Comparison: RE20 vs SM7B
The below section gives you an in-depth comparison and review with the help of 10 parameters. Let's dive into further details!
1. Frequency Response
SM7B operates on 50 Hz to 20 kHz, while RE 20 has a frequency range of 45 Hz to 18 kHz. If we judge both mics in terms of their frequency response graphs, the RE20 has a flatter overall frequency response with extended bass.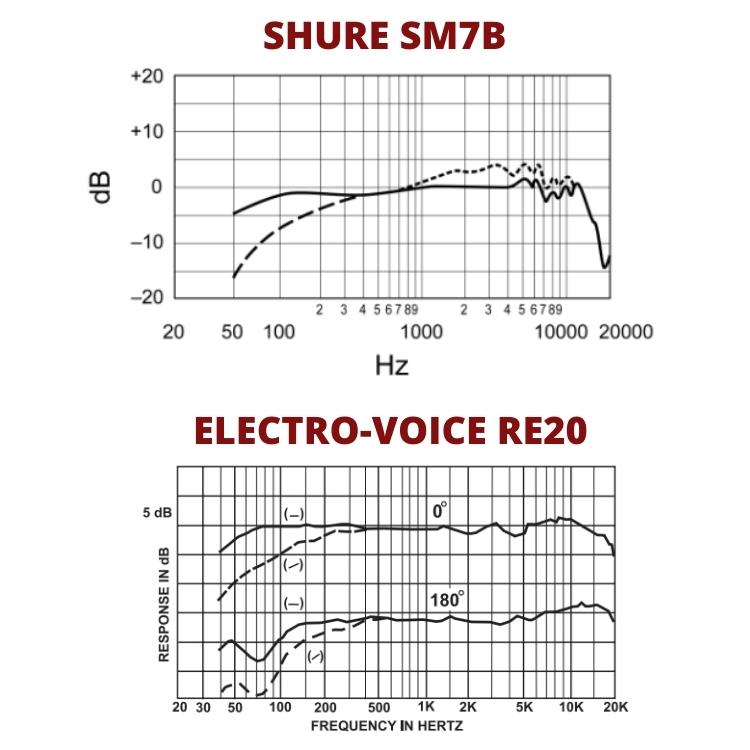 Comparatively, the SM7B offers a big presence boost of around 20 kHz, resulting in rich lows that sound great on deeper male vocals.
Winner: The winner of this section is Shure SM 7B, as it has a higher frequency response. Moreover, it is more flat at mid frequencies like 400 Hz – 5 kHz.
2. Polar Pattern
Both are cardioid dynamic microphones with excellent off-axis rejection. They also have a unidirectional polar pattern.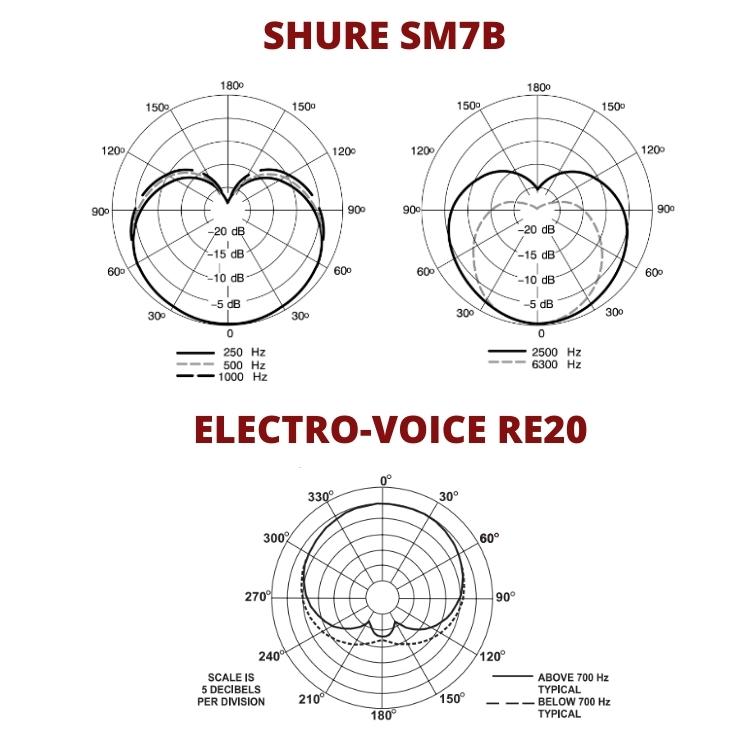 However, the SM7B has a slightly wider overall pickup pattern with more side reach. On the other hand, the RE20 has a more focused cardioid design. Overall, they have similar polar responses.
Winner: This round will be a draw, as SM7B is more suitable for recording studio applications, while RE20 is a much better option for broadcasting applications.
3. Build/Design
With a rugged build, both mics feature all-metal construction, able to withstand abuse. This is how they present their first look:
Physical appearance: SM7B has a black metal body with a black grille. It is dressed in a rectangular shape with round corners. In contrast, the RE20 has a black or gray body with a black grille. It is more cylindrical, and its ends are a little taper.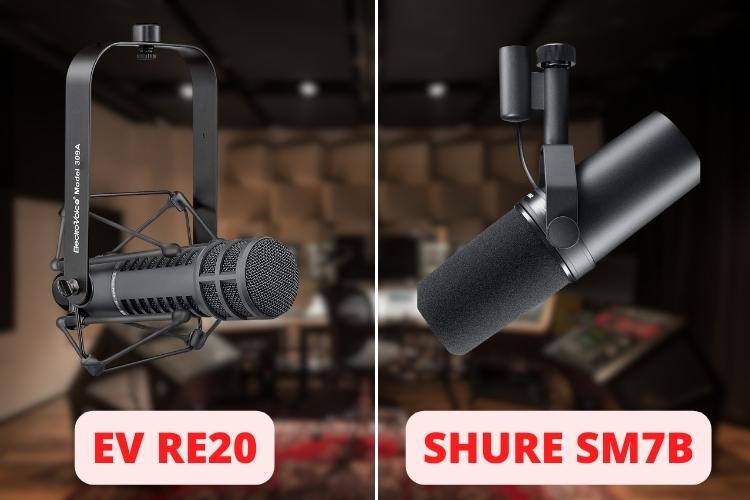 Controls: On the front, SM&7B has 2 buttons, one for a high-pass filter and the other for a mid-range boost. At the same time, RE20 has only one switch for a high-pass filter.
Weight: Both mics have almost similar weights. RE20 comes with 1.625 pounds and SM7B offers 1.69 pounds.
Extras: There are 2 windscreens and an XLR connector on the back of SM7B. On the other hand, the RE20 also has an XLR connector, while it comes with one internal shock mount.
Winner: For me, SM7B takes the lead as it has 2 controls as well as 2 windscreens. Moreover, it is a little less in weight and offers an aesthetically pleasing look.
4. Plosive Test (P-Pop Filter)
A plosive test determines how well a mic pronounces consonants like P, B, T, or K. In this category, both microphones perform well. Each microphone includes an integrated pop filter built into the capsule design to tame plosives.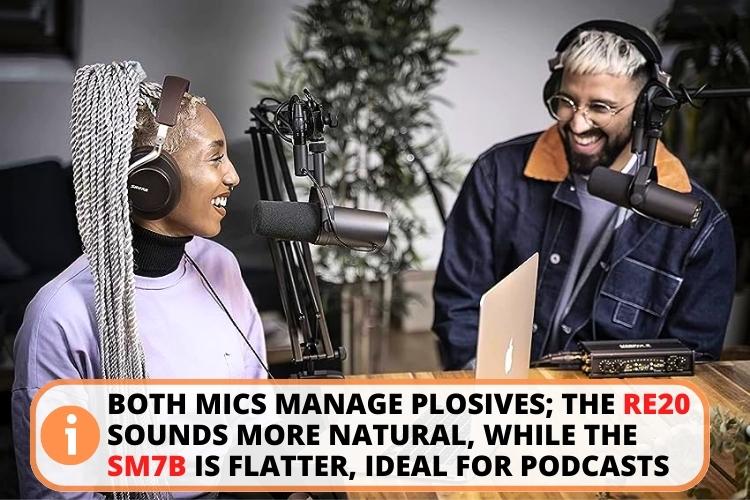 However, RE20's filter is much better at capturing natural sounds. On the other hand, SM7B gives a flatter response, which is better for podcast recording. However, you can enhance your experience with Shure's external filters.
Winner: RE20 stands victor here due to its more natural prevention from plosives, thanks to its heavy-duty filter.
5. Connectivity
Regarding connectivity, both mics use a standard XLR connection only. Moreover, they have the same impedance of 150 ohms and almost similar sensitivities – -59 for SM7B & -56.5 for RE20. Despite being the same in this segment, RE20 is more sensitive and can pick voices even with low frequency.
Winner: I will mark RE20 as a winner. Undoubtedly both have similar connectivity, but RE20 gets an edge due to its high sensitivity.
6. Proximity Test
Comparing proximity effects for RE20 vs. SM7B, both microphones can capture vocals with an enhanced low-frequency response when used close up. Among the two, the SM7B is known for having a strong proximity boost, with bass getting more pronounced with warm vocals.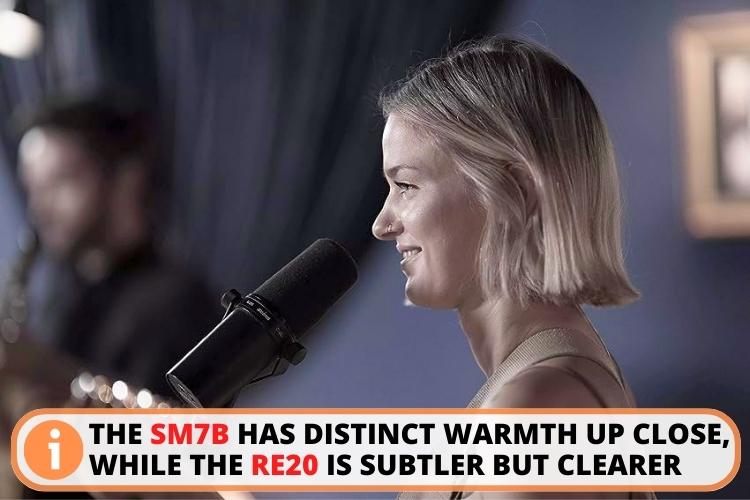 On the contrary, The Electro-voice RE20 also has a proximity effect, thanks to its variable D-technology. But it's a bit more subtle. However, its sound is clearer and more natural.
Winner: This round is a tie. SM7B has a strong proximity effect but is prone to plosive at heavy load. In comparison, RE20 has little effect but produces a clear sound.
7. Gain Requirements
Gain is a mic amplifying a sound before it goes to the speaker. Here, the bass amps of Shure SM7B require a higher gain from your audio interface to operate. Around 60dB of clean gain is ideal for this mic.
In comparison, the RE20 is far more sensitive (-56.5 dBV/Pa) and doesn't need nearly as much gain to reach optimal levels.
Winner: Electro-voice RE20 is a clear winner with a limited gain. It will have a much easier time finding enough amplification.
8. What's in the Box?
The following are the accessories that come in the package, along with microphones:
Winner: When it comes to packaging, SM7B is the winner due to the availability of a switch cover plate. This prevents accidental switching of the mic's settings. There is no plate in the box of RE20.
9. Mounting Options: Shock Mount vs Integrated Threaded Yoke Mount
The Shure SM7B has an integrated threaded yoke mount for attaching to the boom arm. In contrast, the RE20 has a built-in shock mount (which only helps eliminate vibrations) that doesn't help to mount. Therefore, you must buy an external mount, such as a suspension shock mount.
Winner: The winner for mounting options is SM7B because it comes with a yoke mount for easy attaching.
10. Shure SM7B & EV RE20 Pricing
Regarding MSRP, the Electro-Voice RE20 tends to sell at a higher price point than the Shure SM7B. Both are professional-grade dynamics, but there is often a $50+ price difference between the two. Therefore, the SM7B may be more affordable if your budget is limited.
Winner: SM7B is a winner of this category due to its affordability.
What is the Target Audience for These Mics?
With its neutral tone and versatility, the RE20 is a perfect match for broadcasters, podcasters, and voiceover artists looking for one dynamic mic that can handle almost anything. It's also home on vocals, amplified bass guitar, or kick drums.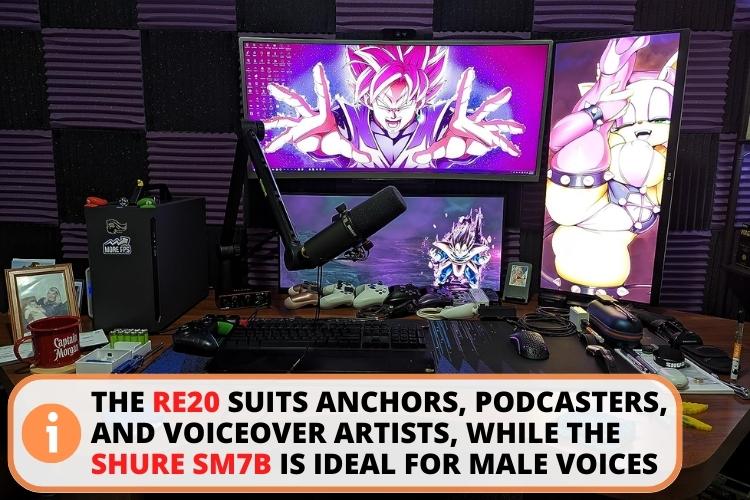 On the other hand, The rich Shure SM7B is tailored specifically for male voices, like radio announcers, podcasters, and voice actors with lower register voices.
What is NOT the Target Audience of These Mics?
Both RE20 and SM7B are well-known options for various applications. However, some people are different from the target audience of these mics. Let's have a look:
People who wish for portability, like outdoor vloggers or travelers. (Because these mics have XLR connectivity and require a mixer)
People who are looking for budget options as both mics fall in the mid-range segment.
Overall Winner: RE20 vs SM7B
Choosing an overall winner between two industry-leading dynamic mics is challenging. But when evaluating in terms of specs, I prefer the Shure SM7B over the other for the following reasons:
It has a significant proximity effect with warm tones.
The mic can boost mid-range voices and give a flatter mid-section response.
It comes with a yoke thread for easy mounting.
Has 2 windscreens to shield unwanted voices.
On the other hand, RE20 is also a great option for people who are in rock bands and work with instruments. Moreover, its ability to eliminate plosives with perfection justifies its price tag. 
FAQs
Which is better, SM7B or RE20?
Shure SM67B is better because it is affordable, has a yoke thread, offers two windscreens, and can capture sounds with a significant proximity effect.
Is RE20 a good vocal mic?
Yes, the RE20 is an excellent vocal mic due to its flat response and ability to eliminate plosives that enhance vocals.
Is RE20 good for voice-over?
Yes, the RE20 is good for voice-over work because of its clean and neutral tone. Moreover, it captures sound with clarity and transparency.
Does Joe Rogan use Shure SM7B?
Yes, Joe Rogan uses the SM7B for his podcast, named "The Joe Rogan Experience." He is one of the most famous users of this mic.
Why does every streamer use Shure SM7B?
The SM7B is popular with streamers because it rejects computer fan noise and has a yoke thread that is easy to use and can be turned in any direction.
Conclusion
Choosing between the two heavyweight dynamics, RE20 vs SM7B depends on your specific needs and preferences. As I have seen, the Electro-Voice RE20 and Shure SM7B have stood the test of time and earned their place in recording studios worldwide.
If you want neutrality for the widest range of sources, RE20 is the choice. Its versatile tone works for almost anything while providing a rich plosive prevention on vocals.
Electro-Voice RE20
Strong and modern mic with 45 Hz to 18 kHz. It comes in a gray/black color and can handle loud volumes without distortion. A superior choice for instrument recording.
Last update on 2023-09-21 / Affiliate links / Images from Amazon Product Advertising API
On the other hand, if you are a fan of yoke mount, and rich voices and are looking for a relatively cheaper option, SM7B should be a no-brainer for you. It makes a perfect choice for radio broadcasters, podcasters, and voice artists.
Shure SM7B
It is the choice for people who are looking for exceptionally warm broadcast mics with tones perfect for heavy voices. It naturally tames plosives and has a significant proximity effect.
Last update on 2023-09-21 / Affiliate links / Images from Amazon Product Advertising API