Today in this post, we are going to review the best mics for Blumlein recording.
If you a great fan of blumlein recording then certainly you are looking to buy the best mics for blumlein pair.
Last update on 2023-09-21 / Affiliate links / Images from Amazon Product Advertising API
Blumlein recording is a technique used to achieve the full stereo sound, invented by Alan Blumlein.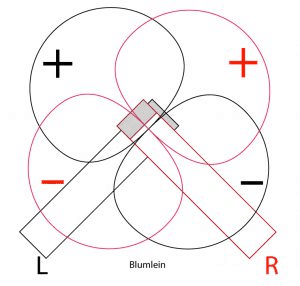 For setting up a blumlein pair, you need two mics with bidirectional or figure 8 polar pattern. The mics need to be placed 90 degrees from each other. In the sense, they will be 45 degrees off-axis from the sound source.
To master any of the skills in audio production, using the right tool is important for getting a good final result.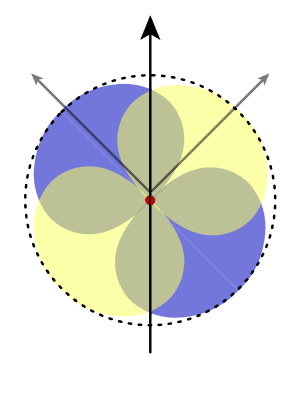 Some mics are better suited to the Blumlein technique than others. You need to look at some features like polar patterns, self-noise, frequency response and so on.
This article brings you our top mics for Blumlein recording.
Let's look at the specs of our best blumlein mics:
#
Product
Polar Pattern
Maximum SPL
Frequency Response
Amazon Product Page
1
AKG C414 –

Our Best Blumlein Mic

Omnidirectional
Cardioid
Hypercardioid
Wide cardioid and
Figure-8 patterns
158dB
20Hz to 20kHz

Check price

2
AT2050 –

Best Value for Money

Cardioid
Omnidirectional
Figure-of-Eight
149 dB
20Hz to 20kHz

Check price

3
AT4050
Cardioid
Omnidirectional
Figure-of-Eight
159 dB
20Hz to18kHz

Check price

4
CAD M179
Cardioid
Subcardioid
Omnidirectional
143dB (pad engaged)
20Hz to 20KHz

Check price
Our best mics for blumlein recording [Editors picks]

Overview
AKG C414 is one of the few mics that you can use for various purposes and get excellent results.
The first thing that makes the C414 so good for Blumlein is its polar pattern. At the very least, you need a mic with a bi-directional or figure-8 polar pattern to record with the Blumlein technique.

Here's is the good news.
C414 gives you five options in this regard: omnidirectional, cardioid, hypercardioid, wide cardioid and figure-8 patterns. You can use either an omnidirectional or bi-directional pattern when doing Blumlein recording.
Also, because of the multiple polar patterns, you can use C414 for other forms of stereo recording.
Sound quality
Asides from pickup patterns, C414 is very good at capturing sounds from different instruments.
It has an adjustable high pass filter. You can choose to eliminate sounds below 40Hz, 80Hz or 120Hz.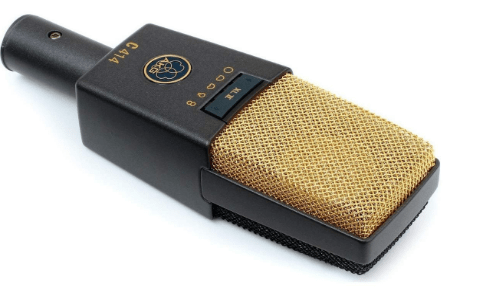 This means that if you're recording a flute, for example, you don't really need all the lower frequencies.
You can easily cut them out by flipping the switch. Of course, you must know the frequency range of the affected instrument before doing this.
If you're recording a piano, it's better to avoid engaging any high pass. This is because the lowest note on the piano has a frequency of around 26Hz. Cutting it off would mean that you'll lose an important part of the performance.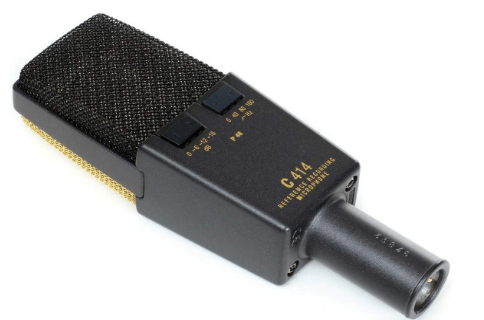 There's also an adjustable pad on the C414. It enables you to reduce the gain by 6db, 12db or 18db. This can be useful when recording brass instruments, drums or a whole band at once.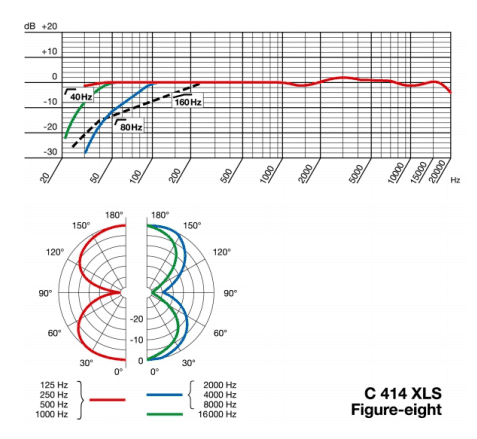 Additionally, you can trust the C414 to give you an accurate capturing of the room sound. This is because it has a transparent midrange.

The mic adds little or no color to the mid frequencies. The only thing that you may notice is a little warmth. Unless your room is not very well treated, this should not be a problem. Rather, it should be an advantage.
Pros:
Multiple options are available with pads and high pass filters.
Transparent midrange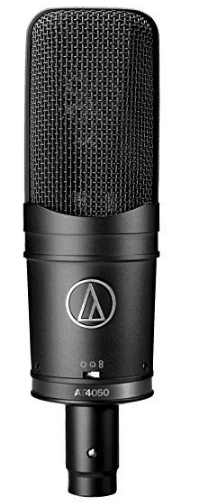 Overview
Audio Technica AT4050 is another versatile microphone. If you want to record hard-hitting drums with the Blumlein technique, AT4050 will do a great job. It will also do well in an X-Y mic arrangement.

This is because it has a high maximum SPL of 159db. It's the equivalent of placing the mic inside a 5000W speaker at a rock concert. In other words, no artist or band will play this loud while recording.
Even with an SPL this high, AT4050 still has a 10db pad switch, just in case you have a crazy session.
It has three polar patterns: omnidirectional, figure-8 and cardioid. AT4050 gives you the option of choosing any of the patterns. It also allows you to record using a mid-side configuration. This means that you can combine the cardioid and figure-8 patterns.
Sound quality
However, for Blumlein recording, the figure-8 pattern is all you need. Even though the mic has such a high tolerance for loud sound, it's also good with a soft sound.

It has a dynamic range of 132db, so you can maintain the natural feel of the performance.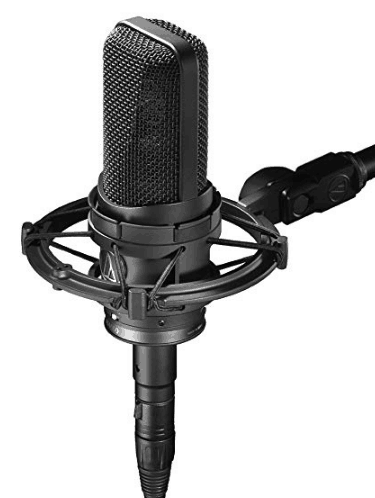 If you're getting the cable separately, you should know that it has a five-pin XLR port. The very common one is the 3-pin XLR.
Lastly, capturing very quiet sounds in Blumlein may be tricky, because the mic has some self-noise.
Even though the noise floor is moderate, recording quiet sounds at a high gain may bring up the noise level.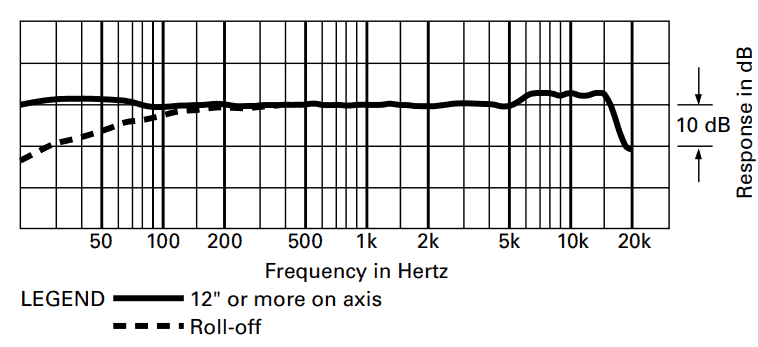 In other words, AT4050 may not be the best choice to record an instrument like the flute, especially with Blumlein Technique. The distance required in mic placement and quietness of the flute may make the self-noise audible.
This mic is the best choice for blumlein recording at an orchestra.
Pros:
Performs well with loud instruments
Wide dynamic range
Flat response
Cons:
It may not be very good with quiet instruments.
5-Pin XLR can't be easily replaced.
Noise level may be an issue when recording quiet instruments.
AT2050 –
Best Value for Money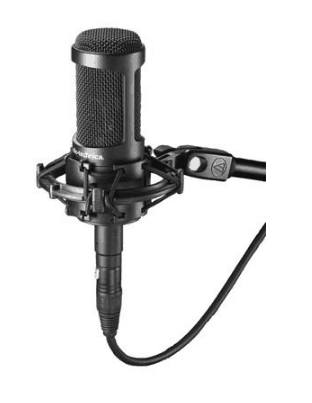 Overview
Just like AT4050, Audio Technica AT2050 has a ridiculously high maximum SPL for a condenser mic. In fact, you can use both the AT4050 and AT2050 as a Blumlein pair.
It also has a 10db pad switch. If you need to get rid of lower frequency sound, you can engage the 80Hz low cut switch.
Without the low cut, the mic has a frequency range of 20Hz to 20kHz. This range is wide enough to capture the full sound of a performance. It's also good enough to capture the reflections in the room.
Sound quality
Since you're more likely to use the bi-directional or figure 8 pattern while doing Blumlein recording, we should discuss the sound quality along those lines too.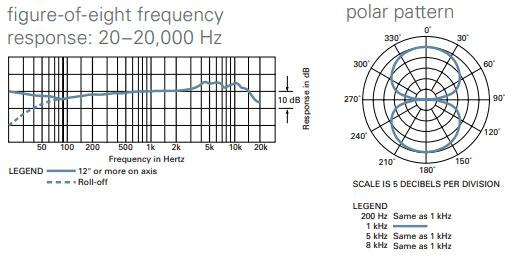 AT2050 has a dip in response around 100Hz. This dip has a wide bandwidth, so its effect stretches from 30Hz to 300Hz.
Beyond that, the response becomes flat up till 3KHz where there's a boost. The presence boost gives more clarity to your recording.
There's a roll-off that starts from 10kHz and ends at 20kHz. This prevents the harshness of sound and too much brightness.
Generally, AT2050 does not have a flat response. While this may indicate a lack of transparency, I feel it's a good thing. If your room reflection is not perfect and you wish to use the Blumlein technique, this mic can help cover some of the flaws.
Pros:
Good for home studios with imperfect reflection.
High-frequency roll-off prevents harshness.
Cons:
Lacks transparency.
The overall frequency response is not flat.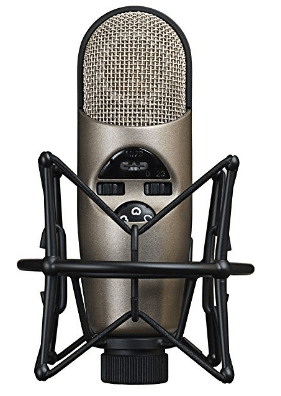 Overview
CAD M179 is a relatively quiet mic. Its low noise floor makes it very good for recording low gain instruments.
If you're recording drums, and the drummer is using brushes rather than sticks, you need a sensitive mic with low noise to even do a regular recording.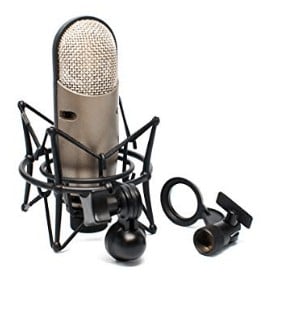 With the Blumlein technique, you need a very quiet mic, because it would normally be some distance away from the snare by default. This distance will expose noise in some mics. CAD M179 makes your recording much easier in this regard.
Sound quality
Another excellent feature of this mic is its frequency response. It's flat for most of the range.
There is a slight boost in the high mids that eventually roll-off, however, the low to mid-range is quite flat. This transparent mid makes it a good choice for recording guitars and vocals with the blumlein technique.
With a transparent mid and low self-noise, CAD M179 sounds like a dream mic. It's good for miking acoustic guitars and other instruments that are rich in the midrange.
However, you should only go for it if your room acoustic is perfect. If the reflections are not in order, it will show in your recording.
Pros:
Flat response
Low self-noise
Warm sound
Cons:
It exposes imperfect reflection.
It can be sibilant on some vocals.

Read our other popular posts:
Conclusion
I think the best thing about all of these best mics for blumlein recording is the fact that they have multiple polar patterns. This means that even if you can't buy them just to do the blumlein recording, you can use them to record almost any other thing.
So, if you have C414 for example, you can keep using it in the cardioid mode for vocal recording, until you'll need to do Blumlein.
Having said that, I would prefer AKG C414 for recording pianos with blumlein technique, and if you wish to record low gain instruments with blumlein pair CAD M179 is your go-to mic.