Today in this post, we are going to review JBL Flip 4 vs Charge 4 and help you decide which one is best for your needs.
Bluetooth speakers have grown in popularity over the past few years and there seems to be no sign of stopping.
Last update on 2023-12-08 / Affiliate links / Images from Amazon Product Advertising API
With such a competitive market and so many great options, how do you decide what speaker to buy?
The first step is to look at reputable, high-quality brands and JBL is in that category. They offer a line of quality wireless Bluetooth speakers of which their Flip and Charge models are among the most popular.
The latest models in those lines are Flip 4 and Charge 4.
Both speakers are really good, but they have several similarities hence it can be a little challenging to decide which one to buy.
Don't fret though, in this article we'll take a look at the differences and similarities between the two speakers which should hopefully help you decide which one is better suited for your needs.
Before getting started with the review, let's know the specifications first:
| | | |
| --- | --- | --- |
| Features | | |
| Battery life | 12 hours | 20 hours |
| Power bank | No | Yes |
| Speakerphone | Yes | No |
| Bluetooth version | 4.2 | 4.2 |
| Weight | 1.13lbs | 2.12lbs |
| Waterproof and dustproof | Yes | Yes |
| Voice recognition | Yes, integrates with Google and Siri | No |
| Frequency response | 70Hz to 20,000Hz | 65Hz to 20,000Hz |
| ​​Battery size | 7500mAh | 3,000mAh |
| Amazon product page | | |
JBL Flip 4 vs Charge 4: Let's clear the smoke
Build and design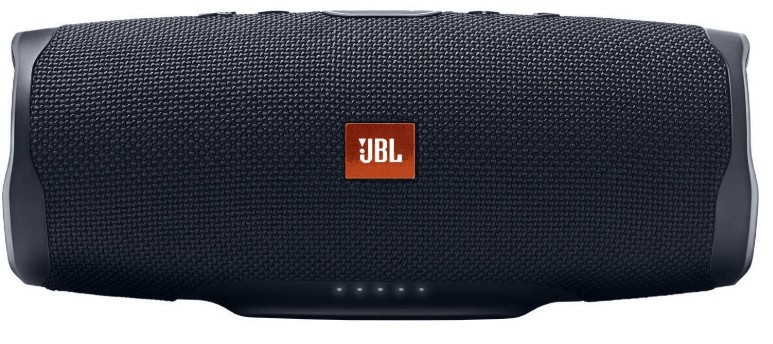 The JBL Flip 4 and Charge 4 are built from similar materials. The main housing is made from rubber and the outer coating is made of strong, durable fabric with a no-frills look.
They are both IPX7 rated which means you can submerge them in water up to a depth of 1 meter for a maximum of 30 minutes. They're also dust resistant.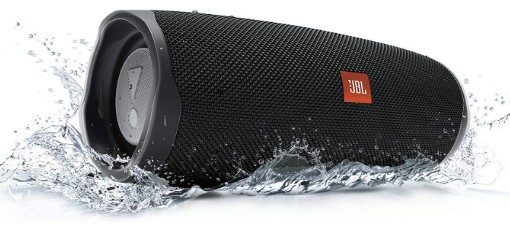 The Charge 4 is considerably bigger with a weight of 2.12lbs and 220 x 93 x 95mm dimensions. Whereas its predecessor Charge 3 is lightweight than Charge 4 and weighs 1.8 lbs.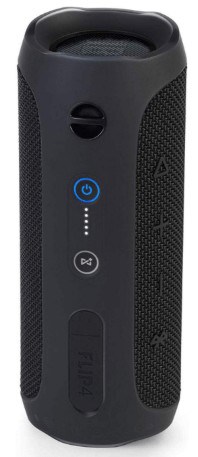 The Flip 4 weighs in at 1.13lbs and has 2.67 x 6.88 x 2.75mm dimensions. Despite the size difference both speakers are portable and can be easily carried in one hand.
Both speakers have a physical power on/off button, volume up/down button and a JBL Connect+ button.
Both speakers are attractive to look at and come in a variety of colors. Flip 4 comes in 6 color variations whereas Charge 4 comes in 10 color variations.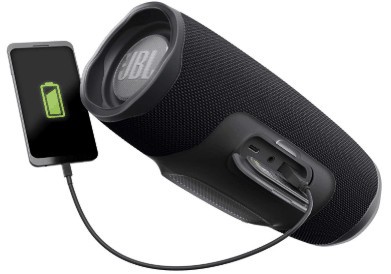 Flip 4 has a micro-USB port for charging and a 3.5mm headphone jack for audio input. The Charge 4 comes with a USB-C charging port as well as a 3.5mm headphone for audio input. It also has a USB port to enable charging other devices.
Verdict: Overall the Flip 4 is great if you want a speaker that you can easily carry in a handbag or men's shoulder bag without weighing you down. Charge 4 is more suited if you don't mind a larger speaker.
Features
Both the Charge and Flip can pair with two Bluetooth devices simultaneously and switch between them seamlessly. For instance, you can pair both your laptop and your phone with the speaker and then alternate playing audio from the two devices as you wish.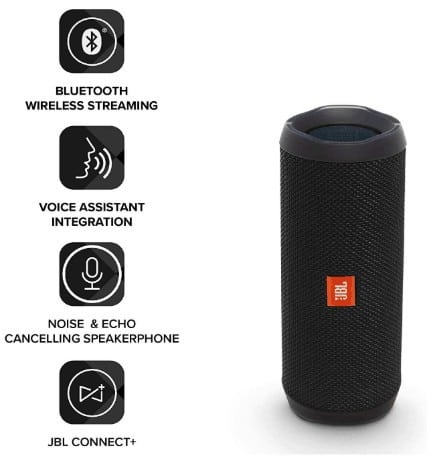 They can both connect to other JBL speakers using the JBL Connect+ feature. This feature enables you to link up to 100 JBL speakers together to play the same audio.
Both speakers can also be managed by using the JBL Connect app which enables you to update the speaker firmware among other things.
The Flip 4 has a speakerphone feature as well as direct access to Google Now or Siri via a button press. These are features the Charge 4 lacks.

But if you compare Flip 4 vs Charge 3, both come with noise and echo canceling speakerphone.

The main feature Charge 4 is that the Flip 4 lacks is the power bank.
As far as battery life is concerned the Charge 4 has the bigger one at 7500mAh and can last up to 20 hours on a single charge.
Charging the battery to full capacity takes about 5.5 hours. It's previous model Charge 3 also has 20 hours of battery life.
Flip 4's smaller battery has a capacity of 3,000mAh and lasts 12 hours on a single charge. It takes roughly 3.5 hours to fully charge. Both Flip 4 and Flip 5 have the same amount of battery life. But if you compare Flip 4 with its previous model Flip 3 battery life has improved a bit.
Charge 4 also has a sleep timer feature whereby it shuts off the speaker after a preset time to conserve battery life.
Verdict: Charge 4 has a better battery life and a power bank feature whereas Flip 4 has better integration with smartphones.
Sound quality and performance
Flip 4 has a frequency response of 70Hz to 20,000Hz whereas Charge 4 has a response of 65Hz to 20,000Hz. Both speakers don't hiss when they're powered but are not playing any audio.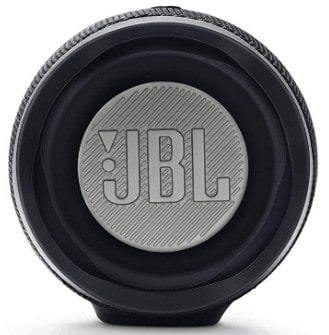 .
Bass
The primary difference is in the low end. Flip 4's bass response is clean and respectable. However, it's not room-shaking.
Charge 4's bigger chassis allows it to pump out more bass thereby making it the winner in that category. The bass is surprisingly tight for a speaker of its size.
It has bass radiators on either side to increase bass response.
In a nutshell, these radiators vibrate as the speaker plays low-frequency sounds thereby providing more bass and more accurate low-frequency reproduction.
Both speakers have that JBL quality sound with no distortion even at maximum volume.
However, Charge 4 is the more powerful speaker overall. Because it's noticeably louder than the Flip 4 at a maximum volume which isn't surprising considering it's the bigger of the two.
Mids
The mids are clean with no muddiness on both speakers too. You can clearly hear instruments whose energy lies primarily in the mids such as guitars, pianos and human voices.
Highs
The highs on both speakers are well-represented without being too bright and piercing. The highs are neither exaggerated nor dampened.
If you need a speaker for small, outdoor parties the Charge 4 is way more trustworthy than the Flip. If you ask me, Charge 4 is one of my best choices among the party speakers.

It's sound reproduction quality undoubtedly outperforms that of the Flip. The Flip's lower power output deems it unreliable as the sound can't travel as far.

The Flip's sound output is more suited for small indoor gatherings or even things like watching movies on your laptop while you're snuggled in bed.
If the Charge 4's bass isn't booming enough for you and you require something much louder you can consider buying the JBL Xtreme 2 or JBL Boombox which are considerably bigger and more expensive speakers.
Verdict: There's no doubt that Charge 4 provides better performance as far as sound quality is concerned. Flip 4 is good but cannot compete with its big brother.
JBL Flip 4 vs Charge 4: Similarities and differences
Similarities
Both have a similar, industrial rubber and fabric physical design.
IPX7 certified and are also dustproof
Capable of wirelessly connecting to other JBL speakers via JBL Connect+ technology to amplify the sound.
These two portable Bluetooth speakers have a 3.5mm input jack.
Differences
Flip 4 is the smaller of the two.
JBL Flip 4 has speakerphone functionality as opposed to the charge.
Flip 4 can trigger a voice assistant whereas the Charge doesn't.
JBL Charge 4 is louder and has more accurate sound reproduction than Flip 4.
JBL Charge 4 has a longer battery life than Flip 4.
Charge 4 has a power bank function and it is not the case with Flip 4.
JBL Charge 4 supports Bluetooth 4.2 while the Flip 4 supports Bluetooth 4.1.
Charge 4 has a sleep timer that turns off the speaker automatically after a set amount of time. Flip 4 lacks this function.
Read our other popular posts:
JBL Flip 4 vs UE Boom 2: 5 Similarities and 3 Differences
Pros and cons
Pros
Flip 4 is compact and highly portable.
Loud sound despite its small physical size.
Robust, waterproof design.
Has speakerphone functionality.
Able to launch Google Now or Siri at the press of a button.
Cons
Flip 4's bass response is not as impressive as the Charge.
Shorter battery life than Charge 4.
Lacks power bank function.
Pros
Has a great bass response
Waterproof body.
Clear, loud sound with no distortion.
It has a long battery life.
Has a built-in power bank for charging other devices via USB.
Has a preset sleep timer that turns off the speaker to conserve battery life.
Cons
Slightly bigger body than the Flip 4.
Lacks speakerphone functionality.
Verdict
Before deciding which speaker you'd rather buy between Flip 4 and Charge 4, you need to consider six primary factors.
Portability, battery life, the power bank function, bass response, loudness and the speakerphone feature as these are the main areas in which these two speakers differ.
If you prefer something more portable which you can use for answering phone calls the JBL Flip 4 is better suited for you.
If you prefer louder sound, more bass, a larger battery, and a power bank the Charge 4 is better suited to meet your needs.
Either way, you can't go wrong as both are premium quality products in their respective categories and they're well worth the price.