If you're trying to decide between the Blue Yeti vs Blue Yeti X microphones, then you are in the right spot. The sound quality and recording options of both models are top-notch. But, which one is a better pick?
To find out the answer to this query, I invite you to check out this comparison guide and make a well-informed decision. Let's get started!
Quick Comparison
Blue Microphones are designed for high-quality audio capturing. They both share the same iconic capsule design but have some important differences under the hood.
The Yeti X has slightly better sound quality and headphone volume but costs a bit more.
The Yeti X adds features like LED metering, zero-latency monitoring, and app control.
Difference in the sample rate. Yeti features 16-bit while the X boasts a 24-bit audio experience.
But, that's only the tip of the iceberg. Continue reading to learn the advantages and disadvantages of both microphones, how they compare with each other in 7 different parameters, and which one is a better choice. Let's dive deeper into the details!
Comparison Chart
The table below highlights the significant differences between Blue Yeti vs Blue Yeti X:
| | | |
| --- | --- | --- |
| | | |
| | | |
| Sound Quality (Bit/Sample rate): | | |
| | | |
| | | |
| | | |
| | | |
| | Cardioid, Bidirectional, Omnidirectional, Stereo | Cardioid, Omni, Figure-8, Stereo |
| | A multipurpose button on the front | A multi-functional knob on the front |
| | | |
| | | |
| | | |
| | | 4.33 x 4.8 x 11.38 inches |
| | | |
| | | On/off illumination, custom presets |
| | | |
| | Silver, Midnight Blue, Lunar Grey, Teal, and more | |
| | | |
After a quick overview of the specs of both pics, let's learn about the good and bad about both of them.
Positives and Negatives of Blue Yeti Microphone
Here are the pros and cons of the Yeti:
$40.00 REDUCED
Blue Yeti Microphone
Pros
More affordable price point.
Easy plug-and-play connectivity with this USB microphone.
Multiple options for recording.
Exceptional sound quality for the price.
Great for streaming, podcasting, and vocals.
Cons
Fixed 16-bit depth limits recording resolution.
Sensitive to the background props.
Last update on 2023-12-09 / Affiliate links / Images from Amazon Product Advertising API
Positives and Negatives of Blue Yeti X
Below are the perks and downsides of the Yeti X:
Blue Yeti X
Pros
No background props or shocks (DSP free).
Extended software control via desktop app.
Zero-latency headphone output for monitoring.
LED halo meter helps record metering.
Strong and great audio quality, enhanced with premium polar patterns.
Cons
Compatibility issues with the newer PCs and Macs.
Last update on 2023-12-10 / Affiliate links / Images from Amazon Product Advertising API
7 Parameters Based Detailed Comparison Between Both Microphones
Now, let's explore both mics in detail with the help of 7 factors and find out which model suits you. Let's start comparing!
1. Audio Quality
Resolution plays a major role in improving the audio quality of a microphone. Let's discover details about both microphones:
Blue Yeti X: It comes with 24-bit/48 kHz recording compared to 16-bit/48 kHz on the Yeti. Therefore, it can capture more subtle dynamics and resolution in its recordings. The extra bit rate allows the Yeti X mic to pick up fine textures and ambient details that might get lost with the Yeti's lower bit depth.
Blue Yeti: On the other hand, Yeti may have a lower audio resolution, but it still works excellently and produces a crisp voice for beginners who don't want to break the bank.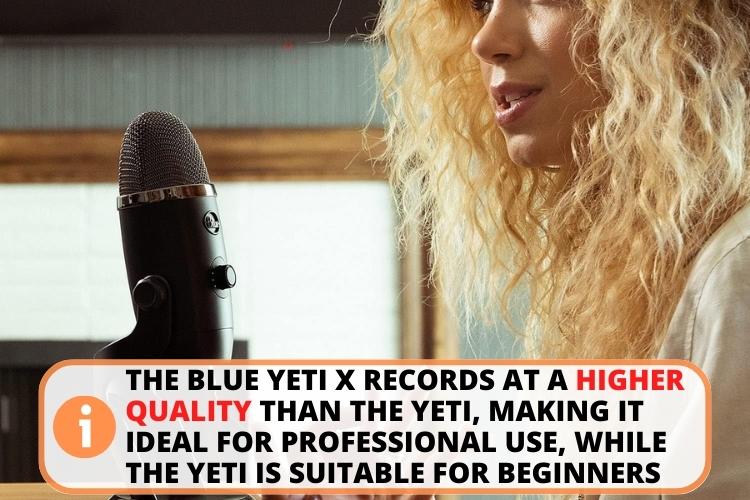 In short, these extra bits make an audible difference for professional recording or any situation where audio quality is critical.
Winner: Blue Yeti X shines in the first category because of the higher resolution that ultimately enhances the sound.
2. Audio Clarity
The audio clarity of a USB microphone is its ability to capture and reproduce sound in high quality. Various factors including polar patterns as well as condenser capsules can affect the sound clarity of a USB microphone:
Polar Patterns
Polar patterns in Yeti mics work in two ways:
First, they capture the sound from a direct source.
Second, they reject off-axis indirect sound – minimizing the distortions.
Both Yeti X and standard Yeti have 4 polar patterns. However, two of the X variant patterns – tightened cardioid and Figure-8 – play an enhanced role in the recording. They minimize background noises and reflections that can muddy up recordings. 
Condensers
A condenser is a diaphragm in a microphone that acts like a filter and cleans the voice. In terms of Yeti X, it has 4 condenser capsules. Therefore, it produces a clear sound. Additionally, for games or music where isolating the main sound is crucial, the Yeti X gives you cleaner and clearer results.
On the other hand, the Yeti has 3 condensers. However, it is still better than other average microphones. It just lags one point (or 1 condenser) behind its successor. 
Winner: Blue Yeti X stands tall here too because it has a clearer voice, thanks to its updated polar patterns and more condensers.
3. Audio Effects Options
Since both Yeti and Yeti X are analog mics, the voice recorded with these USB microphones would need additional audio effects or post-processing. Compared to the standard Yeti, the X version has an advantage here because of the following reasons: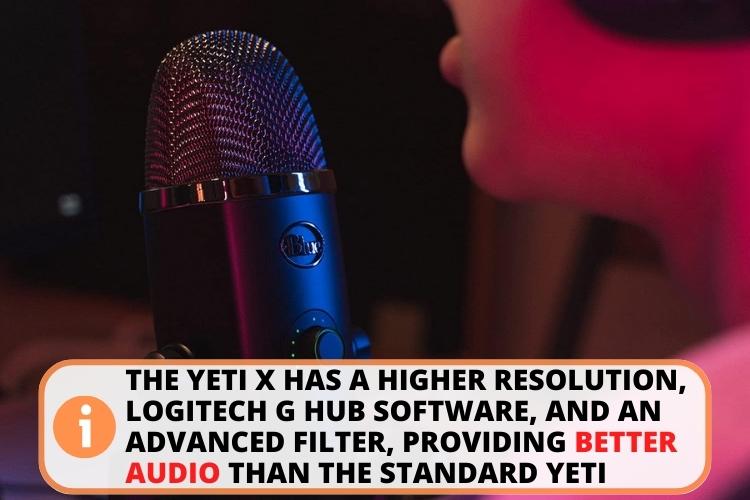 First, it has higher 24-bit resolutions while the standard variant had only 16-bit resolutions.
Moreover, it comes with built-in software called Logitech G hub software, whereas the original Blue Yeti Microphone doesn't have one.
Additionally, the Yeti X applies an enhanced filter called Blue VO!CE to your sound, which is not available with the simple variant of Blue.
Owing to the above benefits, the voice produced by the X needs less post-production editing than the standard version. On the other hand, the standard Yeti can still achieve great results but misses that finesse in the audio.
Winner: Again, Original Blue Yeti X aces this category because of its latest Logitech G hub software and updated Blue VO!CE filter.
4. Appearance
When it comes to the appearance of blue microphones, it can be judged on the basis of color scheme and physical look.
Color Scheme
If you are interested in these USB microphones, this is how their color scheme can be perceived:
Yeti: The regular Yeti comes in chrome silver or one of several special edition colors like green, gold, and red.
Yeti X: Meanwhile, the Yeti X opts for an all-black finish that blends better with modern dark-themed gaming setups.
Physical Appearance
Yeti X is a sturdy mic that comes with an illuminated encoder (Knob) on the front to control audio and volume. The mic has a cylindrical body with a black finish and a silver grille on the top.
Connection: USB connection;
Pattern selection: 4 patterns, including cardioid, omni, figure-8, and stereo;
Voice adjustment: A Blue VO!CE Software and a Logitech G HUB software;
Control options: A smart knob.
On the other hand, the standard Yeti microphone comes with a button to initiate the recording operation. It stands on a metallic base with a hinge that is adjustable. Depending on the model, it has an indicator on the front that represents the recording process.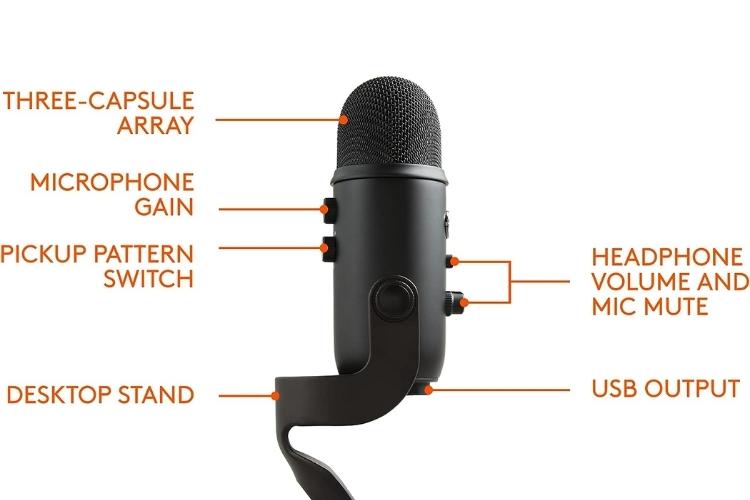 Connection: USB connection;
Pattern selection: 4 patterns, including cardioid, bidirectional, omnidirectional, stereo;
Voice adjustment: Only a gain control knob in some versions;
Control options: A mute button and a volume controller.
Winner: Because the appearance comes down to personal taste, this category results in a draw.
5. Ease of Use
The usage of both microphones is almost similar. For example, you can take any microphone, plug it in via a USB port, and you are ready to go. However, the point that really makes the difference is the microphone's operation. Let's have a look:
Button vs Knob
The following things differentiate the standard version from the X: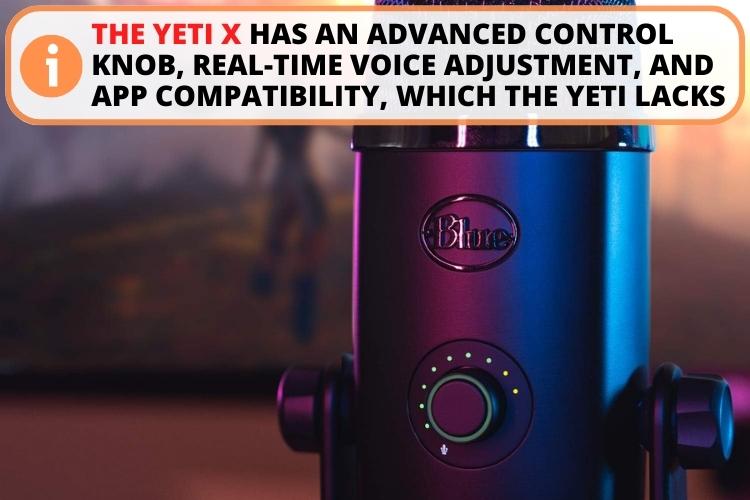 The standard Yeti presents a button for pattern selection, gain, and volume. However, there is a cool-looking illuminated multi-functional knob for these purposes in the Yeti X.
Moreover, you can adjust your voice in real-time with the help of a knob in the X version. On the other hand, this facility is not available in the standard Yeti.
Plus, there is also an option for more advanced control with compatibility with online apps like the Blue Sherpa App. But you don't get such kind of facility in the case of Original Blue Yeti.
Winner: Blue Yeti X, as it has a multi-purpose knob as well as support for online apps which makes it a winner in this category.
6. Weight and Size
With dimensions of 4.33 x 4.8 x 11.38 inches and weighing 519 grams (excluding stand), the Yeti X has a comparable footprint to the Yeti at 4.9 x 4.8 x 11.6 inches and 550 g (excluding stand). This minor size and weight difference comes from the Yeti X's slightly larger base and sturdier all-metal construction.
However, the average user likely won't notice – both models maintain that familiar compact tabletop form factor. Plus, they're designed for desktop use, so don't throw either mic in your backpack.
Winner: This category results in a tie, as there is no huge difference between the dimensions and the weight of both microphones.
7. Price
When it comes to the pricing, the Blue Yeti X is almost $30 more expensive than the original Blue Yeti microphone.
You might consider the X an expensive option due to its higher cost. However, don't get me wrong. The newer Yeti also offers enhanced internal hardware and additional features like:
Clear sound;
Affordable pricing;
Background noise reduction;
Desktop app control.
For that $30 premium, it seems a steal. However, if you don't necessarily require 24-bit resolution or LED metering, the base model Yeti gets you good quality at a more budget-friendly price point.
Winner: If your budget is super tight, then the standard Yeti is a winner here. Otherwise, you will love the extra amenities that come with the extra price of the Yeti X.
Blue Yeti X vs Blue Yeti Microphone: Which's the Best Microphone for YouTube?
When deciding the best USB microphone for YouTube among Blue Yeti X and Blue Yeti, the personal preferences outweigh the numbers. However, there are a few factors that may help you:
Blue Yeti X should be a no-brainer since it has high sound quality and can be integrated with online apps.
Moreover, it allows you to adjust the volume from the knob and a mute button on the front. These are handy features if you are streaming on YouTube.
As per my experience, I will prefer the X over the standard variant. For further analysis and comparison, you can check out this video.
Overall Winner: Blue Yeti vs Blue Yeti X Microphone
After a thorough comparison, it won't be easy to mark one mic as the best for all users and settings. You can't go wrong with either of these, as both deliver exceptionally.
However, as per my experience and research, I would declare the X variant an overall winner based on these points:
It comes with more sophisticated technology such as Blue VO!CE filter for post-production editing or Logitech G hub software.
It has a higher resolution such as 24-bit/48 kHz as compared to standard Yet which is only 16-bit/48 kHz.
It has 4 enhanced polar patterns – amongst cardioid and Figure-8 are the ones that perform exceptionally.
This microphone offers better control over its counterpart. For example, you can adjust gain, volume, headphone level, and mute from the outer knob. Moreover, the addition of filters lets you make your sound more crisp.
But, if you are a person who is just starting out and on the defining turn of your audio-recording career, I suggest you go with the standard Blue Yeti. This mic also offers not-less-than-anyone sound quality and is also affordable.
FAQs
Is Blue Yeti X good for singing?
Yes, Blue Yeti X is a great microphone for singing. It comes with enhanced polar patterns and 4 condenser capsules, making it perfect for music recording.
Are all blue Yetis the same?
No, all Blue Yeti microphones are not the same. For example, the Original Yeti and the X variant have 4 patterns including cardioid, omni, and stereo. The only difference is that the standard has Bi while the X has Figure 8 as the fourth pattern. Lastly, the Blue Yeti Nano has only 2 patterns cardioid and omni.
Can Blue Yeti be connected to a phone?
Yes, Blue Yeti can be connected to a phone. Depending on the type of your phone, you may need an adapter or an OTG to connect the microphone to your handset.
How are the Blue Yeti X and Blue Yeti microphones similar?
Blue Yeti X and Blue Yeti are similar in terms of USB connectivity, number of polar patterns, and thread mount.
Conclusion
Blue is the company that has always been on the radar of professionals when it comes to audio recording. Two of its USB microphones – the standard Blue Yeti microphone & Blue Yeti X – are among its top sellers.
If you are a person who wants good performance, superior quality, and a robust build, Blue Yeti X should be your choice. You also get an excellent voice recording at the expense of some extra bucks.
Blue Yeti X
Strong and modern mic with four condenser capsules. Comes with better sound recording capabilities, has software support, and can be controlled from an online application.
Last update on 2023-12-10 / Affiliate links / Images from Amazon Product Advertising API
If you are a person who wants to save some money and still record high-quality audio, the Original Yeti is a great choice. This mic can fulfill your basic needs with conservative controls.
$40.00 REDUCED
Blue Yeti
A mic with 3 condensers and an orthodox polar pattern. Offers a range of colors and a handy design. Provides an excellent performance with an affordable price range.
Last update on 2023-12-09 / Affiliate links / Images from Amazon Product Advertising API