Are you looking for the best flute microphones for your next gig? Today in this post we have come up with the three best flute mics that are excellent for live performances and also best suited for studio applications.
Our Best Pick
Sennheiser Professional MD 441-U Dynamic Super-Cardioid Microphone,Black
Best Value for Money
Shure SM57 Dynamic Instrument Mic - Professional Quality and Versatility for Live Performances and Recording - Contoured Frequency Response, Durable, Ideal for Drums, Percussion, Amplifiers (SM57-LC)
Best For Flute Recording
Sennheiser Pro Audio Condenser Microphone (MKH 40-P48)
Sensitivity
25 (8) mV/Pa ± 1 dB at 1 kHz
Our Best Pick
Sennheiser Professional MD 441-U Dynamic Super-Cardioid Microphone,Black
Best Value for Money
Shure SM57 Dynamic Instrument Mic - Professional Quality and Versatility for Live Performances and Recording - Contoured Frequency Response, Durable, Ideal for Drums, Percussion, Amplifiers (SM57-LC)
Last update on 2023-09-29 / Affiliate links / Images from Amazon Product Advertising API
Is there any instrument that is more soothing than the flute?
I really doubt that. However, if you want to capture a flute performance, either to amplify it for the audience or to record the flute, you must be careful to retain the soothing feel of the instrument.
If you don't, you may ruin a good performance. Admit it!
Preserving the natural sound and feel of the flute begins with choosing the right microphone.
Before we start listing our best mics for flutes, let's look at what factors you should consider before buying a flute mic.
Buying guide: What to look for when buying flute microphones?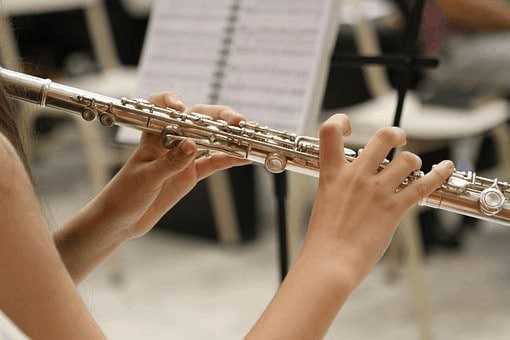 Frequency range
Flute's highest frequency is around 12,000 Hz. The lowest does not go below 200Hz.
Most mics have these frequencies in their range. However, if you're recording a flute, you need some ambiance to enrich the flute sound.
In a live setting, the venue itself provides this ambiance. But when you're recording, the ambiance you need will go beyond the 12000Hz of the flute's highest notes. This becomes more important if the room acoustics is quite good.
Also, you need a much with a flat mid response and some high-frequency roll-off. It helps to prevent harshness and too much brightness in the performance.
Directionality
If you're capturing flute sound on a live stage where there are other instruments, you need a mic that will only capture what's right in front of it while rejecting other sounds.
A cardioid or super-cardioid mic will be good for this purpose.
Sensitivity
A flute is naturally not a loud instrument. That's why maximum SPL is not an issue here at all.
However, sensitivity is. You need a mic that can pick up the slightest sounds being made.
During a flute performance, there are very quiet parts that need to be captured accurately. If the mic is not very sensitive, the audience will not enjoy a full performance, even the musician hits all the notes.
Here are our 3 best flute microphones
Design and build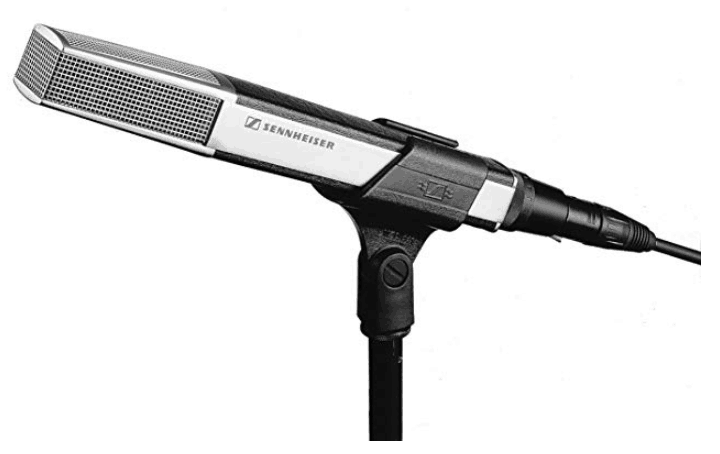 Specifications:
Operating Principle – Pressure Gradient
Capsule – Dynamic
Polar Pattern – Supercardioid
Frequency Range – 30 Hz to 20 kHz
Impedance – 200 Ohms
Sensitivity in free field, no load – (1kHz)1,8 mV/Pa +- 2 dB
Output Connectors – 1 x XLR 3-Pin
Sennheiser MD441 is a dynamic microphone that can do the job of a condenser. It is larger than the average mic, but its quality of performance justifies its big size and hence is the best mic you can use for violin recording.
It also has an uncommon design for a dynamic mic. The only mic whose design looks like this is another Sennheiser dynamic mic; the MD421.
MD441 has an internal suspension system that prevents handling noise. Although, while miking a flute, the mic is not expected to move around, if there's any accidental movement, it will not disturb the performance audio.
Sound quality
The most important sound quality of the MD441 in terms of capturing flute sound is its flat response. There's no coloration of sound, so whatever the flutist plays is what the audience will hear.
This mic is good for both live performance and studio recordings.
In a live performance, it will capture the flute sound while rejecting off-axis sound from other instruments. In a studio recording setting, the MD441 will capture a full sound just like a condenser would.
The mic has a 5-point bass roll-off switch and a two-point presence boost switch. Although the mic has a high-frequency roll-off built-in, you can add a little edge to the flute sound by adding some presence.
Pros:
Natural sound
Low handling noise
Excellent of axis sound rejection
Design and build

Specifications:
Type – Dynamic (moving coil)
Frequency Response – 40 to 15,000 Hz
Polar Pattern – Cardioid
Output Impedance – 310 Ω
Sensitivity – (@ 1 kHz, open circuit voltage) -56.0 dBV/Pa [1] (1.6 mV)
Connector – Three-pin professional audio (XLR), male
Included Accessories – Mic clip
Very strong, durable flat detachable head, slim body, compact frame, XLR,
The legendary SM57 is good for a whole lot of purposes, including flute miking. As this mic has a low sensitivity it is the best mic you can use for untreated rooms. Also, it is best suited for drum kit recordings and piano recordings.
One of the major reasons why the SM57 is respected for so long is the durability.
Users that bought the mic in the 80s still find them as useful as people that bought theirs yesterday. Everyone seems to agree that this much is one strong piece of hardware.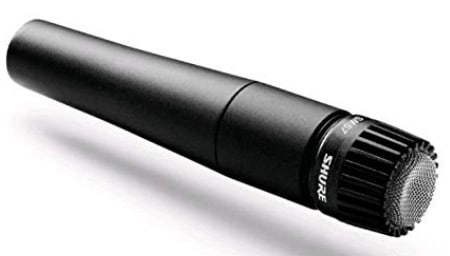 The address end is its flat head, which is detachable in case you need to change it or you want to do some maintenance.
Its connectivity is via the XLR port at the mic's base. It also has a slim build and compact body that makes it easier to have a more precise placement.
Sound quality
SM57's frequency response is not totally flat. While this may be an inadequacy in some mics, in this case, Shure intended to make it an advantage.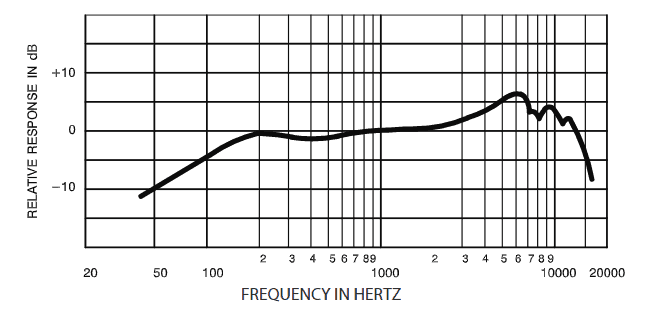 The mic has a built-in low-frequency roll-off that stops at around 100Hz. This enables the mic to reject background low-frequency noise better.

This is because low-frequency sounds don't usually work with direction, so they tend to get in regardless of the mic's polar pattern. In this case, these unwanted bass sounds are prevented with the roll-off.
The mids of this mic are flat, and it's one of the reasons the SM57 is on our list. To capture your flute sounds well, you must have little or no enhancements in the mid frequencies. There's a slight presence boost starting from 2kHz though.
The boost is just enough to give your flute sound some life, without tampering with the natural soothing sound.
Pros:
Compact design
Very durable
Rejects low-frequency background noise
Cons:
Setting it up may be tricky because of its size.
Some flutists may not appreciate the presence boost.
Design and build
Specifications:
Operating Principle – Pressure Gradient
Capsule – Condenser
Polar Pattern – Wide-Angle Cardioid
Pad: -10 dB
Frequency Range – 40 Hz to 20 kHz
Maximum SPL – 134 dB SPL, 142 dB SPL
Impedance – 150 Ohms
Load Impedance – 1000 Ohms
Equivalent Noise Level – 12 dB A-Weighted
The MKH40 is a cardioid condenser microphone. This mic has a slim design with an all-black finish.
Even though it's a condenser mic, it works well both in the studio and on stage. In fact, if you pair it with a black mic stand on stage, the audience may not even know it's there.
They'll be able to focus more on the flute player behind the mic. It has a 50Hz low-frequency roll-off switch that enables you to prevent sounds at lower frequencies from being captured.
For a flute performance or recording, you should always have this switch on, since no useful flute sound lies in that region.
Sound quality
This mic is highly sensitive, so the flute player does not need to get too close before their sound is well captured.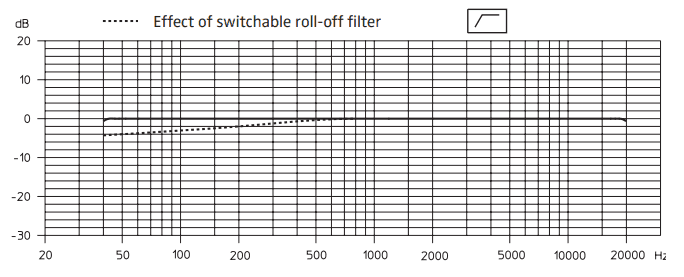 It captures even the more quiet sounds quite well, without the mic's self-noise getting in the way. The low self-noise of the MKH40 is another big reason why it's on this list.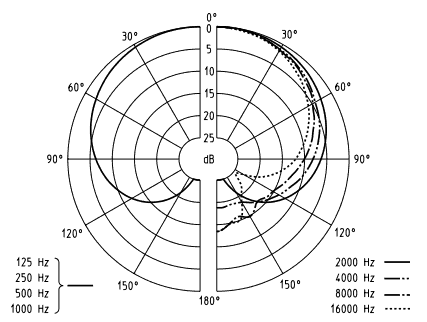 This mic sounds very natural and limits the effect of room reverberations. If you're doing a studio recording of a flute, and your room is less than ideal, this is the mic for you. It captures the performance and rejects unwanted sound.
Pros:
Low self-noise
Highly sensitive
Maintains a low profile on stage
Cons:
It can't be used to capture room sound in the flute studio recording.
The slim design makes positioning quite tricky.
Read Also:
Conclusion
It's really not easy to mic a flute, it requires expertise and precision.
Also, if you don't have the right mic for the job, you'll need to do a whole lot more, and you may eventually not capture the whole thing well enough.
I'm sure this list of the best flute mics has helped you to choose a good one.