Affiliate disclosure: In full transparency – some of the links on this website are affiliate links, if you use them to make a purchase we will earn a commission at no additional cost for you (none whatsoever!). Will this be a problem? This is how we manage to create free content for you. Please know that your trust is so important for us. If we recommend anything, it is always because we believe it is worth exploring. And, buy me a coffee ☕️
Today in this post we are going to review the best flat response studio monitors that you can use in your home studio.
[amazon table="19829″]
Whether you're an audio professional or hobbyist music producer, mix engineer, mastering engineer or an artist you can benefit greatly from having a great pair of studio monitor speakers.
Studio headphones [especially the open back headphones for mixing] and studio monitors are the must-have accessories needed to edit and finalize your music tracks.
What are studio monitors and why do you need them?
These flat response studio monitors are built for accurate audio playback meaning that if you put in a 250Hz signal you get a 250Hz signal played back to you.
On the other hand, consumer-grade speakers add color to the sound, meaning that certain frequencies are exaggerated to make them sound more pleasing.
As a musician you want your speakers to have a flat response (no color) so that what you hear is what you get.
Let's look at the specs of our favorite flat response studio monitors:
What to look while buying flat response studio monitors?
The following are some of the things to consider when buying studio monitors.
Frequency response:
This refers to the frequencies that the speakers can reproduce. Most audio recordings are within the 50Hz – 20kHz range but some can go as low as 25-30Hz.
This is particularly true for bass-heavy music such as hip-hop and EDM.
Active or passive:
Active (powered) speakers contain built-in amplifiers and need to be connected to an electricity source to function.
Passive speakers don't have built-in amplifiers and therefore require a separate unit to supply power.
Near-field, mid-field or far-field:
Nearfield speakers are designed for close-range use. These are the most popular type for home/project studio use.
Mid-field and far-field speakers are designed for use in bigger rooms where you may not sit close to the monitors.
Speaker size:
Consider the size of your room before buying a pair of monitors. Bigger speakers may produce more bass and louder sound but they can eat up your physical space.
Ported or closed design:
Ported speakers contain a large opening in the box to allow for air movement as a means of improving low-frequency response.
Closed speakers are those whereby the entire box is closed and contains no ports. Closed speakers often produce much better bass response but generally go at a higher price.
Input connections:
Most monitors use XLR or TRS connectors for audio input.
It's important to know this in advance before purchasing to ensure you get something that fits your intended setup.
In recent years USB studio monitors have emerged but these are usually smaller units due to power requirements.
Bluetooth studio monitors are also available on the market but they're usually not suited for professional use. This is because audio transmitted over Bluetooth is of inferior quality compared to audio transmitted over a wired connection.
Music producer's 7 best flat response studio monitors
Specifications:
Power Configuration: Bi-amped
LF Driver Size: 8″
HF Driver Size: 1.25″
Total Power: 140W Class AB
Frequency Response: 35Hz-22kHz
Crossover Frequency: 2200Hz
Maximum Peak SPL: 105 dB SPL @ 1m
Input Types: 1 x XLR, 1 x 1/4″ TRS, 1 x RCA
Enclosure Material: MDF with Vinyl laminate
Height: 15.12″
Build and design
The Presonus Eris E8 XT 8+ is a near-field powered studio monitor with an 8-inch woofer and 1.25-inch silk dome tweeter. It's a big speaker, to say the least. It has balanced XLR, balanced TRS, and unbalanced TRS inputs.
The woofer pushes out 75 watts while the tweeter pushes out 65 watts. Each speaker weighs in at 24 pounds and is 11.5 inches in height so you need quite a bit of room in your studio to host a pair.
Sound quality
The speaker pumps out a decent amount of bass making it suitable for mixing audio with heavy bass elements. It's designed mainly for home and project studio use so that's something to consider if you wish to use a pair for a full-fledged professional studio.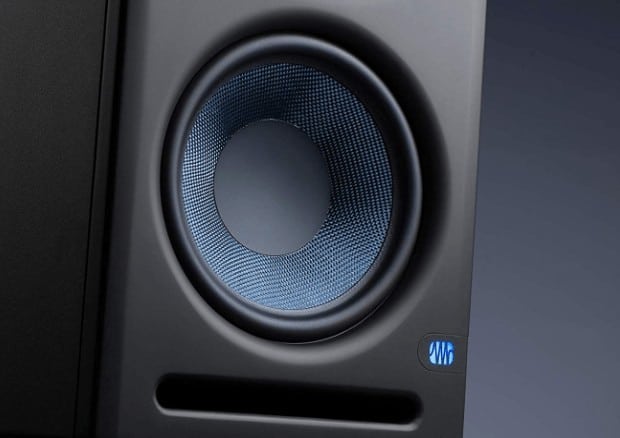 The audio output is pretty flat and not too colored. However, a known issue with this speaker is that the tweeter may sometimes produce a hissing sound under some circumstances.
Pros
Beefy low-end response
Clear audio output.
Cons
The midrange is a bit muddy.
The tweeter produces a hiss in some cases.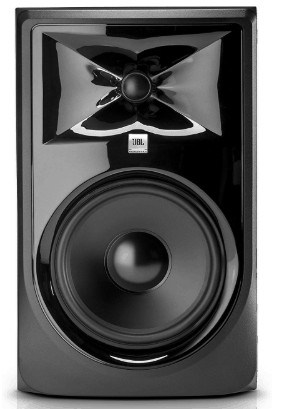 Specifications:
Power Configuration: Bi-amped
LF Driver Size: 8″ woofer
HF Driver Size: 1″ tweeter
Total Power: 112W Class D
Frequency Range: 37Hz-24kHz (-10dB)
Frequency Response: 45Hz-20kHz (±3dB)
Crossover Frequency: 1800Hz
Maximum Peak SPL: 112dB
Input Types: 1 x XLR, 1 x 1/4″ TRS
Weight: 20.73 lbs.
Build and design
The JBL Professional 308P MkII is an active studio monitor with balanced XLR and TRS inputs.
It comes fitted with an onboard volume control knob as well as separate high-frequency trim and Boundary EQ knobs.
The Boundary EQ helps tame the bass which can be problematic for rear-ported speakers such as the 308P.
Each speaker-box is rather bulky at a height of 16.5 inches. The 308P performs well beyond its price range. It is one of the best travel monitors you can carry around for your music gigs.
Sound quality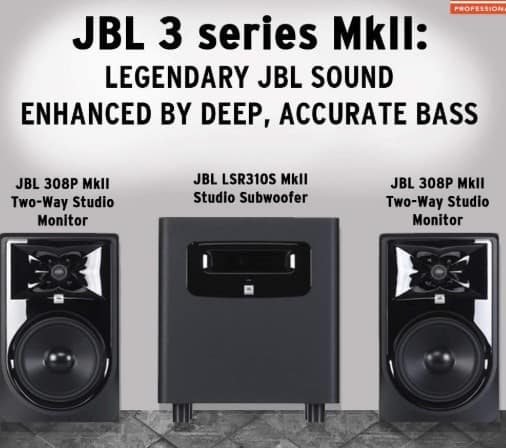 JBL Professional 308P MkII has a punchy, well-defined low-end and can be used for most audio production and mixing purposes. The high end is rather bright but it can be tamed with the high-frequency trim.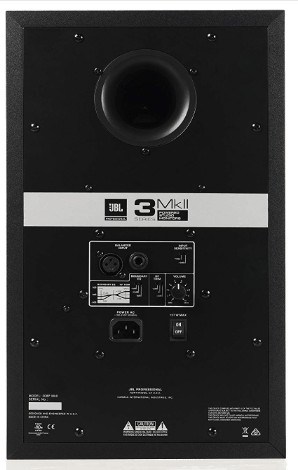 One of the great things about the 308P MkII is its wide sweet spot which is possible due to the onboard waveguide technology. This is convenient if you don't know how to set up studio monitors correctly for your seating position.
The sound reproduction is relatively flat and well-contained and this monitor is suited for advanced beginners and semi-pros alike.
Pros
Clear, well-defined sound and punchy bass
Wide sweet spot.
Sleek modern design
Cons
Relatively bright in the high-frequency section.
Specifications
System Type: 2-Way Bi-Amped Powered Studio Monitor
Frequency Response: 54 Hz to 30 kHz
Crossover Frequency: 2 kHz
Output Power Total: 70W
Inputs: 1x Balanced XLR3-31 Type, 1x 1/4″ (6.35 mm) Balanced TRS
Power Consumption: 45 W
Dimensions (WxHxD) 6.7 x 11.2 x 8.7″ (170 x 285 x 222 mm)
Weight: 11.7 lb (5.3 kg)
Build and design
The Yamaha HS line is a descendent of the Yamaha NS10, the most famous studio monitor in the world.
So it's not a surprise that the HS5 speaker is included in this article. Each speaker comes with a 5-inch woofer, a 1-inch dome tweeter, and has a maximum power output of 70W.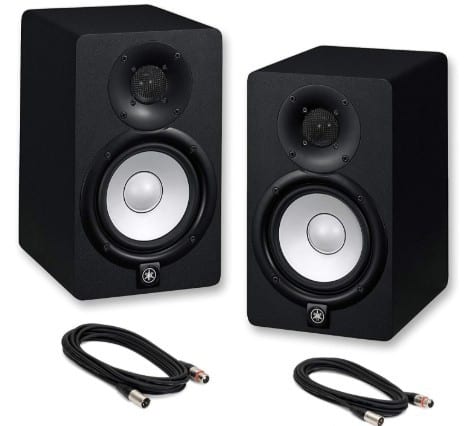 It's sturdy, has a clean aesthetic design and great build quality. It has XLR and TRS ports for input as well as a room control knob to help adjust the speaker for use in your room.
Sound quality
The HS5 has plenty of bass reaching as low as 54Hz on the low end and 30kHz on the high end of the frequency spectrum.
The Yamaha HS5 is relatively inexpensive and versatile making it accessible for all types of audio purposes.

It's one of the best speakers for music production because it has a clean, flat sound which ensures that everything you compose and mix is reproduced accurately.
Pros
Clean, crisp well-balanced sound.
Build quality is great
Beautiful look
Clear mid-range reproduction.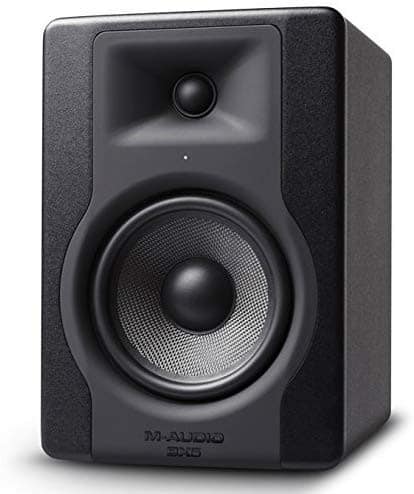 Specifications
Tweeter: 1 inch (25 mm) 60 W silk dome tweeter
Woofer: 5 inches (127 mm) 40 W woofer with kevlar membrane
Crossover: 2 kHz
Frequency range: 52 – 35,000 Hz
Inputs: Balanced XLR input
Power consumption: 100W
Power supply: internal power supply 100 – 120 V / 220 – 240 V, 50/60 Hz
Weight: 6 Kg
Build and design
M-Audio's BX5 D3 is an affordable and reliable two-way active monitor speaker. It consists of a 5 inch Kevlar woofer and 1-inch silk dome tweeter.
A bass port, XLR, and TRS inputs are located on the back of the cabinet alongside a volume knob.
The 100 watts distributed power unit ensures that each component gets the required power to provide a balanced response and ensures good quality audio.

Sound quality
The low-end on this speaker is clear but not punchy enough for bass-heavy music such as a trap.
The mids are tight and clear whereas the high-end is a little bright. The sound produced by the BX5 D3 is clear even at high volumes.
Another great thing is that the speaker doesn't produce a noticeable hiss when turned on but not in use.
The frequency response ranges from 52Hz to 35kHz. It has a wide sweet spot which means you don't have to sit in exactly one spot to get the best listening experience.
The onboard acoustic space control helps you tune the speaker to your room conditions.
The overall performance of this speaker is great, especially for budget-conscious home studio owners.
Pros
Broad sweet spot.
Compact and robust physical design.
Cons
The speaker sometimes gets hot during extended use.
Specifications
System Type – Powered 5″ Two-Way Studio Monitor
Peak SPL Max – 108dB
Coverage Pattern – 120° x 90°
Input Types – Balanced XLR and 1/4″ TRS
Cabinet Dimensions – 11.7″ x 7.3″ x 9.1″ (298 x 185 x 231mm)
Net Weight – 10.43 lbs (4.73 kg)
Crossover Frequency – 2KHz
Power – 50 W
The Mackie MR524 is an active studio monitor with a 5-inch woofer for driving the mids and lows as well as a 1-inch dome tweeter for driving the highs.
It has a frequency response of 45Hz to 20kHz which is decent but not nearly as high as some of the other more premium speakers covered in this article.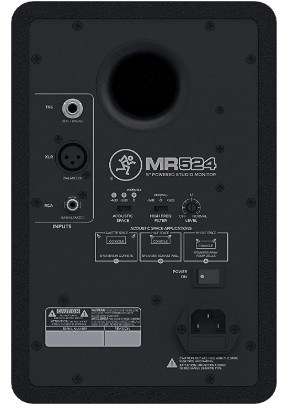 Size-wise the speaker is quite bulky but not much bigger than your average bookshelf speakers. So a pair doesn't take up too much space. Each unit weighs 10 pounds.
It's not hard to tell that Mackie MR524's main target market is home studio users who probably use laptops for music production in their bedrooms and don't have a big budget.
That being said, its sound quality is quite flat, the sweet spot is wide. Thanks to waveguide technology, and it handles general-purpose audio-related tasks very well.
The area where this speaker suffers a bit is in the low end. But considering its price tag it's not something you can cry about.
Pros
Beautiful aesthetic design
Wide sweet spot
Cons
The bass response is rather weak.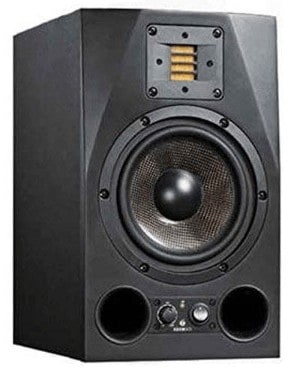 Specifications
Frequency response: 42 Hz – 50 kHz
Long term output: 106 dB
Max peak: 114 dB
Amp. power RMS / music: 50 W / 75 W
Crossover frequencies: 2500 Hz
Input impedance: 30 KOhm
Weight: 20.3 lb (9,2 kg)
Magnetically shielded: No
Height: x Width x Depth: 13.5″ (337 mm) x 8″ (201 mm) x 11″ (280 mm).
Build and design
The Adam Audio A7X has a strong reputation in the pro-audio market for good reason. It's a high end powered monitor with an incredible frequency response range.
Each speaker is fitted with a 7-inch woofer with a 100-watt amplifier and a 2-inch tweeter powered by a 75-watt amp.
It has XLR and RCA ports for input and weighs about 20 pounds.
Sound quality
It's able to reproduce frequencies as low as 42Hz on the low end up to 50KHz on the high end, well above the human hearing range.
You don't need a separate subwoofer to mix most types of music on this speaker, but it can be coupled with an Adam Audio subwoofer if you wish for the more low end.
It has a balanced, flat response across the entire frequency spectrum making it a monitor that is reliable for referencing pro audio.
The A7X is by far the best studio monitor mentioned in this article and is the type of monitor you invest in for long-term use.
Pros
Premium-quality sound.
Punchy, clear bass.
Robust and durable design.
Specifications
Type: 5″ Near-Field Studio Monitor
Frequency Response: 43Hz – 40KHz
Max SPL 104dB
Power Output: 55 Watts
Input Impedance: 5.12K Ohms, Balanced
Balanced TRS/XLR Combo Jacks
Dimensions: 11.22″ x 7.48″ x 9.49″
Weight: 10.69 lb
Build and design
KRK is one of the most popular brands in the mid-tier studio monitor realm. The KRK Rokit series has become iconic and is a staple among project studio owners and electronic dance musicians. The KRK RP5G4 is from that same lineage.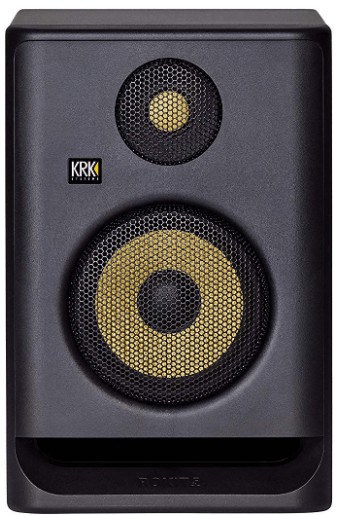 It's a 2-way active monitor with a 5.25-inch woofer and a 1-inch tweeter, both made from Kevlar Aramid Fiber. Its frequency response ranges from 43Hz up to 40kHz making it very well-rounded for audio production, mixing and mastering purposes.
Sound quality
The speaker has an onboard LCD for visual feedback. It also comes equipped with a built-in equalizer to help tune your speaker as you wish.
The speaker is compatible with the KRK app which eases the process of tuning your room, managing crossover settings, monitor placement, and various tasks.
The KRK RP5G4 provides a flat response, great low-end reproduction and value for money that is hard to beat.
Pros
Brilliant low-end response.
Comes with a dedicated KRK app
Great price for the package
Conclusion
I hope you have definitely found the flat response studio monitors that serve your purpose well.
A key thing to remember is that you have to get used to your speakers before you can get the best out of them.
It's also advisable to invest in acoustic treatment where possible as that affects how you hear audio playback from your speakers.
The Mackie MR524, PreSonus Eris E8 XT 8+, and the M-Audio BX5 D3 are well-suited for budget-conscious users who need clean sound.
The Yamaha HS5, KRK RP5G4-NA, and JBL Professional 308P MkII are well-suited for semi-professional users. If premium quality is your main concern you can't go wrong with the Adam Audio A7X.
The reference monitors listed above are among the best and you can't go wrong with any of them.
Hi, I'm Jennifer I'm a passionate singer and an audiophile from Detroit, MI. 
I'm on a mission to help music creators to create fine music that help them position uniquely in the saturated music space.
Follow my blog for regular content :-)