Are you looking for the best mic and confused between the RE320 vs RE20? These microphones are great in their regards with good frequency response, and sound quality. But once, I started recording with both the mics, a lot of things became apparent. Read on to learn which is the better choice. Let's get started!
Quick Comparison
Both mics share some similar traits. They have the same Audio interface, Polar pattern, and case material. However, the two mics also have some distinct features that set the two apart.
The RE20 has a much better and extended frequency response.
It is brighter and comes with high output. Therefore, the preamp doesn't need to provide a lot of gain.
There is a dual-voicing feature that lets you switch between two frequency responses.
The cheaper RE320 has a very noticeable mid-range sound.
It is also great with amps and other instruments.
Pop filter is great at removing any type of sound.
But, that's the basics only. Continue reading to learn about the positives and negatives of both mics and find out which one wins the 10-parameter-based detailed comparison. Let's dive deeper into the details!
Electro-Voice RE320 vs RE20: Comparison Table
Here is a table comparing different parameters between the two mics:
| | | |
| --- | --- | --- |
| | | |
| | | |
| | | |
| | | |
| | | |
| | | |
| | | |
| | | |
| | | |
| | Pin 2 positive to Pin 3 with positive pressure on the diaphragm | Pin 2 positive to Pin 3 with positive pressure on the diaphragm |
| | | |
| | | |
| | | |
| | | |
| | | |
| | | |
| | WSPL-2 Foam Wind Screen 309A Isolation Mount | 309A shock-mounted stand adapter for use with a floor stand or recording boom arm |
| | | |
Now that we have a general idea of the specs of both mics, let's go through an in-depth comparison of RE20 vs RE320:
The Good & Bad of RE320
Let's go through the benefits and drawbacks of the RE320:
RE320
Pros
This dynamic microphone has a really good build quality due to its steel construction.
It has a high protection against any kind of interference.
It delivers a clean sound suitable for studio recording.
The dual frequency response provides a lot of flexibility to this mic.
Cons
It can overheat after continuous use.
Last update on 2023-09-21 / Affiliate links / Images from Amazon Product Advertising API
The Good & Bad of RE20
This is why you should and shouldn't consider the RE20:
RE20
Pros
It excels in removing wind noise or any background interruption.
RF interference doesn't affect this microphone.
It provides really good focused sound quality and is excellent in vocal voices making it the best vocal mic.
You get all of the industry standard features with this dynamic microphone.
The sound is deep but still smooth and refreshing.
Cons
It is an expensive investment.
It is a heavy mic.
Last update on 2023-09-21 / Affiliate links / Images from Amazon Product Advertising API
Overview of the RE320
It is a professional dynamic microphone with great sound quality and is particularly used for recordings.
Response: The microphone's response is transient and has amazing midrange sounds.
Instrument Capturing: The instruments are captured terrifically and each of the details is present there.
Tonal Shifts: The tonal shifts and off-axis are lowered by the D-pattern to allow for great coil humbucking.
Pop Filter: The RE320 also has an integrated pop filter that provides noiseless sound.
Neodymium magnet structure: The microphone comes with a neodymium magnet structure magnetic structure with a cardioid polar pattern. You can switch the response curve to your desired need.
Kick Drums: There are kick drum curves also installed on this mic. It is great for people who like to enjoy various drums and voices.
For more information, you can check out this video.
Overview of the RE20
The RE20 is a famous mic in the media industry and is used for sound recording. It also has a cardioid polar pattern and its performance is similar to a condenser.
Controlled audio signal: This is the go-to choice for radios due to its smooth and controlled audio signal. It provides really good sound.
Pop Filter: The internal pop filter is amazing and is suitable for voice work.
Shock Mount: The mic keeps the vibration low with the element shock mount.
Coil: As the coil is humbucking, you get low line-humming.
Steel Body: The build quality of the microphone is quite good with a steel body that also offers great magnetic shielding.
Multipurpose: It is mainly used in podcasts, voice-overs, commentaries, talk shows, music production, etc.
You can learn more details about the RE20 in this video.
10 Parameter In-Depth Comparison
I have discussed the basic details of both microphones and now is the time to take an in-depth look into all the factors. Let's explore each category deeply!
1. Audio Quality / Sound Quality
The two mics offer commendable sound quality. Both are suitable for different voices and scenarios. Here is the why:
In terms of sound detail: The RE320 has a brighter, more detailed sound compared to the slightly murkier RE20.
In terms of tone: The RE320 has a warmer, bassier tone that many vocalists find appealing. Its lower ends are full and rich. While the tone of RE20 has less bass and is less full.
In terms of vocal notes: Moreover, the RE20 seems to lack some of the sparkle and definition in the high-mid notes compared to the RE320. Plus, it has a subtle muffled quality.
Winner: Overall, the RE320 takes the edge for audio quality and detail. Its crisp, transparent sound gives vocals and speech excellent cut and intimacy.
2. Variable D-Technology
A technology that makes both mics a perfect pick for sound recording, variable D-Technology allows microphones to reduce the proximity effect. This helps in picking low-frequency sounds in a better way. Both RE320 and RE20 have these features, but they perceive them in different ways. Let's have a look:
RE320: It has 2 recording peaks. One can be used for recording instruments while the other records both instrument applications and vocals.
RE20: On the other hand, RE20 has only a flat peak that records both instruments and vocals. The D-technology only helps in capturing sounds that are near to speak, regardless of their nature.
Winner: RE320 is a clear winner, thanks to its enhanced variable D-technology and 2 recording peaks.
3. Polar Pickup Pattern
These mics have cardioid uni-directional pickup patterns. This is a very useful feature as it only allows the sound that is coming from the front. This type of polar pattern comes in handy for podcasting as it requires capturing only the sound of a nearby person while canceling other vocals.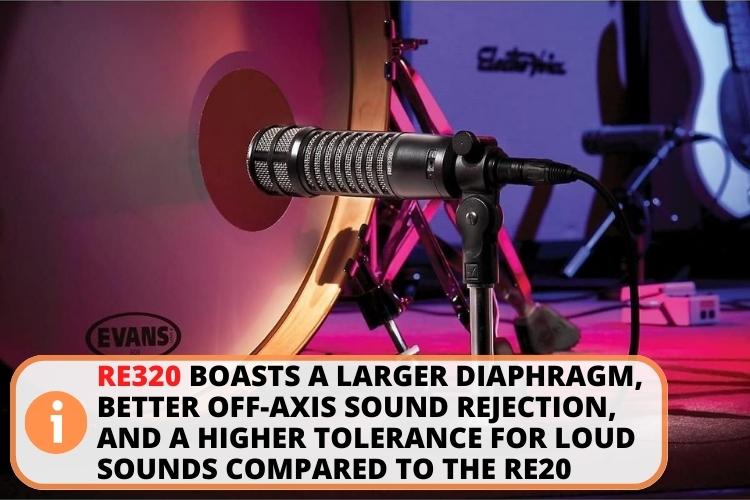 Despite having the same polar patterns, RE320 gets a slight edge because of the following things:
It has a large diaphragm while RE20 has a shorter one;
RE320 has a more narrow pattern which is good at rejecting off-axis sounds while RE20 lags a bit in this category;
RE320 has a higher audio pressure level which helps it in tolerating very high pitch and high pressure sounds. On the other hand, RE20 can't take very high sounds.
Winner: RE320 is the winner due to its large diaphragm, narrow polar patterns as well and the ability to tolerate higher audio pressure.
4. Frequency Response Range
A good podcasting mic is one that not only records your vocals but also does it across a wide range. Both mics again have a really good frequency response with a slight difference between them.
RE20 – 30 Hz to 18 kHz;
RE320 – 45 Hz to 18 kHz.
Although the range is quite similar RE20 has a bit broader response. It can record different voices in a much better way.
Example: Let's say you are the host of a podcast, then the RE20 is going to be the obvious choice for you. It can capture low voices effectively and there is no weird distortion in the sound.
Winner: The RE20 has better frequency response and handles low noise well so it comes out on top.
5. Impedance
Vocals and sound quality are important factors when considering mics. But you should never neglect the impedance. The flow of the audio signal between the interface and the mic should be maintained. This is where the impedance makes a difference.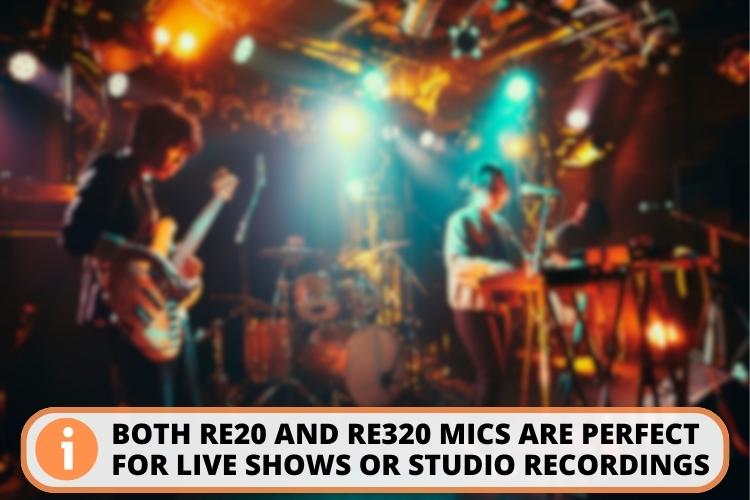 The impedance on both the RE20 and RE320 is 150 ohms. The length of the cable doesn't matter as the signal will be strong every time. This is helpful as both mics become ideal for live performances or studio recordings.
Winner: Both mics have the same 150 ohm impedance. So, it is a tie as the performance is the same.
6. Pop Filter
There is a pop filter in both the RE20 and RE320. It makes them stand apart from the other mics. It is really useful as it removes all of the plosive sounds to get in the recording. There are a lot of words that have hard pronunciation so crackling can appear in the recording.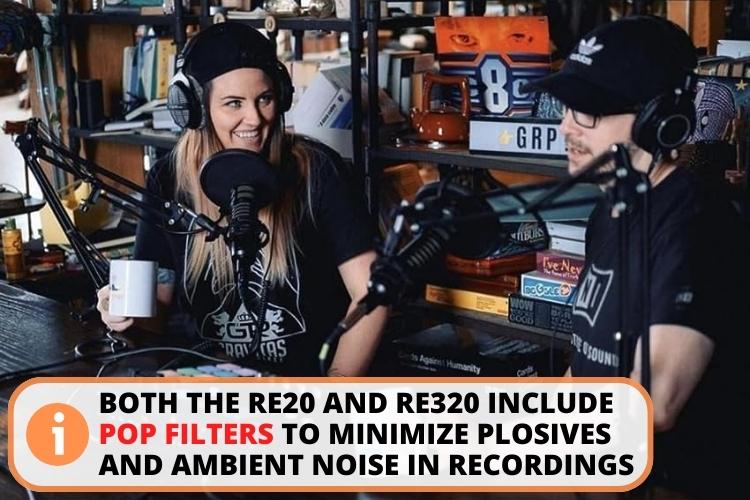 Pop filters are amazing as they not only remove the plosive sounds but also remove any breathing noise as well. Wind noise is drastically reduced.
Note: As these mics come with a pop filter you don't need to spend extra money.
Winner: With an included pop filter on both mics, it is a tie yet again.
7. Connection with Audio Interface
The XLR is a balanced analog connection commonly used in professional audio setups. Both mics come with a 3-pin XLR port and are used to connect with an audio interface, speaker, etc. It is the highlight of a good mic if it has an XLR port.
Winner: You get an XLR port on both the microphones. So, there is no winner in this category.
8. Design
The mics are built really well and the designs are sleek. They have a modern look with a little bit of differentiation in the color.
Appearance
The RE20 comes in silver-gray while the RE320 has a black color. When it comes to appearance, both mics look extremely good. The in-hand feel is solid due to the metal build quality. Other than the color, these mics have the same qualities.
Build Quality
Both are constructed from stainless steel. It provides extra protection and strength. There is a mesh grill on both of the casings. The internal components of the mics are protected by this grill. So, Eletro-Voice hasn't cheaped out on the build quality of their products.
Weight
There is a slight difference in the weight of both mics. RE320 weighs around 681 grams whereas its counterpart has a weight of 737 grams. In longer performances, you will feel more relaxed with the RE320.
Winner: Both mics have the same design and built quality but they differ only in weight. Even though the difference is not much, still RE320 stands tall in this category based on its light weight.
9. Price
These microphones are not your typical budget ones. These sit at the higher end. If you are looking for a sub $200 mic, these are not the ones for you. But regardless, there is still a price difference between the two mics.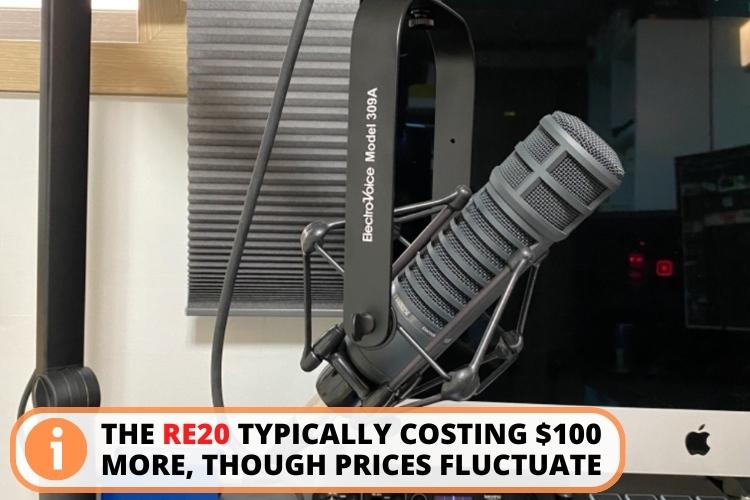 The RE20 is the most expensive mic of the two and is typically $100 more than the RE320. However, as the prices tend to fluctuate regularly, you should check the current pricing of both before buying.
Winner: If budget is your preference, then you should go for RE 320 as it is cheaper than its counterpart.
10. Applications
These mics are quite versatile and can be used for a variety of applications. Let's take a look at some of them:
Broadcasting;
Podcasting;
Vocals;
Horns;
Kick Drums;
Electric Guitars.
As you can see both the mics can be used for different purposes. Their versatile nature makes them quite viable if you are looking for a single mic to do all things.
Winner: Both mics can be interchangeably used for different applications. There is no clear winner here.
Which is the Overall Winner?
It is literally impossible to determine an overall winner between the two microphones. This is because there are so many categories in which both mics are evenly matched. So, in order to make things easier for you, I'll present you with some points on why you should choose one or the other:
Why Choose The RE320?
The RE320 is viable because of the following: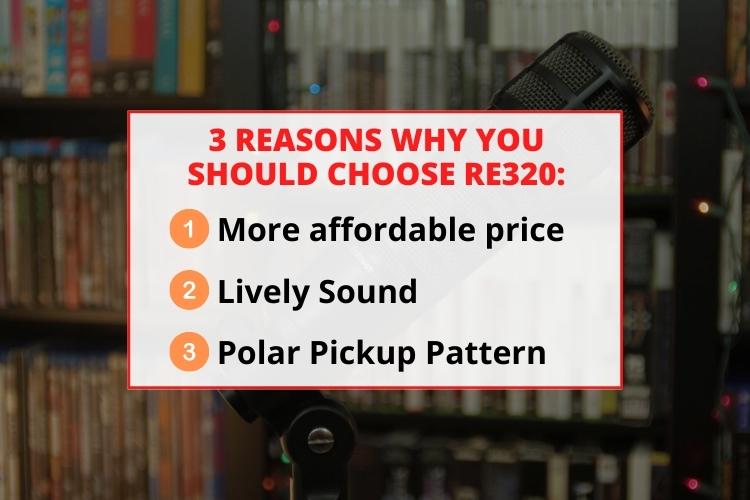 Cheaper: You get most of the features of the RE20 in a much cheaper package. It is great for people with tight budget constraints.
Lively Sound: The RE320 produces a lively sound that is more open and full. Some might prefer it to the flatter sound of the RE20.
Polar Pickup Pattern: A large diaphragm and narrow polar pickup pattern help in rejecting sideway voices, attracting the user's attention.
Why Choose The RE20?
You should then RE20 due to the following reasons: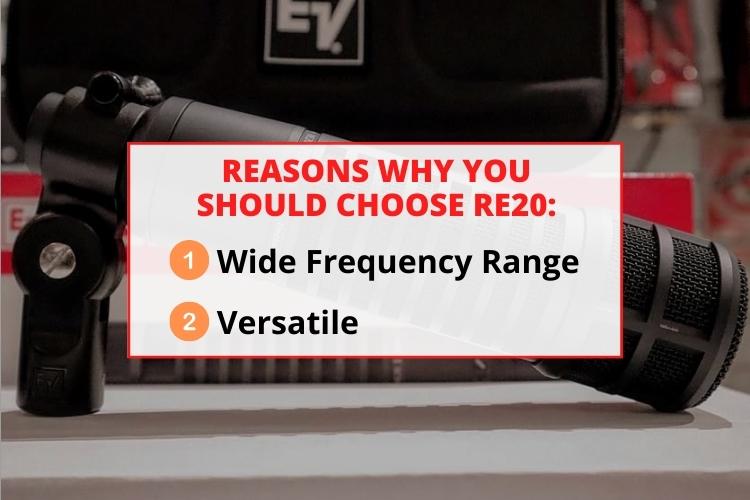 Wide Frequency Range: It has a wider frequency range and will capture more detailed sound with high clarity.
Versatile: This mic is quite versatile and you can use it for a variety of purposes. It can basically act as your go-to mic for everything.
FAQs
What is the difference between the RE20 the RE27 and the RE320?
The RE20 and RE320 both have a single high pass switch. While the RE27 comes with 3 switches. There are 2 high-pass switches and 1 high-pass cut switch.
What is RE320 good for?
The RE320 is good for a variety of scenarios like broadcasting, podcasting, recording, etc. You can use it for a lot of different purposes.
What is the EV RE20 good for?
The EV RE20 is good for vocals as well as instruments such as bass guitar, kick drum, horns, saxophones, etc. It is quite versatile in this regard.
Is RE20 a good vocal mic?
Indeed, the RE20 is a good vocal mic. Some might even say it is the best vocal microphone. It truly shines in recording and is well known for its flatter response.
Does RE20 need a shock mount?
Yes, a RE20 does need a shock mount as it can significantly improve the recording. There is no way a professional broadcaster uses this mic without a shock mount and a windscreen.
Conclusion
The final say is that both mics are made for sound recording and excel in a lot of different scenarios. There are a lot of similarities between the two but you also get a difference in the sound produced as well.
If you're on a tight budget and prioritize cost-effectiveness, the RE320 offers excellent value for its price. You'll get a rejection of off-axis sounds and enhanced Variable D technology.
RE320
Elevate your audio recording with the RE320 Dynamic Microphone. It is a versatile choice for studio and live performances. You will enjoy a brighter and more detailed sound and built-in noise reduction. It is perfect for vocals, instruments, and more.
Last update on 2023-09-21 / Affiliate links / Images from Amazon Product Advertising API
On the other hand, if you can invest a bit more and want a versatile microphone with a wider frequency range, the RE20 is a strong choice.
RE20
Achieve professional audio quality with the RE20. It is known as the industry standard for radio and voiceover work. Its smooth and controlled audio signal, internal pop filter, and humbucking coil make it ideal for broadcasting, podcasting, and recording.
Last update on 2023-09-21 / Affiliate links / Images from Amazon Product Advertising API
In the end, the final decision boils down to your needs and budget. Get the one that is suitable for you!