I often come across people struggling to find a good mic for their voice-over recording works. So I decided to write this post.
No matter if you are doing podcasting, audiobook narrations, or even screencasting, the vocal mics I'm gonna introduce you in this post will be of great help for you.
I would assure you that at the end of the post, you'll be clear about what good voice-over mic to choose considering your needs.
If you are serious about buying a good voice-over microphone, go through each and every detail of this post.
I will assure that this post will help you a lot.
People tend to do a voice-over with their headphone's inbuilt mic or even the mic of their smartphone or laptop. The downside is that, when you do this, your audio sucks.
For recording professional sound, you need a dedicated mic – especially when podcasting or doing other voice-overs.
The nature of the recorded sound depends upon the mic you choose, be wise.
Microphone types suitable for voice-over recordings
There are various types of microphones available in the market. But not all of them are suitable for voice-over applications. You need to choose the best type of mic considering your voice-over environment and also the desired outcome.
These are the types of mics that are used widely for voice-overs:
Condenser microphones
Dynamic microphones
Shotgun microphones
Let us go into detail one-by-one.
Condenser mics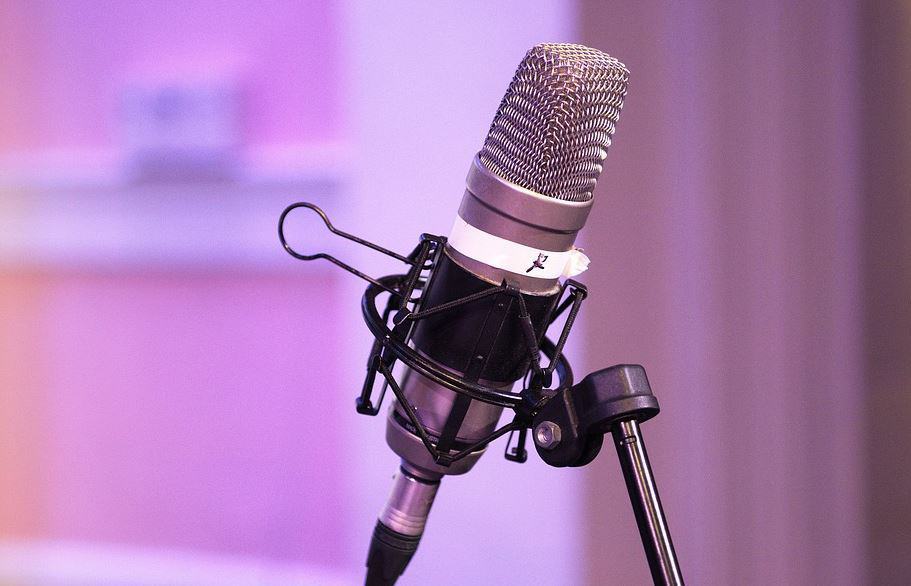 These are the studio-grade mics that professionals use for their voice-overs and podcasts. They tend to pick up every detail in the voice resulting in more clear and natural sounds.
There are two types of condenser mics – large and small diaphragm. As expected, large diaphragm mics give you more crisp and natural sounding sounds and are preferred.
Although some of the condenser mics are USB, most of the good condenser mics require phantom power which can be provided by the audio interface, which has to be bought separately.
The downside is that the condenser mics are very sensitive to the surroundings. They tend to pick up ambient noises, especially if you are not close enough to the mic. They are a big no-no for a very noisy environment.
They are suitable if you have a quiet environment in the studio or even at home. These microphones often pick up the sounds of the vehicles nearby your house. They are very sensitive. Nevertheless, these condenser microphones provide the highest quality sound.
Dynamic mics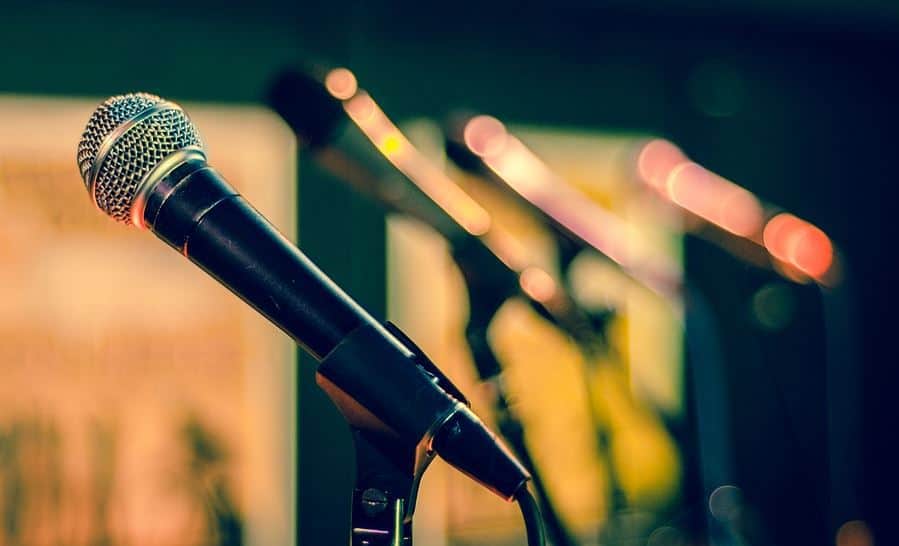 These are the type of mics that you typically see on the stage, that a singer holds.
The voice-overs recorded in these mics are warm, and not as natural as condenser mics.
This is a great type of microphone for you if you are planning to do voice-overs in a noisy environment. Unlike condenser ones, they are less sensitive to background noise.
They tend to cancel out the sound from off-axis directions, which can be great when recording in a fairly noisy environment.
The major advantage is that the dynamic mics don't require phantom power, which means they are great to use on the go.
Nevertheless, the quality of the voice is not as clear as condenser ones. You tend to get a sort of boomy sound quality in case of dynamic mics. But they are excellent to use in a noisy environment.
Shotgun mics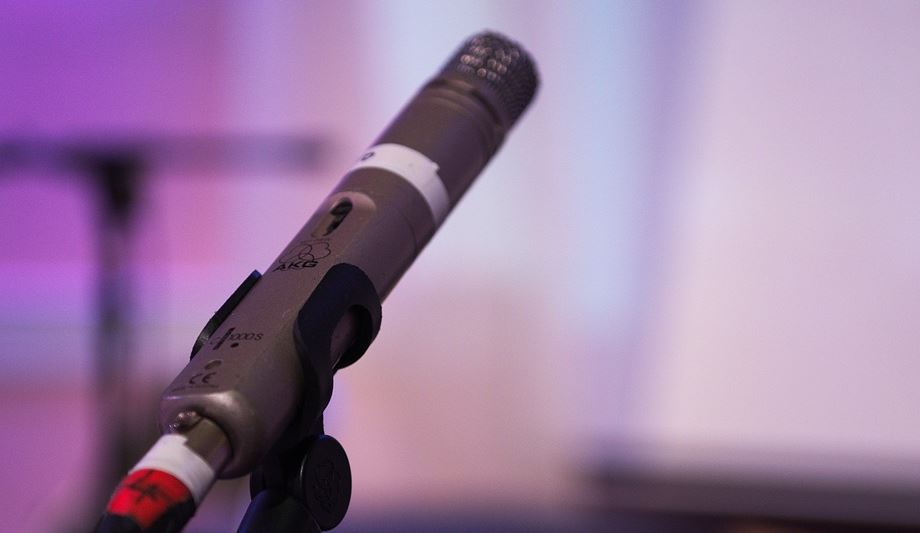 These are well known in broadcasting or in film sets. Generally, these are used when the appearance of the mic is not desirable on the screenplay.
You need to point this long mic, directly to your mouth. This mic tends to cancel out sounds from other directions extremely well. The pickup angle is very narrow and is very directional.
The downside of using these mics is that you need to remain fairly still while recording your voice-overs with these mics. A change is the angle of recording can change the quality of the recordings greatly.
Other specifications you need to look at
XLR vs. USB
This is one of the most common questions asked by newbies, whether to go for USBs or XLR mics. Today, I'm gonna answer this question with reference to recording voice-overs.
XLR mics require an audio interface with preamp for them to power up. You need a separate XLR cable to connect the mic to the interface, and which in turn connects to the PC. The big advantage of using XLR mic is that the sound quality is excellent.
USB mics use a regular USB cable to connect the computer and you record the sound. They receive the power they need from the USB cable.
You can't connect USB mics to an interface hoping to get XLR mic quality! If you already have an audio interface with provision for phantom power, there's no real reason for you to buy USB mics.
Polar patterns
Put simple, they are the pattern in which a mic picks up the sound (where the sound is picked up). There are different types of polar patterns.
Omnidirectional (picks up sound from all the directions of the mic).
Bidirectional (picks sound from the front and back of the mic, and rejects sounds from the sides). It's best suitable for voice-overs involving two people sitting opposite to each other. For example, an interview.
Cardioid essentially picks up the sound from the front. The pickup pattern is in the form of a heart.
Super-cardioid (narrow pickup in the front. and less from back).
Shot gun (Very narrow pickup from the front of the mic).They are also called super-directional mics.
For your reference below is the example of polar pattern of the cardioid mic.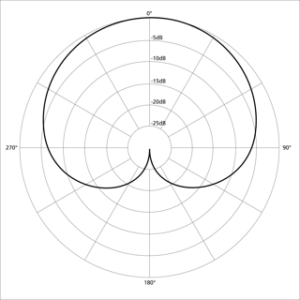 As you can see in the diagram, the cardioid mics only pick up sounds from the front of the mic and reject sounds from the back (i.e bottom of the image). This is the type of mic that most people use while doing vocals and voice-overs.
Our recommendations for best voice-over mics
Condenser voice-over mics for podcasting
The best, if you are working in a quiet environment.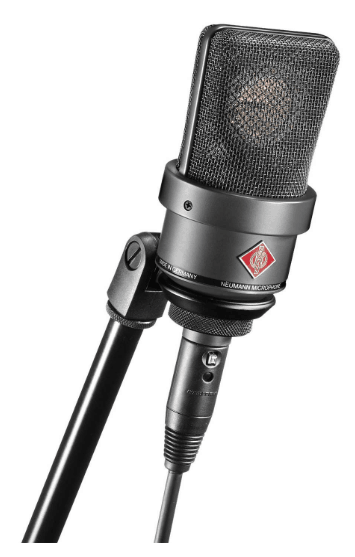 Neumann TLM 103 has become the go-to option for many of the voice-over professionals. This is the best studio-grade professional condenser mic you can ever get for top quality voice recordings. It is an XLR mic, that means you need an audio interface for driving this mic with phantom power.
Out of the box, it comes with the microphone, a shock mount, and a briefcase.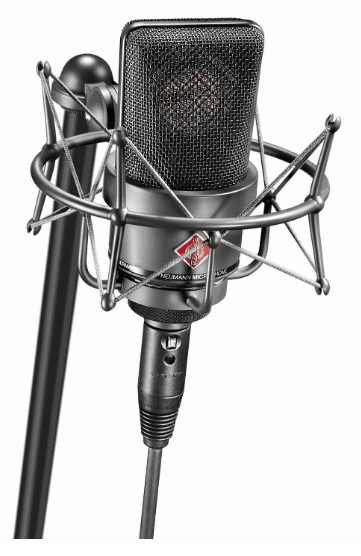 It has a low self-noise of 7dB, which is quite good. The cancellation of background noise is quite good when compared to other condenser mics, especially when you are recording close to the mic.
The cardioid pickup pattern is very focused allowing the mic to reject off-axis sounds. However to get more results out of the bucks you shell out, acoustically treating your recording room or voice-over studio is recommended.

As you can see in the above screenshot the frequency response is flat, so as to produce more natural sounding vocals and voice-overs.
Pros
Natural sound
Popular among pro audio enthusiasts
Low self-noise
Flat frequency response
Cons
Bottomline: If you want the best voice-over condenser mic, and you don't want to compromise with quality, go for it.
#2. Rode NT1-A –

Best value for money

This is by far the best mic I've ever seen in the $200 range. It is widely loved for the amazing quality when compared to the price of the mic.
It is an XLR, cardioid condenser mic, for recording high-quality natural voice. As I've told you earlier cardioid mics are great at recording vocals at high quality.
It is the quietest studio mic of self-noise only at 5dB, which is remarkable.
Compared to other condenser mics, this mic tends to pick up very less background noise. It is quite surprising that even in the room that is acoustically untreated, the noise pickup is very low and can be easily flattened out.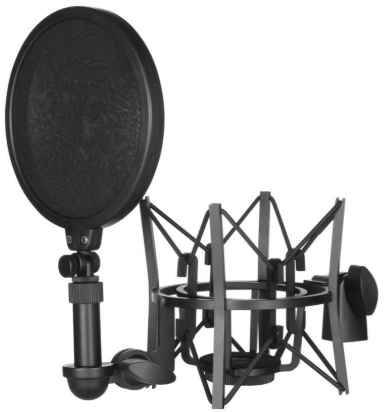 However, if there is some noise, you need to move close to the mic so that it gets rid of background noise effectively.
The frequency response of the mic is great. The low and mid range seemed more tonal which is great for vocals.
Apart from recording voice-overs, this mic is also great for acoustic guitars, which makes it popular among musicians too.
Durability-wise, the build quality is amazing. The body is made of sturdy metal. It comes with 10 years of Rode warranty. What can you expect?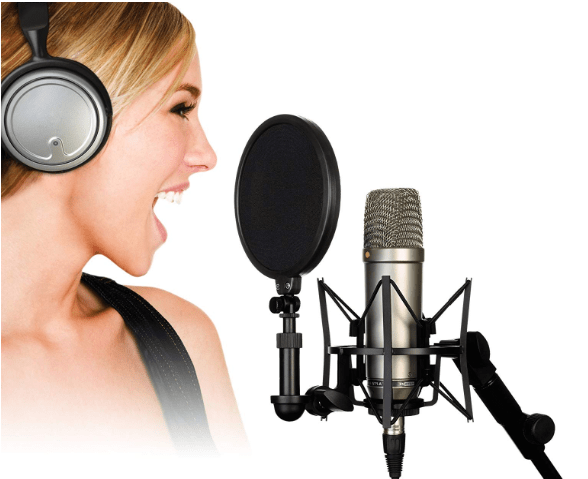 Out of the box, it comes with a shock mount and pop filter. They are very helpful in filtering out unwanted details while speaking into the mic.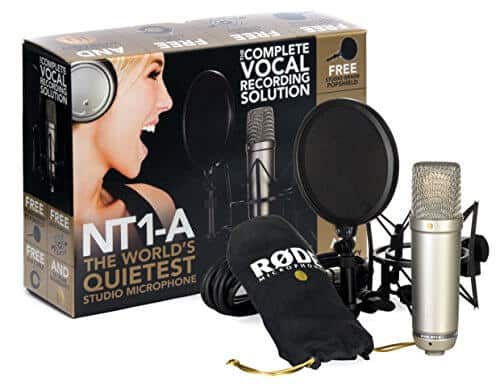 Pros
Value for money
Great quality sound
Lowest self-noise
Durable
Cons
Quite sensitive to picking up unwanted small details from the voice.
Bottomline: If you are looking for a condenser mic, with the best value for money and don't like mediocre quality go for it.
Recommended read:
1. NT1000 vs NT1A: Which is the Best Mic for Recording Vocals and Acoustic Guitars?
2. Rode NT1 vs NT1A: Which One is Best for Vocals?
This is one of the good XLR condenser mics out there. You need to use an audio interface with these. The design of this mic is awesome with stealthy black and Audio-Technica logo in the middle.
It's really a good vocal mic by Audio-Technica in the range. For vocals, they are crisp and natural with less coloring which is of a great deal.
The best part is that these mics have less proximity effect, you can go super-close to the mic and record without getting that boomy effect. That's the biggest pro when you lose yourself while doing voice-over works.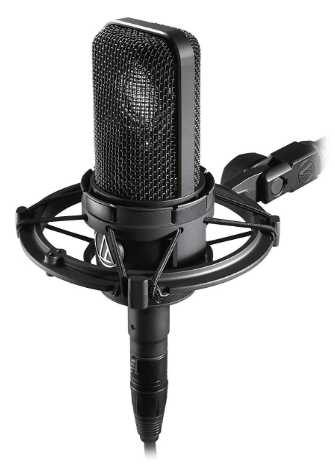 Like that of other condenser mics, they are more sensitive to the external noise, and you need to take care of your surroundings while recording.
For many of the people, this mic is the entry-point for their journey with condenser mics, and they are glad that they did it.
Pros
Great sound quality
Low proximity effect
Good design
Cons
Bottomline: A good entry-level condenser mic or great quality recordings.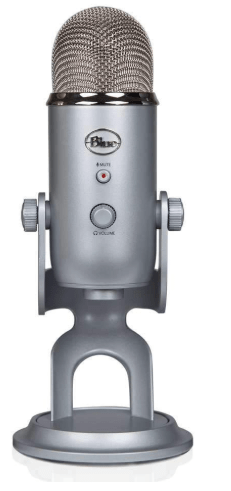 This is the blackout edition of the Blue Yeti microphones I'm reviewing. Because, they really caught my eye.
If you are looking for the best USB condenser mic for the bucks you pay, go for Yeti mics. You don't need any audio interface to run these mics. You just need to plug in the USB cable to your computer and you are good to go.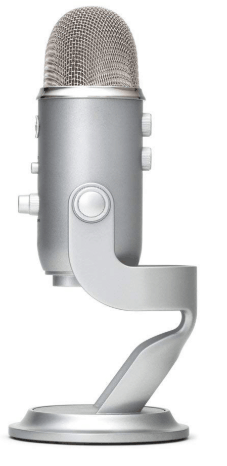 The best part about this mic is that you can choose among different polar patterns like cardioid, bidirectional, omnidirectional and stereo, making it the best versatile multi-pattern mic.
This is made possible with the help of 3-array condenser capsules that sit right in the mic.
This is the feature that you rarely see in the case of condenser mics. The cardioid mode is suitable in case of voice-overs, podcasting and for vocals. Whereas, if you are interviewing a person in the podcast, then the bidirectional pattern comes into play.
As this is a USB mic, there's no audible self-noise in this mic. If you turn down the gain and talk close to the mic, you can almost completely get rid of background noise while recording your voice-overs.
If you want to avoid PC fan noise, no worries these mics got a very long USB cables to let you use the mic far away from your PC. As with any other condenser mics, it's poor at noise cancelling.
Nevertheless, you can remove the unwanted noise using any software say Audacity or Audition.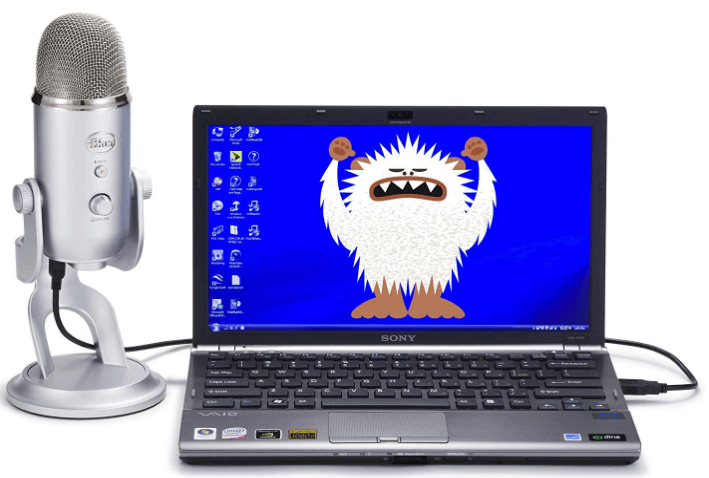 The mic is built sturdy and feels premium. Some people find it bulky to use until they get used to it.
You can't expect the sound quality match to that of XLR mics. These mics are the best if you are not ready to mess up with professional audio interfaces and want a mic that you can use on the go while commuting.
If you think the cost of these mics is high, you can also have a look at Blue Yeti alternatives.
Pros
Multi-pattern support
Worth the price
Low self-noise
Cons
Bottomline: If you are looking for the best USB condenser mic that's versatile and worth your money go for it.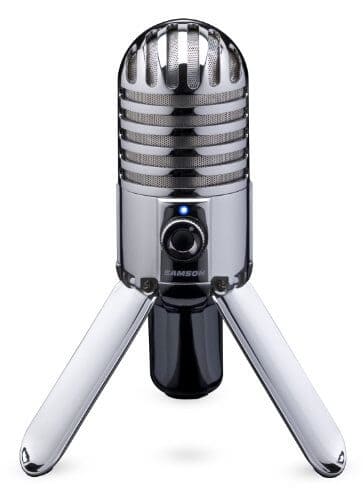 If you are looking for a professional looking, affordable cardioid mic then Samson Meteor Mic is the best bet.
The best part about these mics is that unlike other mics they come with large diaphragms of 25mm that's capable of producing natural sounds while in voice-overs or vocals.
The mic body is made of chrome metal body that's highly durable. The mic has legs that are chrome plates which look stunning when placed next to your computer or laptop.
This feature makes the mic highly portable to carry out your voice-over recording by just landing the meteor.
The mic is also made to be compatible with a lightning port in Apple devices and also GarageBand.
The sound quality of this mic is great, but as usual, it's nowhere close to the quality offered by XLR mics that are meant for pure professional use. But when compared to other USB mics, the sound quality is really exceptional.
The sound isolation is quite remarkable. Perhaps it's the best USB condenser mic in terms of low background noise.
Pros
Large diaphragms for natural sounds.
Highly-portable
Almost zero noise
Cons
Bottomline: If you need a USB condenser mic with good sound isolation and portability go for it.
Dynamic voice-over mics for podcasting
If you are working in a quite noisy environment, dynamic mics are the best.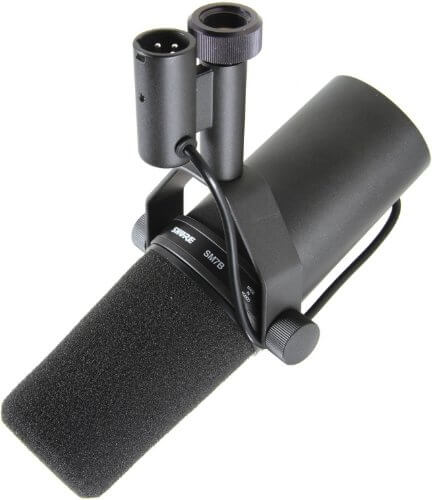 If you are working in a quite noisy environment and looking to buy the best vocal dynamic mic, then Shure SM7B won't disappoint. you. It is the best dynamic mic for voice-over work.
These are types of mics that most of the radio broadcasters use. This is the mic that Michael Jackson used on the Thriller album! This is the best vocal mic that is dynamic. It is an XLR mic, that's in mid-price range and is really a value for money.
The main advantage of this mic is that they offer flat frequency response when compared to other dynamic mics so that the reproduction of sound is more realistic and natural.
Along with this, it also has a mid frequency boost, that's great for vocals. When you are working with condenser mics, the major problem is that of self-noise. In some of the condenser mics you can't hide the amp noise and also the background noise.
But in the case of dynamic ones like this one, they are less sensitive to background noise. They perform well even in untreated home studio environments.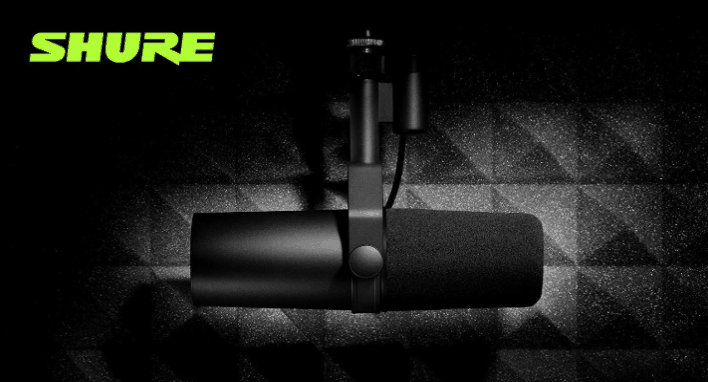 Pros
Flat frequency
Good sound isolation
Value for money
Cons
Bottomline:If you are looking for the best dynamic voice-over mic, to use in noisy or untreated environment go for it.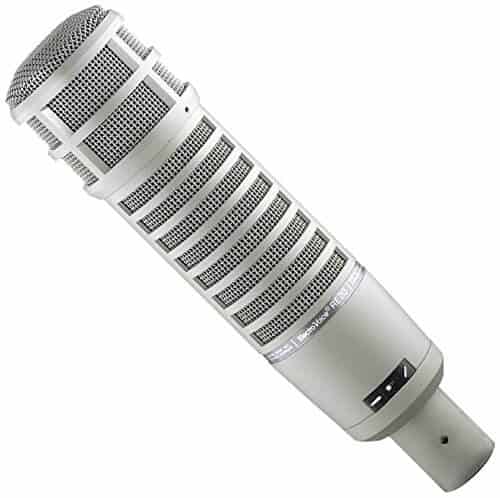 Are you looking for condenser-like natural sound reproduction in dynamic microphone? Then pick this mic up. These mics have tailored frequency response to offer recording quality matched to that of studio-grade condenser mics.
These mics are great if you are doing voice-overs or podcasting. They record very good vocals, the frequency graph shows it all.
The best part about these mics is that unlike other dynamic mics, you don't have to be close or maintain a consistent position while recording your voice. In this case, the mic is forgiving and the levels of the voice won't change very much when you move back and forth.
If you don't have to be static while doing your voice-overs, this is for you. The noise cancelling and sound isolation is excellent, but for some of them, self-noise is the issue.
It's made of a good quality steel and offers great build-quality.
It has a built-in pop filter so that you don't require an external pop filter for filtering out unwanted details in your voice.
This mic costs around 400 bucks but it's really worth it if you want your voice to sound very good and want your mic to be durable.
Pros
Great sound quality
Built-in pop filter
Highly durable
Cons
Bottomline: If you want a mic, which would sound consistent even when you slightly move around this is the mic.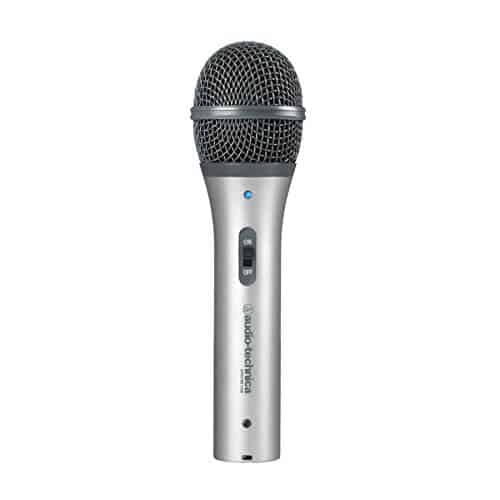 If you want a good versatile mic and are on a tight budget, Audio-Technica ATR2100 should be your choice. The main attraction with these mics are that they are compatible with both USB/XLR cables.
If you are traveling and forgot to carry your XLR cable or interface, no problem. The USB support will always be there for your rescue. You can use both the USB and XLR outputs at the same time, which is a great feature.
So, if you are planning to buy a mixer or maybe an interface, you are good to go with these mics without shelling out for new ones.
As I told you earlier that if you can't acoustically treat your recording space, just go for a dynamic mic as they are less sensitive to external noise.
These mics won the hearts of many aspiring podcasters who can't afford to build a sound-proof studio and supply phantom power to their studio-grade equipment.
The sound quality and isolation is extremely good for the price. The unwanted sound coming from the back or sides of the mic are blocked greatly.
The sound coming straight to the diaphragm are only picked up. The sound recorded is crisp and clear. The pickup pattern is cardioid. For vocals, you can't go wrong with cardioid mics.
The build quality is excellent and durable.
Pros
USB and XLR
Effectively blocks background noise
Worth every penny
Cons
For good quality sound, you've to speaker closer to the mic.
Bottomline: If you are looking for a budget USB/XLR mic for voice-overs and podcasting go for it.
Shotgun voice-over microphones
Their pickup pattern is super-focused. They are excellent at discarding even the slightest background noise. If you are specific at getting rid of even the slightest background noise, go for Shotgun mics.
Some of the people even use Shotgun mics to keep the mic away from the video playback. They are also great at interview podcasts or videos.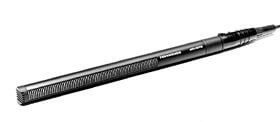 This is by far the best shotgun mic you can ever get. This mic is 20 years old, and still the industry standard mic used by broadcasters and filmmakers.
The best part of this mic is that, apart from the top-notch audio quality, the build quality is rugged making it suitable for a harsh outdoor environment.
The mic's excellent super-directional sound pickup renders the raw recorded voice crystal clear without even slight treatment. It saves a lot of time and avoid post-recording enhancements.
The polar pattern is super-cardioid, which is more focused than cardioid.
As they are shotgun mics having very small circular pickup pattern so the recording will be emphasized greatly without any interference. However, the issue arises only when you move off the mic while recording.
If you are the one who gets super-excited and out-of-control while recording, beware!
As the pickup pattern is focused, it's excellent at rejecting unwanted noise and feedback. It's also great at recording outdoors where there's noise.
Pros
Great sound quality
Great sound isolation
Highly durable
Cons
Bottomline: If you are looking to use the mic not only for voice-over but also for video production and outdoor use, this is worth it. But honestly speaking, this mic is not for all. But this is the best shotgun mic you can get for voice-overs.

If you want the best affordable quality shotgun mic for voice-over and podcasting, Rode NTG4+ delights you. The mic offers stellar audio quality, which is natural and broadcast-grade.
For the best quality, you need to be in the sweet spot by being not too far or nearer to the mic while doing voice-overs. You should get eventually adjusted to it.
It's the shotgun mic designed for offering best broadcast-quality audio at a fraction of the cost. The pickup pattern is super-cardioid and it should be powered by phantom power like any other shotgun mics.
As with shotgun mics these are very good at rejecting unwanted noise and feedback. This is one of the solid reasons to buy these mics. This is the best affordable bet if your space is not sound-proof.
You need to always mount the mic. Without mounting the mic, if you try to hold the mic on your hand and record, your audio quality will be ruined. So it's always advised for you to mount the mic and do your voice-overs and podcasting.

This is the best mic for videographers. If you are shooting with DSLR cameras then I recommend the lavalier mics.

As technology is progressing, everyone is now addicted much more with androids, smartphones, and iPhones. If you want to shoot an HD video with iPhone, then use iPhone mics for better sound recordings.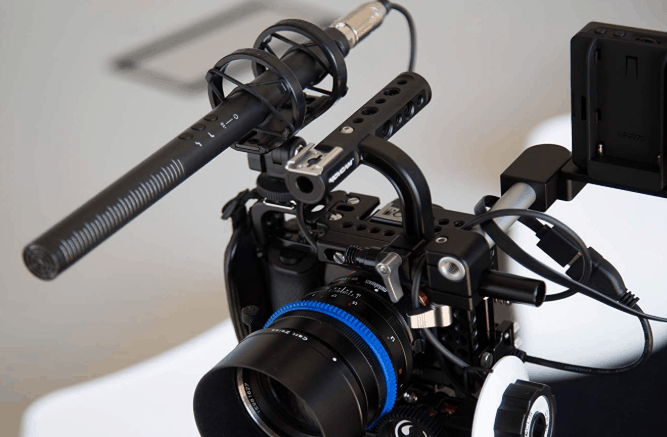 Pros
Good sound quality
Good sound isolation
Affordable
Cons
More proximity effect (slight boom effect when you speak close to the mic)
Bottomline: A great budget shotgun microphone for recording voice-overs with minimal noise.
Must read: Rode NTG3 vs NTG4+: Which of these Shotgun Mics is Good for Videographers?
Equipments you need for voice-over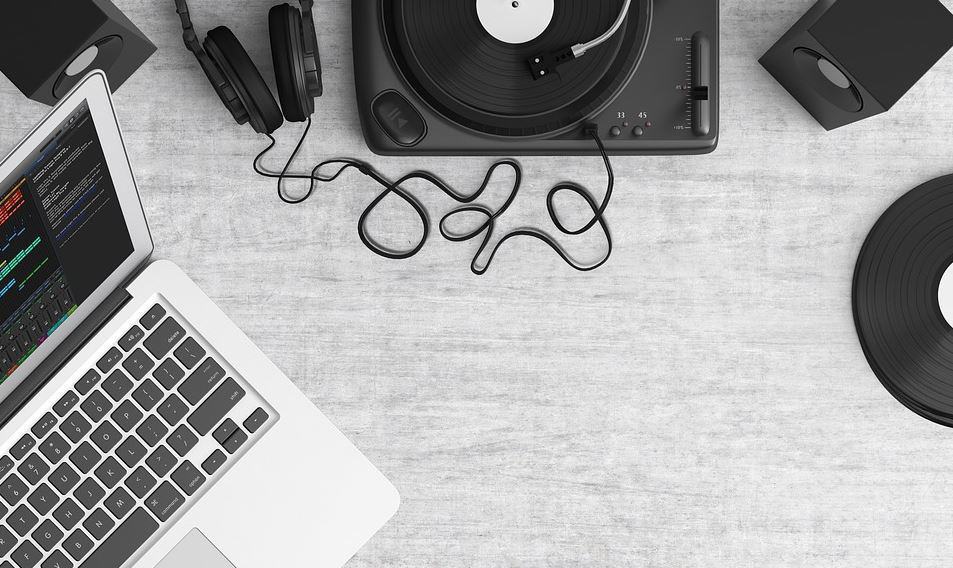 I've listed some of the equipments that you need to accompany the mic you are buying to make your voice-overs professional.
Headphones: They are needed for you to hear the feedback without playing it on speakers and interfering with the mic.
Audio interface: This is required if you are looking to buy or have XLR mic for voice-over. XLR mics which are driven by audio interfaces offer more quality sound than USB ones.
Microphone stand: This is needed to keep the microphone sturdy and avoid unwanted movements. Holding the mic on your hand and recording voice-overs results in movements and raises issues with proximity.
Shock mount: This is required to suspend the mic, and avoid vibrations. They hold the mic firmly.
Pop filters: These are essential to filter out unwanted details in your voice. They are especially important in the case of condenser mics where they pick up every detail. These pop filters tend to filter out details like "p" and hisses.
Some of the mics come with all the essential equipments at a much-discounted price than when purchased separately. So, rather than shelling out more money and struggling with compatibility, look for a deal that comes in the form of a kit.
Also read:
1. The Only 5 Best Microphones for iPhone/iPad Devices (These Don't Suck!)
2. 7 Best Microphones for Gaming and YouTube Commentary (2019 Edition)
3. 5 Best Lavalier Microphones for DSLR Cameras (Crisp Clear!)
Wrapping up
Investing more money for purchasing mics doesn't always mean that the sound quality is great. Some of the times, low-cost mics sound better than their costlier counterparts. So, it's better to use your brain to pick the best voice-over mic for you.
If you are in noisy space, don't go for condenser mics. You'll regret. If you're a newbie and don't like to go for proofing your space, then go for dynamic or shotgun voice-over mics. That's the important point, I need to emphasize.
The mics I mentioned in this post are good for voice-overs, podcasting, audiobook narration, screencasting, YouTube videos, and all other vocal applications.
I may have missed some of the best voice-over microphones here. If you think I've missed any good mics in the post or if you have any personal experience with mics I mentioned in this post, please do comment below.
SoundMaximum.com is a participant in the Amazon Services LLC Associates Program, and we get a commission on purchases made through our links.