Okay so you just bought a microphone, your interface, headphones, and cables…
You installed your Digital Audio Workstation software in your computer and you are ready to sing.
But, as always, there is one last detail you must fix as soon as possible…
The acoustics of your room suck! Your voice bounces across all the walls and surfaces and it just sounds horrible.
What do you do in order to fix this?
Easy, get a portable sound booth for sound isolation.
But, which one should you get in order to improve your portable studio?
Or, should you even just build a DIY vocal booth?
No, no need to build it. You can easily buy a soundproof booth that is already built that you can use as your main recording booth.
Read this article and you will know which are the 7 Best Portable Sound Booths with excellent isolation for you to decide which one to pick!
Top 7 Portable Sound Booths Reviewed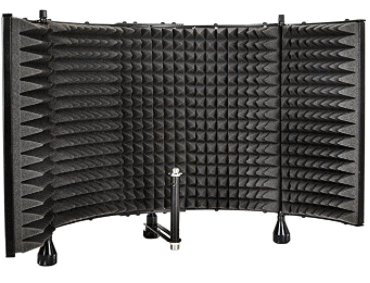 Build and design
The Monoprice Microphone Isolation shield is built on a 5-part foldable frame style that contains 5 horizontal panels that you can position, creating a semi-circular shape.
The frame is metallic and it has vertical panels of acoustic foam pointing at the singer's face to capture and isolate the signal from outer noise.
The whole product weighs about 12 ounces.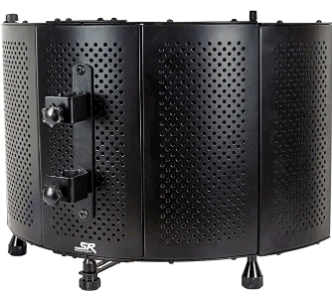 You can take it on the road if you dissemble it, otherwise it would be too "bulky" to carry around.
The Isolation Shield comes with the standard ⅜ thread as well as the european ⅝, so you will be able to connect any kind of mic stand.
You can set this product with the included bolts on the back by attaching it to a mic stand.
Performance
The product is great at rejecting strange reflections and sound coming from the back of the microphone.
The foam pads are useful in absorbing high-pitched noises and negative breaths so that your vocal sound is controlled and full.
The pads located to the side of the microphone have the task of rejecting room noise and other sources that could be affecting your mic off-axis.
By keeping the microphone covered on the back and sides (180 degrees) you can make sure it only captures sound coming from the source (singer) and always on-axis, giving complete frequency response.
Sturdy and solid metallic frame design.
180 degrees of protection against outer noises.
Big and bulky, might not be as portable as other options.
Bottomline: If you are looking for a microphone isolation shield that will last forever, Monoprice has it for you!
Build and design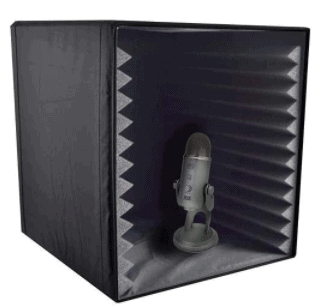 The Pyle Recording Shield Box is made of a thick canvas cubic structure that is wrapped inside with acoustic foam, making a cube shape where you place your microphone inside.
The canvas is strong and holds the complete product without bending.
The acoustic foam is very thick, therefore it provides microphone stabilization against movement and possible vibrations.
This product weighs around 2 and a half pounds, so it isn't that heavy, you can easily move it if needed.
If you are trying to change its location, you can simply dissemble it with its embedded zippers and reassemble it at the new spot. Easy and quick.
Unfortunately, it has no mounting options. You must simply lay it on a horizontal surface such as your studio desk and you will need some kind of small desk mic tripod to put it inside.
Performance and portability

This is perhaps one of the best sound quality products you can find on the market of sound isolator booths.
The acoustic foam is so thick it can reject noise from fans, air conditioning, sound reflections, echoes and interferences.
It has no vocal pop filter, because it does not include any microphone, so you will need to add one. But the foam working in tandem with the canvas will tame down harsh frequencies and control the overall vocal characteristics, especially when working with high-pitched singers such as kids or female adults.
Full rejection from all directions, except the front of the mic due to its cubic shape.
Zippers on the back let the user pass the cables thru it.
No mounting options included.
Bottomline: If you are looking for clean vocals with absolutely no background noise, and you do not have a professional studio, this is a great option due to its high rejection.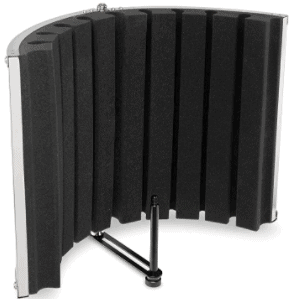 Build and design
The VRI-30 from LyxPro is one of the most famous vocal iso booths on the market because of its silver-colored frame, very easy to identify.
The booth is built on an aluminum frame that basically has two vertical panels next to each other.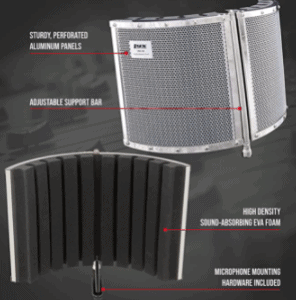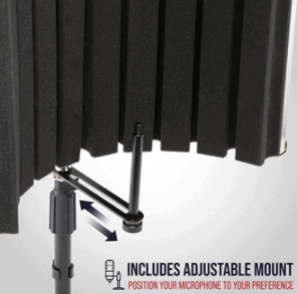 On the inside of these frames, you have the standard foam rectangular-shaped panels that help in the rejection of sound sources.
The unit weighs around 3 pounds, which is really nice if you want to carry it in a backpack or something.
The booth is designed to be placed on a microphone stand, perhaps a straight stand using the regular thread most mic clips use.
It also comes with an L-shaped adapter to place the microphone you are going to be using to sing!
Performance and portability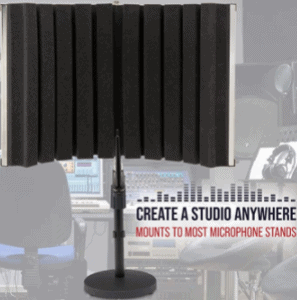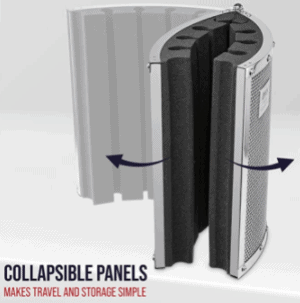 Sound quality is acceptable for most commercial recordings of vocals.
The system rejects sounds coming from the back and sides of the microphone because it only has two panels you can set creating a semi circle.
The vocals will be clean, but you must be careful with floor or ceiling reflections as they wont be captured.
Being able to bend the panels will let you fold it to take it on the road or move it to another location, making it way more portable than others on the market.
Nice foldable frame, making it very portable.
Sturdy aluminum design is durable.
No rejection from lower and upper reflections.
Bottomline: If you are looking for the standard of vocal iso booths, that are sturdy, solid, and portable, the LyxPro VRI-30 is the one.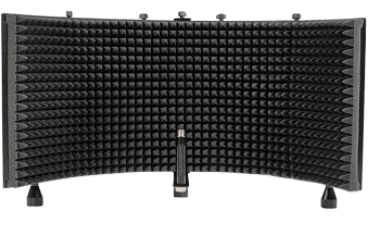 Build and design
Rockville has designed the Rockshield Iso Shield with a visual concept of looking "good" and discreet, all black.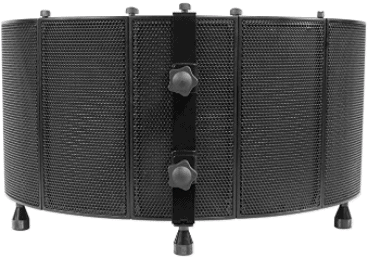 The unit features 5 vertical metallic grill panels painted all black for a darker look. Each panel has a piece of pyramidal foam on its back pointing at the singer's face.
The overall weight of the unit is around 8 pounds, once again, not necessarily considered a portable solution.
It features a dedicated microphone thread to connect a mic clip or shockmount.
The booth can be placed on a speaker stand or microphone stand using the jacks on the back that adapt to various sizes.
Performance and portability

The sound quality of vocals recorded using this booth will be pristine, that is for sure.
The foam pads included will reject all types of reflections coming from the sides and back, as well as absorbing strange frequencies or vocal noises.
Now, if you want a portable option, this is not for you. Each panel is around 17 inches, and you have 5 of those, so yes, it is big.
If you pair this with a nice condenser microphone and a pop filter, you will have studio-grade vocals, confirmed.
Great looking iso booth, all black.
It can be mounted on any kind of cylindrical stand
Too big, too heavy to carry around or move. Not portable.
Bottomline: Great vocal booth, nice all-black color, good sound quality, but not portable at all.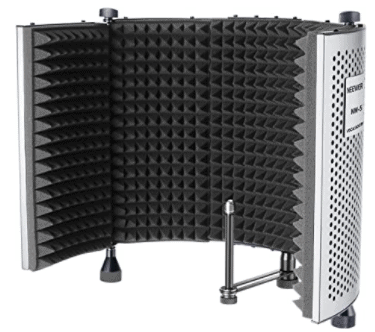 Build and design
The NW-5 has been designed and built by Neewer following the best specifications and good quality materials.
The outer frame resembles a metallic grill, made of silver-colored aluminum that will look very nice in your home studio.
These five aluminum panels are positioned to create a semi-circular shape that you can modify to make it more of an "oval" shape if needed, to reduce even more interference.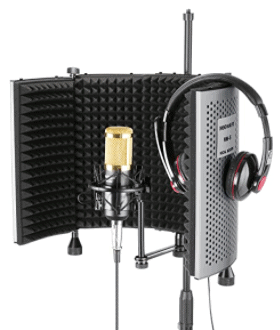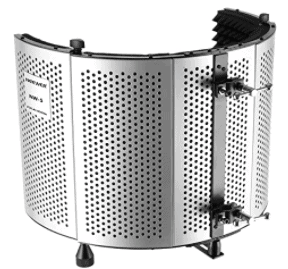 The inner walls are made of pyramidal foam that can easily control harsh reflections or resonant frequencies.
The whole unit is about 6 and a half pounds, so a bit heavy for some users.
Even though these panels are modular and you can move them, this is not really a portable unit because of its large size of 16 inches in both directions for each panel.
It comes with the standard thread for mounting it on a mic stand, and a secondary thread for the mic clip or shockmount.
Performance and portability
Vocals recorded using this unit will be clean, no noise will be recorded that is for sure.
One great feature is the capability of "closing" the angle of the panels in order to reduce even more the reflection from walls and outer noise!
The acoustic foam included is high density, reducing all possible harshness coming from high-pitched vocals.
No pop filter is included so you will one one for your microphone.
Panels can be bent and flipped to adapt to space, reducing even more reflections.
The metallic frame is solid and sturdy and will last forever.
Definitely not portable at all due to its weight and size.
Bottomline: If you want a vocal iso booth that can do it all, and actually gives youtube the ability to "shape" the panels to your needs, you should in fact get this.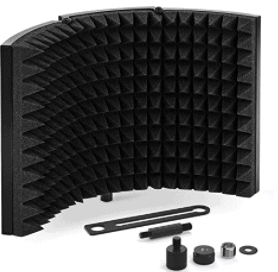 Build and design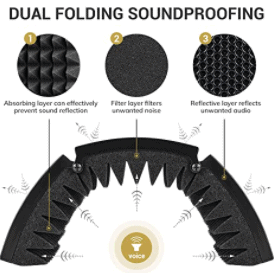 The Tonor mic isolation shield has been designed with 3 metallic panels resembling a grill pattern.
These panels are connected to each other with small screw hinges, letting you move them if needed.
The back of the panels are covered in black pyramidal acoustic foam to absorb the sound coming from the singer.
The whole booth weighs about 1.5 pounds, so it is super lightweight and easy to carry around!
It also features the universal ⅝" microphone thread as well as the ⅜" option, so you will be able to connect any microphone clip or shockmount to this unit.
It folds easily so you can take it on the road or to the studio and back home when needed.
Performance and portability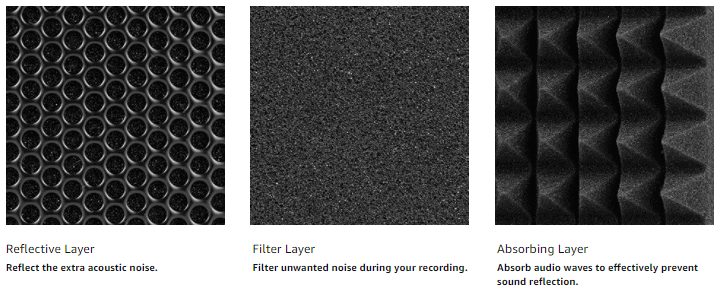 The sound quality you can get when using this booth is decent, but not perfect.
The fact it only has 3 frames, makes it hard to reject reflections from the sides, so try not placing it near a wall.
Ambient noise will still be there because it cannot protect your source from hitting other spots in the room.
However, if you are careful enough, you can get decent results.
This booth features three layers designed to reflect acoustic noise, filter unwanted noise, and absorb high frequencies.
The super lightweight unit makes it easy to carry around.
All-black design helps in making it look smaller than it is, ideal for home studios.
Not a lot of rejection from the sides due to its small frame.
Bottomline: This is the most portable vocal isolation booth on the market. You can't beat how small and lightweight this is.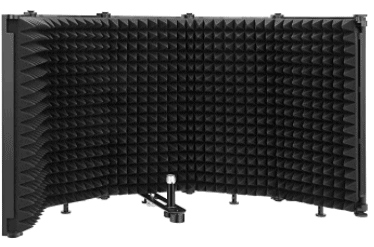 Build and design
Moukey developed their own Microphone Isolation Shield that features a 5-panel design that folds to the size and space of the recording studio.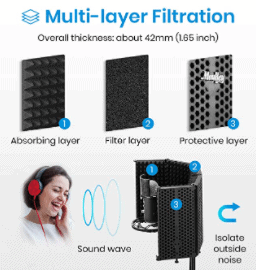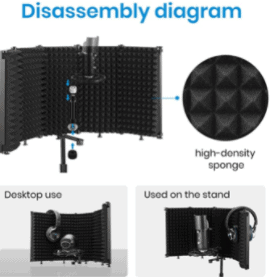 Each panel has a black grill frame with its pyramidal acoustic foam attached to it, pointing at the singer's face.
These panels can be connected to each other in a "modular" way and the user can easily bend the angles to create the desired slope between them. You can easily adapt them to your needs.
This unit weighs around 3 pounds, which is really light considering it is a 5-panel design.
Another great feature is the mounting options. You can set this unit on a microphone stand using the threads below, or you can also sit it as a table-top device with the included legs.
Performance and portability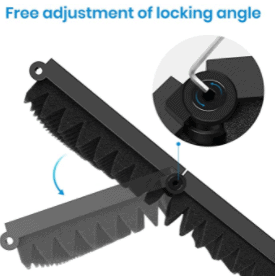 The sound quality you can get with this unit is impressive due to its combination of acoustic foam and vented backplate, allowing the microphone to breathe, but also rejecting the native room noises and reflections.
You can also adjust the distance from the mic to the walls of the booth in order to create a more direct or open sound.
It does not come with a pop filter, so you should get one, especially when working with condenser microphones.
The overall weight is not bad, therefore you can carry it around as a portable unit, however, it might be a bit too bulky for some users, make sure you have a big backpack.
Lightweight 5-panel design.
Distance from mic to panels can be easily adjusted.
The long design makes it hard to store in a bag for taking on the road.
Bottomline: Great option if you are looking for a 5-panel design of microphone isolation booth, that doesn't weigh as much as other competitors!
What factors to look for while buying the best portable vocal booth? – A short buying guide
First, you want to know what kind of materials they have used to build the isolation booth for your vocals.
Some companies work with aluminum, metallic plates, while others do thick canvas.
Also, the inside of the booths are typically made of foam, some thicker than others. Typically, the thickest the better for sound isolation.
Portability is also an important aspect. Are you planning to leave this booth at a fixed spot of the studio, or are you going to be moving with it or perhaps on the road?
Some of these are foldable, making it easier to transport and move, while others are big and bulky.
Weight is also an important characteristic. Some are very light, while others can be heavy and hard to carry around.
Noise isolation is an aspect you must study before buying these… Do you want it to reject noises from the sides? Top and bottom? Or simply all dimensions? The shape of the booth will let you know which directions it is capable of eliminating.
Finally, the stands… Some of these come with their own threaded connectors in order to set them on stands, while others are simply table-top based booths. Your needs and studio space will tell you the best option.
Conclusion
Let's say you want the standard mic isolation booth with all the bells and whistles… You want the 5-panel design with the aluminum grill and the thick absorbing foam…. The answer is Monoprice Mic Isolation Shield, unbeatable.
Now, if your main concern is to reject sound coming from all directions, except the front of the mic, do not look further and simply get the Pyle Recording Shield Box. The cubic shape is perfect for rejecting room noise.
Last, but not least, if you just want portability and a lightweight product that you can take on the road in your backpack, go get the LyxPro VRI-30. It literally only has 2 parts, easy to fold, easy to carry around.