Today, we have two of the best microphones in the world, both manufactured by Rode – the NT1000 and the NT1A.
Last update on 2023-09-21 / Affiliate links / Images from Amazon Product Advertising API
While they are both very similar in looks and features, there are some subtle differences that you might want to factor into your buying decision.
Rode has been an industry leader in home recording since the 1990's. Their low-cost high-quality equipment has made them a household name across the globe.
Below is a comparison of the main specifications of each microphone:
| | | |
| --- | --- | --- |
| Specifications | | |
| Acoustic principle | Pressure Gradient | Pressure Gradient |
| Frequency range | 20Hz to 20kHz | 20Hz to 20kHz |
| Maximum SPL | 140dBSPL | 137dBSPL |
| Maximum Output Level | 13.0mV (@ 1kHz, 1% THD into 1KΩ load) | 13.7mV (@ 1kHz, 1% THD into 1KΩ load) |
| Weight | 682g | 326g |
| Amazon product page | Check price | Check price |
Since these two microphones are almost identical, you might be having a hard time deciding which one would be better for you. We want to clear up your confusion right now.
So which one of these state-of-the-art condenser microphones should you choose?
Let's find out!
NT1000 vs NT1A: Let's find the winner!
Design and build quality:
Both these mics the Rode NT1000 and the NT1A look very similar to one another in their design.
Both microphones are encased in a silver cylindrical capsule and have a flat circular base to rest on. This compact design makes it easy to place anywhere on your desk without having to make room for a bulky tripod stand.
The only significant difference between these two microphones is the weight – the NT1000 weighs 682 grams while the NT1A weighs 326 grams.
Features:
The Rode NT1000 has 6dBA self noise and comes with transformer less circuitry, similar to that the Rode NT1A which is even quieter at 5dBA of self-noise. In fact, these microphones are considered the quietest in the world.
The NT1000 has internal shock mounting with 1-inch HF-2 capsule and it gives the microphone a whopping 134dB dynamic range, making it a great choice for everything from smooth jazz to heavy metal.
NT1000 features a cardioid pickup pattern and hence it prevents from picking up ambient noise from off-axis sections of the microphone like studio monitors, other instruments and even the ambience of the room itself.
Its gold-plated diaphragm reproduces the signal with the highest possible transparency and frequency response. It is internally shock mounted to shield the microphone from operational noise, provide improved signal integrity as well as an added layer of protection against potential damage.
The high strength welded and heat-treated mesh head of the NT1000 helps to minimize sibilance and explosive noises before they hit the capsule, providing a cleaner and more transparent recording.
The NT1A is an extensive microphone which provides clarity and warm during recordings and it can handle 137dB SPL meaning that it won't distort your recording even if you place it in front of a loud guitar cabinet.
Similar to the NT1000, the NT1A's cardioid pickup pattern blocks out the ambient noise from off-axis sections of the microphone like studio monitors, other instruments and even the ambience of the room itself.
Although these microphones are meant for recording drums and pianos as overhead mics, they are versatile enough to double up as fantastic vocal microphones. They are also extremely popular for other instruments like guitar, trumpet, and violin.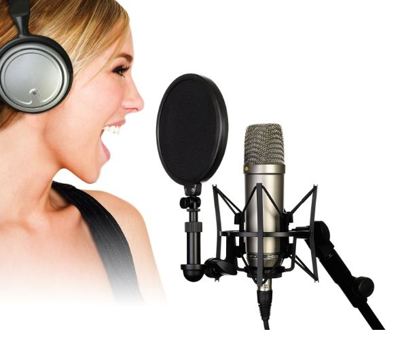 Additionally, both microphones claim to be able to pick up all frequencies within the human range of hearing. This is hard to confirm since the aging process makes it almost impossible for adults to hear sounds in the extremely low and high-frequency ranges.
The NT1000, as advertised sounds great on acoustic instruments like piano and guitar. It even sounds good when recording a clean electric guitar through the amplifier. But it does begin to sound a little "tinny" when recording distorted sounds like an overdriven guitar.
Sound quality:
The NT1000 has a lovely weighty presence about it with vocals sitting dead still in the mix with the right amount of sparkle and a remarkable presence. The transparency that this microphone offers is paralleled only by the NT1A in producing exact recordings with no extra frills, ready for compression and effects processing.
A downside of the NT1000 is the lack of a bass roll-off switch on the mic, resulting in every step, bump, nudge or rumble being transmitted through the mic stand into the mic and into your recording. However, the external shock mount that comes with the mic is quite effective in minimizing this effect.

Overall, the NT1000 is a great microphone for vocals and acoustic instruments. It depends on what you need for your recordings – if your sound sources are dark or dull, then you can use this microphone to add brightness if needed.
The NT1A is the new version of Rode's original NT1, which was the first microphone they released in 1991. It is popular among studio engineers especially for recording acoustic guitars.
If you are a female looking for good mics for great vocals then refer our latest post here.
Also look at: Rode NT1 vs NT1A: Which One is Best for Vocals?
Similar to the NT1000, the NT1A tends to add or accentuate higher frequencies. This may cause some recordings to sound harsh or tinny but acoustic guitars really shine through with this microphone.

The high-frequency content and the low-level noise allow the subtle nuances of guitar playing to really come through in the recording.
Unlike the NT1000, the NT1A adds a very slight boost in the sub frequencies, which adds some color to the sound but it is usually to minor to notice. In some vocal recordings, particularly of baritone singers, it adds to the bass quality and accentuating the vocal performance.
If you love singing and your singing is not good, I highly advise you to practice singing daily with good apps like Smule.

These features also make the NT1A a great microphone for recording vocals. In some cases, they make the vocals sound better than they do in real life!
Both microphones have what many engineers call an expensive smoothness to their recordings that very few microphones in this bracket can pull off. The gain-to-noise ratio is definitely the best on the market.
They also produce transparent sound recordings requiring little to no EQing at the mixing and mastering stage of the process.
Pros and cons:
Rode NT1000
Pros:
Ultra low noise for clear recordings
Strong, heat treated mesh head
Promised ten-year warranty
Offers greater accuracy because of its wide range frequency response
Cons:
No filter controls on the microphone
Makes some recordings sound tinny
Heavy compared to the NT1A
Rode NT1A
Pros:
Brightness is great for acoustic guitar
Has neutral frequency response and hence there is no coloration
Cons:
Requires audio interface with preamps to work
Brightness may too much for some vocalists like Sopranos
The frequency presence bump may add a bit of sibilance to vocals
See our other popular comparison:
1. Rode NT1 vs AT2035: Which is Your go to Mic for Recording Vocals?
Bottomline
We have come to an end and now it's the time to announce a winner in the Rode NT1000 vs NT1A review.
These two microphones from Rode are so similar they could be twins. However, there are some subtle differences which you will be able to spot only when you test them for yourself.
If you are recording vocals, you might want to choose the NT1000 as it doesn't add too much brightness to vocal recordings. But if you are recording guitars or keyboards, then the NT1A is probably the way to go.
Ideally, you can think about buying both microphones to allow you to cover all your bases by using the strengths of both.