The inbuilt mic that your iPhone comes with won't suffice for professional audio recording needs. The inbuilt mic of the iOS devices is meant mainly for phone calls, recording voice memos.
You can't expect studio-grade voice recordings with it.
If you do podcasting, YouTubing, and short movies with your iOS device, an external mic is well worth the investment for you.
With the 4k video recording capabilities that newer iPhones come with, more and more people are turning towards iPhone for handy video recording.
So, relying on your iPhone for your video recording needs, coupled with a good external mic may not be a bad idea.
What kind of mic suits best for iPhones?
When you look at the range of mics available for your iPhone device, you'll be overwhelmed. There are so many types of mics that are compatible with your iOS devices.
The tricky part here is to choose what kind of mic suits your iPhone the best.
X-Y type: This type of mic makes use of two cardioid mics angled at 90 degrees to each other. The mic has a wide pickup pattern, enabling you to shoot the videos with directional sound. This is commonly used in case of iPhone movie making, and shooting other live videos.
Lavalier mics: These are also called Lapel mics. They are hooked onto your shirt collar. They are great when recording portrait videos.
Condenser mics: These are studio grade mics. They are quite sensitive to sound. They need to be used in potentially quite environments. They are ideal for interviewing and podcasting.
We've researched some of the best mics for iPhone devices, and will soon review them in detail. We also have included all the types of mics and picked the best of them.
Top 7 Mics for iOS Devices
The new Rode iXY version of the mic comes with lightning support, which means that it supports all the iOS devices.
This is a condenser X-Y microphone, the cardioid capsules are placed in an X-Y fashion so as to widen the pickup range. Compared to its competitors, the iXY is built extremely durable and feels premium.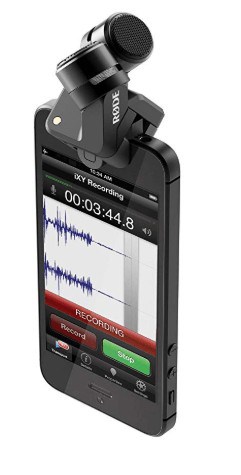 The mic is built of smooth satin gray metal, that complements your iPhone in a beautiful way.
The mic comes with sturdy case, and also a windscreen that does the job well for outdoor use.
The best app to make full use of this mic is the Rode's own Rec app. The app comes built in with wide audio formats support and also supports up to 24 bit, 96 kilohertz.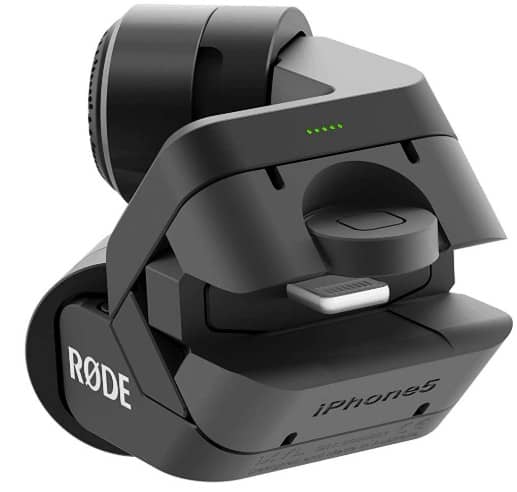 The audio file size would be very large (around 100MB for 4 minutes of audio recording) at 96kHz recording which these mics offer. I found the 48kHz to be ideal both for quality and size.
The app also has a 72 Hz high-pass filter which helps you in effectively getting rid of the low-frequency ambient noise. Without a recording app, the mic is not functional.
Being a stereo mic, the mic is also suitable for interviewing in broadcast quality on the fly. I felt that when using this mic with your iPhone a KobraTech Mini Phone Tripod Stand works like a charm.
This condenser mic is meant especially for iOS devices like iPhone and iPad. The mic can be connected to your device via the lightning connector. The mic is built solid and has a small footprint ideal for everyday use.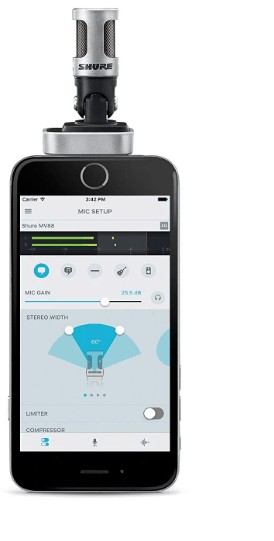 Although the mic is fully constructed using metal, the whole unit weighs just 40.5 grams which is great while commuting.
The mic also comes with a 90-degree hinge which is great to adjust the direction of the mic when recording video.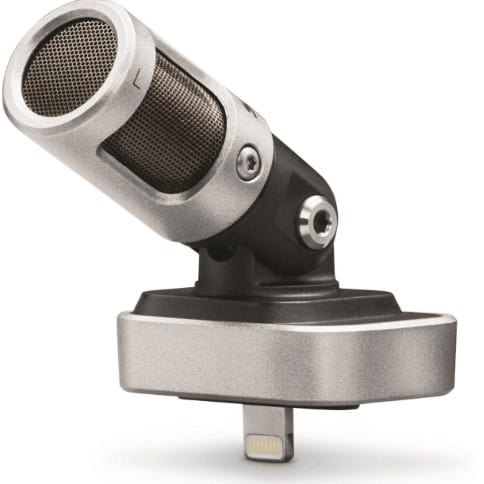 This something that the iXY mic that I've reviewed above won't come with. The position of the mic will be rigid. The rotating nature of the mic is a unique selling point for this mic.
The ShurePlus Motiv App is available for iOS devices and it comes with various options including the DSP presets for singing, speech, acoustics, flat, etc.
The quality of the recording is 24-bit \ 48 kHz which is quite decent when compared to the 8kHz sound quality provided by your stock iPhone mic.
The mic is a bit overpriced, no wonder it's geared towards Apple device owners. One of the biggest downsides is that the mic is only compatible with iOD devices and not with Android or other smartphone devices.
This mic is super-cardioid, the pickup pattern is very narrow almost close to shotgun mics. These mics are ideal to use in case of noisy situations.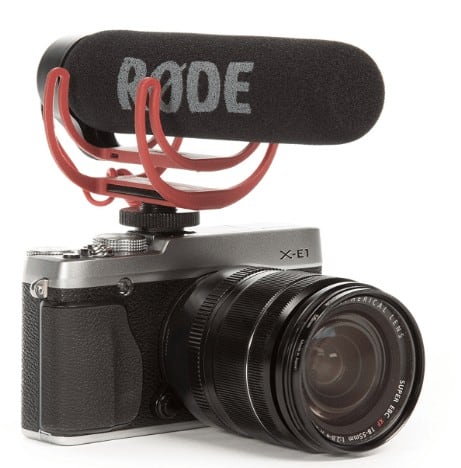 This is a compact mic specially meant to be used with iPhone or other smartphone devices making use of the 3.5mm jack they come with. These can also be used with DSLR cameras if you wish.
The plus point is that the mic is passive, it needs no batteries to run.
If you want to point your mic to any direction of the sound source and record a professional quality sound with very little background noise, this mic is for you.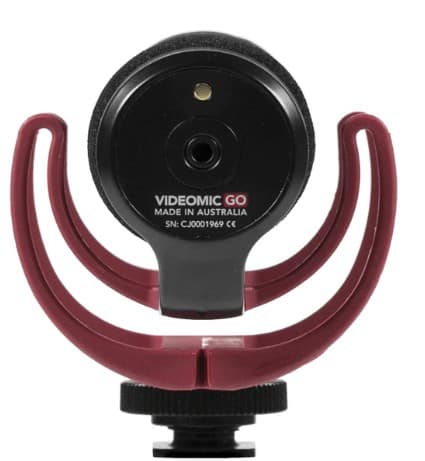 The mic operates at a range of 100Hz – 16kHz. You may ask me what about the sounds below 100Hz. The fact is that the sounds below 100Hz are generally unwanted like ambient noise and low-frequency noise.
Due to this limited frequency range, the mic performs well outdoors with very little or no noise at all.
The package also comes with a windshield, a.k.a deadcat. You can use the mic with this, to avoid wind noise in outdoor environments.
This is the best lavalier mic you can get to record broadcast quality sound directly from your iPhone or smartphone. The mic works right out of the box for smartphones but not for iPhones.
For iPhones and DSLR, you need to also buy a Rode SC3 3.5mm TRRS to TRS Adaptor which is available for a few bucks.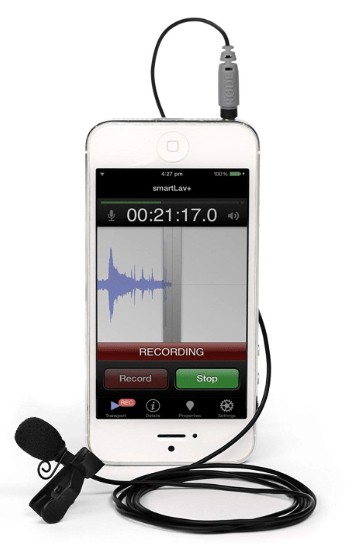 This mic comes with a Kevlar-reinforced cable, that is very durable and withstands a good amount of abuse especially when outdoors.
Contrary to other mics I've reviewed, these mics are omnidirectional. The closer the mic to the sound source, the more the noise isolation will be.
The foam pop shield does its job greatly by minimizing wind noise and vocal plosives.
The sound quality is excellent, but the mic does tend to pick up a lot of background noise as expected with lavalier mics. Nevertheless, the hissing sound that the mic picks up can be got rid of software like Audacity or Audition, by sampling some noise.
Smartlav+ boasts high sensitivity and good noise to signal ratio when compared to the older version, Smartlav.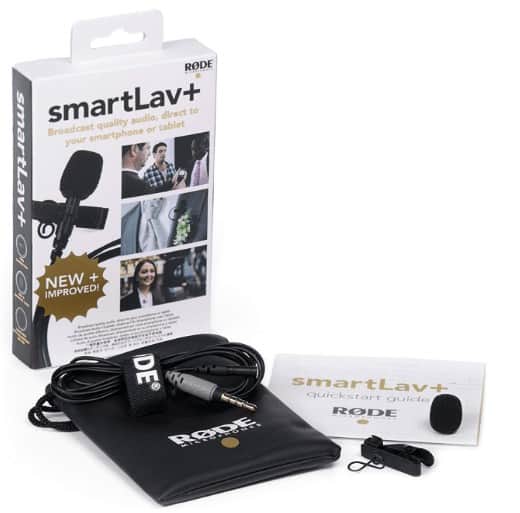 The mic plugs into the 3.5mm jack on your iPhone device and not to the lightning port. For newer devices like iPhone 7, you need a separate adapter for the mic to work.
This is the best cardioid standard condenser mic for iOS devices. You need to just plug it to your lightning port, open your favorite recording app, and you are good to go.
The mic is also suitable with DSLR, Mac, and other devices. The lightning and Mac USB cable comes with the package. The mic is powered by the device only, so there's no need of any external power source or batteries.
You do need to remember that these mics are not compatible with Windows computers, they are only compatible with iDevices ranging from iPhones to Mac devices.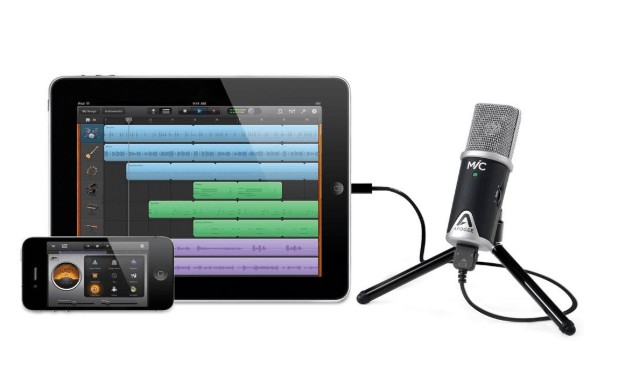 This mic also supports recording quality of up to 96 kHz/24-bit like that of our top pick – Rode iXYL Condenser Microphone.
The mic unit comes built in with mic, preamp and also A/D converter.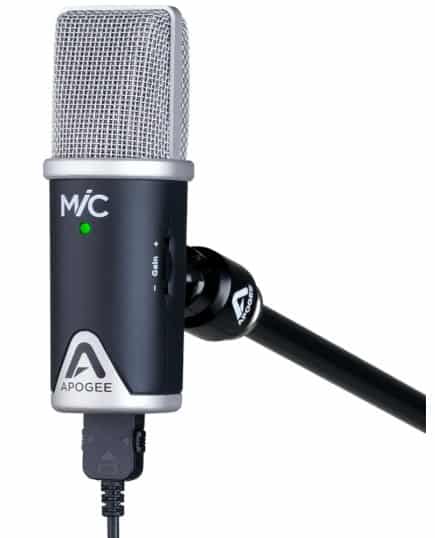 The mic is great for doing voiceover works. But the little downside is that the 3ft cord is pretty short so that your iPhone or any other device should be close to the mic.
It's a great little mic, that does the broadcast quality recording on the go. You would be more than satisfied with the recordings.
Wrap up
These are some of the best external microphones for iPhone. If you are serious about producing good quality audio out of your iPhone, consider getting any of these mics depending upon your needs.
All the mics I've mentioned don't require any external power source. They tend to get all the power they need from your iPhone itself.
While recording audio, keep a note of your iPhone storage (raw audio) and also the battery on your device so that your recording won't be interrupted.
I hope you found the post helpful.
SoundMaximum.com is a participant in the Amazon Services LLC Associates Program, and we get a commission on purchases made through our links.