The inbuilt mic that your iPhone comes with won't suffice for professional audio recording needs. The inbuilt mic of the iOS devices is meant mainly for phone calls, recording voice memos.
Our Best Pick
Shure MV88 Portable iOS Microphone for iPhone/iPad/iPod via Lightning Connector, Professional-Quality Sound, Digital Stereo Condenser Mic for Vloggers, Filmmakers, Music Makers and Journalists
Best Value for Money
Rode SmartLav+ Lavalier Microphone for Smartphones,Black
Best Condenser Mic for iPhone
Rode IXY-L Stereo Microphone for IOS Lightning Devices,Black
Our Best Pick
Shure MV88 Portable iOS Microphone for iPhone/iPad/iPod via Lightning Connector, Professional-Quality Sound, Digital Stereo Condenser Mic for Vloggers, Filmmakers, Music Makers and Journalists
Last update on 2023-12-10 / Affiliate links / Images from Amazon Product Advertising API
You can't expect studio-grade voice recordings with it.
If you do podcasting, YouTubing, and short movies with your iOS device, an external mic is well worth the investment for you.
With the 4k video recording capabilities that newer iPhones come with, more and more people are turning towards the iPhone for handy video recording.
So, relying on your iPhone for your video recording needs, coupled with a good external mic may not be a bad idea.
Let's have a look at the specifications:
What kind of mic suits best for iPhones?
When you look at the range of mics available for your iPhone device, you'll be overwhelmed. There are so many types of mics that are compatible with your iOS devices.
The tricky part here is to choose what kind of mic suits your iPhone the best.
X-Y type: This type of mic makes use of two cardioid mics angled at 90 degrees to each other. The mic has a wide pickup pattern, enabling you to shoot the videos with directional sound. This is commonly used in the case of iPhone movie-making, and shooting other live videos.
Lavalier mics: These are also called Lapel mics. They are hooked onto your shirt collar. They are great when recording portrait videos.
Condenser mics: These are studio-grade mics. They are quite sensitive to sound. They need to be used in potentially quite environments. They are ideal for interviewing and podcasting.
We've researched some of the best mics for iPhone devices, and will soon review them in detail. We also have included all the types of mics and picked the best of them.
Top 7 Mics for iOS Devices
Specifications:
Capsule: 0.50"
Polar Pattern: Paired cardioid capsules in X-Y stereo pattern
Address Type: End
Frequency Range: 20Hz – 20kHz
Output Impedance: 0Ω
Maximum SPL: 120dB SPL (@ 1kHz, 1% THD into 1KΩ load)
Sensitivity: -42.0dB re 1 Volt/Pascal (8.52mV @ 94 dB SPL) +/- 2 dB @ 1kHz
Equivalent Noise Level (A-weighted): 18dB-A
The new Rode iXY version of the mic comes with lightning support, which means that it supports all the iOS devices.
This is a condenser X-Y microphone, the cardioid capsules are placed in an X-Y fashion so as to widen the pickup range. Compared to its competitors, the iXY is built extremely durable and feels premium.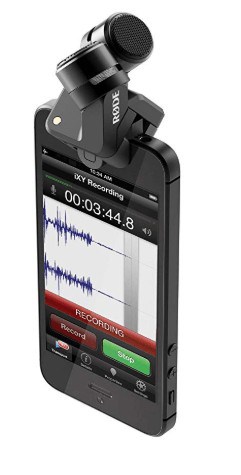 The Rode iXYL mic is built of smooth satin gray metal, that complements your iPhone in a beautiful way.
The mic comes with a sturdy case, and also a windscreen that does the job well for outdoor use.
The best app to make full use of this mic is the Rode's own Rec app. The app comes built-in with wide audio formats support and also supports up to 24 bit, 96 kilohertz.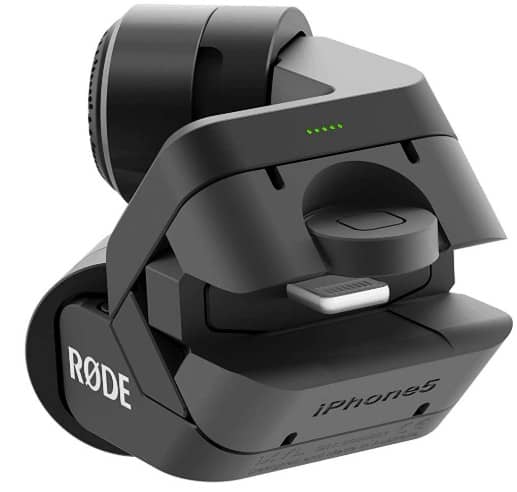 The audio file size would be very large (around 100MB for 4 minutes of an audio recording) at 96kHz recording which these mics offer. I found the 48kHz to be ideal both for quality and size.
The app also has a 72 Hz high-pass filter which helps you in effectively getting rid of the low-frequency ambient noise. Without a recording app, the mic is not functional.
Being a stereo mic, the mic is also suitable for interviewing in broadcast quality on the fly. I felt that when using this mic with your iPhone a KobraTech Mini Phone Tripod Stand works like a charm.
Specifications:
Sound Field: Mono, Stereo
Stereo/Surround Configuration: Mid/Side (Adjustable Stereo Width)
Capsule: Condenser
Diaphragm: 0.4" / 1.0 cm
Polar Pattern: Cardioid, Figure-8
Gain Adjustment: 0 to +36 dB
Frequency Range: 20 Hz to 20 kHz
Maximum SPL: 120 dB SPL
Sensitivity: -37 dBFS/Pa at 1 kHz
This Shure MV88 condenser mic is meant especially for iOS devices like iPhone and iPad. The mic can be connected to your device via the lightning connector. The mic is built solid and has a small footprint ideal for everyday use.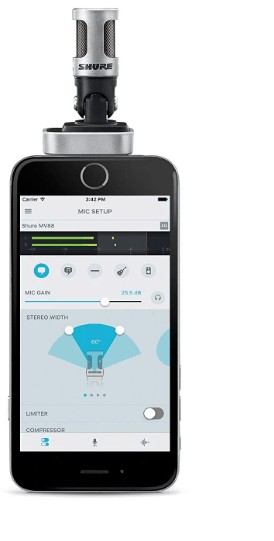 Although the mic is fully constructed using metal, the whole unit weighs just 40.5 grams which is great while commuting.
The Shure MV88 mic also comes with a 90-degree hinge which is great to adjust the direction of the mic when recording video.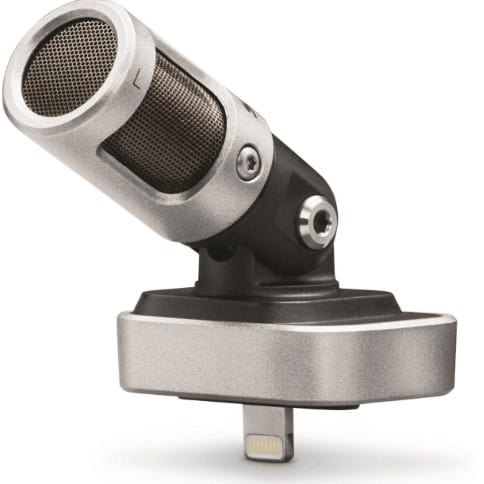 This something that the iXY mic that I've reviewed above won't come with. The position of the mic will be rigid. The rotating nature of the mic is a unique selling point for this mic.
The ShurePlus Motiv App is available for iOS devices and it comes with various options including the DSP presets for singing, speech, acoustics, flat, etc.
The quality of the recording is 24-bit 48 kHz which is quite decent when compared to the 8kHz sound quality provided by your stock iPhone mic.
The mic is a bit overpriced, no wonder it's geared towards Apple device owners. One of the biggest downsides is that the mic is only compatible with iOD devices and not with Android or other smartphone devices.
Specifications:
Capsule: 0.50"
Polar Pattern: Supercardioid
Address Type: End
Frequency Range: 100Hz – 16kHz
Maximum SPL: 120dBSPL
Sensitivity: -35.0dB re 1 Volt/Pascal (17.80mV @ 94 dB SPL) +/- 2 dB @ 1kHz
Equivalent Noise Level (A-weighted): 34dBA
This Rode VMGO mic is super-cardioid, the pickup pattern is very narrow almost close to shotgun mics. These mics are ideal to use in case of noisy situations.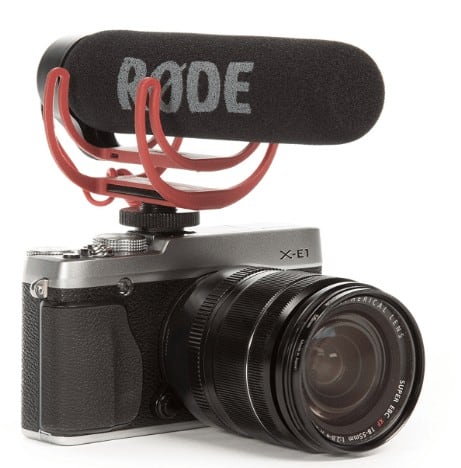 This is a compact mic specially meant to be used with iPhone or other smartphone devices making use of the 3.5mm jack they come with. These can also be used with DSLR cameras if you wish.
The plus point is that the mic is passive, it needs no batteries to run.
If you want to point your mic to any direction of the sound source and record a professional-quality sound with very little background noise, this mic is for you.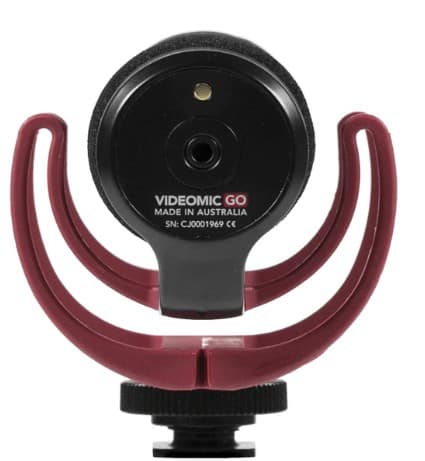 The mic operates at a range of 100Hz – 16kHz. You may ask me what about the sounds below 100Hz. The fact is that the sounds below 100Hz are generally unwanted like ambient noise and low-frequency noise.
Due to this limited frequency range, the mic performs well outdoors with very little or no noise at all.
The package also comes with a windshield, a.k.a deadcat. You can use the mic with this, to avoid wind noise in outdoor environments.
Specifications:
Capsule: 0.10"
Polar Pattern: Omnidirectional
Address Type: End
Frequency Range: 60Hz – 18kHz
Output Impedance: 3Ω
Maximum SPL: 110dB SPL (@ 1kHz, 1% THD into 1KΩ load)
Maximum Output Level: 189.0mV
Sensitivity: -35.0dB re 1 Volt/Pascal (17.80mV @ 94 dB SPL) +/- 2 dB @ 1kHz
Equivalent Noise Level (A-weighted): 27dB-A
This Rode smartLav+ is the best lavalier mic you can get to record broadcast quality sound directly from your iPhone or smartphone. The mic works right out of the box for smartphones but not for iPhones.
For iPhones and DSLR, you need to also buy a Rode SC3 3.5mm TRRS to TRS Adaptor which is available for a few bucks.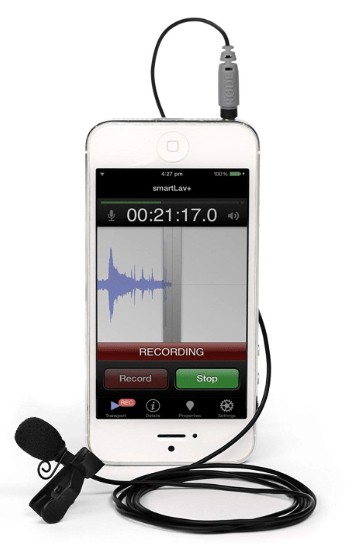 Rode smartLav+ mic comes with a Kevlar-reinforced cable, that is very durable and withstands a good amount of abuse especially when outdoors.
Contrary to other mics I've reviewed, these mics are omnidirectional. The closer the mic to the sound source, the more the noise isolation will be.
The foam pop shield does its job greatly by minimizing wind noise and vocal plosives.
The sound quality is excellent, but the mic does tend to pick up a lot of background noise as expected with lavalier mics.
Nevertheless, the hissing sound that the mic picks up can be got rid of software like Audacity or Audition, by sampling some noise.
Smartlav+ boasts high sensitivity and good noise to signal ratio when compared to the older version, Smartlav.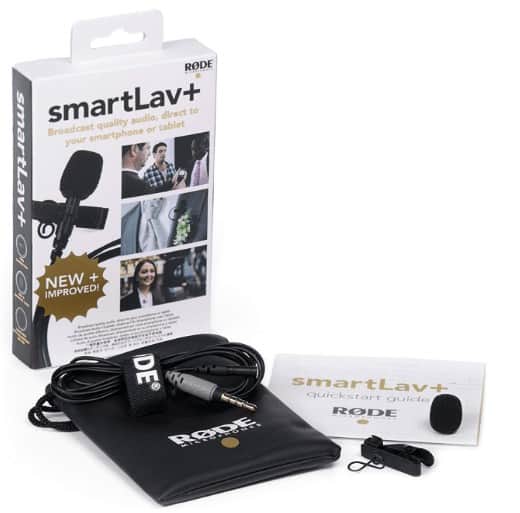 The mic plugs into the 3.5mm jack on your iPhone device and not to the lightning port. For newer devices like iPhone 7, you need a separate adapter for the mic to work.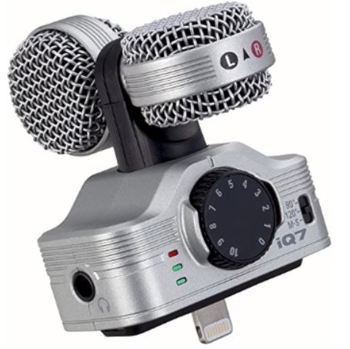 Specifications:
Stereo/Surround Configuration: Mid/Side (Adjustable Stereo Width)
Gain Adjustment: +3 to +43 dB
Maximum SPL120 dB SPL
Output Connectors1 x Lightning
Headphone Connector1 x 1/8" / 3.5 mm
A/D Conversion16-Bit
Sample Rate44.1 / 48 kHz
Operating System SupportiOS
Mobile Device CompatibilityiPhone 5, 5c, 5s, iPod Touch 5th Gen, iPad 4th Gen, iPad Air, iPad Mini, iPad Mini with Retina
Bus Power: Yes
The Zoom iQ7 Stereo Microphone is compatible with a wide range of iOS devices, thanks to its lightning support. To use this mic, you need to engage your device's "Airplane Mode".
The Zoom iQ7 is equipped with two distinct mic components, making it easy to capture dynamic stereo sound using the mid-side recording. The directional (mid) microphone detects sound emanating from the front side.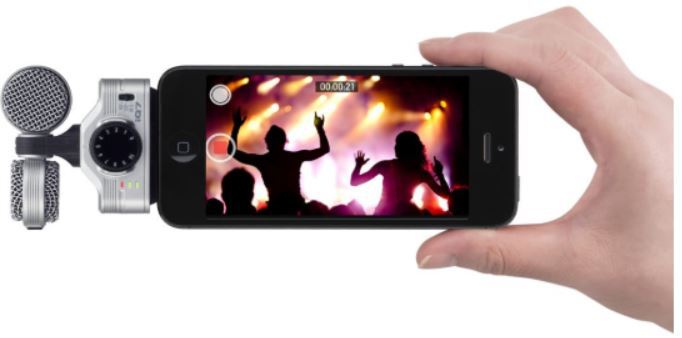 The bi-directional microphone, on the other hand, captures all audio signals that originate from all other sides. It's such an intriguing external mic for iPhone.
Stereo orientation is an extremely important factor to consider when purchasing the best iPhone microphone for your iOS device.
The Zoom iQ7 comes with a special rotating mechanism that allows users to rotate the microphone elements either to the left or to the right. You can easily switch the mic orientation from portrait mode to landscape mode.
This mic also comes with visual monitoring features that include three-segment LED meters that indicate the audio pitch, allowing you to vary your voice strength accordingly.
There's also an analog-type mic gain wheel situated on the Zoom iQ7's body. Users can adjust the audio level setting to the precision they desire.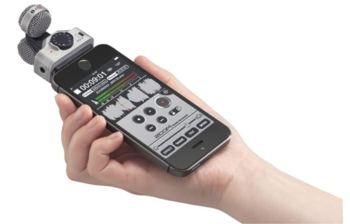 You'll get a limited manufacturer's warranty of one year upon purchasing the Zoom iQ7. This mic is compact enough to fit into your bag, so you can carry it around when travelling.
Delightfully, this mic works with a plethora of iOS apps such as iMovie, GarageBand, Voice Memos, and Camera. However, these apps should be able to support audio input from an external mic.
Zoom also has an exquisite Recorder app that enhances the iQ7 mic's functionality. This app has plenty of impressive effects that come in handy when you're improving some audio files.
These include six-band EQ and reverb. If you desire to edit parts of your audio recordings, this app provides amazing editing tools such as Divide and Normalize. You can use the Zoom iQ7 as your podcast microphone.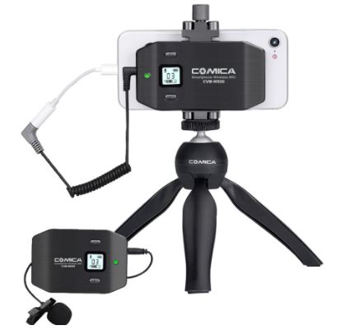 Specifications:
Signal / Noise: >65dB
Antenna: 1/4 Wavelength Wire Antenna
Transmitting Power: 10dBm
Receiving Sensitivity: -95dBm
Stray Radiation: <-60dBc
Audio Distortion: <0.5%
Frequency Response: 20Hz ~ 18KHz
Charging Socket: Micro USB
If you're searching for a good directional mic to capture crystal-clear recordings from your iPhone 7 or iPhone X, the Comica CVM-WS50(C) is an exquisite microphone that you should add to your collection.
The most unique feature of this shotgun mic is its adjustable mini tripod and phone clamps. You can easily fasten your iPhone using the phone clamp, then secure it using the stable mini tripod to facilitate hands-free operation.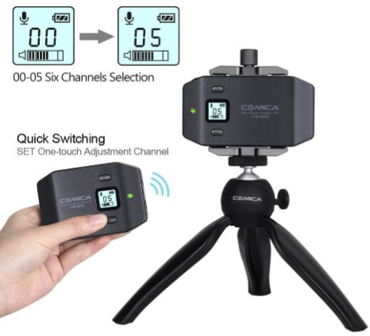 The CVM-WS50(C) can be operated from a maximum distance of 197 feet. It's perfect for vloggers who desire to capture high-quality videos with unmatched voice quality. This mic operates using Ultra High-Frequency wave technology to pick out voices from distances that are relatively far.
quality. This mic operates using Ultra High-Frequency wave technology to pick out voices from distances that are relatively far.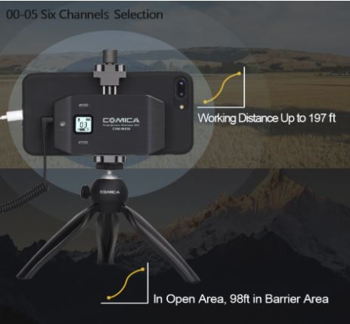 This mic also comes with six distinct channels that you can switch between. Whenever there's interference disturbing some channels, users can switch to other unutilized channels to avoid interrupting their feed.
The Comica CVM-WS50(C) works on all iPhones, including the iPhone 7 and iPhone X versions. It's undoubtedly one of the best DAC for iPhone today. However, you ought to turn on "flight mode" to block signal interference when you're using the mic.
Your environment will undoubtedly affect the quality of your audio recording. To ensure the best results, remove any barriers within your working environment and turn off your device's WIFI connectivity.
Android users can also utilize the CVM-WS50(C) mic – it's not just a preserve of iOS users. If you have an Android device, it's important to download a good voice recording app from your device store before proceeding.
You can listen to your own recording thanks to the inbuilt monitoring function. Volume adjustment is also made easy – you simply need to vary it using a dial.
Specifications:
Capsule: Electret Condenser
Polar Pattern: Cardioid
Output Connectors: 1 x USB (Type Unspecified)
A/D Conversion: 24-Bit
Sample Rate: 96 kHz
Operating System Support: macOS/OS X, iOS
Available Port: USB (Interface Unspecified), Lightning
Apogee MiC 96k is the best cardioid standard condenser mic for iOS devices. You need to just plug it to your lightning port, open your favorite recording app, and you are good to go.
The mic is also suitable for DSLR, Mac, and other devices. The lightning and Mac USB cable comes with the package. The mic is powered by the device only, so there's no need for any external power source or batteries.
You do need to remember that these mics are not compatible with Windows computers, they are only compatible with iDevices ranging from iPhones to Mac devices.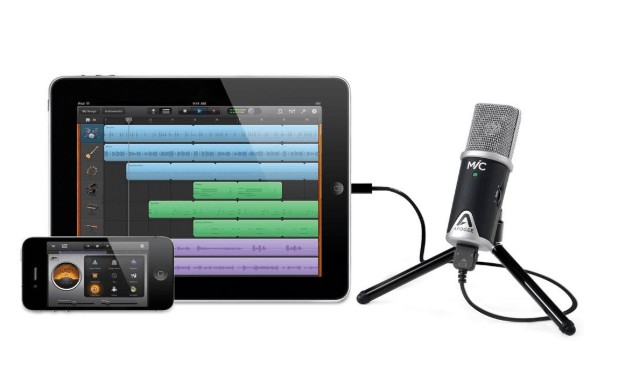 This mic also supports the recording quality of up to 96 kHz/24-bit like that of our top pick – Rode iXYL Condenser Microphone.
The mic unit comes built-in with mic, preamp and also A/D converter.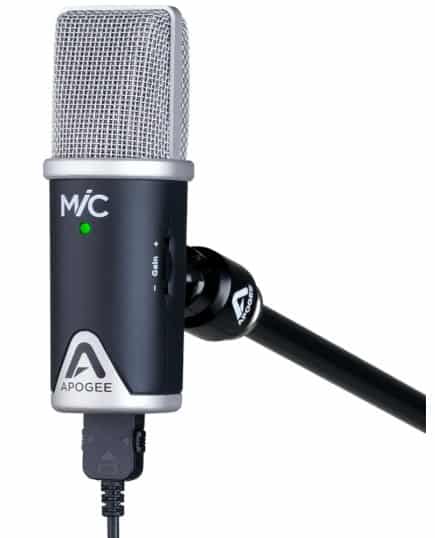 The mic is great for doing voiceover works. But the little downside is that the 3ft cord is pretty short so that your iPhone or any other device should be close to the mic.
It's a great little mic, that does the broadcast quality recording on the go. You would be more than satisfied with the recordings.
FAQs on iPhone microphones
1. How to connect two lavalier mics to iPhone?
To connect two lav mics to your iPhone, you need an adapter, since your iPhone only has space for one. You can't just use a headphone splitter cable for this.
Rather you need an adapter that can handle recording, like the Rode SC6. It has a TRRS port that connects to your phone and outputs for two lav mics and headphone monitoring.
2. How to hook up multiple mics to an iPhone?
You need a specialized adapter to do this. You can use Rode SC6 or something similar if the mics you are using have 3.5mm outputs. If not, you can source for corresponding adapters.
3. How to switch to external mics on the iPhone?
Simply plug in your mic. If it is compatible with the iPhone, the microphone should switch automatically. Some mics have dedicated apps that you can use to enable the mic.
4. How to use a mini microphone on iPhone?
To use a mini mic on your iPhone, you must first make sure that you can connect both to each other. If the mic does not have a lightning connector or a 3.5mm output, you may need an adapter to connect it.
In some cases, the camera connection kit can be useful in connecting other types of microphones.
5. Can I use a USB mic on the iPhone?
Yes. You can do this by using a powered USB hub and a USB to lightning adapter. The USB hub should be powered, because your phone may not supply enough power to drive the mic. Connect the USB to lightning cable to the USB hub, and connect the microphone to the USB to lightning cable
Recommended read:
Wrap up
These are some of the best external microphones for iPhone. If you are serious about producing good quality audio out of your iPhone, consider getting any of these mics depending upon your needs.
All the mics I've mentioned don't require any external power source. They tend to get all the power they need from your iPhone itself.
While recording audio, keep a note of your iPhone storage (raw audio) and also the battery on your device so that your recording won't be interrupted.
I hope you found the post helpful.