Music production has changed a lot in recent years. Decades ago, music production involved many different and complex activities.
Table could not be displayed.
First, you had to do the music composing or songwriting. Then, a music arrangement was needed.
The next step was to find the musicians and get them into a professional recording studio to do their jobs.
In the studio, a professional recording or mixing engineer would polish everything. Finally, he would send the mixed song to a mastering engineer.
He was able to prepare the final processing of the song for commercial distribution.
A lot of work, a lot of effort, talent, and people to transform an idea into a sonic product. Who was the captain of this ship? the music producer of course!
Well, those days are almost gone. All that work now can be done by just one person. And it's even more amazing that all that can be done using just a laptop and a pair of headphones!
The available software nowadays gives us a lot of creative possibilities too. Pro Tools, Ableton Live, Logic Pro, Cubase and many other Digital Audio Workstations (DAW) give tremendous possibilities to explore our music creativity for any kind of project.
From music sketching to music arranging. From DJing to professional film scoring. All that using a single computer.
Anyway, we need to have the right hardware tool for the job. Audio processing uses a lot of CPU resources and not every laptop can handle that amount of work.
That's why we're going to talk about the best laptops for music recording and audio editing.
The important specs to consider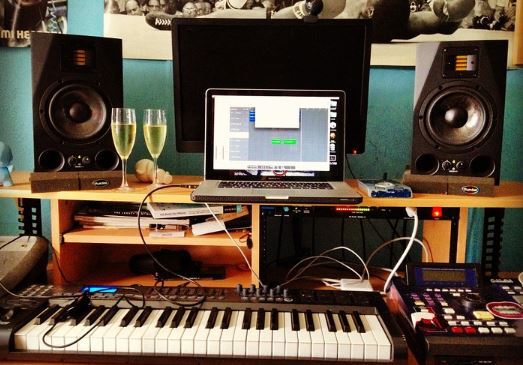 When dealing with computers, there are some basic features that we need to check before deciding what to buy:
Every time we process digital audio, the CPU has to do a lot of numerical computations. If you use an EQ, a compressor, add some reverb or delay, etc., you need processing power.
Or if you need to change the pitch of an audio file or tune a singer's take, the CPU has to work hard.
In this area, Intel has been the leader for many years and it seems it will continue on that path in the future.
The multi-core technology is definitely a great asset to have. More cores give us the possibility to process more tracks and virtual instruments at the same time.
That gives us more freedom to use many layers of instruments, complex effect chains and the use of more advanced audio plugins.
The CPU's clock speed shows us how fast the processing cycles are. Now, we have to be careful here, the CPU speed could be helpful to differentiate two laptops using the same CPU, but it doesn't say much if you are comparing two different brands or CPU models.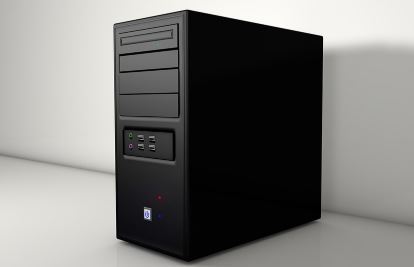 For example, that number doesn't mean that a 2 GHz quad-core Intel CPU is slower than a single-core 3 GHz AMD CPU.
So, if we need more details, we would need some benchmark data about different CPUs under certain conditions.
The energy consumption is also very important for a laptop. The main purpose of a music producer laptop is to have enough power to handle demanding audio processing.
But, at the same time, the goal is to be able to work on the road if necessary. Perhaps in a plane, in a club, school or any other situation. That's why we could also look for good efficiency and battery life.
Each time we load a virtual instrument (sampler, synth, drum machine, etc.) it is loaded in the RAM. So, the bigger the RAM, the more instruments and effects we can use at the same time.
Although most music production software recommends at least 4 GB of RAM (some of them can even work with 2 GB!), in general, we can say that "the more, the better". So, a good starting point would be 8 GB, but it is very important to make sure that the laptop allows for RAM upgrades.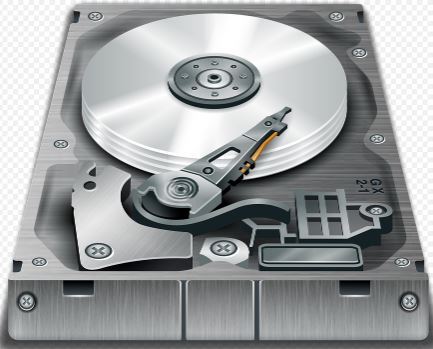 When comparing hard drives, we have two main factors: its capacity and its data speed. The basic question would be: how large should it be? Actually, that is easy to answer. It depends on how much data you are planning to store.
A typical DAW needs between 5 to 10 GB for installation. That includes all the files for complete functionality: effects, native plugins, etc.
Some DAWs, e.g. Ableton Live or Logic Pro X include around 60 GB of extra content. That is: audio loops, sample libraries or advanced synth patches. So, if you want to have two programs like those with full-installation on your laptop, you would need a hard drive of at least 150 GB.
Another factor would be the number of music projects that you need to store. For example, a 4-minutes long, 30-track project, recorded with a sampling rate of 44.1 kHz and 24-bit audio WAV files (a very good audio quality) needs about 1 GB for storage. So, that's not bad for today's standards.
If you plan to use your laptop for video or multimedia production, then the story changes and you may need so much more storing space. The good news is that pretty much any modern laptop can be ordered with hard drives up to 1TB (around 100 GB). That would be more than enough.
Another really important aspect is the reading and writing speed of the hard drive. This is crucial if you need to use multiple recorded tracks simultaneously. The faster, the better.
In this sense, there are two main technologies available: the hard disk drives (HDD) and the solid-state drives (SSD).
HDDs are our old pals for data storage. They are magnetic disks that spin at very fast speeds and have reading and writing times of around 120 MB/s. That speed is ok for not too many audio tracks, but if your music production needs more than 50 tracks, then they could be not fast enough for the job.
Another drawback is that HDDs are more delicate, so you shouldn't move your laptop while the drive is reading or writing. This can cause a serious damage to the disk and, sometimes, an irreparable loss.
SSDs are the new technology that will eventually replace HDD. They are way faster than the HDDs as their typical reading and writing speeds are around 500 MB/s! This means that they can easily handle more than 100 audio tracks at the same time!
Another advantage is that they don't use mobile or spinning parts. So they won't damage if you move your laptop while reading or writing the audio files.
Our Best Laptops for Music Production
Apple's MacBook Pro has been the leader of laptop computers for music production, DJ, recording and anything related to that for many years.
The reputation of Apple computers to be the "number one choice" for music producers and musical artists is well known.
So, even though Apple still has its reputation, its leadership may be decreasing in the last years. Let's see why is this.
This laptop has the world-famous retina display. 2560 x 1600 native resolution with support for millions of colors. Well, all that translates into a great looking display, it simply looks gorgeous.
There are two sizes available. The most popular one is the 13". But if you need a larger screen you can go for the 15" too. For music creation, 13" may be more than enough.
Anyway, sometimes you may find yourself spending hours of editing work and a larger screen could be a good asset in these cases.
These laptops offer two possibilities: 2.3GHz dual-core Intel Core i5, or 2.5GHz dual-core Intel Core i7.
Both models can use the automatic Turbo Boost feature to overclock the CPU and provide extra processing power when needed.
In terms of processor, this MacBook Pro is powerful enough to handle any kind of job: 24 or 32-bit recording, 96 kHz sampling rates, multiple plugins, IR reverbs and virtual instruments with no problem.
The basic model comes with 8 GB of RAM. Anyway, that won't be enough if you are planning to use a lot of VSTs and plugins.
So, I think it would be a good idea to go for the 16 GB model if possible. One terrible drawback of this new MacBook Pro is that the RAM comes soldered on the motherboard, so you won't be able to upgrade the RAM later!
For storage forget about HDD. These MacBooks use a fast and reliable SSD and that can go from 128 GB up to 1 TB. So, be sure to look for the right amount because, just like the RAM, you won't be able to change that later.
I think that, for pure audio and music production, you should have at least 256 GB for storage. If you want more versatility, or need to store sample libraries then look at least for 512 GB.
Apple has decided that the world doesn't need connectors or cables anymore, or at least it shouldn't. The future of technology has to be wireless.
That's why they are taking away pretty much all the ports available and leave us with just a couple of new-generation USB-C ports. Two ports for the 13" model and four ports for the 15" one.
These ports use the Thunderbolt technology and are super fast, but the problem is that they are also super rare! There are not a lot of compatible devices yet, so you will need adaptors for pretty much anything!
The problem is that Apple forgets that music producers can use a good amount of pro audio hardware and that is not wireless either! at least not yet.
So if you want to use your 13" MacBook connected to the AC outlet, with an audio interface and a MIDI controller, you'll need a USB hub or something like that, because the computer won't have enough ports!
Now, talking about audio, the MacBook Pro has a 3.5 mm, mini-plug stereo jack. This means that it can be connected directly to pretty much any kind of audio equipment with just a mini-plug to RCA cable.
The quality of the integrated audio interface is very good. I would say that MacBooks are among the best in this department.
This is due to the CoreAudio technology integrated with macOS. So this is a good point because it means that you could use your music and production software without any external audio interface.
This is the new feature on these models. The Touch bar gives you the possibility to use advanced gestures while using software.
For example, in the case of Logic Pro, you can easily navigate through the project, or use the Touch bar as a MIDI controller.
All that is pretty nice. But if you want the 13" model, you have the option to order the MacBook without the Touch bar.
Pros:
Great display resolution
Great battery life (up to 10 hours)
Good-quality integrated audio interface (headphones jack)
Powerful processor
Fast solid state drive (SSD)
Touch bar could be helpful for some users
Lightweight
Cons:
Very limited connectors
Limited maximum RAM
No RAM upgrades possible after buying
The Asus ROG Strix GL553VD is a very solid option for your music production activities. These computers are designed with high demands for modern gaming, so the audio DSP should not be a problem at all.
The display is a 15.6" LCD, with full-HD resolution 1920 x 1080. This is more than enough for most audio applications.
They are loaded with a 2.8 GHz Intel dual-core i7 processor. This is quite powerful, as it's one of the flagship mobile processors from Intel.
It comes with 16 GB DDR SDRAM. This amount of memory is enough for most music projects. You'll be able to load a good amount of plugins and virtual instruments.
Now, the storage is shipped with a 1 TB, 7200 RPM hard drive. This is an excellent option for a lot of projects and sample libraries. The only drawback would be that it's a hard drive. So, it can be a little fragile.
You don't want to move the laptop while reading or writing files. Anyway, as it has a spinning speed of 7200 RPM, that makes it fast enough for pro audio applications.
This computer comes with the following ports:
2 USB 3.0 ports
1 USB 2.0 port
1 USB Type-C port
1 HDMI
In this sense, it's very complete, as you can easily connect pretty much any audio hardware that you may have without extra adaptors.
The battery life lasts around 5 hours. That's not too much for many applications, but it's understandable because of its tremendous processing power.
Consider that you may need to use it plugged into the wall pretty much every time.
An interesting feature is that it includes a DVD+RW drive. This could be handy for music production, as sometimes you may need to quickly burn a demo CD or so.
It comes with Windows 10, so that's important when choosing your DAW. Overall, this is one of the most powerful laptop computers for music production. If you need power more than anything else, this could be your choice.
Pros:
Processing power
Enough RAM for most applications
Very good storage capacity
Ports available
DVD drive
Acer comes into the game with this strong competitor for high processing applications. It comes with a 15.6" Led-lit display, with full-HD resolution: 1920 x 1080.
The processor is a 3.8 GHz Intel Core i7. So it makes this computer one of the most powerful for mobile sound production.
The amount of RAM is 16 GB DDR. So you'll get more than enough RAM for using several virtual instruments or effect plugins.
The storage capacity is somewhat small though. It comes with a 256 GB, flash memory SSD. It may be enough for audio-only applications but you won't get enough room for big sampling libraries.
The good part is that it's extremely fast, as it's not a hard drive but a solid state one.
It comes with 2 USB 3.0 ports and 2 USB 2.0 ports. So it has enough connections for MIDI controllers or audio interfaces.
Its battery life of 7 hours is quite nice for a powerful computer like this.
We can say that Acer has a nice contender with this Predator. As a good predator, it's a little heavy, so the price of power is weight.
Pros:
Processing power
Enough RAM from factory
Good battery life
Cons:
Heavy
Small SSD for large sample libraries
Dell has been one of the leaders in computer equipment for decades. There's a reason for that, they build very good quality machines.
The XPS series is focused on high-end applications, and audio production is one of them.
The display is great. This laptop comes with a 15.6" Led-lit display, 4k Ultra HD resolution of 3840 x 2160. That makes it one of the best available laptops in this department.
Now, this extremely high resolution could be useful, as it can show more tracks or channel strips on your projects.
The processor is a full-weight champion, a 3.8 GHz Intel Core i7 quad-core. So this computer really has audio processing punch. It comes with 16 GB DDR SDRAM, so again, VSTs and effects should not be a problem at all.
The storage department is great too. You can have a 512 GB or a 1 TB flash memory SSD. That's pretty enough room for applications, projects and sample libraries as well.
And, because of the speed of the solid state drive, you won't need an external drive while working on complex projects.
It comes with the following ports:
2 USB 3.0 ports
1 HDMI port
1 SD card reader
So, you get enough connectivity and data transfer options.
As you can see, this contender is very lightweight for its power! You can have it all with this laptop: power, weight, screen resolution… great job Dell!
Pros:
Processing power
Enough RAM from factory

Super display resolution

Large and fast SSD storage
Slim and lightweight
Cons:
No DVD drive (if you need that)
Talking about classic brands, HP comes to the game with its Spectre series. The big difference here is that you get a 15.6" display, with a 4k Ultra HD resolution of 3840 x 2160.
Even more, it's a touchscreen we are talking here. So you may love this functionality while editing audio files or using the mixer. I think this will be the next standard for music production interfaces.
The laptop has a 2.7 GHz Intel Core i7 processor, which is powerful enough for most music applications. It includes 16 GB of DDR SDRAM, so this area is safe and sound too.
The storage of 512 GB flash SSD gives you a great deal in terms of capacity and access speed. It also comes with a complete set of ports:
1 USB 3.0 port
1 USB Type-C port
1 Thunderbolt 3 port
1 headphone/microphone combo
If you are looking to get into the multitouch editing and mixing features, this laptop can be a great entry port into that land.
Pros:
Display resolution
Touchscreen
Good processor

Enough RAM
Good storage drive
Cons:
No DVD drive if you need it
This one is very similar to the other Spectre but on steroids. It features the same 15.6" Led-lit display, 4k Ultra HD resolution.
But the processor is a 1.8 GHz Intel Core i7 quad-core. Remember not to get confused with the processor speed. This one may be slower but it has 4 cores!
The RAM available is also 16 GB DDR. The storage also can be improved from 512 GB to 1 TB flash memory SSD. So you can get a full-weight champion for processing, storage, and the excellent resolution touchscreen.
It comes with many ports too:
1 USB 3.0 port
1 USB Type-C port
1 Thunderbolt 3 port
1 HDMI port
1 headphone/microphone combo
Overall, this is a complete laptop computer, if you need power, portability and a touchscreen in your workflow.
Pros:
Display resolution
Powerful processor
Touchscreen
Enough RAM
Excellent and fast storage drive
Cons:
No DVD drive if you need it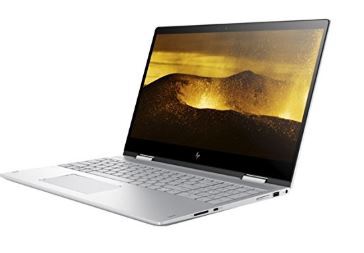 This one comes from a different HP series, but it's equally powerful and with great features.
The Envy features a 15.6" Led-lit display, with full HD resolution of 1920 x 1080. which is also a touchscreen. So, this is another alternative from HP if you are looking for multi touch features.
Its processor is a 1.8 GHz Intel Core i7 quad-core. So the processing power is really good. More than enough for virtual instruments, and effect plugins.
Its 16 GB of DDR SDRAM makes it a complete music production workstation. And it has a 1 TB SATA hard disk drive, so the storage capacity is more than enough.
This hard disk is fast enough for audio applications, as it has a 7200 RPM speed.
The connectivity part has the following ports:
2 USB 3.0 port
1 USB Type-C
1 HDMI port
1 headphone/microphone jack
Although this is a different series, it is also a complete solution from HP. The main difference is that this one uses a hard disk and it's a little heavier than other model.
Pros:
Display resolution
Touchscreen
Very good processor
Enough RAM
Large storage drive
Touch bar could be helpful for some users
Lightweight
Cons:
Hard drive may be more fragile than SSD
No RAM upgrades possible after buying
Very limited connectors
This option from Dell is not as powerful as the 9560, but anyway it is a good option if you like the brand and are looking for something similar but lighter.
The display is smaller too. A 13.3" Led-lit display, with full HD resolution of 1920 x 1080. The processor is a 3.8 GHz Intel Core i7 dual-core.
The RAM is less than other models, as it only ships with 8 GB DDR SDRAM.
The storage is not that big either, a 256GB flash memory SSD. So, this may not be a big power horse, but it has good features to get started with music production.
The ports available are quite complete:
2 USB 3.0 ports
1 USB Type-C port
1 headset port
1 Media card reader
The media card reader can be handy so, in this case, the limited storage space can be complemented with an SD card.
This is a very good option from Dell and it's the smallest model of all on this list.
Pros:
Good processor
Lightweight
Many ports available
Cons:
Limited RAM
Small solid state drive
This one is the power horse from Asus. It is a great laptop for music production or multimedia work too.
It features a 15.6" Led-lit display, with full HD resolution. The processor is a 2.8 GHz Intel Core i7 quad-core. So you get the very best from Intel for laptop applications.
This model is prepared for the big leagues, so it ships with 16 GB SDRAM, but you can order the 32 GB version! With that amount of RAM, you can have more than 100 tracks loaded with VSTs, samplers, plugins, etc. This is the most powerful on this list.
The storage is great too: 512 GB or 1 TB flash memory SSD. You get a really powerful mobile studio here!
It has great options for connections:
3 USB 3.0 ports
1 USB Type-C port
1 USB 2.0 port
1 HDMI port
1 headphone/microphone jack
1 mini display port
Although this laptop is larger and heavier than other models, it is also the most powerful. It's more expensive too but you get so much more power, RAM, storage, etc
Pros:
Great processing power
Many ports available
Excellent storage options
A lot of RAM
Cons:
Heavy
Not so great display compared to other models
We finish this list with this lightweight option from Apple. You may think this is not a pro laptop for production or audio mixing, but it has pretty good features for a Mac.
The display is a 13.3" Led-lit display, with a resolution 1440 x 900. It may be somewhat small, but it may be what some musicians are looking for.
The processor is a 1.8 GHz Intel Core i5 dual-core, so it has a good amount of processing power for most music production scenarios.
The RAM is somewhat limited as it only ships with 8 GB DDR SDRAM. This cannot be upgraded, so this part is an important drawback.
The storage can be ordered with 256 GB or 512 GB flash memory SSD.
The ports available are even better than the MacBook Pro, which is somewhat strange from Apple.
It has 2 USB 3.0 ports, an SDXC card reader, a Thunderbolt 2 port and the headphone audio output that can be used instead of an audio interface.
The battery life is great, around 12 hours! This is the best on this list.
So, if you need a Mac, this could be a nice option. Its main drawback is the lack of extra RAM options though.
Pros:
Lightweight
Good processor

Many ports available

Battery life
Fast solid-state drive (SSD)
Touch bar could be helpful for some users
Lightweight
Cons:
Limited RAM
No RAM upgrades allowed
The Asus ZenBook is a slim, royal blue compact laptop with some pretty interesting features, some of which we'll talk about here.
The ultra-slim design is what really gets me; Asus really figured out how to manage space with this one. It weighs just 2.7 pounds, so you can throw it in your backpack with your soundcard, mic, and headphones and carry around easily.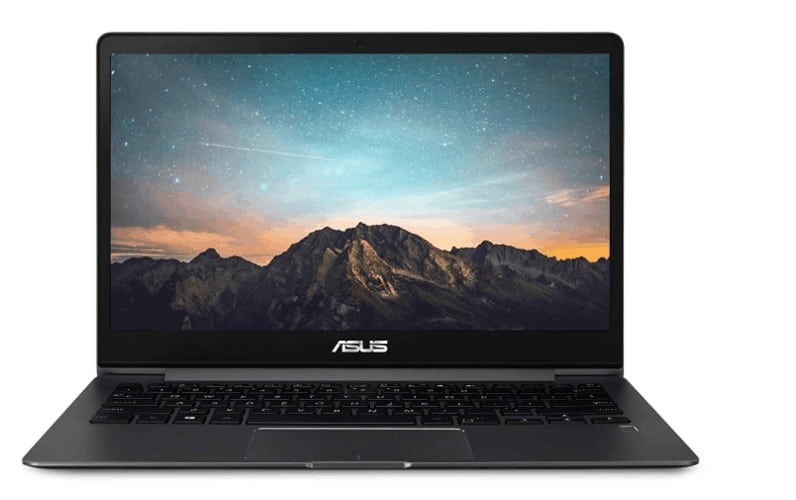 You can connect external devices through any of the available ports; two USB-A ports, one 2.0 and one 3.1. You also get the newest USC-C option.
You can also connect via wireless; the Bluetooth 5.0 and 802.11ac make sure of that. The only port you could be missing os the thunderbolt. I would say that's not bad for a 13" laptop.
The Core i5 processor gives you a maximum speed of 3.9GHz. That's really good. With this kind of performance, you won't have headaches while loading plugins or opening projects.

With some DAWs, when you use lots of third party plugins on a project, opening the project takes longer. With a laptop like the Asus ZenBook 13, you can shorten that loading time considerably.
The performance is also helped by the SSD. It ensures faster and better read and write speeds.
As for the battery life, if you're running a highly demanding project; say you have a few instances of Omnisphere and some other plugins running, the battery can still last up to 5 hours. With regular use, the battery can last up to 13 hours.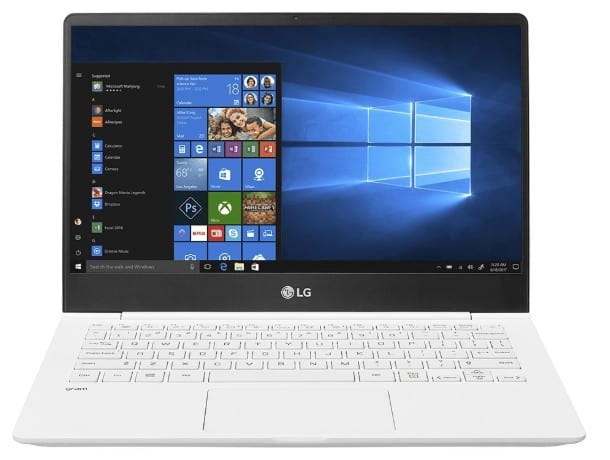 The LG Gram is a 17" laptop. What does this mean for music production?
It means you can have a pretty big display without hooking up to an external monitor. What makes this so perfect, is the added fact that it's so light and portable too.
Weighing just 2.95 pounds, this might just be one of the lightest 17" laptops ever. With this kind of display, you can view more of your arrangements at once.
This laptop is at least 40 percent lighter than its other 17" counterparts. You can easily take it out for your on-stage performance and other stuff.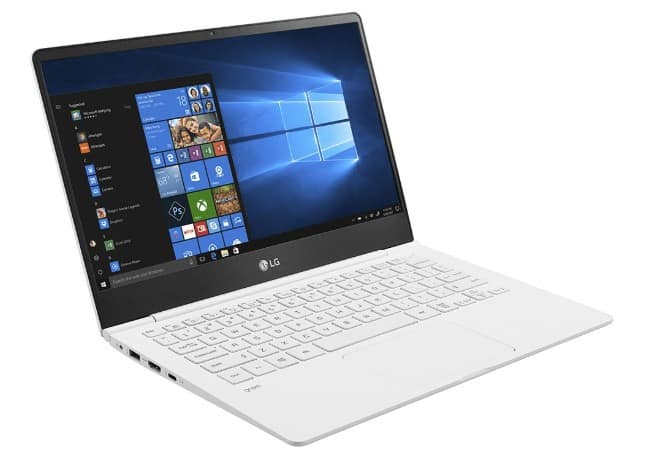 You don't really have to trade portability for screen size. For a laptop with this screen size, the keyboard is rather interesting. It has number pads, but it's placed in the middle, rather than being shifted a little to the left. This shouldn't affect you much if you're not doing lots of typing.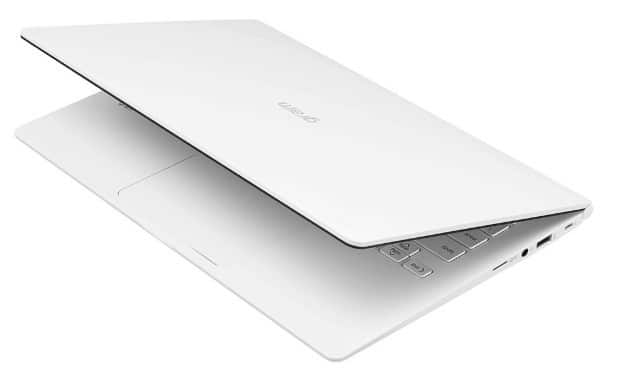 With the Core i7 processor and a RAM of 16GB, the LG Gram makes your work smooth. To a large extent, you may not need to bounce your midi to audio for better performance.
It would take some really heavy orchestration to start experiencing glitches. Also, rest assured that your plugins will load much more quickly with this superlight giant.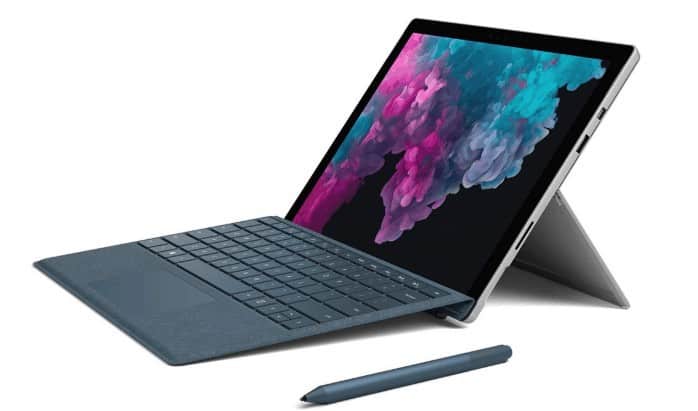 Surface Pro 6 is a 2 in 1 laptop. It's one of the lightest, most portable 12.3-inch laptops you will find. This is largely due to its build.
Its body has the strength of metal with the weight of plastic; that's like having the best of two worlds. If you move around a lot with your production gear, probably as a performing DJ or producer, the Surface Pro 6 would serve you well.
The kickstand is quite sturdy too; in fact, I consider it one of the best things about the Surface. You may need some strength to pull it out, but when you do, it provides a very strong support system for the screen; so strong that you would need some deliberate force to knock it over.
The kickstand also has a firm grip on the table, such that it keeps the Pro 6 from sliding during use.
With the Surface Pro 6, you have the option of choosing between two processor types; core i5 and core i7.
Of course, they don't cost the same. Also, in terms of storage, you can choose between 128GB, 236GB, 512GB, and 1TB. All these options are solid-state drives (SSD). The major advantage of an SSD over an HDD is the speed and durability.
Using a laptop with an SSD, your plugins would load much faster, and you are less likely to have glitches in your DAW playback. Combine this with the Core i5 or i7 processor, and 8 GB or 16GB ram that the Surface Pro offers, and you're good to go.
Pros:
Portable design
Strong kickstand
Cons:
Has just one USB-A 3.0
It only supports SSD, which is much more expensive than HDDs.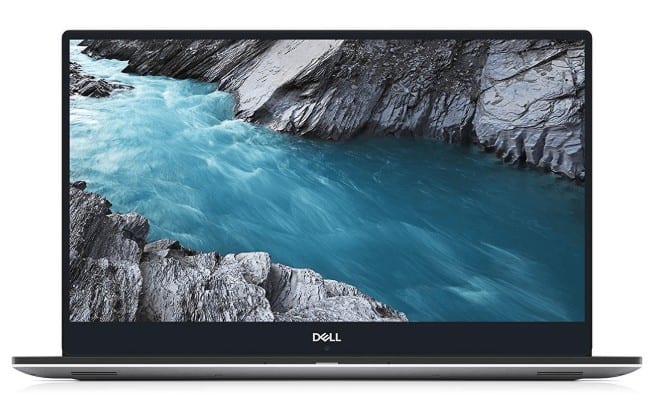 The Dell XPS 9570 is a laptop that manages to look unassuming but sleek at the same time, with its aluminum finish, used for both top and bottom. If you're a big on-screen display, you go for the 4K touchscreen display option.
You can also opt for one with a longer battery life. All of these options come with slight differences in weight. The 4K touchscreen version weighs 0.25 pounds more than the normal weight, while the bigger battery version adds half a pound to the weight.
Needless to say, the laptop weighs 4 pounds.
There's a one really cool feature this one has; the fingerprint reader. Even better, it's right on the power button. Dell has chosen to go the old way with the number of ports that have made available.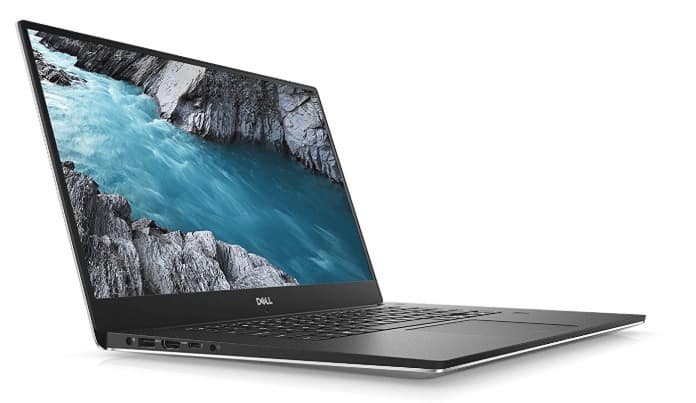 There are two USB-A ports on either side of the laptop and a full-size HDMI port. Additionally, you have a full-size SD card reader. On the other side, you have a USB Type-A port, headphone port, charging port and a four-lane Thunderbolt 3 port.
The XPS 15 comes with a 6-core 8th generation Core i7 processor and 256GB SSD. This represents a fast performance, although you may be pressed for space within a short while.
If Dell had put a larger SSD, the price would shoot up. With time you can get a replacement drive with a larger capacity.
Pros
Fast performance guaranteed
Enough USB ports
Wrap up
So, there it is. You have many options available. Much of your decision depends on what DAW you are using, the OS that you prefer, how powerful you need the computer and how easy it is to transport it.
I hope you liked the laptops we presented here that are suitable for music production. Let me know if you have anything to say in the comment section below.