Affiliate disclosure: In full transparency – some of the links on this website are affiliate links, if you use them to make a purchase we will earn a commission at no additional cost for you (none whatsoever!). Will this be a problem? This is how we manage to create free content for you. Please know that your trust is so important for us. If we recommend anything, it is always because we believe it is worth exploring. And, buy me a coffee ☕️
Rode NT1 and Rode NT1A are two great microphones that are geared towards people doing vocals, acoustic guitars, drum recording, and podcasting.
$170.00 REDUCED
Last update on 2022-12-05 / Affiliate links / Updated prices and images from Amazon Product Advertising API
NT1A is the newer version of the previous NT1, and many people still prefer the older version and some think otherwise.
Look at the specifications of these mics in the table below.
Rode NT1-A Large-Diaphragm Condenser Microphone
Rode NT1-A Large-Diaphragm Condenser Microphone
Last update on 2022-12-05 / Affiliate links / Updated prices and images from Amazon Product Advertising API
In this review, I'll be helping you decide upon either one of these mics and let you know the subtle differences that these mics have got to offer.
Let's get started – the Rode NT1 vs NT1A.
Rode NT1 vs NT1A: Let's clear the smoke
Build and design
Both of these Rode mics come with a solid-full body metal construction. As with all the Rode mics, these are built extremely well considering even little intricates in mind.
Both of these mics come with 10-years of Rode warranty, that speaks a lot about the durability of these mics.
When it comes to real-world usage, the NT1 is considerably heavier than the newer NT1A. The newer NT1A weighs 326g, whereas the NT1 weighs at 395g.
That's NT1A being 18% lighter.
Features
Both of these mics require a good 48v phantom power from your audio interface or a mixer. I would recommend Focusrite Scarlett 2i2 or the Steinberg UR22 interfaces for clean recordings.
When it comes to box, the Rode NT1A comes with SM6 shock mount with a detachable pop filter, 6m XLR cable, and also the dust cover.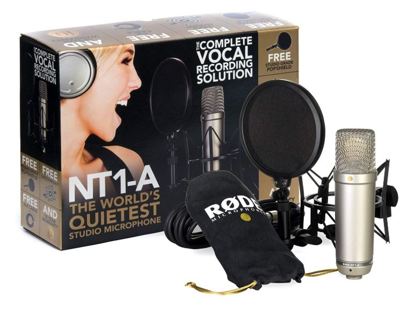 The NT1 also comes with almost the same accessories except it does come with SMR instead of the shock mount. And also, the NT1's pop filter is built into the shock mount. The NT1 does not come with an XLR cable.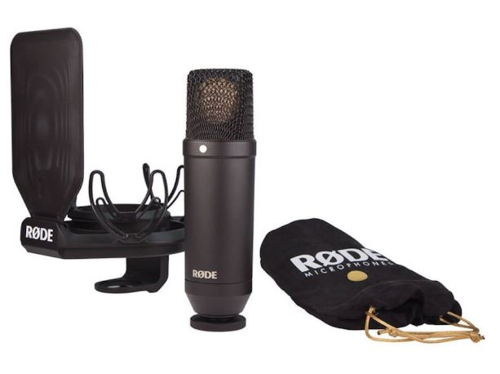 So, for NT1 you may want to get a good XLR cable like these ones.
Both of these mics have a similar Cardioid polar pattern. The NT1 seems to have a tiny teeny bit of more pickup immediately behind it than the NT1A. But, well let's ignore it.
Sound quality
Both of these mics have a quite significant sound quality difference, in the audiophiliac standpoint.
Although both of these mics have the same standard frequency range of 20Hz – 20kHz, there's some difference when it comes to charts.
Above is the frequency graph of Rode NT1.
As you can see, the NT1 has a flatter profile. It leads to a true representation of vocals without any considerable boosts or cuts.
The sound profile of Rode NT1 resembles a lot to that of Neumann U87 without that price difference. The frequencies between the 30Hz and 4kHz offer extreme fidelity.
The signal is amazingly clear, but in order to get the most of it, you certainly need to be good at manipulating the vocals post-production.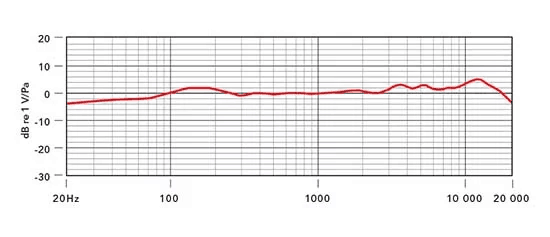 As you can see the NT1A has quite bumps and cuts here and there. You can see that there are cuts in the lows and also extreme highs. We also see a slight boost at the 150Hz and the 6kHz-12kHz range.
The highs tend to sound bright, and whereas the low ends appears to be slight rolled-off.
The differences between the two can be found evidently when comparing these two with acoustic guitars.
Refer to the above track if you want to see how the NT1A performs when it comes to vocals.
Similarities
Both of these mics have a cardioid pattern
Both of these mics come with 10-years of warranty from Rode
Both these mics have a gold sputtered, 1-inch diaphragm
They have the same frequency range of 20Hz – 20kHz
Differences
NT1A weighs a lot less when compared to NT1 i.e 325 grams vs 395 grams
NT1 is a bit costlier than NT1A
The NT1A mic is a bit brighter than the NT1 in treble regions – making it best worse for male vocals
NT1A lacks in lows, making an NT1A warmer-sounding microphone
NT1A has a lower self-noise, the difference is 0.5dB that's negligible
NT1A can record louder sources more effectively due to the SPL of 137dB when compared to that of 132dB offered by NT1.
Rode NT1
Pros:
Frequency spectrum is flatter
Cons:
Costly
Need to pay extra for buying XLR cable
Rode NT1A
Pros:
Low noise floor, hence good clarity in recordings
Louder sources are recorded effectively
Lightweight when compared to NT1
Cons:
It doesn't come with features like padding switch, multi pattern or bass roll off.
See our other popular comparisons:
1. NT1000 vs NT1A: Which is the Best Mic for Recording Vocals and Acoustic Guitars?
2. Rode NT1 vs AT2035: Which is Your go to Mic for Recording Vocals?
FAQs on Rode NT1 vs NT1A
Do these mics require any power to work?
Yes. Both of these mics require 48v phantom power from an audio interface or a mixer.
Among these mics which one is best for male vocals and why?
NT1 has a flatter profile and works well in treble regions, making it best for male vocals.
How these two mics differ with respect to self-noise?
Both of these mics have very low self-noise. The difference is 0.5dB which is negligible
How does the frequency profile of these mics look?
NT1 has a flatter profile along with its entire frequency range while NT1A has quite bumps and cuts here and there.
Which one is best for recording the louder sources?
Rode NT1A due to its maximum SPL of 137dB records louder sources effectively.
Verdict
Now it's the time to declare the winner in this Rode NT1 and Rode NT1A battle!
It all comes down to your personal preferences and use cases.
Want a warmer sounding mic that does well on male vocals? Go for Rode NT1.
Do you want a brighter mic with good bumps in the treble range? then go for NT1A.
You need to also remember that Rode NT1 offers a flatter frequency profile when compared to the NT1A, making it more suitable for recording reference tracks.
For me, Rode NT1 easily comes out as a winner, in spite of the price difference. The reason is because of the flatter frequency profile and warmer sound – perfectly suitable for both male and female vocals.
Hope you loved this comparison.
Let me know what you think below in the comments section. What's your favorite mic? The Rode NT1 or Rode NT1A?
Hi, I'm Jennifer I'm a passionate singer and an audiophile from Detroit, MI. 
I'm on a mission to help music creators to create fine music that help them position uniquely in the saturated music space.
Follow my blog for regular content :-)