If you are sick of the sound quality of your Laptop's onboard mic or even if you are looking to upgrade your headset or mic to a better mic, this post will help you.
Our Best Pick
Audio-Technica AT2020 Cardioid Condenser Studio XLR Microphone, Ideal for Project/Home Studio Applications,Black
Best Value for Money
Blue Yeti USB Microphone for PC, Mac, Gaming, Recording, Streaming, Podcasting, Studio and Computer Condenser Mic with Blue VO!CE effects, 4 Pickup Patterns, Plug and Play – Blackout
Excellent Portability
Zoom H1n Portable Recorder, Onboard Stereo Microphones, Camera Mountable, Records to SD Card, Compact, USB Microphone, Overdubbing, Dictation, For Recording Music, Audio for Video, and Interviews
Our Best Pick
Audio-Technica AT2020 Cardioid Condenser Studio XLR Microphone, Ideal for Project/Home Studio Applications,Black
Best Value for Money
Blue Yeti USB Microphone for PC, Mac, Gaming, Recording, Streaming, Podcasting, Studio and Computer Condenser Mic with Blue VO!CE effects, 4 Pickup Patterns, Plug and Play – Blackout
Last update on 2023-09-21 / Affiliate links / Images from Amazon Product Advertising API
I'll present you some of the best microphones for gaming that are also suitable for doing gaming commentary on YouTube or other game broadcasting platforms.
The gaming mics that I will present you in this blog post are of high quality and records your voice crisp clear. You'll be easily overwhelmed by the variety of microphones that are available in the market.
That's why we have done the job easy for you by researching and presenting you some of the best microphones for gaming and YouTube commentary.
Below is the comparison table of some of the good microphones for gaming ranked in order.
Best Gaming Microphones You Can Buy
So, let's dive in and look at some of the best microphones that you can buy right now.
AT2020 is the best gaming microphone under $100 for a reason. The fact is that when it comes to entry level microphones, although the sound quality may be great, they fall short of the audiophile-grade quality.
Audio Technica AT2020 Cardioid Condenser Microphone offers great sound quality for the price.
This one is a single pattern microphone that comes with only Cardioid recording pattern. Unlike the Blue Yeti microphone, you can't switch between the Omnidirectional, Cardioid, and Bidirectional modes.
The microphone picks up the sound that is in front of it. Unlike other microphones that are omnidirectional, these is especially great at rejecting background noise.
The main reason why I picked this microphone as the best microphone for gaming is that this microphone gives you an impressive sound quality that is not given by any microphone in this range.
This is a studio-grade microphone and preferably can be used in the home studio environment.
This Audio-Technica AT2020 microphone operates at a frequency range at 20 – 20,000 hertz. The one thing that I liked about this microphone is that the details in the low-frequency voice are excellent and the voice turns out to be so deep and penetrating.
There is a slight emphasis on low-frequency voice which is great if you are doing game commentaries.
The sound quality is excellent than compared to other USB microphones in this range like Blue Yeti or Blue Snowball.
The sound quality difference is negligible for an average Joe but indeed if you are looking for a studio grade quality equipment AT2020 won't disappoint you.

The microphone comes with an impedance of 100 ohms, an XLR cable is essential, and you need to connect it to an external USB audio interface like Focusrite audio interface.
The main downsides of this microphone are that there is only one available Cardioid pattern, and you also need an external audio interface to drive them effectively. Hence this microphone is not portable.
If you are willing to use this microphone only in front of your PC and care about serious sound quality, then it is a no-brainer for you to buy it.

This is one of the most popular microphones among gamers and also the YouTubers. The popularity of this microphone is because it is a USB microphone and also comes with multi-pattern support while recording.
The sound quality of this microphone is excellent and comparable to that of an XLR microphone being a USB one.
Much like that of AT2020 that I've reviewed previously, the Blue Yeti also has some emphasis on the low-frequency sound and makes sure that the low-frequency voice is a little bit deeper than it is.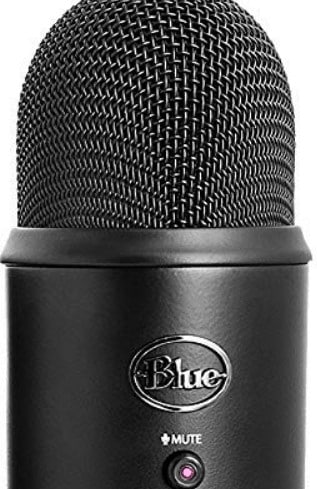 With this Blue Yeti microphone, as it comes with various pattern supports you can use it for interviews and also for conference recordings using various recording patterns like Cardioid, Bidirectional and Omnidirectional pickups.
The Bidirectional pickup is very useful while doing multiplayer game streaming and commentaries.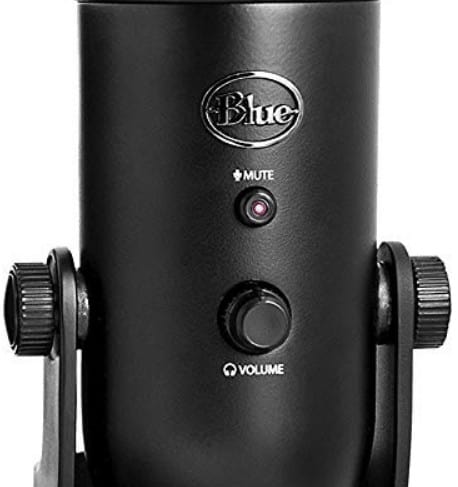 This microphone is big and quite heavy and cannot be easily transported. You can make use of this microphone only in your desk work environment.
As this is a USB microphone, you don't need to install any drivers or make use of any USB audio interface to make it work.
This microphone works right out of the box and you just need to plug in the USB cable to your computer or your mobile device and you're ready to go.
This microphone also comes with the gain knob and also a mute button, to assist you greatly during gaming sessions.
As this is a USB microphone you can plug it into your Android or iPhone device, and you can easily carry out the mobile gaming commentary.

Also look at: 5 Best Affordable Blue Yeti Alternatives With Good Sound Quality
Zoom H1 is the best microphone that is worth it and also is a great value for money. I've been a long term user of Zoom H1 microphone and it never failed me to delight.
It's a very small stand-alone voice recorder that runs with the single AA battery. You can also make use of this microphone has a USB one by plugging it to your PC using the micro USB cable provided in the accessory pack.
The sound quality that is delivered by the Zoom H1 microphone is almost comparable to the Blue Yeti.
The sound recordings in the Zoom H1 turn out to be flatter without any emphasis on lower frequency sounds.
As I have said you earlier, this is a standalone audio recorder, and you can also use a lavalier mic or any other condenser mic with its input jack.
As far as gaming is concerned, you will be using this mic mainly as a USB mic connected to a computer or a mobile and place it on a mini tripod or hold it on hand.
This portable recorder comes with two condenser microphones that are fixed in an XY pattern. It rejects a decent amount of background noise.
Due to the small size of the recorder, the device slips into your pocket quite nicely. This is the most versatile microphone that can be used as a standalone recorder, as a USB mic, can be mounted over DSLR using a shoe mount, and can also be used for interviews, etc.
The device is made completely out of plastic and seems less premium than that of microphones like Blue Yeti or Audio Technica AT2020. But the microphone is absolutely worth the price considering the fact that you can make use of this microphone in every possible way.

If you are looking for a microphone that is very similar to that of Blue Yeti and comes at an affordable price, then Blue Snowball is the one that you may be looking at.
This microphone is very similar to Blue Yeti and it also comes with two recording pattern choices like Cardioid and Omnidirectional.
As this microphone lacks the Bidirectional recording pattern, you need to make use of the Omnidirectional pattern while doing multiplayer gaming commentaries.
The sensitivity of this microphone is quite less than that of Blue Yeti. This microphone also tends to cancel more amount of room background noise while recording, when compared to Blue Yeti, which is very sensitive.
Coming to the sound quality, Blue Snowball can be compared to Blue Yeti. In fact, some people love the Blue Snowball's recording than Blue Yeti.
It is the most popular microphone for YouTubers and gamers who are on a small budget and can't afford premium microphones that come at a premium price.
It is a quite small microphone when compared to Blue Yeti. It's quite portable compared to other desktop microphones due to its small size.
There are two versions of Blue Snowball microphone. One is the Blue Snowball and another is the Blue Snowball iCE Microphone.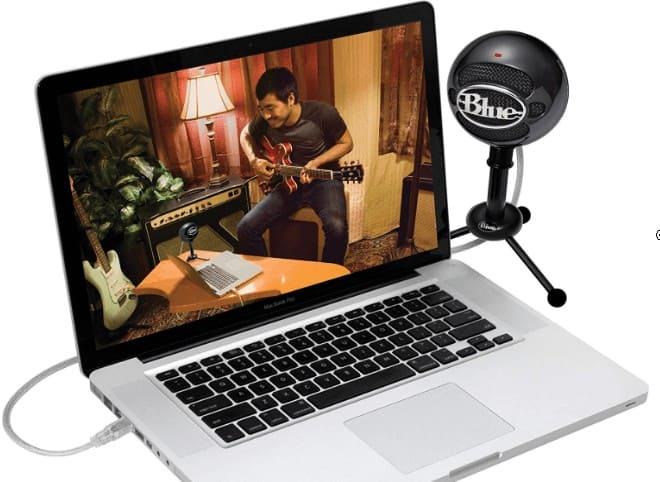 The latter one comes with an only single polar pattern that is Cardioid, and it's cheaper than the former one.
Undoubtedly, this is the best gaming microphone under $50. Although the sound quality is almost comparable to Blue Yeti, the low price is due to the lack of versatility and multi-pattern support.

​​​​The design of this Samson Meteor microphone is what that stands out once to unbox it. The blue LED is a great touch to the excellent build quality and the design of the microphone.
This microphone comes with three legs that support the microphone on your desk. There is no need to buy any other Mini tripod to put this microphone.
The company advertises Samson Meteor microphone as the studio grade microphone. You need to remember that this is a USB microphone and if you think that it will deliver you the studio-grade sound quality, you need to think twice.
I'm not saying that the sound quality is poor, all I'm saying is that it won't stand up to its name – a studio microphone. It comes at a price of below $70 and is a bargain when compared to the quality of sound you get out of this.
The great thing about the sound quality is that similar to premium microphones like Blue Yeti, the low frequency turns out to be engaging, and the small 25mm diaphragm makes the details of the voice crystal clear. The microphone also has a boosted bass which is a bonus.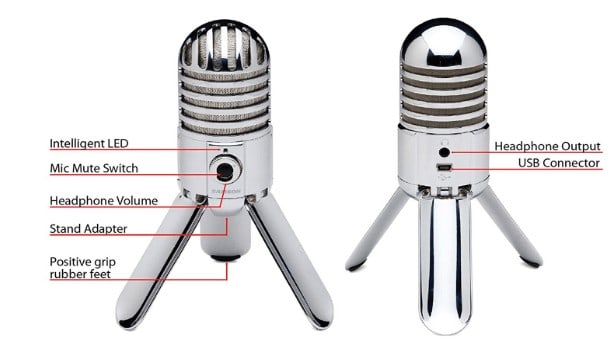 Unlike Blue Snowball that comes cheaper than this mic, Samson Meteor won't come with multi-pattern support, and it only has the support for the Cardioid mode.
This fact makes this microphone less suitable for multiplayer game commentaries.

Samson Go the cheapest desktop microphone that I have so far reviewed in this blog post.
Although this microphone falls short to other microphones when it comes to sound quality, I included this microphone because I felt that this microphone comes with great features and a great sound quality when compared to its price.
Like that of any other USB microphones, this mic is also a plug and play microphone that fits your computer or your smartphone just with the help of a USB cable that comes with it.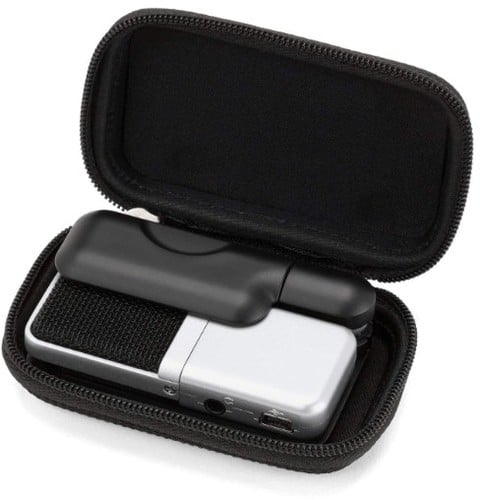 At this low price, Samson Go microphone also comes with multi-pattern support for you to switch between Cardioid mode and Omnidirectional mode.
This fact makes this microphone the best microphone for multiplayer commentary under $50.

Coming to the build, it's a small microphone that stands 3 inches long on your desk while recording. It weighs only 8 ounces making it a good portable microphone for commuting, but only next to Zoom H1 that I have reviewed earlier.
Unlike Zoom H1, this Samson Go microphone is less versatile and cannot be used for studio recording purposes. This microphone can only be used for gaming commentary, podcast recording, and voice overs.

For some people, Lavalier mic would be a great option for gaming. With lavalier mics, you need not sit in front of your desk for doing game commentaries.
In the age where augmented reality gaming is becoming a reality, having a lavalier mic clip onto your shirt and you recording your game play while on the go may be a convenient option.
But using lavalier mics for gaming comes with its own disadvantages. All the lavalier mics are Omnidirectional and tend to pick up noise and everything in your environment making your sound quality to suffer particularly when recording and Broadcasting commentaries live to YouTube.
BOYA BY-M1 is the most reliable and affordable lavalier mic you can get for gaming and general use. It is absolutely great for the price of around $20 and it's good at recording high-quality sounds.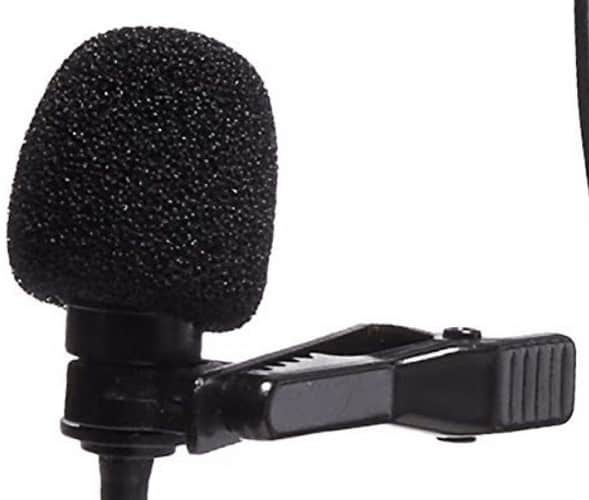 This lavalier microphone can be used with your PC, smartphone, and DSLR. If you use any portable recorder like Zoom H1 you can connect this lavalier mic to that and enjoy a wireless lavalier mic.
BOYA BY-M1 has a 20 inch ridiculously long cord, which will be helpful if you are gaming at a distance from the screen, perhaps while using VR shooters.
Unless you do DSLR videos or you play games out of your desk, lavalier mics may not be for you as they don't offer you professional studio-grade sound quality.

Also read:
Wrapping up
These are some of the high-quality gaming microphones that you can buy right now. you need to choose whether you need purchase a desktop microphone or a lavalier microphone, depending upon your needs and how far you play the game from the screen or a device.
Most of the microphones that I have mentioned in the post can also be used for other purposes than gaming.
Added to this, if you are looking to use your microphone with the DSLR and while on the go, consider getting Zoom H1 mic as it's highly versatile.
Hope you found this blog post on the best microphones for gaming helpful.
If you think that I have missed any of the best microphones in this blog post, do drop a comment below and don't forget to share this post with your friends.