Rock or metal is a very diverse genre of music. There are many sub-genres of it, each of which has its own sonic characteristics.
Our Best Pick
Shure SRH1540 Premium Closed-Back Headphones with 40mm Neodymium Drivers for Clear Highs and Extended Bass, Built for Professional Audio/Sound Engineers, Musicians and Audiophiles (SRH1540)
Best Value for Money
Sony MDRV6 Studio Monitor Headphones with CCAW Voice Coil
Best Headphones for Heavy Metal
V-MODA M-100-U-SHADOW Crossfade M-100 , Shadow
Our Best Pick
Shure SRH1540 Premium Closed-Back Headphones with 40mm Neodymium Drivers for Clear Highs and Extended Bass, Built for Professional Audio/Sound Engineers, Musicians and Audiophiles (SRH1540)
Last update on 2023-09-21 / Affiliate links / Images from Amazon Product Advertising API
It's generally meant to be listened to at relatively loud volumes, which isn't always possible, especially in apartment buildings and shared work/living spaces.
Having a great pair of headphones can help solve this problem and enable you to enjoy the music to the fullest.
Choosing headphones can be challenging though, and you may be asking "how can I find the right pair of headphones for listening to metal?"
Don't worry. We're here to help.
In this article, we've shared five of the best pairs of headphones for listening to metal and rock music.
So lets begin.
Best headphones for metal and rock music
Specifications:
50mm dual-diaphragm drivers
309 grams weight
Frequency response 5Hz – 40kHz
Bluetooth, detachable cable
Closed-back design
Build and design
The V-Moda Crossfade 2 is a wireless headphone that connects to your device strictly by Bluetooth. most times, when we see a product with an elegant design, we expect it to be fragile.
Not these headphones.
The Crossfade 2 Bluetooth headphones have both top shelf elegance and toughness.
The SteelFlex headband is not only tough, but it's also super flexible. You can twist it any way you want and it just snaps back into place.
That's not all.
The headband is also well cushioned to give your head enough comfort for long hours of use.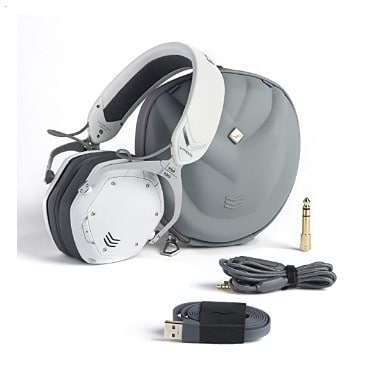 What about the earcups?
They are just as elegant and effective. The cushions are made of memory foam covered with vegan leather material.
So the Crossfade 2 is not just elegant, it's also environmental friendly.
The controls are easily accessible on the earcups. Aside from the regular headphone controls, you can activate voice command with Google assistant, Siri, Alexa, or whoever your assistant is.

Also, a full battery lasts for 14 hours while it takes 2 hours 30 minutes to charge. That's a full day's use.
Sound quality and performance
Although most V-Moda headphones have lots of bass, they decided to have some restraint here. There's still a bit of boost, but it still gives you room to hear and enjoy other frequencies clearly.
Moving on, there's also some emphasis on the high mids. You will feel the presence in the high-pitched vocals in death metal here.
To drive these headphones to high volumes, all you need is your phone or any other low power device. If you have a headphone amp, you can hook it up, but you don't need it for blasting gain.
Pros
The battery lasts you for the day
The elegant design makes the headphones fit anywhere.
The twistable headband makes the headset last very long.
Cons
There is no app that gives you additional features
Specifications:
Driver Size – 1.8″ / 45 mm
Magnet Type – Neodymium
Voice Coil – Copper-Clad Aluminum Wire
Design – Over-Ear (Circumaural)
Earcup Style – Closed-Back
Detachable -Yes
Audio Connector to Source – 1/8″ / 3.5 mm
Adapter (Included) – 1/4″
Build and design
In designing the ATH-M50x, Audio Technica found the perfect balance between blending-in and being flamboyant.
For the most part, these headphones are black and will fit in anywhere. However, there's a slight touch of elegance in the strip that lines the earcups.
Like I said, the perfect balance.
These Audio Technica headphones have a plastic frame and give you all the perks of plastic headphones. They're lightweight and comfortable to wear for long.
The plastic is not fragile, so if you don't throw the headset against the wall, you should be fine.
Also, the earpads add to the comfort that the headset gives. They are soft and plush enough to make you keep them on for hours.
The only reason why you may take them off is heat, especially on hot summer days. You may get sweaty after a while.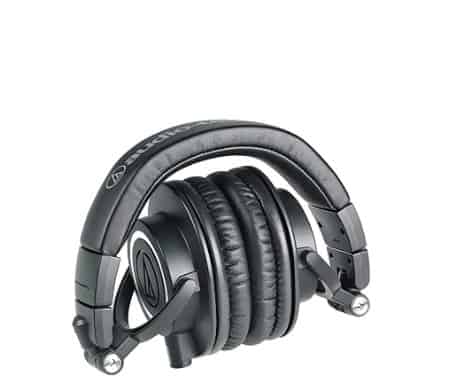 The cable is non-detachable, but it's rugged and will last very long with reasonable care.
Sound quality and performance
The M50x has a balanced tonality. The bass you hear in your music depends on the amount of bass in the original song. The headphones do not boost the bass. While this may be a bummer for bass heads and metal fans, alternative metal folks will enjoy this balance a lot.
The soundstage is quite wide, considering these headphones have a closed-back design. You can make out the rhythm guitar and solo guitar with the strings in symphonic metal.
The amount of detail available is quite impressive, to say the least. Little wonder the M50x is one of the best rock headphones.
What's more?
Even with this level of performance, you don't need a headphone amp. this 38-ohm headset will blast your music even if you drive it with just your phone.
Pros
Balanced and neutral sound
There is a lot of detail in the bass, mids, and highs
The headphones have a sleek design.
Cons
The cable is non-detachable.
No bass boost to add intensity to the drums and bass.
Specifications:
40mm neodymium drivers
286 grams weight
Frequency response 5Hz – 25kHz
Dual exit, detachable cable
Closed-back design
Build and design
Shure is well-known for its line of microphones. However, it does manufacture other audio equipments and the Shure SRH1540 headphones are amongst those products.
The build quality of the SRH1540 headphones is top notch. They have a clean, premium look and feel.
Wow! that's awesome.
So, you don't have to worry about looking unstylish if style is important to you.
They're over-ear headphones.
Here's what i mean.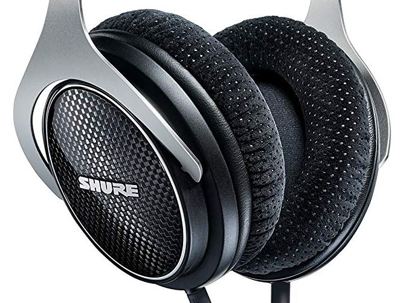 They cover your entire ear when they're secured over your head. So you can listen to them for a long time without discomfort.
The lightweight chassis is made of carbon-fiber and aluminum alloy. The ear pads are nice and soft.
Once you put them on, you can easily forget that you're wearing headphones.
They are a bit bulky despite being lightweight. But they come with a carrying case so you can transport them more easily when you travel.
The SRH1540 headphones are wired, so you need a 3.5mm cable, which comes in the package.
The cable that's provided is rather on the short side, but that's not a real problem. If you require something bigger you can always get a longer cable.
Sound quality and performance
The sound quality of these headphones is nothing short of amazing.
They have a frequency response of 5Hz – 25 kHz which is well beyond the normal hearing level of the human ear.
These headphones do not have a flat frequency response. They are not designed for pro audio mixing and mastering use. You can go with planar magnetic headphones for audio mixing.
They are aimed at the consumer market so the sound has a bit of color to it.
But, no problem!
Frankly, most consumers are not looking for flat sound.
In fact, these headphones are so good that they can be used by audio professionals too.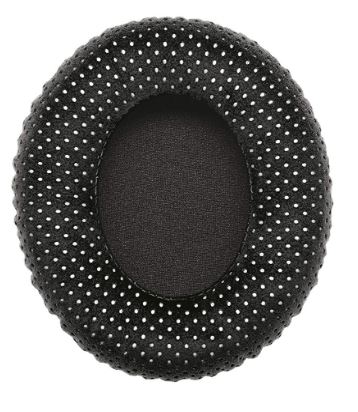 So if you're a rock artist the Shure SRH1540 headphones can be used as a tool for checking your mixes.
You can clearly hear every sound being played through them in detail. The bass is full without being boomy.
The midrange is also very well-represented. Many headphones fall short in this range but the Shure SRH1540s don't suffer from this problem.
The mids are nice and clear and relatively flat without being bland or muddy. If you're a Thrash Metal fan, you would love how the vocals and guitar shredding come out on these cans.
The highs are also nice and crisp so you can hear the hi-hats and cymbals clanging with clarity and shimmer.
That's not all. The SRH 1540 gives high gain even with low power devices. Because it has low impedance, your phone will drive it effectively without an external amp.
The closed back nature of these babies ensures that sound doesn't leak out when they're in use.
So you can pump them up really loud in crowded places without worrying about bothering the people around you.
As a metalhead, you're bound to enjoy listening to rock on these headphones. But then again it's easy to enjoy virtually any type of music on these cans.
In all.
The SRH1540 headphones are easily the best headphones on this list mainly because they manage to balance style, sound quality, and comfort in a way many contenders haven't been able to achieve.
Pros
Lightweight
Comfortable to wear
Clear sound
Cons
The treble can be slightly piercing when the volume is turned up really loud
Features
40mm, dome type (CCAW Voice coil)
Over-ear headphones
Frequency response 4 Hz – 40 kHz
255g weight
Closed-back design
Bluetooth, NFC connection
Build and design
The Sony WH-1000XM3 stands out as one of the best headphones for rock music. At 225g, they are perfect for long flights, because they don't feel like a load on your head.
Aside from being lightweight, the earpads are plush and soft, making the headset even more comfortable.
The push for ease does not end with the build.
These Sony headphones are wireless. They have Bluetooth and NFC connection features for easy pairing.
Also, the active noise canceling feature eliminates all ambient noise and lets you hear your music undisturbed.
To hear your surrounding temporarily, you simply have to put your hand over the earcup. Such gestures make it easy to control the headphones. Your Google assistant, Siri, or Alexa is available just a gesture away.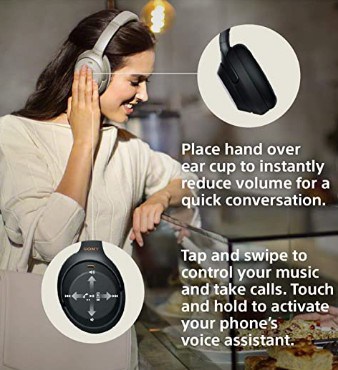 Sound quality and performance
The WH-1000XM3s have a full sound, with a very open soundstage with space to showcase every element in the music. Whether you're an alternative metalhead or death metalhead, the guitars and vocals will give you an enjoyable presence in the mix.
The active noise cancellation makes sure that not even airplane rumble will block out the drums and bass guitars.
The extra bass enhancement makes nu-metal and doom metal have their grit and intensity without clouding the guitars and vocals. Classic rock also sounds really good on these cans.
Pros
Active noise cancellation makes the headphones perfect for air travel.
NFC connection ensures easy pairing.
There is bass enhancement while maintaining mid and treble details.
Cons
The touch controls may take some time before you get familiar with them.
The headphones are not perfect for outdoor use like cycling or jogging.
Features
50mm Dual-Diaphragm Drive
Over-Ear headphones
Frequency Response: 5 – 30 kHz.
Weight: 0.61lb / 0.28kg
Build and design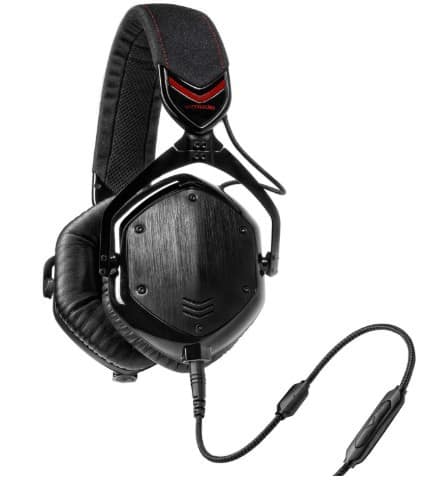 V-MODA Crossfade M-100 is made of metal, they would easily survive, and even thrive where some other headsets wouldn't.
You know how some rock and metal artists slam their guitars on the stage after a performance. You can slam your headphones after a song too, and you won't even have to worry about it.
Also, they come with a kevlar wrapped cable that is easily detachable from the headphones. You even have the freedom to choose which side of the earcups you want to attach the cable to.
There's a mic on the cable that comes with the headphones, so if you're using them with your phone, you can easily answer your calls without any stress.
For a short time use, V-MODA Crossfade M-100 is quite comfortable; the earpads are soft and clamp on your head with the right amount of force.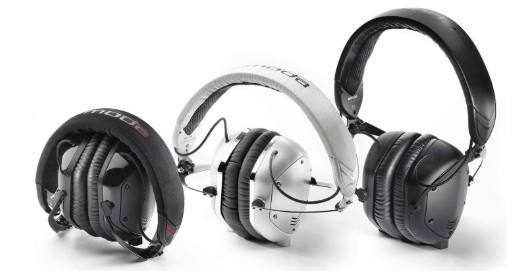 However, if you'll be carrying these for the whole day, you may need to take breaks in-between, because you would experience some heat on your ears. This can make the headphones feel quite uncomfortable.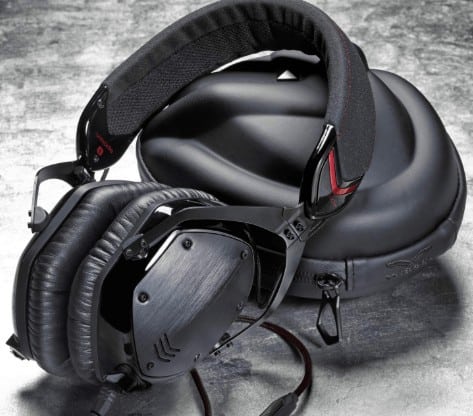 Sound quality and performance
Rock and metalheads love lots of bass because that's where all the energy is; and the V-MODA Crossfade M-100 does justice to that.
Although some people prefer their headphones to have a uniform frequency response, it may not be practicable for some uses.
So, if you notice that the V-MODA Crossfade M-100 does not have equal representation of all frequencies, know that it's a deliberate decision to give low frequencies a priority. The bass heaviness of Death Metal and Crust Punk will be so much fun with these headphones.
If you're planning to use V-MODA Crossfade M-100 for the first time, be ready to be treated to some bass boost. So, for all those rock songs that seem to have underwhelming bass and kick drum energy, these headphones are a perfect choice.
In terms of noise isolation, the V-MODA Crossfade M-100 does a pretty decent job, mostly with the mid and high frequencies. If we consider that it's just passive noise isolation, we can say they do a really good job.
Also, if you love to crank it up, then you're in for a treat. With an impedance rating of 32 ohms, even your low end phone will give you blasting sound.
While you have these metal headphones on, you can expect to have at least 50% of mid and high-frequency noise shut out. On the other hand, the low-frequency noise is not reduced at all.
Pros
Enhanced bass; good for heavy metal
Rugged build
Cons
Does not isolate low-frequency noise
Long use causes heat build up
Features
40mm Dynamic drivers
On ear headphones
Frequency response: 5 Hz – 30 kHz
Weight: 299 g
Build and design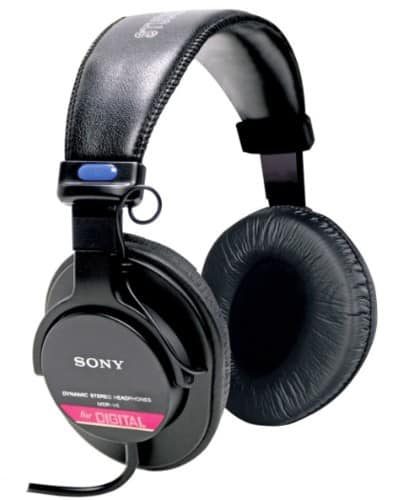 The Sony MDRV6 has a basic outlook, nothing too fancy. I like to call them a careful combination of plastic and metal.
High quality polymer plastic was used for most of the parts, and the other parts; especially those that get damaged or broken easily are made of metal.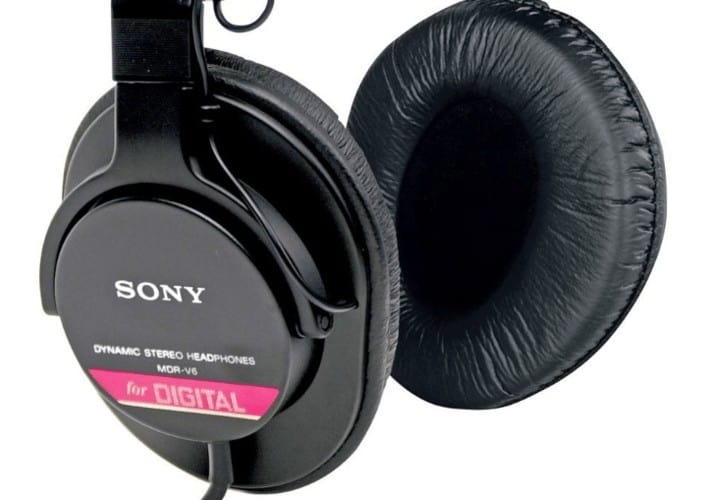 The earcups are very soft, and made of leatherette. The combination of materials used in making these help to ensure that you can use it for long hours without any irritation. Plus it weighs just 8 ounces; that's lighter than most headphones of this quality.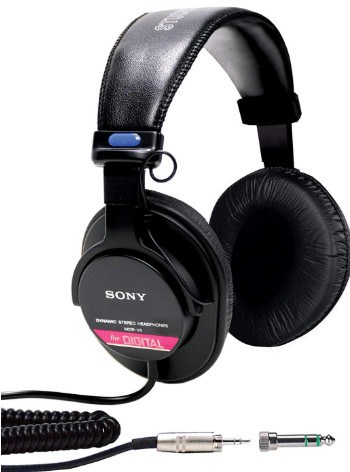 Sound quality and performance
When you see the Sony MDRV6 specs you notice the frequency response of 5Hz to 30000kHz, you may think that's all there is to it.
Well, there's more.
After we know the frequency response range, we must also know how well the headphones represent or reproduce sound at these frequencies.
The Sony MDRV6 do a really good job at this, but with some emphasis on low frequencies; and this is exactly why they made this list.
The bass frequencies are always punchy and carry a lot of energy, just like every rock and metal fan wants. If you want to enjoy music with your headphones, you need one that will make your music always sound good to you.
With this kind of response in the bass and low mids, I bet you would love to hear these cans blast some doom or death metal in your ears.
Moving on, let's talk about the impedance. While I wouldn't call these high-impedance headphones, a rating of 63 ohms means that your phone may not give you ear blasting volume.
On the upside, you get to keep your perfect hearing for a long time. However, if you need that blasting sound, a headphone amp will help.
So, if your chosen music genre is rock or heavy metal, the energy in these cans' low frequencies and low-mids are enough to keep your excitement at high levels. The high-mids and high frequencies have some clarity and presence, but not so much brightness and sparkle.
Pros
Can be used comfortably for long hours
Lightweight, therefore good for mobile use
Cons
High impedance, needs a lot of power
Features
On-ear design
50mm dynamic drivers
18Hz – 24kHz frequency response
Wired design
Open back design
​Build and design
If you're looking for a more affordable alternative to the Shure SRH1540, a pair of Grado SR325e headphones might just be what you're looking for.
From first glance, there's nothing spectacular about the look of these babies. They look like a pair of ordinary headphones.
But what they lack in looks they make up for in sound.
They have a rugged, simple, black and silver aesthetic. Each ear cup has its own cable.
These are on-ear headphones so the comfort level is lower than other headphones such as the Sennheiser HD 650.
One nice thing about the design is that the ear cups can rotate 360 degrees.
So you don't have to worry about accidentally breaking them by over-twisting them.
The ear cups don't provide a tight, vice-like grip but that's a preference that some people have.
But they don't feel loose-fitting.
Sound quality and performance
The sound on these headphones is very well-balanced across virtually all frequencies.
The sad part is the open back design which means that sound leaks out to its surroundings, which can be an inconvenience to people around you.
So cranking these up to full volume in public might not be a good idea.
But if you're in the privacy of your own home or in a solitary space then feel free to fire away.
However, the same open-back design does help to improve the sound staging of headphones in general and the Grado SR325es are no exception to this.
You will especially enjoy the multiple guitars in your heavy metal songs, and even the strings in symphonic metal.
The tone of the music played back on these sounds is legit as opposed to feeling artificially manipulated.
The headphones bass response is not comparable to the Shure SH1540 or Sennheiser DH 650, but it is good nonetheless.
In short.
If the type of metal you listen to is bass-heavy, like death metal, industrial metal, or crust punk, then you should know that that's not what the Grados are designed for.
Another plus in the sound production is the impedance. Since you probably listen to music from your phone, a low impedance headset gives you more volume despite the low power from your phone.
Pros
Transparent response across the frequency spectrum
Rugged design
Cons
Can cause slight discomfort after long periods of use
Features
Open back design
Changeable ear cups
40mm neodymium drivers
10Hz-39.5kHz frequency response
Metallic silver headband
Wired design
Build and design
Sennheiser's HD 650 headphones are a staple in the music arena. Aesthetically they don't look like anything special.
But any doubt of their capabilities quickly disappears once you put them on and hear the sound quality.
They have an impressive frequency response of 10Hz all the way up to 39.5kHz which is way beyond what is audible to the naked human ear.
The ear cups are massive, soft and very comfortable; quite possibly the most comfortable pair of headphones mentioned in this article.
You won't experience listening fatigue with these cans.
They are also built to last a long time. If you take care of them they can easily last for several years.
Sound quality and performance
Needless to say, the sound that these cans produce is nothing short of superb.
You can turn up the volume really loud without experiencing any sort of distortion or artifacts.
Yes, you read that right.
The sound is so clear that it may actually bring to light mixing flaws in some of your favorite songs.
The only gripe might be that sound leaks out since they're open back headphones.
So if you want to crank up your music in a crowded place you might disturb others around you.
Ideally, you shouldn't have to turn them all the way up to feel the punch of the bass.
With a balanced sound and wide soundstage, these headphones are perfect for alternative metal and symphonic metal. Nu metal fans may have some trouble getting familiar with its neutral bass response, since they prefer more bass.
The HD 650 headphones can be connected to a high quality, hi-fi system, or any high impedance component such as professional mixers, headphones amps, etc.
Since these are actual high-impedance headphones, you need a headphone amp to get meaningful gain from your phone.
All in all.
The comfort and overall quality of these headphones make them a great choice for listening to metal.
They may seem a bit pricey, but when buying them you need to think of it as an investment because you can get many years of use from them.
Pros
Extremely comfortable
Durable design
Excellent sound quality
Cons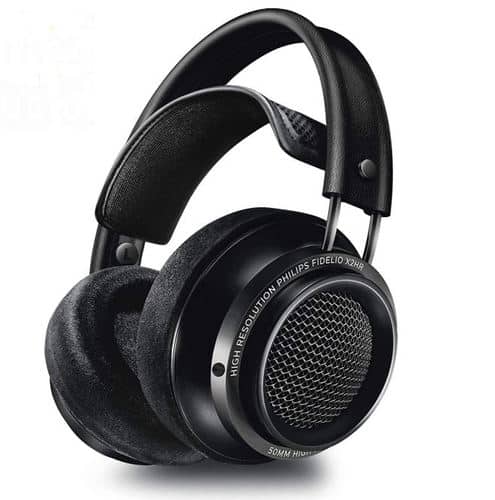 Features
3.5mm detachable oxygen-free cable
50mm neodymium drivers
5Hz – 40KHz frequency response
430 grams weight
Build and design
The Philips Fidelio X2HR is probably one of Philips' best attempts at making high-end, consumer-grade headphones.
These open-back headphones are beautifully designed. They're elegant and pleasing to the eye.
But more importantly, they're pleasing to the ear. The build quality of these headphones is top-notch.
The headband has an aluminum finish and real leather is used in some parts of the unit to give it a premium look and feel.
Sound quality and performance
Sounds impressive!
The Philips Fidelio X2HR headphones come coupled with a replaced 3.5mm detachable oxygen-free cable which is convenient for home use.
But it wouldn't hurt to get a shorter, spare cable for mobile use because the long cable can prove rather cumbersome in public.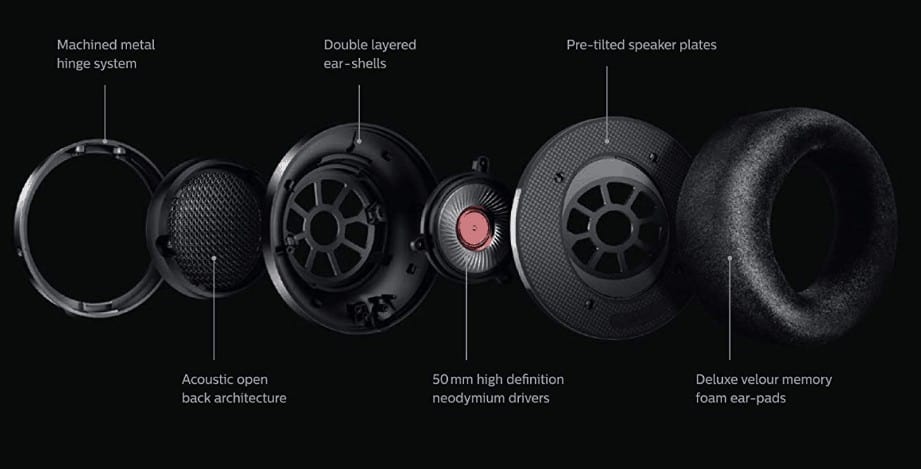 The 50mm drivers are very powerful, especially on the low end. They supply a lot of bass so you're assured of never missing a single bass note.
The amount of detail in the low end ensures that you enjoy doom and death metal on these headphones. The enhanced bass does not overshadow the growling vocals.
The double-layered shell design helps to cancel out loose vibrations from outside, ensuring that you listen to your music without much outside disturbance.
You can crank these babies up really loud and experience zero distortion, unless the song itself is distorted, which you have no control over.
The drivers produce crisp highs, the mids are relatively flat and the bass is where they shine most.
Another up side of these cans is that they don't need a headphone amplifier to work well.
So, yes.
You can connect them directly to your phone, MP3 player, CD player, tablet, laptop or any other small device and enjoy your music. It's the greatest benefit of low impedance headphones.
The sound stage on these units is really good. You can easily pick out the general layout and panning of sounds on these.
Also, these are particularly good for listening to rock in a quiet environment where you can crank up the volume and let loose.
On the other hand, they do leak sound outwards and let in some environmental sound so that's a consideration to make when purchasing.
If you intend to listen to music at full volume in an open office environment you may want to consider getting some closed or semi-closed headphones such as the Shure SRH1540.
But generally open back headphones are a bit better for listening to rock music as they sound more open and give the feel of a wider sound stage.
You'll be able to distinguish the panning of toms, hats, and other such elements easily.
Pros
Beautiful design
Extremely comfortable
Very good bass response
Detailed, high-resolution sound
Robust build
Cons
The treble can be slightly piercing when the volume is turned up really loud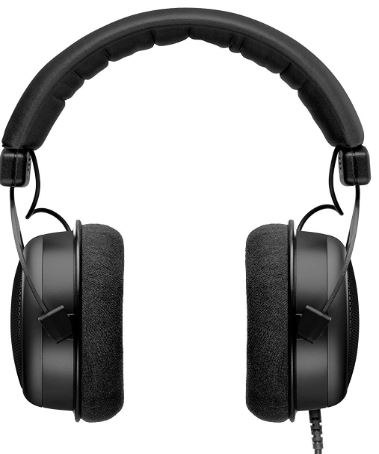 Features
Semi-closed back design
45mm dynamic drivers
5Hz-35kHz frequency response
Build and design
Beyerdynamic DT-880 headphones are quite well-known in audiophile circles and for good reason.
They are resilient and sound great when connected to passive and high impedance systems alike.
The DT-880 headphones are relatively old but they're timeless due to their simple design and excellent sound quality.
Sound quality and performance
These on-ear headphones provide a deep bass response without muffling the high end, as is the case with some lesser capable headphones.
The stereo field on these headphones is quite wide, which makes it easy to hear the separation of sounds in a stereo mix. Symphonic metal sounds so good on them with all the strings and classical elements.
This is particularly important in metal because some drum elements, guitars, and string-type instruments are often panned considerably.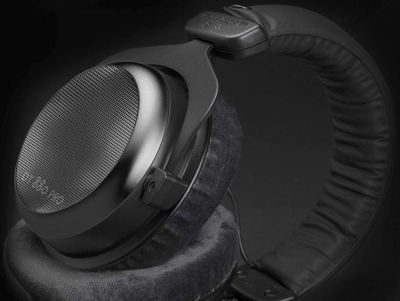 The semi-closed back nature of these headphones makes them perfect for lovers of metal music.
There's minimal leakage of sound, which means you can crank them up real loud in public places without fear of annoying the people around you.
The adjustable headband allows you to tinker with the headphones until you get a perfect, snug fit. The ear pads are easily replaceable and soft.
Another great thing about them is that most of its parts are replaceable which can help prolong the lifespan of the unit.
The only gripe physically is that the cable is not replaceable.
The industrial, no-frills design makes them quite pleasant to look at, if that's something that you're concerned about.
The Beyerdynamic DT-880 headphones deliver balanced, high-resolution audio. They neither exaggerate nor skimp on bass.
You don't have to worry about distortion when cranking up the volume. Speaking of the volume, your phone or other low power device is enough to drive these headphones to the max. The impedance rating of 30 ohms makes sure of that.
In fact, the quality of the sound produced by these headphones is so good that they can even be used for pro audio mixing.
They're robust and built for heavy-duty use, as should headphones made for listening to metal music.
You should use them on a home theater or high power system in order to get the most out of them as they shine most when connected to high impedance systems due to the higher power supply.
Pros
Comfortable to wear for prolonged periods
Robust design
Comes with carrying case
checkBrilliant, balanced sound quality
Cons
Buying guide for choosing the best metal and rock headphones
Wide frequency range
If you will enjoy rock and heavy metal on any headphones, they must cover a wide frequency range-either they are Bluetooth headphones, in-ear headphones or over ear headphones.
This is because for this kind of music, there's usually a lot going on, and mixing engineers have chosen different frequencies for the various elements, so that you can hear them all.
If you choose a headphone whose frequency range isn't wide enough, you'll be missing out on some awesomeness.
Sound quality
Even if all the frequencies are represented on your headphones, what they do with the bass frequencies is very important. Rock and metal music have a whole lot of energy in those low frequencies, so good headphones for these genres must have some punch and be a little biased towards bass.
Low impedance
If you love heavy metal, it's almost a certainty that you love loud music. So, any headphone you will use must be loud.
Because most people don't use headphone amps and they simply connect their headsets to phones, it's important that you use a low impedance headphone, so that you can achieve more volume while using less power.
Headphone type: over ear/on ear
Over ear headphones have larger earcups that surround your ears, while resting on your head and cheekbones. They provide more comfort because they don't sit on your ears. It's more essential to use over eear design if the headphones are a bit heavy.
On ear design have earcups that sit on your outer ears. You may begin to feel uncomfortable after long hours of use. However, they give some room for ventilation, reducing heat buildup.
Comfort
To enjoy your rock and metal music, you need to be comfortable using your headphones. The most comfortable headphones have soft earpads and padded headbands. also, the weight of the headphones can make them more or less comfortable. The lighter, the better.
Also check:
1. 10 Best Studio Headphones in 2019 from $50 – $1000
2. 5 Best Cycling Headphones in 2019 That Ensure Road Safety!

Conclusion
There are so many options to choose from when buying best headphones for metal and rock that it's easy to get confused.
It's, true.
As a consumer, you probably just want to get a pair of headphones that will sound great as soon as you plug them into your audio device.
The headphones covered in this article are all great and at least one of them should meet your needs as a lover of rock and heavy metal music.
Each model has its own pros and cons but they all deliver great sound, albeit in a different way.
So you can't go wrong with any of them.
Recommended read: 6 Best Music Genre Finder Websites to Check Genres of any Song
Which are better for listening to rock and metal music, headphones or earbuds? and why?
Both will do a decent job, but headphones will give you a wider soundstage and better listening experience. Of course, the quality of headphones is important too.
Wireless vs. wired Headphones: Which is better for metal?
Both wired and wireless headphones are suitable for metal. What matters the most is the quality of the wired or wireless headphone in qustion.
In ear or over ear when it comes to headpones for rock music?
For rock music, over ear headphones would usually have a wider soundstage and give a fuller istening experience than in-ear headphones.
What makes headphones good for rock and metal music?
Bass response, soundstage width, mid clarity are some of the factors that make a pair of headphones good for music.