Rock or metal is a very diverse genre of music. There are many sub-genres of it, each of which has its own sonic characteristics.
It's generally meant to be listened to at relatively loud volumes, which isn't always possible, especially in apartment buildings and shared work/living spaces.
Having a great pair of headphones can help solve this problem and enable you to enjoy the music to the fullest.
Choosing headphones can be challenging though, and you may be asking "how can I find the right pair of headphones for listening to metal?"
Don't worry. We're here to help.
In this article, we've shared five of the best pairs of headphones for listening to metal and rock music.
So lets begin.
Best headphones for metal and rock music
Features:
40mm neodymium drivers
286 grams weight
Frequency response 5Hz – 25kHz
Dual exit, detachable cable
Closed-back design
Overview:
Shure is well-known for its line of microphones. However, it does manufacture other audio equipments and the Shure SRH1540 headphones are amongst those products.
The build quality of the SRH1540 headphones is top notch. They have a clean, premium look and feel.
Wow! that's awesome.
So, you don't have to worry about looking unstylish if style is important to you.
They're over-ear headphones.
Here's what i mean.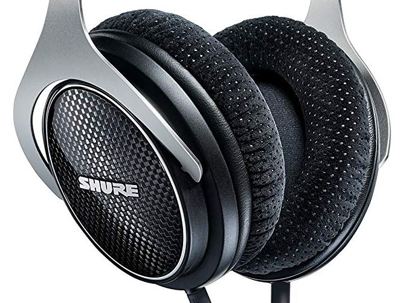 They cover your entire ear when they're secured over your head. So you can listen to them for a long time without discomfort.
The lightweight chassis is made of carbon-fiber and aluminum alloy. The ear pads are nice and soft.
Once you put them on, you can easily forget that you're wearing headphones.
They are a bit bulky despite being lightweight. But they come with a carrying case so you can transport them more easily when you travel.
The SRH1540 headphones are wired, so you need a 3.5mm cable, which comes in the package.
The cable that's provided is rather on the short side, but that's not a real problem. If you require something bigger you can always get a longer cable.
The sound quality of these headphones is nothing short of amazing.
They have a frequency response of 5Hz – 25 kHz which is well beyond the normal hearing level of the human ear.
These headphones do not have a flat frequency response. They are not designed for pro audio mixing and mastering use. You can go with planar magnetic headphones for audio mixing.
They are aimed at the consumer market so the sound has a bit of color to it.
But, no problem!
Frankly, most consumers are not looking for flat sound.
In fact, these headphones are so good that they can be used by audio professionals too.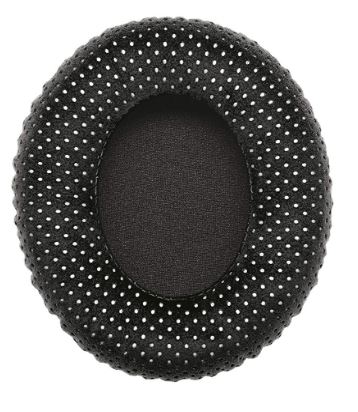 So if you're a rock artist the Shure SRH1540 headphones can be used as a tool for checking your mixes.
You can clearly hear every sound being played through them in detail. The bass is full without being boomy.
The midrange is also very well-represented. Many headphones fall short in this range but the Shure SRH1540s don't suffer from this problem.
The mids are nice and clear and relatively flat without being bland or muddy.
The highs are also nice and crisp so you can hear the hi-hats and cymbals clanging with clarity and shimmer.
The closed back nature of these babies ensures that sound doesn't leak out when they're in use.
So you can pump them up really loud in crowded places without worrying about bothering the people around you.
As a metalhead, you're bound to enjoy listening to rock on these headphones. But then again it's easy to enjoy virtually any type of music on these cans.
In all.
The SRH1540 headphones are easily the best headphones on this list mainly because they manage to balance style, sound quality, and comfort in a way many contenders haven't been able to achieve.
Pros:
Lightweight
Comfortable to wear
Clear sound
Cons:
The treble can be slightly piercing when the volume is turned up really loud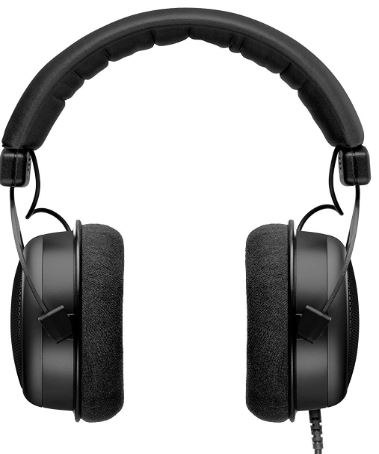 Features:
Semi-closed back design
45mm dynamic drivers
5Hz-35kHz frequency response
Overview:
Beyerdynamic DT-880 headphones are quite well-known in audiophile circles and for good reason.
They are resilient and sound great when connected to passive and high impedance systems alike.
The DT-880 headphones are relatively old but they're timeless due to their simple design and excellent sound quality.
These on-ear headphones provide a deep bass response without muffling the high end, as is the case with some lesser capable headphones.
The stereo field on these headphones is quite wide, which makes it easy to hear the separation of sounds in a stereo mix.
This is particularly important in metal because some drum elements, guitars, and string-type instruments are often panned considerably.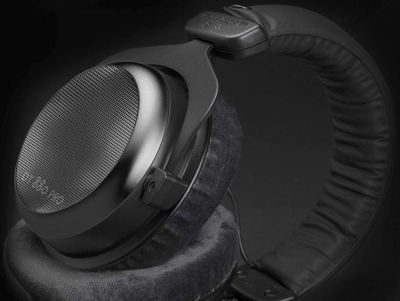 The semi-closed back nature of these headphones makes them perfect for lovers of metal music.
There's minimal leakage of sound, which means you can crank them up real loud in public places without fear of annoying the people around you.
The adjustable headband allows you to tinker with the headphones until you get a perfect, snug fit. The ear pads are easily replaceable and soft.
Another great thing about them is that most of its parts are replaceable which can help prolong the lifespan of the unit.
The only gripe physically is that the cable is not replaceable.
The industrial, no-frills design makes them quite pleasant to look at, if that's something that you're concerned about.
The Beyerdynamic DT-880 headphones deliver balanced, high-resolution audio. They neither exaggerate nor skimp on bass.
You don't have to worry about distortion when cranking up the volume.
In fact, the quality of the sound produced by these headphones is so good that they can even be used for pro audio mixing.
They're robust and built for heavy-duty use, as should headphones made for listening to metal music.
You should use them on a home theater or high power system in order to get the most out of them as they shine most when connected to high impedance systems due to the higher power supply.
Pros:
Comfortable to wear for prolonged periods
Robust design
Comes with carrying case
checkBrilliant, balanced sound quality
Cons:
Features:
On-ear design
50mm dynamic drivers
18Hz – 24kHz frequency response
Wired design
Open back design
​Overview:
If you're looking for a more affordable alternative to the Shure SRH1540, a pair of Grado SR325e headphones might just be what you're looking for.
From first glance, there's nothing spectacular about the look of these babies. They look like a pair of ordinary headphones.
But what they lack in looks they make up for in sound.
They have a rugged, simple, black and silver aesthetic. Each ear cup has its own cable.
These are on-ear headphones so the comfort level is lower than other headphones such as the Sennheiser HD 650.
One nice thing about the design is that the ear cups can rotate 360 degrees.
So you don't have to worry about accidentally breaking them by over-twisting them.
The ear cups don't provide a tight, vice-like grip but that's a preference that some people have.
But they don't feel loose-fitting.
The sound on these headphones is very well-balanced across virtually all frequencies.
The sad part is, the open back design which means that sound leaks out to its surroundings, which can be an inconvenience to people around you.
So cranking these up to full volume in public might not be a good idea.
But if you're in the privacy of your own home or in a solitary space then feel free to fire away.
However, the same open-back design does help to improve the sound staging of headphones in general and the Grado SR325es are no exception to this.
The tone of the music played back on these sounds is legit as opposed to feeling artificially manipulated.
The headphones bass response is not comparable to the Shure SH1540 or Sennheiser DH 650, but it is good nonetheless.
In short.
If the type of metal you listen to is bass-heavy, and that is the sound you're looking for then you should know that that's not what the Grados are designed for.
Pros:
Transparent response across the frequency spectrum
Rugged design
Cons:
Can cause slight discomfort after long periods of use
Features:
Open back design
Changeable ear cups
40mm neodymium drivers
10Hz-39.5kHz frequency response
Metallic silver headband
Wired design
Overview:
Sennheiser's HD 650 headphones are a staple in the music arena. Aesthetically they don't look like anything special.
But any doubt of their capabilities quickly disappears once you put them on and hear the sound quality.
They have an impressive frequency response of 10Hz all the way up to 39.5kHz which is way beyond what is audible to the naked human ear.
The ear cups are massive, soft and very comfortable; quite possibly the most comfortable pair of headphones mentioned in this article.
You won't experience listening fatigue with these cans.
They are also built to last a long time. If you take care of them they can easily last for several years.
Needless to say, the sound that these cans produce is nothing short of superb.
You can turn up the volume really loud without experiencing any sort of distortion or artifacts.
Yes, you read that right.
The sound is so clear that it may actually bring to light mixing flaws in some of your favorite songs.
The only gripe might be that sound leaks out since they're open back headphones.
So if you want to crank up your music in a crowded place you might disturb others around you.
Ideally, you shouldn't have to turn them all the way up to feel the punch of the bass.
The HD 650 headphones can be connected to a high quality, hi-fi system, or any high impedance component such as professional mixers, headphones amps, etc.
So you don't run the risk of frying them by accidentally connecting them to a high impedance output.
All in all.
The comfort and overall quality of these headphones make them a great choice for listening to metal.
They may seem a bit pricey, but when buying them you need to think of it as an investment because you can get many years of use from them.
Pros:
Extremely comfortable
Durable design
Excellent sound quality
Cons:
Features:
Detachable 10-foot long cable
50mm neodymium drivers
10Hz – 40KHz frequency response
430 grams weight
Overview:
The Fidelio X1/28 is probably one of Philips' best attempts at making high-end, consumer grade headphones.
These open-back headphones are beautifully designed. They're elegant and pleasing to the eye.
But more importantly, they're pleasing to the ear. The build quality of these headphones is top notch.
The headband has an aluminum finish and real leather is used on some parts of the unit to give it a premium look and feel.
Sounds impressive!
The Fidelio X1/28 headphones come coupled with a replaced 10-foot long cable which is convenient for home use.
But it wouldn't hurt to get a shorter, spare cable for mobile use because the long cable can prove rather cumbersome in public.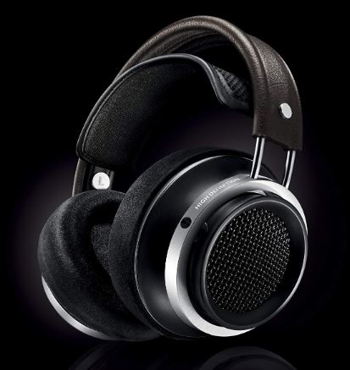 The 50mm drivers are very powerful, especially on the low end. They supply a lot of bass so you're assured of never missing a single bass note.
The double-layered shell design helps to cancel out loose vibrations from outside, ensuring that you listen to your music without much outside disturbance.
You can crank these babies up really loud and experience zero distortion, unless the song itself is distorted, which you have no control over.
The drivers produce crisp highs, the mids are relatively flat and the bass is where they shine most.
Another up side of these cans is that they don't need a headphone amplifier to work well.
So, yes.
You can connect them directly to your phone, MP3 player, CD player, tablet, laptop or any other small device and enjoy your music.
The sound stage on these units is really good. You can easily pick out the general layout and panning of sounds on these.
Also, these are particularly good for listening to rock in a quiet environment where you can crank up the volume and let loose.
On the other hand, they do leak sound outwards and let in some environmental sound so that's a consideration to make when purchasing.
If you intend to listen to music at full volume in an open office environment you may want to consider getting some closed or semi-closed headphones such as the Shure SRH1540.
But generally open back headphones are a bit better for listening to rock music as they sound more open and give the feel of a wider sound stage.
You'll be able to distinguish the panning of toms, hats, and other such elements easily.
Pros:
Beautiful design
Extremely comfortable
Very good bass response
checkDetailed, high-resolution sound
checkRobust build
Cons:
The treble can be slightly piercing when the volume is turned up really loud
Also check:
1. 10 Best Studio Headphones in 2019 from $50 – $1000
2. 5 Best Cycling Headphones in 2019 That Ensure Road Safety!

Conclusion
There are so many options to choose from when buying best headphones for metal and rock that it's easy to get confused.
It's, true.
As a consumer, you probably just want to get a pair of headphones that will sound great as soon as you plug them into your audio device.
The headphones covered in this article are all great and at least one of them should meet your needs as a lover of rock and heavy metal music.
Each model has its own pros and cons but they all deliver great sound, albeit in a different way.
So you can't go wrong with any of them.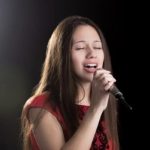 Hi, I'm Jennifer I'm a passionate singer and an audiophile from Detroit, MI. I'm on a mission to help music creators to create fine music that and help them position in the saturated music space.
Follow my blog for regular content :-)