Subwoofers mean power, and power means heavy bass sounds. As far as thumping bass is concerned, 12-inch subwoofers are the real deal.
Whether you are in your car or your living room, if you have a 12-inch subwoofer, your world is about to get rumbled.
And for that very reason, we have brought forward for you some of the best 12-inch subwoofers you can get to transform your audio experience.
Without further ado, let's get started:
Top 5 12-inch subwoofers reviewed
Specifications:
12-inch Dual 2 Ohm Voice Coil Configuration
Peak Power: 1,200 Watts
RMS Power: 600 Watts
Competition Grade Pressed Paper Cone
High Roll Foam Surround
Advanced Air Flow Cooling System
Frequency Response: 22 – 300 Hz
Build and design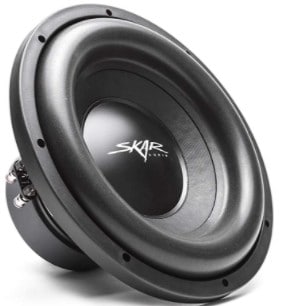 The engineers have designed the Skar Audio SDR-12 D2 that can deliver consistently on a daily basis.
Following the conventional disc-shaped design, this subwoofer features a professional-grade pressed paper cone with a high roll foam surrounding.
Its power handling capacities are bound to impress the audiophiles. The Skar Audio SDR-12 D2 is rated with a peak power handling of 1200 watts and an RMS power handling of 600 watts.
To ensure that the subwoofer is both flexible and sturdy, the engineers have integrated a one of a kind red Nomex spider suspension system in its design structure.
The 2.5-inch 4 layer high-temperature copper voice coil of Skar Audio SDR-12 D2 enables it to perform at peak levels for hours without any difficulty.
Features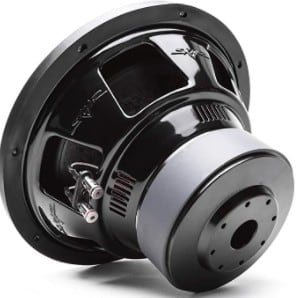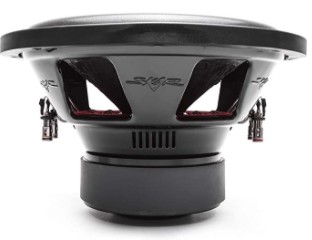 Skar Audio SDR-12 D2 can produce low-end bass frequencies effortlessly by virtue of its top-quality high flux ferrite motor.
Also, the design of the subwoofer plays a major role in its acoustic responsiveness throughout the low-end frequency range and the maximized power output.
In action to that, Skar Audio SDR-12 D2 has an advanced airflow cooling design that restricts it from overheating after long hours of usage.
As for the frequency range, it starts as low as 22Hz and goes all the way up to 300Hz.
What do we like?
Power handling is just awesome
Very deep low-end frequency range
Spider suspension system reduces damage issues
What we don't like?
Amp is not included
No specified mounting options
Bottomline: Since Skar Audio SDR-12 D2 is one of the best car subwoofers out there, users with high bass requirements for their cars will really love it. It is perfectly shaped to fit in the car trunk or beneath the seats.
Specifications:
FREQUENCY RESPONSE 29Hz-120Hz +/-3dB
MAXIMUM ACOUSTIC OUTPUT 116dB
AMPLIFIER POWER 200W / 400W
DRIVE COMPONENTS 12" (30.5 cm) high excursion, IMG, front-firing woofer
ENCLOSURE MATERIAL MDF
ENCLOSURE TYPE Bass Reflex via rear-firing tube port
Build and design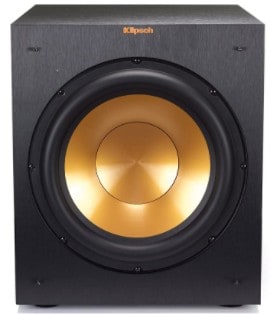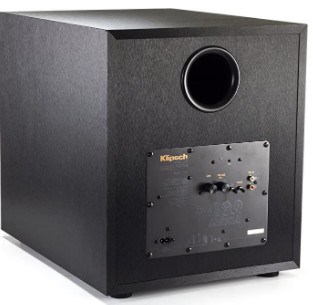 The Klipsch R-12SWi was designed particularly for larger rooms and perfectly works for an amazing home theater system.
Its build is an exquisite combination of durability and contemporary aesthetics.
Made primarily with medium density fibreboard wood with a polymer veneer finish, this subwoofer can merge into any interior decor.
The flexible and strong grille is removable and further adds richness to its looks. The grille maintains acoustic transparency and does not block any sound.
The power ratings of Klipsch R-12SWi are 200 watts RMS and 400 watts peak.
Additionally, the subwoofer has a front-mounted LED power indicator that lets the user know whether the subwoofer is on or off.
Features

Klipsch R-12SWi houses an Injection Molded Graphite woofer. It is responsible for providing a rich and enhanced low-end frequency response. There is minimal cone breakup without any kind of distortions whatsoever.
The front-firing driver of the subwoofer is designed for deep bass output. The driver is flexible enough to avoid any kind of displacement.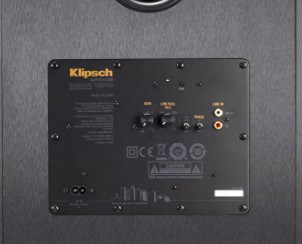 A digital amplifier is built into the Klipsch R-12SWi. It is capable of handling sufficient power, it is highly efficient and the audio reproduction is as real as the source.
The frequency response of this subwoofer is from 29Hz to 125Hz.
Featuring a pre-paired wireless transmitter and 2.4 GHz connectivity speed, the Klipsch R-12SWi can deliver CD-quality sound from any part of the room.
What do we like?
Unique front-firing bass emitter
Wireless connection improves ease of use
What we don't like?
Wireless transmitter has a low-quality feel
Bottomline: People who would like to set up a home theater system in a considerably large room can check out Klipsch R-12SWi. It has been specially designed for serving that purpose. Plus, its wireless connectivity trait makes it even more suitable for the job.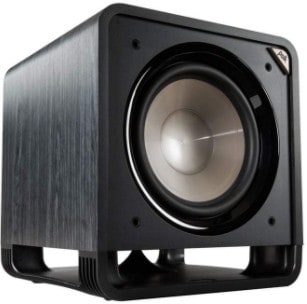 Specifications:
Subwoofer Array Driver Enclosure TypePower Port Bass Vented
Peak Power400 Watts
Continuous Power200 Watts
Total Frequency Response22 Hz → .180 Hz
Nominal Impedance8 ohms
Lower and Upper -3dB Limits28 Hz → .120 Hz
Build and design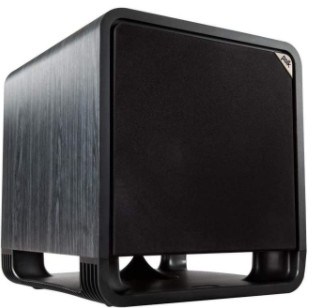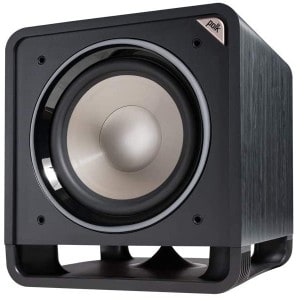 Polk Audio HTS 12 brings modern American styling into your home with its amazing looks.
Designed to fit with any kind of home interior decor, this subwoofer stands out in the crowd with its curvy edges.
You get two finish colors to choose from – classic brown walnut and black washed walnut.
The subwoofer has a peak power rating of 400 watts and an RMS power rating of 200 watts.
Features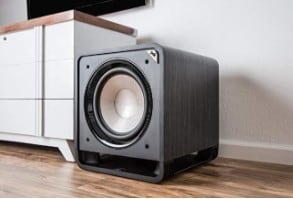 Powerful deep bass is what represents the Polk Audio HTS 12. The subwoofer is able to achieve such great bass response with the help of its long-throw front-firing Dynamic Balance 12-inch driver.
You can optimize the bass levels further in the subwoofer with the help of its low pass filter and phase controls.
The deep bass effect is reinforced in Polk Audio HTS 12 with another excellent feature – its patented Power Port technology.
Its function is to navigate and control the air from coming out of the speaker into the listening room.
This process helps in getting the extended, deep bass impact. Along with that, it also reduces port noise, distortion, and turbulence for that matter.
Apart from that, Polk Audio HTS 12 features a state-of-the-art Class D amplifier.
This subwoofer has a total frequency response from 22Hz to 180Hz.
What do we like?
Amazing tonal quality and sound profile
Packed with a feature for an affordable price
Mind-boggling amount of bass
What we don't like
Very bulky when it comes to size
Bottomline: Polk Audio HTS 12 is perfect for those who want both style and performance from a subwoofer. Be it movies or music, the users can enjoy all kinds of entertainment stuff. This subwoofer is meant to become a great entity for the home theater system.
Specifications:
The frequency response of 24 – 250 Hz with 98dB sensitivity at 8ohm
12" Front Firing long-throw woofer with high rigidity PVA Treated cone
Signal Sensing Auto ON/OFF Control and 0 – 180-degree Phase Control Switches
Gain/Level Control and 40 – 140 Hz Crossover Control Knobs
Speakers Maximum Output Power 500 Watts
Mounting Type In_ceiling, In_wall
Build and design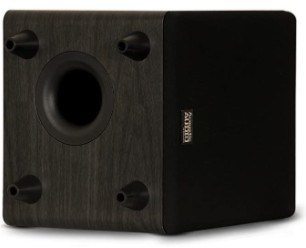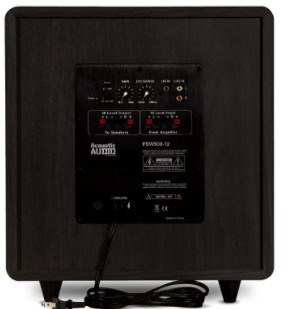 The Acoustic Audio PSW500-12 has a pretty straightforward subwoofer design. The body is made from high-quality medium-density fibreboard wood with a black ash finish.
The cone of the subwoofer is treated with polyvinyl alcohol for higher rigidity. The grille covering the front face is removable and acoustically transparent. Plus, the feet of the subwoofer is designed to absorb vibration.
Acoustic Audio PSW500-12 has a 500 watts peak power rating.
Features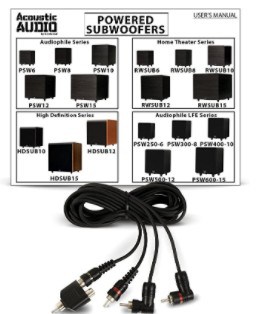 The sound department in Acoustic Audio PSW 500-12 is handled by a front-firing woofer with a bottom slotted port for producing that deep bass effect.
The subwoofer also houses a bass-reflex cabinet that ensures the long throw of low-end frequencies in the room.
The subwoofer is integrated with a high power amplifier with very good efficiency ratings.
Acoustic Audio PSW500-12 has a frequency response of 24Hz to 250Hz.
In order to save power, Acoustic Audio PSW 500-12 comes with a Signal Sensing Auto On/Off feature.
What do we like?
Accurate bass response
Great performance in small rooms
Nice overall body finish
What we don't like?
The integrated amp can get overheated
Bottomline: Acoustic Audio PSW 500-12 not just acts as a subwoofer unit for your home theater but is also compatible with surround sound systems. So for those who wish to be immersed in the sound while watching action movies can definitely opt for this subwoofer.
Specifications:
Inputs: Line Level RCA and Speaker Level Terminates
Frequency Response: 20~150Hz (-10dB)
12" Driver: Ported, Bass-Reflex Enclosure
Settings: Volume and Low Pass Filter
Amplifier Power: 150 Watts with < 0.5% THD
Speakers Maximum Output Power 150 Watts
Mounting Type Wall Mount
Build and design

Flat, slim, and discreet – the unique design of Monoprice Ssw-12 is what makes it so special.
Placement will never be an issue with this unorthodox subwoofer. Keep on the sofa, or chain, or even on the TV stand – it will sit comfortably there.
If not that, you can always choose to mount on the wall via the mounting brackets.
Additionally, you also get a floor stand specially made for accommodating this subwoofer.
You do not have to worry about the bass performance because of placement or orientations as low-end frequencies are not directional.
Features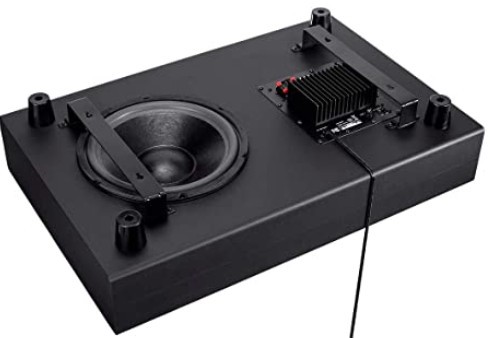 Topping the list of features in Monoprice Ssw-12 is the full-sized 12-inch woofer that can be found in the ported bass reflex enclosure.
It is designed with great precision as it works towards maximizing the bass output in spite of its low profile design.
Next up, we come across the powerful 150 watts amplifier that is tailor-made for subwoofers. The app enables you to control the volume and low pass filter feature in the subwoofer.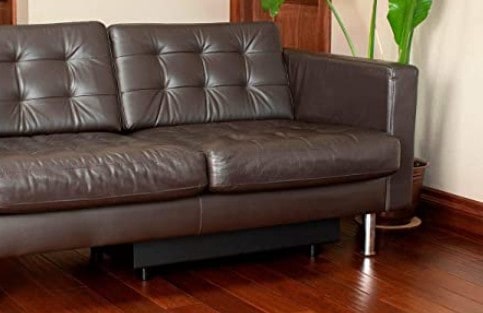 The bass sounds produced by Monoprice Ssw-12 are neither too booming nor can it fill a large room.
The texture is controlled and tight with amazing levels of accuracy. One outstanding aspect of the sound profile is midbass performance.
Monoprice Ssw-12 is rated with a frequency response of 20Hz to 150Hz.
What do we like?
Complete value for money
Powerful built-in amplifier
What we don't like?
Lesser bass generation than conventional subwoofers
Bottomline: If you are trying to find a subwoofer that would be suitable for a medium-size stereo system, Monoprice Ssw-12 is the one to go with. The sound output remains controlled in a small room and performs perfectly with a stereo system.
Conclusion
Finally, we have come to that part of the article where we have to declare a winner. But with such a tough competition, we could narrow matters down to three subwoofers.
Skar Audio SDR-12 D2 is our first subwoofer of the three shortlisted. The power handling is just fabulous, the frequency range gets very deep and low, and the suspension system increases subwoofer life.
Up next, we liked the Klipsch 12" 400 Watts Wireless Subwoofer. As the name speaks for itself, wireless connectivity is the major highlight in this subwoofer. It enhances usability and efficiency both on grounds of performance and handling.
And finally, we have the Polk Audio HTS 12 Powered Subwoofer. This product is packed with exciting features that make it such a great deal for a subwoofer. The overall tonal quality is great. And its bass performance will simply blow your mind away.
So what are you waiting for? Get your hands on one of these 12-inch subwoofers!
Related articles: